Axios Sports
January 24, 2023
👋 Happy Tuesday! I'm back home in D.C. after my European adventure. Binged "Vatican Girl" on Netflix on the flight home — highly recommend.
🏀 904 days later: Magic forward Jonathan Isaac scored 10 points on Monday in his first NBA game since Aug. 2, 2020, when he tore his ACL in the Orlando bubble. Welcome back, kid.
Today's word count: 1,733 words (6 minutes).
Let's sports...
1 big thing: 🏈 The Rashada saga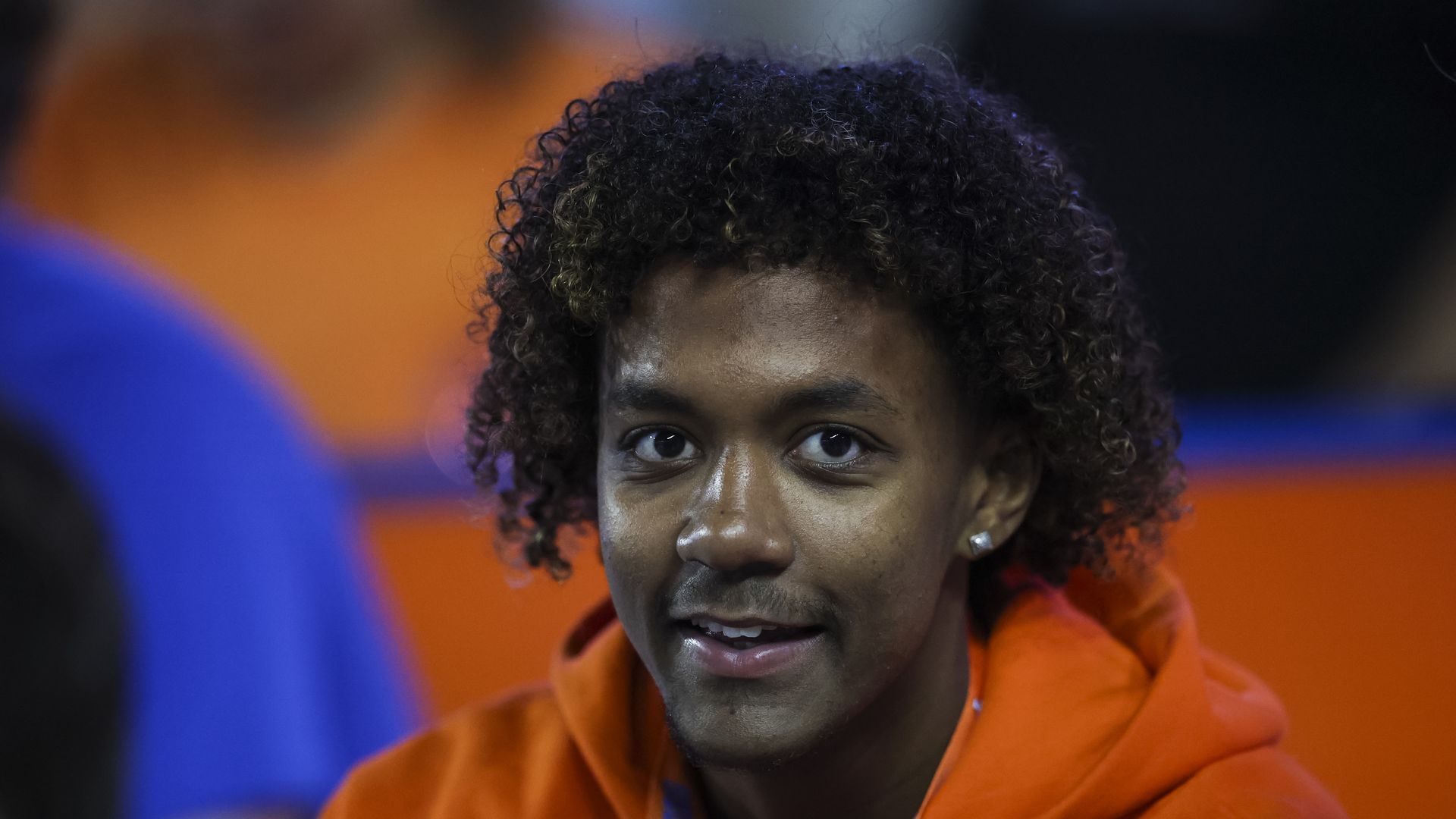 A high-profile breakup between a top QB recruit and a storied football program has thrust the messy side of NIL into the spotlight, Axios' Jeff Tracy and I write.
What's happening: Jaden Rashada, a four-star prospect and the No. 7 QB in the 2023 class, was granted a release from his letter of intent with Florida on Friday after a $13.9 million NIL deal fell through.
The backdrop: This all began when Rashada originally committed to Miami in June. Five months later, he flipped to Florida, where an even bigger paycheck reportedly awaited.
The big picture: NIL was meant to give student-athletes an opportunity to earn money via third-party partnerships, and most deals do exactly that (think: sponsored social media posts).
What's next: Rashada's recruitment is back on, and TCU has emerged as a candidate to sign the highly coveted QB out of Pittsburg, California.
2. 🎾 Spotlight: Ben Shelton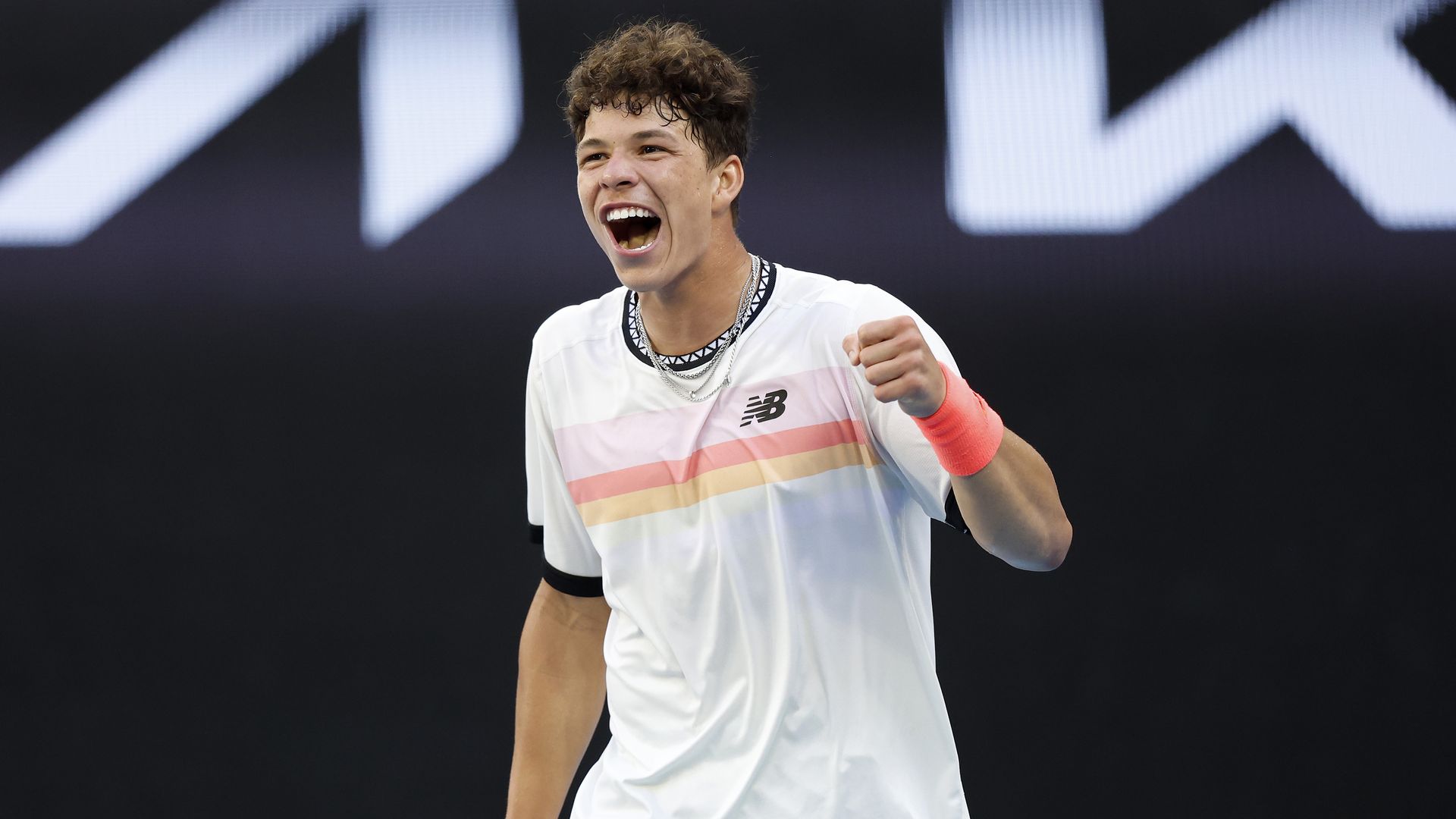 Ben Shelton had never been outside the U.S. before flying to Australia this month. Now, he's the first American in 20 years to reach a major quarterfinal before turning 21 (Andy Roddick, 2003 Wimbledon).
The backdrop: While most teenage tennis stars attend elite academies and travel the globe for junior-circuit tournaments, Shelton developed his game while living a relatively normal life at home.
He played football and other sports for much of his childhood and went to a public high school before enrolling at the University of Florida, where his father, an ex-pro named Bryan, is the tennis coach.
This past spring, Shelton won the NCAA singles title as a sophomore. A few months later, he beat No. 5 Casper Ruud in Cincinnati, becoming the youngest American to beat a top-5 opponent since Roddick in 2001.
The big picture: At this time last year, Ben Shelton was a college kid ranked No. 569 in the world. Twelve months later, he's in the final eight at the Australian Open and will debut in the ATP top 50 next week. Life comes at you fast.
What's next: After beating compatriot J.J. Wolf on Sunday, Shelton will face another fellow American, Tommy Paul, tonight.
🚨 While you were sleeping … No. 24 Victoria Azarenka upset No. 3 Jessica Pegula, 6-4, 6-1, to reach her first Australian Open semifinal since winning the title there in 2013.
3. ⚾️ Moreno takes Angels off the market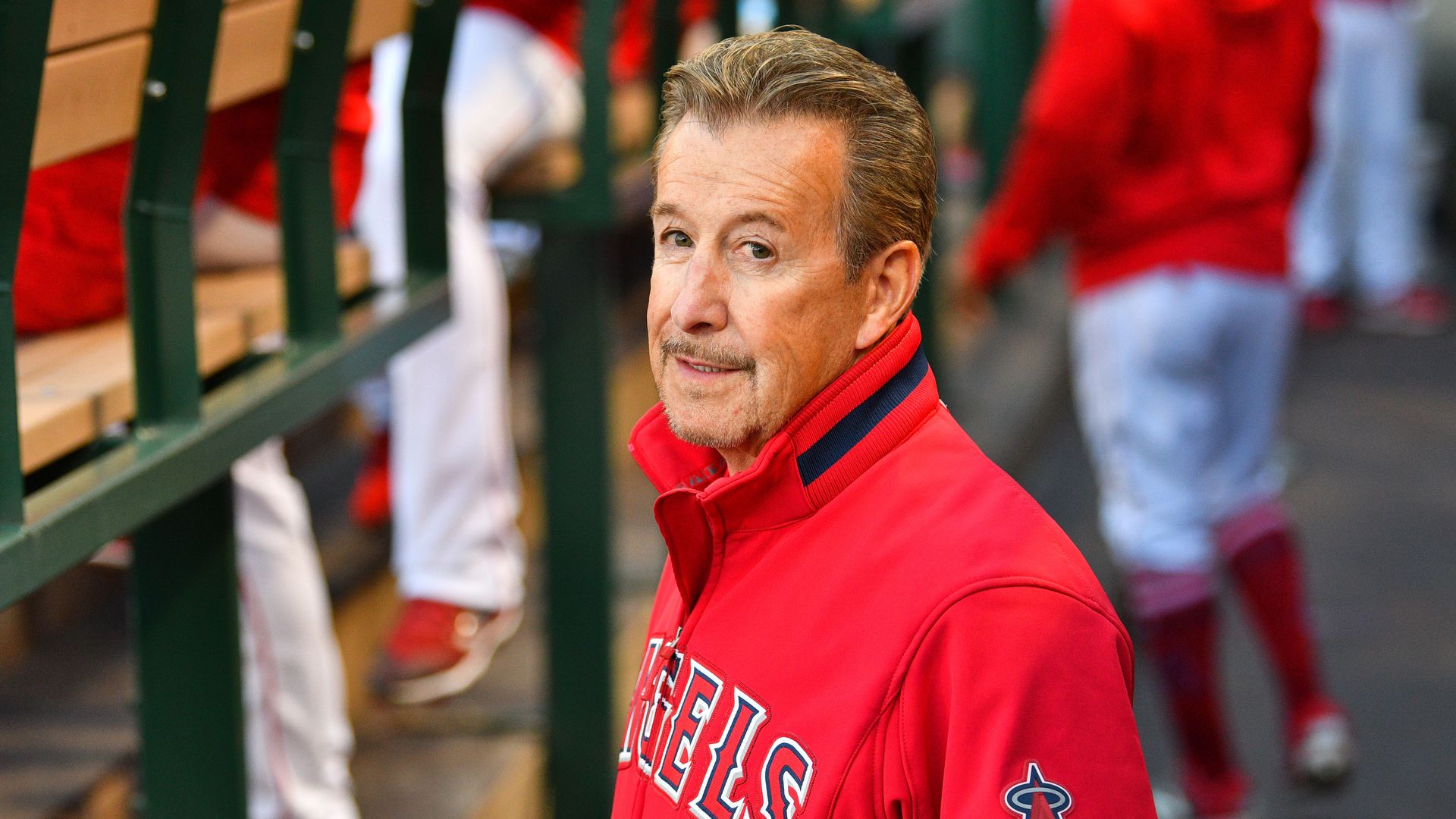 Angels owner Arte Moreno formally took the Angels off the market on Monday, five months after announcing that he was exploring a sale.
By the numbers: Moreno bought the Angels from the Walt Disney Company for $183.5 million in 2003, a year after their only World Series title. Two decades later, the franchise is valued at $2.5 billion, per Sportico.
The backdrop: Moreno, an outdoor advertising mogul and the first Hispanic owner of a major U.S. sports team, showed a willingness to spend big on talent after acquiring the Angels.
That paid off immediately, resulting in five AL West titles in Moreno's first seven seasons. But the Halos have struggled mightily since then, failing to win a single playoff game in 13 years.
Despite the presence of Shohei Ohtani and Mike Trout, and a payroll that consistently ranks near the top of the league, the Angels own MLB's longest active streak of losing seasons (seven).
Between the lines: Angel Stadium is MLB's fourth-oldest ballpark and desperately needs a major renovation. Moreno has twice negotiated deals with the city of Anaheim to purchase the ballpark and redevelop it, but both transactions fell apart, most recently due to a political scandal.
What to watch: The Nationals, valued at $2.2 billion, are now the only MLB franchise on the market.
4. ⚡️ Lightning round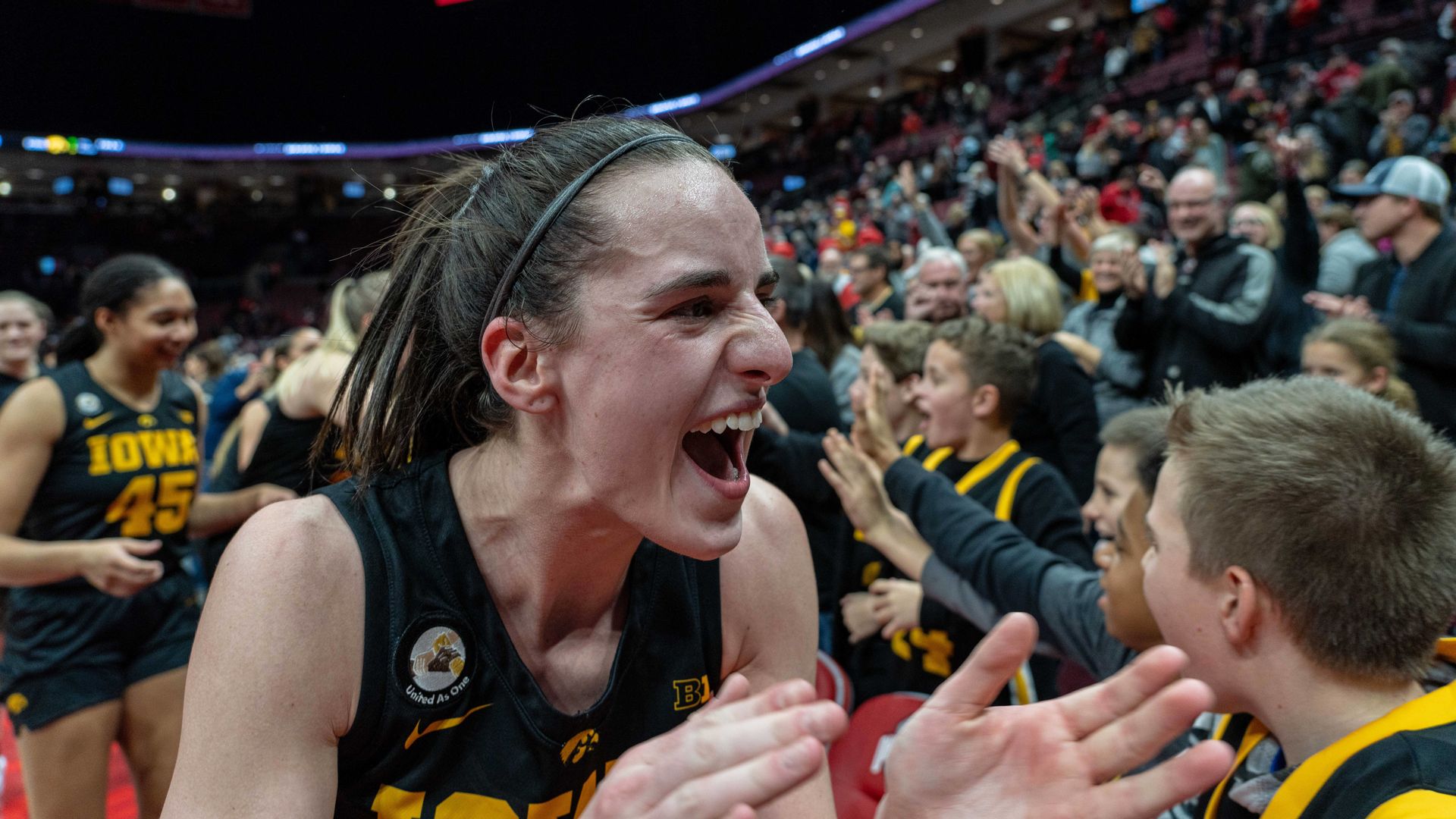 🏀 Clark joins Wade: Caitlin Clark (28-15-10) led Iowa past previously undefeated No. 2 Ohio State on Monday, joining Dwyane Wade as the only college basketball players this century to record a triple-double against an AP top 2 opponent.
⚾️ HOF announcement: The Baseball Writers' Association of America will announce the results of its 2023 Hall of Fame vote at 6pm ET today on MLB Network.
🏀 Lakers-Wiz swap: The Lakers made a trade with the Wizards on Monday, sending three second-round picks and guard Kendrick Nunn to D.C. in exchange for former No. 9 overall pick Rui Hachimura.
⛳️ LIV schedule: Saudi-backed LIV Golf has released its 14-event schedule for 2023, which includes three tournaments at courses owned by former President Trump.
🏀 Kansas falls again: Baylor beat Kansas, 75-69, on Monday in a matchup of the past two national champions. The Jayhawks have lost three straight games, tied for their longest losing streak under Bill Self.
5. 🏀 47 years later, a poll without Texas
For the first time in the 47-year history of the AP women's basketball poll, there are no teams from Texas in the Top 25.
The big picture: Until this week, every women's AP poll had featured at least one of these 11 teams:
Baylor
Houston
Lamar
Rice
Stephen F. Austin
TCU
Texas
Texas A&M
Texas Tech
UTEP
Wayland Baptist
Between the lines: Texas teams have won six NCAA titles: Baylor (3x), Texas, Texas Tech and Texas A&M. Baylor and Texas are the modern powers; at least one had been ranked every week since Dec. 4, 2000.
State of play: Connecticut now owns the longest active streak for a state thanks solely to UConn, which has appeared in 557 consecutive polls.
6. 🌎 In photos: Headshots
The theme of today's photo gallery: Hits to the face, which happen quite often in sports.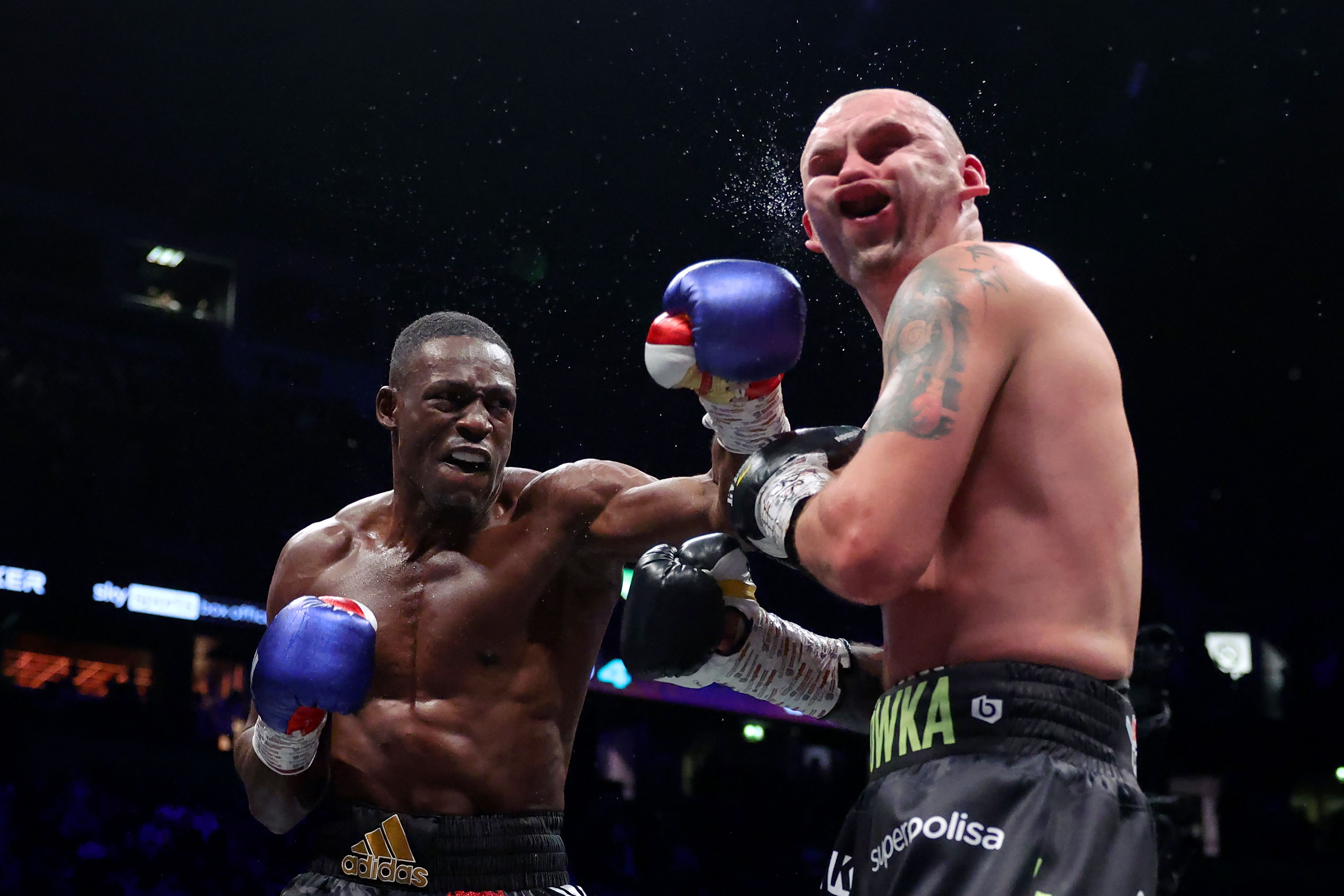 MANCHESTER, England — It will not surprise you to learn that the guy on the left won this fight.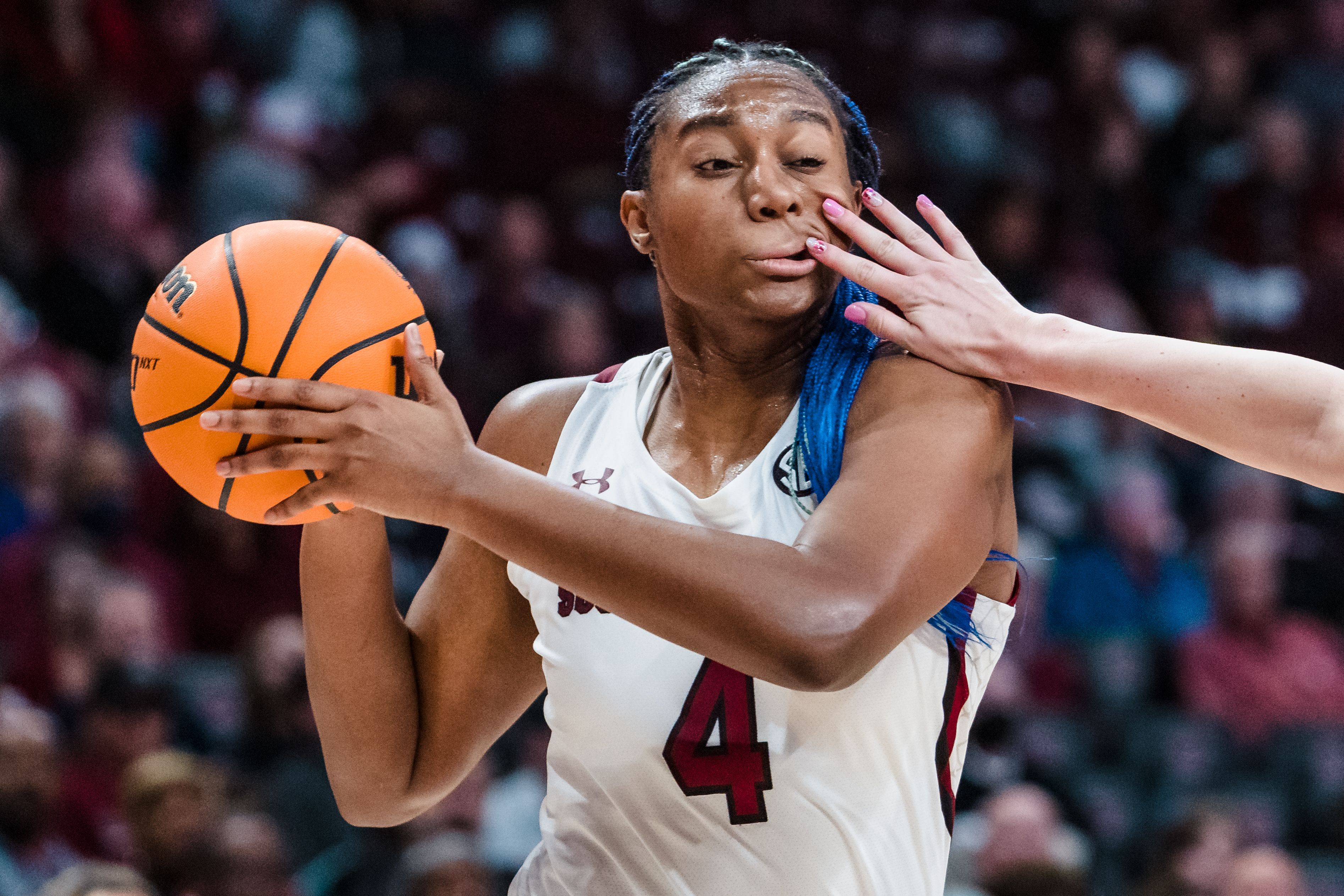 COLUMBIA, S.C. — Aliyah Boston takes a hand to the face during South Carolina's 92-46 win over Arkansas on Sunday, the Gamecocks' 26th consecutive victory dating back to March.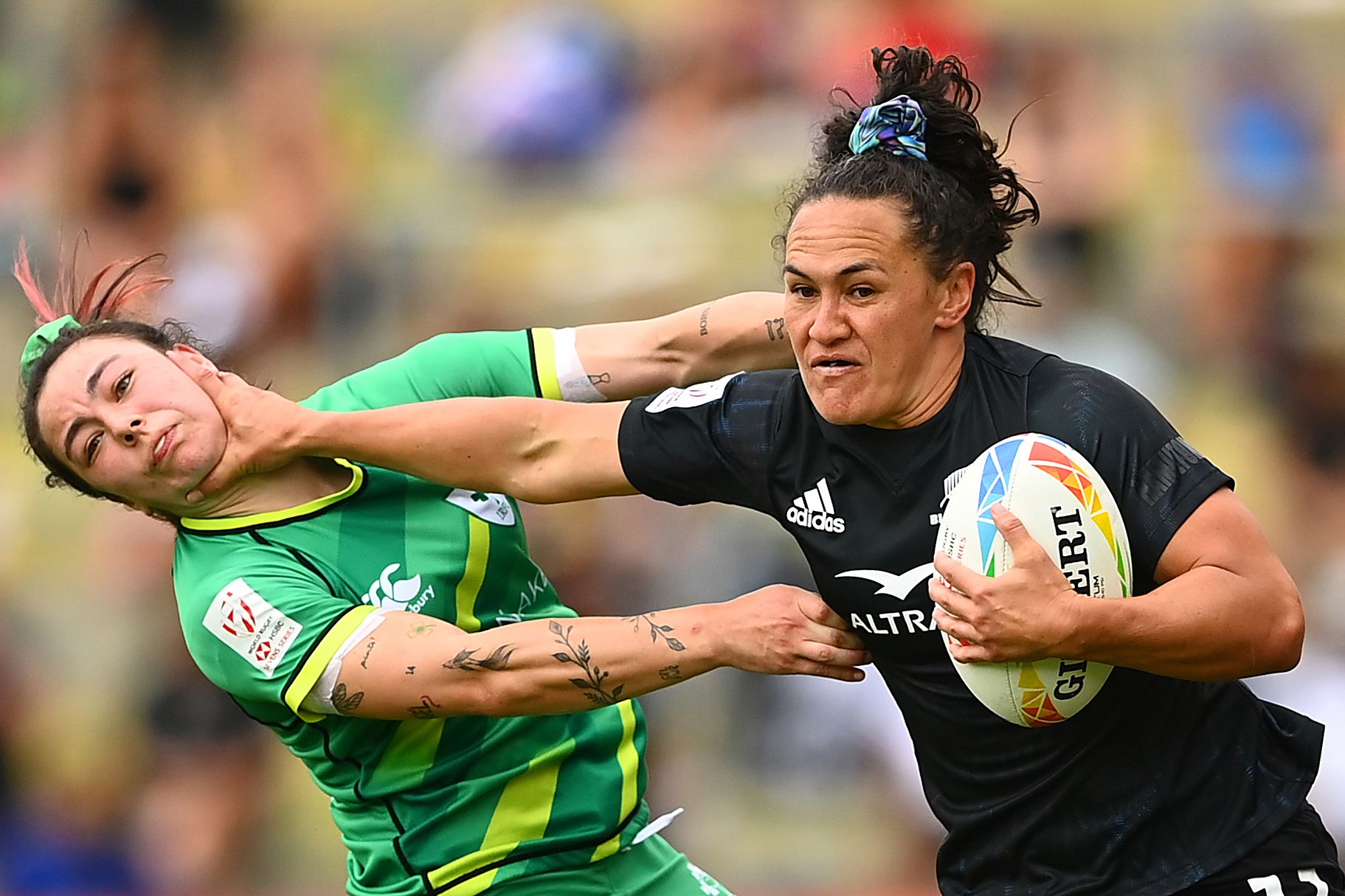 HAMILTON, New Zealand — Portia Woodman-Wickliffe of New Zealand fends off Natasja Behan of Ireland during Sunday's match at the 2023 World Rugby Sevens Series.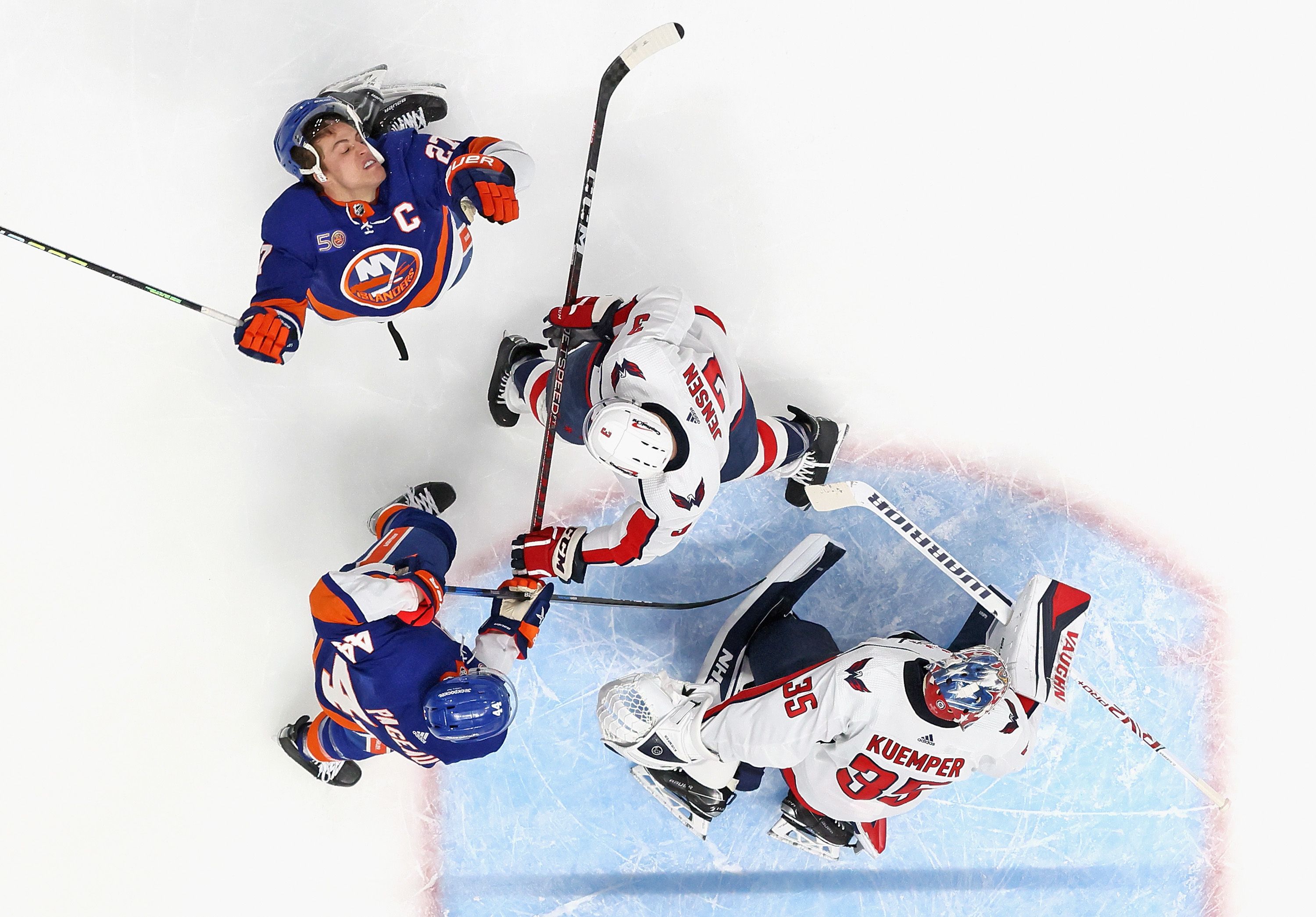 ELMONT, N.Y. — Anders Lee takes a stick to the face during a recent game against the Capitals, which the Islanders lost. Double whammy.
7. 📺 Watchlist: Battle of Los Angeles
The Clippers and Lakers face off tonight (10pm ET, TNT) at their shared home, looking to put recent cold streaks farther in the rearview on the strength of their red-hot superstars.
Clippers (25-24): They've won three of five after losing seven of eight; Kawhi Leonard is averaging 30-7-4 across seven games in January.
Lakers (22-25): They've won three of four since dropping three straight; LeBron James is averaging 35-10-8 in 10 games since turning 38.
More to watch:
8. 🌊 The Ocho: Wetsuit shaming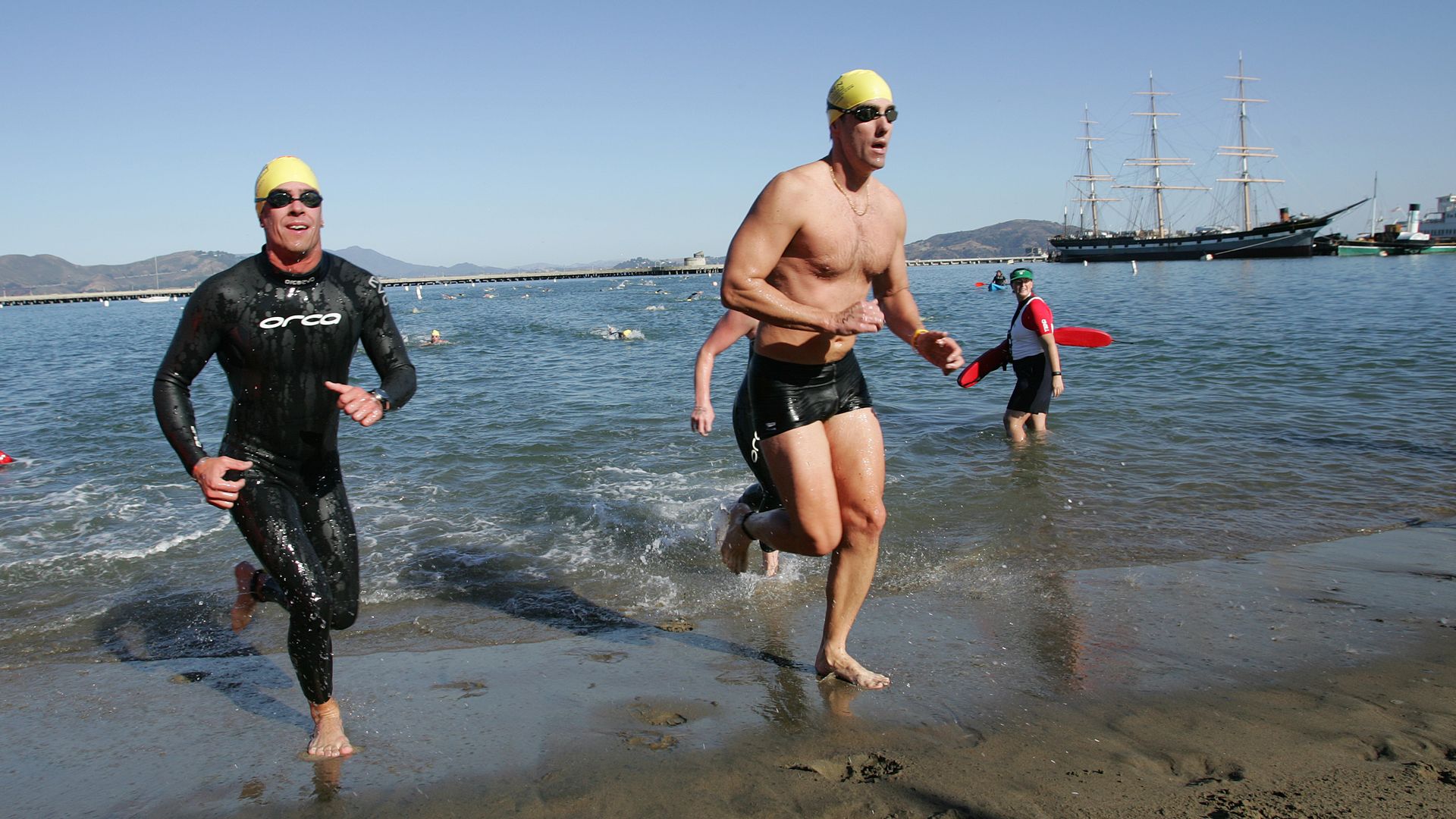 Wetsuit shaming is dividing Bay Area swimmers, writes WSJ's Robert McMillan ($).
"A year ago, Adele Gower used to cherish daily 90-minute swims in the frigid Bay here. Now she can only stand it for 30 minutes."
"She abandoned her wetsuit after being shamed by fellow San Francisco Bay swimmers — a peculiar, zealous breed, who jump off boats near Alcatraz Island and swim with seals in the city's Aquatic Park."
— McMillan
The backdrop: The wetsuit has a long history in the Bay Area, dating back to the early days of surfing. But San Francisco swimmers remain divided on the potentially lifesaving device.
Some locals call them "wuss suits." The 150-year-old South End Rowing Club, home to generations of early morning swimmers, prohibits them in its changing room.
But #TeamWetsuit isn't backing down: "We're here, we wear gear. Get used to it!" they once chanted to protest South End's anti-wetsuit culture and policies.
9. 🏈 NFL trivia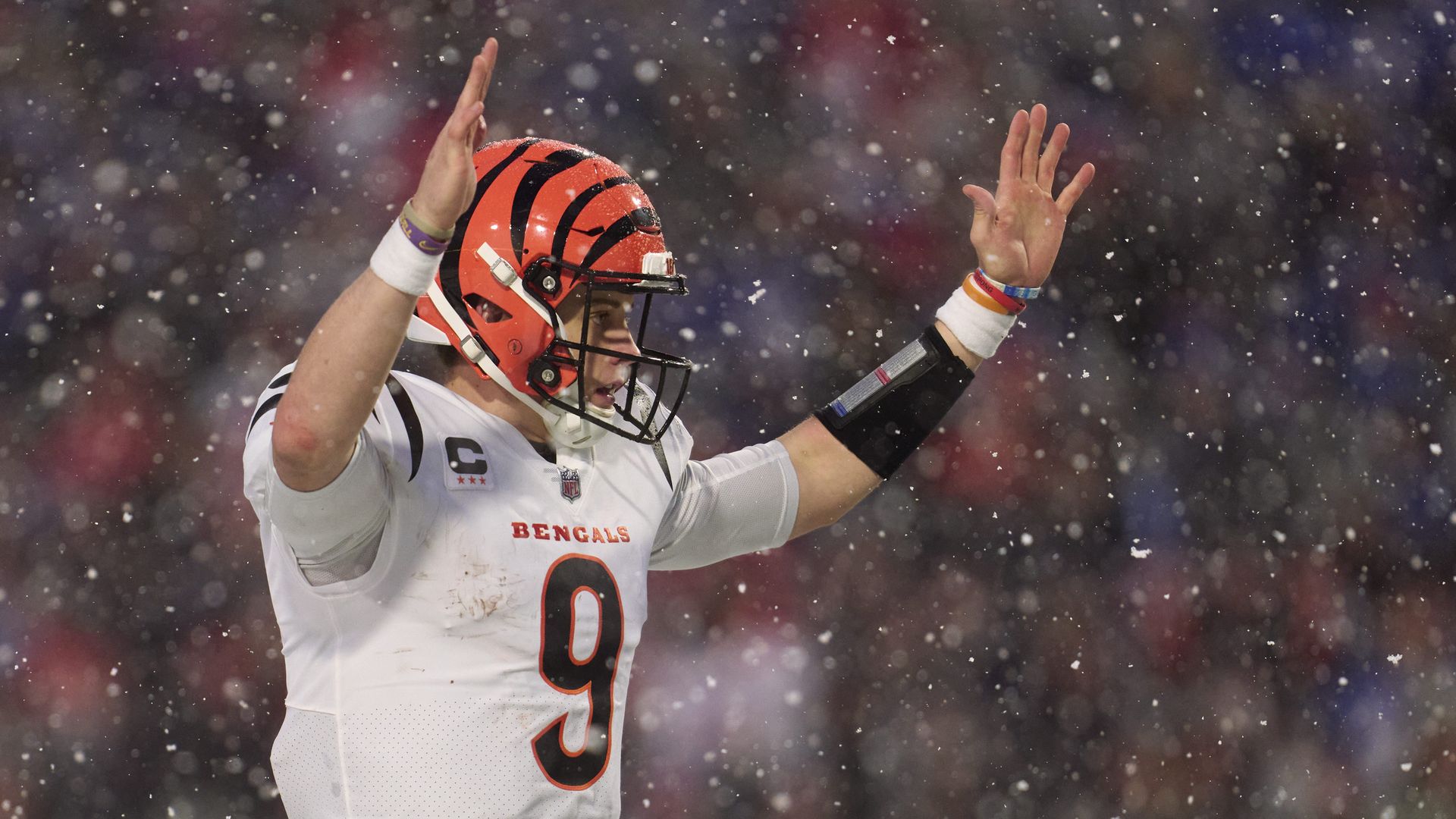 Joe Burrow is just the third QB in NFL history to win at least five playoff games within his first three seasons.
Question: Name the other two.
Hint: Both this century.
Answer at the bottom.
10. 🍿 1 dynamic duo: Ben and Matt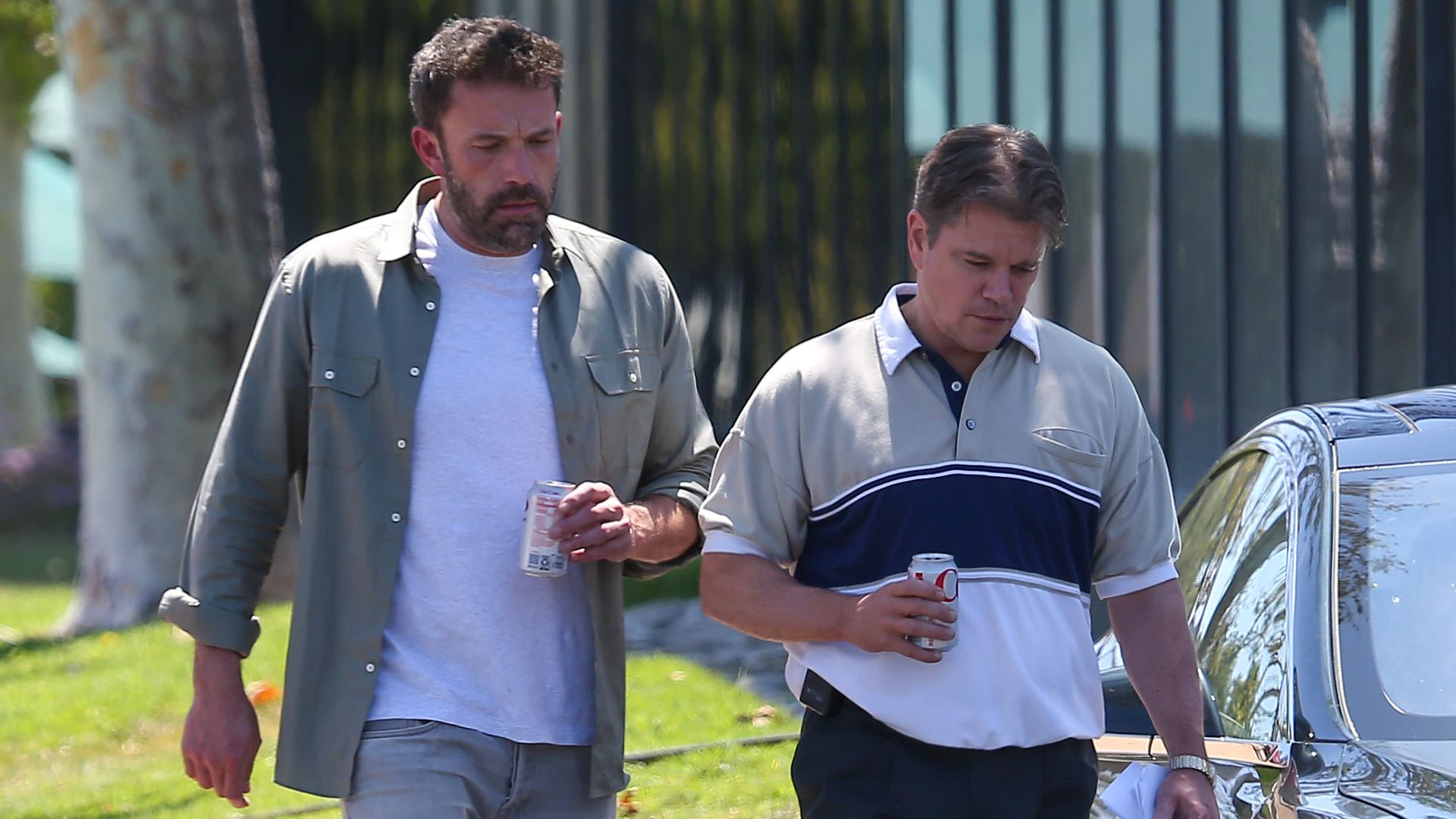 "Air," a new movie starring Ben Affleck and Matt Damon that tells the story of Nike's pursuit of Michael Jordan in the 1980s, will hit theaters on April 5, per the Hollywood Reporter.
Affleck directs, while also portraying Nike co-founder Phil Knight. Damon plays former Nike executive Sonny Vaccaro, who helped facilitate the shoe contract that changed sports forever.
Affleck and Damon have shared the screen on numerous occasions ("Good Will Hunting," "Dogma," "The Last Duel"), but this is the first time Affleck has directed his longtime friend.
Talk tomorrow,
Kendall "#TeamWetsuit" Baker
Trivia answer: Russell Wilson (6 wins, 2012-14) and Ben Roethlisberger (5, 2004-05)
🙏 Thanks for reading! Follow us for more (@kendallbaker and @jeffreytracy). Friends can sign up here. Thanks to Carolyn DiPaolo for copy edits.