🏈 Happy Friday! Below you will find a full preview of this year's college football season. Hope you enjoy it.
Scheduling notice: We'll be off on Monday, Labor Day, so see you back here Tuesday morning … with an exciting announcement!!!
Today's word count: 1,748 (6 minutes)
1 big thing: 150 years of college football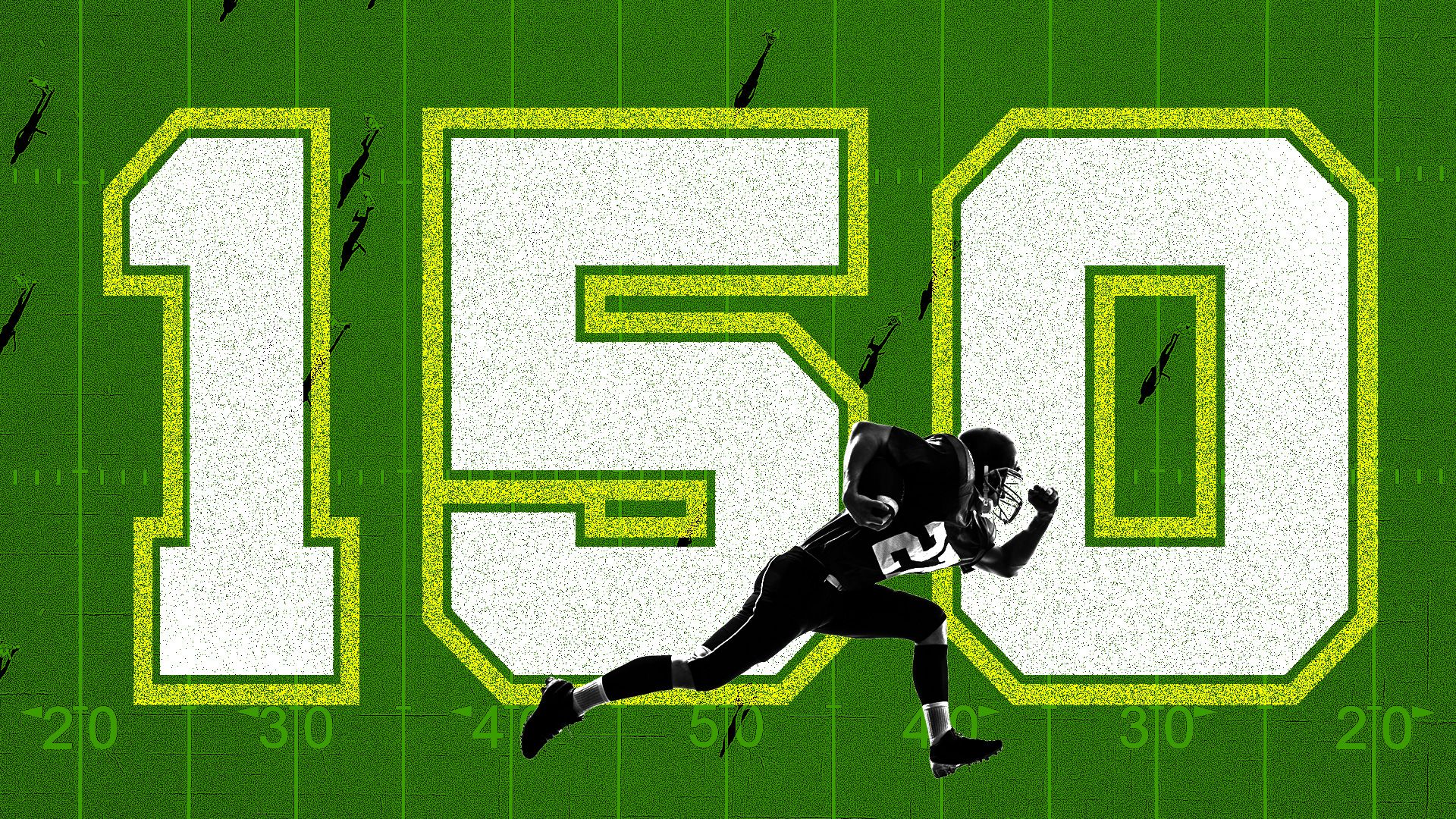 College football is commemorating 150 years of gridiron action this season. In celebration, let's hop in a time machine and review how we got here.
1869: College football was born on Nov. 6, 1869, when Rutgers beat the College of New Jersey (now Princeton), 6-4, in a game that looked more like soccer or rugby than modern football.
1880s: In December 1889, an amateur athletics magazine called "The Week's Sports" published the names of 11 college football players — the first-ever "All-America" team.
The concept was created by Walter Camp, aka "Father of American Football." Among his inventions: the line of scrimmage, the system of downs and the scoring system.
1900s: At the turn of the century, questions about violence threatened football's existence, so much so that President Teddy Roosevelt got involved. Numerous rule changes were made, including the 1906 legalization of the forward pass.
From the archives: In 1903, Princeton and Yale met in the championship. Fortunately for us, Thomas Edison sent a cameraman to film, so we have footage!!
1920s: The 1920s were considered the "Golden Age of Sports" in the U.S. For the first time, large numbers of post-war Americans were willing to pay money to attend sporting events.
Baseball and boxing were king, but college football crowds reached 100,000 fans for the first time and massive new stadiums were constructed to keep up with demand.
1940s: When the U.S. entered World War II, football became an integral part of military training at colleges around the country and resulted in schools like Army and Notre Dame building superpowers.
"Military leaders began to emphasize the purported link between college football and military preparation. A Navy commander ... even turned it into a chant: Football! Navy! War! And this spiritual link between football and war ... would prove the salvation of the sport." (The Athletic)
The modern era
1950s: With some of the wartime powers fading, the 50s featured national champions like Maryland, Tennessee, UCLA, Michigan State and Syracuse. Meanwhile, Oklahoma won a record 47 consecutive games.
1960s: In what was dubbed the "Game of the Century," Notre Dame and Michigan State battled to a 10-10 tie in 1966. It was only the 10th meeting between teams that were ranked Nos. 1 and 2 in the AP Poll.
1970s: The 70s were all about the wishbone offense and superstar RBs like Tony Dorsett (Pitt), Earl Campbell (Texas), Billy Sims (Oklahoma) and Archie Griffin (Ohio State) — the only two-time winner of the Heisman Trophy.
1980s: This was a decade defined by swagger (it's all about the "U," baby) and scandal (SMU got the death penalty in 1987). And let's not forget Barry Sanders' 1988 campaign — the best individual season ever.
1990s: Three of the first seven years featured split championships — 1990 (Colorado, Georgia Tech), 1991 (Washington, Miami), 1997 (Michigan, Nebraska) — which led to the creation of the Bowl Championship Series (BCS) in 1998.
2000s: Here are some names from the All-2000s team (chosen in 2009): QB Tim Tebow, RB Adrian Peterson, RB Darren McFadden, WR Larry Fitzgerald, WR Michael Crabtree, TE Kellen Winslow, DE Terrell Suggs, LB Patrick Willis, S Ed Reed (full roster).
2010s: Auburn won the 2010 championship, but their rivals in Tuscaloosa have dominated the decade — though Crimson Tide alum Dabo Swinney has built an emerging superpower to the east.
So there you have it. The history of college football. Now, let's turn our attention to the the 2019-20 campaign — the latest chapter in this spectacular 150-year story…
2. Preseason AP Poll
Sportsbooks are split on whether Clemson or Alabama is the favorite to win the national title. Per ESPN:
"At New Jersey sportsbooks, Clemson is the betting favorite ... while in Las Vegas, Alabama sits atop odds boards at several casinos. Caesars Sportsbook and MGM, two bookmakers who operate in both jurisdictions, have Alabama and Clemson listed as co-favorites. It's close everywhere."
3. Preseason AP First-Team All-America Team
Speaking of talent, here are the latest Heisman odds (via Westgate SuperBook). Not surprisingly, the five favorites are all QBs.
Trevor Lawrence, Clemson (3/1)
Tua Tagovailoa, Alabama (3/1)
Adrian Martinez, Nebraska (10/1)
Jalen Hurts, Oklahoma (12/1)
Justin Fields, Ohio State (12/1)
Reminder: Don't bet on any of these players!!! In the past decade, only one of the five preseason Heisman favorites actually won it: Marcus Mariota in 2014.
4. ACC preview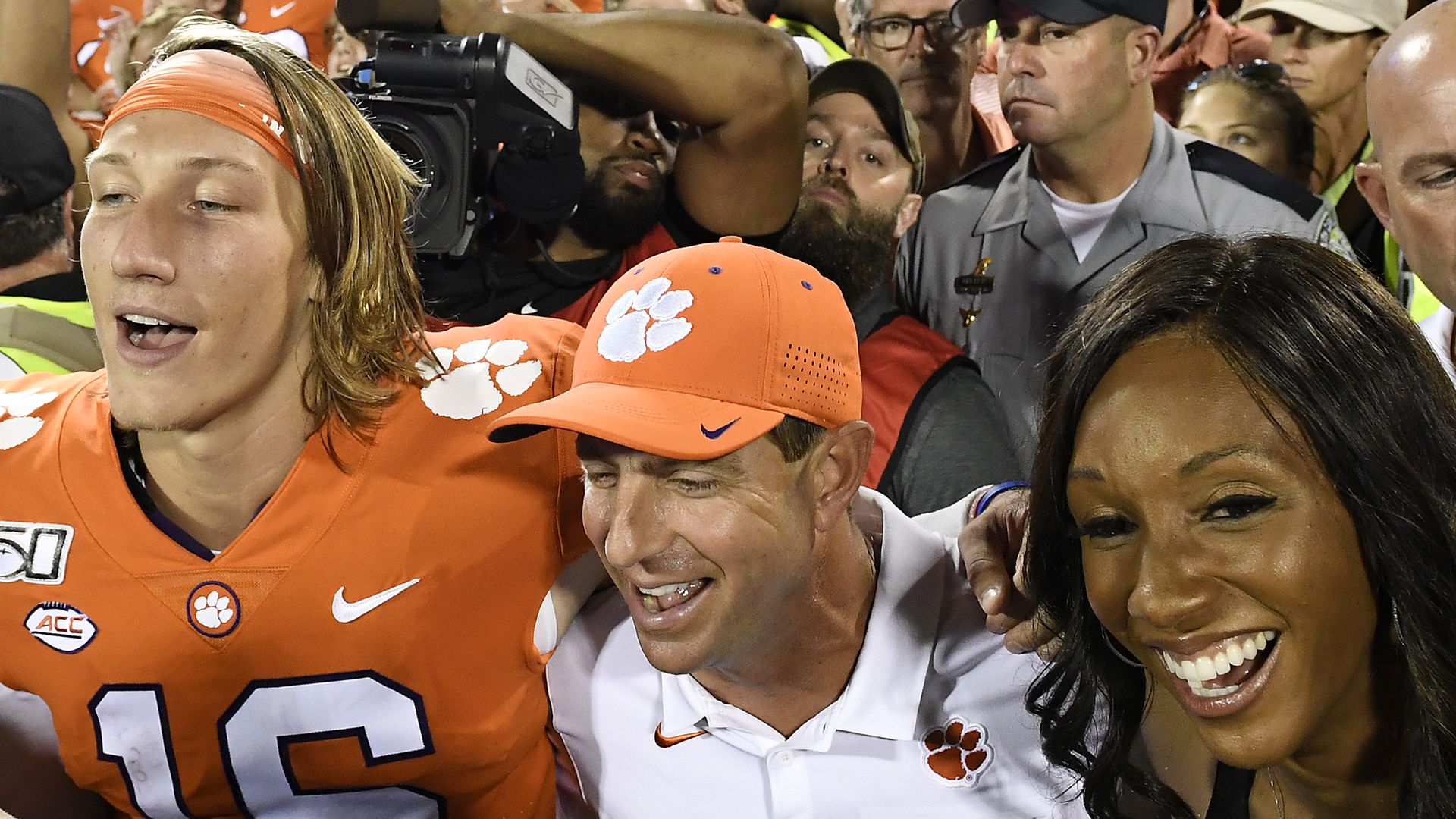 Clemson's title defense began with a 52-14 victory over Georgia Tech last night. Expect plenty more blowouts from the Tigers this season, especially in ACC games. They own the conference.
Projected finish (SP+ national ranking):
Atlantic: Clemson (2), FSU (35), NC State (47), Syracuse (53), Wake Forest (58), Boston College (65), Louisville (82)
Coastal: Miami (20), Virginia Tech (32), Virginia (38), Duke (59), Pitt (60), UNC (66), Georgia Tech (79)
By the numbers:
31.2 ppg: Clemson's average margin of victory in ACC games last season (31.2 points) was higher than the scoring average of all but four ACC teams. Expect the Tigers to dominate in similar fashion this year.
4 new coaches: Four ACC schools have new coaches: Louisville (former Appalachian State HC Scott Satterfield), Miami (former DC Manny Diaz), UNC (former Texas HC Mack Brown) and Georgia Tech (former Temple HC Geoff Collins).
Go deeper:
5. Big Ten preview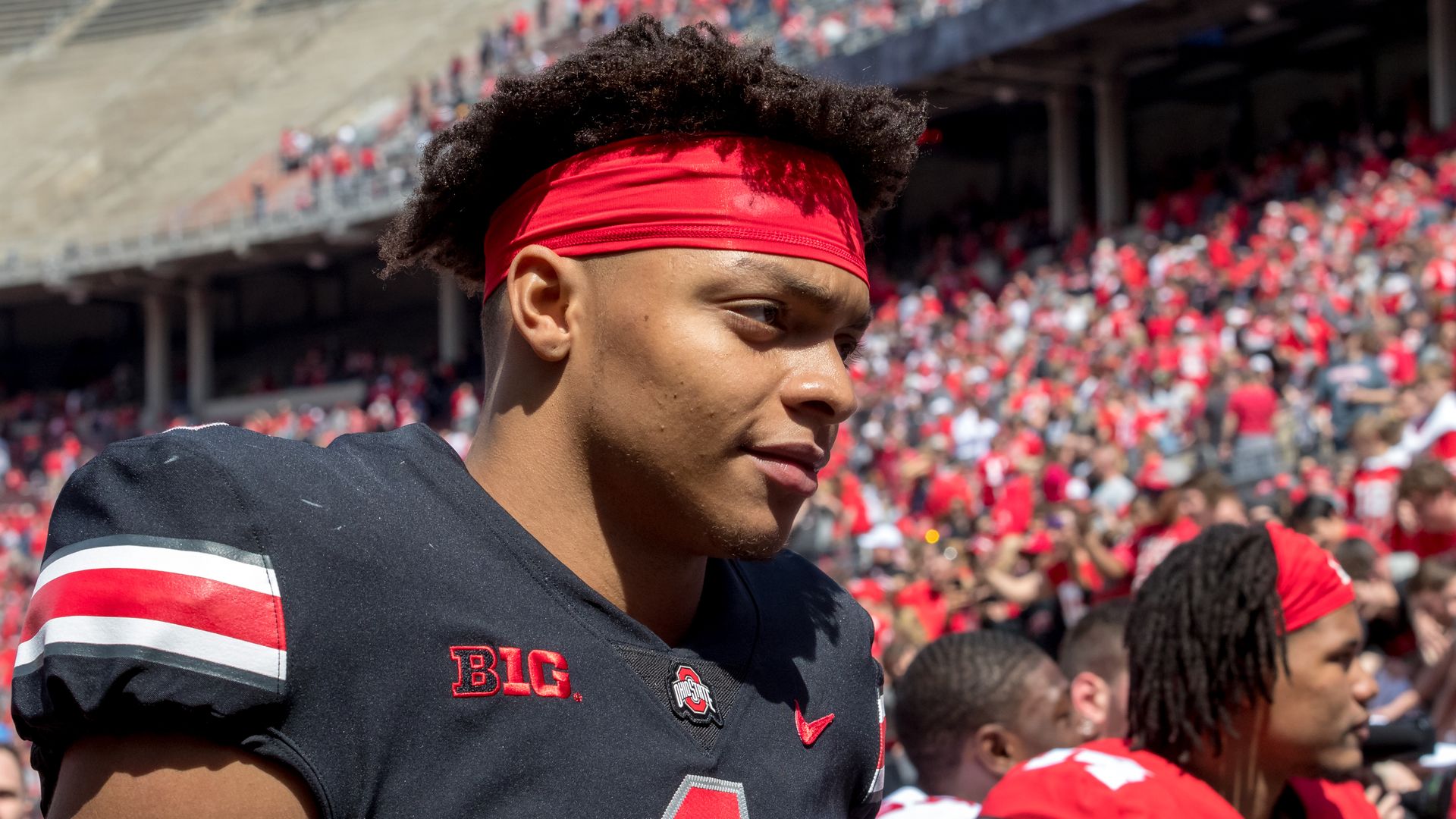 The top of the Big Ten East is loaded this year, with Ohio State, Michigan and Penn State all equally talented and deep. Meanwhile, the Big Ten West is vastly improved and might be the country's most wide-open division.
Projected finish:
East: Ohio State (7), Michigan (9), Penn State (16), Michigan State (23), Indiana (51), Maryland (68), Rutgers (111)
West: Wisconsin (14), Iowa (25), Minnesota (30), Nebraska (39), Purdue (48), Northwestern (63), Illinois (92)
By the numbers:
0-4: Jim Harbaugh is 0-4 against Ohio State. With Urban Meyer gone and Ryan Day in his first full season as a head coach, this might be Harbaugh's best — and maybe even last — chance to take down Michigan's nemesis.
13 years: The Big Ten hasn't had a player win the Heisman since Ohio State QB Troy Smith in 2006. With studs like Adrian Martinez (Nebraska) and Rondale Moore (Purdue) expected to contend, could this be the year the drought finally ends?
Go deeper:
6. Big 12 preview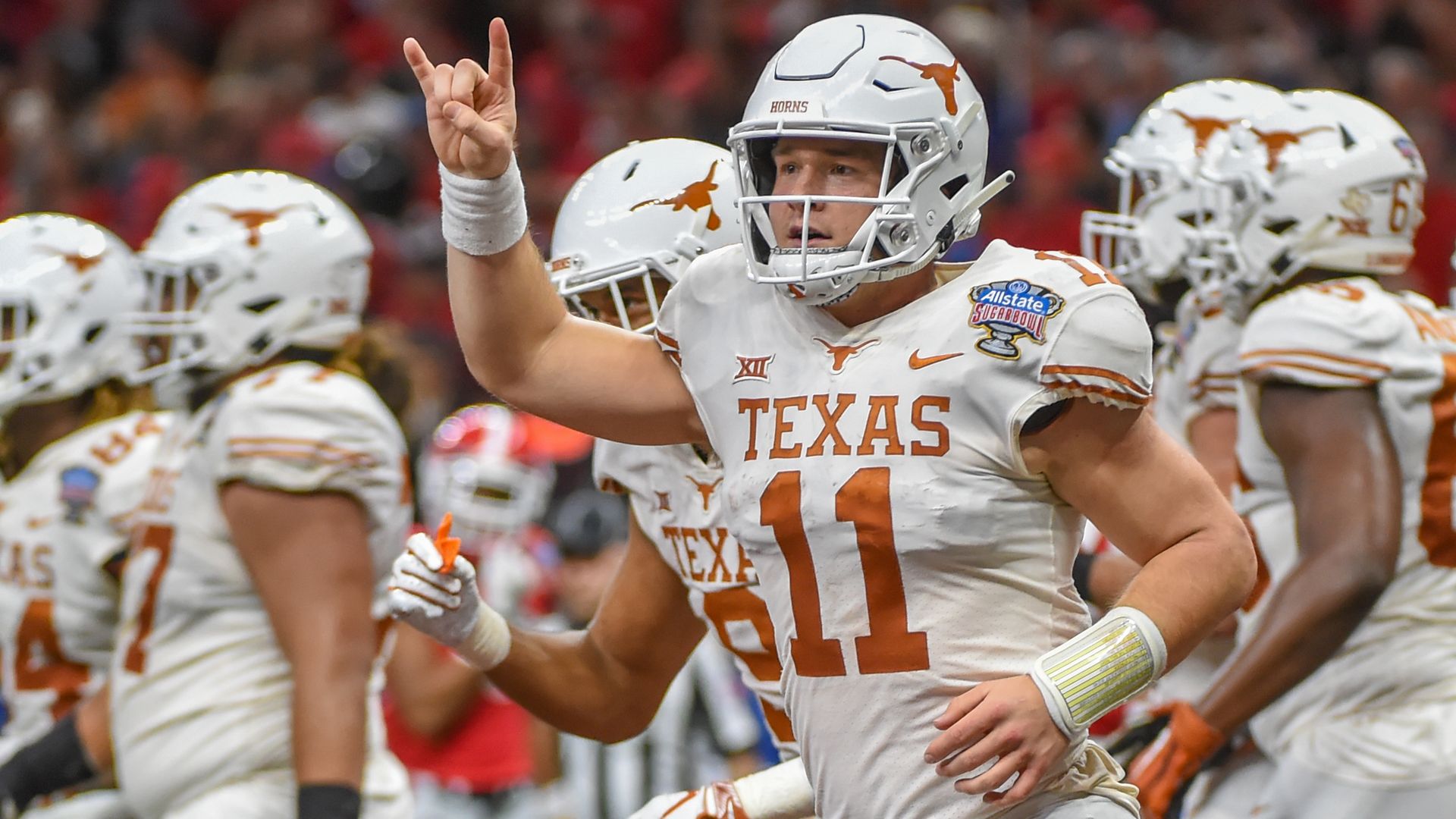 Perennial Big 12 favorite Oklahoma is projected to have the nation's No. 1 offense but ranks just 63rd on defense. If there's any offensive drop-off with Alabama transfer Jalen Hurts under center, this title race could get crowded in a hurry.
Projected finish: Oklahoma (5), Oklahoma State (22), Texas (31), TCU (33), Iowa State (41), Baylor (42), West Virginia (45), Texas Tech (54), Kansas State (75), Kansas (108)
By the numbers:
25-15-5: Texas QB Sam Ehlinger is one of two players in NCAA history to throw for 25 TD, rush for 15 TD and throw 5 or fewer INT (the other is Marcus Mariota). Can he lead the Longhorns back to the promised land?
7 FCS titles: Chris Klieman won seven FCS national championships at North Dakota State, including four of the past five. He'll be hoping for similar success at Kansas State, where he takes over for the legendary Bill Snyder.
Go deeper:
7. Pac-12 preview
Is this the year the Pac-12 finally returns to prominence? The struggling conference has sent just two teams to the College Football Playoff in its first five seasons and hasn't won a national title since the USC glory days (2004).
Projected finish:
North: Washington (15), Oregon (19), Washington State (34), Stanford (36), Cal (64), Oregon State (98)
South: Utah (18), USC (28), Arizona State (55), Arizona (57), UCLA (61), Colorado (69)
By the numbers:
8 draftees: Washington lost eight players to the NFL draft last season — only Alabama (10) and Ohio State (9) lost more. If the Huskies can contend for a title this year, it will speak volumes about the state of the program.
19 transfers: UCLA finished a disappointing 3-9 in Chip Kelly's first year at the helm. And after 19 players transferred this offseason, things could get ugly in Westwood if the Bruins don't show serious improvement in Year 2.
Go deeper:
8. SEC preview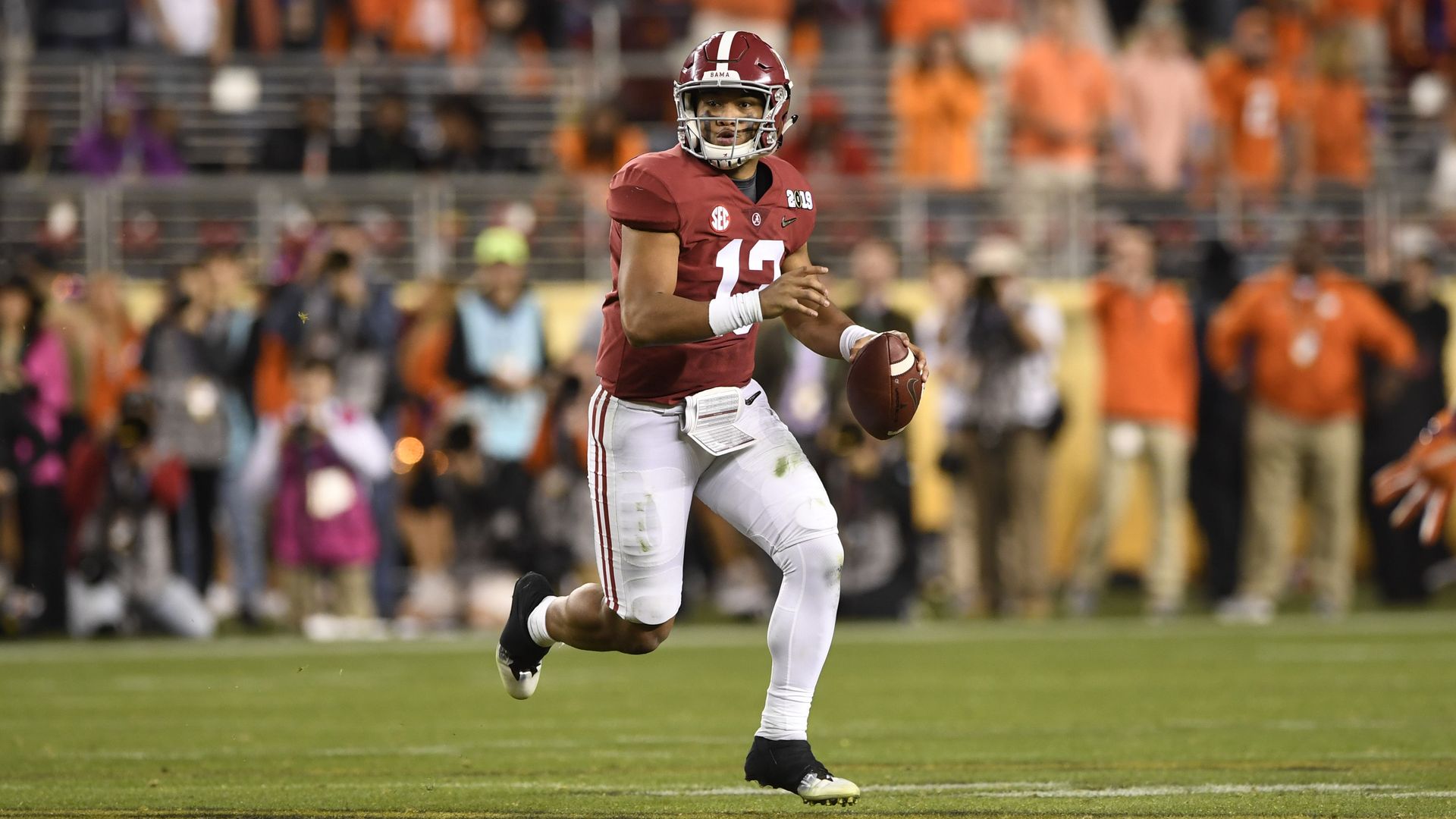 Georgia hasn't lost an SEC East game since 2016 and came frustratingly close to knocking off Alabama the past two seasons. Between QB Jake Fromm, an insane O-line and one of the country's best defenses, this could be the Bulldogs' year.
Projected finish:
East: Georgia (3), Florida (6), Missouri (13), South Carolina (17), Tennessee (26), Kentucky (40), Vanderbilt (49)
West: Alabama (1), LSU (4), Auburn (8), Mississippi State (10), Texas A&M (11), Ole Miss (37), Arkansas (52)
By the numbers:
$7+ million: From 2016 through 2018, Georgia spent more than $7 million on football recruiting, which ranked first nationally, well ahead of No. 2 Alabama ($5.6 million) and No. 3 Tennessee ($5 million).
0-8 record: LSU has lost eight straight games to Alabama since beating them in 2011, but the Tigers finished last season in the AP top 10 for the first time since 2013 and things are looking up. They'll meet in Tuscaloosa in November.
Go deeper:
9. Best of the rest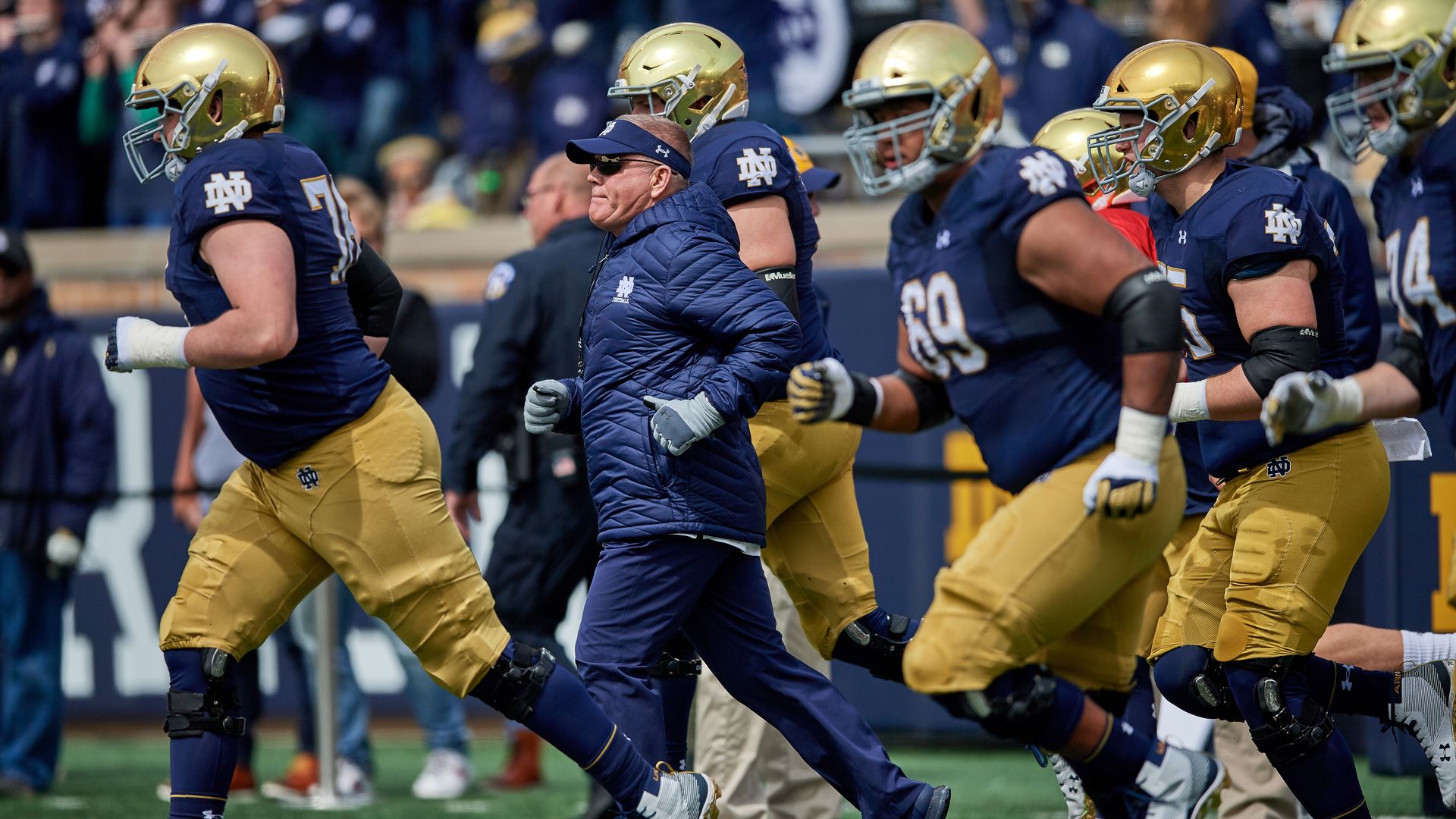 Notre Dame, Independent: After losing 30-3 to Clemson last year's playoff, some were arguing that Notre Dame didn't belong. The Irish will have a chance to prove it this year, with away games at both Georgia and Michigan.
UCF, AAC: After winning 25 of their last 26 games, UCF is starting true freshman Dillon Gabriel at QB. He looked solid in last night's 62-0 win over Florida A&M (and so did his backup, former Notre Dame starter Brandon Wimbush).
Army, Independent: Army finished last season ranked No. 19 with an 11-2 record and came within an overtime score of beating Oklahoma. Huge game against Michigan in Week 2, as they look to build off last year's run.
Go deeper: Full Group of Five preview
Bonus: The best fed programs in America
Thanks to our friends over at SportsSource Analytics, we were able to look at every single play from 2018 and calculate the average weight of every player on the field to determine the best fed teams in the country.
Conference rankings: Here's how the Power 5 conferences rank in terms of average weight:
SEC (240.59 lb.)
Big Ten (239.96)
ACC (237.83)
Pac-12 (235.46)
Big 12 (234.99)
10. Schedule: This weekend and beyond
This weekend: The five best games on Saturday (full weekend schedule):
12pm ET: Boise State (+4.5) at FSU
3:30pm ET: South Carolina (-10) at UNC
4pm ET: Northwestern at Stanford (-6.5)
7:30pm ET: No. 11 Oregon (+3.5) vs. No. 16 Auburn (in Arlington)
10:30pm ET: Fresno State at USC (-13.5)
Beyond: Here are the 10 most anticipated games this month, ranked by average ticket resale price on SeatGeek. Click to buy, invite some friends, book a trip and make some memories.
Enjoy the long weekend!
Kendall "Now that's what I call a newsletter" Baker