April 07, 2022
👋 Good morning! Opening Day, the Masters and the Frozen Four? What a day to be alive.
⛳️ Pick your squad: We're hosting a free-to-play Masters Fantasy League. Pick your four golfers by 8am ET to enter. There will be prizes.
Today's word count: 1,998 words (7.5 minutes).
Let's sports ...
1 big thing: ⚾️ Wake up, it's baseball season!
It's been 156 days since the Braves' improbable World Series run. At long last, baseball returns, Axios' Jeff Tracy writes.
State of play: A lot has changed since last year. Here are three key changes to keep in mind as the season gets underway this afternoon with a seven-game Opening Day slate:
Universal DH: Max Scherzer's probably happy pitchers no longer have to hit after going 0-for-59 last season, but former teammate Bryce Harper isn't a fan: "I'm really going to miss the NL style of play."
Electronic signs: Catchers can now relay signs to pitchers (and select fielders) using an electronic device developed by a company called PitchCom. This was tested last year in the minors.
Expanded playoffs: 12 teams make the playoffs with the addition of two wild cards per league. The two best division winners in each league earn byes, while the other eight teams play best-of-three series.
Storylines:
Same faces, new places: A record 11 free agents signed nine-figure deals, all with new teams: Corey Seager and Marcus Semien (TEX); Kris Bryant (COL); Freddie Freeman (LAD); Trevor Story (BOS); Javier Báez (DET); Max Scherzer (NYM); Carlos Correa (MIN); Nick Castellanos (PHI); Kevin Gausman (TOR); Robbie Ray (SEA)
Young studs: In 2021, players under 25 collectively had their best offensive season ever thanks to stars like Vlad Guerrero Jr., Juan Soto, Fernando Tatis Jr. and Ronald Acuña Jr. They're ready for their encore.
Prospects in the show: Speaking of young talent, the new CBA incentivizes teams to bring their best prospects up early, and four of MLB's top five prospects made the Opening Day roster.
Injury concerns: Shortened spring training has at least one executive "terrified" by the number of April injuries he expects. "We're not close to being ready to play," he told The Athletic (subscription).
Go deeper: 22 bold predictions (CBS)
Bonus: ⚾️ Team-by-team snapshot
Each team in five words or less ...
Dodgers (projected record: 99-63): An unfair amount of talent.
Braves (93-69): Freddie's gone, champs still loaded.
Yankees: Judge + Stanton + Gallo + Donaldson = homers
Blue Jays (92-70): Time to make the leap.
Astros (92-70): Going for sixth straight ALCS.
White Sox (91-71): Preparing for Luis Robert's breakout.
Brewers (91-71): This pitching staff is nuts.
Padres (87-75): No more bikes for Tatis.
Rays (87-75): What magic will they conjure?
Red Sox (86-76): That infield! Story, Devers, Bogaerts.
Phillies (85-77): Lotta pop, not much leather.
Mets (84-78): Will money equal success?
Angels (84-78): Trout-Ohtani-Rendon, pitchers' nightmare.
Giants (84-78): Another surprise run coming?
Twins (83-79): Correa's swagger comes to Minny.
Cardinals (81-81): Three HOFers go out together?
Mariners (80-82): The J-Rod show is here.
Reds (80-82): At least Votto's still there.
Guardians (78-84): New name, who dis?
Marlins (76-86): Still not quite there. Probably.
Cubs (75-87): Friendly confines welcome Japanese superstar.
Tigers (73-89): Lotta moves. Will they work?
Royals (73-89): Greinke came home.
Nationals (72-90): Soto might walk 150 times.
Rangers (72-90): $500m infield to kickstart future.
Rockies (71-91): Pumped for Bryant moonshots.
Diamondbacks (69-93): At least they extended Marte.
Athletics (69-93): Perennial contender no more.
Pirates (67-95): Call up Oneil Cruz!
Orioles (62-100): That farm system though!
Go deeper: Power rankings (The Ringer)
2. ⛳️ 25 years later, Tiger's next chapter begins
Twenty-five years ago this week, 21-year-old Tiger Woods won his first Masters — by 12 strokes — and changed golf forever. A quarter-century later, he intends to astonish us once more.
Driving the news: Woods is the story at Augusta this week. Thirteen months after a car crash that could have resulted in the amputation of his lower right leg, he'll tee off this morning (10:34am ET) at the 86th Masters.
Merely seeing Woods on the course will be enough for most fans, but it won't be enough for him. If you know Tiger, you know he's playing to win. "That's how I am," he told CBS in February.
"He doesn't strike me as a guy who's played at home and he's shooting a bunch of 75s and 76s and he's like, 'OK, I'm gonna give Augusta a try this year,'" Justin Thomas told the No Laying Up podcast.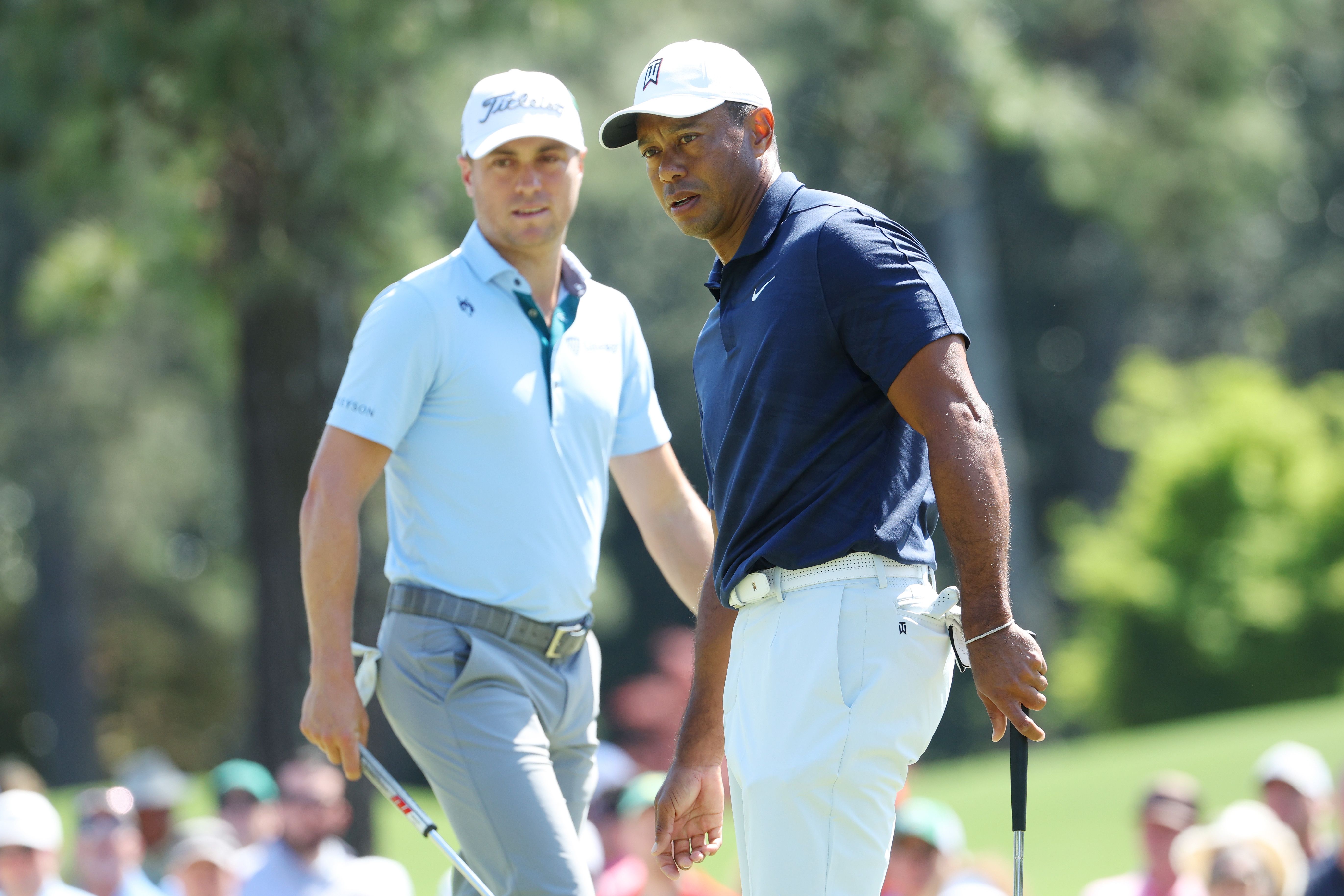 The big picture: Woods' presence changes the calculus for just about everyone, from broadcasters and journalists to fans and players. It's also a huge deal for his equipment sponsors.
"We couldn't have asked for a better gift," TaylorMade CEO David Abeles tells Axios. Woods plays with TaylorMade clubs, and Abeles is particularly excited that he'll be swinging their new Stealth driver.
The Stealth is "extremely noticeable," Abeles says, thanks to its bright red carbon-fiber face. It's the culmination of 20 years of research and represents the future of TaylorMade.
The company that invented the metalwood in 1979 is now out to kill it, and the hope is that the Stealth ushers in the "Carbonwood Age." Woods using it to hit bombs on a stage like this? Invaluable.
Field notes:
Favorites: Jon Rahm (+1300), Cameron Smith (+1400), Justin Thomas (+1400), Scottie Scheffler (+1600), Dustin Johnson (+1600), Jordan Spieth (+1700), Collin Morikawa (+2000), Brooks Koepka (+2000), Rory McIlroy (+2000), Viktor Hovland (+2000). Odds via FanDuel.
Full capacity: Spectators were prohibited from attending the 2020 Masters, and only a limited number were on hand for Hideki Matsuyama's win a year ago. The roars are back!
New-look holes: The tee boxes on No. 11 and No. 15 have been pushed back and moved around, transforming both holes. Alterations are now the norm at Augusta, as the course tries to keep up with modern golf.
Missing Mickelson: Masters officials say Phil Mickelson was invited but chose not to play amid all the awkwardness. "His absence is unavoidable," writes The Athletic's Brendan Quinn (subscription).
Go deeper: Some people will never understand Bryson DeChambeau (The Ringer)
3. 🎓 Report: Cash-for-grades falling short
Only 22 of 130 FBS schools plan to avail themselves this semester of a new rule allowing them to pay athletes up to $5,980 each year for good academic performance, ESPN reports, Jeff writes.
Why it matters: Some coaches already making seven-figure salaries are eligible for bonuses if their athletes get good grades, but many of the athletes actually earning those grades are not.
State of play: This new rule came as a result of the Supreme Court's unanimous decision in NCAA vs. Alston. The 22 schools planning to make payments this semester comprise all five power conferences, plus UConn.
SEC (9): Arkansas, Auburn, Florida, Kentucky, LSU, Ole Miss, South Carolina, Tennessee, Missouri
Big 12 (5): Iowa State, Oklahoma, Oklahoma State, Texas, Texas Tech
Pac-12 (3): Colorado, Oregon, Washington
ACC (3): Clemson, Miami, UNC
Big Ten (1): Wisconsin
Big East (1): UConn
Context: Only 101 of 130 schools responded to ESPN's inquiry. Besides the 22 above, 34 are undecided, 20 will make payments in the future, 15 have no plans to do so and 10 provided no relevant documents.
4. ⚡️ Lightning round
🏀 Dream get No. 1 pick: The Atlanta Dream have acquired the No. 1 pick in Monday's WNBA draft from the Washington Mystics. Baylor's NaLyssa Smith and Kentucky's Rhyne Howard are projected as the top two picks.
⚾️ Acuña rips Freeman: Ronald Acuña Jr. blasted former Braves teammate Freddie Freeman on Instagram Live, saying he was overbearing and that they had friction. Braves-Dodgers rivalry 📈
🏈 AGs write to Goodell: Six state attorneys general wrote a letter to Roger Goodell, expressing "grave concern" in regards to the recent reports about the NFL's treatment of women employees.
🏀 Silver's concern: Adam Silver is concerned about "a trend of star players not participating in a full complement of games." So are we, Adam. So are we.
🏓 Good read: Ping-pong, the great equalizer (Hannah Beech, NYT)
"Wally Green has played everywhere from Brooklyn to Pyongyang, becoming a beloved American ambassador for table tennis — and international understanding — in the process."
5. 🍿 Grab some popcorn: T.O.'s back
At 48 years old, Hall of Famer Terrell Owens is returning to professional football as a wide receiver in the Fan Controlled Football League.
But wait, there's more: He's expected to be paired with Johnny Manziel, who will start at QB for the Zappers for the second straight season. You can't make this stuff up.
"I wasn't given the opportunity to play [in the NFL]. That doesn't mean I retired. ... Everybody's skills at some point may decline, but I think there are certain people that kind of defy those odds and I think I'm one of those people."
— Owens, via ESPN
Context: The FCF is a 7-on-7 league that empowers fans to make key decisions, including calling plays in real time. The season begins April 16, with games streaming on the Fubo Sports Network.
Owens hasn't played professionally since 2010, when he caught 72 passes for 983 yards and nine TD with the Bengals.
He turned heads in 2020 when he ran the 40-yard dash in the 4.4-second range while keeping pace with Tyreek Hill.
6. ⚽️ "Hand of God" jersey could set record
The jersey worn by Diego Maradona when he scored two of the most famous goals in soccer history during Argentina's 2-1 win over England in the 1986 World Cup is up for auction — and could make history.
Why it matters: The famous shirt is expected to be among the most expensive game-worn jerseys ever sold. The record is $5.64 million, paid in 2019 for a Yankees road jersey worn by Babe Ruth in the late 1920s.
Maradona scored the "Hand of God" goal in the 51st minute. Four minutes later, he scored the "Goal of the Century," lifting Argentina to the final, where they beat West Germany, 3-2.
After the game, Maradona swapped shirts with England midfielder Steve Hodge, who never sold it, until now. It was Hodge who accidentally flicked the ball toward him on the "Hand of God" goal.
Context: Maradona, widely considered one of the greatest soccer players of all time, died in 2020 at age 60 from cardiac arrest.
7. 🌎 The world in photos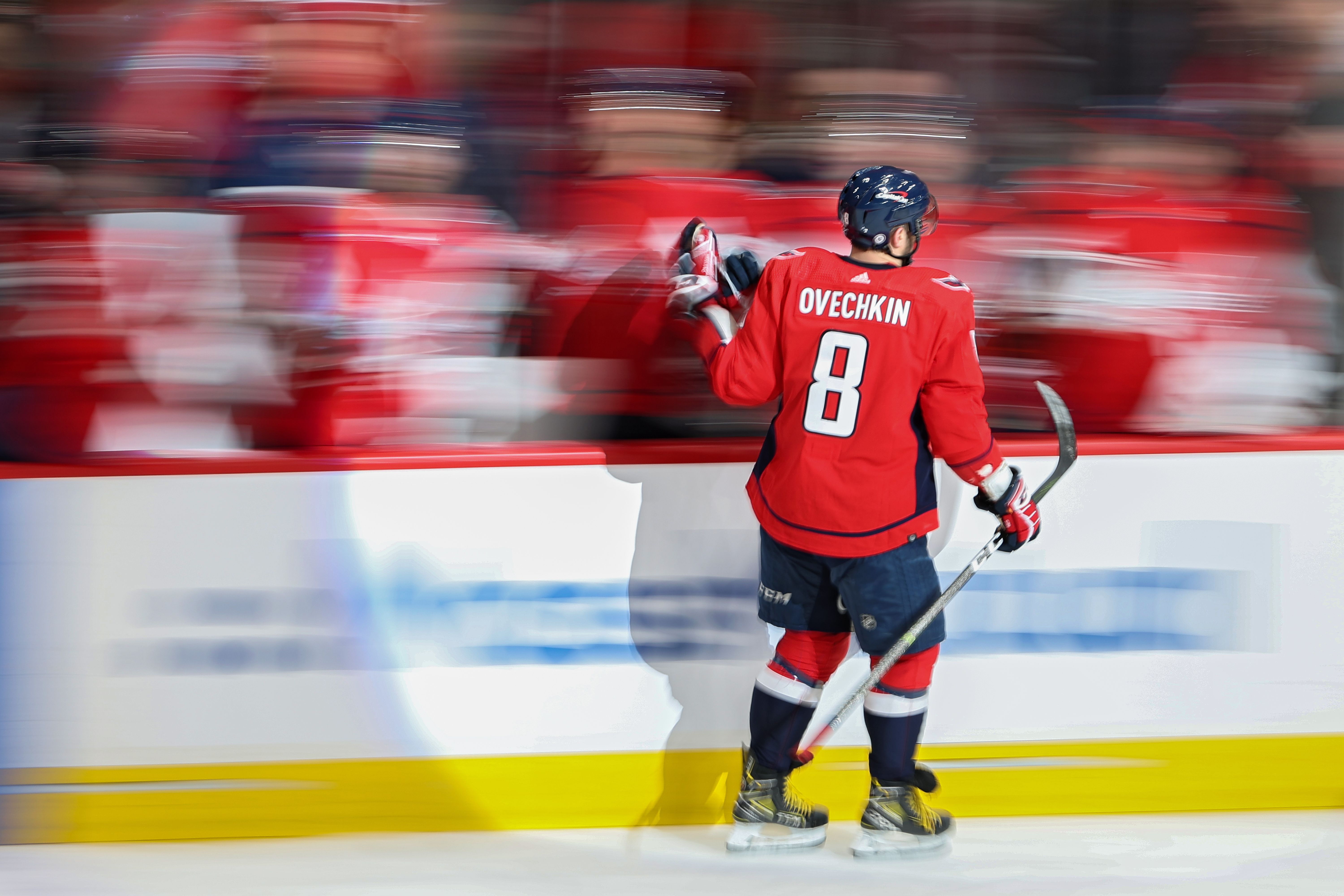 WASHINGTON, D.C. — Alex Ovechkin recorded his 1,400th career point on Wednesday, joining Steve Yzerman (Red Wings), Mario Lemieux (Penguins) and Stan Mikita (Blackhawks) as the only players to reach that mark with one team.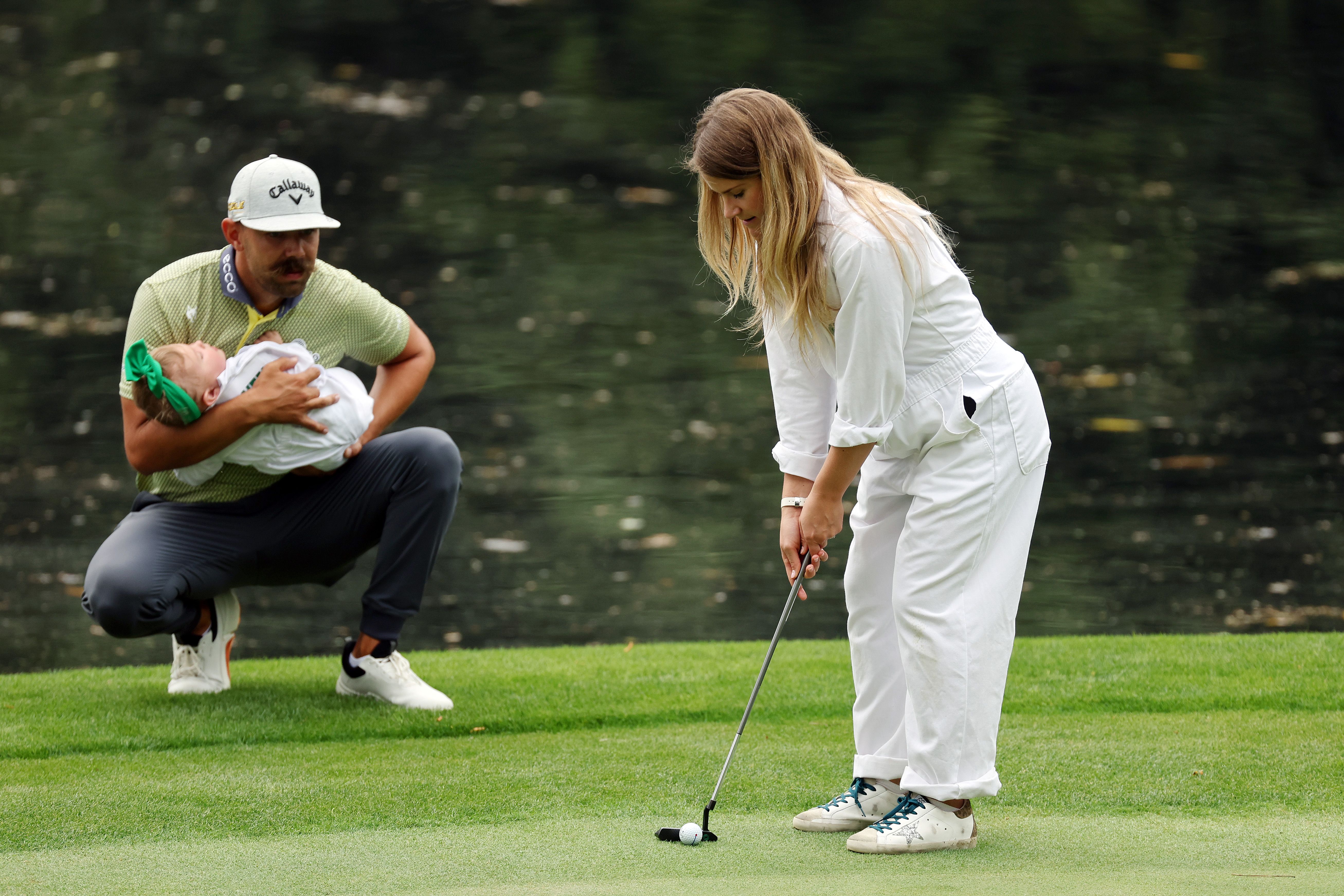 AUGUSTA, Ga. — The annual Masters Par 3 contest was cut short by weather, but it was still a blast.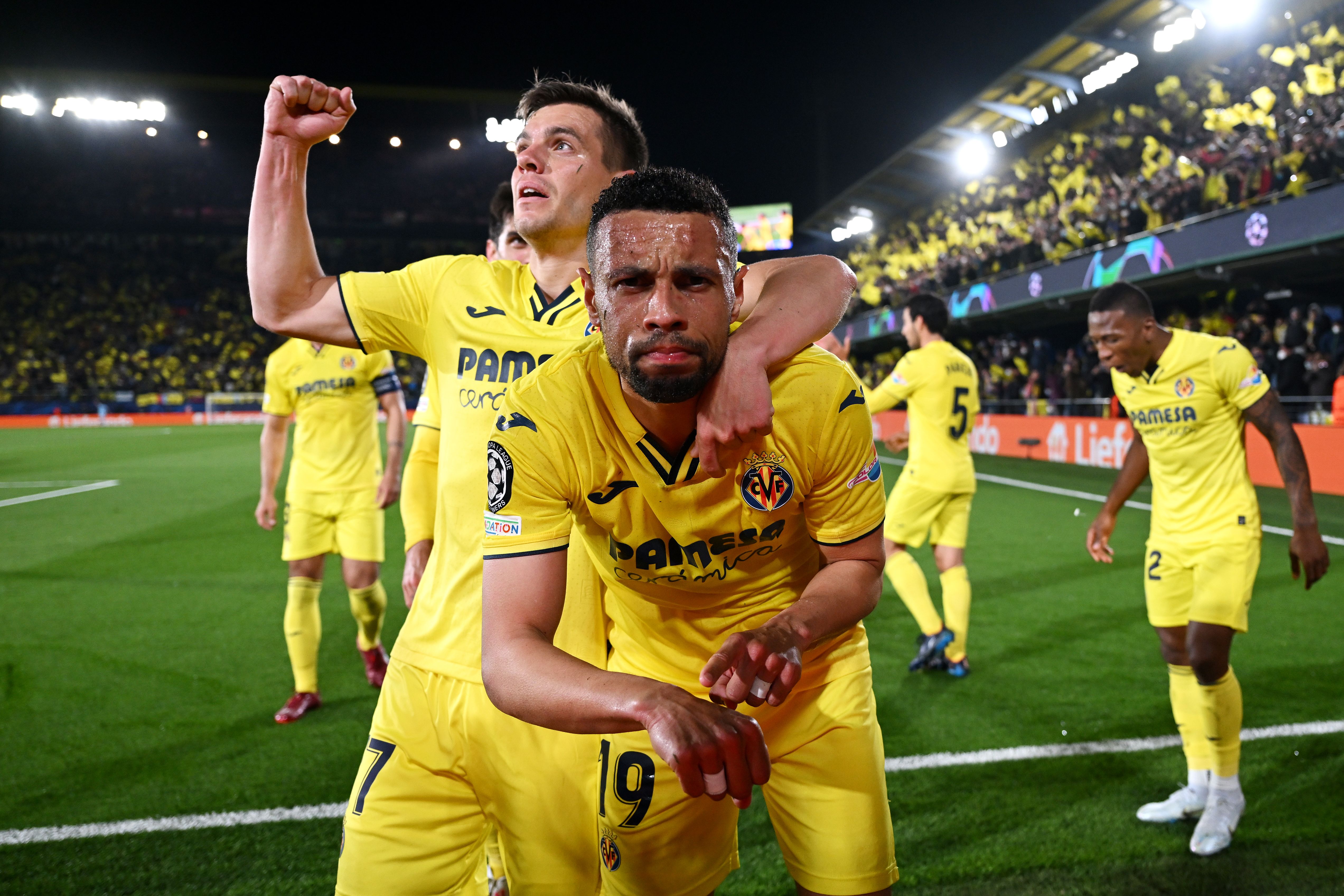 VILLARREAL, Spain — Villarreal beat Bayern Munich, 1-0, in the first leg of their quarterfinal, snapping Bayern's Champions League-record 22-game road unbeaten streak.
8. 📺 Watchlist: Customize your Masters
Welcome to the 86th Masters. ESPN will have coverage starting at 3pm ET, while the Masters website will offer an abundance of options.
Masters on the Range (8:30-10:30am): Interviews and analysis from the practice area, also available on CBSSN.
Featured groups: Tiger Woods, Louis Oosthuizen, Joaquín Niemann (10:34am); Adam Scott, Scottie Scheffler, Tony Finau (10:56am); Dustin Johnson, Billy Horschel, Collin Morikawa (1:30pm); Jordan Spieth, Viktor Hovland, Xander Schauffele (1:52pm)
Featured holes: Amen Corner (10:20am-6pm); No. 15 and No. 16 (11:15am-7pm); No. 4, No. 5 and No. 6 (9:25am-6:45pm)
Plus: SportsCenter, live from Augusta, will cut away to Tiger's first shot at 10:34am.
More to watch:
9. ⚽️ Soccer trivia
Karim Benzema on Wednesday became the fourth player to score 80 Champions League goals.
Question: Who are the other three?
Hint: All still active.
Answer at the bottom.
10. 🏀 1 fun thing: All-Decade Team
Talk tomorrow,
Kendall "Click to relax" Baker
Trivia answer: Cristiano Ronaldo (140), Lionel Messi (125), Robert Lewandowski (85)
🙏 Thanks for reading. Follow us at @kendallbaker and @jeffreytracy, and tell friends to sign up for Axios Sports.