🐪 Hump Dayyyyy. Have you told your best friend to sign up yet? It'd be a lot cooler if you did.
1 big thing: The Premier Lacrosse League is fascinating
The Premier Lacrosse League (PLL) just closed a Series A funding round led by Alibaba co-founder (and former Yale lacrosse player) Joseph Tsai, who also owns stakes in the NBA's Brooklyn Nets and WNBA's New York Liberty.
Why it matters: The most popular upstart sports league at the moment is the Alliance of American Football (AAF). The most interesting upstart sports league at the moment is the PLL. Here's why:
1. The stakes: Co-founded by lacrosse's most high-profile player, Paul Rabil, the PLL has a chance to fundamentally change the sport's landscape when it begins play in June.
Unlike the AAF and the XFL (coming next year), which are hoping to merely complement the existing behemoth, the NFL, the PLL wants to become the behemoth — and has a realistic shot at doing so.
While the AAF has a handful of former college stars, the PLL has almost every big name in the sport. We're talking 86 college All-Americans, 10 Tewaaraton winners (lacrosse's equivalent of the Heisman) and 25 national team members.
"We will have the best players in the world competing week in and week out. From our perspective, that is what's most important when building a league. You need to have the best talent."
— PLL co-founder Paul Rabil tells me
2. The tour-based model: Unlike traditional sports leagues, where each franchise calls one city home, the PLL will use a tour-based model that will see its six teams travel to the same location each weekend to play a series of games.
Saves money: Teams don't have to negotiate costly venue agreements.
Creates buzz: The tour-based model is kind of like having All-Star Weekend ... every weekend. The league has the opportunity to build a festival-like atmosphere (youth clinics, fan experiences, etc) and really make its presence felt in each host city.
Helped them get a TV deal: Since the PLL isn't beholden to any venues, they were able to go to NBC, ask when they had availability, and say "Cool, we'll take those slots." (NBC will air 3 games, NBCSN will air 19). Other small leagues could never pull off something like that because they're tenants.
Fits modern fan behavior: Back when sports coverage was hyperlocalized, fans followed their favorite teams. Now, fans (particularly young ones) follow their favorite players.
"By going tour-based, overnight you're a national league. And fans can choose the teams they support either by their favorite player, or by the coach, or by the branding we create."
— Rabil (
via Sports Illustrated
)
3. The startup approach: The PLL is a single-entity organization, so you should think of it more as a Silicon Valley startup (consisting of employees) than a traditional sports league (consisting of franchises).
Players will be full-time employees, receive health benefits and get equity stakes in the league.
That's an exciting opportunity for anyone, let alone pro lacrosse players who currently make very little playing in Major League Lacrosse, the struggling incumbent outdoor league (most have second jobs).
The bottom line: Thanks to the PLL's innovative approach and impressive pre-launch execution, the buzz surrounding pro lacrosse is at an all-time high.
2. 🏀 Duke pulls off miracle comeback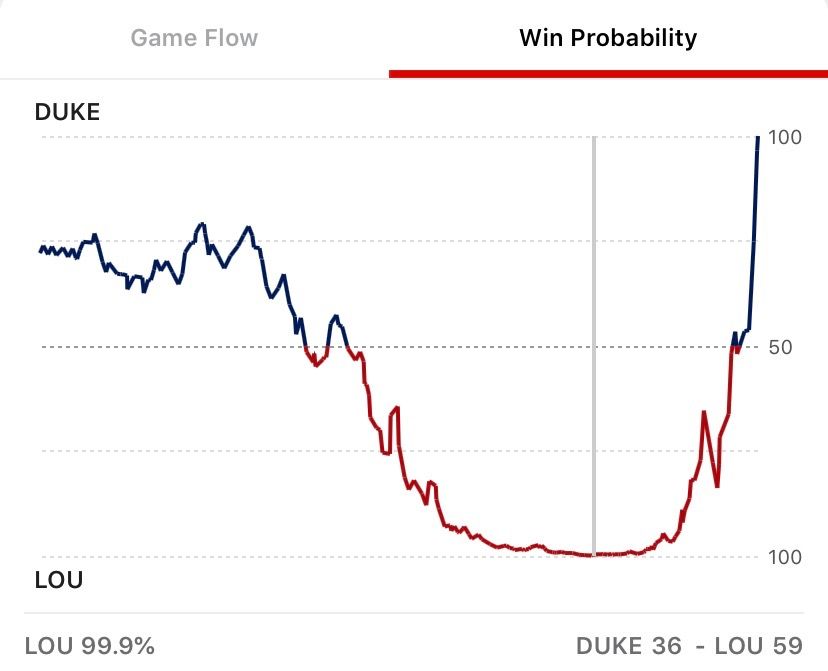 Screenshot: ESPN
Duke 71, Louisville 69: The No. 2 ranked Blue Devils were down 23 (and had a 0.1% chance of winning) with 9:13 left in the game, then went on a 35-10 run to stun the No. 16 ranked Cardinals on the road.
"I don't coach losers, only winners." — Zion Williamson, when asked what Coach K said in the huddle to rally his team. Fun fact: Coach K turns 72 today.
Watch: All the key moments
More scores:
LSU 73, Kentucky 71: The No. 19 ranked Tigers shocked the No. 5 ranked Wildcats at home on a last-second tip-in. The controversy: It appears the refs missed three calls on the final play alone.
Penn State 75, Michigan 69: The unranked Nittany Lions upset the No. 6 ranked Wolverines in a sloppy game that saw John Beilein get ejected for the first time in his Michigan career.
Maryland 70, Purdue 56: The No. 24 ranked Terrapins outscored the No. 12 ranked Boilermakers 40-18 in the second half, holding them to just 17% shooting (6-for-36).
Michigan State 67, Wisconsin 59: The No. 11 ranked Spartans held off the No. 20 ranked Badgers to maintain their spot atop the Big Ten standings. Top 5: Michigan State (11-3), Michigan (11-3), Purdue (10-3), Maryland (10-4), Wisconsin (9-5).
3. 🏈 Okay fine, the AAF is pretty interesting, too...
Particularly when it comes to business models. We'll take a deeper look at the league tomorrow, but in the meantime, here are some good reads:
Reply letting me know if there's anything you'd specifically like us to include in our AAF coverage tomorrow. We're here to serve.
4. 🎬 Movie review: "High Flying Bird"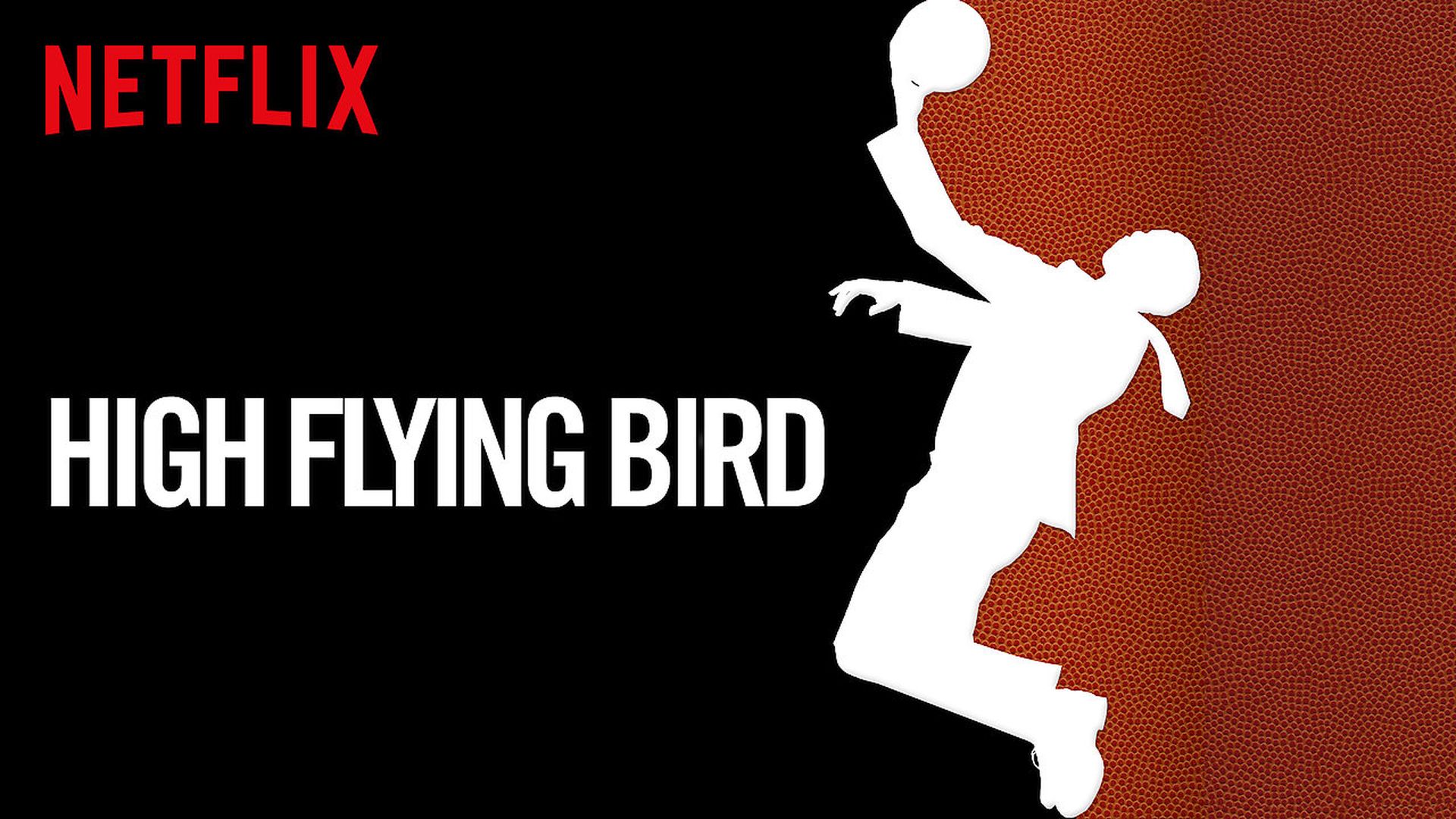 From Mike: I came into "High Flying Bird" with an open mind and no real expectations. I left absolutely floored.
The backdrop: When the movie begins, we're in month six of an NBA lockout. Agent Ray Burke is being pushed by his agency and by rookie Erick Scott to find a way to make money in a drought or, long story short, he's fired.
Burke finds a way: He manufactures a Twitter beef between Scott and his future teammate, sneakily sets up a 1-on-1 game between the No. 1 overall pick and New York's star player, and has every streaming service ready to pay hand over fist for the right to broadcast it.
Burke uses Scott to flip the NBA's power structure on its head in a way that might not be realistic, but it's super fun to think about and even more fun to watch unfold.
The bottom line: "High Flying Bird," directed by Steven Soderbergh ("Ocean's" series) and written by Tarell Alvin McCraney ("Moonlight") explores the themes of power and independence in ways few other sports movies have. It was also filmed entirely on a smartphone, so that's cool.
Rating: 4 out of 5 stars.
Watch: Trailer
5. 🏈 Where are they now: This century's top-rated QB recruits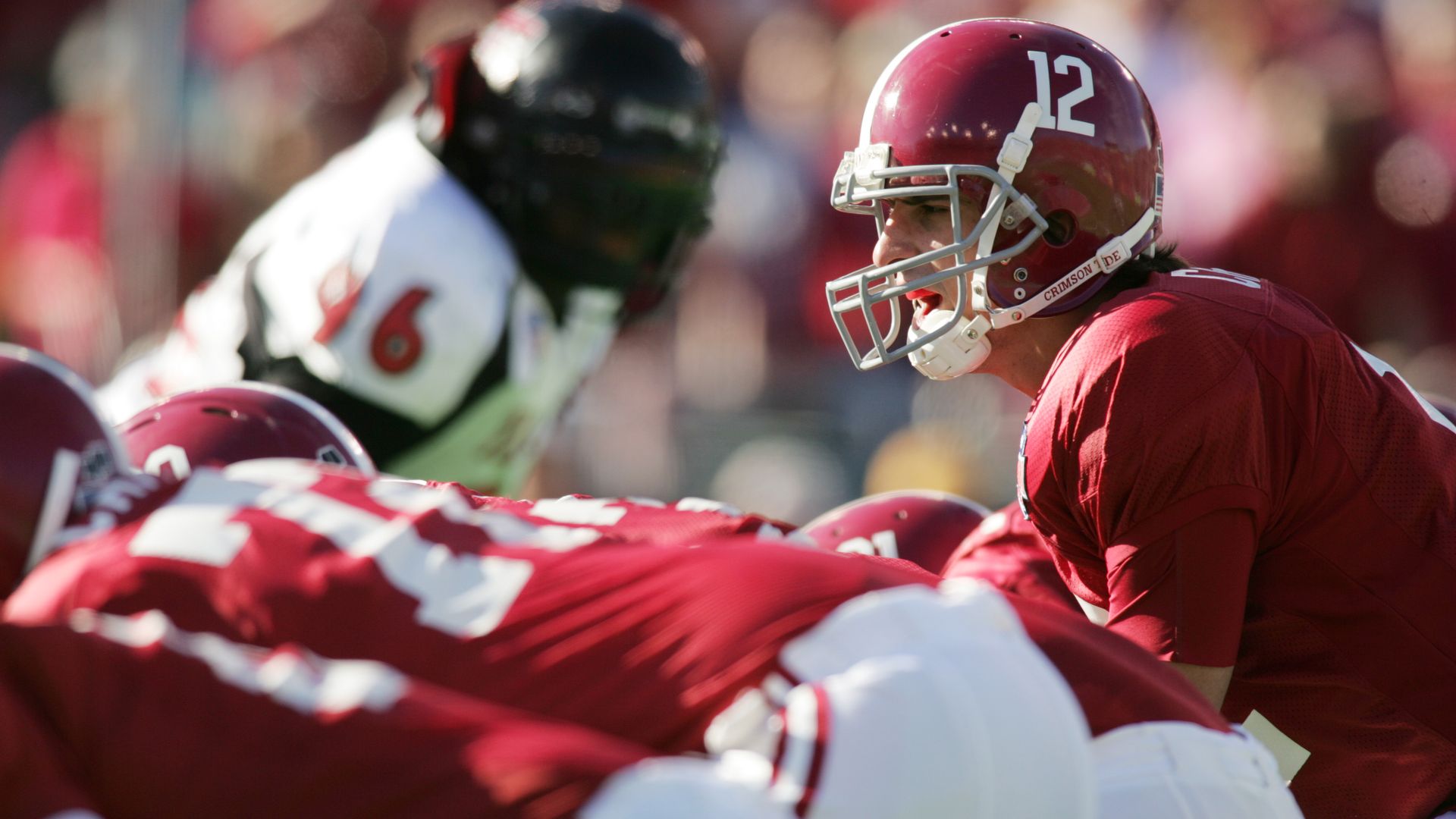 What do Brock Berlin, Vince Young and Mark Sanchez have in common? They were all the top-rated QBs in their respective recruiting class. What do they not have in common? Pretty much everything that happened after that.
2000: Brock Berlin (Florida): Berlin sat behind Rex Grossman before transferring to Miami. He briefly played for the St. Louis Rams in 2007 and 2008, appearing in two games.
2001: Brodie Croyle (Alabama): Croyle led Bama to a (now vacated) 10-2 season as a senior before being drafted by the Kansas City Chiefs. NFL stats: 181/319, 1,669 yards, 8 TD, 9 INT.
Now: He's a director at Big Oak Ranch, a Christian organization his father founded.
2002: Vince Young (Texas): Young was a sensation in college, compiling a 30-2 record as a starter and delivering one of the best performances ever. He lasted six seasons in the NFL after being taken No. 3 overall by the Tennessee Titans.
Now: He made headlines for all the wrong reasons last week, as he was arrested on suspicion of drunk driving.
2003: Kyle Wright (Miami): Following a mediocre career at Miami (38 TD, 31 INT), Wright enjoyed brief stints with the Minnesota Vikings and San Francisco 49ers.
2004: Rhett Bomar (Oklahoma): After an impressive redshirt freshman campaign, he was kicked off the team following a payment scandal. He transferred to Sam Houston State, where he excelled, then hung around the NFL for a few years.
2005: Mark Sanchez (USC): After winning the Rose Bowl in his lone season as USC's starter, Sanchez was taken fifth overall by the New York Jets. Fun fact: He's somehow tied with Tom Brady for third all-time in road playoff wins (4).
Now: He started two games for the Washington Redskins last season.
Part II (2006-2010) coming tomorrow.
6. ⚾️ On this date: 2/13/20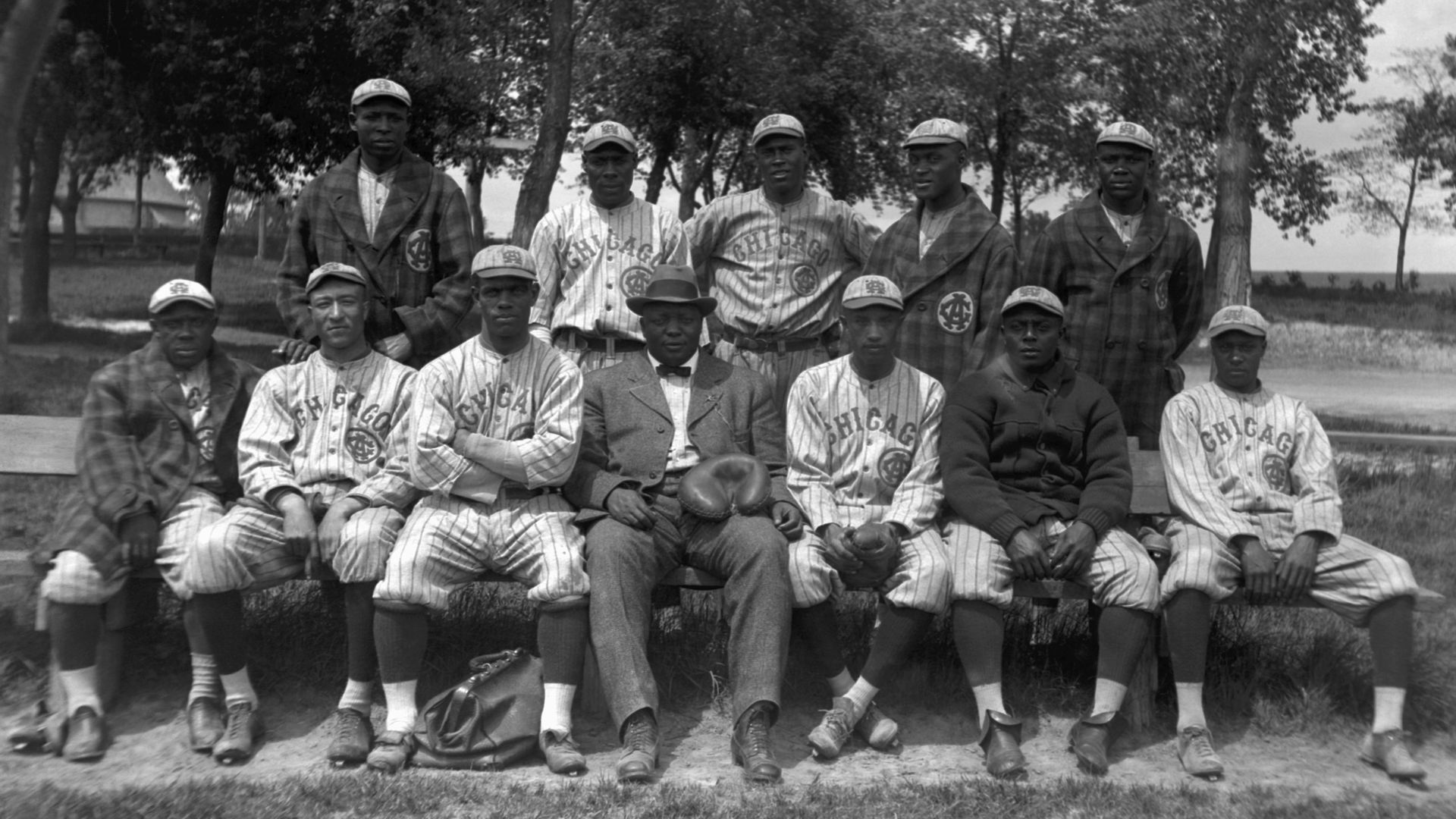 99 years ago today, the National Negro League was founded. Spearheaded by former pitcher and executive Rube Foster, it became the first African-American baseball circuit to achieve stability and last more than one season.
Why it matters: The NNL put control in the hands of its seven teams and allowed them to schedule their own games, removing exploitative white booking agents from the picture.
"It is your league! Nurse it! Help it! Keep it!" Foster told the founding players. The NNL fell apart in 1931 thanks to the Great Depression, but its legacy lives on to this day.
7. 🏈 NFL trivia
Antonio Brown, who officially requested a trade from the Pittsburgh Steelers yesterday, has finished the season with 100 receptions and 10 touchdowns four times.
Question: Only two other receivers have ever done this. Who are they?
Hint: One played for the same team his entire career, while the other played for six teams (and has yet to officially retire).
Answer at the bottom.
8. The Ocho: 🐩 All hail (the) King!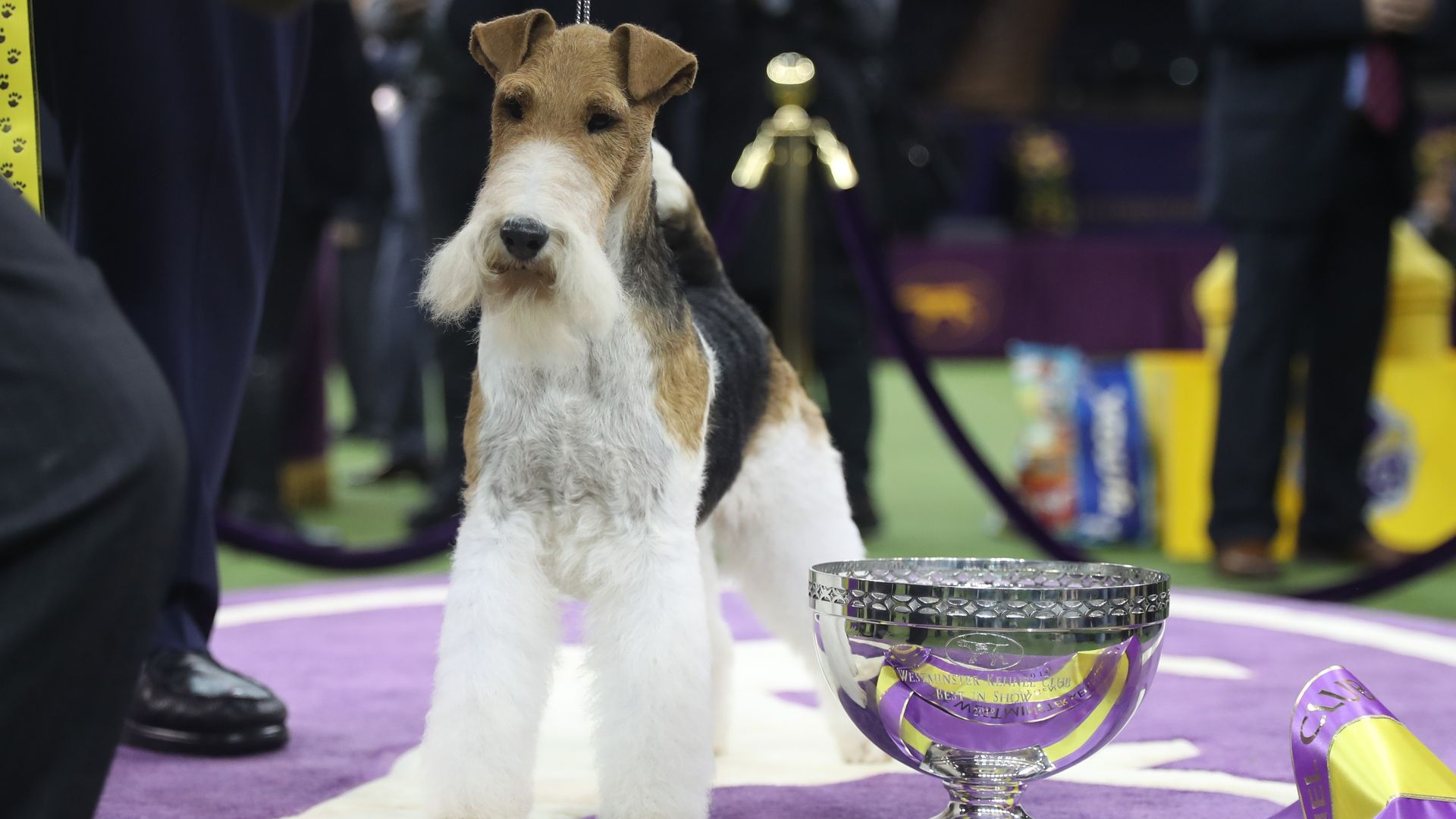 A wire fox terrier named King was named "Best in Show" at the 143rd Westminster Kennel Club Show yesterday.
Finalists: Burns, a longhaired dachshund; Bono, a Havanese; Baby Lars, a bouviers des Flandres; Wilma, a boxer; and Bean, a Sussex spaniel.
Fun fact: Of the 112 best in show titles awarded at Westminster, wire fox terriers have now won 15 times, more any other breed. Next closest are Scottish terriers, with eight wins.
P.S. Highly recommend watching the Westminster Dog Show episode on the Netflix docuseries "7 Days Out."
9. ⚽️ Make your pick: Borussia Dortmund vs. Tottenham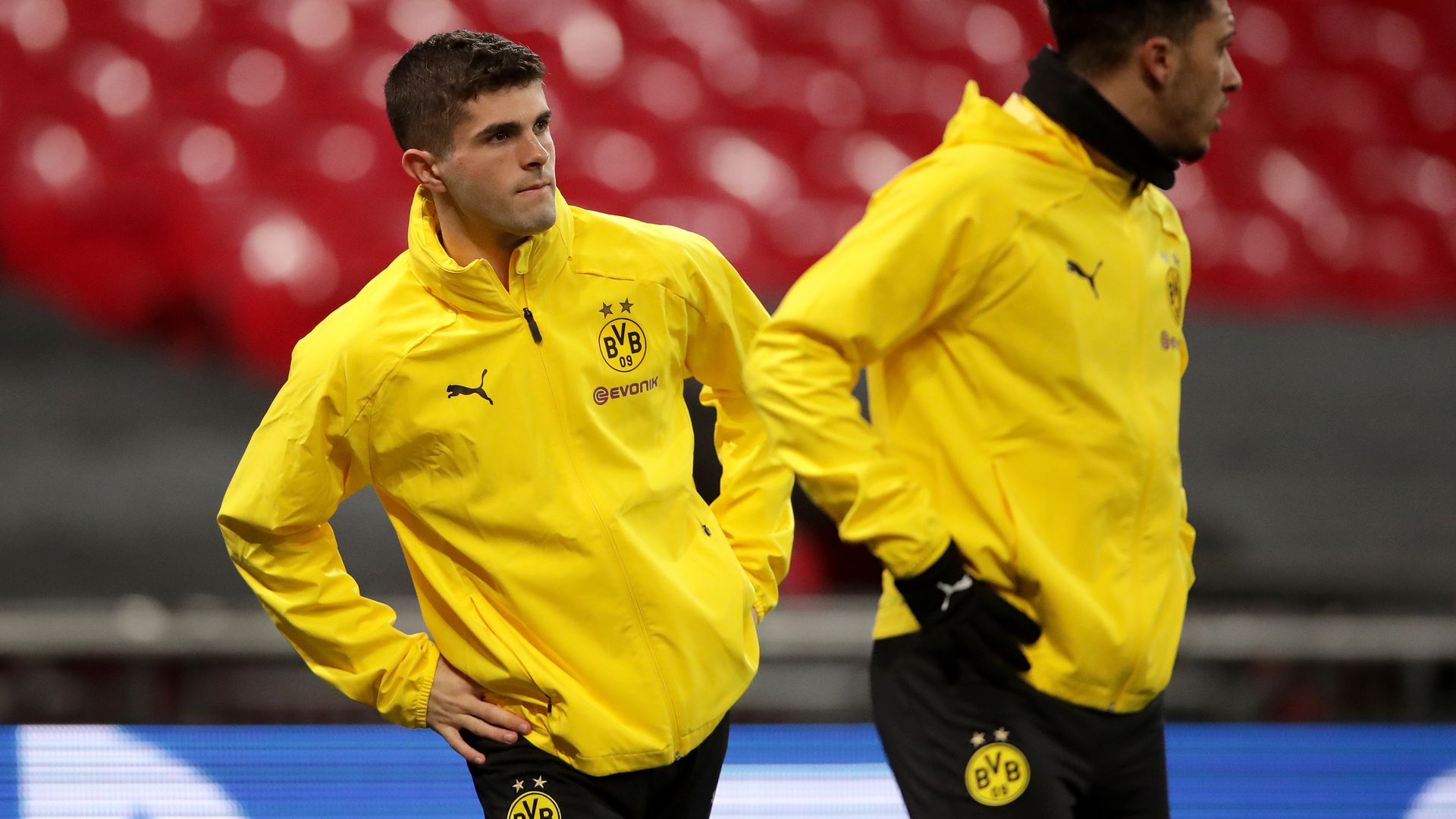 Game: Borussia Dortmund travel to London to take on Tottenham Hotspur in the first leg of their Champions League round of 16 matchup. Watch: 3 pm ET (TNT).
Question: Who will win? (Vote by 3 pm ET to be eligible for a prize)
📊 Tuesday's results: 70.1% of participants correctly predicted that Patrick Kane would record at least one point (he had an assist).
Winner: Danny Longo (Chicago) nailed the final score, too: Boston Bruins 6, Chicago Blackhawks 3.
Thanks,
Kendall "If your dog's name isn't Bean, you're doing it wrong" Baker
Trivia Answer: Marvin Harrison and Brandon Marshall (somehow Jerry Rice only has three).