November 25, 2020
🦃 Good morning! Let's sports.
Note: We're off the rest of the week, and I'll be on vacation through Dec. 11. Jeff Tracy will be filling in while I'm gone and I expect him to crush it. You're in good hands!
Thankful: It was my childhood dream to write about sports for a living. Thanks for reading and allowing me to do this. And thank you for always sending me honest feedback and kind words — it keeps me going.
Today's word count: 1,788 words (6 minutes).
1 big thing: 🏀 Ready, set, basketball
On March 12, 2020, the lights went out on college basketball, depriving teams like Baylor (who won our tournament simulation), Dayton, San Diego State and Florida State of perhaps their best chance to win a national championship.
Today, a new season begins, and the goal is clear: March Madness must be played.
Without the 2020 tournament, the NCAA distributed $375 million less to its D-I programs than it planned. That simply cannot happen again.
The state of play: Over 100 games will take place today. But instead of starting with familiar events at Madison Square Garden and in Maui, teams will play at a Connecticut casino (Mohegan Sun) and in Sioux Falls, South Dakota.
Matchups are being changed on a daily basis due to positive tests, and that could continue through the rest of the week — and all season.
Tennessee canceled two games on Monday (including one against No. 1 Gonzaga) after multiple positive tests; Duke and Georgia's first games were called off; the season-opener was changed four times before being scratched.
The women's season begins without its biggest brand name, as UConn announced Monday that it will enter a 14-day quarantine following a positive test in the program.
The big picture: COVID-19 is the immediate threat, and how teams navigate the virus will be the primary storyline all season. But even before the pandemic, college basketball was at an existential crossroads.
The NBA is encouraging players (like No. 2 recruit Jalen Green) to join their G League rather than play college hoops for free, and TV ratings have fallen considerably.
Meanwhile, the NCAA's attempts at rule enforcement have never looked weaker. Three years ago, the corruption scandal — complete with wiretaps and courtroom drama — promised a reckoning. Where is it?
The bottom line: This is going to be a unique journey. And for a sport so directly linked to the crowd, the lack of fans at most games will set a somber tone.
Yes, but: There's a certain magic to college hoops that even empty arenas can't ruin. And ultimately, amid all this, nearly 90% of D-I programs are up and running.
College basketball is back, America. I look forward to following along with you all.
Go deeper:
2. 🏀 Men's hoops snapshot
There's no consensus favorite this season, but a rather a group of favorites led by No. 1 Gonzaga, No. 2 Baylor and No. 3 Villanova.
Rounding out the top 10: No. 4 Virginia, No. 5 Iowa, No. 6 Kansas, No. 7 Wisconsin, No. 8 Illinois, No. 9 Duke, No. 10 Kentucky.
My preseason All-Americans:
Luka Garza, C (Iowa, Sr.)
Corey Kispert, F (Gonzaga, Sr.)
Jared Butler, G (Baylor, Jr.)
Ayo Dosunmu, G (Illinois, Jr.)
Cade Cunningham, G (Oklahoma State, Fr.)
Players to watch:
Top 5 guards: Dosunmu (Illinois, Jr.); Cunningham (Oklahoma St., Fr.); Butler (Baylor, Jr.); Marcus Garrett (Kansas, Sr.); Marcus Zegarowski (Creighton, Jr.)
Top 5 wings: Kispert (Gonzaga, Sr.); Sam Hauser (Virginia, Sr.); Scottie Lewis (Florida, So.); Scottie Barnes (FSU, Fr.); B.J. Boston (Kentucky, Fr.)
Top 5 bigs: Garza (Iowa, Sr.); Kofi Cockburn (Illinois, So.); Garrison Brooks (UNC, Sr.); Evan Mobley (USC, Fr.); Oscar Tshiebwe (West Virginia, So.)
Top 5 mid-major players: Jalen Crutcher (Dayton, Sr.); A.J. Green (Northern Iowa, Jr.); Terry Taylor (Austin Peay, Sr.); Fatts Russell (Rhode Island, Sr.); Derrick Alston Jr. (Boise State, Sr.)
📆 Coming up: The season's first marquee matchup is set for Thanksgiving, with No. 6 Kansas facing No. 1 Gonzaga (1:30pm ET, Fox) at the Fort Myers Tip-Off.
The Zags just learned that guard Andrew Nembhard, a transfer from Florida, had his waiver approved and is eligible to play starting Thursday.
Nembhard was a two-year starter with the Gators. Huge addition to Gonzaga's backcourt.
Go deeper:
3. 🏀 Women's hoops snapshot
No. 1 South Carolina is the clear-cut best team heading into the season, with No. 2 Stanford, No. 3 Connecticut and No. 4 Baylor not far behind.
Rounding out the top 10: No. 5 Louisville, No. 6 Mississippi State, No. 7 Arizona, No. 8 NC State, No. 9 UCLA, No. 10 Oregon.
My preseason All-Americans:
Rhyne Howard, G (Kentucky, Jr.)
Dana Evans, G (Louisville, Sr.)
Aari McDonald, G (Arizona, Sr.)
Michaela Onyenwere, F (UCLA, Sr.)
Aliyah Boston, F (South Carolina, So.)
Teams to watch:
Oregon: We'll never know if Oregon would have claimed its first national title a season ago, but this year will tell us a lot about the Ducks' staying power as they begin the post-Sabrina Ionescu era.
Kentucky: They have the nation's best player in Howard and a talented roster that could challenge South Carolina in the SEC, but their season begins amid chaos following coach Matthew Mitchell's abrupt retirement on Nov. 12.
Syracuse: The return of Tiana Mangakahia after she beat breast cancer is the story of the year. Plus, the Orange are loaded with talent and could contend for a national championship five years after losing in the title game.
Go deeper:
4. 🏈 CFP rankings: Bama, ND, Clemson, Ohio State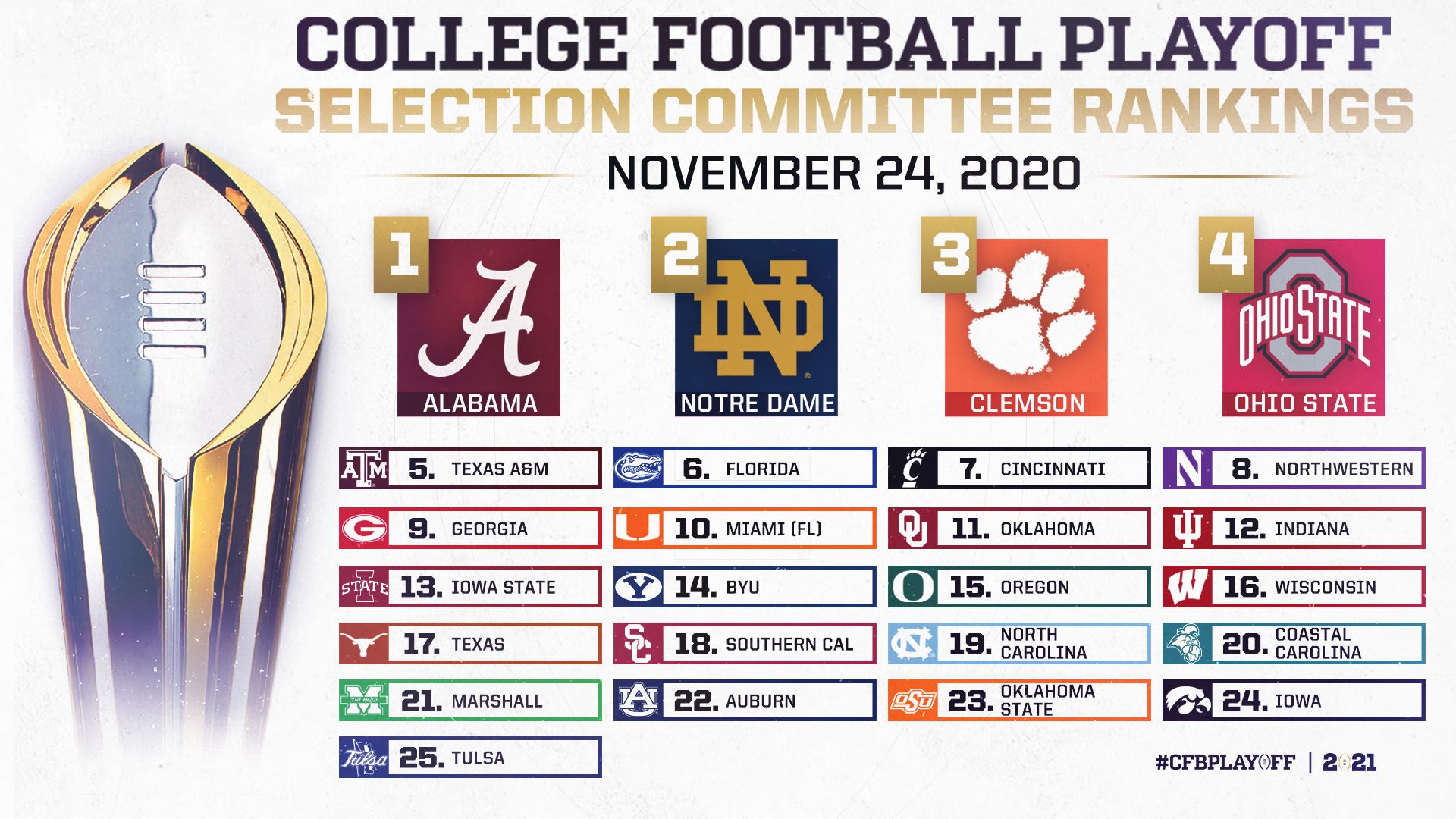 Amid this bizarre year, it's only fitting that the top five teams in the first College Football Playoff rankings have played anywhere between four and eight games.
The top four: No. 1 Alabama (7-0) and No. 2 Notre Dame (8-0) were n0-brainers. The committee ranked No. 3 Clemson (7-1) ahead of No. 4 Ohio State (4-0), which differed from the latest AP poll.
Cincinnati (No. 7) is the highest-ranked Group of 5 team in the history of these rankings.
Northwestern (No. 8) is officially ranked higher in football than it is in U.S. News and World Report (No. 11).
Georgia (No. 9) is way too high. The Bulldogs have struggled on offense all season, and their two losses came by an average of 16.5 points.
BYU (No. 14) is way too low. Yes, they've played a weak schedule, but this is the definition of a team that passes the eye test. Makes you wonder how much football the committee actually watches.
What to watch: BYU is actively trying to find another game or two (it only has San Diego State on Dec. 12 remaining), and Cincinnati just had Dec. 5 open up.
Should they set up a game? A win over BYU could be just what Cincinnati needs to make the playoff, but it might not be worth the risk of a loss.
And with the Cougars all the way down at No. 14, it seems their shot at the playoff disappeared the second their schedule was released.
5. ⚽️ Soccer 'round the world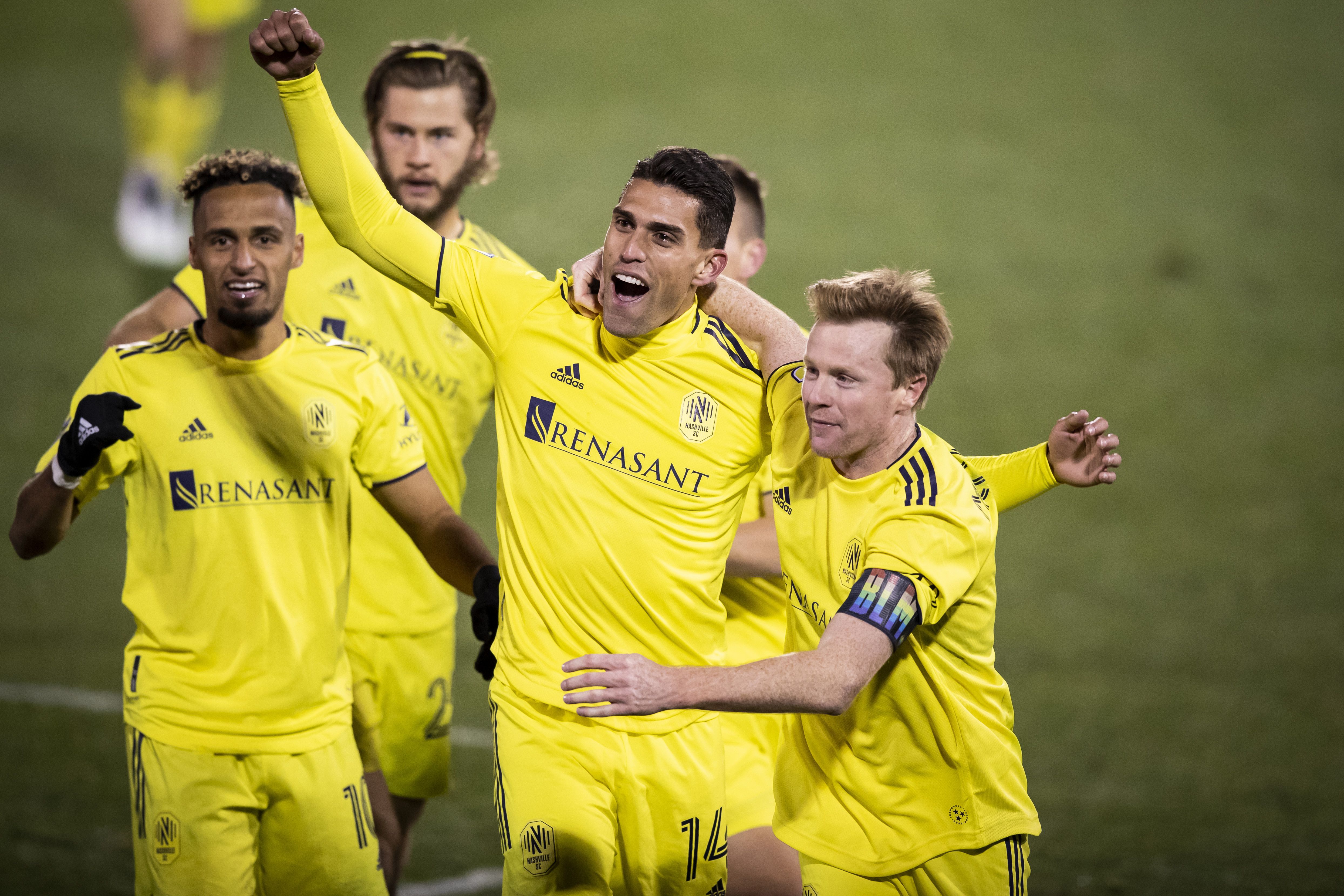 EAST HARTFORD, Conn. — Daniel Rios was the first player Nashville SC signed to an MLS contract in December 2018. He rewarded them Tuesday, scoring in the 108th minute to lift N0. 7 seed Nashville past No. 2 seed Toronto FC, 1-0.
Elsewhere: Defending champion Seattle beat LAFC, 3-1, and New England knocked off top-seeded Philadelphia, 2-0. The MLS playoffs are madness!
Where it stands: The conference semifinals are now set. Kansas City vs. Minnesota and Dallas vs. Seattle in the West; New England vs. Orlando City and Columbus vs. Nashville in the East.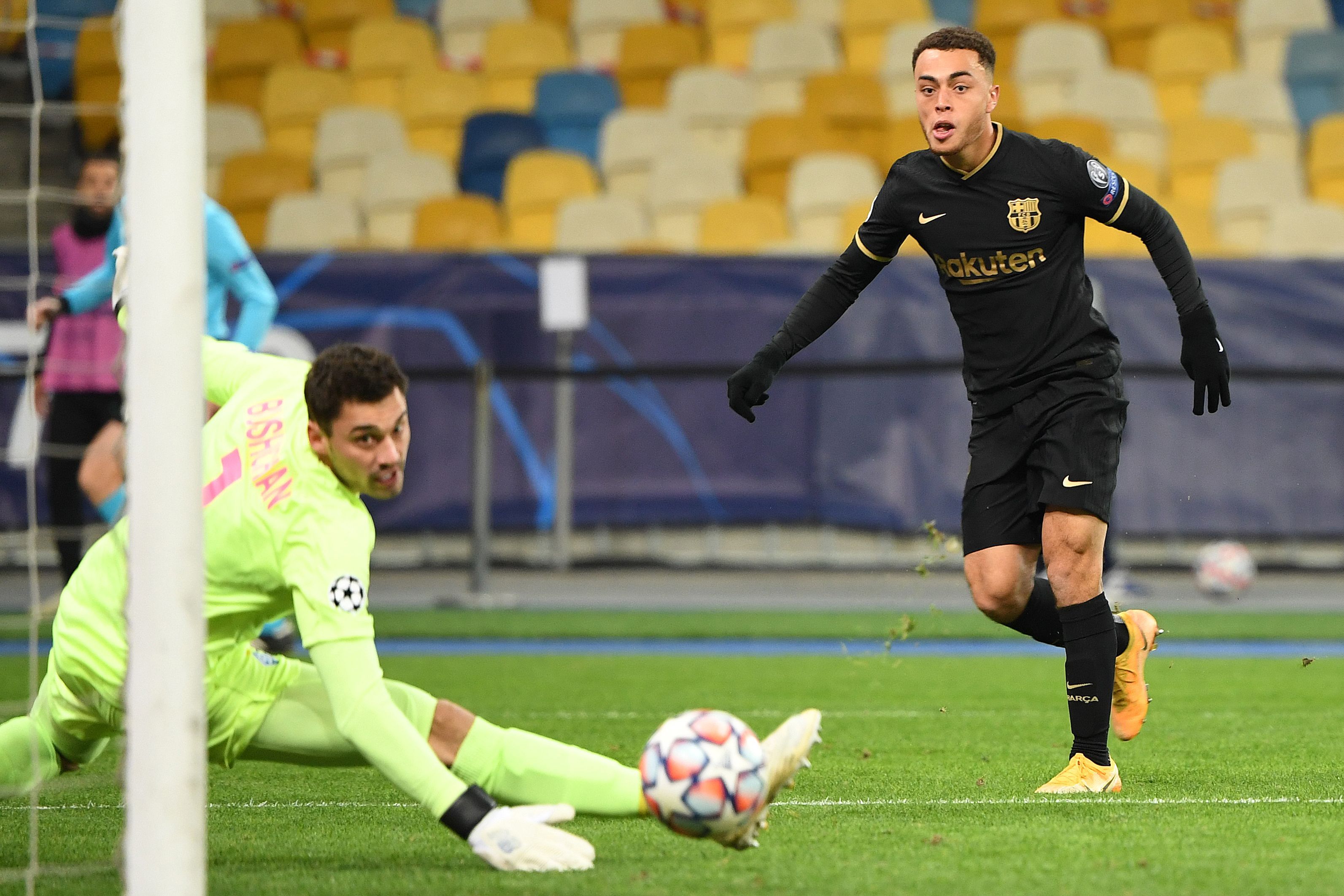 KIEV, Ukraine — Sergino Dest became the first U.S. international to score for Barcelona in their 4-0 Champions League win over Dynamo Kiev, which put them through to the knockout round.
NYON, Switzerland — Seven-time defending champion Lyon will begin its women's Champions League title defense against Juventus. See full 32-team draw.
The backdrop: Lyon has dominated women's soccer in recent years but was brought down to Earth last week when a 1-0 loss to PSG snapped a streak of 73 matches without defeat.
6. 🏈 NFL power rankings: Week 12
Two-thirds of the way through the season, we're still left with maddeningly few answers regarding which teams are true contenders, Axios' Jeff Tracy writes.
Still, someone will win Super Bowl LV — which was somehow not planned for Vegas, despite a brand new stadium and the most obvious naming tie-in of all time — and odds are the eventual champion is currently in playoff position.
Reminder: The NFL expanded the postseason field from 12 to 14, meaning there's an extra Wild Card in each conference and only the top seed gets a bye.
AFC playoff picture: Last year's top seed, the Ravens, would miss the playoffs if the season ended today.
First-round bye: Steelers
Seeds 2-4: Chiefs, Bills, Colts
Wild cards: Titans, Browns, Raiders
NFC playoff picture: The first Wild Card team (currently the Seahawks) gets a far easier draw than the division winners thanks to their 4 vs. 5 matchup against whoever makes it out of the putrid NFC East.
First-round bye: Saints
Seeds 2-4: Rams, Packers, Eagles
Wild cards: Seahawks, Bucs, Cardinals
🦃 Turkey Day: Texans (-3) at Lions; Washington at Cowboys (-3); Ravens at Steelers (-5.5)
Go deeper: Full Week 12 schedule
7. 🇺🇸 Field trip: Logan, Utah
Thanks for choosing Axios Airlines. We'll be traveling to a new destination each morning this month. Sit back and enjoy the flight.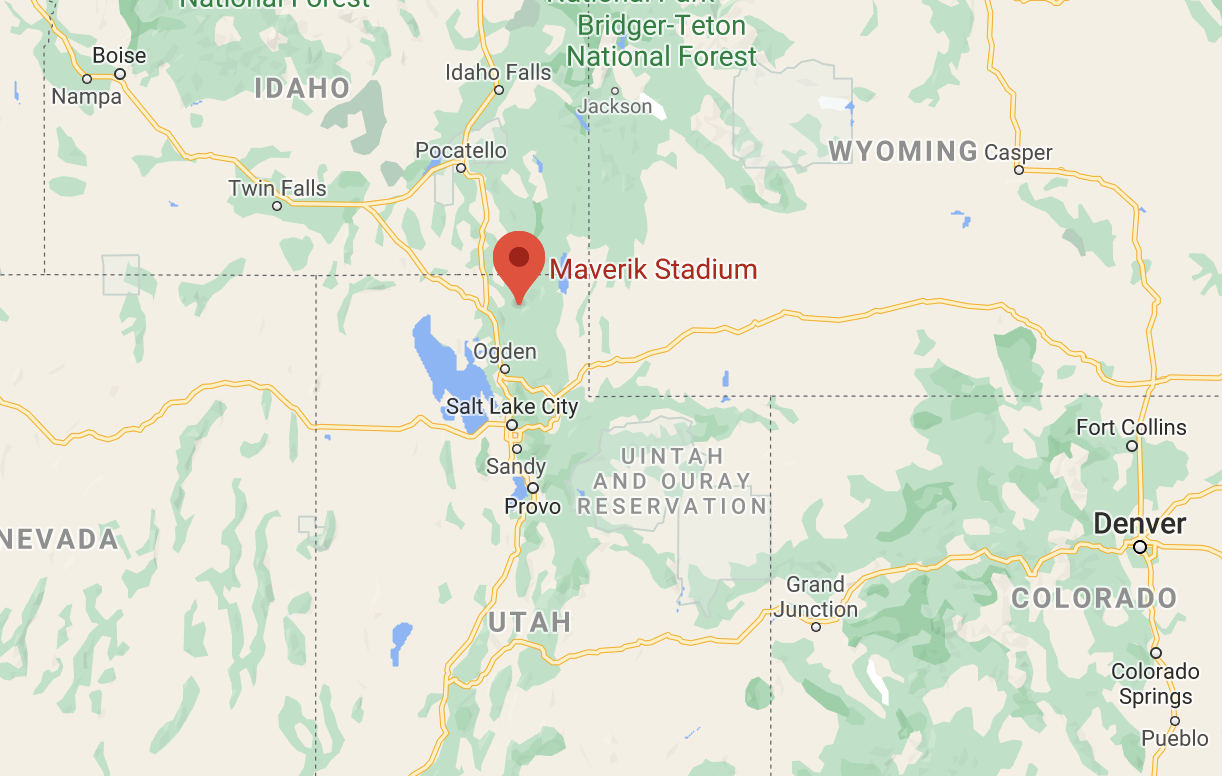 Location: Maverik Stadium
Coordinates: 41.7517° N, 111.8116° W
Welcome to Maverik Stadium in Logan, Utah, site of tomorrow's Thanksgiving-themed "Toilet Bowl" between Utah State (0-4) and New Mexico (0-4).
Utah State has yet to win a game since QB Jordan Love left early for the NFL (Packers first-round pick), and the program finds itself in complete disarray.
The Aggies have lost every game by at least 19 points, fired their coach two weeks ago and recently dismissed their starting QB for violating team rules.
According to The Athletic, they're the sixth-worst team in all of Division I (No. 122 out of 127).
But hey, at least they have a gorgeous stadium...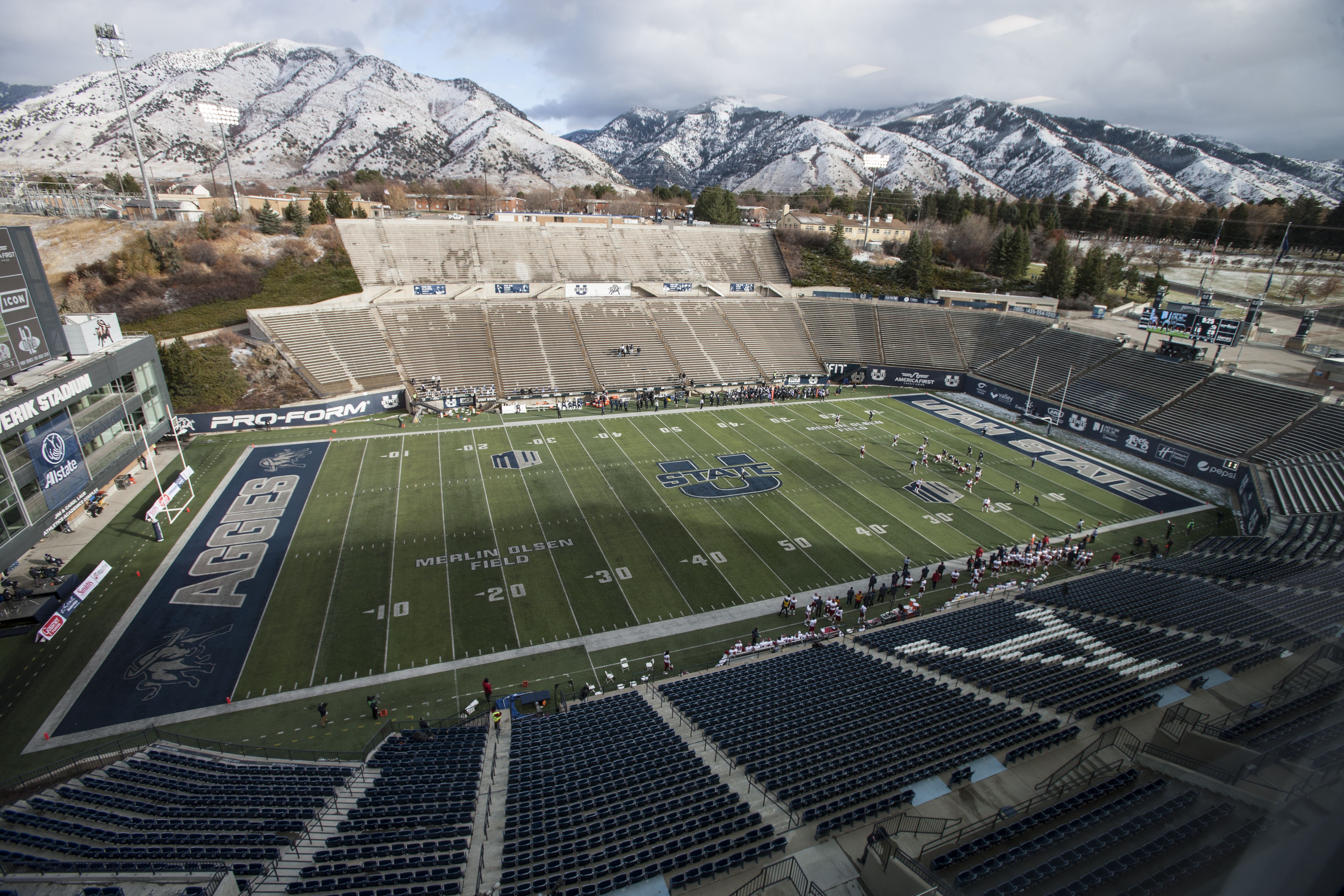 New Mexico has also struggled (ninth-worst team), but the story of their season isn't about what happened on the field, but rather their day-to-day lives off of it.
After state regulations kept the Lobos from playing in New Mexico, the football team relocated to Nevada.
About 140 members of the program are living in a hotel near Las Vegas at the cost of $70,000 per week and they're playing games at UNLV's old stadium.
The hotel has a makeshift weight room and study hall, and players wake up an hour early to practice before attending virtual classes.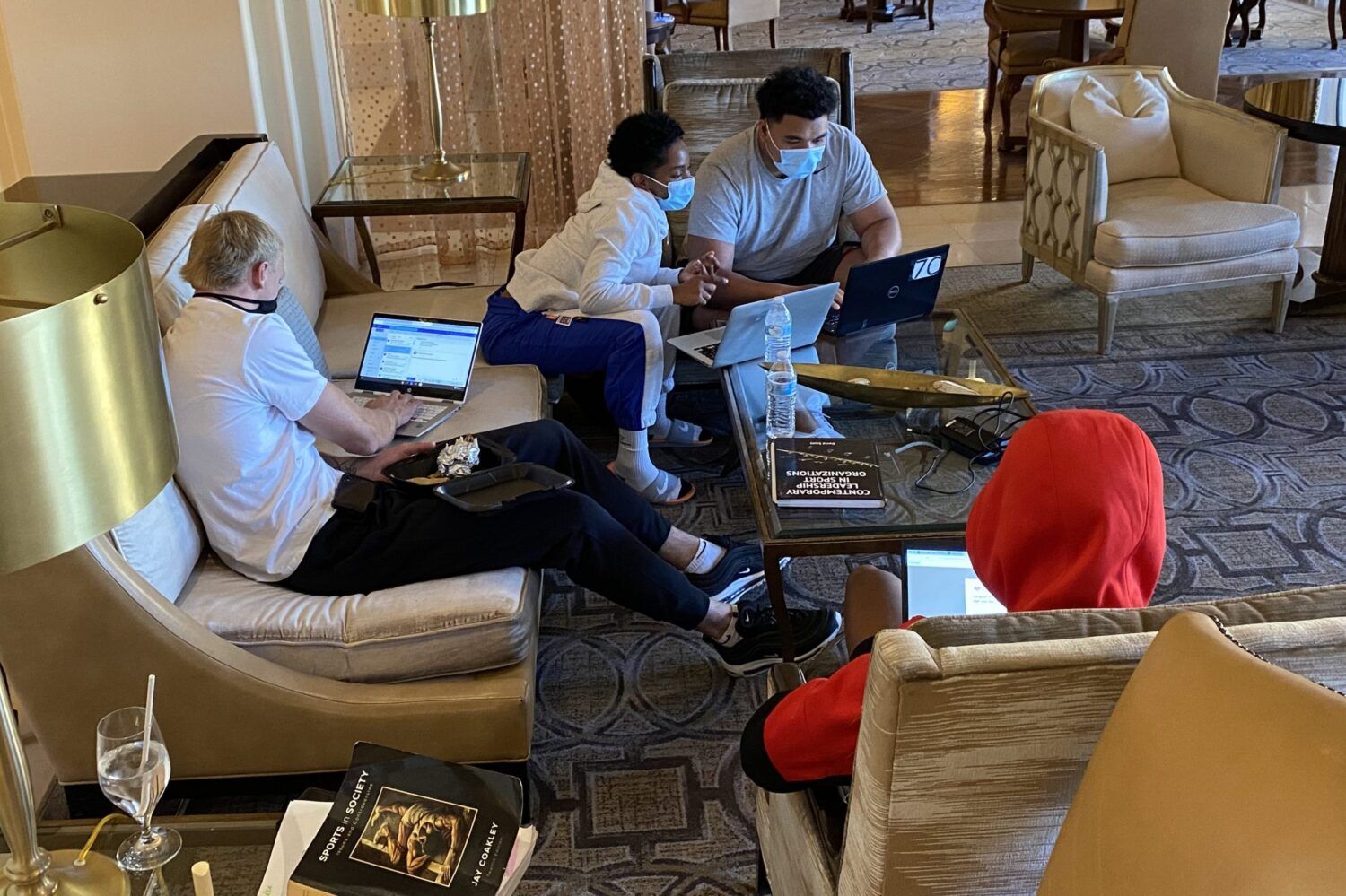 Go deeper: College football teams change Thanksgiving traditions amid pandemic (NYT)
8. Nov. 25, 1980: 🥊 The "No Más" fight
40 years ago today, Sugar Ray Leonard beat Roberto Durán in their second of three bouts.
The fight famously ended in the eighth round when Durán turned toward the referee and quit by allegedly saying, "No más" (Spanish for "No more").
While the term remains a part of boxing lore, Durán always claimed he never said it and Leonard admitted he never heard him say it, either.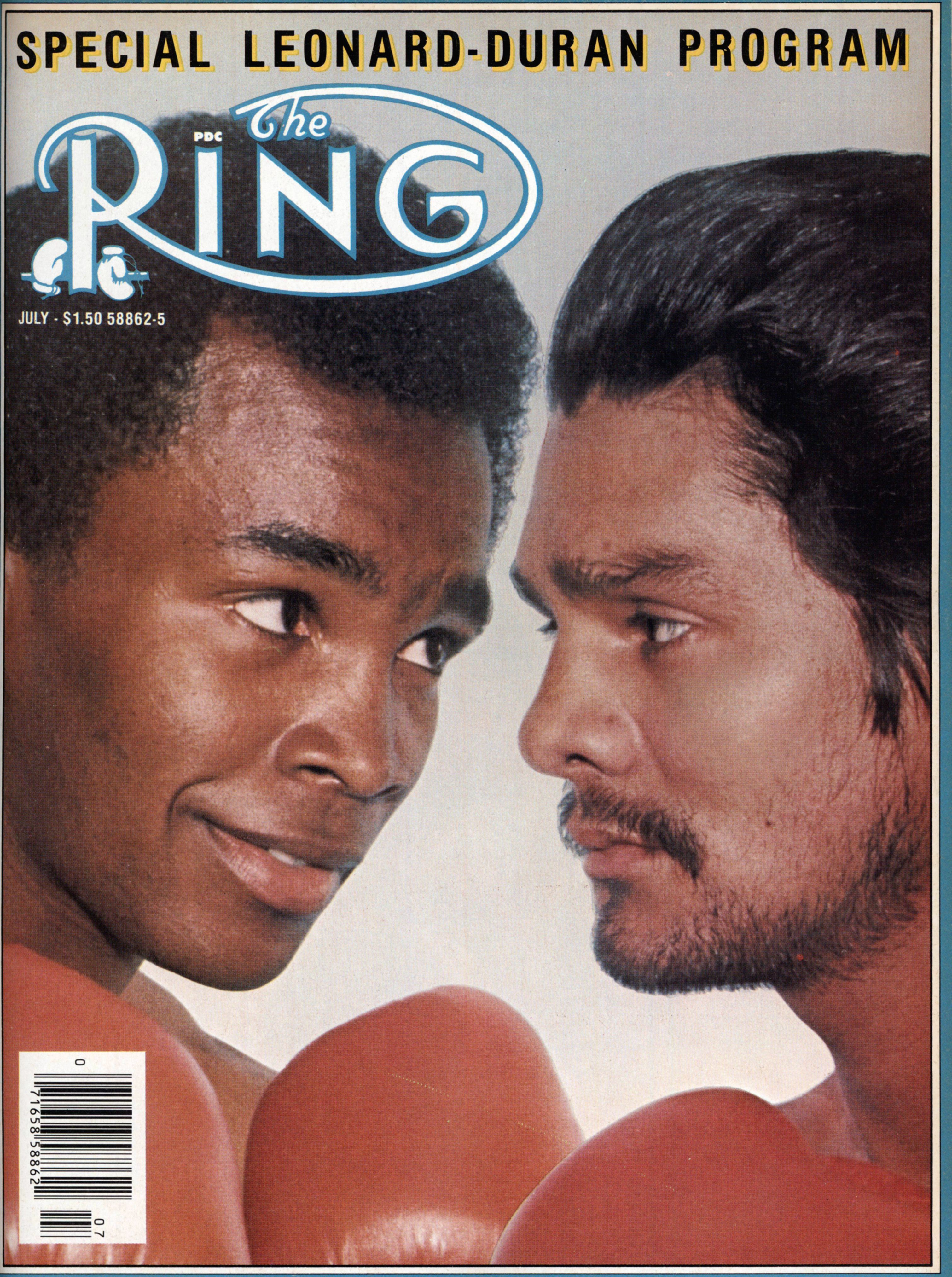 🎥 Go deeper: Fight breakdown (YouTube)
9. 🏀 NBA trivia
Bam Adebayo signed a five-year max extension (~$195 million) with the Heat after being one of just three NBA players to average 15 points, 10 rebounds and five assists last season.
Question: Who were the other two players?
Hint: Both play in the Central Division (Bucks, Pacers, Bulls, Pistons, Cavs).
Answer at the bottom.
10. 🎥 HOF highlights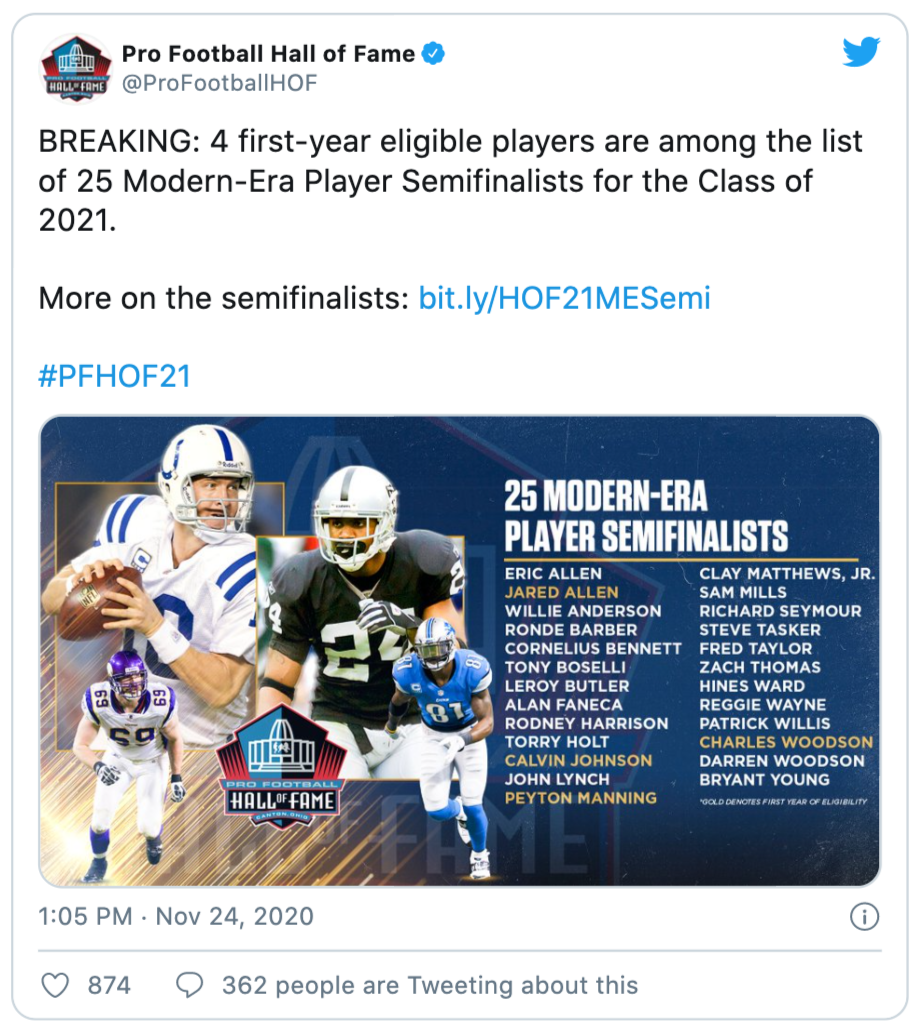 Four first-year eligible players — Peyton Manning, Charles Woodson, Calvin Johnson and Jared Allen — are among the 25 semifinalists for the Pro Football Hall of Fame's Class of 2021.
🎥 Highlights:
See you next month!
Kendall "Thankful for you" Baker
Trivia answer: Giannis Antetokounmpo and Domantas Sabonis