Axios Sports
January 30, 2023
👋 Happy Monday! Welcome back.
Today's word count: 1,776 words (7 minutes)
Let's sports…
1 big thing: 🏈 The Super Bowl is set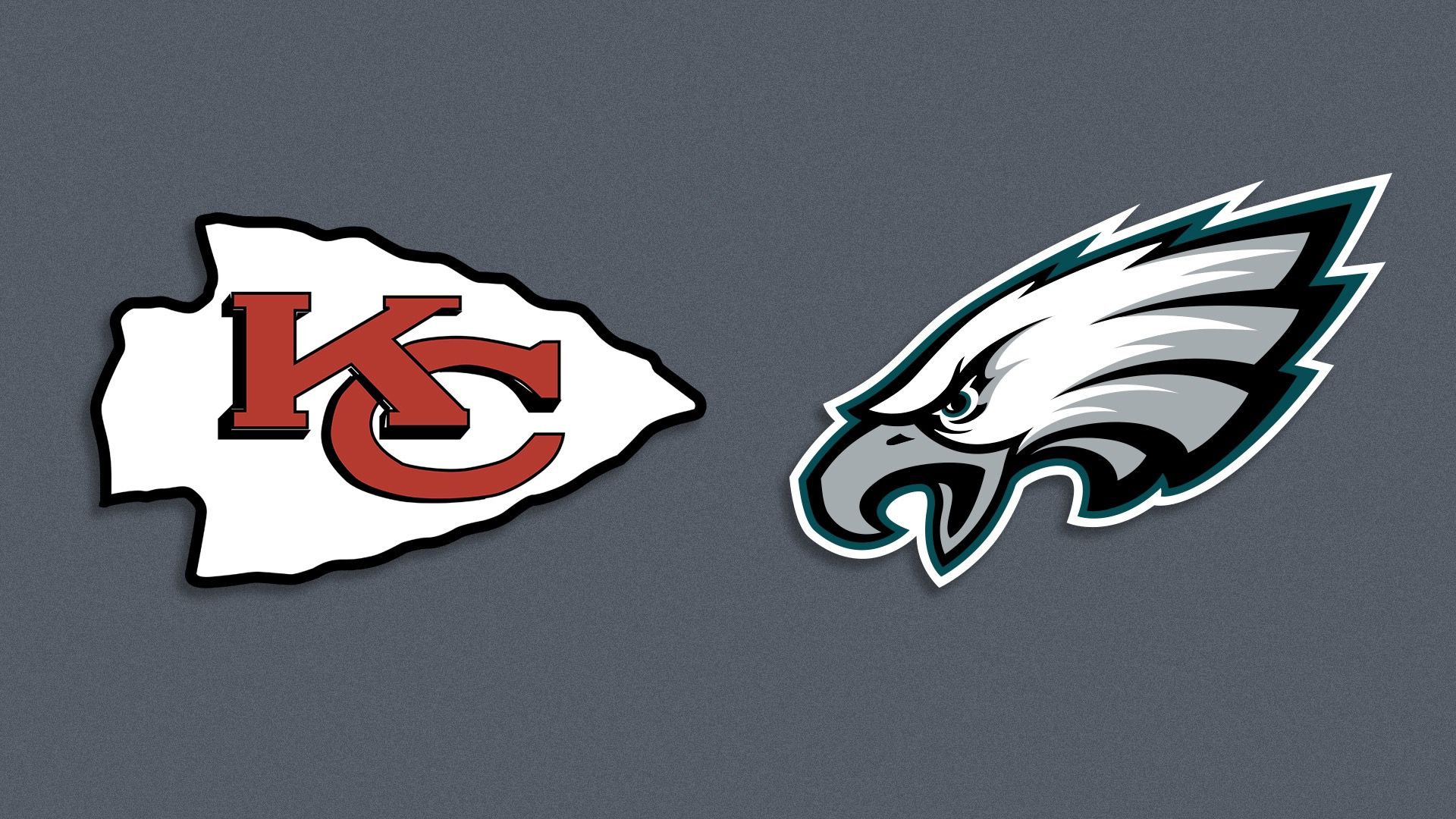 The Chiefs and Eagles will meet in the Super Bowl after winning on Sunday, making this just the 14th time since playoff seeding began in 1975 that both No. 1 seeds will play for the title, Axios' Jeff Tracy writes.
AFC Championship Game: Chiefs 23, Bengals 20 ... For the fourth time in four meetings between Patrick Mahomes and Joe Burrow, the game ended in a three-point victory. The only difference this time? It was Mahomes who came out on top.
Wild stat: Mahomes (29/43, 326 pass yds, 2 TD) has now thrown 14 TDs in conference championships, passing Joe Montana for second-most all-time. And he's 27 years old.
Highlight: Despite playing with a sprained ankle, Mahomes unleashed one of his patented, heroic scrambles to pick up the yardage needed (with some help from a late hit) and set up the game-winning field goal.
NFC Championship Game: Eagles 31, 49ers 7 ... What was expected to be a hard-fought battle turned into a laugher when Brock Purdy was injured in the first quarter and his backup — fourth-stringer Josh Johnson — was injured in the third.
Wild stat: San Francisco gained just 47 yards with two punts and two turnovers in the second half.
Historic feat: All four Eagles scores came on the ground, giving them 39 rushing TDs this season. That's the most in NFL history, surpassing the 1924 Frankford Yellow Jackets.
Looking ahead: Super Bowl LVII will be on Feb. 12 at State Farm Stadium in Glendale, Arizona, and for the first time it will feature two Black starting QBs.
Go deeper: Early Super Bowl preview (ESPN)
2. 🎾 Djokovic, Sabalenka win in Melbourne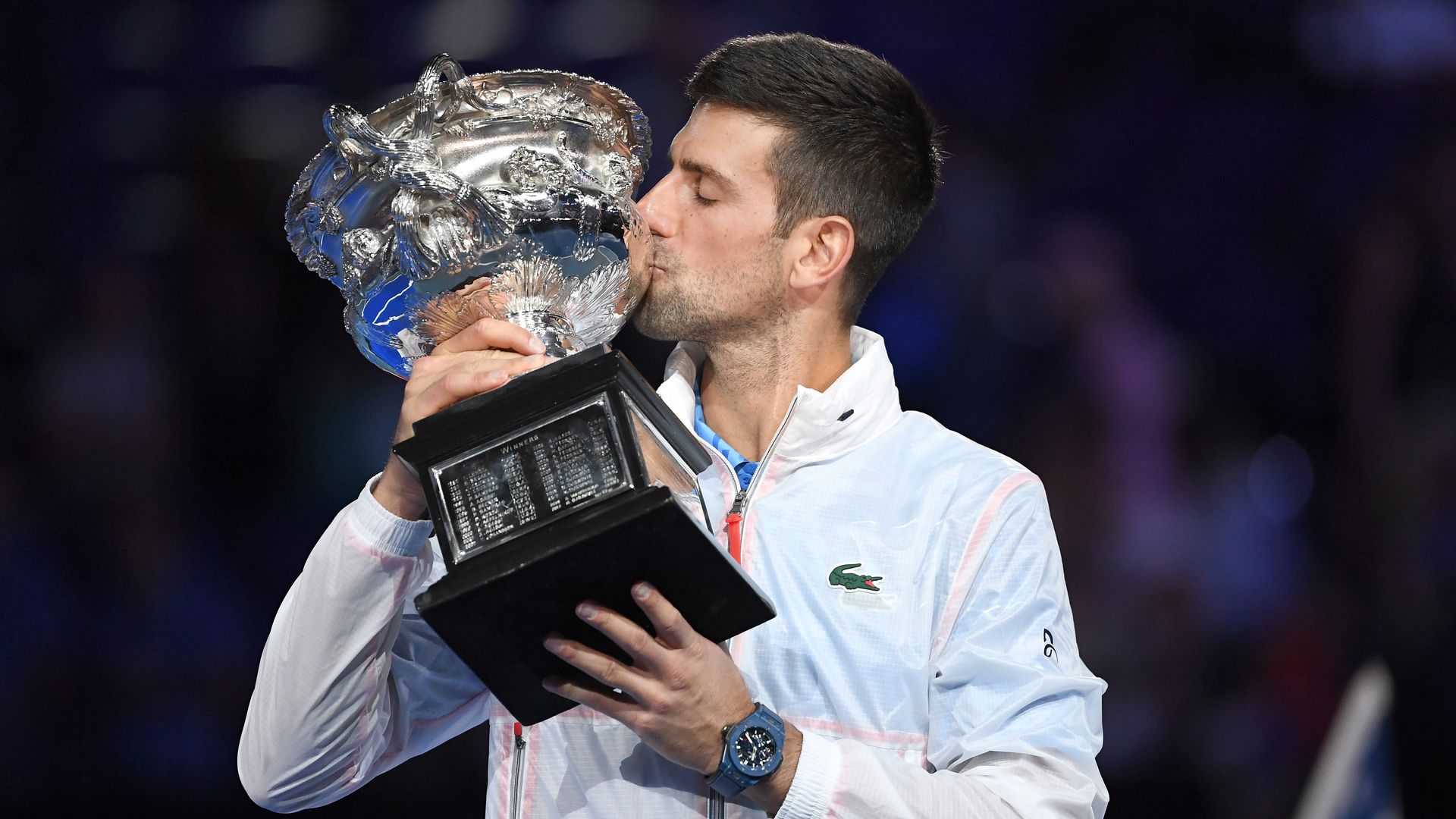 A year after being deported from Australia, Novak Djokovic defeated Stefanos Tsitsipas, 6-3, 7-6 (4), 7-6 (5), on Sunday to win his record-extending 10th Australian Open title, Jeff writes.
Why it matters: Djokovic has now won 22 major titles, moving back into a tie with Rafael Nadal for the most all-time among men.
He's also reclaimed the No. 1 ranking at 35, becoming the second-oldest man to reach that height (Roger Federer, 36).
"This probably is the biggest victory of my life," said Djokovic, who has won five of the last seven majors he's played in.
By the numbers: This was Djokovic's 33rd Grand Slam final appearance, tying Serena Williams for second-most in the Open Era. Only Chris Evert (34) has more.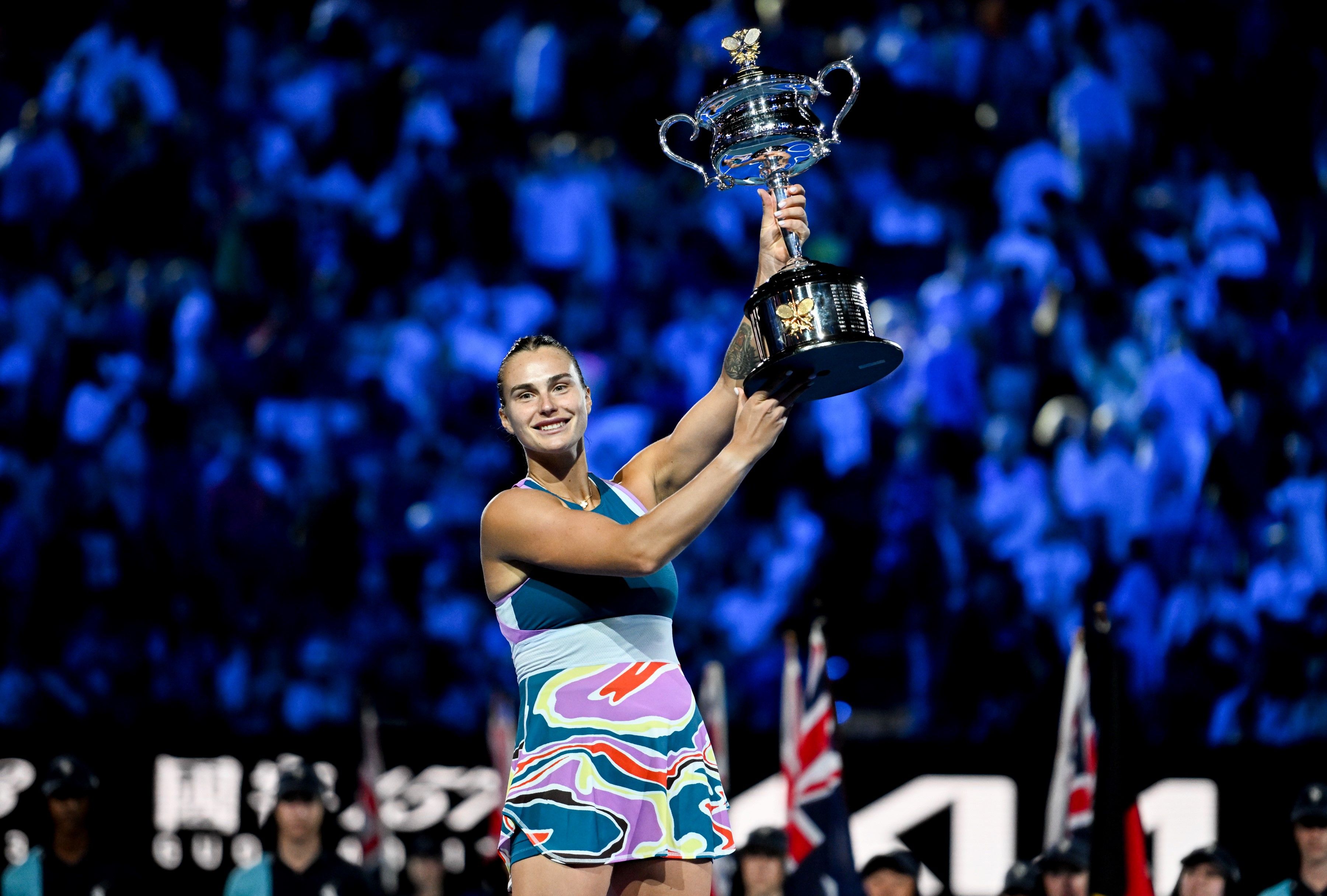 On the women's side, Aryna Sabalenka defeated Elena Rybakina, 4-6, 6-3, 6-4, on Saturday to win her first major championship in her first Grand Slam final appearance.
Why it matters: The 24-year-old Belarusian is the first player to win a major as a neutral competitor: The Australian Open did not allow Russians and Belarusians to play under their national flags.
The trophy was engraved with her name moments after she won, but unlike all previous winners, her country was not included.
Yes, but: "I think everyone still knows that I'm a Belarusian player," she said.
State of play: No one has had a better 2023 than Sabalenka. She's now 11-0 with two titles after winning the Adelaide International this month and has returned to No. 2 in the rankings, matching her career high.
Go deeper: 50 Australian Open takeaways (SI)
🎾 Bonus chart: The big three
The chart that keeps on giving!
3. ⚽️ Women's sports valuations on fire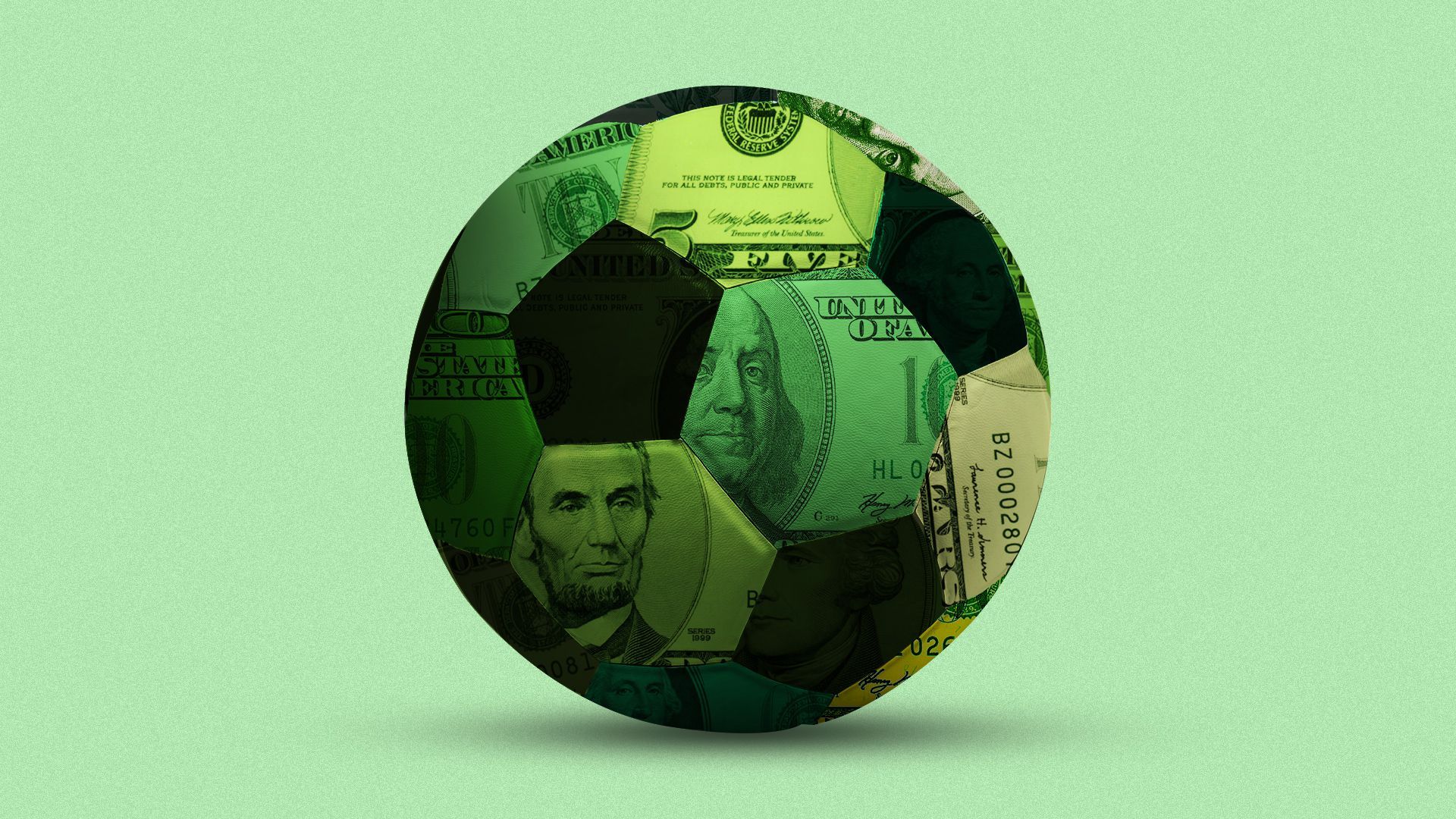 The NWSL is set to add teams in Boston, Utah and the San Francisco Bay Area, per WSJ ($).
Why it matters: The coastal teams will each reportedly pay $50 million in expansion fees, a sign of the league's continued growth and the surging value of women's sports.
Three years ago, NWSL expansion fees were $2 million to $5 million.
San Francisco and Utah will begin play in 2024, per WSJ. Boston will join later.
The big picture: The NWSL launched in 2013 with eight teams. Los Angeles-based Angel City and San Diego joined last year to give the league 12 teams, and these three additions will bring that total to 15.
The backdrop: The NWSL's former Utah-based team, Utah Royals FC, joined in 2017. The team was sold after allegations of racism, sexism and a toxic work culture and became the Kansas City Current.
In related news … It's been a big few days for women's pro sports valuations. On Wednesday, the five teams in India's new women's cricket league sold for more than $572 million at auction in Mumbai.
4. ⚡️ Lightning round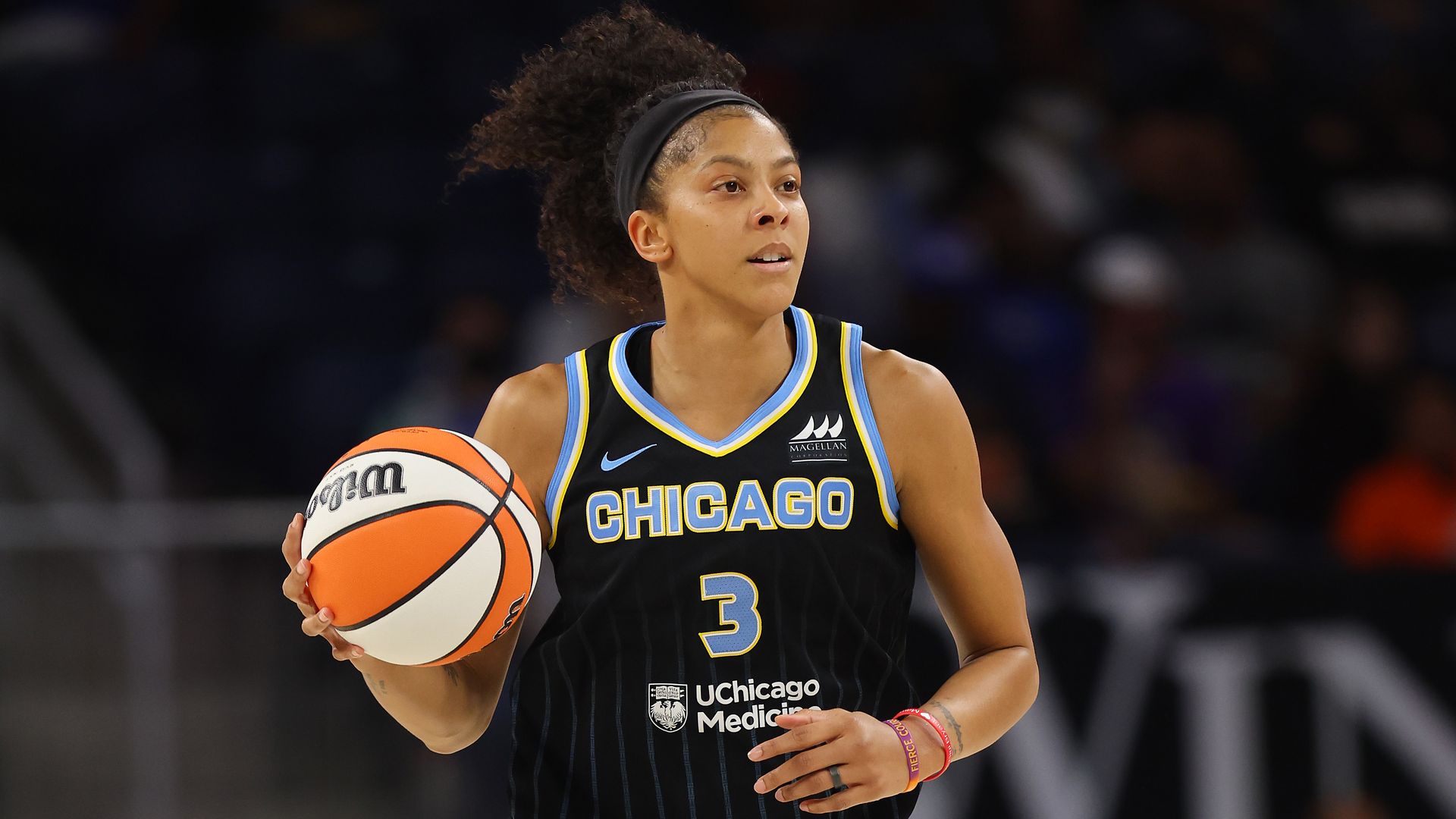 🏀 Parker to Vegas: Two-time WNBA MVP Candace Parker is signing with the Aces, giving the defending champs an even more potent lineup that features four No. 1 overall picks and 18 All-Star appearances.
🏈 Hamlin speaks: Damar Hamlin released a video on Saturday to thank everyone for their support, the first time he's spoken publicly since going into cardiac arrest on Jan. 2.
⛳️ Homa wins again: Max Homa rallied to win the Farmers Insurance Open at Torrey Pines on Saturday. It's his fifth PGA Tour victory since the start of 2021, tied with Rory McIlroy for the most of any golfer.
⛳️ Rory tops Reed: McIlroy (-19) rolled in a clutch birdie on the final hole to win the Dubai Desert Classic by a stroke over Patrick Reed (-18) days after their pre-tournament spat.
🥇 Winter X Games legend: Canadian snowboarder Mark McMorris won his 22nd Winter X Games medal on Sunday, breaking a tie with American Jamie Anderson for the most ever.
5. 🏒 EBUG: The best thing in sports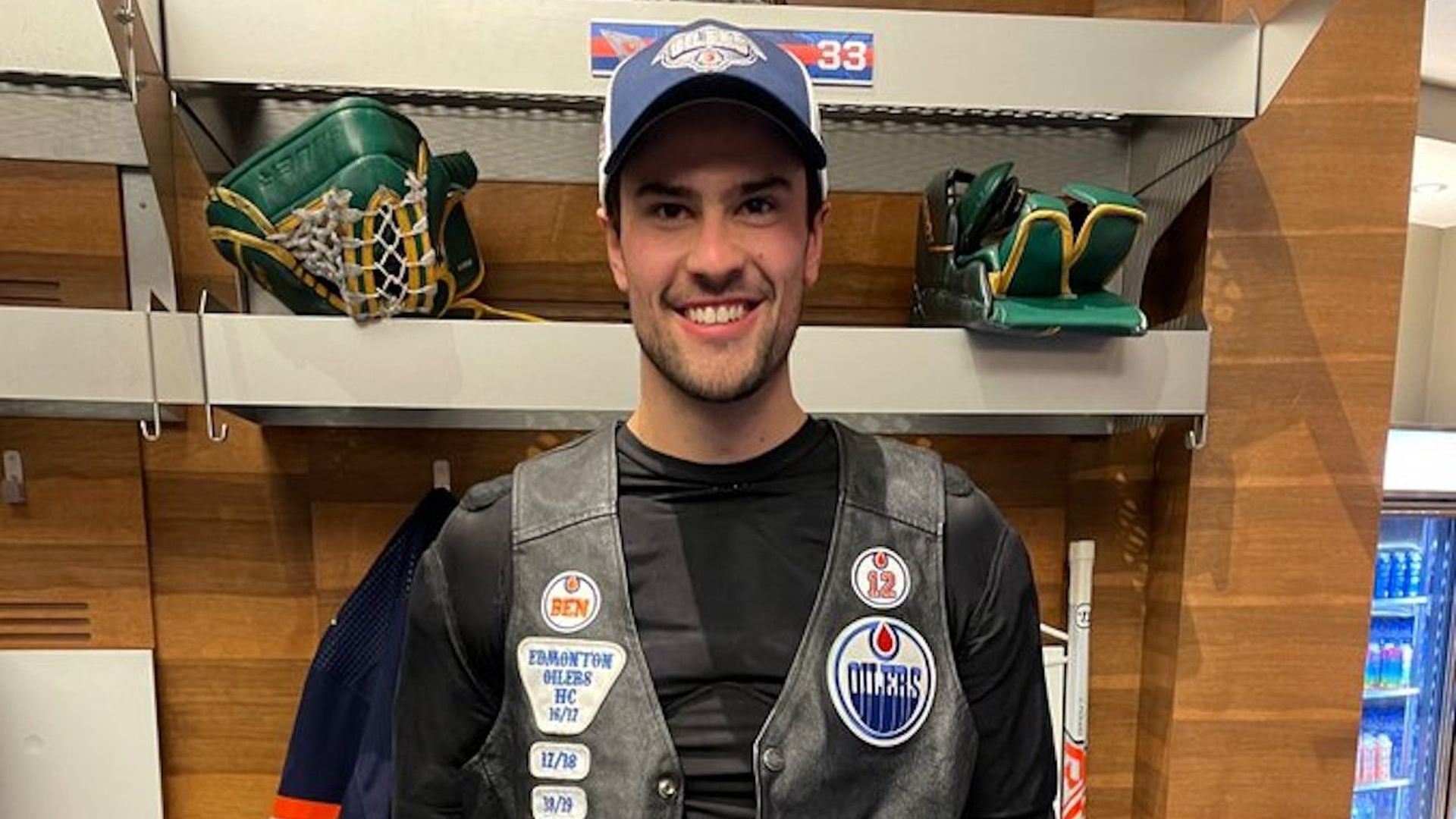 The emergency backup goalie — affectionately known as the EBUG — continues to be the best thing in sports.
What's happening: Matt Berlin, a goalie at the University of Alberta, saw game action as the EBUG for the Oilers on Saturday, saving the only shot he faced in a 7-3 win over the Blackhawks.
Why it matters: Berlin is just the fifth EBUG to see NHL playing time, joining Tom Hodges (insurance agent), David Ayres (Zamboni driver), Scott Foster (accountant) and Jorge Alves (equipment manager).
Berlin said the Oilers reached out on Saturday morning saying they needed an EBUG that night.
When backup Stuart Skinner was ruled out (illness) in the afternoon, Berlin was told he'd be backing up Jack Campbell.
What they're saying: Oilers coach Jay Woodcroft said it was the players' idea to put Berlin in the game, which was a blowout.
"We just wanted to give somebody an opportunity that they'll remember for the rest of their lives. I was proud of our team that they came to that decision," he said.
"I thought they were kidding, to be honest," said Berlin. "With about five or six minutes left, they go 'you're going in with two minutes left' … and I said 'OK, I guess we're doing this.'"
The bottom line: Berlin has posted a 2.57 goals against average and a .892 save percentage in five college games this season. Pretty good, but nothing compared to his NHL stats: 0.0 GAA and 1.000 save percentage. What a weekend for the kid.
6. ⚽️ Leeds United: America's team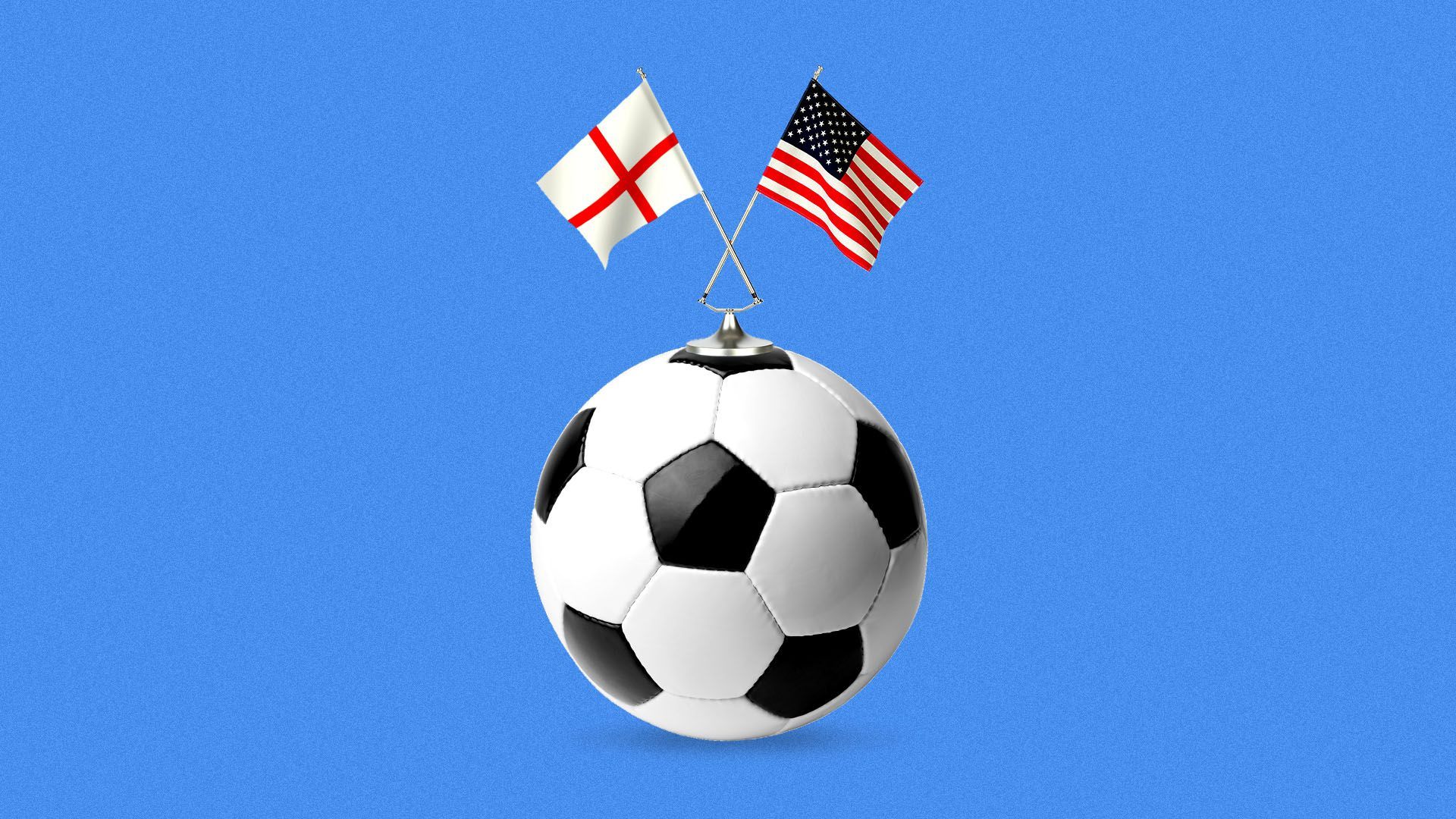 Leeds United are signing Weston McKennie on loan from Juventus, adding another American to a club already full of them, Jeff writes.
Players: McKennie joins fellow USMNT players Tyler Adams and Brenden Aaronson on the roster. Only 2007-08 Fulham had more Americans (five).
Coaches: Jesse Marsch, hired last year, is just the third American to manage a Premier League club. And last week, Leeds hired another American as an assistant coach.
Ownership: The club is owned by 49ers Enterprises, the investment arm of the NFL franchise, which holds a 44% stake and plans to complete a full takeover.
State of play: Leeds (4-6-9) could use a spark from McKennie.
They're winless in their past six league games and have dropped to 15th place, just one point above the relegation zone.
McKennie's play these next few months will determine his future with the club, which has the option to buy him permanently this summer.
What to watch: Leeds won their FA Cup match on Saturday, reaching the fifth round for the first time since 2016.
7. 🇺🇸 Photos across America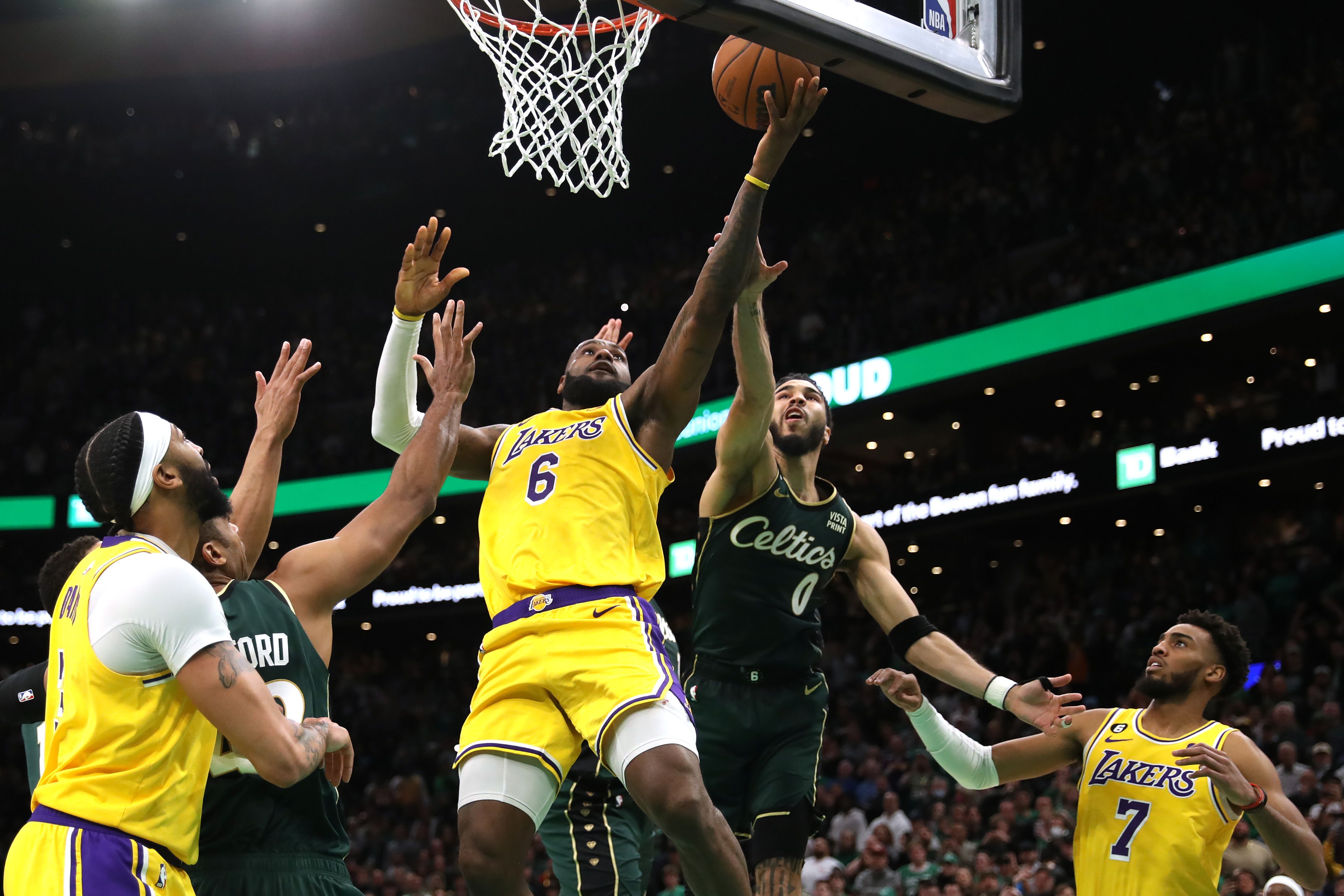 BOSTON — LeBron James was clearly fouled at the end of regulation during the Lakers' OT loss to the Celtics on Saturday. The refs missed it — and later admitted they made a mistake. Tough way to lose, man.
What they're saying: "The best player on Earth can't get a call," said Lakers coach Darvin Ham. "It's amazing."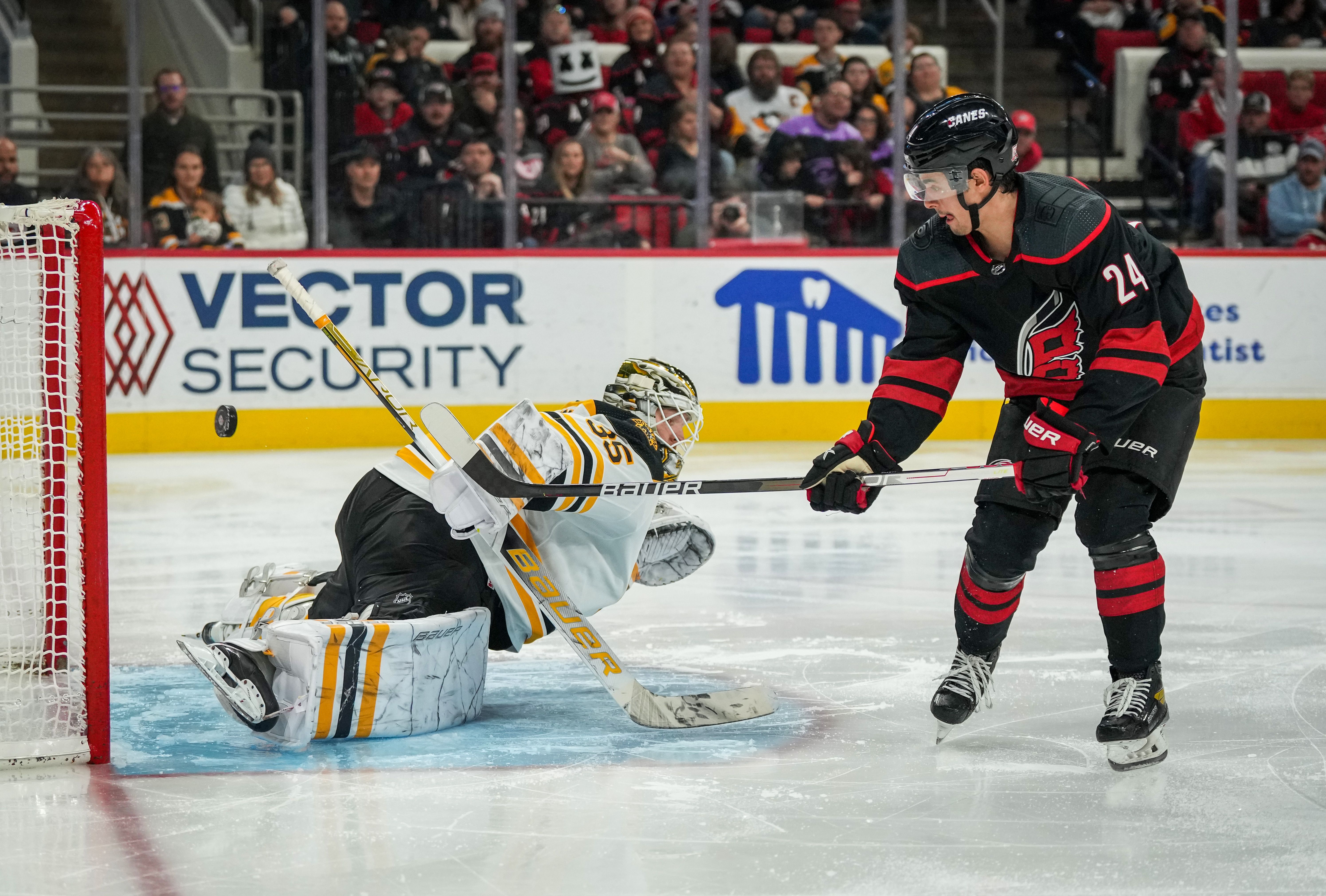 RALEIGH, N.C. — The Hurricanes beat the Bruins, 4-1, on Sunday in a matchup of the teams with the two best records in the NHL.
Of note: Entering the weekend, Boston had yet to lose back-to-back games all season. They've now lost three straight.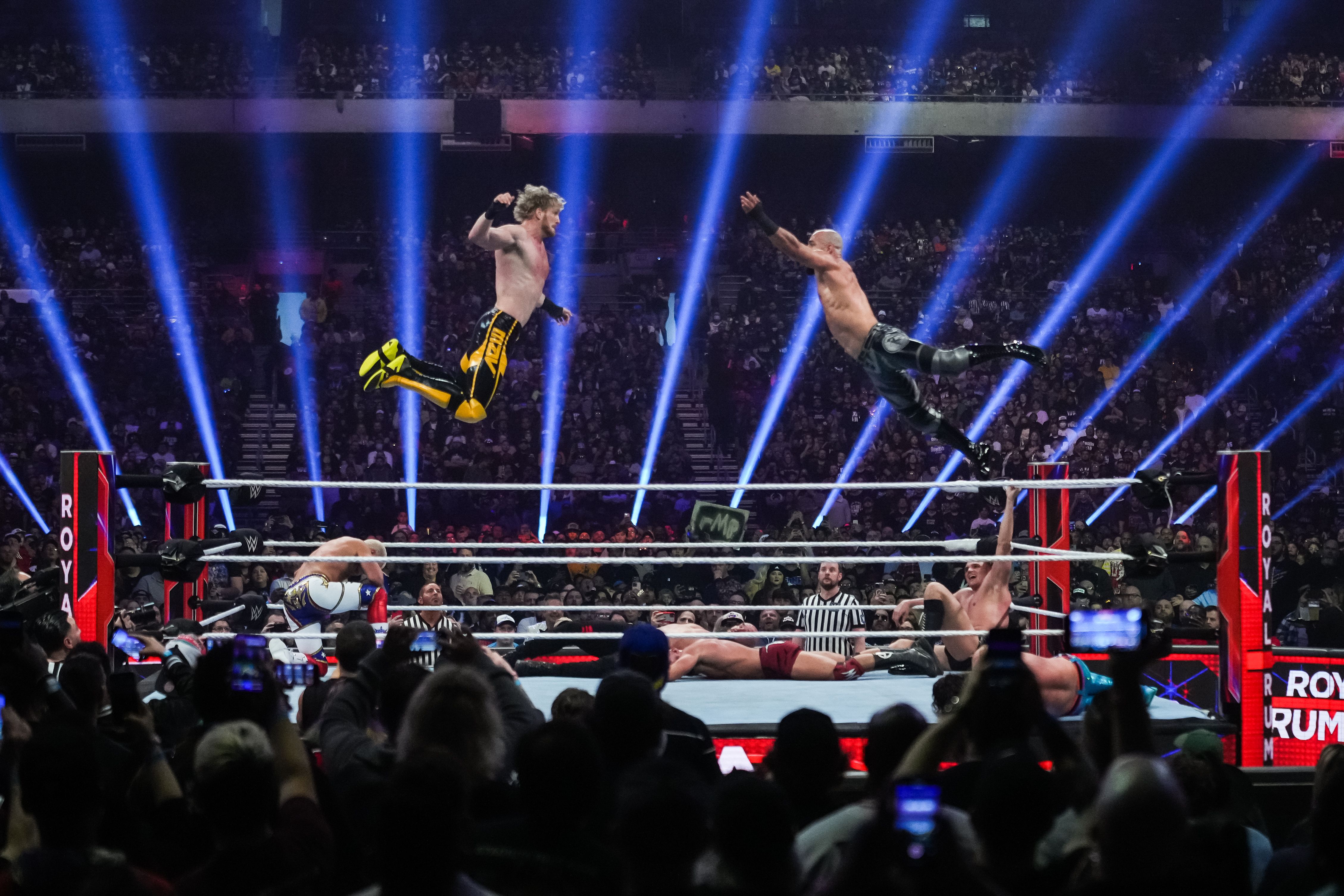 SAN ANTONIO — Do I think WWE is a sport? No, I do not. Do I think wrestlers are athletes? Yes, I do.
8. 📺 Watchlist: These guys get buckets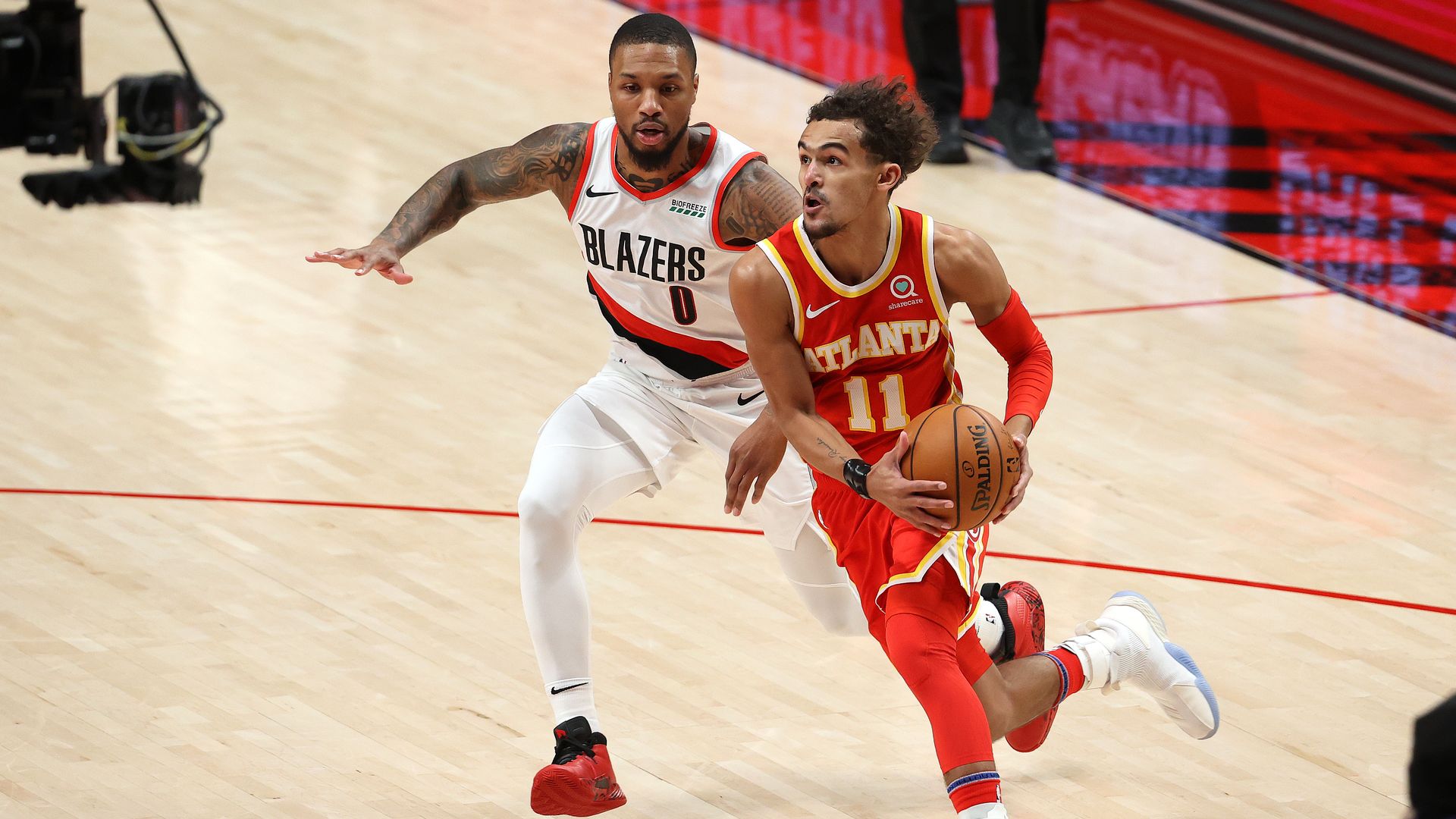 Tonight's doubleheader on NBA TV features three of the top 12 scorers in the NBA, all of whom are point guards.
Lakers at Nets (7:30pm ET): Kyrie Irving (27.3 ppg) is 10th in scoring. LeBron James (30.2) is sixth but he's out tonight.
Hawks at Trail Blazers (10pm, NBA): Damian Lillard (30.1 ppg) is seventh in scoring; Trae Young (27.2) is 12th.
More to watch:
9. 🏈 NFL trivia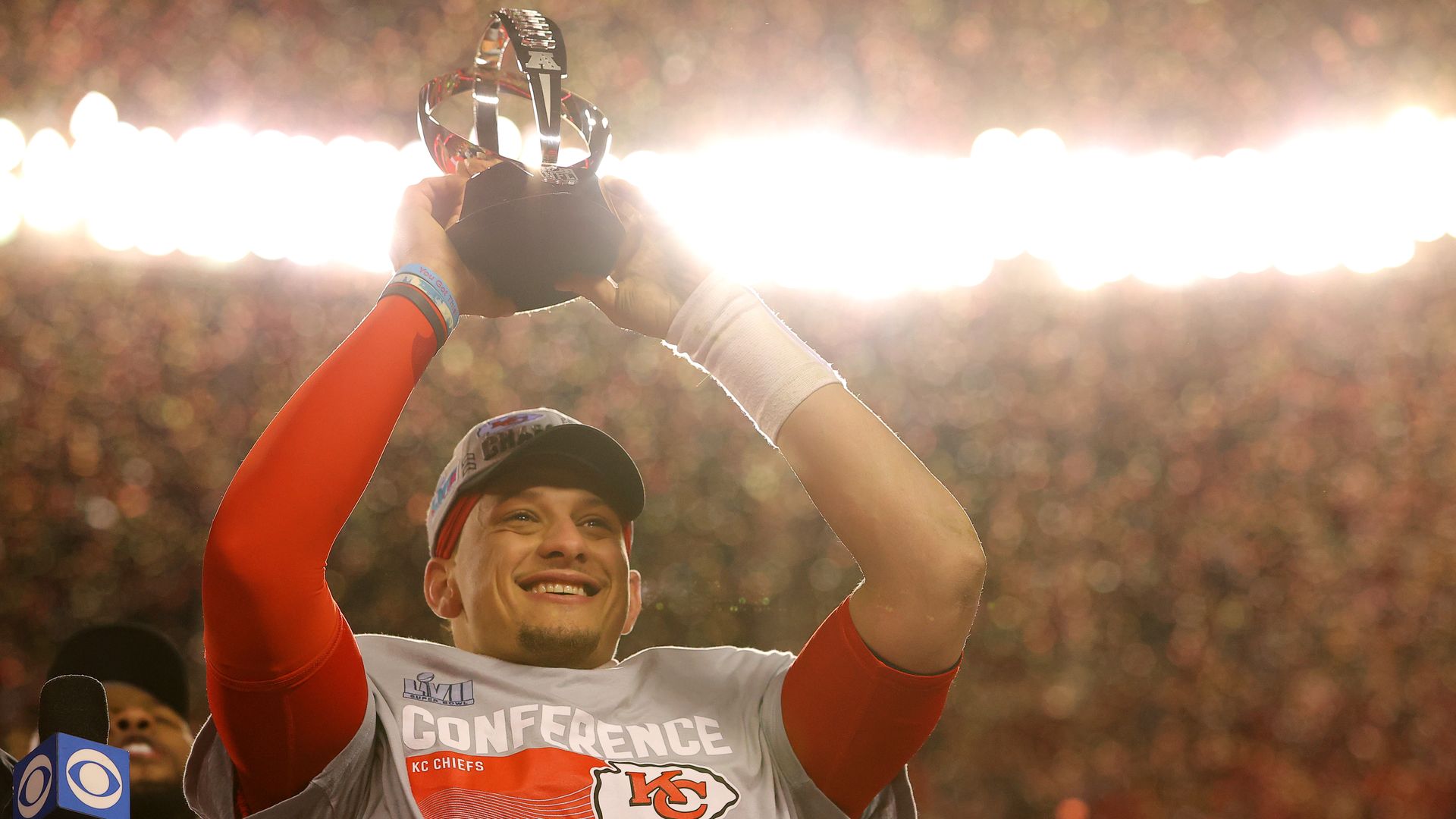 For the 10th straight season, the AFC Championship Game was won by a QB named Patrick Mahomes, Joe Burrow, Tom Brady or Peyton Manning.
Question: Who was the last QB besides those four to win the AFC title game?
Hint: Played in the AFC this season (for a different team).
Answer at the bottom.
10. 🍿 Top plays: Weekend edition