Axios Sports
October 31, 2019
👋 Good morning! The Nats are world champs, Steph Curry broke his hand, DraftKings is in "advanced talks" to sell and a guy climbed a lot of mountains. All that and more in today's edition.
Word count: 1,400 words (5 minutes)
1 big thing: ⚾️ The Nationals finish the fight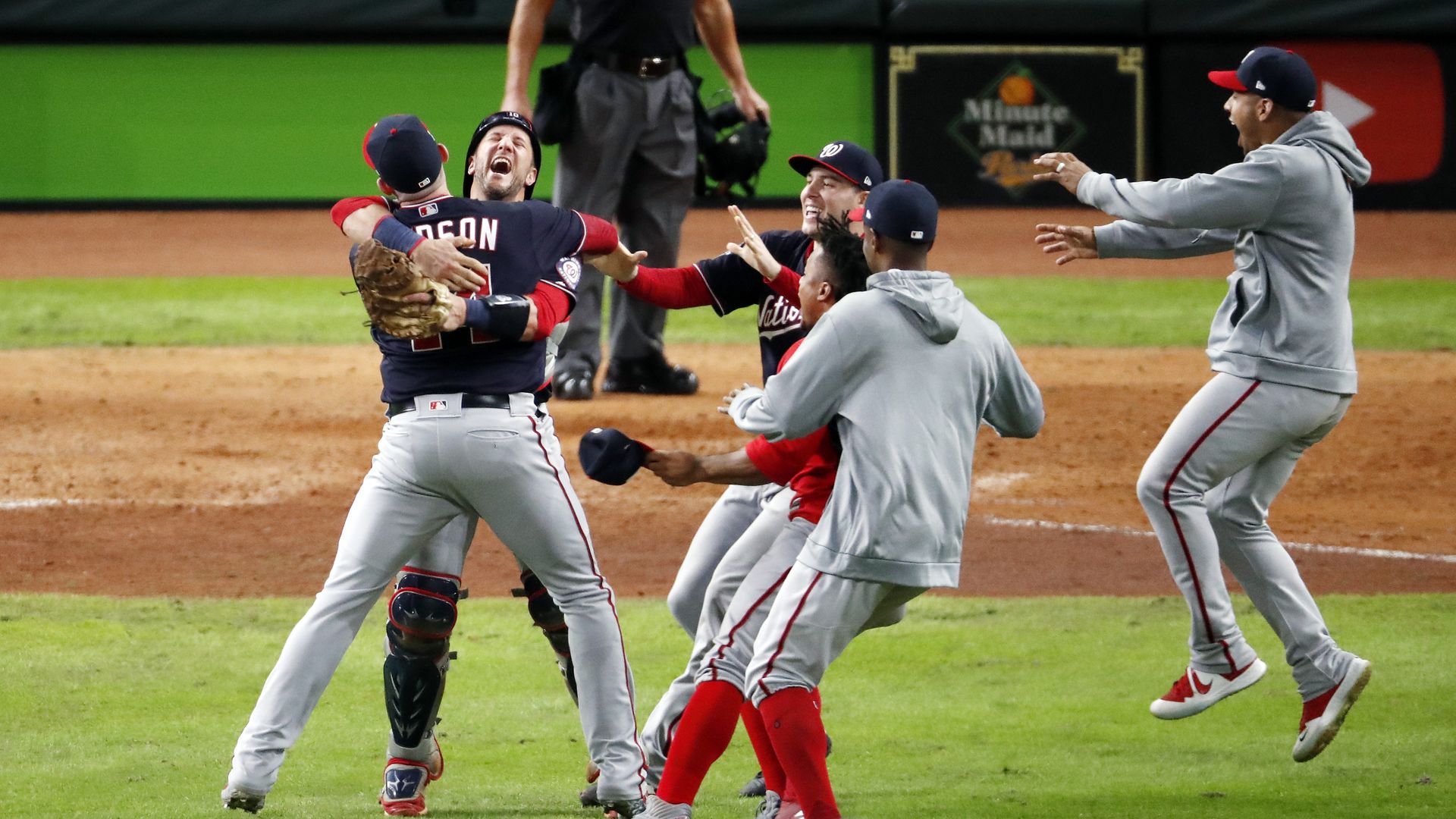 After a decade of disappointments, the Nationals completed their latest, and final, comeback of 2019 to win the franchise's first World Series.
Final: Nationals 6, Astros 2
Recap: Howie Kendrick and Anthony Rendon homered in the seventh inning as the Nationals overcame a two-run deficit and a dominant start by Zack Greinke, who was maybe pulled too early?!
Comeback kids: On May 28, the Nationals had less than a 0.1% chance to win the World Series. In the playoffs, they won five elimination games. In the World Series, they won four road games. We might never see anything like this again.
Dynamic duo: Max Scherzer (last night's starter) and Stephen Strasburg (World Series MVP) started 10 games this postseason. Washington won all of them.
The other side: The Astros narrowly missed winning their second World Series in three years and cementing themselves as one of the few modern sports dynasties. This is going to sting for a while, but they should be contenders again in 2020.
"This is about the Nationals. This isn't about not performing at home or anything that we didn't do. I come away incredibly impressed by the team that we played and got beat by."
— Astros manager A.J. Hinch,
per ESPN
Rewind: The 2019 World Series was a classic in every sense of the word and featured a bunch of memorable moments, including (1) the fan who took a homer to the gut, (2) the "Baby Shark" phenomenon, (3) the "flashing" incident, (4) the Trae Turner debacle and (5) the cortisone shot heard 'round the world.
The final word ... If the Astros had won, I was going to write an ode to the juggernaut that they built — a 300-word celebration of analytics, player development and long-term planning.
But in the end, it was the Nationals, and so I wrote about the underdog — a team of destiny that achieved the impossible and brought an entire city along for the ride.
Part of what makes sports so great is the balance between those two things. We need the superstars and the dynasties. We need the "analytics revolutions" so I can make cool charts and sound smart.
But we also need the miracles and the outcomes that defy all logic (zero wins by the home team?!). We need the 2019 Washington Nationals.
Bonus: 📸 Snapshots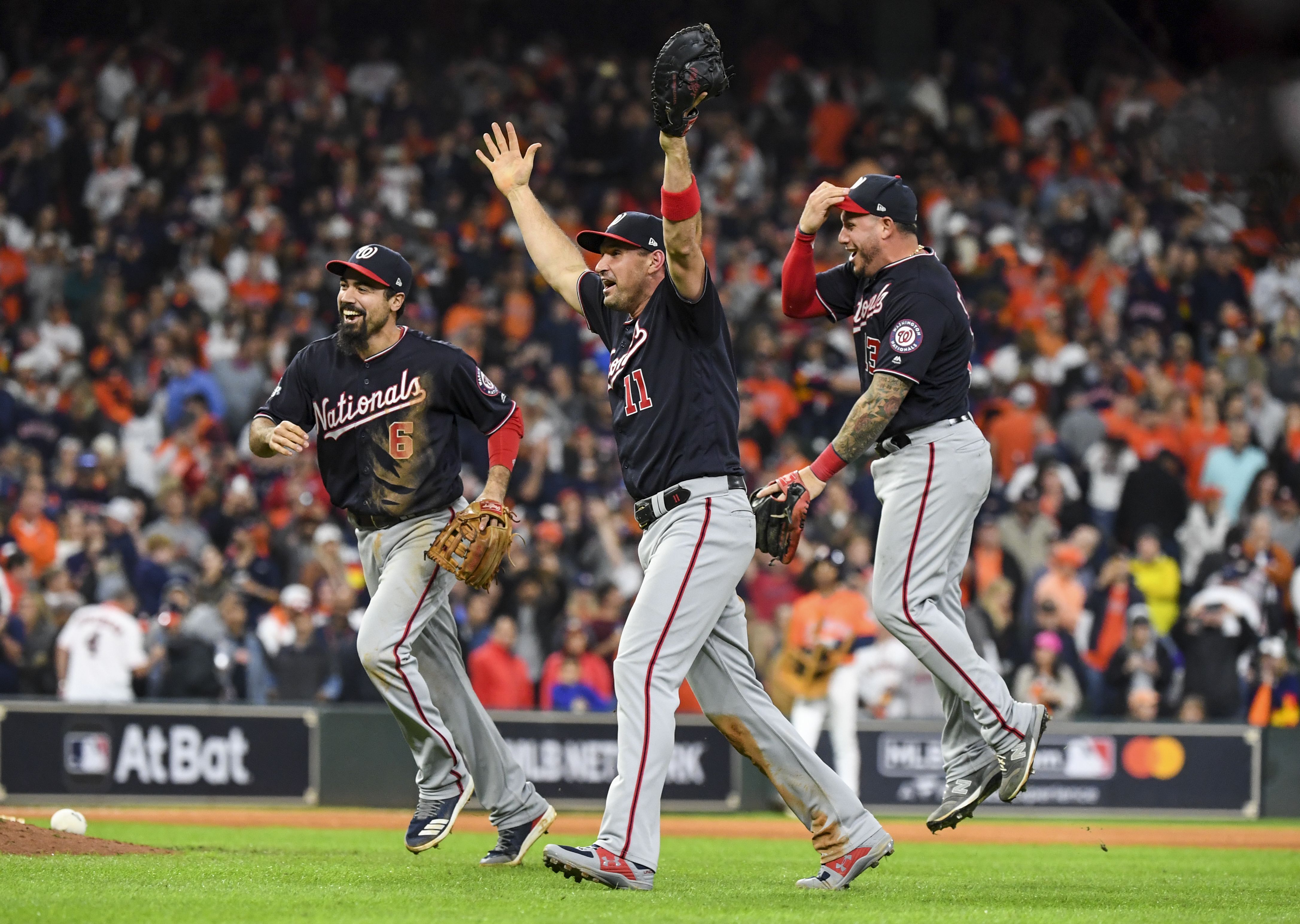 Anthony Rendon (left), the Houston native who grew up an Astros fan, will be hailed as a hero in Washington, D.C. forever.
Ryan Zimmerman (center), the first draft pick in team history, has worn a Nationals uniform in every season of their existence — none more memorable than this one.
Asdrubal Cabrera (right), the veteran infielder who signed with the Nationals in August, wins his first World Series three months after being released by the Rangers.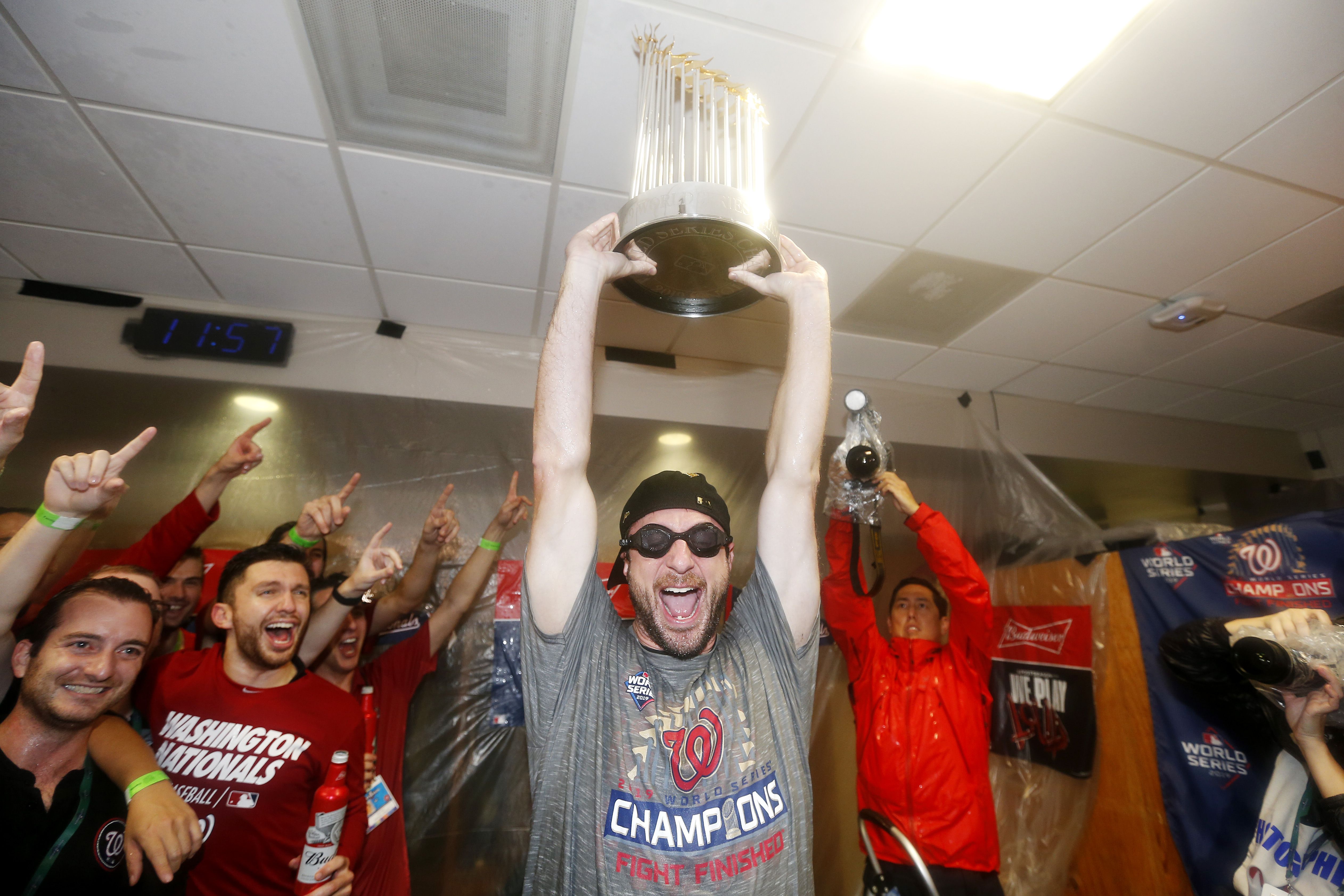 72 hours ago, Max Scherzer couldn't move his neck. And last night, he wasn't himself, allowing 11 of the 23 batters he faced to reach base.
But he still willed his way through five innings and allowed just two runs. It wasn't pretty, but the fact that he had to grind it out only adds to the legend.
Scherzer was emotional after the game, hugging everyone in sight and crying tears of joy. "It's hard to describe," he told reporters, his voice quivering. "All I know is that everybody, when they got their number called, they did it."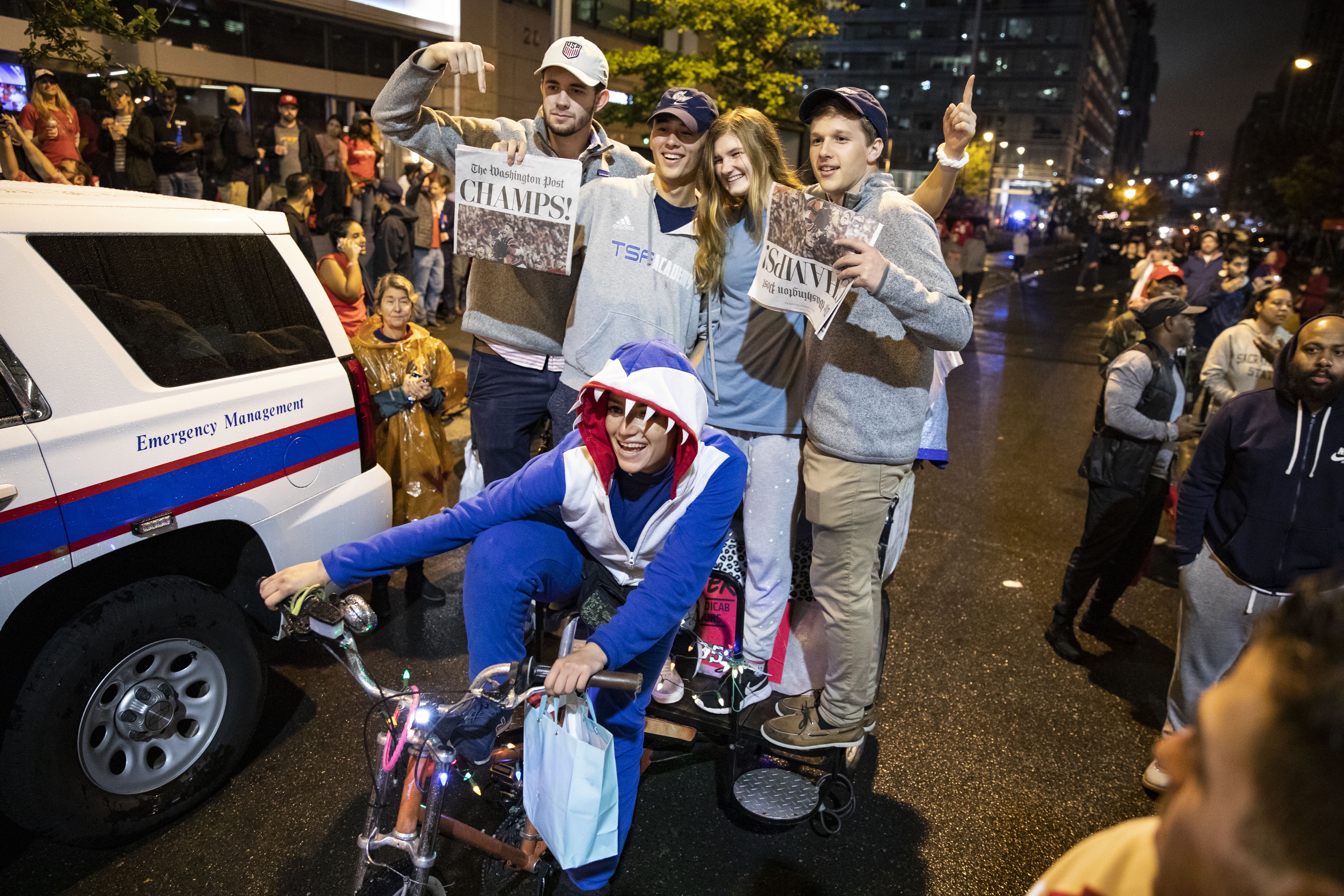 Fans carried copies of the Washington Post as they celebrated outside of Nationals Park. 16,000+ fans packed the stadium for a Game 7 watch party and cheered into the rainy night as their team made history.
2. 🏈 Week 9 NFL rankings
Thanks to a strong crop of contenders and an equally weak crop of bottom-dwellers, the 2019 NFL season is officially "the year of the massive betting line," per FiveThirtyEight.
By the numbers: There have already been eight games where one team was favored by more than two touchdowns. That's the fifth-most such games in a season since 1978 — and it's only Week 9.
Tonight: 49ers at Cardinals, 8:20pm ET (Fox, NFLN, Amazon)
3. 🏀 Meanwhile, in the NBA...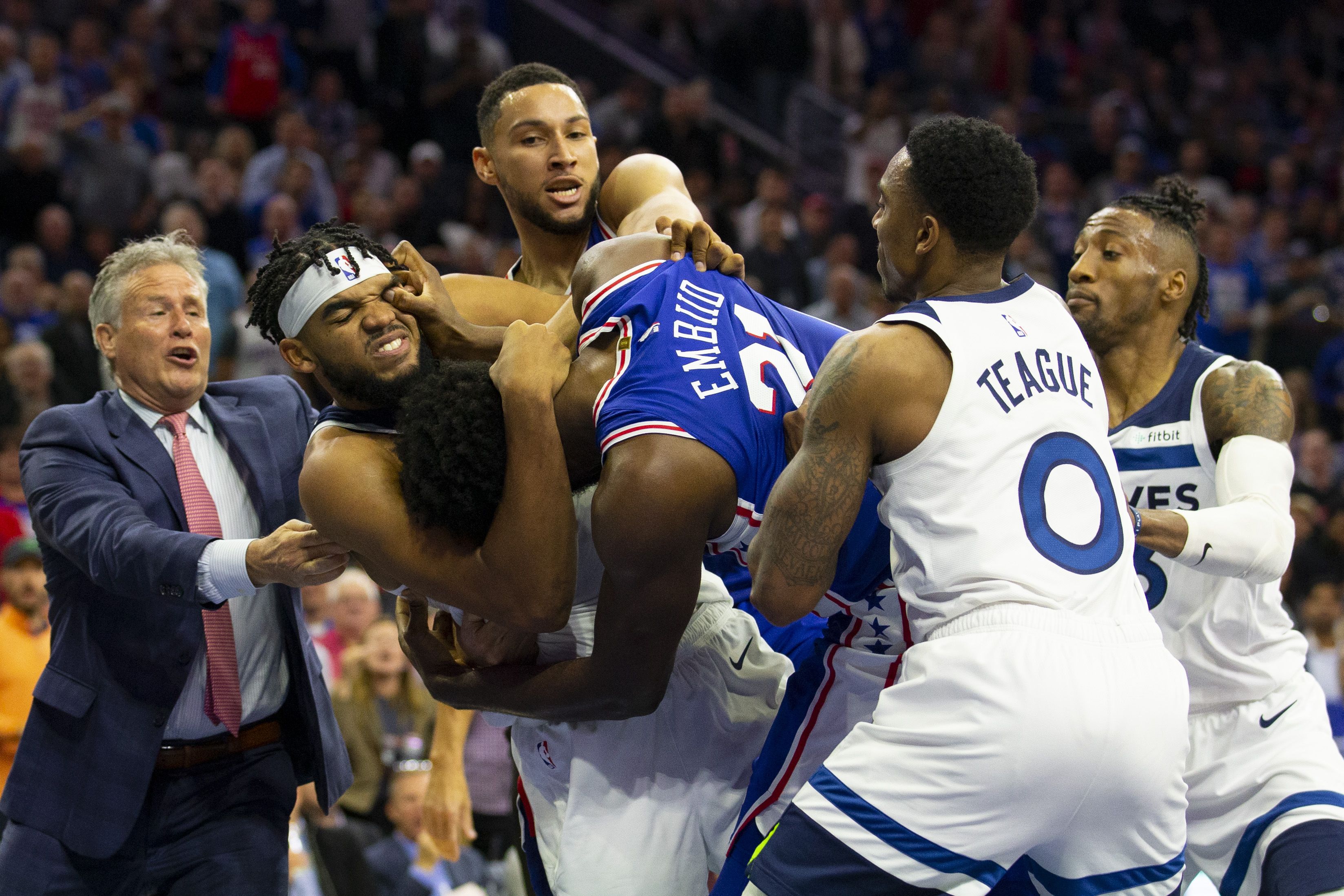 PHILADELPHIA — Joel Embiid and Karl-Anthony Towns, who share a rich trash-talking history, were ejected for fighting in the third quarter of their game (76ers won, 117-95).
Go deeper: Embiid and Towns went back-and-forth on social media late into the night. I took screenshots and put it all in a Twitter thread. Please enjoy.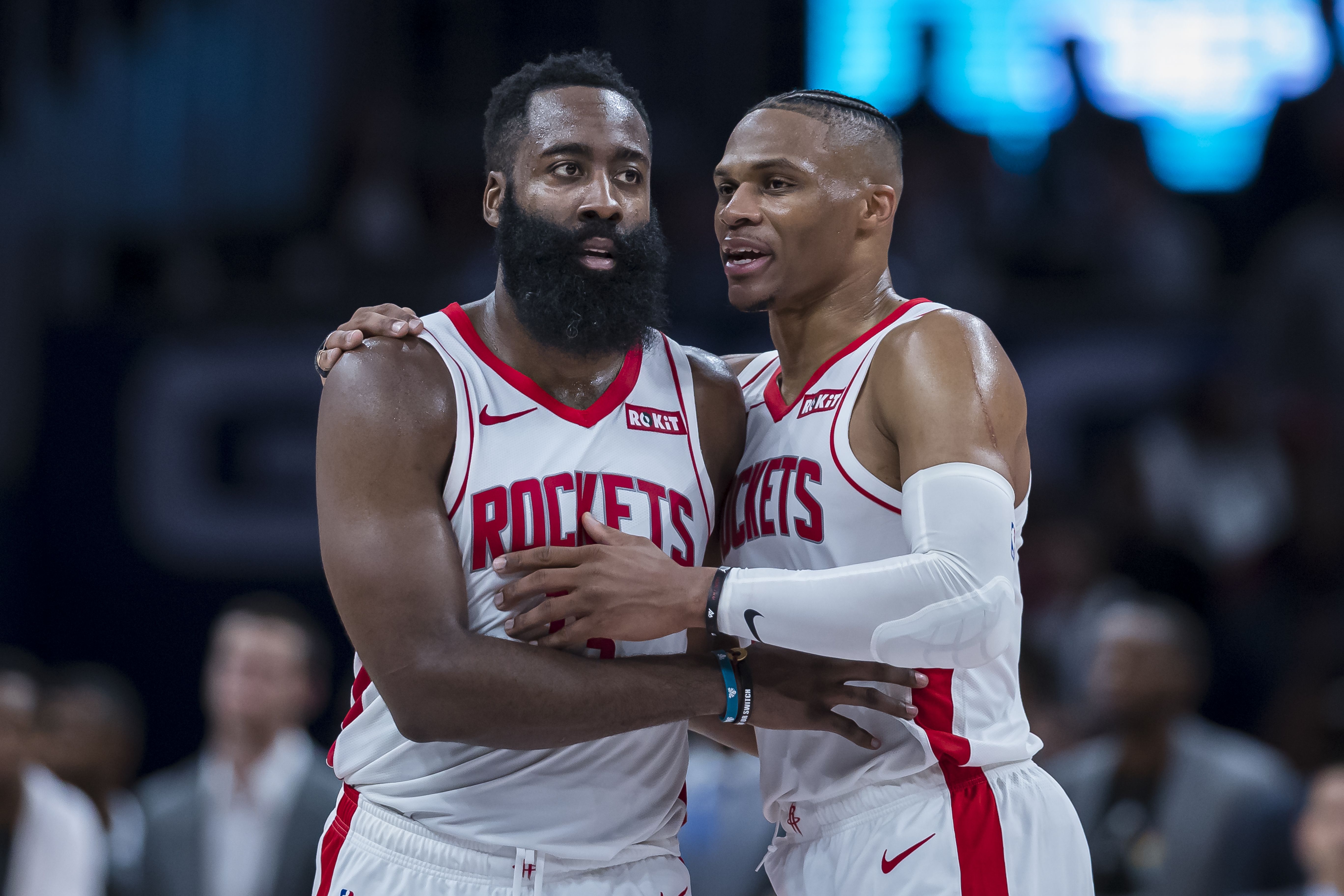 WASHINGTON, D.C. — While the Nationals and Astros battled it out in Houston, the Wizards and Rockets went head-to-head in D.C. It's safe to say the over hit in this game...
Final score: Rockets 159, Wizards 158. James Harden had 59 points (18-32 FG, 6-14 3PT) and Bradley Beal had 46 (14-20 FG, 7-12 3PT).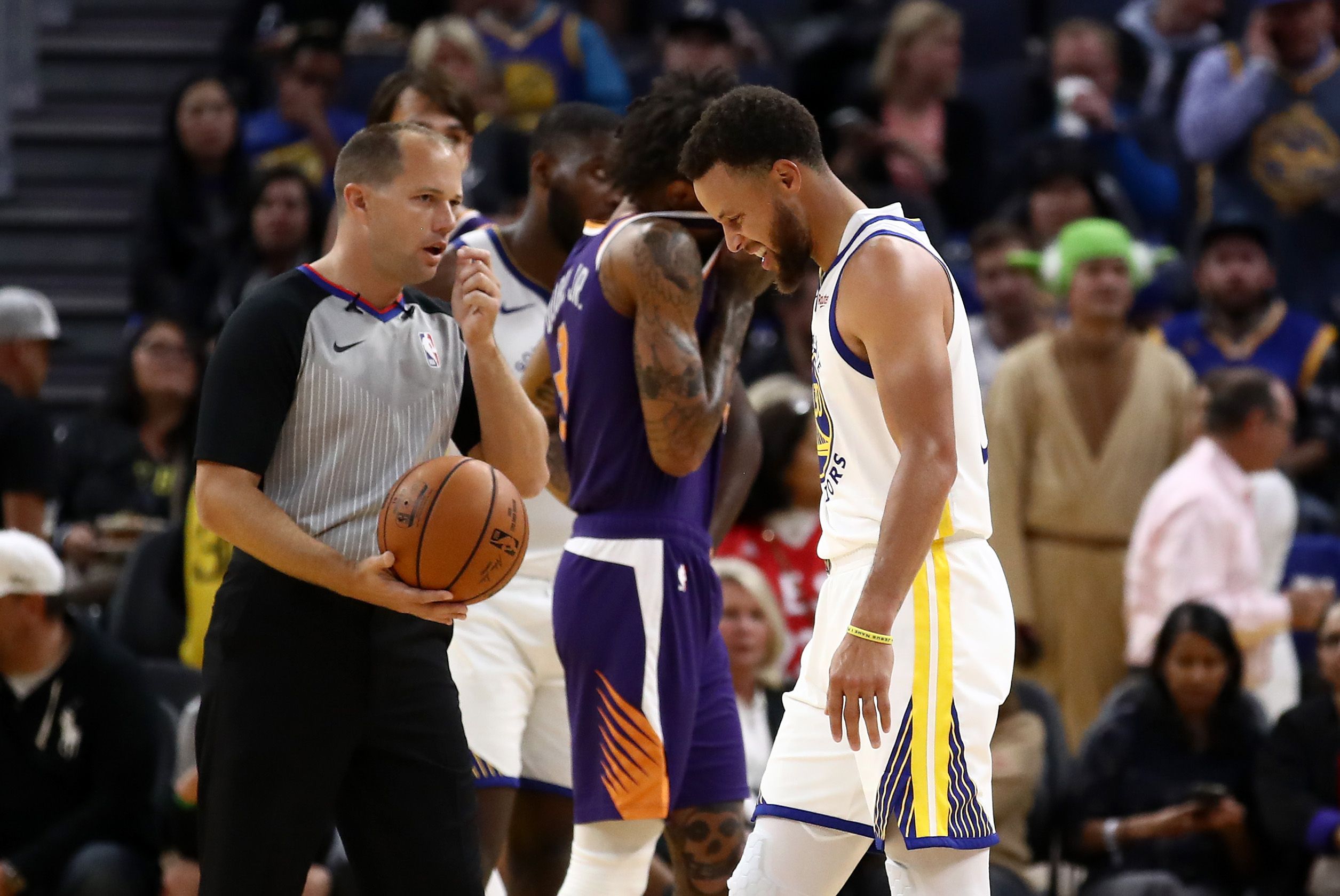 SAN FRANCISCO — Steph Curry will be out indefinitely after breaking his left hand in the Warriors' 121-110 loss to the Suns. Here's how it happened.
Dropping like flies: In their last six games, the Warriors have lost three future Hall of Famers to long-term injuries (Durant, Thompson, Curry). Just brutal.
4. ⚽️ Toronto shocks Atlanta, advances to final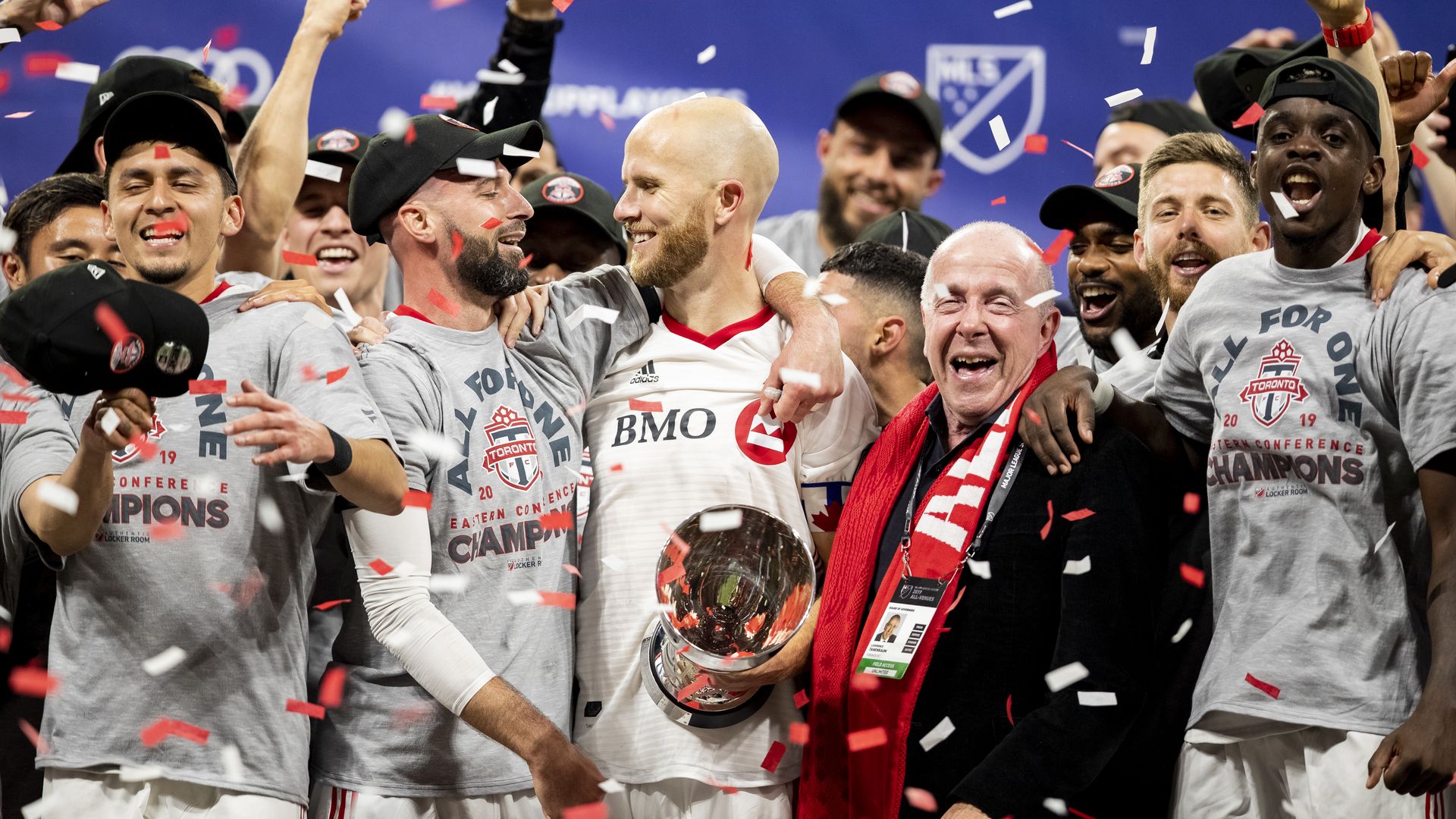 Nick DeLeon scored on a beautiful strike late in the second half to give Toronto FC a 2-1 win over defending MLS Cup champs Atlanta United in the Western Conference final.
What's next: For the third time in four years, Toronto FC and the Seattle Sounders will meet in the MLS Cup final. This year's edition will be held in Seattle on Sunday, Nov. 10.
P.S. ... In other soccer news, Liverpool beat Arsenal on penalties after an epic 5-5 thriller in the Carabao Cup.
5. 💵 Report: DraftKings in talks to sell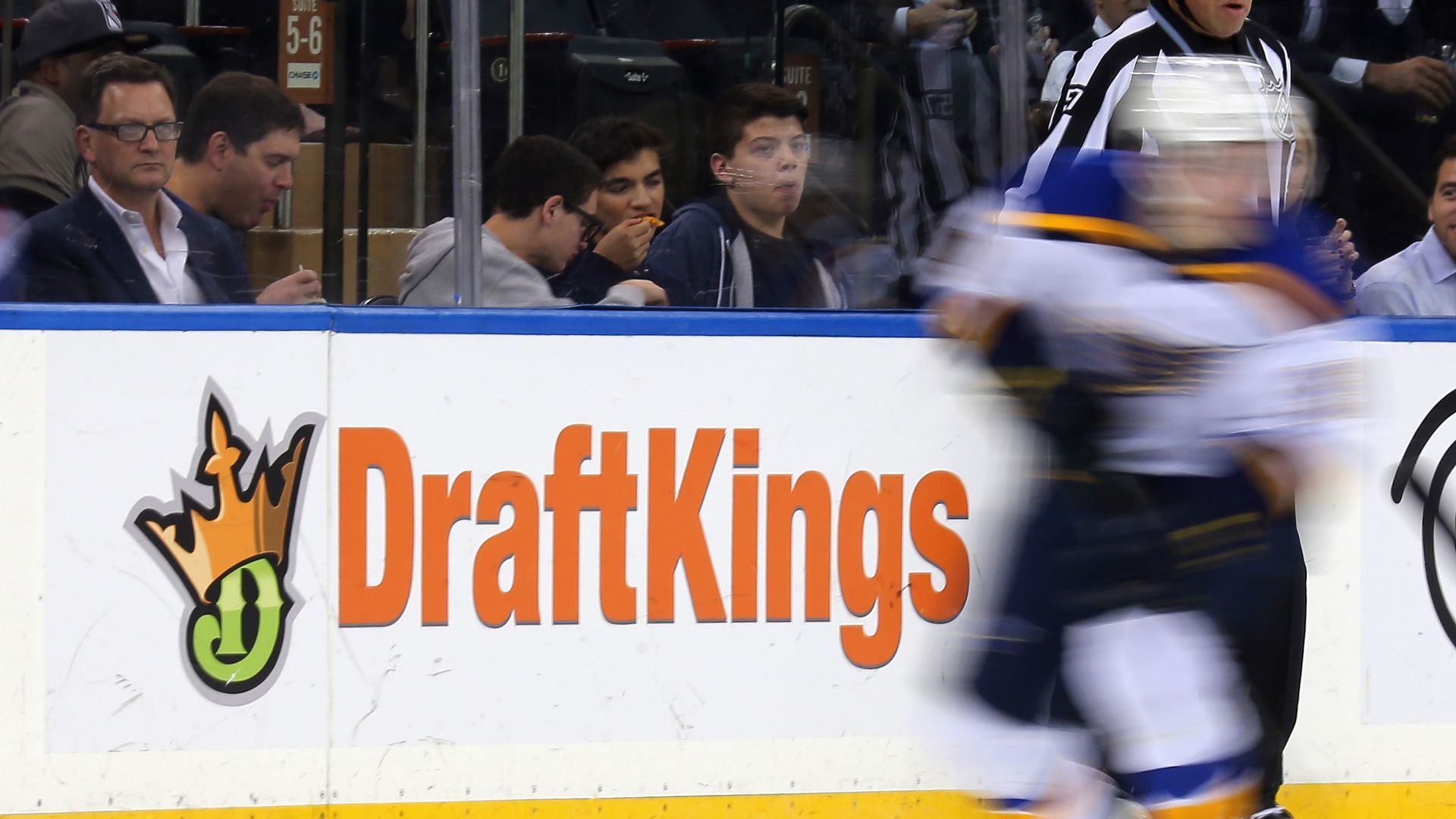 Diamond Eagle Acquisition Corp., a special purpose acquisition company (SPAC), is in "advanced talks" to buy DraftKings, Bloomberg's Scott Soshnick reports.
Why it matters: "SPACs raise money from public investors to pursue an acquisition they haven't identified yet. Merging with one enables a private company to go public without an initial public offering," notes Soshnick.
🎧 Go deeper: DraftKings CEO Jason Robins was a guest on the Axios Pro Rata podcast last month. Give it a listen.
6. Oct. 31, 1950: 🏀 Lloyd breaks color barrier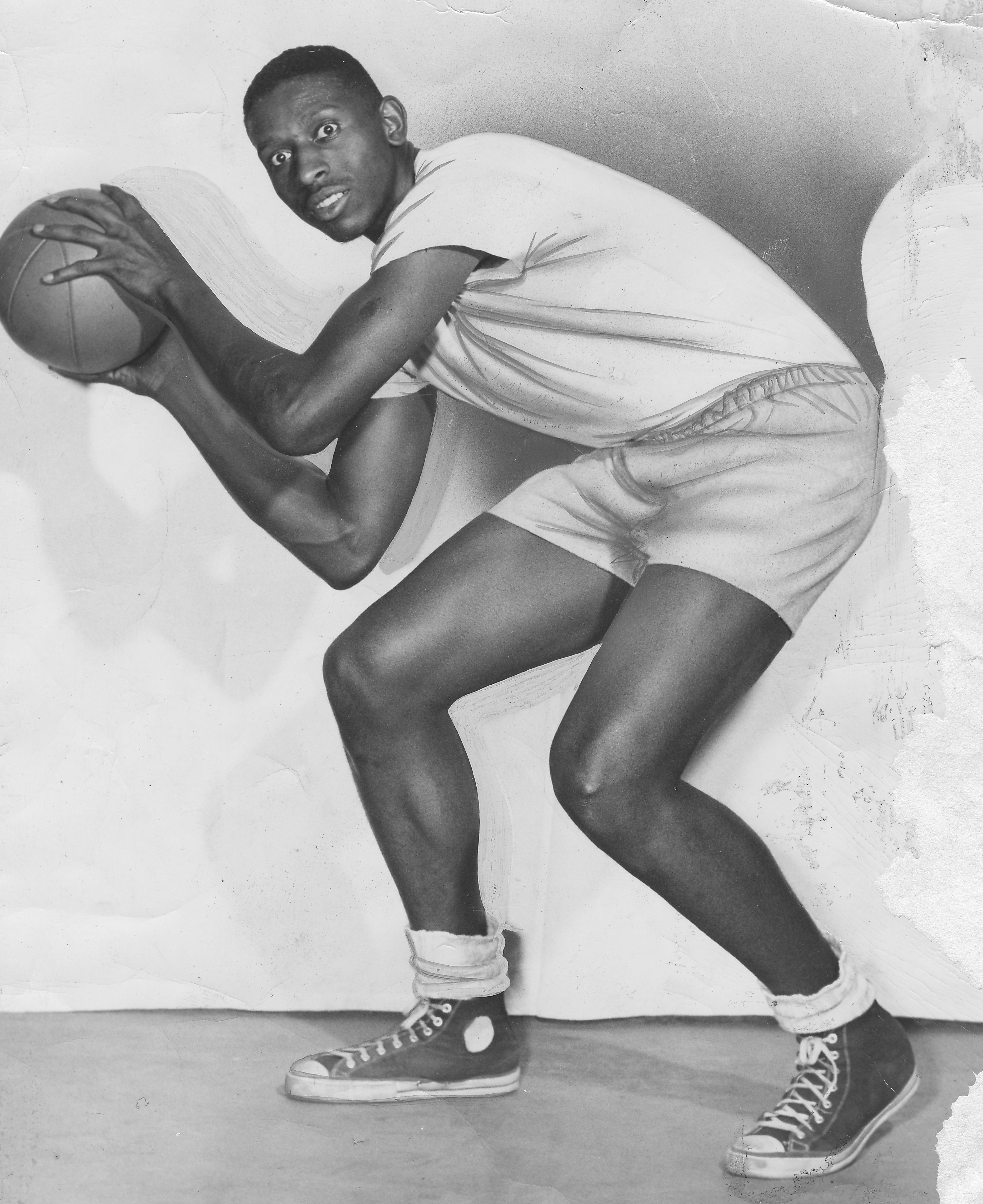 69 years ago today, Earl "Big Cat" Lloyd became the first African-American to play in an NBA game, scoring six points in his rookie debut for the Washington Capitols.
Lloyd was one of three black players to enter the NBA at the same time. One day after he took the court, Chuck Cooper saw action for the Boston Celtics, and three days after that, Nat Clifton debuted for the New York Knicks.
The backdrop: Three years earlier, Jackie Robinson had broken the color barrier in baseball. When asked about him, Lloyd humbly downplayed any comparison:
"I don't think my situation was anything like Jackie Robinson's — a guy who played in a hostile environment, where some of his teammates didn't want him around. In basketball, folks were used to seeing integrated college teams. There was a different mentality."
— Earl Lloyd
The big picture: Lloyd went on to average 8.4 points and 6.4 rebounds per game over nine NBA seasons with the Capitols (1950-51), Syracuse Nationals (1952-58) and Detroit Pistons (1958-60).
In 1960, the Pistons hired Lloyd as an assistant coach, making him the first black assistant in the four major American sports leagues. He was inducted into the Basketball Hall of Fame in 2003, and passed away in 2015 at age 86.
Go deeper: Lloyd's Hall of Fame profile
7. 🏈 Heisman trivia
Ohio State DE Chase Young is having an incredible season and has officially entered the Heisman conversation.
Question: Only three defensive players have finished in the top 5 in Heisman voting this decade. Can you name them?
Hint: Their initials are MT, TM and JP.
Answer at the bottom.
8. The Ocho: 🏔 World's 14 highest peaks in 6 months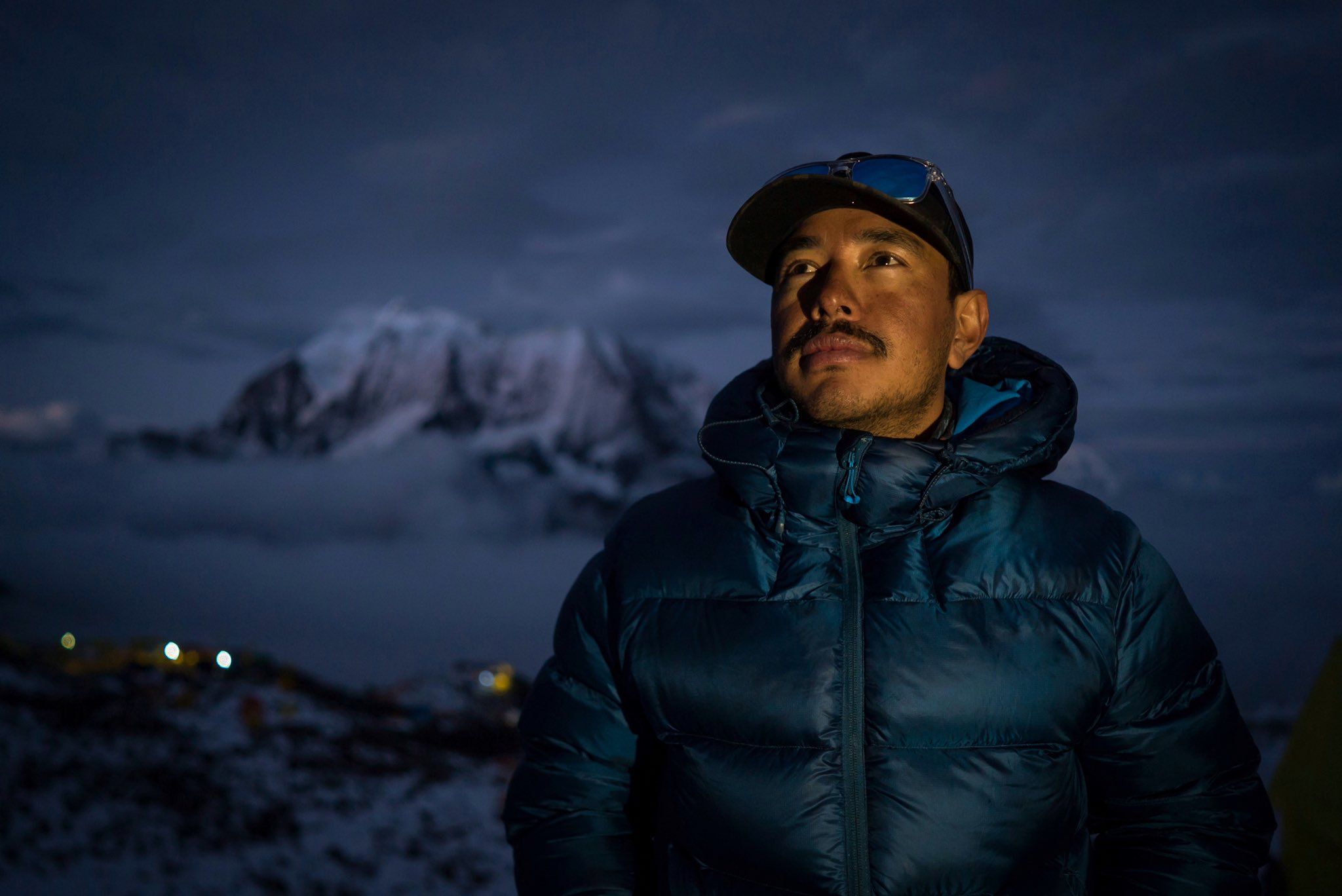 A 36-year-old Nepali climber named Nirmal Purja has reached the summit of the world's 14 highest mountains (all at least 26,350 feet tall) in just over six months.
Why it matters: The fastest previous ascent of all 14 peaks — which are all in the Himalayan and Karakoram ranges that stretch across China, India, Nepal and Pakistan — took nearly eight years. He smashed the record to smithereens.
What they're saying: Purja credits his endurance to his natural physiology and his intense military training. Prior to attempting this feat, he spent 10 years in the British special forces.
9. 📊 Reader poll results
Yesterday, I asked you if college athletes should be able to benefit from their name, image and likeness and earn endorsement money.
Poll results:
Yes: 81.5% of votes
No: 18.5% of votes
10. 🎃 Happy Halloween!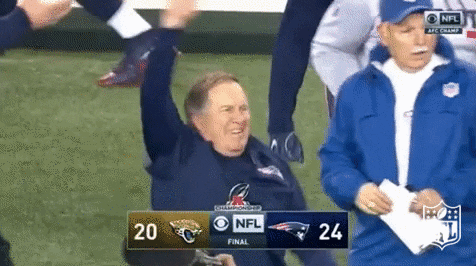 To celebrate, let's remember the time Randy Moss successfully convinced Bill Belichick to attend a team Halloween party at a roller rink.
The grumpiest man alive absolutely loving Halloween adds yet another layer to a human being we'll never fully understand.
Talk tomorrow,
Kendall "Bryce called it" Baker
Trivia answer: Notre Dame LB Manti Te'o (2nd in 2012), LSU DB Tyrann Mathieu (5th in 2011) and Michigan DB Jabrill Peppers (5th in 2016)