👋 Happy Monday! Two brief announcements:
Spotlight Series: Each day this week, we'll be highlighting a sports-related company worth knowing more about. Reply with feedback! If it's a hit, we'll make this a recurring section with a new theme every week.
Pick 3 contest: It's back. Make your predictions at the bottom.
OK, let's dive in...
1 big thing: ⛳️ Brooks Koepka is golf's new king
When Brooks Koepka was 10 years old, he was in a car accident that forced him to temporarily stop playing hockey, his favorite sport. Somewhat reluctantly, he picked up golf — a sport he is now dominating in ways we've never seen.
What happened: Despite a rough Sunday that saw him almost become the first golfer to blow a seven-stroke lead after 54 holes, Koepka held on to win the PGA Championship for the second straight year.
Why it matters: This is Koepka's fourth win in his last eight majors, which is absurd. He's batting .500. And, because he also won the U.S. Open in 2017 and 2018, he's the first man to hold back-to-back titles in two major championships.
The backdrop: Four years ago, Rory McIlory and Jordan Spieth were golf's post-Tiger superstars, and most fans had never even heard of Koepka, who was grinding it out on the European Tour. But Woods' former caddie Stevie Williams saw something in his game and tried to warn us about what was coming.
"Once in a great while, a player comes along who hits a golf ball the way it was meant to be hit. Powerful, piercing, the perfect trajectory. Of the young players out there, one I've seen has that special ball flight: Brooks Koepka. ... Obviously he's searching to find the other parts of the puzzle, but I haven't seen a ball flight like that since Tiger, and before that, Johnny Miller."
— Stevie Williams in a
2015 interview with Golf Digest
What's next: Barring a dramatic drop-off, putting money on Brooks to win any major tournament moving forward feels like a fairly safe bet.
The Masters: As I pointed out last month (and as Tiger went on to prove), the key to winning at Augusta is length off the tee, and few golfers hit it farther than Koepka. He also finished tied for second this year.
The PGA Championship and U.S. Open: Why wouldn't he be the favorite to three-peat at both?
The Open: While one might presume that links courses don't suit Koepka's game quite as well, he's finished inside the top 10 in his last two starts overseas.
2. 🏀 Kawhi carries Raptors to finish line in marathon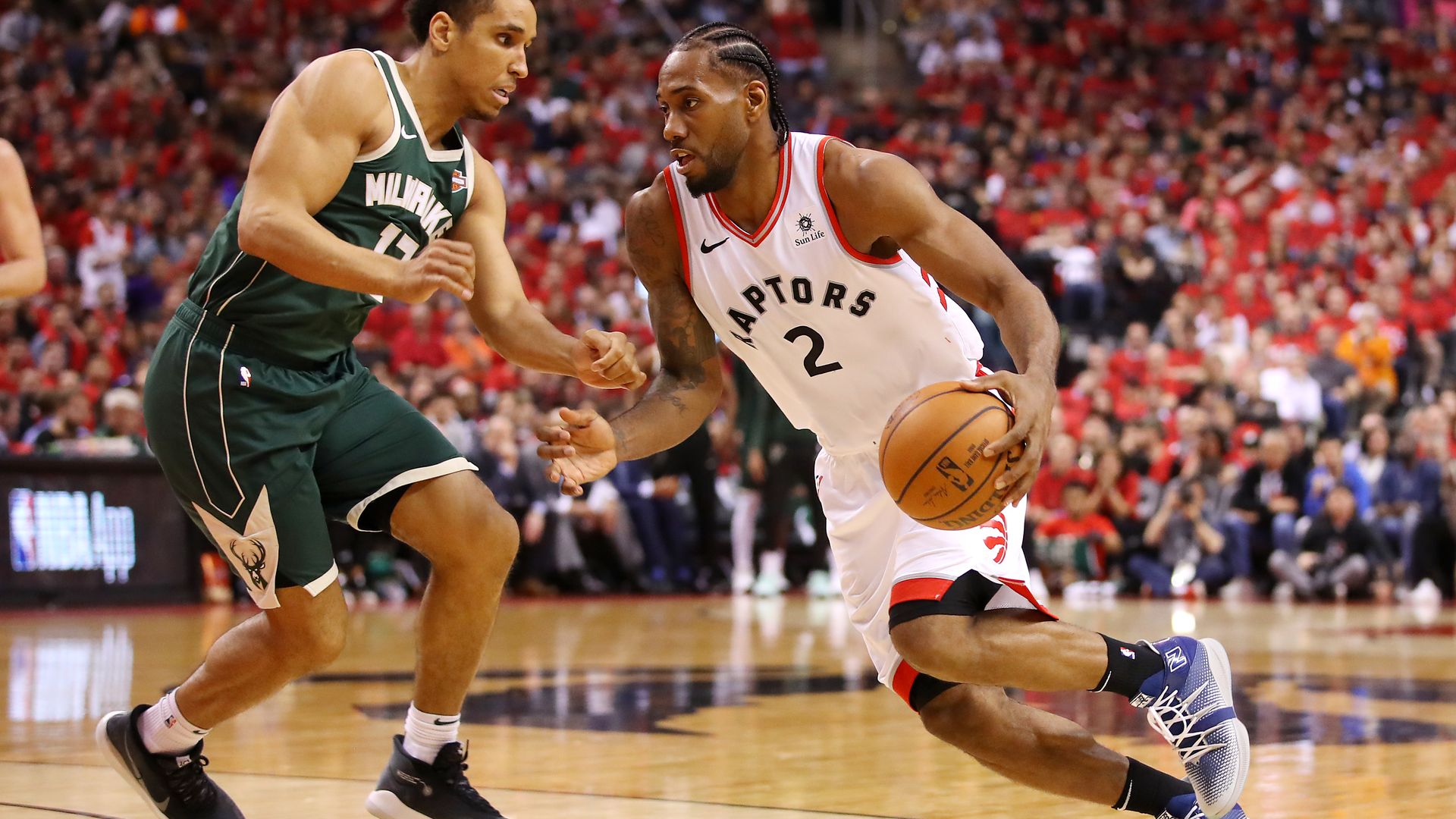 Kawhi Leonard scored 36 points to lead the Toronto Raptors past the Milwaukee Bucks, 118-112, in double overtime last night in a must-win Game 3 at home.
The intrigue: Leonard played a playoff career-high 52 minutes, yet appeared to have infinitely more energy than everyone else on the floor as the game was winding down. Perhaps that's because he spent the winter hibernating.
Kawhi played in just 60 of the Raptors' 82 games this season. He never played on consecutive days and missed multiple big-time matchups against fellow superstars — despite not really being injured.
The backdrop: The NBA has a policy against resting healthy players and has handed out heavy fines when teams have done it in the past — an understandable response considering the absence of a superstar affects everything from ticket sales and TV ratings to the league's competitive spirit.
Yes, but: The NBA's doctors have the ability to issue medical exemptions to this policy, and Leonard is one of the few players who qualified because of his lingering quad injury from last season.
3. 🛒 Fanatics is dominating the sports apparel market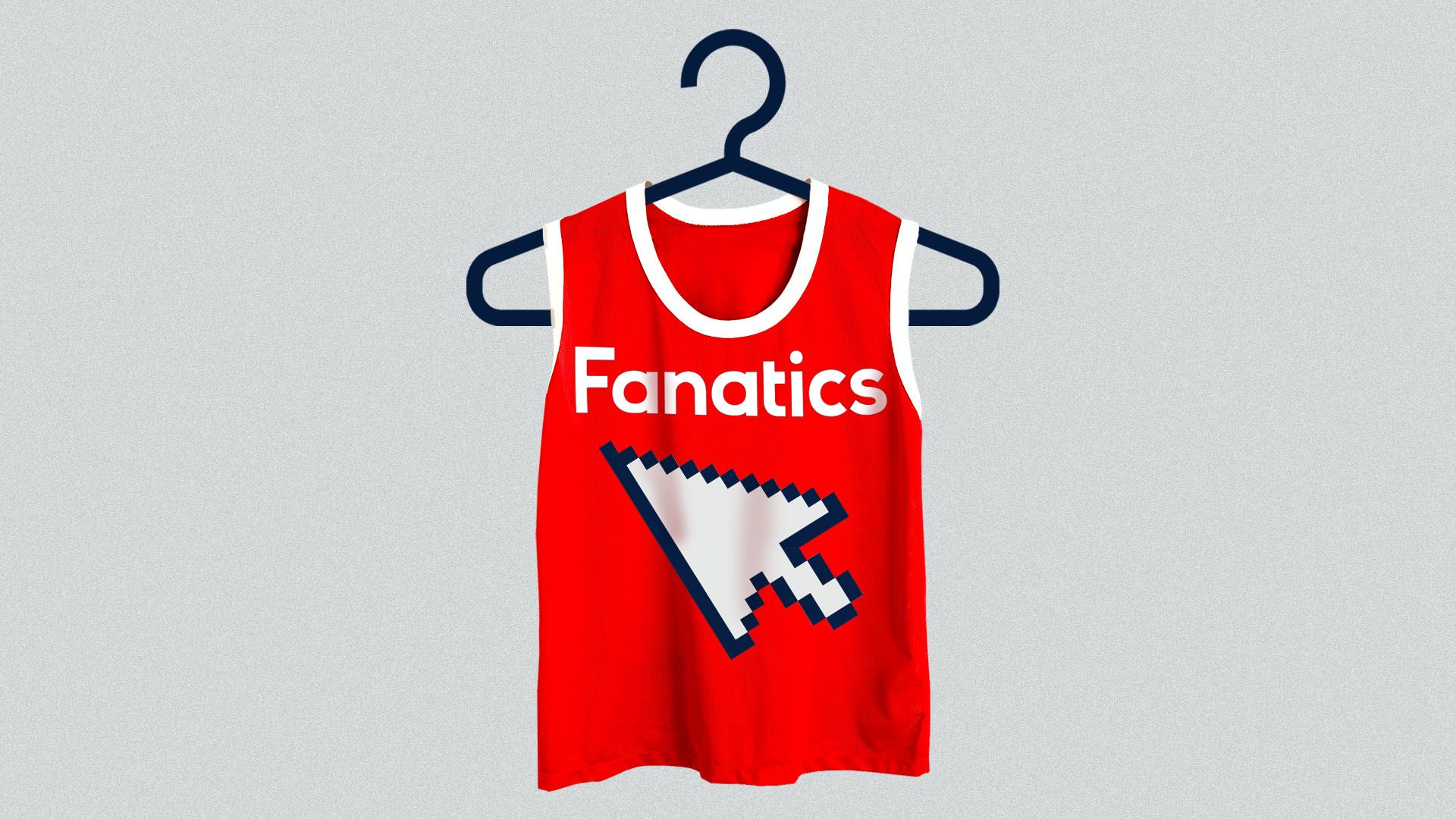 Spotlight Series: Each day this week, we'll be highlighting a sports-related company that's worth knowing more about.
Founded: 1995
Key number: $4.5 billion valuation
Key person: Michael Rubin, chairman (also co-owner of the Philadelphia 76ers)
What it does: Fanatics is an online retailer that has, through a combination of technology, manufacturing and licensing deals, muscled its way to the top of the sports apparel world.
In the past, big-box retailers like Dick's had to choose which jerseys to stock prior to the start of the season. This led to excess inventory when those players didn't perform or got injured, while leaving them poorly positioned to meet demand for breakout stars and traded players.
How Fanatics is different: Similar to fast-fashion retailers like H&M, Fanatics controls the entire value chain (manufacturing, point-of-sale, distribution, etc.), making the company incredibly nimble. It also has licensing deals with all four major sports leagues, MLS, NASCAR, the PGA and over 500 colleges that give it the exclusive right to print jerseys made for order.
Result: There's no need to stockpile inventory, zero chance Fanatics runs out of stock and, most importantly, the company is always prepared for unexpected surges in demand. When Odell Beckham Jr. was traded to the Cleveland Browns, for instance, Fanatics was ready to ship jerseys within seconds.
The big picture: Fanatics is to sports apparel what Amazon is to, well, everything else. They make it, they sell it and they run the website where you buy it.
Prime example: After the Washington Capitals won last year's Stanley Cup, Fanatics produced the gear the team wore as they celebrated, stocked the store in the Capitals' arena, stocked the NHL's official online store and ran its own retail sites. Again, this is happening in every major sport.
The bottom line: Most small businesses that want to sell products online use Shopify or a similar service. Similarly, most sports leagues (and even some teams) that want to sell apparel online are now signing deals with Fanatics — and then handing over the reins.
🎥 Watch: Michael Rubin on Fanatics' backstory; how it can compete with Amazon
4. 📸 Photos of the weekend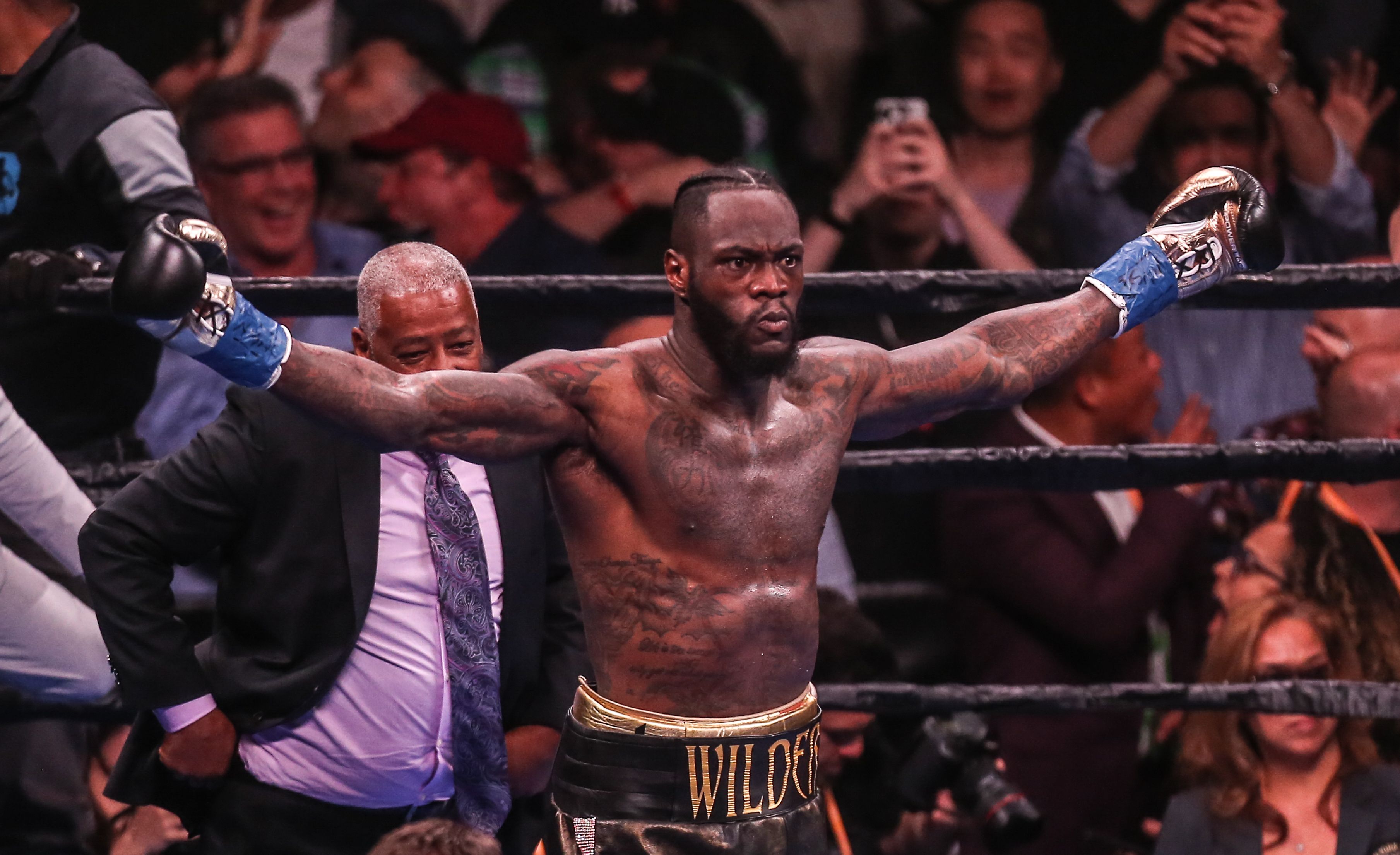 Photo: Anthony Geathers/Getty Images
NEW YORK — American boxing fans finally have an undefeated homegrown heavyweight star in Deontay Wilder, and the Alabama native delivered on Saturday night with a stunning first-round knockout against Dominic Breazeale. See all the angles.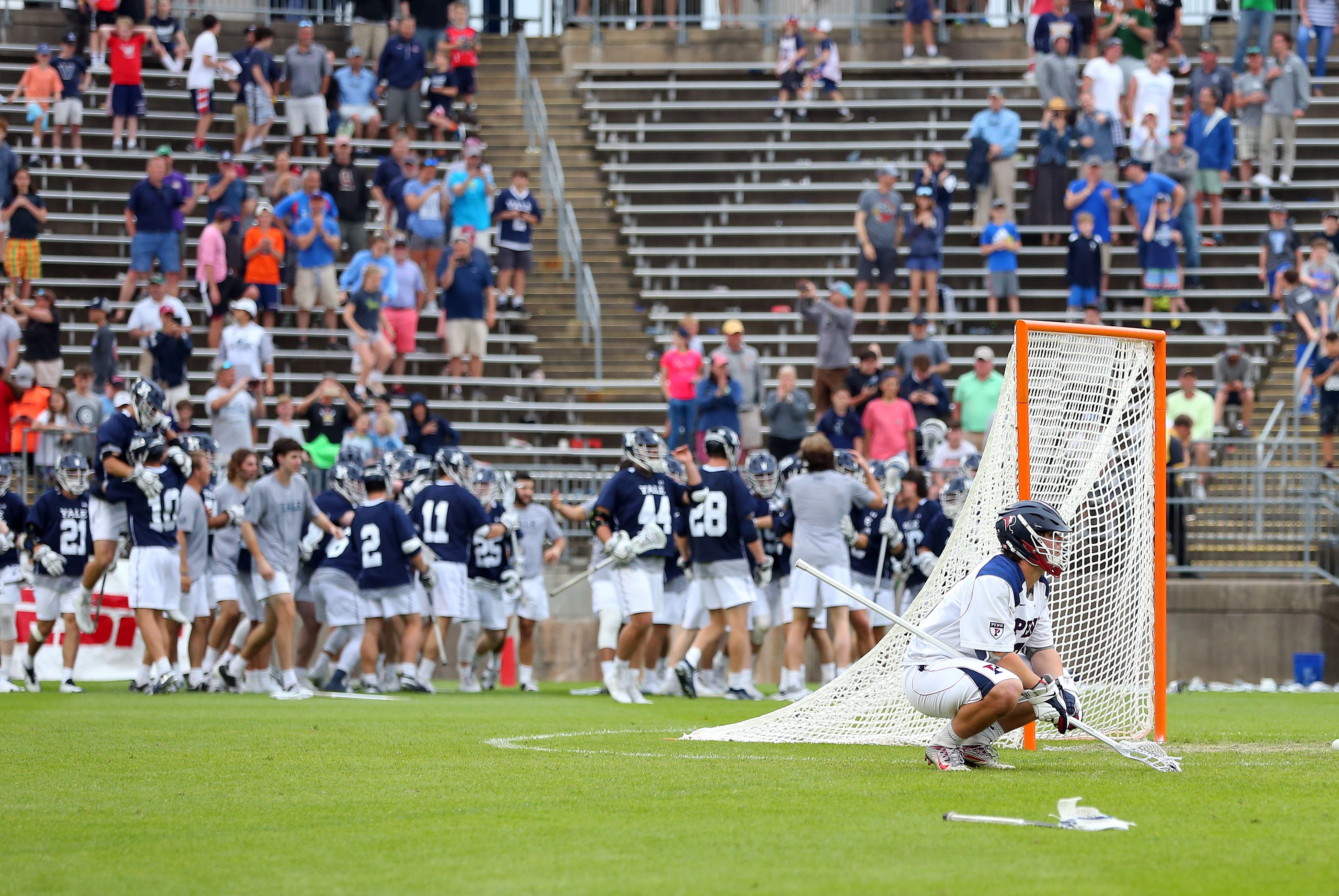 Photo: M. Anthony Nesmith/Icon Sportswire via Getty Images
EAST HARTFORD, Conn. — Reigning champions Yale beat Ivy League rival Penn 19-18 in OT to cap off a historic quarterfinal weekend in men's D1 lacrosse that saw three games go to overtime. ... Semifinals: Yale vs. Penn State and Virginia vs. Duke.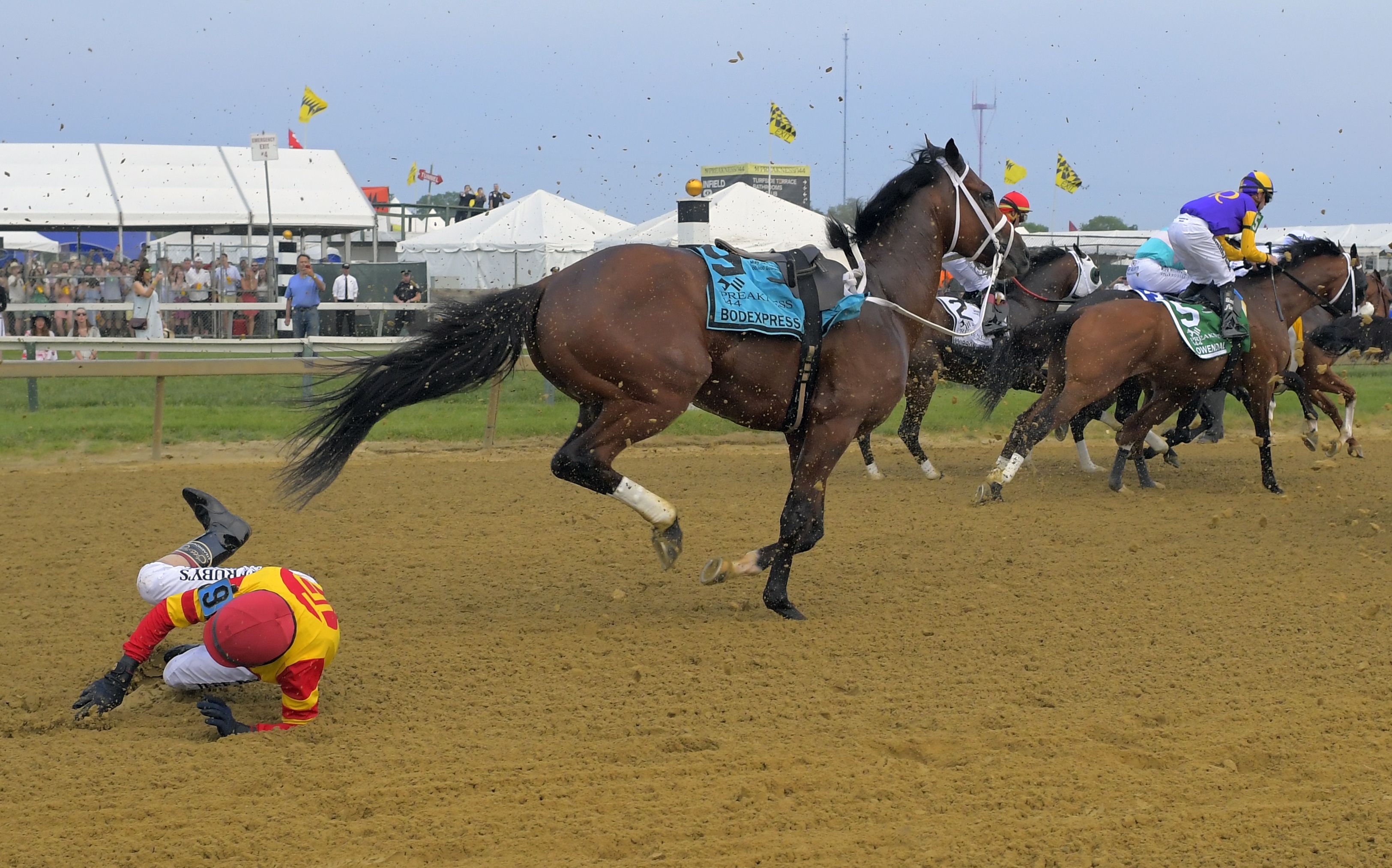 Photo: John McDonnell/The Washington Post via Getty Images
BALTIMORE — War of Will won the 144th Preakness Stakes, but the most memorable image of the day was jockey John Velazquez being thrown from Bodexpress moments after the gates opened. The horse finished the race without him.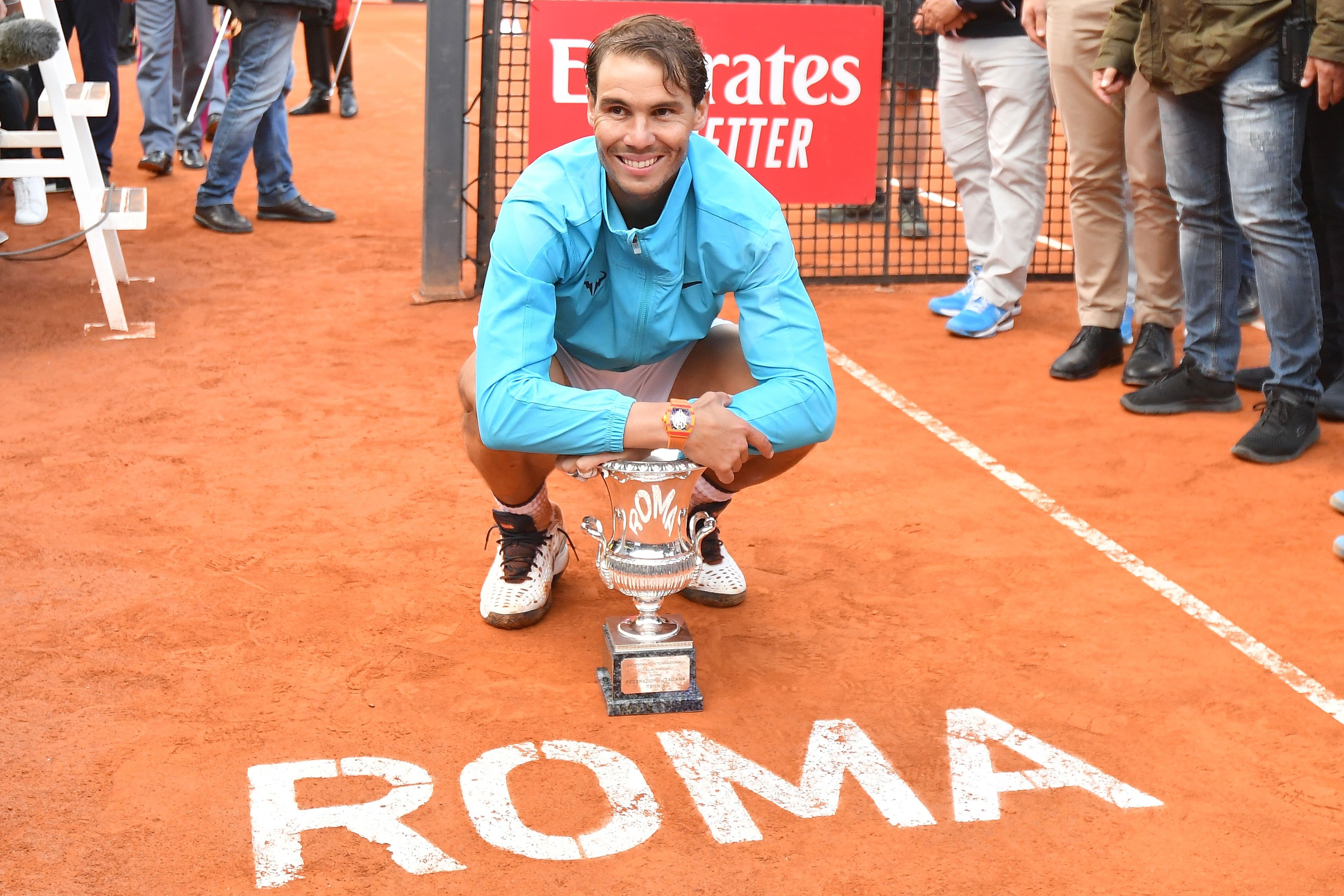 Photo: Claudio Pasquazi/Anadolu Agency/Getty Images
ROME, Italy — After losing in the semifinals of three straight clay-court tournaments, Rafael Nadal dominated his longtime rival Novak Djokovic, 6-0, 4-6, 6-1, to win his record ninth Italian Open title.
5. 🏒 Blues move to brink of Cup final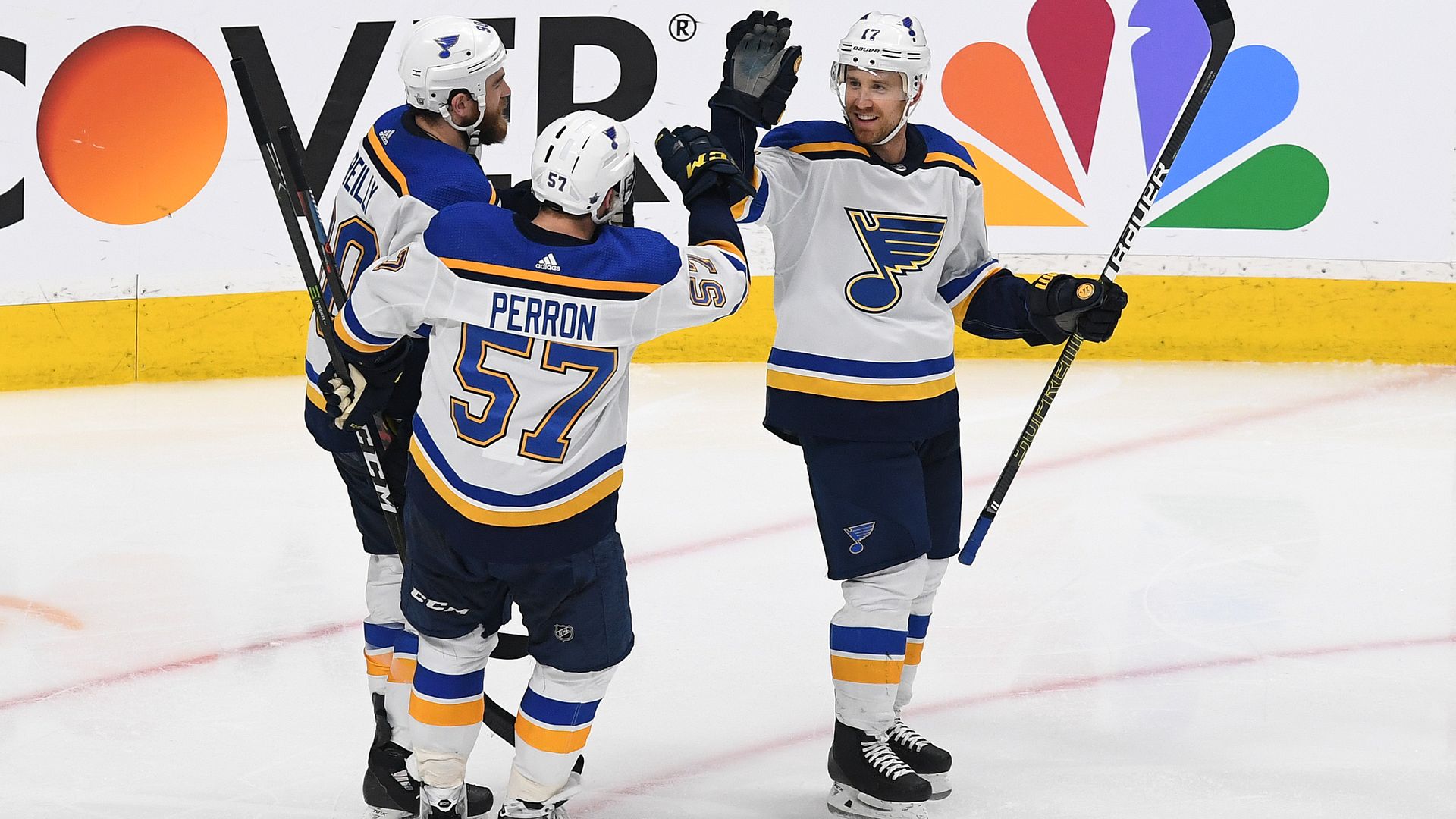 From last in the league in early January to the brink of their first Stanley Cup Final in 49 years, it's been quite a ride for the St. Louis Blues.
No team has won more games in 2019, and last night's 5-0 dismantling of the San Jose Sharks to go up 3-2 in the series was the sweetest victory of them all — and maybe the best the Blues have looked all season.
By the numbers:
Blues: Following his hat trick last night, Jaden Schwartz now has more goals this postseason (12) than he had all regular season (11).
Sharks: The goaltending tandem of Martin Jones and Aaron Dell ranked dead last in save percentage (88.9%) this season. Jones, the starter, has been slightly better in the playoffs (90.2%), but that's still the worst of all remaining goalies, and history tells us it's nearly impossible to win a title when that's the case.
What's next: San Jose faces elimination for the third straight series and must win Game 6 in St. Louis tomorrow night to keep their season alive.
6. 🥇 May 20, 1900: Women join the Olympics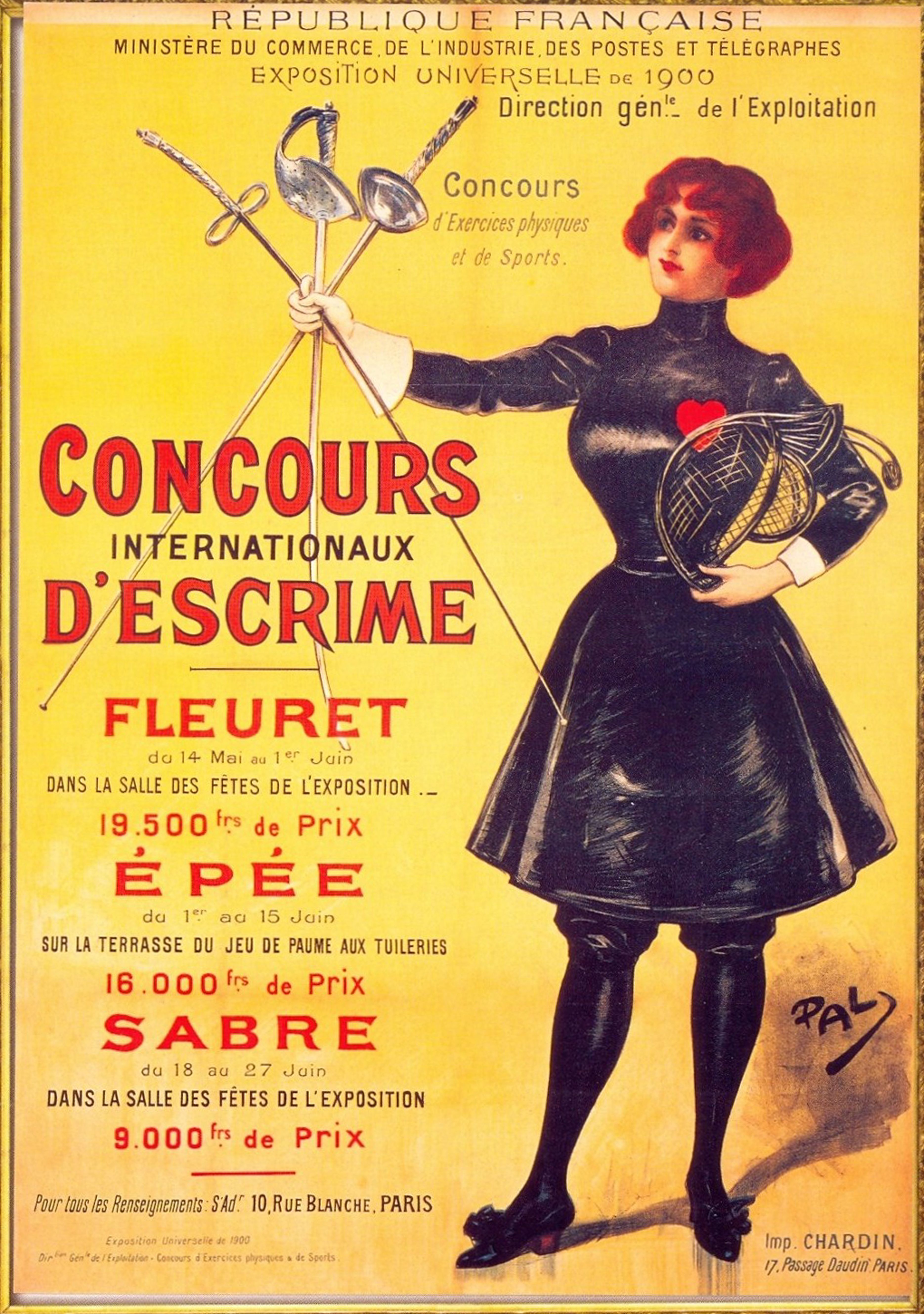 The official poster for the 1900 Olympics. Photo: Fine Art Images/Getty Images
119 years ago today, the second modern Olympic Games in Paris featured women for the first time in the history of the event.
By the numbers: 22 out of 997 athletes were women, and they were allowed to compete in tennis, sailing, croquet, equestrian and golf.
Fast-forward: 45% of participants in the 2016 Rio de Janeiro games were women, and that number is projected to rise to 48.8% in 2020.
Go deeper: The history of women in the Olympics
7. ⚾️ MLB trivia
Shane Bieber (23 years old, 353 days) became the fourth-youngest pitcher to strike out 15 batters in the Indians' 10-0 win over the Orioles yesterday.
Question: Vince Velasquez (23 years old, 312 days) and Kerry Wood (20 years old, 324 days) are the next youngest. Can you name the youngest?
Hint: One year later, he became the youngest pitcher to ever win the Cy Young.
8. The Ocho: 🇷🇴 Baseball and dodgeball's Romanian love child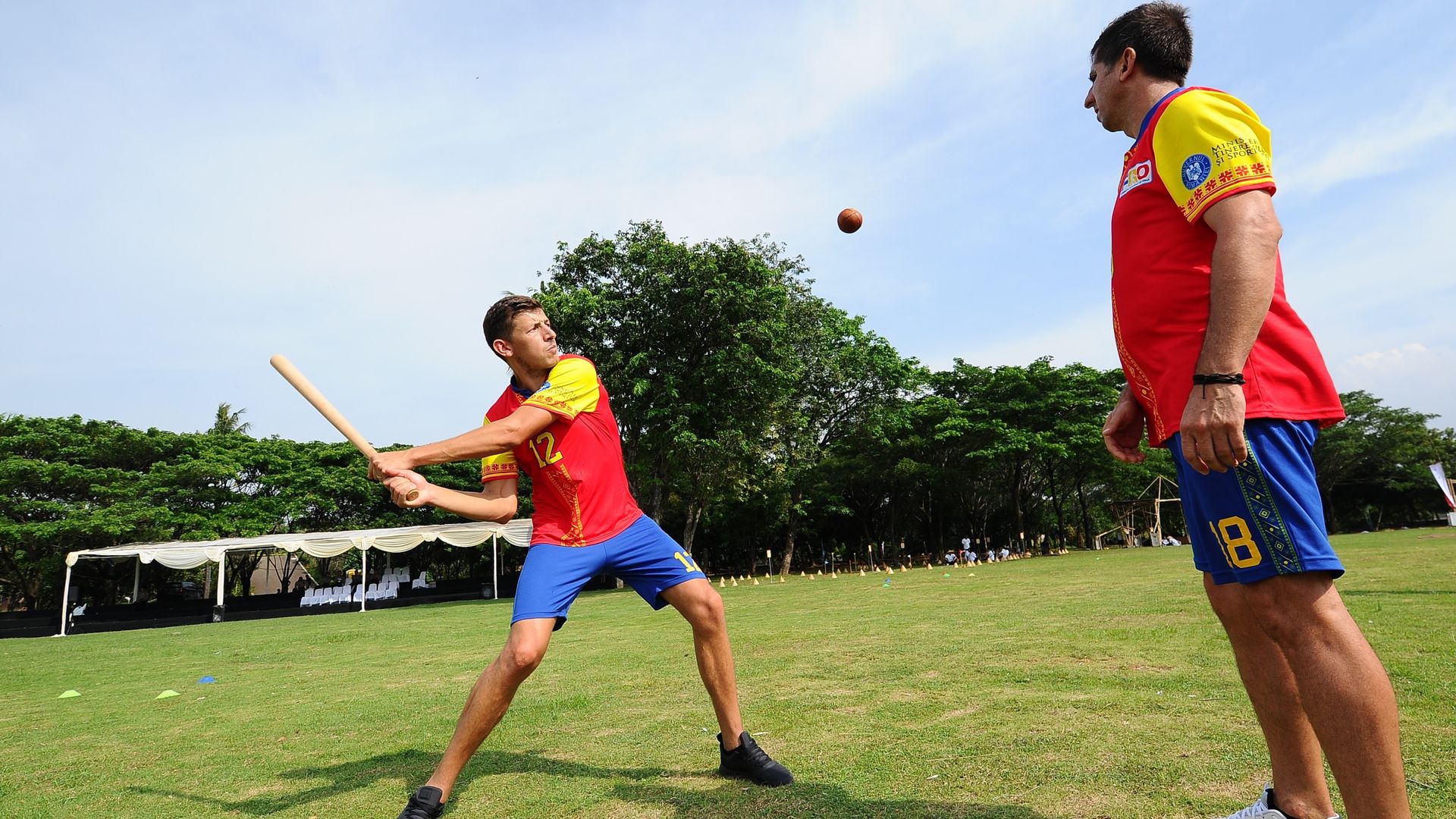 If, for whatever reason, you were looking for some type of fusion between baseball and dodgeball, look no further than Oină — the national sport of Romania.
How it works: There are two teams, each made up of 11 players. Games last two "innings" and often take no longer than 30 minutes. The team with the most points at the end wins.
The attacking side earns one or two points for each strike of the ball, depending on how far it travels. Instead of pitchers, the ball is lobbed in front of the batter by a teammate. After making contact, the batter tries to advance through "lanes" like a baseball player would advance from base-to-base.
The defending side is trying to plunk the batter as they advance through the lanes, with each hit batter worth two points. Batters can avoid being plunked by blocking the ball with their palms, but they're not allowed to catch it.
Go deeper:
9. 🎰 Tonight's Pick 3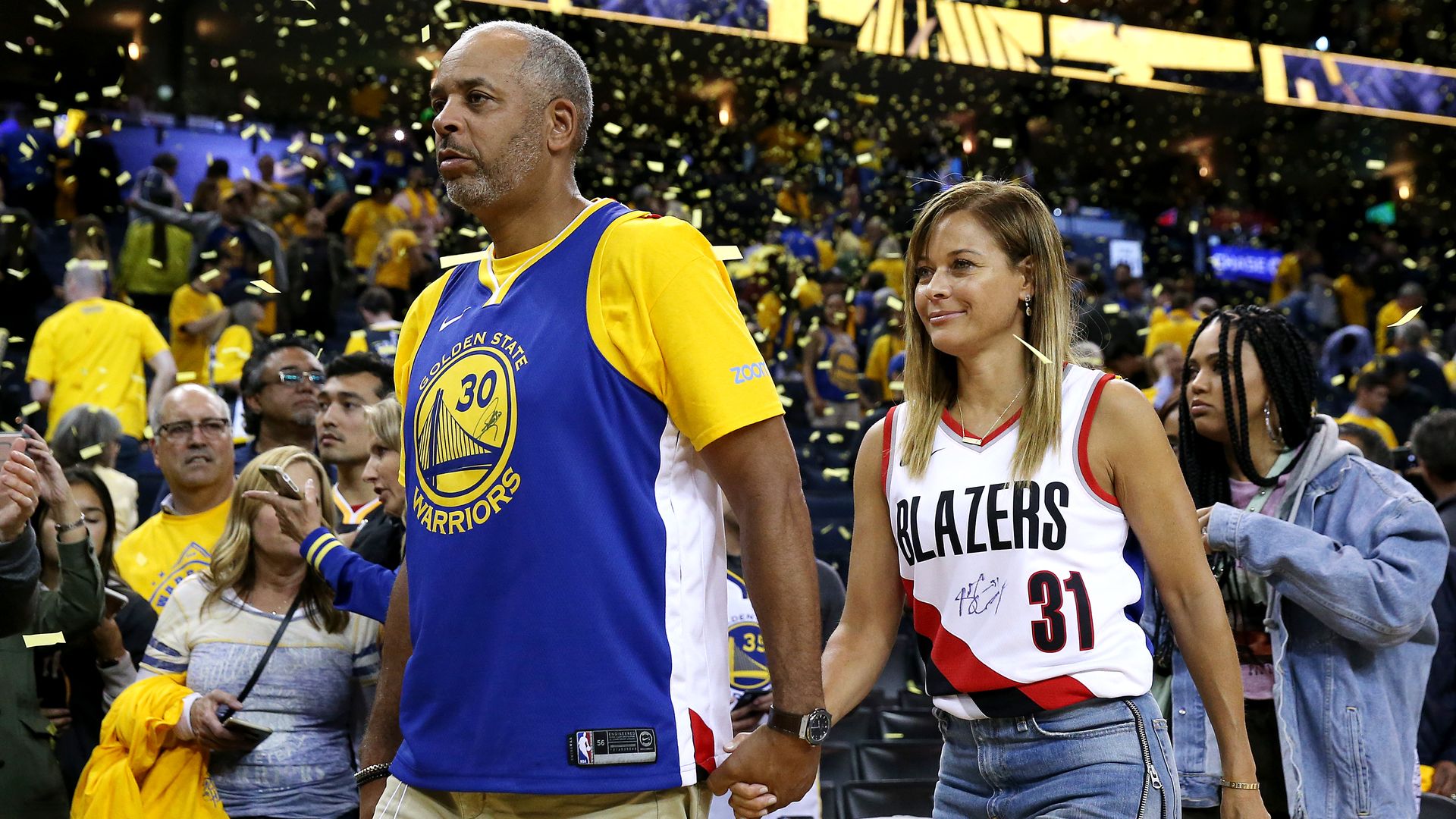 Axios Pick 3 is powered by The Action Network, your one-stop shop for all things sports betting. Download the app today.
1. 🏀 Will the Warriors (-3.5) cover the spread in Game 4?
Know this: Golden State is 2-1 on the road this postseason when favored by at least 3.5 points.
2. 🏀 Will Warriors vs. Trail Blazers go over or under 220 points?
Know this: The under is 2-1 through the first three games of this series, including Game 3 (went under by 12 points).
3. ⚾️ How many runs will Phillies starter Jake Arrieta surrender in his first start against his former team, the Cubs?
Multiple choice: 0 runs, 1 run, 2 runs, 3 runs, 4 runs, 5 runs or more
🎰 Play now: Make your picks (cutoff time: 8pm ET)
See you tomorrow,
Kendall "Brooks > Bran" Baker
Trivia answer: Dwight "Doc" Gooden (19 years, 301 days)