👋 Good morning! Let's sports.
Today's word count: 1,691 (6 minutes)
1 big thing: ✈️ Lacrosse's grand continental tour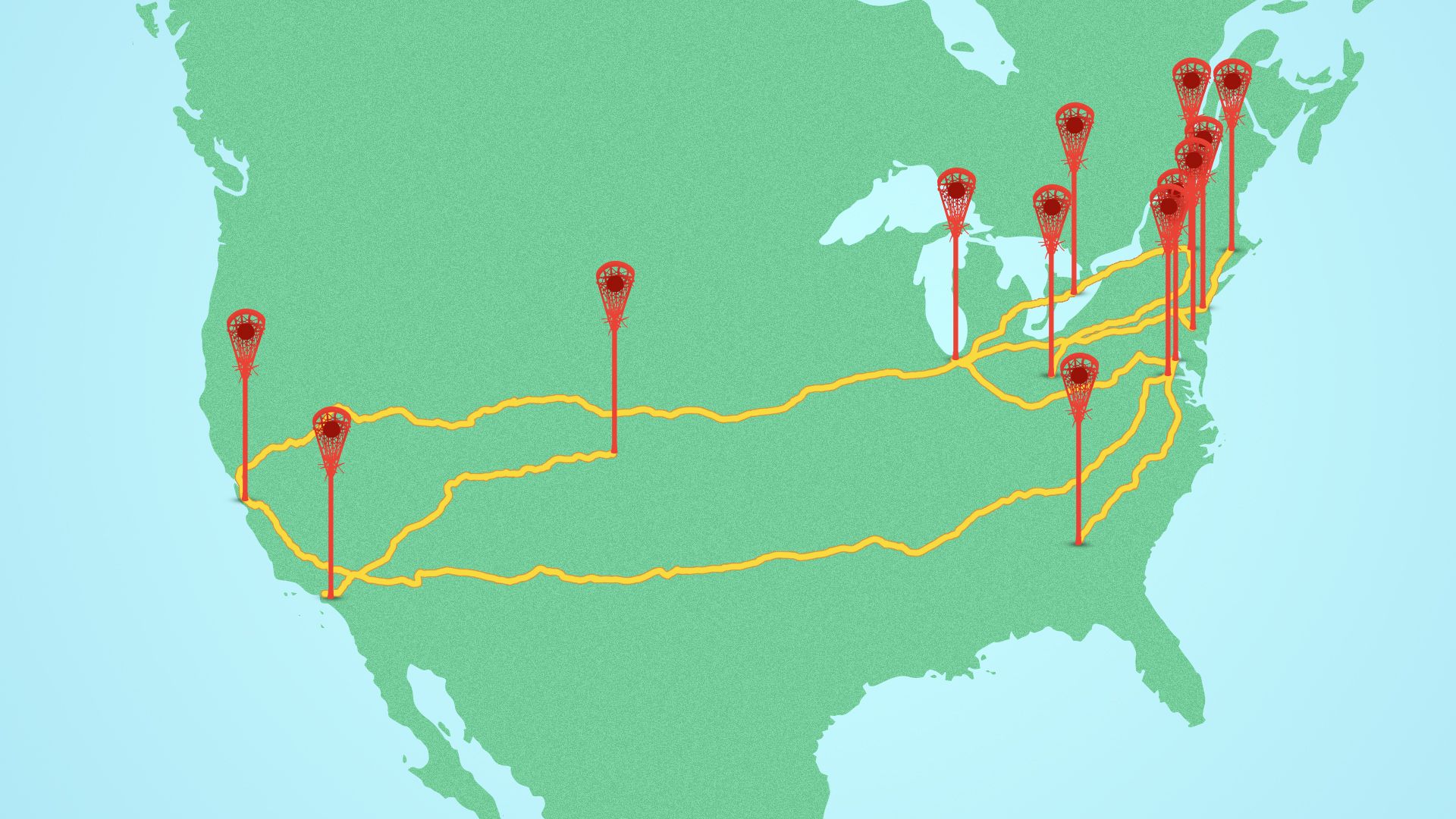 The inaugural season of the Premier Lacrosse League came to a close in Philadelphia on Saturday, with league MVP Matt Rambo and the Whipsnakes beating the Redwoods, 12-11, in an OT thriller.
Why it matters: Over the course of 4 months, the PLL was able to create more buzz around lacrosse than the sport has seen in quite some time — and maybe ever. A few areas where the league excelled...
Exposure: 3 PLL games were broadcast on NBC, 16 were broadcast on NBCSN and every game was available to stream on NBC Sports Gold.
Broadcast innovations: In addition to changing the ball from white to yellow to make it easer to see on TV, they also mic'd up players and interviewed them in-game right after they scored. So cool.
On-field talent: Having the best talent is crucial when building a new sports league, and the PLL was able to sign nearly every big name in the sport away from the incumbent league, Major League Lacrosse.
And then there's the tour-based model. Unlike traditional leagues, where each franchise calls one city home, the PLL's 6 teams traveled to the same city each weekend to play their games.
Tour stops (pictured above): Boston; New York (twice); Chicago; Baltimore; Atlanta; Washington, D.C.; Los Angeles; Denver; San Jose, Calif.; Hamilton, Ont.; Albany, N.Y.; Columbus, Ohio; Philadelphia.
This model (which the BIG3 also uses) meshes well with modern sports fandom, where fans — particularly young ones — are increasingly following players over local teams.
Interview: I spoke with PLL co-founder (and midfielder) Paul Rabil about why they launched with a tour-based model, and he pointed to 3 main reasons:
National footprint: "With a 6-team league, if we were city-based, we would only be in 6 markets. Instead, our 6 teams traveled to 14 markets, which helped us gain a national footprint from Day 1."
Speed: "If we launched the PLL under the traditional concept of finding individual owners in respective markets, we would have had a 3-year ramp. Instead, we were able to launch in less than 8 months."
Modern fandom: "I think we get caught up in the hyper-trends of fans in leagues like the NFL, which I actually categorize in its own class because of how hereditary it is. ... Look at the English Premier League: most people born in the U.S. certainly don't take geography into account. They pick their favorite team based on players, team colors, winning percentage, etc."
What's next: Now comes the hard part — sustaining the momentum into Year 2. The PLL might also need to rethink its venue strategy after their ambitious plan to play in huge stadiums generated buzz but led to plenty of empty seats on TV.
"Initially, some of the venues that we had were a little bit too big, so I think we're going to focus more on going to venues where fans will have a much more intimate experience. When they played in those 8,000- to 10,000-seat venues, they did very well."
— Jon Miller, president of programming for NBC Sports, tells Axios
2. 🏈 D'Eriq King makes unprecedented redshirt decision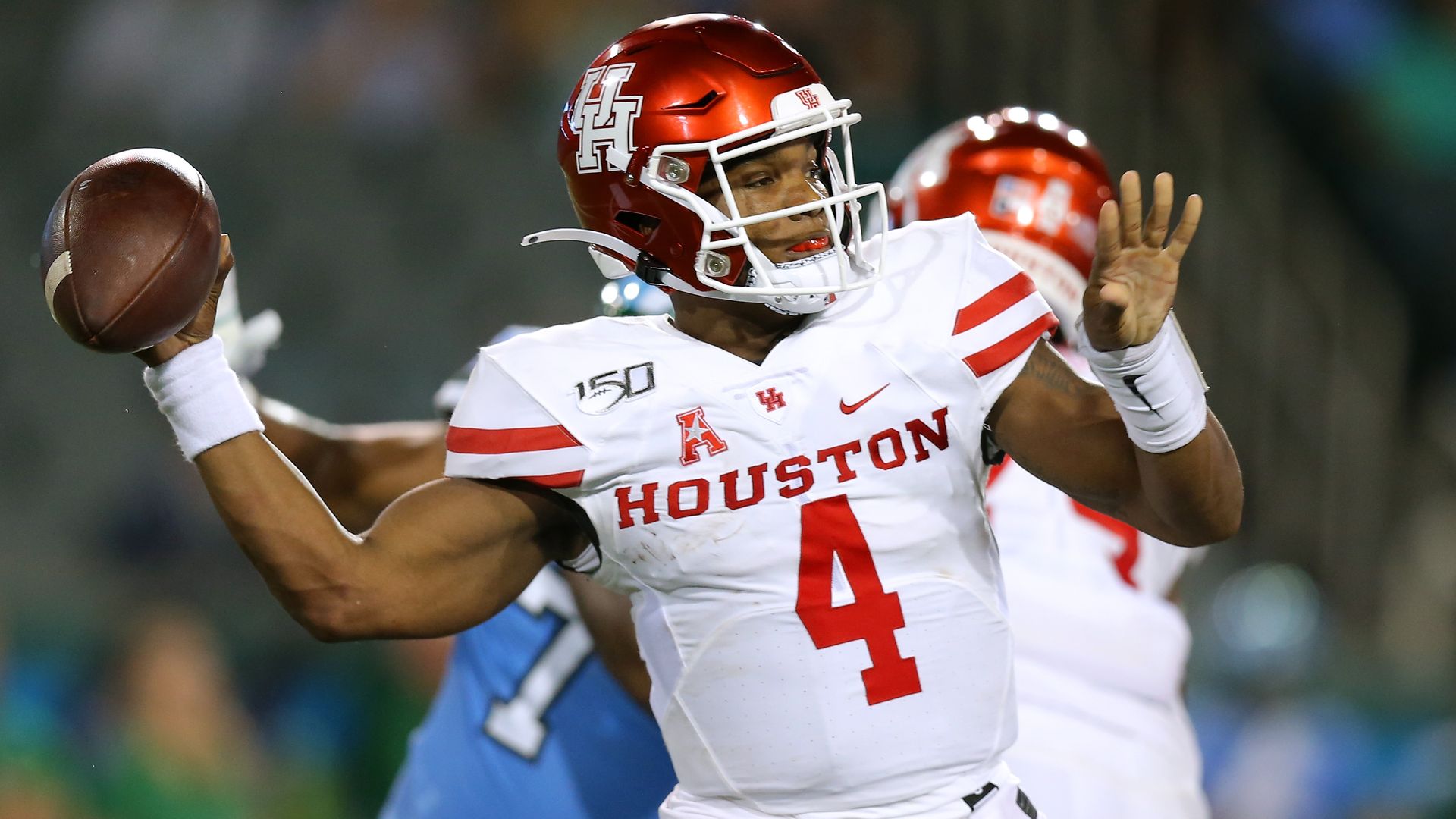 Houston senior QB D'Eriq King will not play the remainder of the season so that he can redshirt and preserve his final year of eligibility, the school announced yesterday. Senior WR Keith Corbin will do the same.
Why it matters: This is an unprecedented decision that takes advantage of a rule change implemented last year that allows players to take a redshirt after participating in up to 4 games in a season.
This change has benefited players (freshmen can get game experience without forfeiting a year) and coaches (can get a look at young players or use them as late-season injury replacements without burning their redshirt).
But there's also been an unintended consequence: high-profile upperclassmen transferring to retain a year of eligibility (think Kelly Bryant, who departed Clemson for Missouri).
The intrigue: King's situation is completely different. Unlike Bryant, who transferred after Trevor Lawrence took his job, King is firmly entrenched as Houston's starter and easily the team's best player.
The big picture: It's unclear if King, who set the American Athletic Conference record with 50 TD last season, will return to Houston next season or enter the transfer portal and play his final season elsewhere.
If it's the former, it would appear that Houston head coach Dana Holgorsen is playing chess while everyone else is playing checkers — recruiting his own players to bail on a disappointing season (currently 1-3) in hopes of doing something special next year.
And if it's the latter, and King is in a different uniform next year? Add him to the growing list of superstar QBs who have transferred in recent years. It's crazy...
The last 2 Heisman winners: Baker Mayfield (Texas Tech to Oklahoma) and Kyler Murray (Texas A&M to Oklahoma).
3 of the top 4 Heisman favorites: Joe Burrow (Ohio State to LSU), Jalen Hurts (Alabama to Oklahoma) and Justin Fields (Georgia to Ohio State).
3. 🇺🇸 U.S. Olympic HOF welcomes Smith, Carlos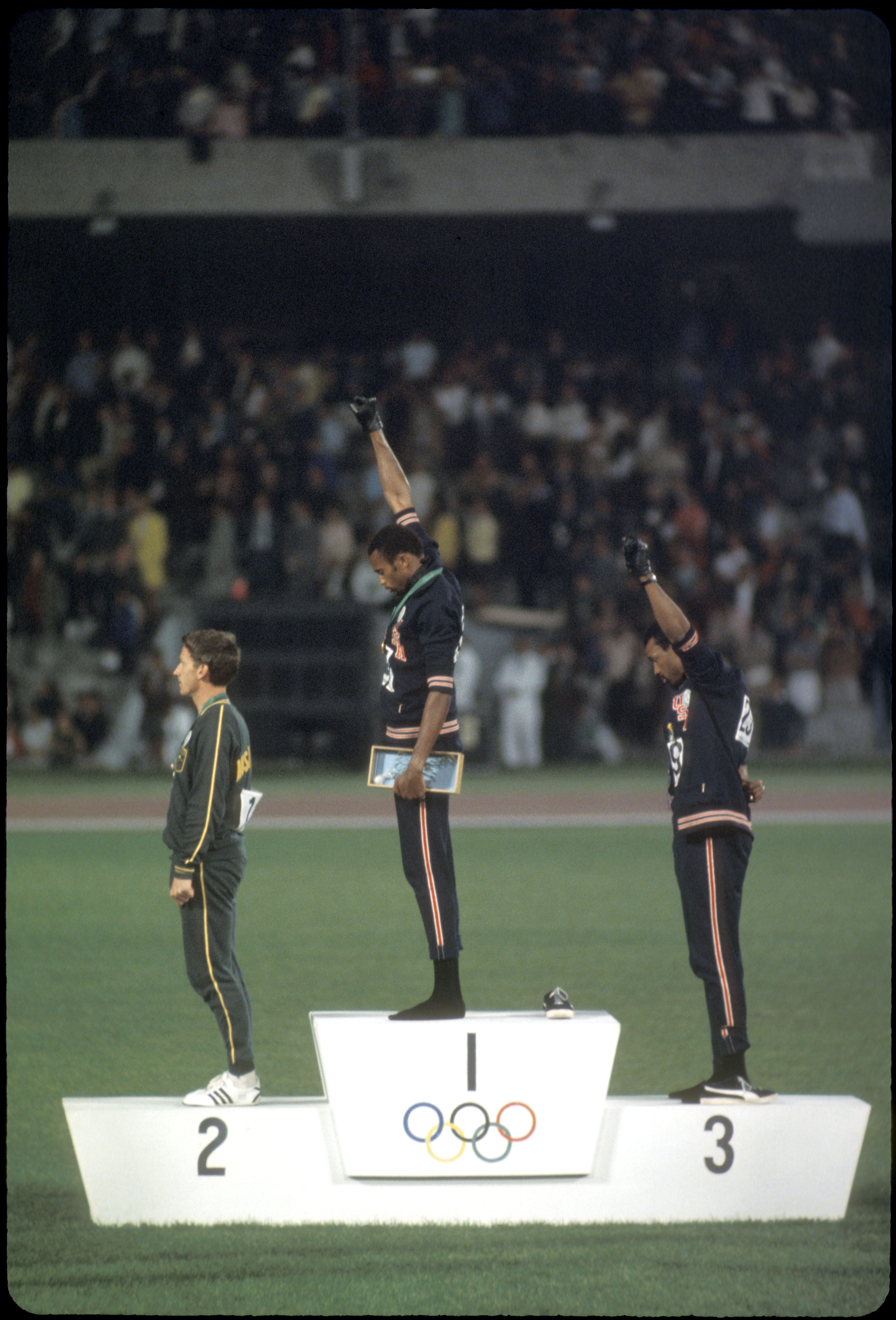 Tommie Smith and John Carlos raise their fists during the 1968 Olympics. Photo: Rich Clarkson/Getty Images
"It's never too late to acknowledge you were wrong," writes USA Today's Nancy Armour.
"Fifty-plus years after the U.S. Olympic Committee vilified Tommie Smith and John Carlos for taking a stand against racism and discrimination, banishing them from the Mexico City team and leaving them to face scorn and condemnation at home, it is issuing a mea culpa."
"On Nov. 1, Smith and Carlos [and 10 other athletes] will be inducted into the U.S. Olympic and Paralympic Hall of Fame, an honor bestowed because of their 'character, conduct and off-field contributions,' as well as their athletic achievements."
4. 📊 By the numbers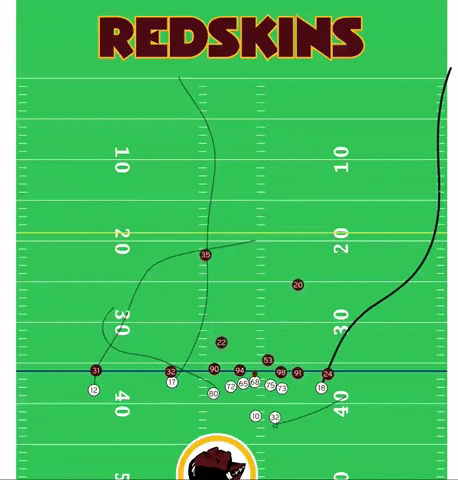 🏈 10.4% probability
Mitchell Trubisky's 36-yard TD pass to Taylor Gabriel in the Bears' 31-15 win over the Redskins last night had a completion probability of 10.4%, per Next Gen Stats, making it the least probable completion this season.
In other unfortunate Redskins news: They have now lost 7 straight home games on Monday Night Football, the second-longest streak in history. The longest streak? Also the Redskins (10 straight between 1998 and 2010).
🇷🇺 3 weeks
The World Anti-Doping Agency (WADA) has given Russia 3 weeks to explain how multiple positive drug tests were deleted from a database during the agency's investigation into the massive doping scandal that broke in 2016.
Why it matters: If Russia doesn't comply, the country will likely be banned from next year's Olympic Games in Tokyo.
P.S. ... If you haven't watched "Icarus" on Netflix yet, please do it — and then email me and let me know your thoughts. Top 5 documentaries I've ever seen.
🏒 $1.3 billion
The Islanders broke ground yesterday on their new $1.3 billion arena at Long Island's Belmont Park, home of the Belmont Stakes.
Looking ahead: The 19,000-seat arena is expected to open in time for the 2021-22 NHL season, ending the team's brief stay in Brooklyn, which began in 2015.
5. ⚽️ Messi, Rapinoe, Ellis, Klopp are the "Best"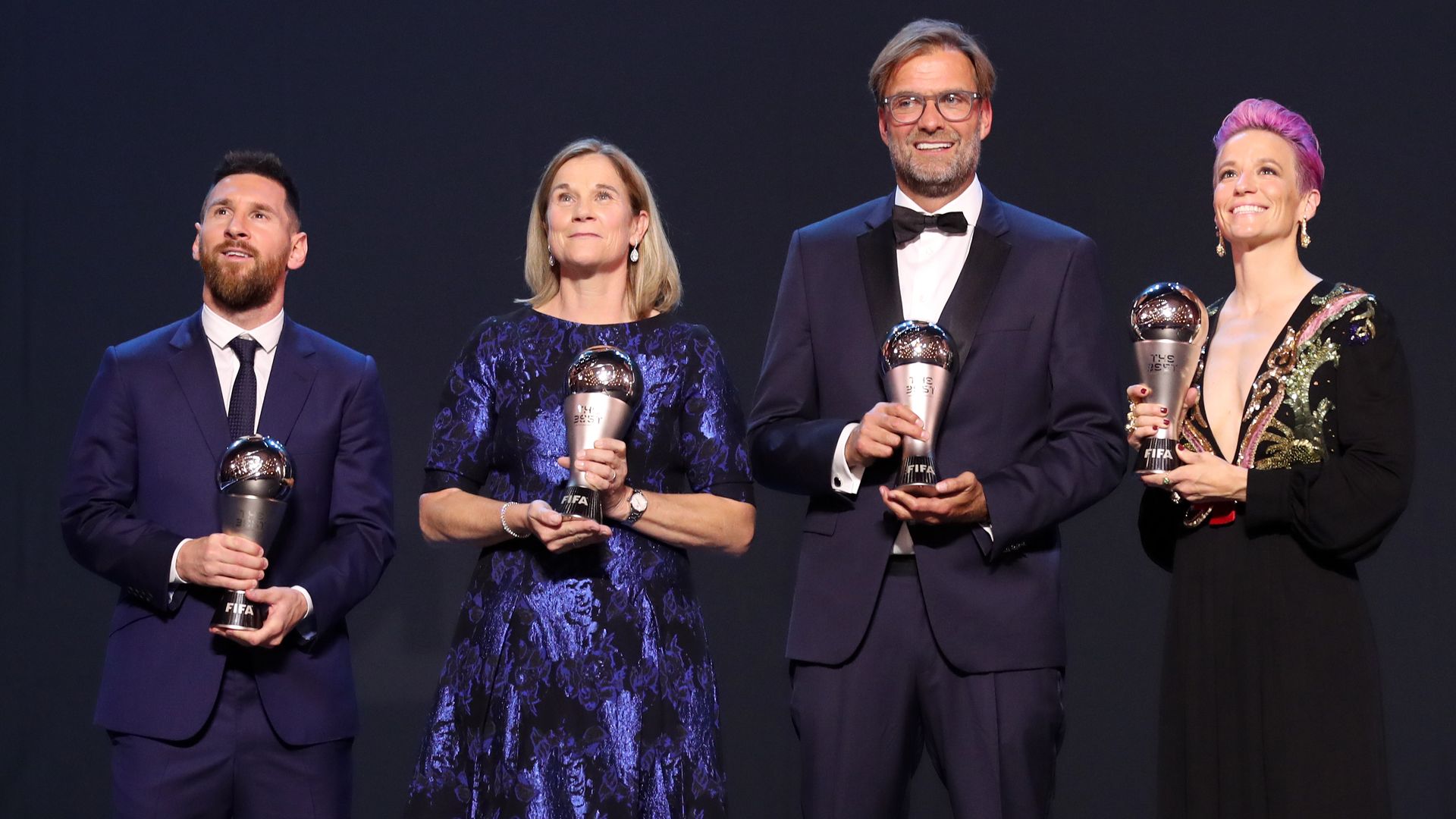 The world's best soccer players and coaches were in Milan last night for FIFA's annual Best Football Awards ceremony.
Best Men's Player: Lionel Messi
Finalists: Messi (46 points), Virgil van Dijk (38), Cristiano Ronaldo (36), Mo Salah (26), Sadio Mane (23), Kylian Mbappe (17), Frenkie de Jong (16), Eden Hazard (16), Matthijs de Ligt (9), Harry Kane (5).
The backdrop: Prior to Luka Modric winning last year, Messi and Ronaldo had won every FIFA World Player of the Year award — which was renamed the FIFA Ballon d'Or in 2010 and The Best in 2016 — since 2007, when Kaka was victorious.
Best Women's Player: Megan Rapinoe
Finalists: Rapinoe beat out USWNT teammate Alex Morgan and England forward Lucy Bronze to became the 4th American to win the award (Mia Hamm, Abby Wambach, Carli Lloyd).
Rapinoe: "I ask everyone here … lend your platform to other people, lift other people up, share your success. We have a unique opportunity to use this beautiful game to actually change the world for the better. … Just do something. Do anything." (Full speech)
More awards:
Best Men's Coach: Liverpool boss Jurgen Klopp beat out his Premier League rivals, Pep Guardiola (Manchester City) and Mauricio Pochettino (Tottenham), after leading the Reds to a Champions League title.
Best Women's Coach: Jill Ellis concluded her spectacular career as USWNT head coach by winning the global coaching honor for the second time.
6. Sept. 24, 1938: 🎾 Budge wins calendar Grand Slam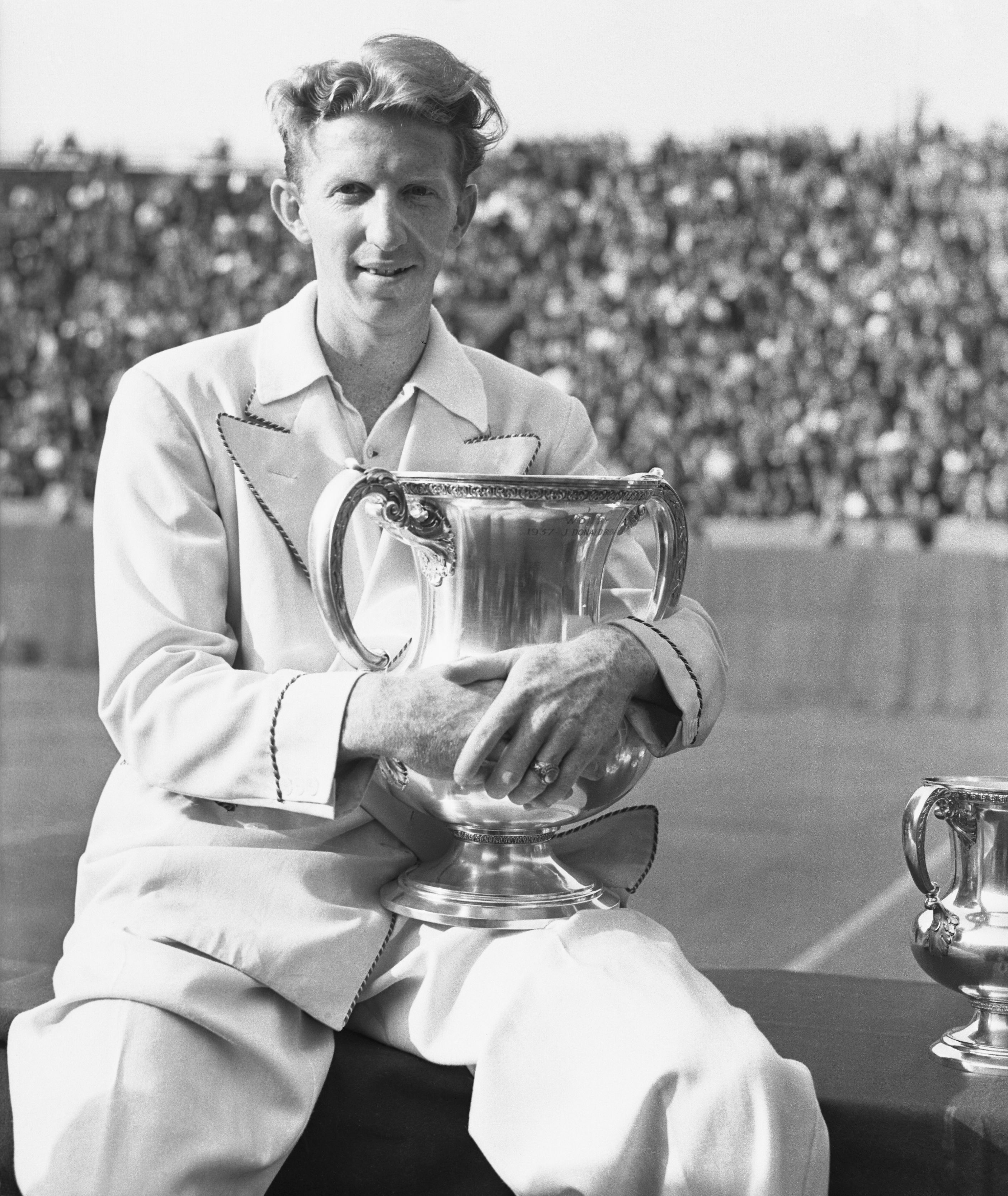 Photo: Bettmann/Getty Images
81 years ago today, 22-year-old American Don Budge became the first tennis player to complete the calendar Grand Slam by winning the U.S. Open, Australian Open, French Open and Wimbledon all in the same year.
The significance: Budge is one of just 5 players, male or female, to accomplish this feat. The others: Maureen Connolly (1953), Rod Laver (1962 and 1969), Margaret Court (1970) and Steffi Graff (1988).
His lasting impact: "One of the early practitioners of power tennis, which has come to dominate today's game, the 6-foot-2-inch Budge was probably the first player to use his backhand ... as an attacking stroke." (NYT)
7. ⚾️ MLB trivia
Dodgers star Cody Bellinger (46 HR) has a chance to become the first left-handed hitter to hit 50-plus homers in a season since 2013.
Question: Can you name the left-handed hitter who hit 50-plus HR in 2013?
Hint: He played in the AL and is still on that team.
Answer at the bottom.
8. The Ocho: 🌊 Surfing endless artificial waves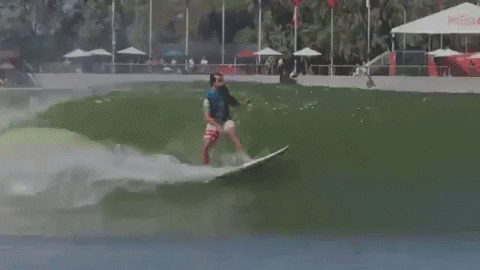 The World Surf League traveled to Lemoore, Calif. this weekend for the 2019 Freshwater Pro, an annual competition held at Kelly Slater's Surf Ranch — a massive wave park that produces perfect wave after perfect wave.
Go deeper:
9. 📚 Good reads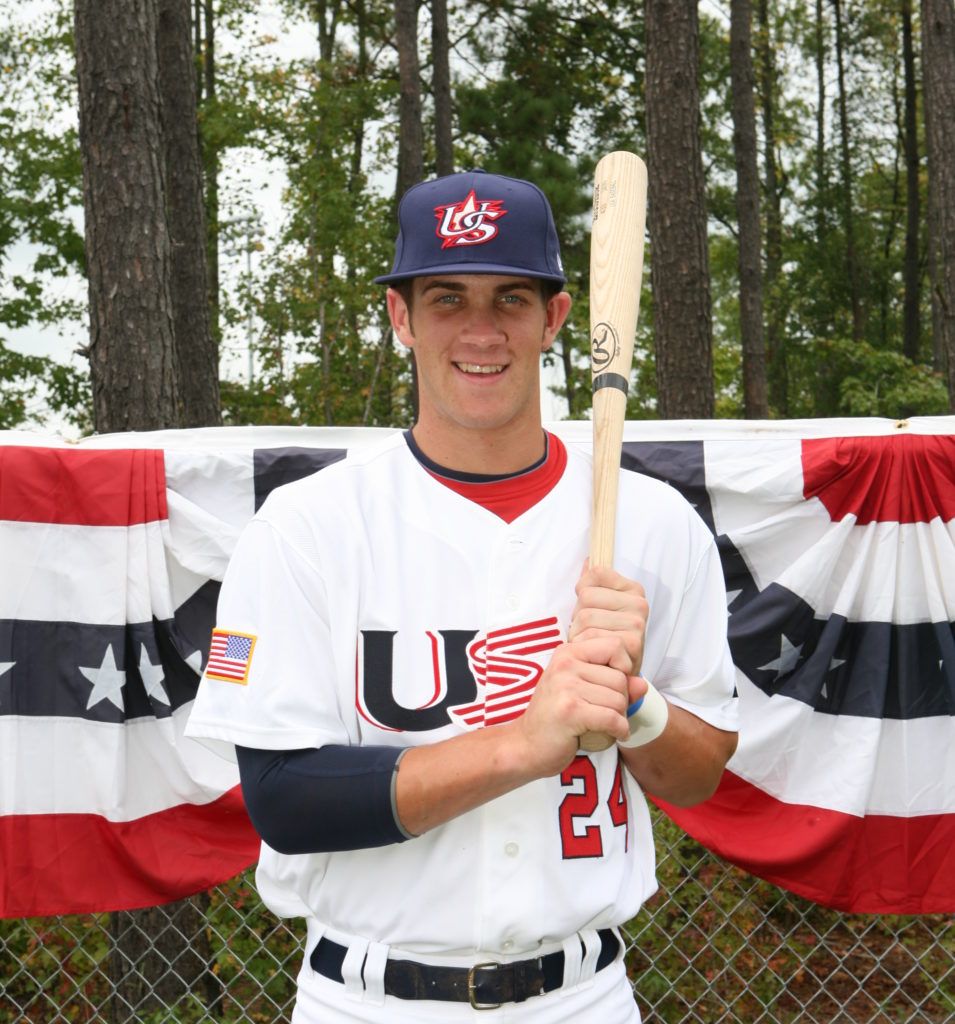 Bryce Harper in 2009. Courtesy: USA Baseball
⚾️ The untold story of Bryce Harper, Manny Machado, and the remarkable 2009 under-18 U.S. national team (Marc Craig, The Athletic)
"They were assembled to compete in the Pan Am junior world championships, an event that had been dominated by the world's preeminent amateur power, Cuba. ... Only a relative few from their own country watched them play, and even fewer remember what they did. But their exploits have lived on in their own minds."
🏈 In the Ivy League, football season is finally here (Billy Witz, NYT)
"If ninth-ranked Florida were to reach the championship game, its season would be nearly six months long. Contrast that with the Ivy League, whose schedule is devised in a simple manner: Circle the Saturday before Thanksgiving for the final game, then count back nine weeks and you have the start date. No byes, no playoff games."
🏇 The man who would kill horse racing (Ryan Goldberg, Deadspin)
"Without [Patrick Battuello], we might never know exactly how many racehorses die. And we would only rarely hear their names."
10. 📸 Pic du jour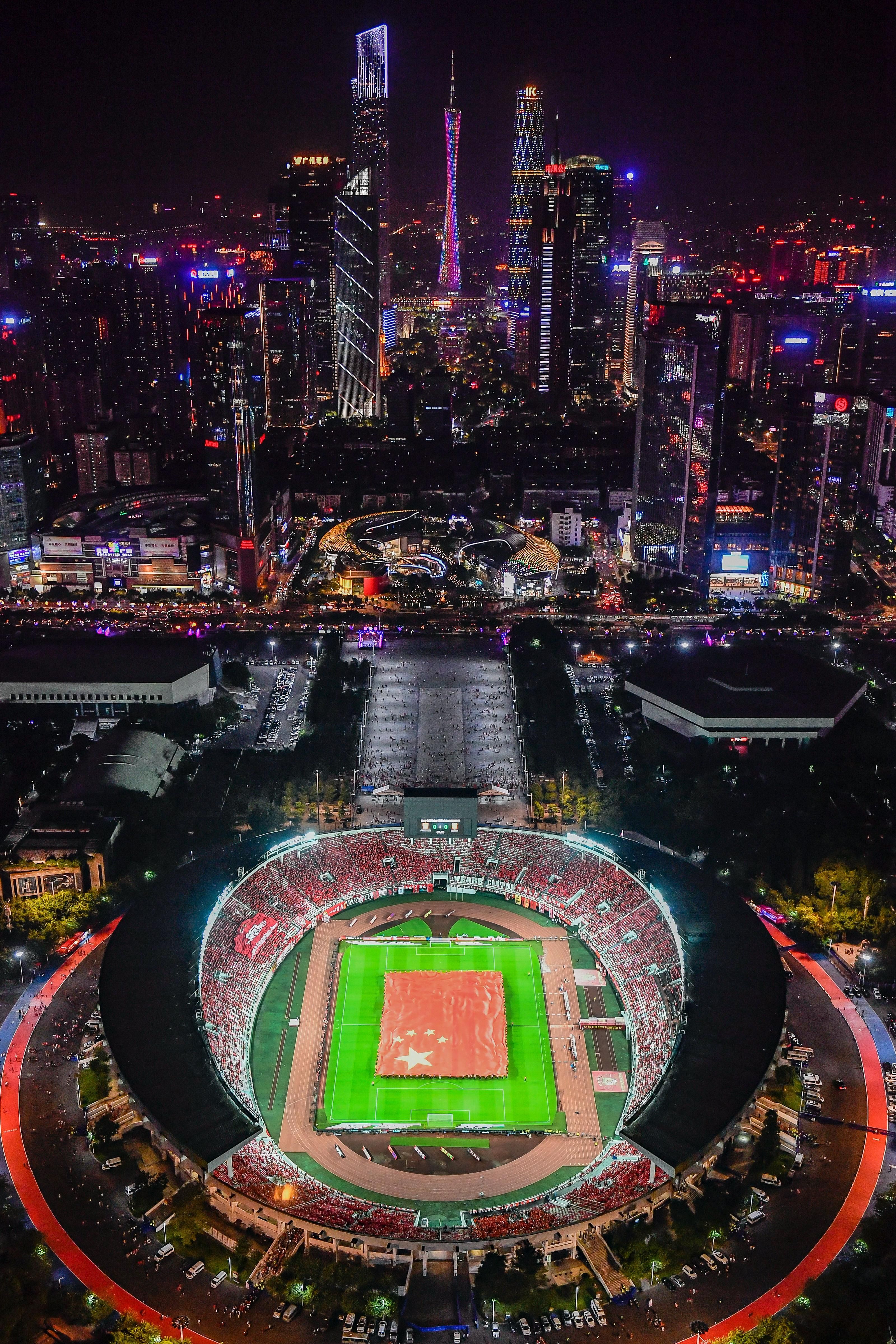 Photo: Chen Jimin/China News Service via Getty Images
A large Chinese flag is held up during a soccer match on Sunday in Guangzhou, the capital of Guangdong Province, to mark the 70th anniversary of the founding of the People's Republic of China.
See you tomorrow,
Kendall "Bryce looks 12" Baker
Trivia answer: The Orioles' Chris Davis (53 HR in 2013)