Axios Sports
May 14, 2019
👋 Good morning! Great day to be a sports fan. Great day to be alive.
Last night: Blues 4, Sharks 2 (Series tied 1-1)
Tonight: Bruins at Hurricanes, 8pm ET (BOS leads 2-0) ... Trail Blazers at Warriors, 9 (Game 1) ... NBA draft lottery, 8:30 (See the odds)
1 big thing: 🏈 NFL jersey ads feel inevitable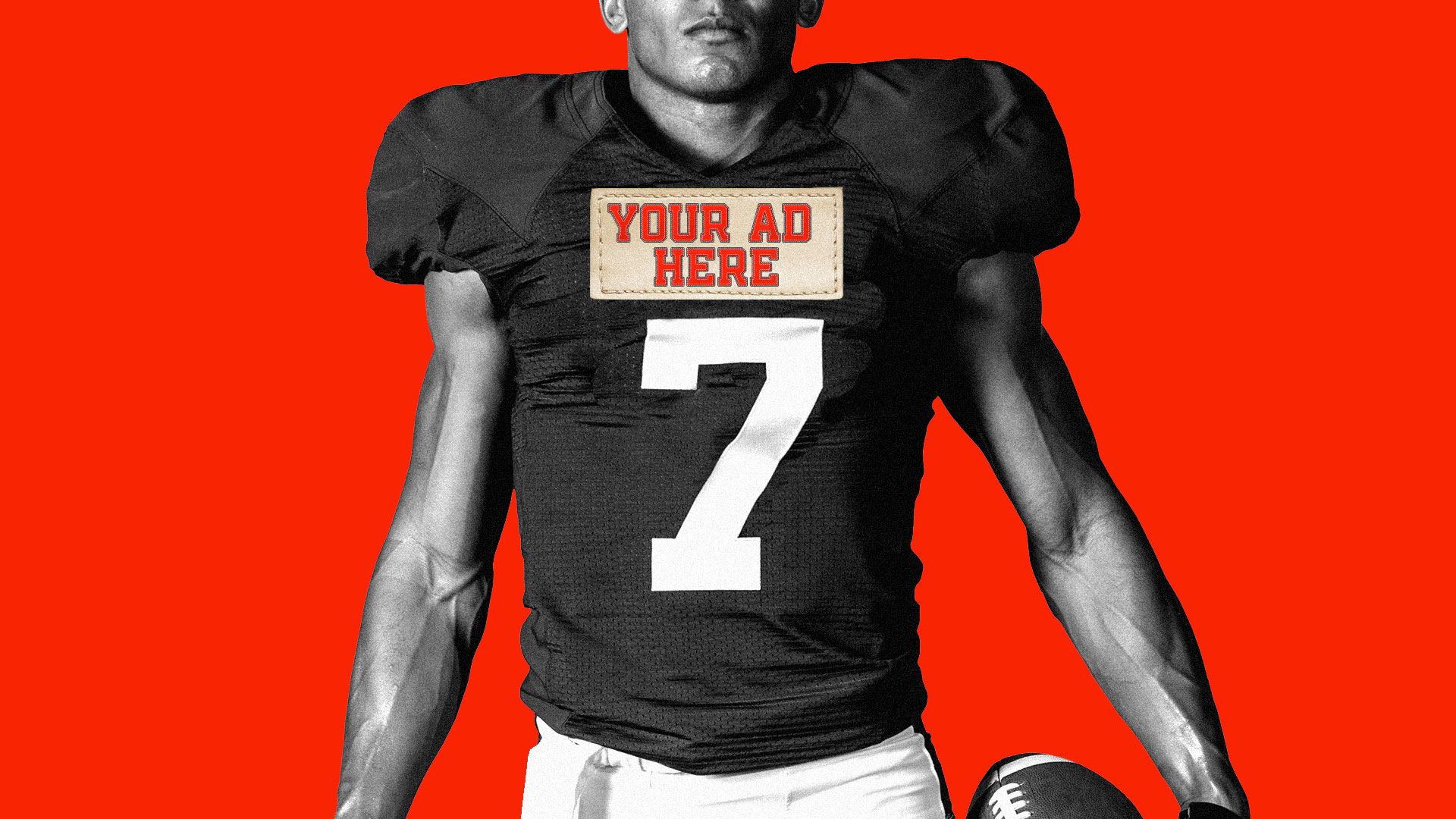 Like most professional sports leagues, the NFL focuses a ton of effort on finding and developing new revenue streams. But there's one resource that the league has yet to tap: jersey advertisements.
Why it matters: If every NFL team had a sponsorship patch like the ones you see in the NBA, it could net the league at least $220 million annually in added revenue — and that's an extremely conservative estimate.
That money would then theoretically be split between the owners (~$52%) and the players (~48%) to spend how they best see fit. Stadium upgrades, salary-cap pool, pension plans, etc.
The backdrop: 10 years ago, the NFL began adding sponsorship patches to practice jerseys, but that's as far as they got.
Meanwhile, MLS and international soccer got even deeper into the jersey sponsorship game, golfers continued to be walking billboards and then, in 2017, the NBA took the plunge.
Since then, all 30 NBA franchises have teamed up with a sponsor, and the results of the pilot program have been so positive that the league has already extended it indefinitely.
"We have entrenched, iconic brands looking to get younger ... upstart brands looking to build their image ... global brands looking to connect with the NBA. That's been really exciting because there are different ways we can deliver value," said Amy Brooks, the league's president of team marketing.
How it would work: If the NFL went this route, it would almost certainly follow the NBA's lead in allowing teams to negotiate their own sponsorship deals. As for the actual placement of the ads, here's SI's Jonathan Jones:
"The most obvious [option] would be on the left or right on the chest, just like on practice jerseys. Other patches would have to be considered, like how the sponsored patch interacts with a captain's patch [or] a Walter Payton Man of the Year patch."
"The other option would be on either sleeve. But that's also where Nike's Swoosh exists, and some teams also have their logo on their sleeve. It's important real estate that wouldn't be given up easily, and that's before considering some players (hello, Michael Bennett) like to roll their sleeves up into their pads."
The bottom line: With the NBA's patch program exceeding all expectations and causing seemingly no reciprocal harm, it raises a pressing question: How much longer will the NFL continue to leave money on the table?
2. 💵 The biggest earners left in the NBA, NHL playoffs
Thanks to an exploding NBA salary cap and a wild NHL postseason that saw many of the league's highest-paid players sent home early, the salary disparity between the two leagues has never been more glaring.
By the numbers: Not a single player left in the Stanley Cup playoffs makes more than San Jose Sharks defenseman Brent Burns' $10 million — a salary that would rank eighth-highest on the Milwaukee Bucks, alone.
Burns' salary would rank seventh-highest on the Portland Trail Blazers; sixth-highest on the State Warriors; fifth-highest on the Toronto Raptors; and just 23rd-highest amongst all remaining NBA players.
It's also nearly four times less than Steph Curry's salary ($37.5 million), and more than three times less than Kyle Lowry's ($31.2 million).
More fun facts:
San Jose's Logan Couture is the postseason's leading point-scorer (13 G, 6 A), and he's making $6 million this season. ... Portland's Meyers Leonard will make almost twice that much ($10.6 million), and he's played a total of 82 minutes in the playoffs.
The Carolina Hurricanes have the NHL's smallest payroll and their highest-paid player, Jordan Staal, makes just $6 million — $1 million less than what the Bucks are paying career journeyman Ersan Ilyasova ($7 million).
3. ⚾️ At black colleges, the baseball teams are increasingly not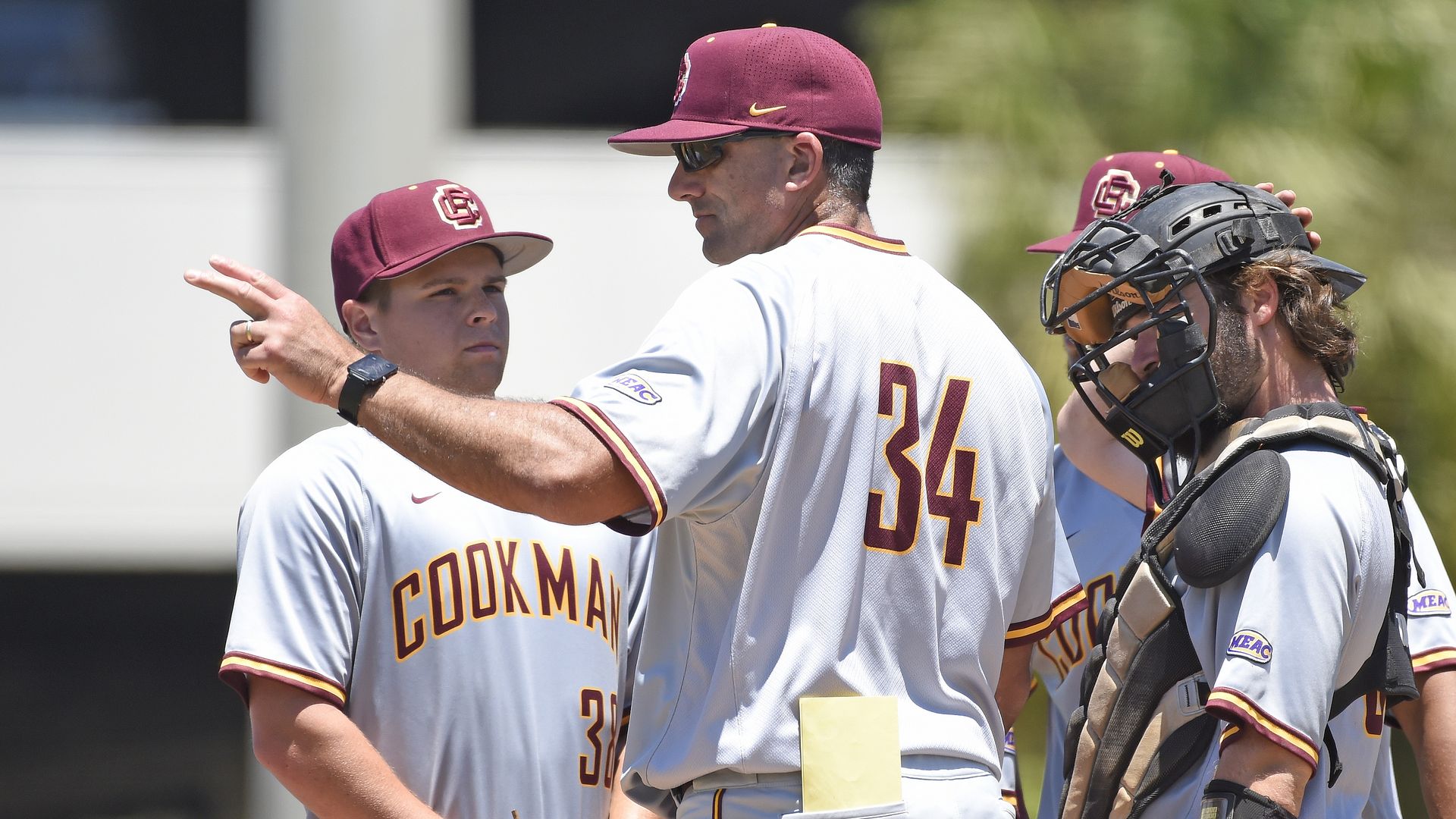 "While baseball's struggles to attract African-American talent and fans are well documented, the depth of the issue comes into sharper relief for teams in the Mid-Eastern Athletic Conference, a group of historically black colleges and universities stretching from Maryland to Florida," NYT's Billy Witz writes.
What's happening: "At each of the nine MEAC colleges that compete in baseball, the baseball teams often feature more white and Latino players than African-Americans."
Bethune-Cookman, the conference's premier program, has not started a single African-American player at times this season and there are only four on the entire team. The school's student body is 79% African-American.
The big picture: "There is a litany of reasons African-Americans have turned away from baseball," writes Witz, "including the decimation of youth programs ... and the sport's ballooning costs — both for equipment and exposure."
There's also this: "Major League Baseball hasn't developed a cultural relevance," says University of Houston professor Billy Hawkins. "These other leagues have prospered in attracting black players, but also having a blackness like you'd talk about in music or dress. For some reason, [MLB] hasn't evolved similarly."
The bottom line: African-Americans comprised just 7.8% of opening day MLB roster spots this year, down from a peak of 18.7% in 1981. This isn't just a trend; it's a generational departure.
4. 🎰 One year later: Where each state stands on sports betting
One year ago today, the Supreme Court struck down the Professional and Amateur Sports Protection Act (PASPA), which had prevented states from creating their own regulations regarding sports betting.
By the numbers: Here's where things stand 365 days later.
8 states: The number of states offering legal sports betting. They are: Nevada, New Jersey, Pennsylvania, Delaware, New Mexico, Mississippi, Rhode Island, West Virginia
$7.9 billion: The amount legally wagered since PASPA was overturned.
$600 million: The amount bettors in Nevada wagered in March a new monthly record.
5. 🏀 A dark day for Michigan, and all of college basketball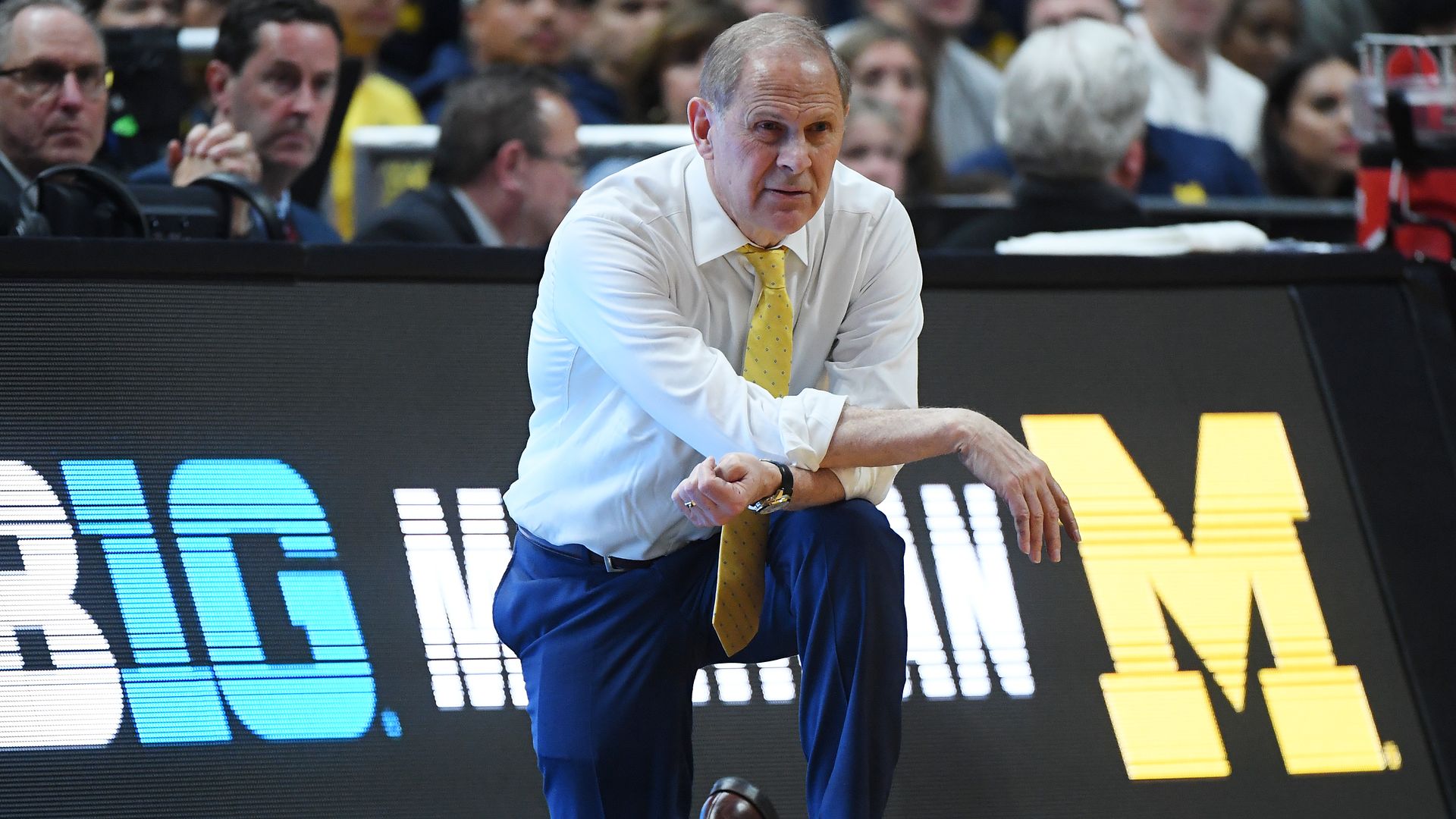 The world stopped in Ann Arbor yesterday morning when beloved basketball coach John Beilein informed Michigan officials that he had accepted a deal to become the next head coach of the Cleveland Cavaliers.
Why it matters: Beilein's 12-year tenure at Michigan was defined by winning consistently, churning out a ton of NBA talent and doing everything the right way.
That third one — doing everything the right way — is what makes this such a dark day not only for Michigan, but for all of college basketball. With the sport at a critical crossroads (FBI investigation, NBA age limit changes, etc.), it needs more John Beileins, not fewer.
"We college basketball writers like to play a little game when we gather — name the coaches you're pretty certain don't cheat. It's a short game, as you might imagine, but it always includes Beilein. Now we are down one and up a Will Wade. Seems like a lousy exchange," writes The Athletic's Dana O'Neil (subscription).
The bottom line: "When John Beilein goes to the NBA, it tells you how f*cked up college basketball is," one anonymous coach told O'Neil.
The backdrop: Beilein, 66, has had quite the coaching journey, working his way up from Newfane High School's JV team, to Erie Community College, to Nazareth College, to Le Moyne College, to Canisius College, to the University of Richmond, to West Virginia, to Michigan and now to the Cavaliers.
He could have grown old at Michigan, but this is a man who clearly loves chasing the next challenge and proving himself. Are the Cavs a mess? Absolutely. But so were the Wolverines when he took over in 2007 (multiple scandals, no tournament appearances since 1998).
6. 🚲 May 14, 1989: The inaugural "Tour de Trump"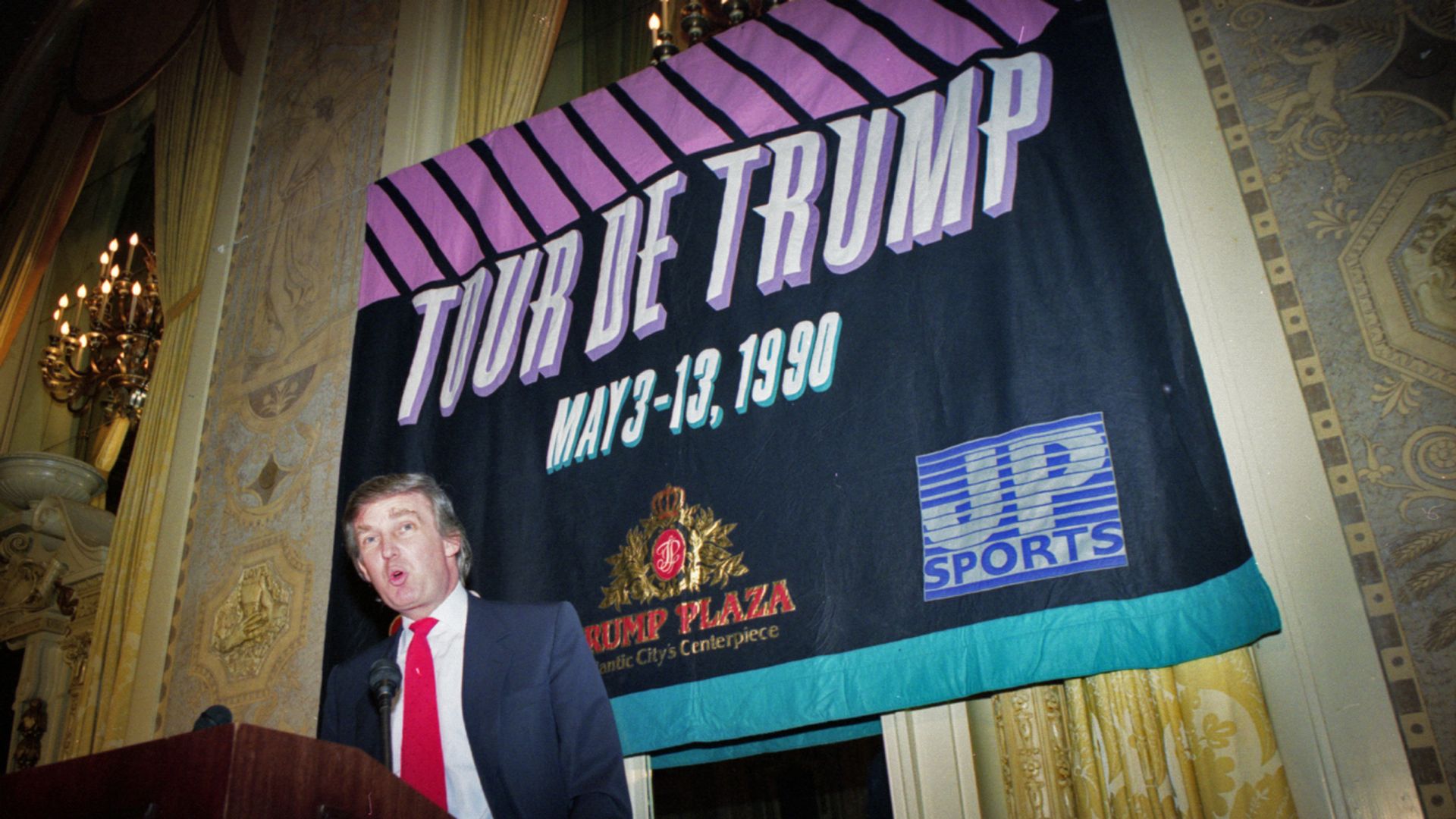 30 years ago today, Donald Trump's first Tour de Trump cycling race kicked off in Albany, N.Y. The 837-mile race was intended to become North America's version of the Tour de France.
Details: The race's 10 stages sent riders south from Albany to Richmond, Va. and then across to Atlantic City, N.J., where they finished in front of Trump's casino.
After two editions of the race, Trump withdrew his sponsorship and DuPont became the primary sponsor. The event was renamed Tour DuPont and lasted five more years before shutting down in 1996.
Winners: Dag Otto Lauritzen (1989), Raùl Alcalá (1990, 1993), Erik Breukink (1991), Greg LeMond (1992), Viatcheslav Ekimov (1994), Lance Armstrong (1995, 1996).
🎥 Watch: The 1989 Tour de Trump (unreal video)
7. 🏀 NBA draft trivia
Question: Can you name the six active NBA franchises who have never had the No. 1 overall pick?
Hint: Four were playoff teams this year, one won multiple titles this decade and the other relocated to its current city in 2001.
Answer at the bottom.
8. The Ocho: 📺 "Ultimate Tag" coming soon to Fox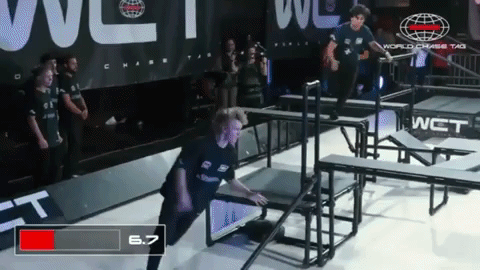 J.J. Watt revealed on Twitter yesterday that he and his two brothers, Derek and T.J., are involved in a new television show called "Ultimate Tag."
Details: The show is set to be debut on Fox in early 2020 and aims to take "a childhood game to extreme levels, with insane obstacles and incredible athletes."
The three brothers will co-host the show, which looks like it will have a similar feel to "American Gladiators" and "American Ninja Warrior."
The backdrop: Tag has seen its fair share of viral moments recently, thanks to World Chase Tag (WCT), the only global league for professional competitive tag.
The organization hosts tournaments all around the globe and frequently shares highlights on Instagram like the one you see above. Definitely worth a follow.
How it works: WCT uses a format called "Team Chase Off," in which teams of four compete in 16 chases per match. In each chase, the chaser has 20 seconds to tag the evader. Evaders gain a point if they last the full 20 seconds, and the team with the most points wins the match.
9. ICYMI: New Kawhi footage, Fox vs. ESPN, Ohtani homers
🏀 NBA: There's a new video of the Kawhi Leonard buzzer-beater from behind the Raptors bench and it might be the best angle yet.
🎥 Media: Fox is launching a show with Urban Meyer, Reggie Bush and others to compete with ESPN's "College GameDay." They're also reportedly moving all of their best games up to noon ET to eliminate competition and help them get more of that aforementioned pregame audience. ... Expect lots of early Big Ten and Big 12 games this year.
⚾️ MLB: Shohei Ohtani returned to the Angels lineup on May 7 following offseason Tommy John surgery, and a last night, he hit his first dinger. Here's the video courtesy of @OnlyHomers, a Twitter account that tweets exclusively about homers.
10. 🏀 Why Jackie Mac left LeBron off her All-NBA ballot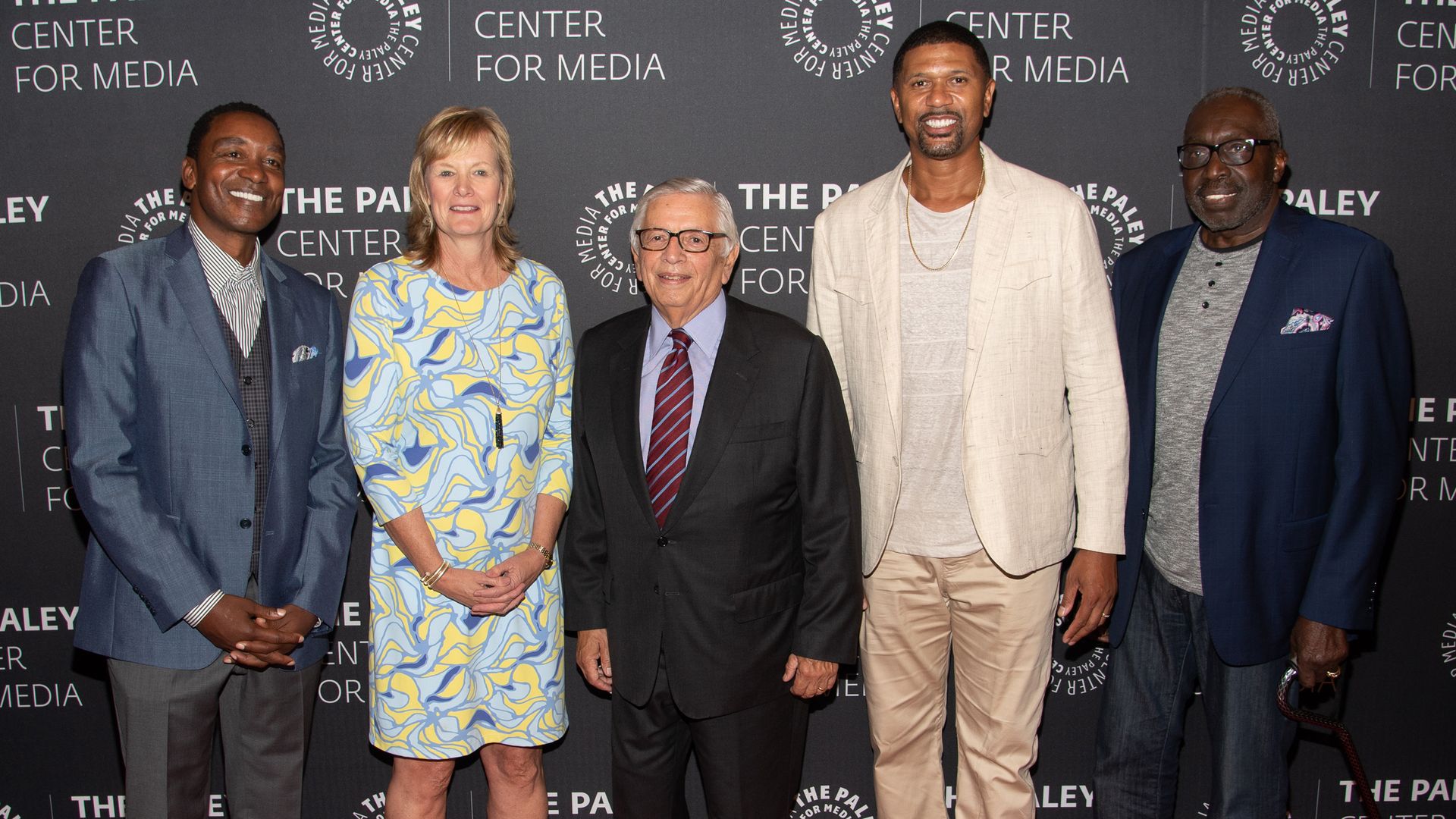 Legendary NBA writer Jackie MacMullan spoke with The New Yorker's Louisa Thomas in a wide-ranging interview that is an absolute must-read.
Her take on LeBron's season:
"The thing that I admire most about LeBron James is how he empowered players. To me, that will be his legacy, and it's a great one. But, for my thinking, this year, he took that player empowerment and abused it. He opened a grenade, threw it in the locker room and walked out. He literally and figuratively separated himself from the team when things went bad, as if to say, 'This isn't on me.' He showed up for a game with a glass of wine! To my mind, there has to be consequences for that."
"But the media, in general, because he's so difficult to get access to — what people will do to curry favor with him makes me nauseous. ... I was talking to some of my colleagues, and others, too, and more than one of them said, 'I can't afford to leave him off. I need the King.' What has that gotten you? And where are your journalistic sensibilities? This is the biggest thing I worry about with our business. I know people say ESPN is an entertainment company ... but I'm not an entertainment writer. I'm a journalist."
Agree? Disagree?
See you tomorrow,
Kendall "Tag is underrated" Baker
Trivia answer: Denver Nuggets, Oklahoma City Thunder, Indiana Pacers, Utah Jazz, Miami Heat, Memphis Grizzlies