Good morning! We're back.
📺 Tonight, 9 pm ET (ESPN): No. 23 Kansas State vs. No. 12 Kansas (-3.5) in what might be the biggest game of the decade between these two rival schools.
1 big thing: 🏆 An Oscars recap for sports fans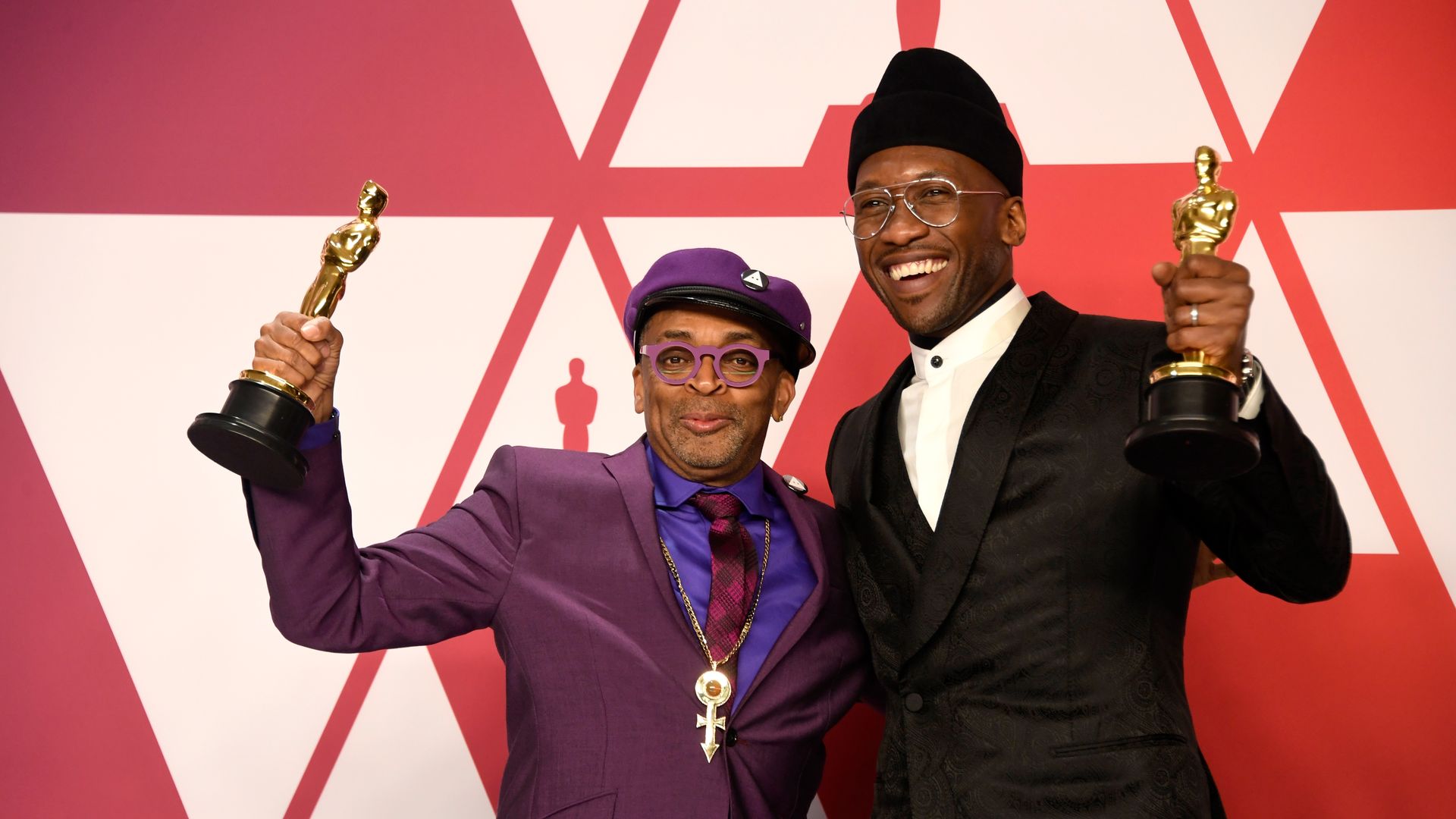 Best moment: On the same night that his beloved New York Knicks snapped an 18-game home losing streak with a 130-118 win over the San Antonio Spurs, Spike Lee took home his first competitive Oscar. BROOKLYN WINS.
Best tweet: "Even TWO years ago, if I had told you an Oscars broadcast would begin with a live performance by Queen with a shot of A-Rod dancing in the second row, you'd have wondered on what planet this occurred." — Rich Eisen, NFL Network (@richeisen)
Best former hooper: Before Mahershala Ali was a two-time Oscar winner, he was a Division I basketball player at St. Mary's, where he was known as Hershal Gilmore.
Best doc: "Free Solo," which follows rock climber Alex Honnold as he ascends the 3,200-foot El Capitan rock formation in Yosemite National Park without a rope, won Best Documentary.
2. ⚾️ Baseball has a foul ball problem
In an attempt to speed up our national pastime, Major League Baseball has embarked on a crusade against sluggishness in recent years, implementing new rules that limit things like mound visits and instant replays.
And this season, there is a "real possibility" that we could see the introduction of a 20-second pitch clock, ESPN's Jeff Passan reports.
Why that might not matter: What if these rule changes are targeting the wrong thing? What if the real culprit here isn't the time being wasted between pitches, but rather the result of those pitches? What if the real culprit is ... foul balls?
By the numbers: Over the last 20 years, the number of foul balls has increased by 11.98%. To put it another way: there were almost 14,000 more foul balls in 2018 than there were in 1998.
The shocking truth: Things have gotten so out of hand that there were actually more foul balls than balls put in play in each of the past two seasons. No wonder you left in the 6th inning...
The big picture: There were 26,313 more pitches thrown in 2018 than in 1998, which is the equivalent of adding 88 games to the schedule. And roughly half of that growth can be attributed to foul balls, according to FiveThirtyEight.
What's happening:
Pitching keeps improving: Pitching velocity and breaking ball usage continue to increase, and the game is more specialized than ever (bullpens accounted for a record 40.1% of innings last year). Result: tougher at-bats and, in turn, more wasted pitches.
Fields are shrinking: FanGraphs compared 21 current stadiums with their predecessors and found that foul territory had decreased by a whopping 20.5%. That would explain why foul ball outs are way down (2003: 4,372 foul ball outs; 2018: 3,450).
The bottom line: Shockingly, a pitch clock might not be the answer to baseball's pace-of-play problem.
3. 🏀 The Pac-12 is horrible (especially Cal)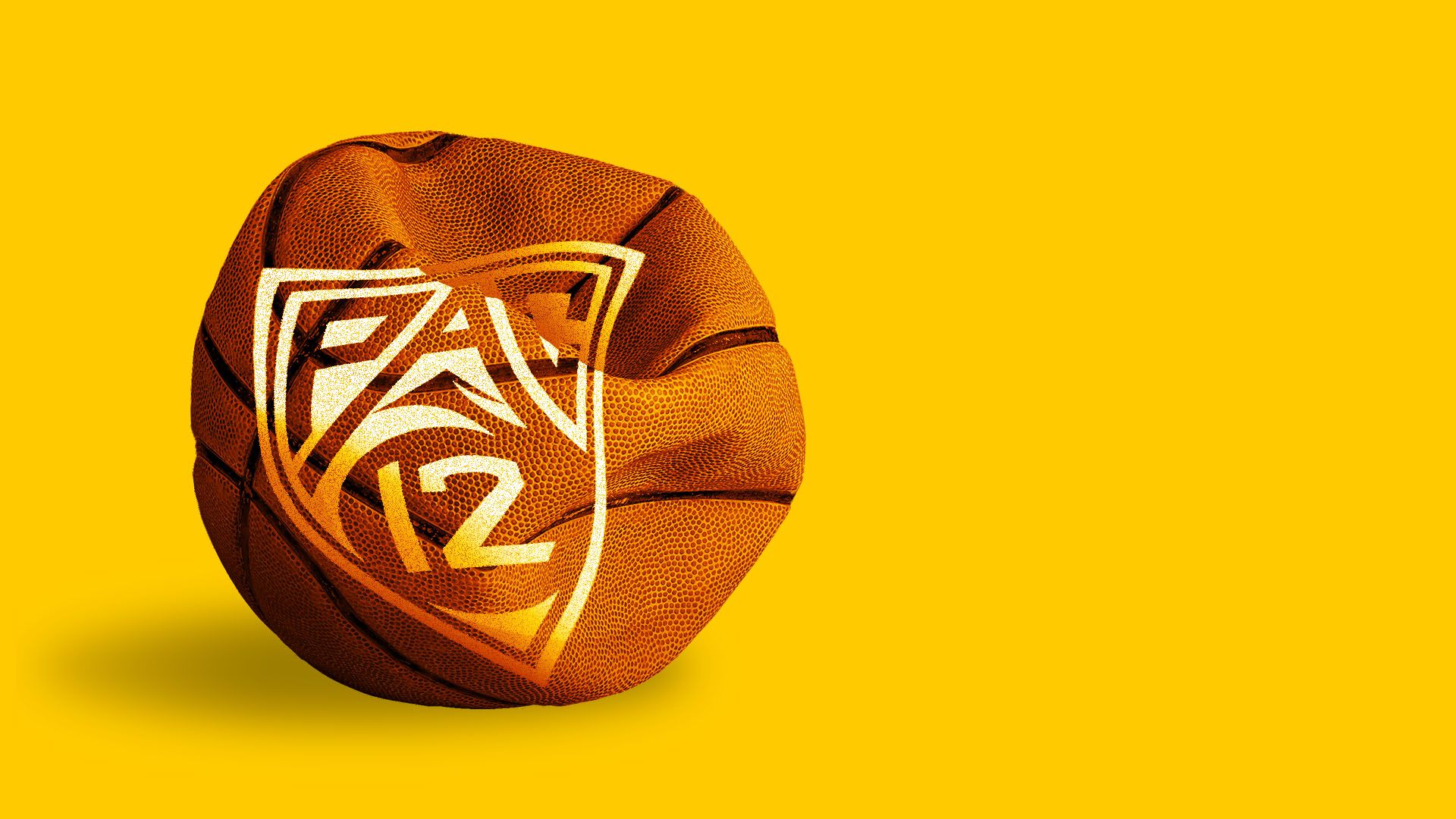 In 2017, the Pac-12 was on top of the world.
Arizona, Oregon and UCLA all recorded at least 30 wins, finished in the top 10, and reached the Sweet Sixteen, with Oregon marching all the way to the Final Four.
Three NBA lottery picks: Washington's Markelle Fultz (No. 1 pick), UCLA's Lonzo Ball (No. 2) and Arizona's Lauri Markkanen (No. 7).
In 2018, the Pac-12 was in rapid decline.
Arizona, Arizona State and UCLA were the only three Pac-12 teams to make the tournament and all of them lost their first game, marking the first time since the Big 12 was formed in 1996 that a major conference failed to send a team to the second round.
In 2019, the Pac-12 has fallen completely off the rails.
Arizona is 16-12 and mired in controversy; Oregon is 15-12; UCLA is 15-13 and fired head coach Steve Alford in December. It's bad.
The Pac-12's best team is Washington (22-5), and the Huskies weren't even ranked in the Top 25 last week.
The bottom line: The Pac-12 is in serious danger of becoming the first major conference in a quarter century to produce only one tournament team. Washington is in, Arizona State is on the bubble and everybody else is on the outside looking in.
Go deeper: Cal (5-22) might be the worst major conference team this century
4. ⚽️ A bizarre standoff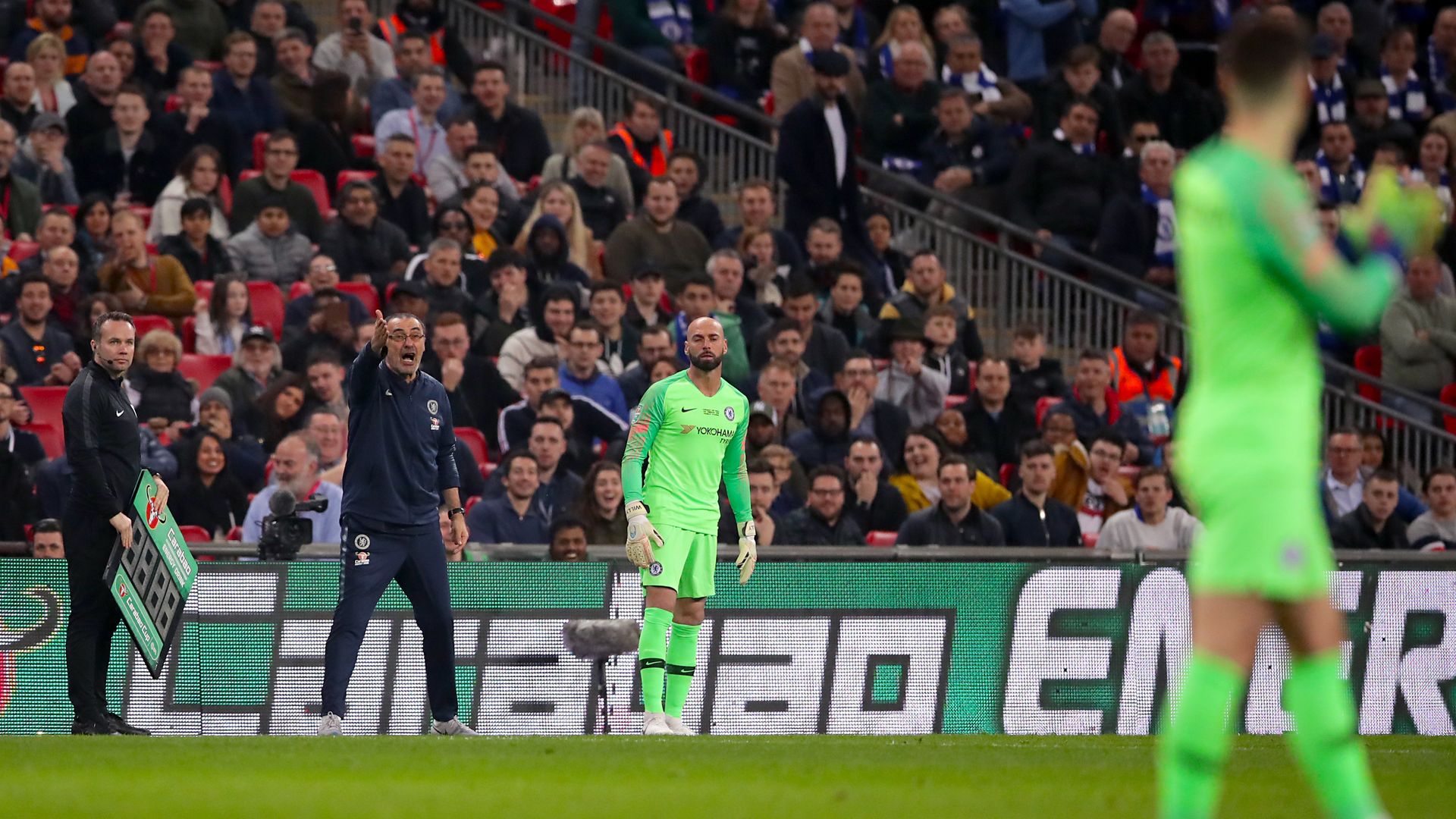 With a penalty shootout looming in the Carabao Cup final and his goalkeeper Kepa Arrizabalaga appearing to struggle with a cramp, Chelsea manager Maurizio Sarri summoned backup Willy Caballero to replace him.
But Arrizabalaga, the world's most expensive goalie, simply refused to leave the pitch, waving his arms toward the sideline as Sarri grew increasingly upset. So bizarre.
Arrizabalaga stayed in the game and made one save in the shootout, but Chelsea ultimately fell to Manchester City.
The big picture (for Chelsea): This is just the latest headache for Sarri, who was booed by fans last week in the midst of an underwhelming campaign. His job was already in jeopardy, according to the Wall Street Journal (subscription) — and now this.
The big picture (For Manchester City): This win keeps City in contention for a quadruple, as they are the favorites to win the UEFA Champions League title, the FA Cup title and the Premier League title (despite sitting one point behind Liverpool at the moment).
5. A section dedicated to bad ass women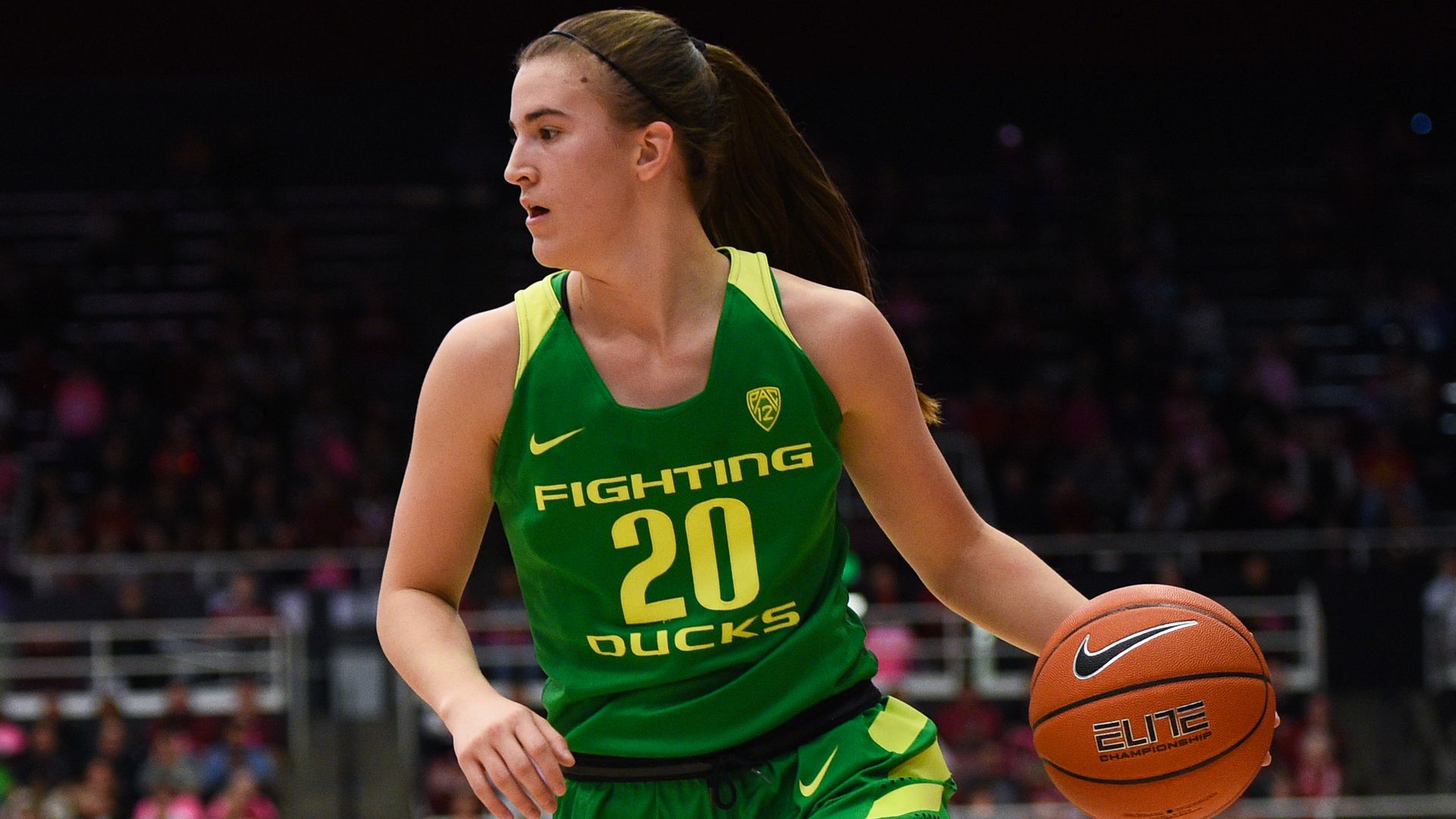 🏀 Oregon guard Sabrina Ionescu recorded her seventh triple-double of the season yesterday (13 points, 12 rebounds, 13 assists), passing former BYU guard Kyle Collinsworth for most in a single season by a D-I athlete. For her career, she has 17 — and she's only a junior. Get to know the Bay Area native.
⚾️ Arkansas sophomore Danielle Gibson smashed a solo homer, a two-run homer, a three-run homer and a grand slam yesterday to complete the second-ever home run cycle in D-I history. (No player in MLB history has ever done it.)
🎾 Serena Williams narrates Nike's new "Dream Crazier" ad, which is a love letter to women. So good it gave me chills.
6. On this date: 2/25/1989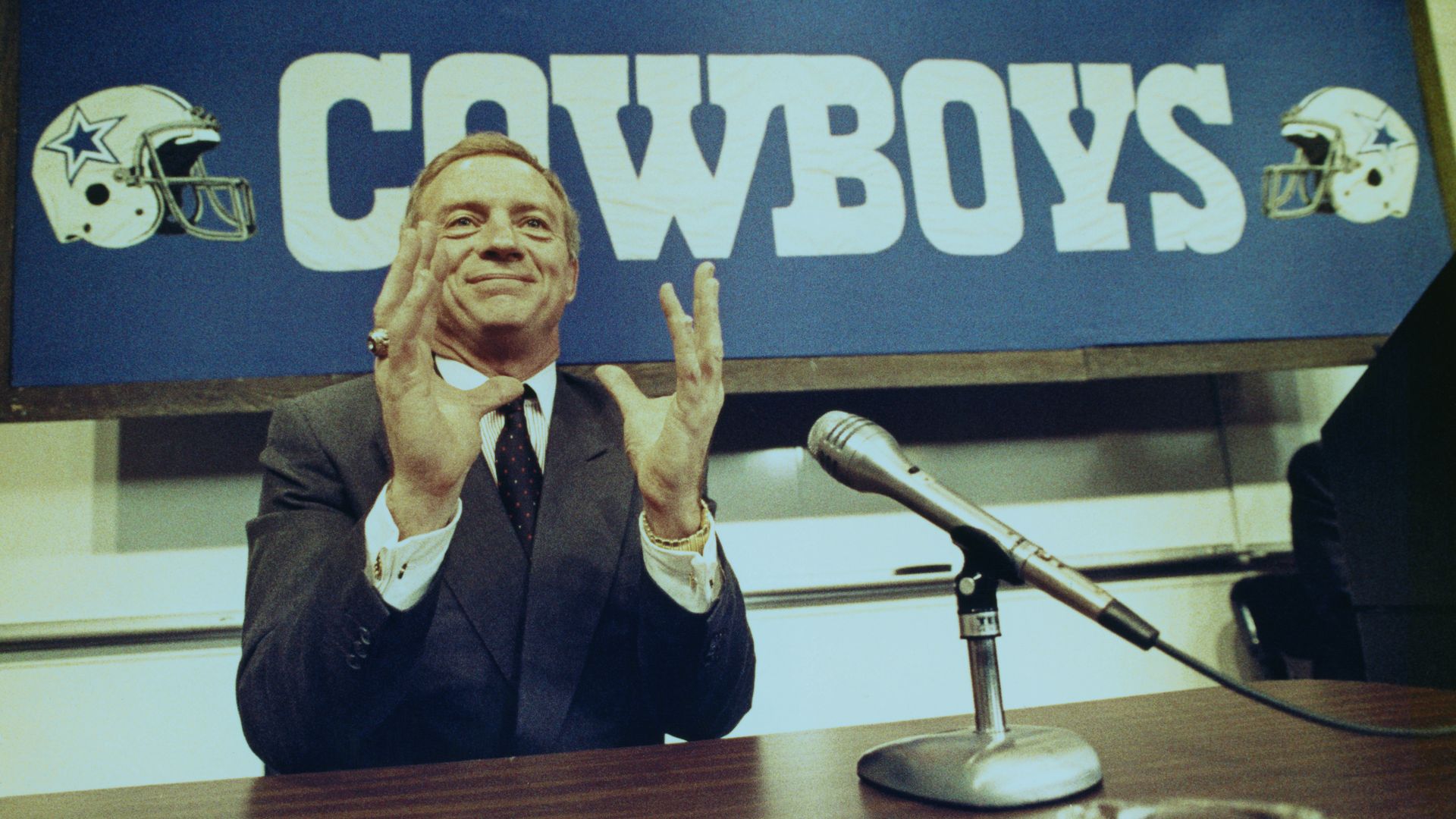 30 years ago today, Jerry Jones purchased the Dallas Cowboys for a then-record $140 million. At the time, the team was losing $1 million a month. Now? The Cowboys are worth a cool $5 billion. Solid investment.
The good: A few years later, the Cowboys became the first NFL team to win three Super Bowls in four years (1993, 1994, 1996).
The bad: Since 1998, the Cowboys have had more head coaches (five) than playoff wins (three). Overall record: 179-154.
The ugly: Shortly after purchasing the team, Jones fired Cowboys legend Tom Landry and replaced him with his former Arkansas teammate Jimmy Johnson. The move was considered disrespectful and some fans have never forgiven him. Landry was so upset that he became a Giants fan.
7. 🏀 NBA trivia
On Saturday, Chris Paul became the eighth player in NBA history to record 9,000 career assists.
Question 1: Can you name the seven players ahead of Paul on the all-time assists list?
Question 2: Four other active players rank in the top 25 on the all-time assists list. Who are they?
Answers at the bottom.
8. The Ocho: ⛷ This is called a cork 1440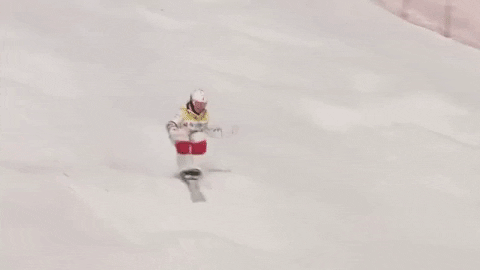 Canada's Mikael Kingsbury won two gold medals at a World Cup event in Japan over the weekend, but the big moment came when he landed the first ever cork 1440 in World Cup competition.
Watch: Full video
9. Everything else
🏒 The NHL trade deadline is today at 3 pm ET. Keep track of all the moves here.
Watch: Henrik Lundqvist getting choked up about the Rangers trading away his friend Mats Zuccarello is your "sports, man" moment of the weekend. PS: Zuccarello broke his arm in his Stars debut. Poor guy.
⛳️ Dustin Johnson (-21) won the WGC-Mexico Championship by five shots to regain his world No. 1 ranking. He also became just the fifth player with 20 PGA Tour wins before age 35, joining Tiger Woods, Phil Mickelson, Tom Watson and Johnny Miller.
📺 Sports anchors like Scott Van Pelt must find fresh ways to draw audiences now that social media has broken TV's stranglehold on highlights, writes the NYT's Alex Wong. Go deeper.
10. Read this immediately
Thanks,
Kendall "Mondays are underrated" Baker
Trivia answers: Question 1: John Stockton, Jason Kidd, Steve Nash, Mark Jackson, Magic Johnson, Oscar Robertson, Isiah Thomas // Question 2: LeBron James (No. 10), Tony Parker (No. 17), Rajon Rondo (No. 21), Russell Westbrook (No. 24)