Axios Sports
April 04, 2019
☕️ Good morning! Let's sports.
1 big thing: 🏀 The race to sign Zion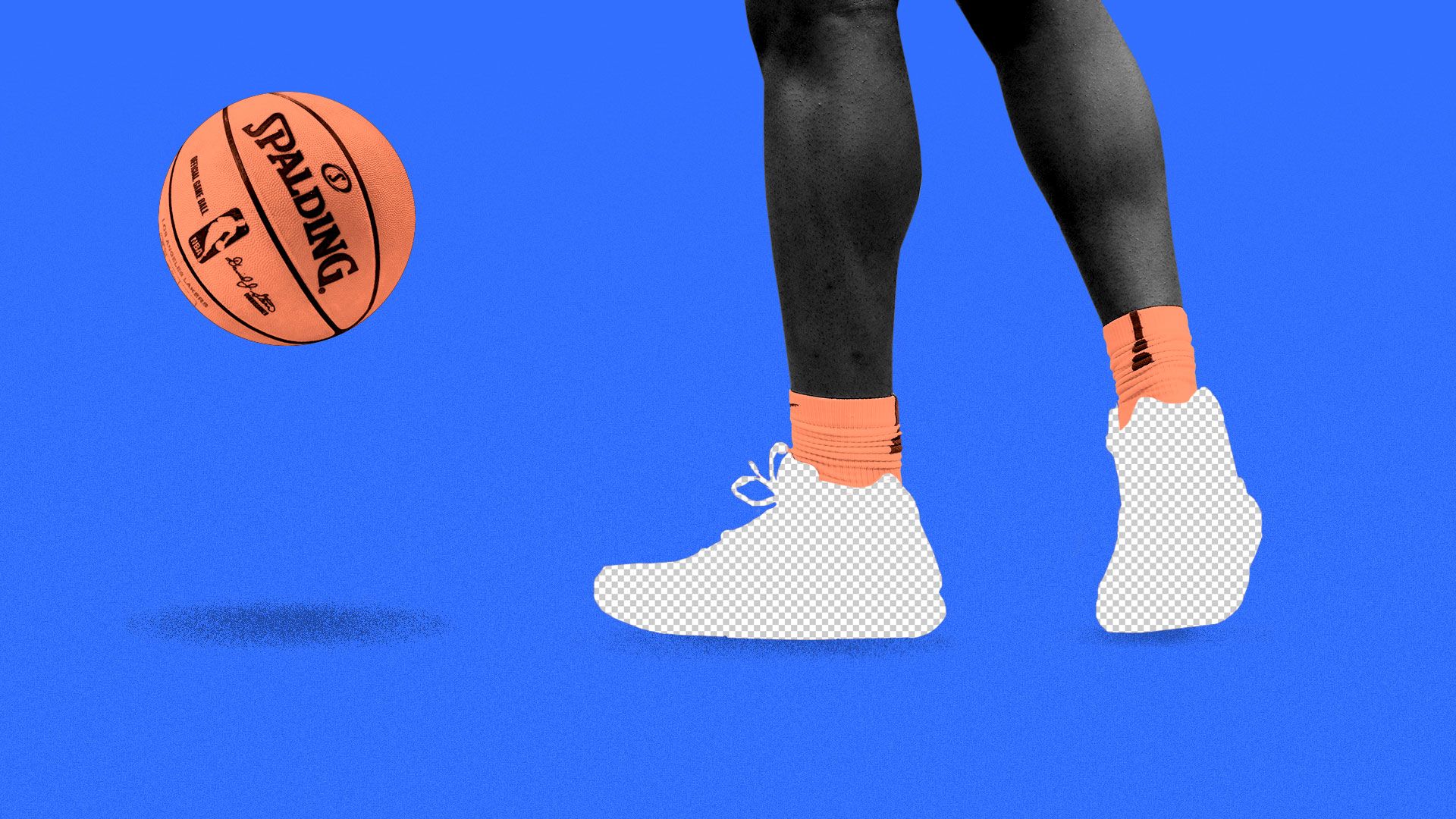 Likely No. 1 pick Zion Williamson is expected to sign a lucrative sneaker endorsement deal prior to this year's May 14 draft lottery, with sneaker companies confident he'll be a marketing superstar no matter where he lands.
Draft odds: As of this morning, New York, Phoenix and Cleveland all have a 14% chance of landing the top pick, with Chicago (12.5%) and Atlanta (10.5%) not too far behind.
Why it matters: Many in the sneaker industry believe Williamson's deal will make him one of the three highest-paid rookie sneaker endorses ever, rivaling LeBron James and Kevin Durant.
"In my lifetime, I think it's going to be the biggest bidding war ever done. ... He is going to have an opportunity to be the face of every company and every major corporation. He is the most marketable person I've seen, for a lot of different reasons."
— Famed sneaker exec Sonny Vaccaro (
via ESPN
)
Details: Zion will almost certainly get his own signature shoe, which is something only nine rookies in league history have ever gotten.
They are: Lonzo Ball (Big Baller Brand), LeBron James (Nike), Stephon Marbury (AND1), Allen Iverson (Reebok), Jerry Stackhouse (Fila), Grant Hill (Fila), Shaquille O'Neal (Reebok), Michael Jordan (Nike), Hakeem Olajuwon (Etonic).
The brands: Nike (which he has some explosive history with, of course) and Adidas (which he grew up wearing) are the two biggest players, but let's be honest — every brand is going to at least take a run at this.
Under Armour just signed Joel Embiid to a massive contract and has invested a ton of money into Steph Curry's overall business, so they could be strapped for cash.
Puma and New Balance both re-entered the basketball sneaker market last year. Might they swing for the fences in hopes that Zion could do for them what Jordan did for Nike? Do they have deep enough pockets to make it happen?
Chinese brand Anta, which has deals with Klay Thompson and Gordon Hayward, can't be counted out.
The good news for Zion: The NBA is expected to allow players to enter the league directly out of high school as soon as the 2022 draft, meaning Williamson could be one of the last "lightning-in-a-bottle NCAA superstars entering the NBA with a global social media profile," writes ESPN's Nick DePaula.
That will work in his favor, as will the fact that he's not only a superstar on the court but also a well-spoken, extremely likable human off of it.
Plus, the NBA is exploding in global popularity and has a unique connection to culture that other leagues can't quite match. That makes its athletes that much more attractive — and likely worth any shoe sales-related risk.
The bad news: Speaking of shoe sales-related risk ... one could argue that Zion is entering the league at precisely the wrong time, with basketball shoes accounting for just 4% of the shoe market in 2018, down from a high of 13% just a few years earlier.
"The basketball sneaker business is just terrible right now," Matt Powell, a sports industry analyst at NPD Group, told me.
"[Zion] isn't going to generate a lot of shoe sales, so how much do you pay a guy who is essentially going to be an ambassador for your brand? I don't want to make it sound like there's no value there, but I just can't justify the cost."
Related: Why LeBron turned down $115 million from Reebok and signed with Nike for $87 million
2. ⚾️ The most (and least) balanced teams in baseball
FanGraphs' Wins Above Replacement (WAR) is an attempt to measure a player's contribution to their team in a single number.
As a general measuring stick, teams are made up of scrubs (0-1 WAR), solid players (2-3) and the lucky few who ascend to MVP status (6+), writes Axios visual journalist Andrew Witherspoon.
By the numbers: In the above chart, we've plotted all 30 MLB teams based on their total projected WAR, which tells us how good they're expected to be.
We also took into account how much of that WAR is concentrated in their top players, which tells us how they might handle an injury or player regression.
Highlights:
Best of both worlds: The Yankees and Dodgers stand out as two elite teams (first and third in total WAR, respectively) who are also well-balanced (the Yankees are the second-least top-heavy team, while the Dodgers rank sixth).
Good, but unbalanced: Jose Ramirez (6.3 WAR) and Francisco Lindor (6.1 WAR) lead a top-heavy Indians squad whose playoff hopes are tied to those two staying healthy.
Most balanced rosters: Teams with the least amount of WAR coming from their top five players: Twins (35.7%), Yankees (39.6%), Padres (39.8%), Cardinals (41.3%) and Diamondbacks (42.0%).
Most top-heavy rosters: Teams with the most WAR coming from their core: Royals (57.8%), Angels (57.3%), Indians (55.1%), Brewers (54.2%) and Giants (52.5%).
3. 🏈 NFL draft: Kiper, McShay agree on first seven picks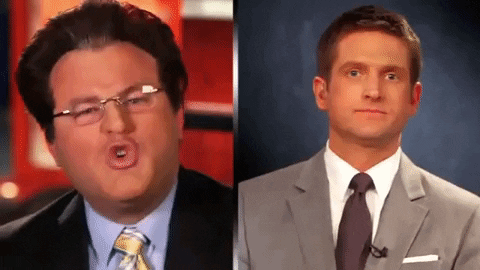 With just three weeks left until the 2019 NFL draft, ESPN's Mel Kiper Jr. and Todd McShay have released their head-to-head pick predictions for the first two rounds (subscription).
Picks 1-7: The two draft "experts" agree on the top seven picks:
Cardinals: QB Kyler Murray
49ers: DE Nick Bosa
Jets: OLB Josh Allen
Raiders: DT Quinnen Williams
Buccaneers: ILB Devin White
Giants: QB Dwayne Haskins
Jaguars: OT Jawaan Taylor
More notes:
QB disagreement: Kiper has Duke QB Daniel Jones going No. 15 to the Redskins, while McShay has him going No. 56 to the Patriots. Friendly reminder that Jones arrived at Duke as a walk-on... What a wild ride for that kid.
Only one first-round RB: Kiper has Alabama's Josh Jacobs going No. 24 to the Raiders, while McShay has him going No. 27 — also to the Raiders (Oakland has three first-round picks).
History: With pick No. 52, McShay has the Steelers taking Old Dominion DE Oshane Ximines, who is set to become the first player in ODU's short football history to be selected in the draft.
4. 🏀 Rosters announced for Dos Equis 3X3U National Championship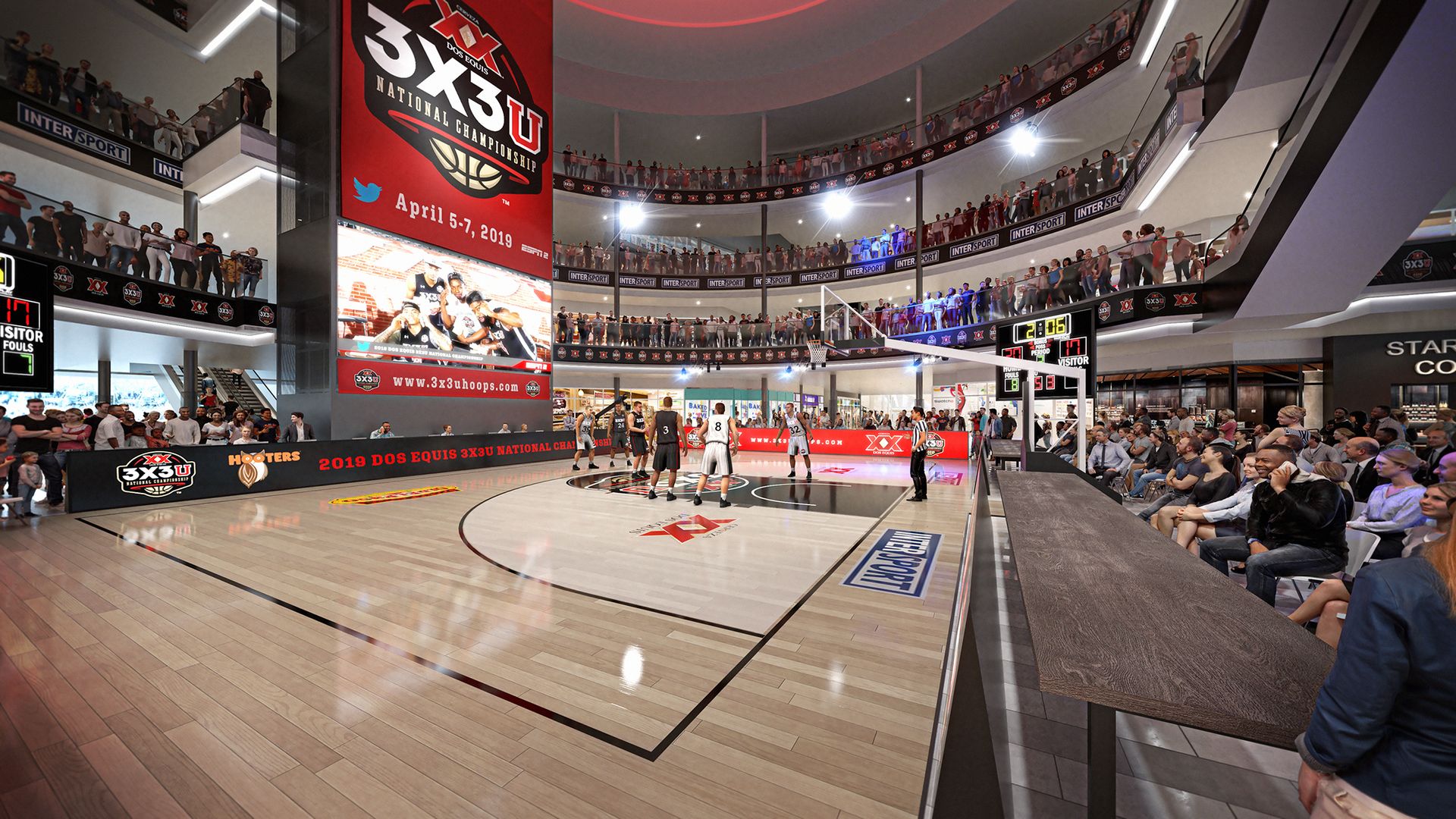 The rosters for this weekend's second annual Dos Equis 3X3U National Championship have been announced.
The field includes 100 All-Conference honorees, eight conference Players of the Year and one Consensus Second-Team All-American in Wisconsin's Ethan Happ.
More notable names: Wofford's Fletcher Magee (D-I's all-time three-point leader); Hofstra's Justin Wright-Foreman (nation's second-leading scorer this year at 27.1 ppg); Minnesota's Jordan Murphy (first-team All-Big Ten; second-most rebounds in Big Ten history).
How it works: The 3-on-3 style tournament is comprised of 128 seniors who have exhausted their collegiate eligibility (four from each of the 32 D-I conferences).
The conference all-star teams have been assigned into eight pools of four, with each team earning $1,000 for every victory on Friday and Saturday. (Pool E, for instance, is made up of the Big East, MAC, Sun Belt and MAAC.)
The top two teams in each pool will advance to Sunday's knockout stage, where the stakes skyrocket. The champions take home $100,000, while the runners-up get $2,000 and the third-place team gets an additional $1,000.
More details:
Venue: The tournament will be held on a custom-made court inside Minnesota's Mall of America (see rendering above). Looks epic.
Media: All games will be carried live on Twitter or ESPN2, with former Purdue star Robbie Hummel and The Ringer's Tate Frazier and Mark Titus providing color commentary and sideline coverage.
5. 🏒 The state of women's hockey in North America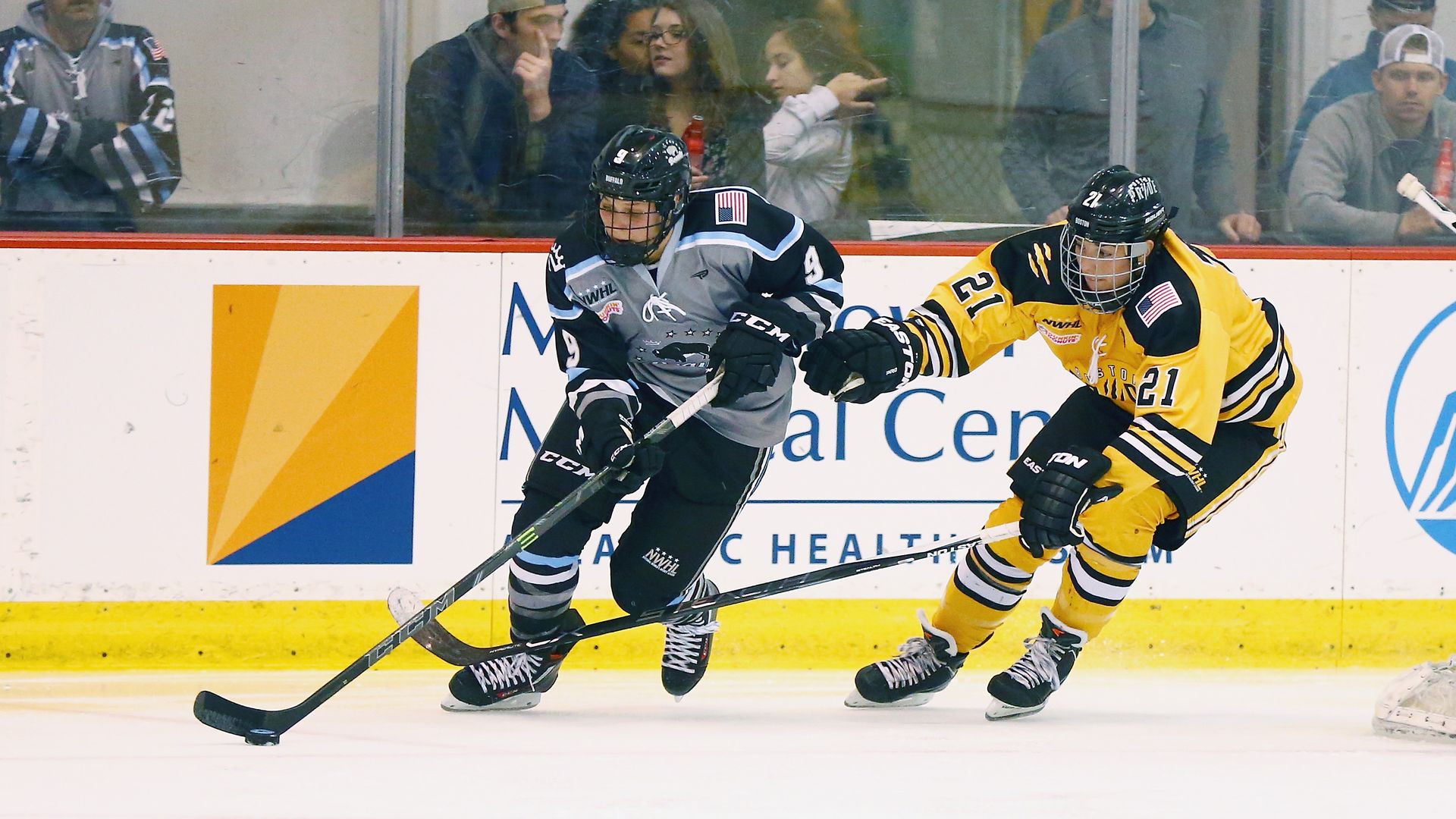 From Mike Sykes: The Canadian Women's Hockey League (CWHL) is shutting down effective May 1st after 12 seasons of play thanks to a failed economic model.
As a non-profit organization that owned its teams, the CWHL had difficulty promoting and selling its product and, with no owners, struggled to build revenue.
Why it matters: The National Women's Hockey League (NWHL) is now the last women's pro hockey league in North America.
This might work: The league is expanding to Toronto and Montreal next season, taking over some of the territory that the CWHL is leaving vacant. And now, instead of contributing $50,000 to each league, the NHL will pay the NWHL $100,000 annually.
But it might not: The NWHL's resources are still thin. They've had to slash player stipends in the past to make up for losses and adding more players might not help that cause.
The big picture: The Minnesota Whitecaps just became the NWHL's first profitable team, so there's hope that the league can achieve economic stability if other franchises can follow their lead.
6. 🏈 April 4, 1998: NFL Europe kicks off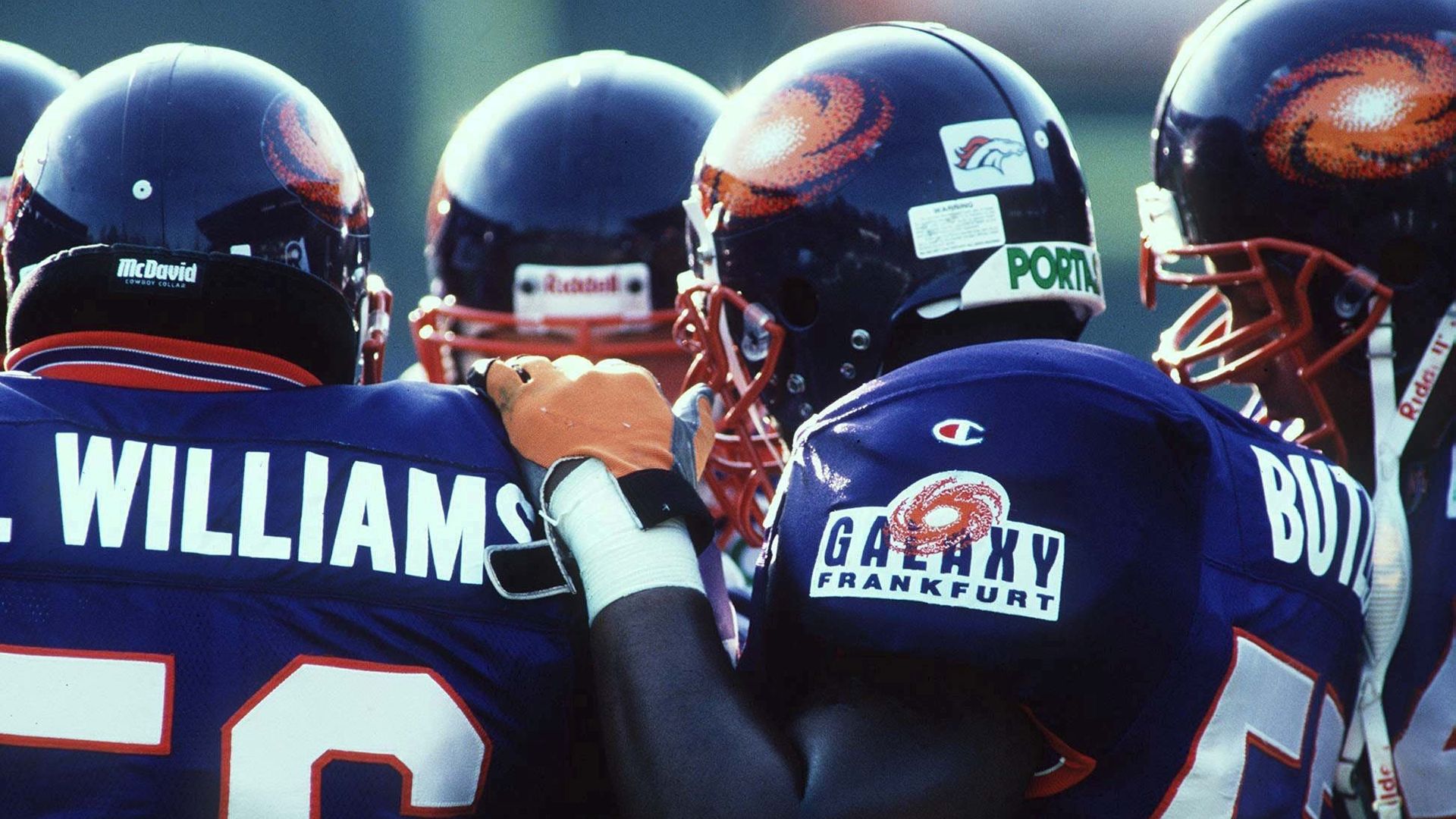 21 years ago today, NFL Europe, formerly known as the World League of American Football, kicked off its inaugural season post-rebrand.
Details: The league was used as a developmental pipeline for the NFL until its demise in 2007. During its final season, the name was changed once again, from NFL Europe to NFL Europa.
Notable alumni: Three Super Bowl QBs (Kurt Warner, Jake Delhomme and Brad Johnson) and two of the best special-teamers ever (Dante Hall and Adam Vinatieri).
Go deeper: Oral history of the league
7. 🏆 Championship trivia
Question: Earlier this century, history was made when the same two teams competed in both the D-I basketball and football national championship in the same year. Who were the two schools?
Hint: It happened in 2007.
Answer at the bottom.
8. The Ocho: "The Believer"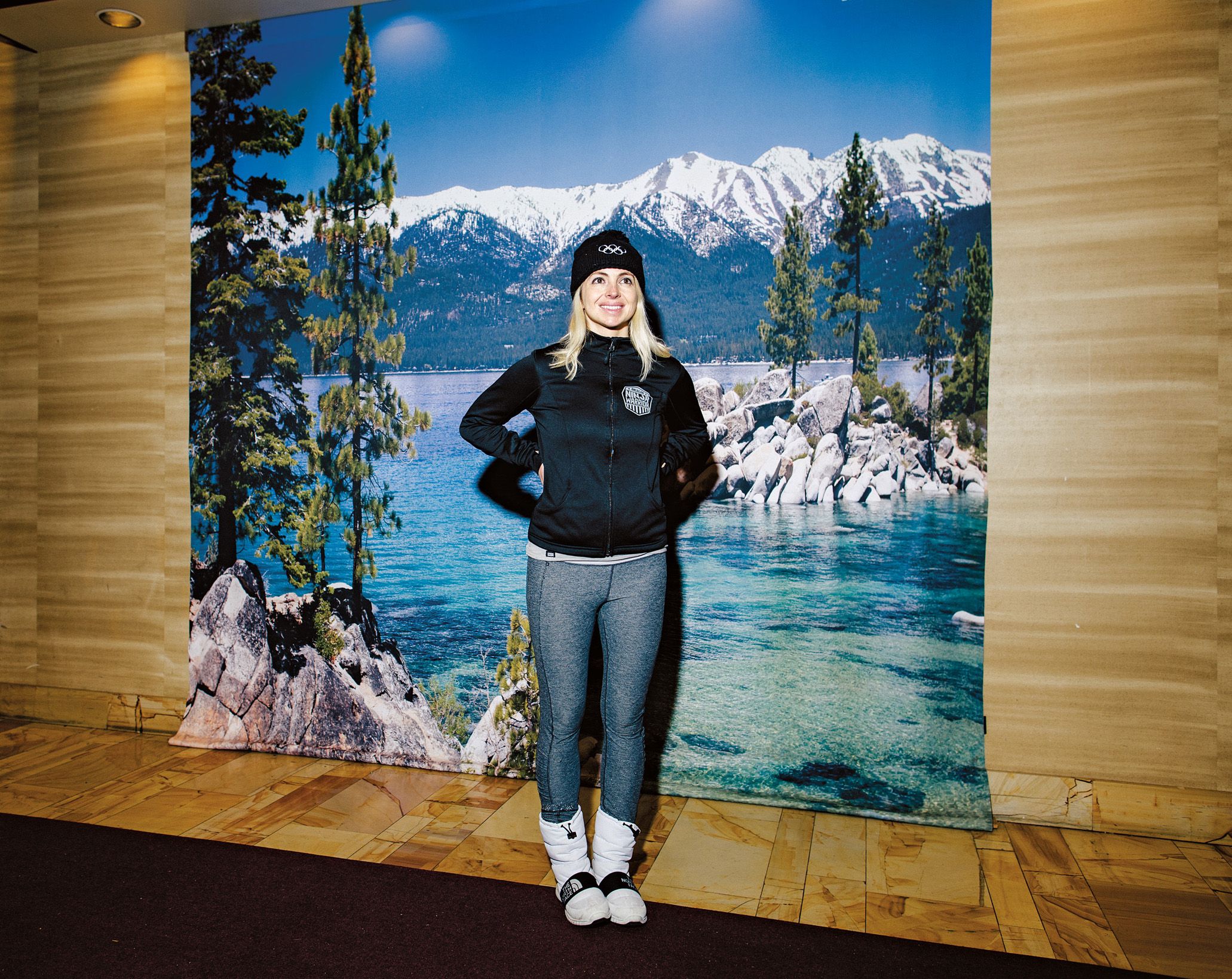 "After a mysterious freestyle ski run in last year's Winter Olympics, people called Elizabeth Swaney a scam artist and the worst athlete in the history of the games. They're wrong," writes Davy Rothbart for The California Sunday Magazine.
Sounds like some people I know: "Swaney [is] the type of person who listens to audiobooks at double speed, attends Sundance screenings for documentaries and thrusts her hand in the air at post-show Q&A's, and considers emailing the authors of a self-improvement book called 'Designing Your Life' with suggestions on how they might improve their advice."
9. Everything else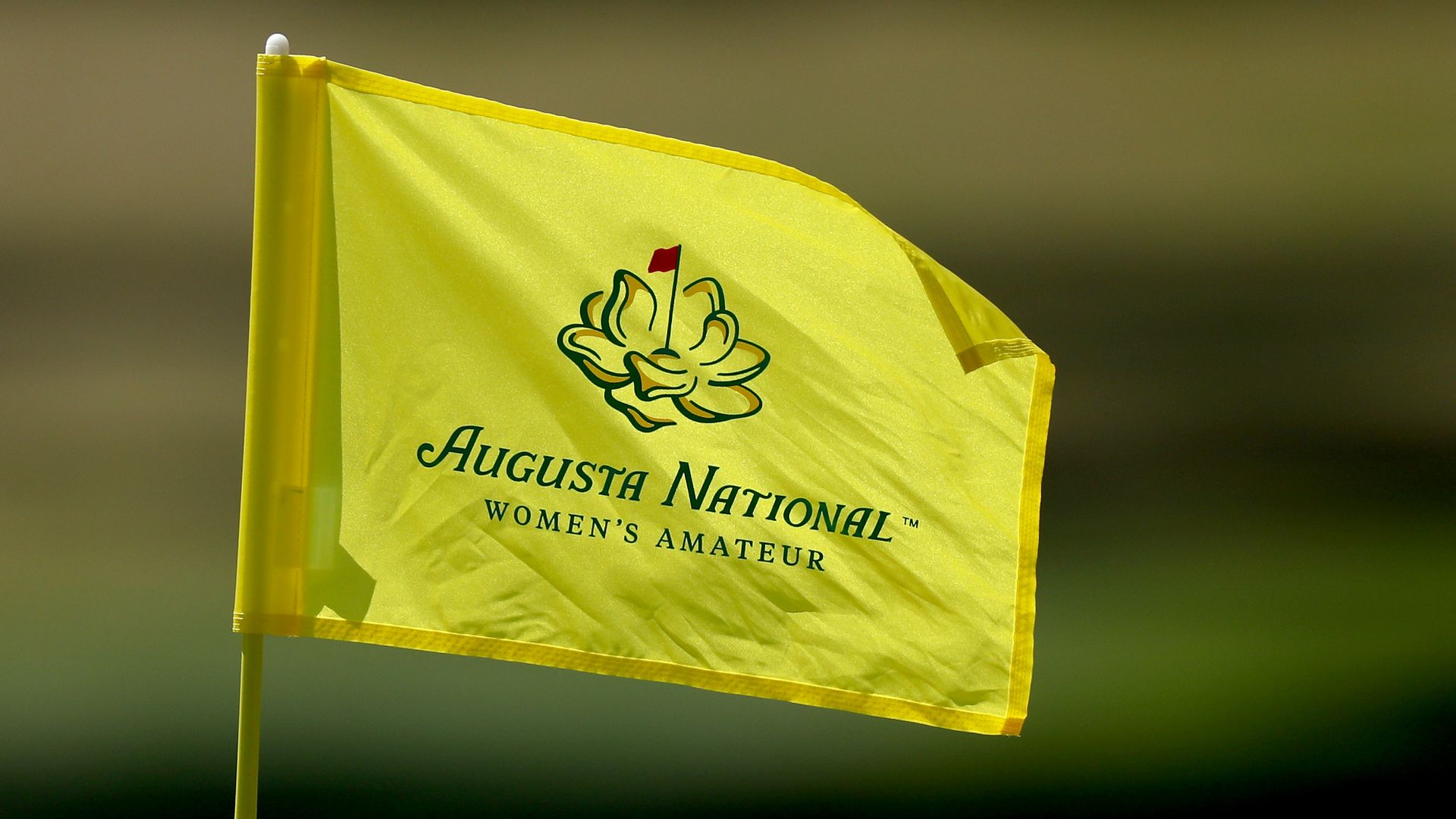 Golf: The inaugural Augusta National Women's Amateur is underway. This is a historical event for a club that didn't admit its first woman until 2012.
NBA: Here's a fun fact: The gap between James Harden (36.3 points per game) and the Rockets' next-leading scorer (Clint Capela: 16.6 ppg) is larger than the gap between Capela and me (0 ppg).
Media: Stephen A. Smith is "in line" for a contract extension that could pay him $10 million per year, which would make him the richest on-air talent in ESPN history.
10. 🎰 Pick 3: Make your picks!
Pro-tip: Download The Action Network app to become a master at all this stuff.
1. Will the Canadiens and Capitals combine for Over/Under 9.5 goals?
Know this: They've played each other twice, with the Canadiens winning the first game 6-4 and the Capitals winning the second game 5-4 in OT.
Watch: 7pm ET (NBCSN)
2. Will Joel Embiid put up Over/Under 50.5 points + rebounds + assists + blocks against the Bucks?
Know this: Embiid had 40 points, 15 rebounds, 6 assists and 1 block in his last game vs. the Bucks. Season averages: 27.5 pts, 13.7 reb, 3.5 ast, 1.9 blk.
Watch: 8pm ET (TNT)
3. Who will cover the spread in the NIT Championship between Lipscomb and Texas (-1.5)?
Know this: Texas is 2-1 when favored by fewer than 3 points this season.
Watch: 7pm ET (ESPN)
🎰 Play now: Make your picks (cutoff time: 7pm ET)
--
Yesterday's results: 40.6% correctly predicted that Jon Lester would allow under 2.5 runs. He allowed 2 … 57.7% correctly predicted that South Florida (+5.5) would cover the spread against DePaul. They lost 100-96 … 72% correctly predicted that the Rockets (+1.5) would cover the spread against the Clippers. They blew them out 135-103.
35 total players correctly predicted all three outcomes … One player nailed the tiebreaker (Kyrie Irving scored 23 points against the Heat), which means they win an Axios T-shirt. We'll be in touch.
Thanks,
Kendall "How much does Kiper get paid" Baker
Trivia answer: Florida beat Ohio State 41-14 in the BCS National Championship Game and 84-75 in the Men's Basketball National Championship