Good Sunday evening. Jonathan Swan is visiting his 🇦🇺 homeland for a well-deserved break, so he has entrusted Sneak Peek to his colleagues. I can't keep up with his marathon schedule of coffees, texting and cocktails, but it's fun to try. Shoot me your thoughts, tips, gripes: mike@axios.com.
Sneak Peek now sneaks off for a two-week holiday break, then will be back with Super Swan on New Year's Eve. Thanks for helping make this such a great launch year for Axios. And I'll look forward to breakfast with you tomorrow in Axios AM.
https://www.axios.com/newsletters/axios-sneak-peek-f3917ceb-3ce8-4c7f-9222-38e5a493b11f.html?chunk=0#story0
1 big thing ... Scoop: Trump's closing argument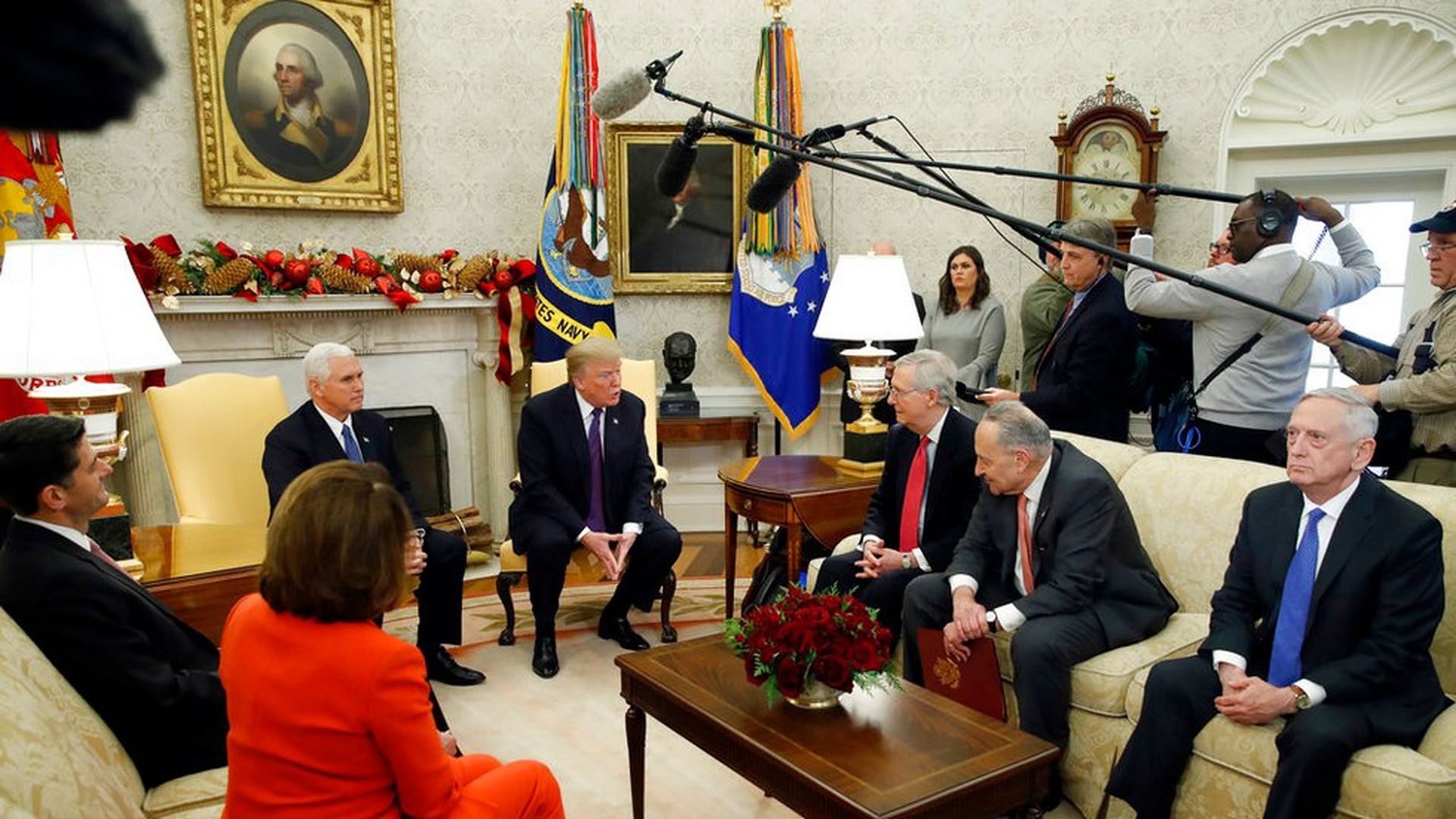 Sneak Peek has learned that on Wednesday, President Trump will deliver his closing argument on tax reform to an audience made up largely of young people and middle-class families whose personal stories will be laced into his remarks.
Trump's remarks at the Treasury Department, next door to the White House, are expected to lay out how the once-in-a-generation tax cut/reform bill will create economic opportunity and brighter futures.
Aides say Trump will display his dealmaking/closing skills as he makes his case to the American people, while continuing to work behind the scenes to iron out final details.
A source close to the White House told me: "There's no way we would have been here had he not pushed for this to happen before Christmas."
At the other end of Pennsylvania Avenue, it's Ego Week — or, more precisely, a week about overcoming egos:
A source familiar with Republican negotiations says: "You have the usual institutional tensions: The House always thinks the Senate is rolling them via parliamentary threats. Then you have the personalities: the egos of chairmen, and jostling between senators" — many of them feeling empowered.
Why it matters, per the source: "We know Rs are on the hot seat ... Things are taking longer than we have time for. ... But no room for failure here. We have no time."
Republican leadership is aiming to have the conference report, reconciling the House and Senate versions, complete by Friday.
Then both chambers need to pass it by simple majority, with the aim of getting it to Trump's desk by Wednesday, Dec. 20.
All this intersects with Shutdown Week, after Trump signed a bill Friday to keep the federal government running through Friday, Dec. 22, just ahead of Christmas Eve weekend.
Be smart: Republicans expect to pull this off. Since both chambers have voted for a version of the tax bill, there's no incentive to tank it now. But with this much urgency and this little time, lots of players have leverage — meaning more drama before this is baked.
https://www.axios.com/newsletters/axios-sneak-peek-f3917ceb-3ce8-4c7f-9222-38e5a493b11f.html?chunk=1#story1
2. First look: Pence to visit pyramids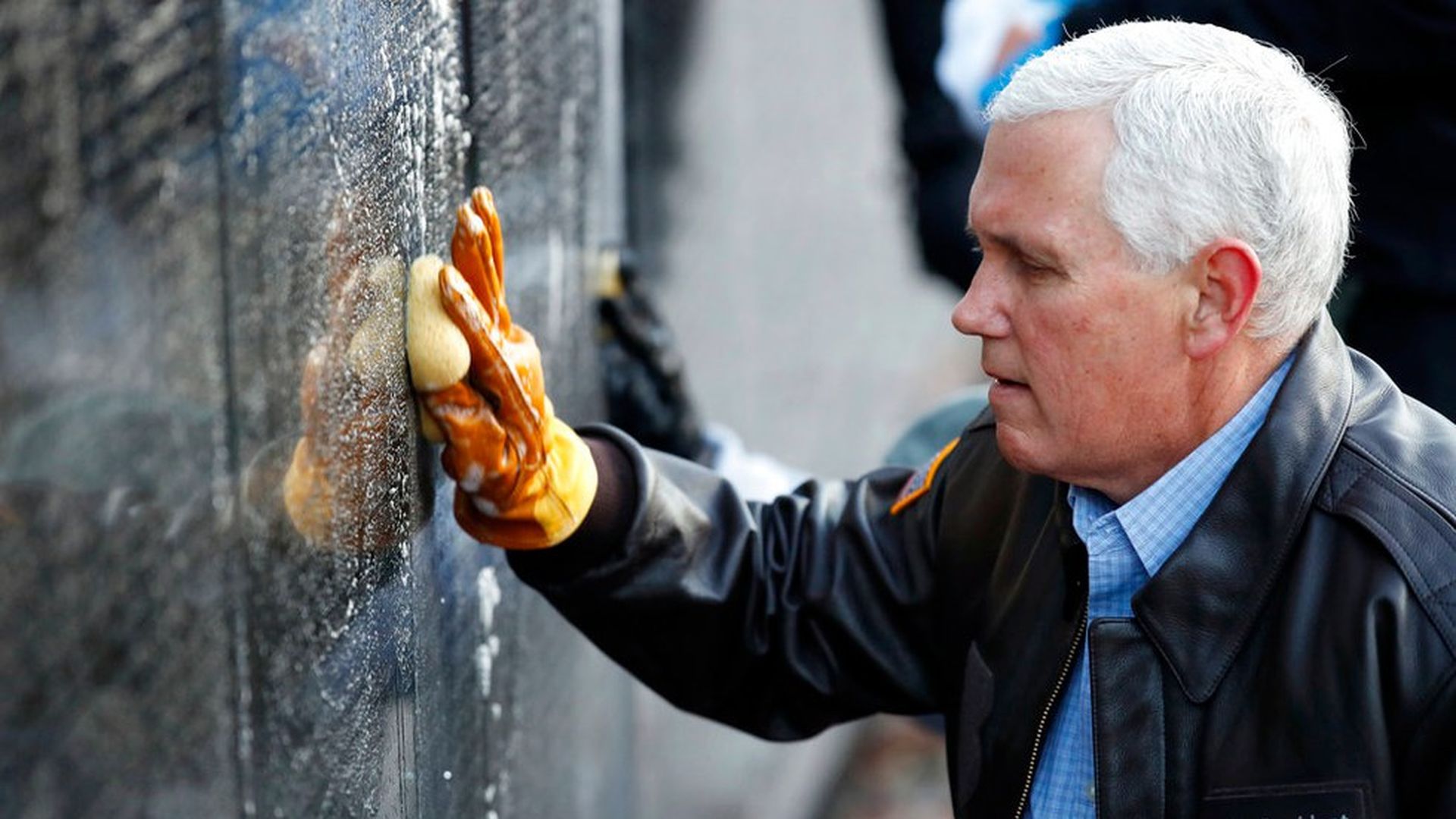 With President Trump's announcement on Jerusalem lighting up the Middle East, Vice President Mike Pence embarks Saturday on his first trip to Israel since taking national office.
The vice president will be gone for a week, with stops in Egypt and Germany:
Pence takes off from Washington, lands in Tel Aviv and goes straight to Jerusalem for a bilateral meeting with Israeli President Benjamin Netanyahu.
Pence then will light a menorah at the Western Wall.
An aide said that Pence's message in Israel will be that Trump, as he said in his speech recognizing Jerusalem as the capital, is committed to working for peace between Israelis and Palestinians.
Pence will use his meetings with leaders in the region to reaffirm the administration's commitment to work with partners throughout the Middle East and to "defeat radicalism."
On Monday, Pence will give the signature speech at the Knesset, the Israeli Parliament. The speech will be aimed at the region overall. Pence will emphasize that he is there on behalf of the president, and detail why Israel is a most cherished ally of the United States.
Pence will then fly to Cairo for a bilat with President Abdel Fattah el-Sisi. The two will discuss security and joint efforts to fight ISIS.
Pence will visit the pyramids and will talk with media with the ancient wonders as a backdrop.
Pence will fly home through Ramstein Air Base in Germany, and will do a meet-and-greet with troops.
The takeaway: A key theme for Pence's remarks and interviews will be U.S. efforts to stop persecution of Christians and other religious minorities in the region.
Go deeper: Palestinians won't meet with Pence.
https://www.axios.com/newsletters/axios-sneak-peek-f3917ceb-3ce8-4c7f-9222-38e5a493b11f.html?chunk=2#story2
3. Exclusive: Policy official leaving White House
Jonathan Swan emails from Sydney: "I was determined not to do any work while in Australia but here's something."
Paul Winfree is leaving the White House, according to a senior administration official with knowledge of the decision.
Winfree, who declined to comment, has resigned from his position as Deputy Director of the White House Domestic Policy Council and Director of Budget Policy.
His last day in the White House will be Friday.
Why this matters: Winfree's departure is part of what we've been forecasting will be a wave of White House staff departures after year one of the Trump presidency.
Winfree, a respected policy wonk with strong ties to the conservative movement, is the second senior official to announce a departure in three days. Deputy National Security Adviser Dina Powell told colleagues she's leaving to return to her family in New York.
What Winfree has been telling friends and colleagues:
He and his wife are expecting a second baby boy in a few weeks.
He'll return to the Heritage Foundation, where he will run economic policy.
He also plans to start his own policy consulting business. -
Starting in February, he will teach a seminar on policymaking at a top university, where he will draw on his experiences working in the White House, the U.S. Senate, and with think tanks.
https://www.axios.com/newsletters/axios-sneak-peek-f3917ceb-3ce8-4c7f-9222-38e5a493b11f.html?chunk=3#story3
4. Here's what could trip up the spending bill
Sure, Congress wants to go home for the holidays. But it also has to fund the government after Dec. 22. And there are a lot of things that could go wrong, Axios' managing editor David Nather writes for Sneak:
Here's how plugged-in appropriations experts are ranking the dangers over the next two weeks:
Immigration: This is the biggest danger. Democrats will push hard for legal status for the "DREAMers" — people who are in the country illegally who came here as children. And there's no sign that Republicans are willing to put it in the year-end bill. "I don't see how a majority of this Congress leaves without some resolution," said Jim Dyer, a former House Appropriations Committee Republican staff director.
No tax deal before the spending bill: If Republicans can't pass a final version of the tax bill by Dec. 22, President Trump could easily pressure Congress to stay in town by refusing to sign a government funding extension until lawmakers finish the tax bill.
Defense vs. domestic spending: Democrats could make trouble if a funding bill includes a big boost for defense spending, but nothing for domestic programs.
CHIP funding: The Children's Health Insurance Program has expired, and Republicans had said the year-end bill was where its funding would be extended — but they still haven't figured out how to pay for it. Expect pushback from Democrats, and maybe governors, if it doesn't happen.
ACA payments: Republican Sen. Susan Collins wants two fixes for the Affordable Care Act — a bipartisan renewal of payments for insurers and a separate set of "reinsurance" funds — as a condition for her to vote for a final tax bill. That could cause problems if the House doesn't go along, which it probably won't.
One more thing: A larger problem, Dyer said, is "the general level of rhetorical excess" — partly driven by the White House.
His point: Most of the problems are solvable. It just takes cooler heads.
https://www.axios.com/newsletters/axios-sneak-peek-f3917ceb-3ce8-4c7f-9222-38e5a493b11f.html?chunk=4#story4
5. A big thing to watch in tax conference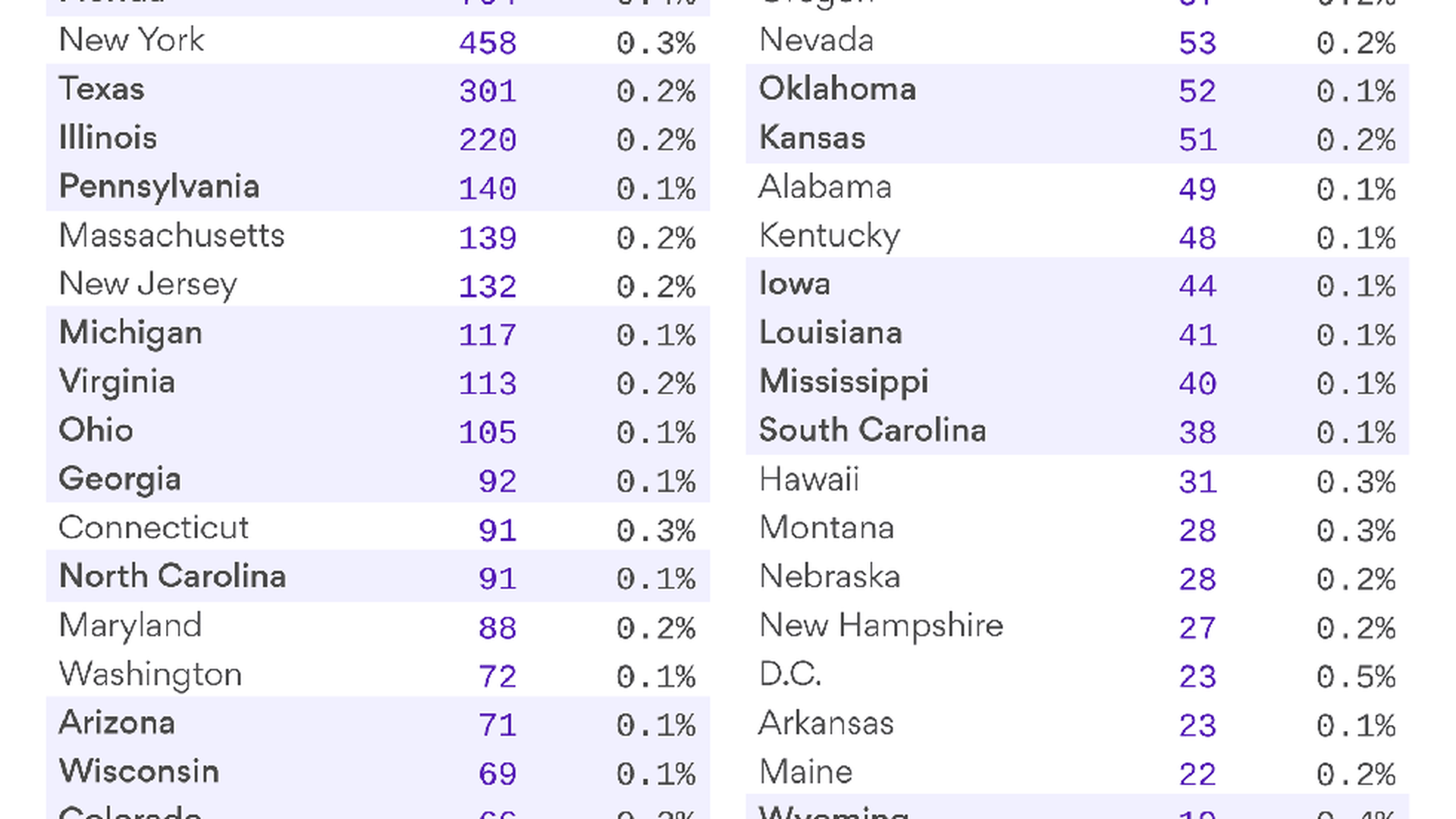 Watch how the conference report handles the estate tax, and how the GOP messages it, Axios' Caitlin Owens tells me:
Many Republicans really want it gone. But it's not easy politics to advocate for tax relief for the richest estates in the country. And in some states, the number of beneficiaries is only in the double digits.
Other big issues to watch:
Whether the corporate rate is raised above 20%.
The top individual tax rate.
Whether the corporate and individual alternative minimum taxes are fully repealed.
https://www.axios.com/newsletters/axios-sneak-peek-f3917ceb-3ce8-4c7f-9222-38e5a493b11f.html?chunk=5#story5
6. The shows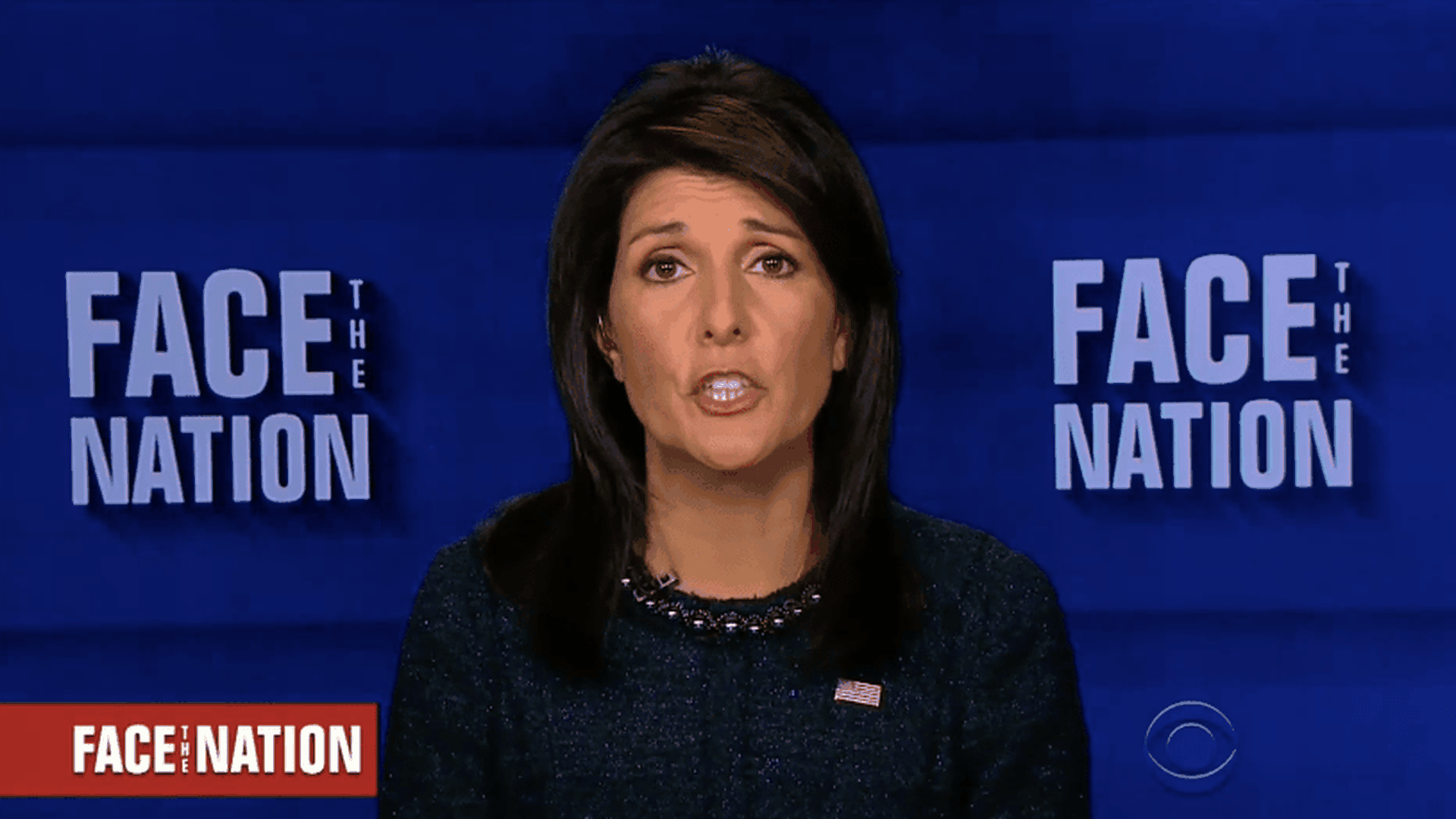 Diverging from the White House line, U.N. Ambassador Nikki Haley said on CBS' "Face the Nation" that the women accusing President Trump of sexual harassment and assault "should be heard":
"I know that he was elected. But, women should always feel comfortable coming forward and we should all be willing to listen to them."
Axios' David Lawler points out that White House Press Secretary Sarah Sanders has denied the dozen-plus claims, and said Thursday that "the people of this country addressed" the allegations when they elected Trump.
And on "Meet the Press": Sen. Bernie Sanders warned against "jumping the gun" in pursuing impeachment charges against Trump: "I think there is a process that has to be followed."
https://www.axios.com/newsletters/axios-sneak-peek-f3917ceb-3ce8-4c7f-9222-38e5a493b11f.html?chunk=6#story6
7. Sneak Peek Diary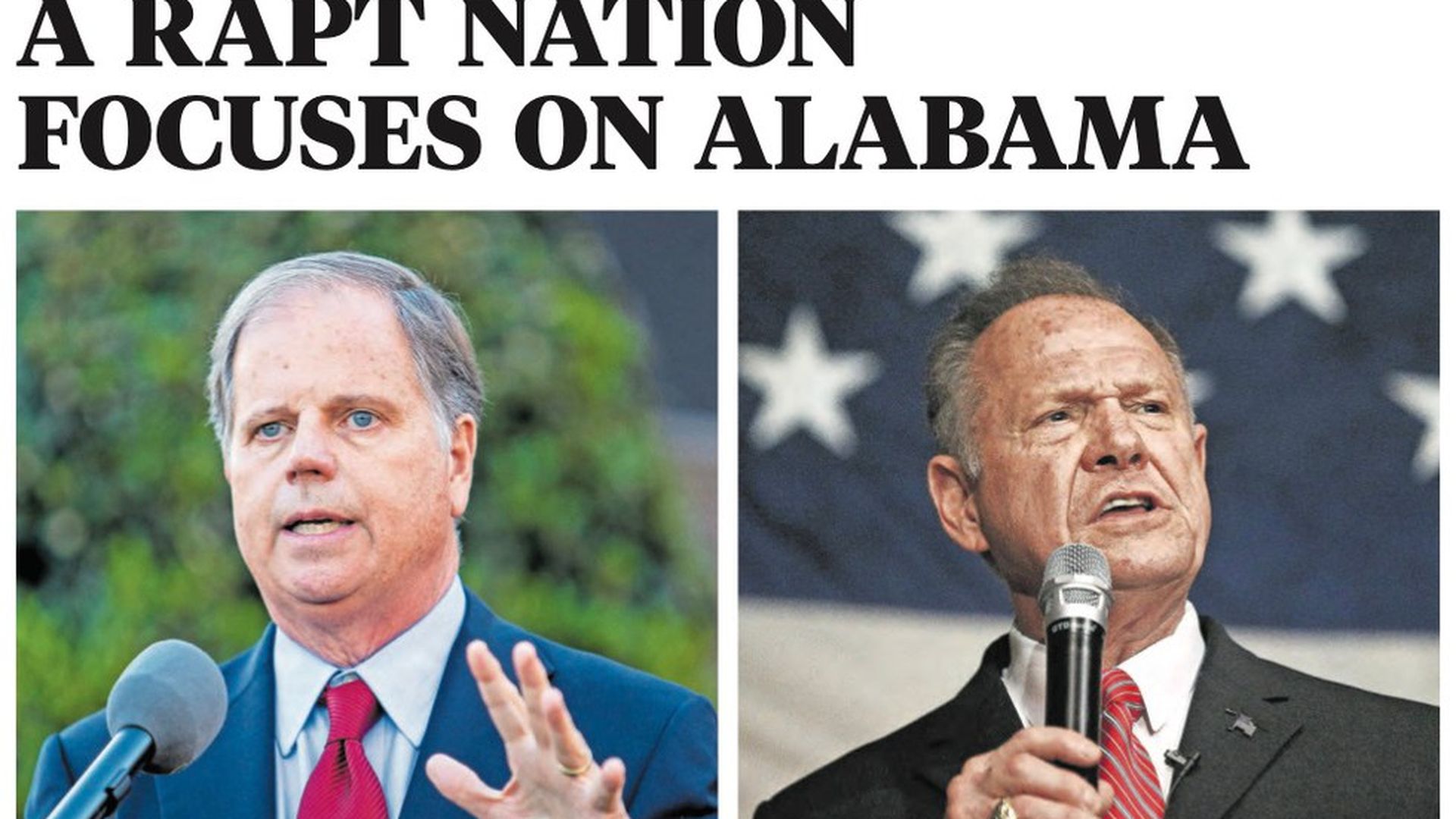 Monday: President Trump holds a Space Policy Directive signing ceremony.
Tuesday: Polls are open in Alabama's special election, 8 a.m. to 8 p.m. ET. ... Trump signs the National Defense Authorization Act for FY 2018.
Wednesday: Tax conference committee public hearing. This isn't where the actual decisions will be made — look for mostly just statements. But if there are major issues Republicans haven't solved by this point, this is where they could spill out into the open.
Thursday: The FCC votes on whether to repeal net neutrality rules. A repeal could allow internet providers to block or slow down content, or charge more for content like streaming video.
Friday: Last day of open enrollment for Affordable Care Act coverage for 2018. Spoiler alert: It's likely to be way down from last year.
https://www.axios.com/newsletters/axios-sneak-peek-f3917ceb-3ce8-4c7f-9222-38e5a493b11f.html?chunk=7#story7
8. One ad thing: They wanted to dance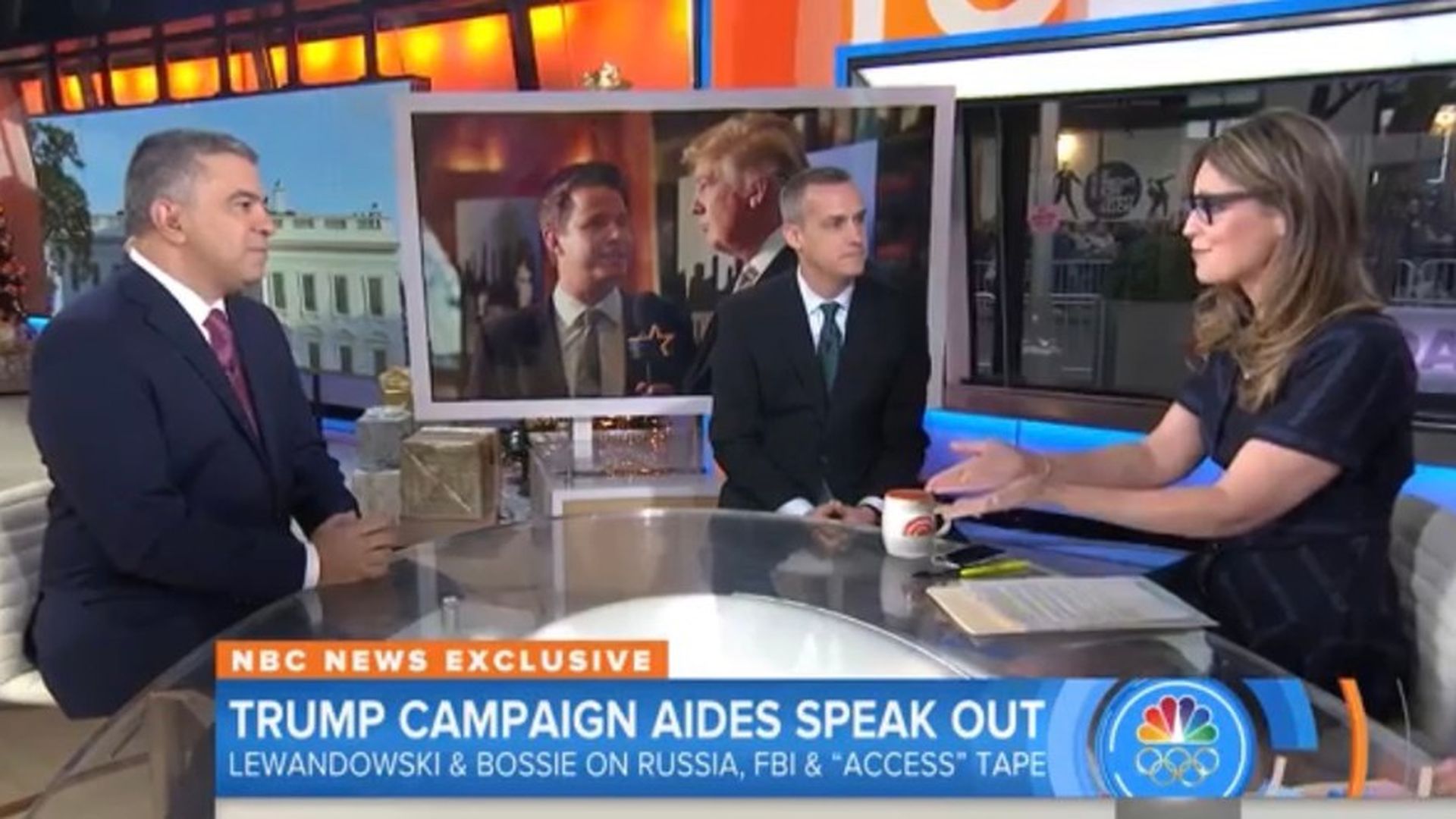 Anyone who sells — an idea, a candidate or a product — will be interested in debating this passage from "Let Trump Be Trump," the new book by campaign insiders Corey Lewandowski and David Bossie:
Early on in his time with us on the campaign, [digital director] Brad Parscale went to Mr. Trump and Jared [Kushner] and made this analogy: Imagine, he said, two television screens. The one on the left is a commercial for a new personal music device. The device is open so you can see its inner workings. It is a marvel of engineering. You can also see how sleek it looks on the outside, and the gold plating where you plug in the headphones.
The scene on the right has only a silhouette of a woman with long, curly hair dancing while listening to the device. The tagline is, "iPod, this is how it's going to make you feel."
Brad was new to politics. ... But he had been in the Web design business for many years, and he knew what sold and what didn't.
"The people want to know how it makes them feel," he said. "They want to buy the dance."
If Donald Trump was Twitter, then Hillary Clinton was LinkedIn. Her online presence was filled with long descriptions of stances and policies. ... She was the television screen on the left. But people ... didn't want a scripted intellectual connection. They wanted a visceral one. ... Trump ... made them dance.