Axios Sneak Peek
November 12, 2017
Welcome to Sneak Peek, our weekly lookahead for both ends of Pennsylvania Avenue. I'd love your tips and feedback: [email protected]. And please urge your friends and colleagues to join the conversation by signing up for Sneak Peek.
1 big thing: Immigration stare-down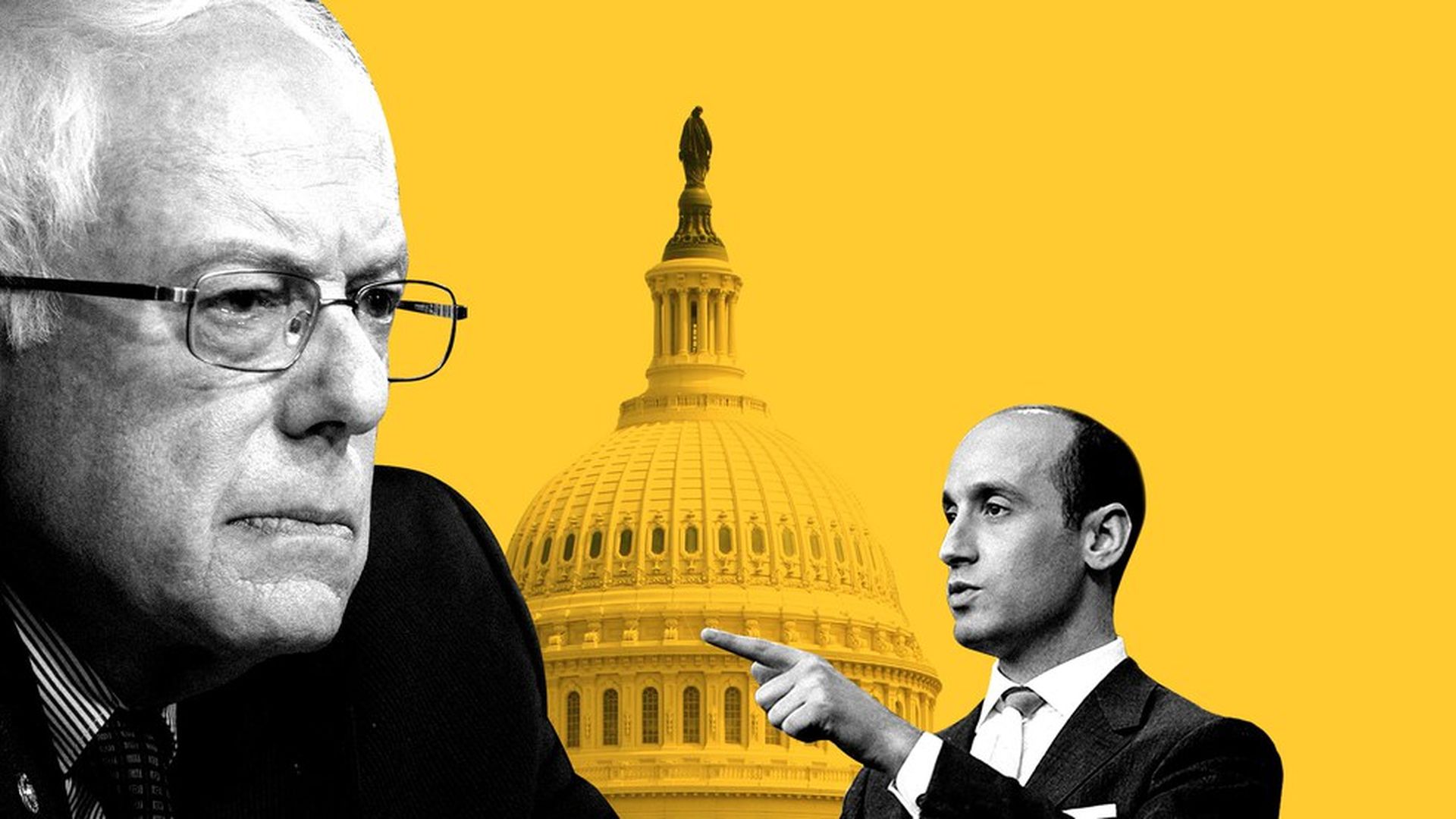 Behind closed doors, and very quietly, lawmakers from both wings of both parties are scrambling to save DACA — a program that has protected from deportation nearly 800,000 young illegal immigrants who were brought to the U.S. as children.
As improbable as it sounds, it currently appears that the Bernie Sanders wing of the Democratic Party has more leverage than the Stephen Miller wing of the Republican Party when it comes to DACA.
Obviously this could change. Nothing is solidified. But based on conversations with White House sources, top Hill aides from both parties, and immigration-restrictionist power-brokers, we have concluded that, at the moment, progressive Democrats hold a superior negotiating position to immigration hardliner Republicans.
This is because, on the DACA issue, President Trump has already blinked. Both publicly — in a Sep. 5 tweet, when he hinted he may reinstate DACA unilaterally if Congress can't save it — and privately, the president has indicated he doesn't have the stomach to let DACA die.
One conservative member of Congress, who has discussed DACA with the president, told me Trump made very clear to him he was prepared to keep the protections in place beyond March — when the program is currently set to expire — if Congress does nothing.
Roy Beck, an influential immigration hawk who runs NumbersUSA, said Trump's nominee for DHS Secretary, Kirstjen Nielsen, further reduced the administration's leverage last week when she assured in her confirmation hearing she would protect DACA recipients. "This doesn't strike me as being from the art of negotiations book, does it?" Beck told me.
Stephen Miller, one of the White House's only immigration hardliners, is telling conservative activists that Trump will back legislation giving current DACA recipients legal status — aka amnesty — in exchange for legislation ending chain, or family, migration. And Miller doesn't want the must-pass December spending bill to include a DACA fix.
That appears to be a non-starter. Top Democratic Senate aides have told me they think it's hilarious that Miller thinks he can get this deal, and that chain migration isn't going anywhere.
Where that leaves us:
Congress must pass a spending bill by December 8. Bernie Sanders and other Democrats expected to run for president in 2020, including Kamala Harris, are effectively threatening to shut down the government over the issue — saying they won't vote for any spending bill unless it protects DACA recipients.
Democrats are confident Trump won't have the stomach to let DACA expire.
Democrats in leadership think this means that, despite Miller's opposition, they will be able to include a pathway to citizenship for DACA recipients in that must-pass spending bill.
In exchange, they say they may allow modest increases in border security measures. But nothing that could reasonably be described as a "big beautiful wall" along the southern border.
Just to reiterate: Everything is up in the air. But the above scenario seems the most likely outcome, since it would placate both progressives and moderate Republicans.
Bottom line: Despite the fact that Donald Trump became president running on a historically anti-immigration platform — promising to end DACA on Day One, build a wall, and slash legal immigration — it currently looks like Capitol Hill and the White House may find a solution that would make Jeb Bush proud.
2. Breitbart aims to discredit Moore's accusers
Steve Bannon has sent two of Breitbart News' top reporters, Matt Boyle and Aaron Klein, to Alabama. Their mission: to discredit the Washington Post's reporting on Roy Moore's alleged sexual misconduct with teenagers.
A story that popped today — splashed over the Breitbart homepage — contains what the website claims is a major hole in the account of Leigh Corfman, who says Alabama Senate candidate, Moore, made sexual advances on her when she was 14 years old.
Klein reports from Birmingham, Alabama: "Speaking by phone to Breitbart News on Saturday, Corfman's mother, Nancy Wells, 71, says that her daughter did not have a phone in her bedroom during the period that Moore is reported to have allegedly called Corfman – purportedly on Corfman's bedroom phone – to arrange at least one encounter."
Why this matters: It's quite a head-scratcher as to why Breitbart thinks this bedroom phone detail matters. As Corfman's mother told Breitbart "the phone in the house could get through to her easily." Wells stands by her daughter's allegations. But the fact Breitbart is running stories like this shows the extremes to which it may go to discredit Moore's accusers.
Bottom line: This story is about to get even uglier, if that's imaginable. I expect more counter-attacks will play out in Breitbart News and other outlets over the coming days.
Another hard truth: Many Alabama voters hold the mainstream media in such low regard that they've dismissed the Washington Post's reporting entirely.
For a dose of this reality, check out this man-on-the-street segment from an ABC Alabama affiliate. Political reporter Lauren Walsh said: "Out of all the voters we spoke with Friday in Columbiana, we didn't find one voter who believed the Washington Post report about Moore."
And, for more on this theme, read the quotes in this NBC News report from Prattville, Alabama. The most shocking quote: "Inside the store, a man who declined to give his name said, 'This is Republican town, man. (Moore) could have killed Obama, and we wouldn't care.'"
3. What's next for climate policy
Axios' Ben Geman reports that the White House team at the United Nations climate conference in Bonn, Germany, does not plan to discuss conditions under which the U.S. might remain in the Paris climate deal.
A White House official told reporters on a conference call: "We are not going to address that issue ... We don't plan to talk about what those options could be ... I don't anticipate having delegations approach us and really try to get into that kind of discussion."
Why it matters: The world has little idea what President Trump means when he says he might be willing to keep the U.S. in the 2015 agreement if he can negotiate a better deal. As we reported here, the administration has yet to put meat on the bones of the idea.
The official described it as a head-of-state level issue that's beyond what the U.S. plans to tackle at this session of the annual U.N talks.
What's next: The White House is hosting a meeting at the conference tomorrow to promote more efficient global use of fossil fuels, as well as nuclear power. The goal is a "pragmatic" discussion of how to address global warming while boosting energy security, economic growth and access to affordable power, a White House official said.
Yes, but: The White House faces strong criticism for the refusal of Trump and some other top administration officials to acknowledge the scientific consensus on human-induced global warming, and for abandoning Obama-era climate policies and rules.
Big picture: Asked whether reducing global greenhouse gas emissions is a priority for the Trump administration, the official said it's a "lesser priority" than energy security and economic development, but added that it's "still a priority."
Note: Axios reporter Amy Harder is in Bonn reporting from the U.N. climate conference. She'll have more on the talks and the U.S. posture in her Harder Line column tomorrow morning. Get it directly in your inbox by signing up here for Generate, our daily newsletter on energy.
4. Sneak Peek diary
POTUS: The president is still on his historically long Asia trip. He'll be in the Philippines Monday and Tuesday for bilateral meetings with President Duterte and to attend the ASEAN Summit in Manila. Trump is scheduled to arrive back at the White House Wednesday evening.
In the House: GOP House leaders have told members they'll start the whip check on the tax reform bill on Monday night during votes. There's momentum behind this bill, but a lot of members in high-taxed blue states remain nervous about the crackdown on the state and local deductions. (The most worrisome members come from New York, New Jersey and California.)
In the Senate: The Senate Finance Committee will begin marking up the Senate tax bill on Monday and the committee is expected to approve the bill this week on exclusively Republican votes.
On the horizon: Trump is expected to pardon the White House turkey on Nov. 21, and he's then expected to spend Thanksgiving at Mar-a-Lago, according to a source familiar with his schedule.
5. 1 fun thing: Carlos and the Mystery of the Giant Scroll
The White House has gotten much less leaky since Gen. Kelly took over. But behind the scenes, lots of wacky stuff still happens.
A few weeks ago, more than a dozen senior officials gathered for a meeting in the White House's windowless Roosevelt Room. Kirstjen Nielsen, then Kelly's top deputy and now the pick to head DHS, was presiding, under the watchful eyes of the historic Teddy Roosevelt portrait.
Then in trundled Director of Policy and Interagency Coordination Carlos Diaz-Rosillo. He made a dramatic entrance, lugging what a source described as a "4 foot by 30 foot scroll."
The scroll was so hefty that Diaz-Rosillo had to recruit Peter Navarro, Trump's white-haired and wiry trade adviser, to help him haul it in.
Diaz-Rosillo and Navarro clumsily unfurled the giant scroll, as more than a dozen officials stared on non-plussed. Our sources say it was hard to discern the markings on the scroll; it appeared to be a byzantine array of lines, words, and empty boxes.
Diaz-Rosillo had an explanation, though, according to one source:
"This is to help with strategic communications," he announced.
The room fell silent.
After a few moments, Nielsen asked Diaz-Rosillo to explain the scroll to the group in an email.
Our sources have yet to see that email, or to solve the mystery of the giant scroll. We will update you if they do.