Axios Generate
September 19, 2017
Good morning and welcome back to Generate. Your host is pretty psyched for Sunday's Berlin Marathon, where the world record might fall and there's a great chance of a great race regardless. Letsrun.com sets the table here.
Ok, let's get to energy news . . .
Trump's asking price for Paris: unknown
Into the great wide open: The recent burst of attention toward the White House posture on the Paris climate deal has underscored two basic things...
President Donald Trump is absolutely still planning to bail, something the White House reiterated multiple times yesterday.
The administration also insists that the door remains open to staying in the pact if the U.S. can secure better terms.
So... Here's the thing about the second point, which the U.S. has been stating since June: Nobody knows what this means, and the Trump administration won't say, instead defaulting to the most general of generalities.
Why this matters: The information void makes it impossible, for now, for the international community to assess whether there's really a pathway here, and indeed whether it's one worth walking down.
Case in point: Paris surfaced in yesterday's meeting between Trump and French President Emmanuel Macron. State Department advisor Brian Hook, briefing reporters on the sidelines of the U.N. meeting in New York yesterday, said that Trump reiterated that the agreement is unfair to the U.S., and bad for its workers and economy. But he declined to offer any specifics about what it might take for the U.S. to remain in the deal.
Between the lines: It's one thing to avoid details in a press conference. But they're not emerging behind the scenes either. Nobody your Generate host has spoken with has picked up on any signs of a tangible position behind the White House claim that the U.S. is open to staying on more favorable terms (especially given that the agreement is largely nonbonding and countries set their own emissions targets anyway).
A spokesperson for Miguel Arias Canete, the European Union's climate action commissioner, confirms to Axios this morning that "No detail or information has been given [from the Trump administration]."
One expert notes:
"Until such time as the Trump administration is more clear about what it means, there won't be a lot of efforts by the international community to read his mind about what it will take to make the president like the Paris agreement," says Nigel Purvis, who worked on climate at the State Department under Bill Clinton and George W. Bush and later advised Barack Obama's 2008 campaign.
However, there's little to suggest that the administration is putting more meat on the bones of its policy.
"There's no real evidence that they are actively pursuing that theoretical opening that the president provided," Purvis, the CEO of the consulting firm Climate Advisers, tells Axios. "There has been no cabinet-level or high-level process to define 'the ask' of the international community."
On my screen: Power sector deals and analyses
Total's latest: The France-based global oil giant Total announced Tuesday that it's spending 237.5 million euros for a 23% share in the renewable power company EREN RE, a deal that could lead to fully taking over the company in several years.
Too smart: Greentech Media breaks down a new deal in the smart grid and smart city market as Itron announces plans to buy Silver Spring Networks in a $830 million transaction. "Monday's surprise merger would create a company with more than 90 million smart endpoints deployed with some of the world's biggest utilities," they report.
Coal's future: A detailed, chart-heavy new story in The Financial Times looks at why efforts to revive the coal industry's long-term future face stiff headwinds.
One of many interesting stats: "In 2013, the US Energy Information Administration projected that world coal demand would rise 39 percent by 2040. Now it is expecting growth of just 1 percent."
Warning: A new report from the consulting firm IHS Markit warns of the economic costs of the U.S. power system's move away from coal and nuclear power.
It suggests policy changes that better value and compensate resilience. It points to nuclear's role as a carbon-free resource to balance out mandates and subsidies that reward renewables specifically.
The research was funded by the Edison Electric Institute, which represents investor-owned utilities, as well as the Nuclear Energy Institute and the U.S. Chamber of Commerce.
Amy's notebook: What Montreal can teach Paris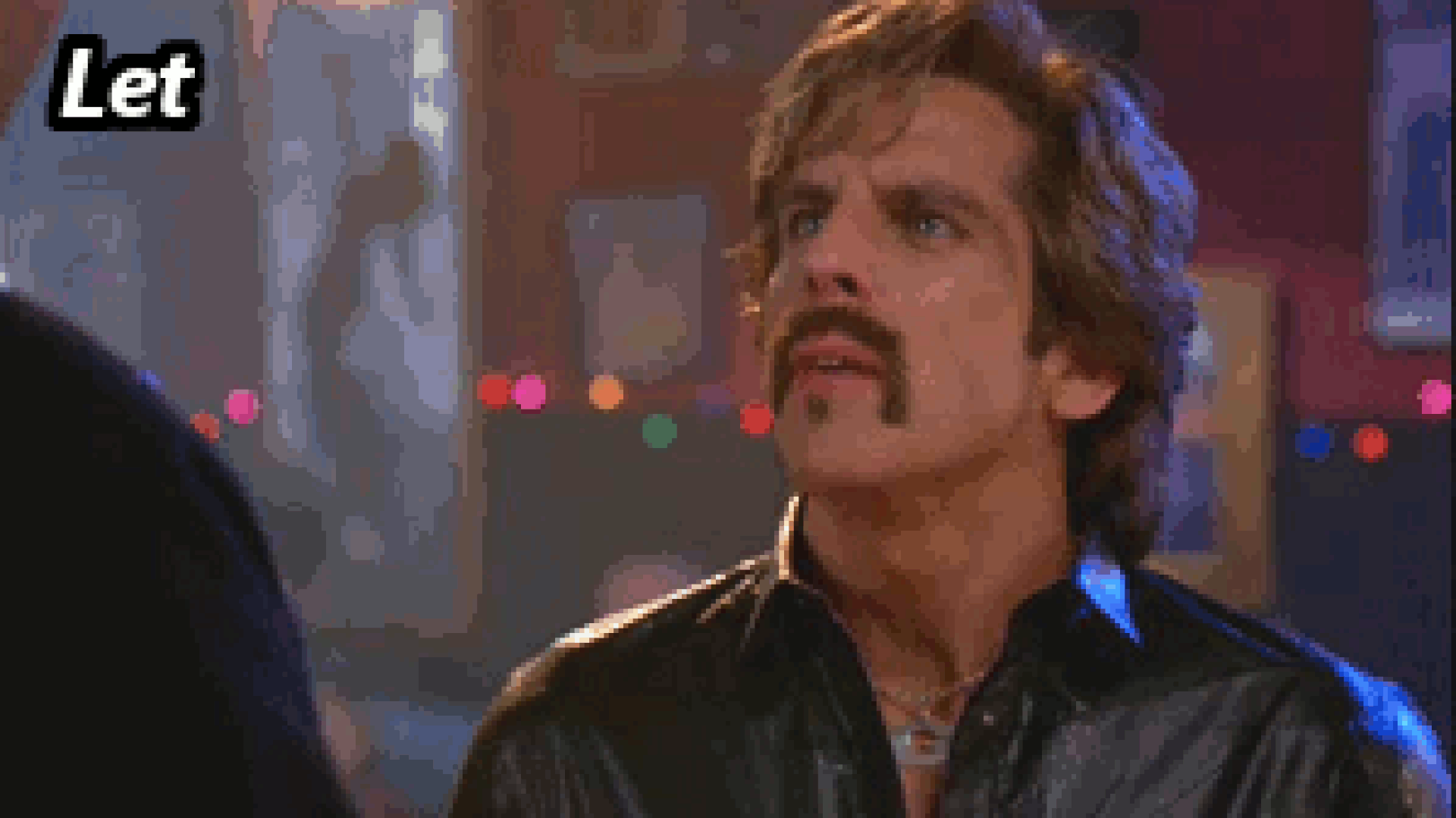 My colleague Amy Harder compares global environment agreements struck three decades apart...
The 30-year-old Montreal Protocol offers a glimpse into how global environmental accords can be done in a more enduring way than the Paris climate deal.
Why this matters: While the rumors churn about what President Trump might do with the mostly voluntary Paris deal, action quietly carries on with the legally binding Montreal Protocol, as reported in the latest Harder Line column yesterday.
Two big differences:
1. Political process: The Senate voted to approve the underlying Montreal treaty. The same must happen with an amendment agreed to last year in Kigali, Rwanda, which phases down powerful greenhouse gas emissions called hydrofluorocarbons. On the other hand, President Barack Obama had agreed to the Paris climate deal without input from Congress (because he knew he wouldn't get it).
"A big part of the frustration on Capitol Hill about the Paris deal is the way they were treated by the previous administration," says Kevin Fay, executive director of the Alliance for Responsible Atmospheric Policy, an industry trade group representing companies like Honeywell, Arkema, Carrier, and Johnson Controls.
2. Smaller bites: The Montreal Protocol tackles one sector and a narrower batch of emissions. With climate change and all of the global efforts that have tried to tackle it so far, emissions are ubiquitous and come from almost everything human life depends on. Companies have more certainty in the Montreal Protocol than they do in the Paris deal.
"We haven't pursued a sectoral agreements as aggressively as I think we should have," says Durwood Zaelke, founder and president of the Institute for Governance & Sustainable Development, an environmental group. "If you have a sectoral approach, you can quickly address competitive issues."
Oil market notes
Shale snapshot: The Energy Information Administration's latest report on shale oil and gas forecasts that crude oil production from these plays will grow by another 79,000 barrels per day next month to reach 6.08 million barrels per day, largely driven by ongoing rise in production from the Permian Basin in Texas.
Hurricane Harvey crimped output in the Eagle Ford region to some degree, which led to a downward revision of production there.
Why it matters: The ongoing growth of shale oil production even at modest oil prices has shaken up world oil markets and poses a huge challenge to OPEC and petro-states, notably Russia. EIA forecasts that total U.S. crude oil production will average 9.8 million barrels per day next year, breaking the annual average record set in 1970.
Go deeper: CNBC looks closely at the latest shale snapshot here, noting that the projected October production is "the first time in seven months EIA's growth forecast came in below 100,000 barrels a day." And looking much further ahead, the latest edition of the Platts Capitol Crude podcast explores how high U.S. crude production might ultimately rise. Hint: the limiting factors in the next few years are economic, not technical.
Latest in trading: Reuters reports that oil is trading near its highest prices in five months on Tuesday "after fresh data showed key Middle Eastern producers continued to cut supply in line with an OPEC-led deal aimed at ending a crude glut."
So hot right now: 2017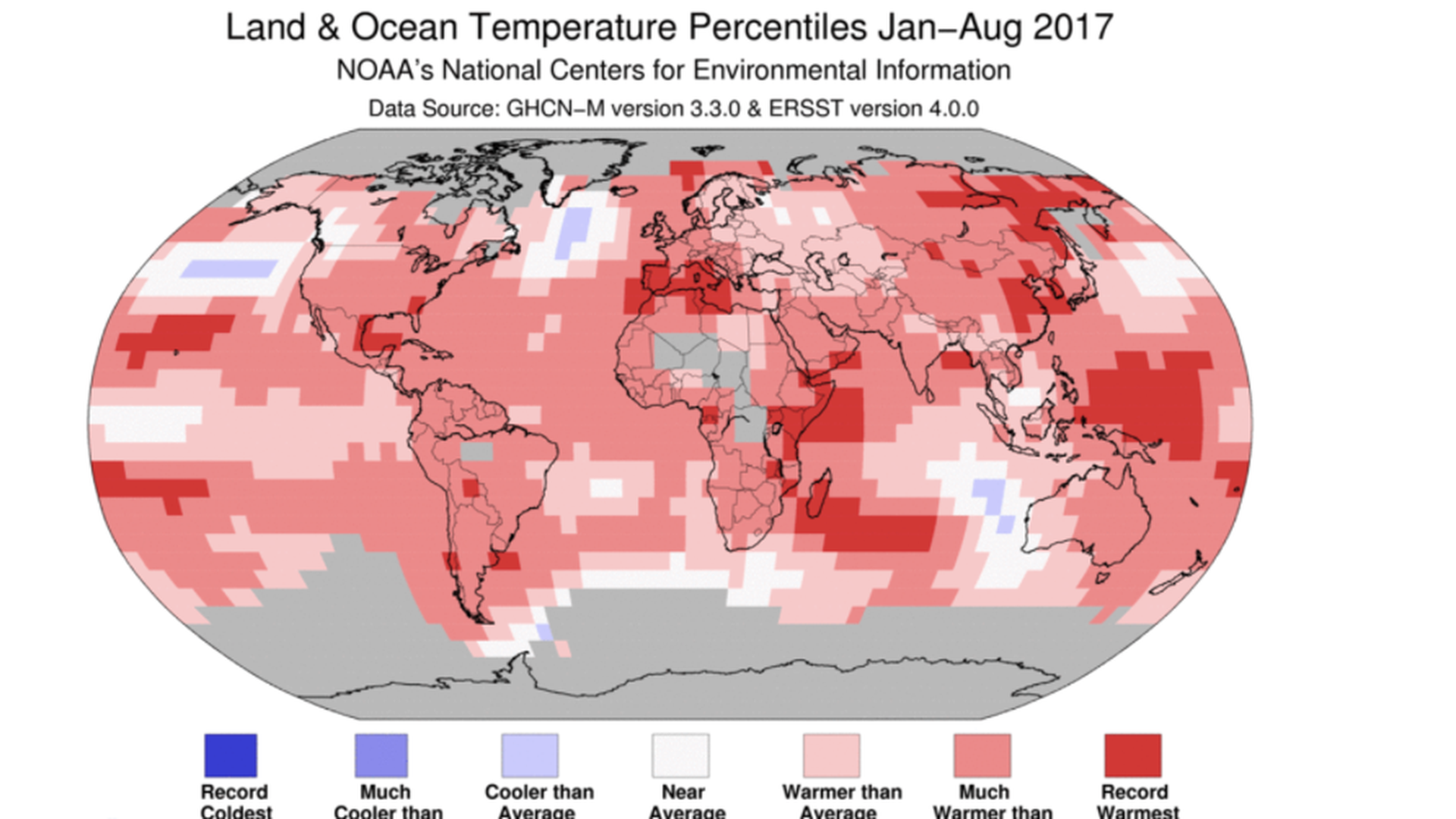 New data: Average global temperatures on planet Earth for the first eight months of the year make 2017 the second-warmest in the modern temperature record that dates back to the late 1800s, trailing only 2016, according to National Oceanic and Atmospheric Administration data released Monday.
The year to date has been 1.58°F above the 20th century average.
Why it matters: The latest evidence of a warm planet arrives amid intense focus on global climate change policy as the Trump administration abandons its predecessor's emissions rules and reiterates its plans to abandon the Paris climate deal (more on that above).
Go deeper: A few other data points in NOAA's latest global snapshot...
It was the third warmest August in the records going back to 1880 behind 2016 and 2015, and the summer (June-August) was also the third warmest behind those years.
The average reach of Arctic sea ice was 683,000 square miles, or 24.3%, below the 1981–2010 average, and it was the third smallest extent since tracking of this metric began in 1979, NOAA said.
The extent of Antarctic sea ice last month was 3.6% below the 1981–2010 average, making it the second smallest on record.
Science corner: Hunting oil with seismic guns kills scallops
My Axios colleague Erin Ross reports...
Blasts from seismic air guns used to search for oil and gas beneath the ocean floor increase the death rate in scallops and change their behavior, according to a study published Monday. The U.S. Atlantic scallop fishery raked in $546 million dollars in 2012, making it one of the most lucrative in the country.
Why it matters: The Trump administration's plan to allow oil and gas exploration in Atlantic coastal areas has re-ignited a decades-old controversy about the impacts of tools like seismic airguns. This research means opposition may not just come from environmental groups and marine mammal advocates, but the shellfish industry as well.
Click here for the rest of the story in the Axios stream.