Axios Sneak Peek
February 02, 2020
Welcome to Sneak Peek, our weekly lookahead from both ends of Pennsylvania Avenue, plus our best scoops.
📡 Tell your friends to sign up free for their weekly Sneak Peek!
Tonight's newsletter is 2,027 words, < 8-minute read.
1 big thing: Trump's sense of invincibility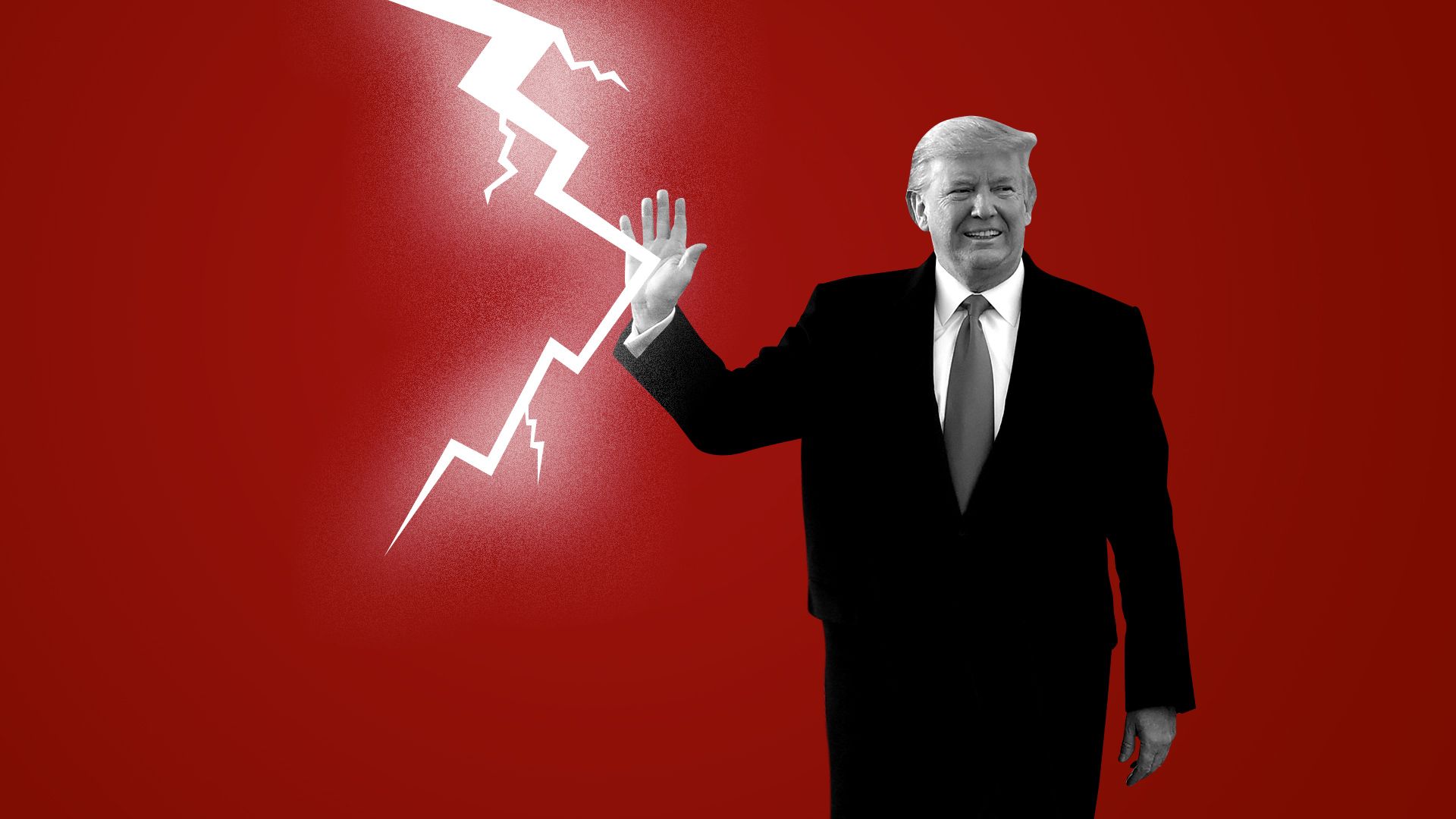 President Trump often says he's the smartest person in the room on virtually every topic. Now, after taking several risks on what he privately calls "big shit" and avoiding catastrophe, Trump and his entire inner circle convey supreme self-confidence, bordering on a sense of invincibility.
Three years into Trump's presidency, their view is the naysayers are always wrong. They point to Iran, impeachment, Middle East peace. Every day, Trump grows more confident in his gut and less deterrable.
Over the last month, 10 senior administration officials have described this sentiment to me. Most of them share it.
Behind the scenes: Trump and his senior aides often cite two decisions as evidence their more experienced colleagues were alarmists.
Withdrawal from the Paris Accord: At the time, many on Trump's foreign policy team said the move would damage relations with allies. In Trump's view, it made no difference and thrilled his base.
Moving the U.S. Embassy in Israel to Jerusalem: Senior members of Trump's team, including then-Secretary of Defense James Mattis, argued against the policy, saying it would further destabilize the Middle East. Trump's aides often reminisce about how wrong Mattis was.

Kushner's team has not telegraphed any qualms about the fact that Palestinian leaders cut off all communication with the U.S. because of the move. He didn't seem to see the blackout as a deterrent to his ability to lay out peace terms between the Israelis and the Palestinians.
Between the lines: Over the past month, Trumpworld's sense of being unbeatable has only grown. This is partly because the president sometimes defines victory in narrow terms, like pleasing the base and juicing the markets.
Trump stunned allies and even many in his own government when he greenlighted the killing of Qasem Soleimani, the commander of Iran's Quds Force. Trump has claimed victory and his aides have said the Iranian response — missile attacks that have yet to kill any Americans — show the warnings of war were baseless. The jury will be out for a while on that, but Team Trump claims vindication.
And last week, Jared Kushner released the long-awaited Middle East peace plan, which the Israelis loved and the Palestinians promptly rejected. But the encouraging statements from some key Arab neighbors bolstered the White House's confidence.
Team Trump's confidence snowballed into the weekend as the Senate voted against witnesses in Trump's impeachment trial and Mitch McConnell set up a Wednesday vote that's expected to acquit the president.
Throughout the impeachment process, Trump ignored the advice of some moderate Republican senators who wanted him to acknowledge the call was inappropriate but not impeachable.
Instead, Trump repeatedly insisted that his call with the Ukrainian president — in which he asked Zelensky to investigate the Bidens — was "perfect."
Trump's attorney Alan Dershowitz channeled his chutzpah when he argued, "If a president did something that he believes will help him get elected, in the public interest, that cannot be the kind of quid pro quo that results in impeachment."
The big picture: Everything we've heard from Trump's aides over the last month suggests he will give less and less credence to voices urging caution.
Per a senior White House official, Trump feels every major gamble he's taken has succeeded despite advisers who were Chicken Littles.
The "Whoa, there" types — including Mattis, Rex Tillerson, Dan Coats and Gary Cohn — are gone. And their replacements tend to trust Trump's gut.
The bottom line: This sense of invulnerability is why the White House thought it could get away with hosting a gathering of world leaders at Trump's private club in Doral.
Trump's choice of Doral for the G7 was one of the few times in recent memory when Republicans got the president to change his mind.
Trump retracted the decision, but an aide told me he was reluctant as he thought his Doral decision was "perfect."
"I swear to God, this guy is the luckiest SOB that's ever lived," said a former White House official who stays in close touch with current officials. "That's not to say he hasn't done right things. But the flip side is, he's one of these away from a massive F-up."
2. Trump-Bloomberg feuding reaches new levels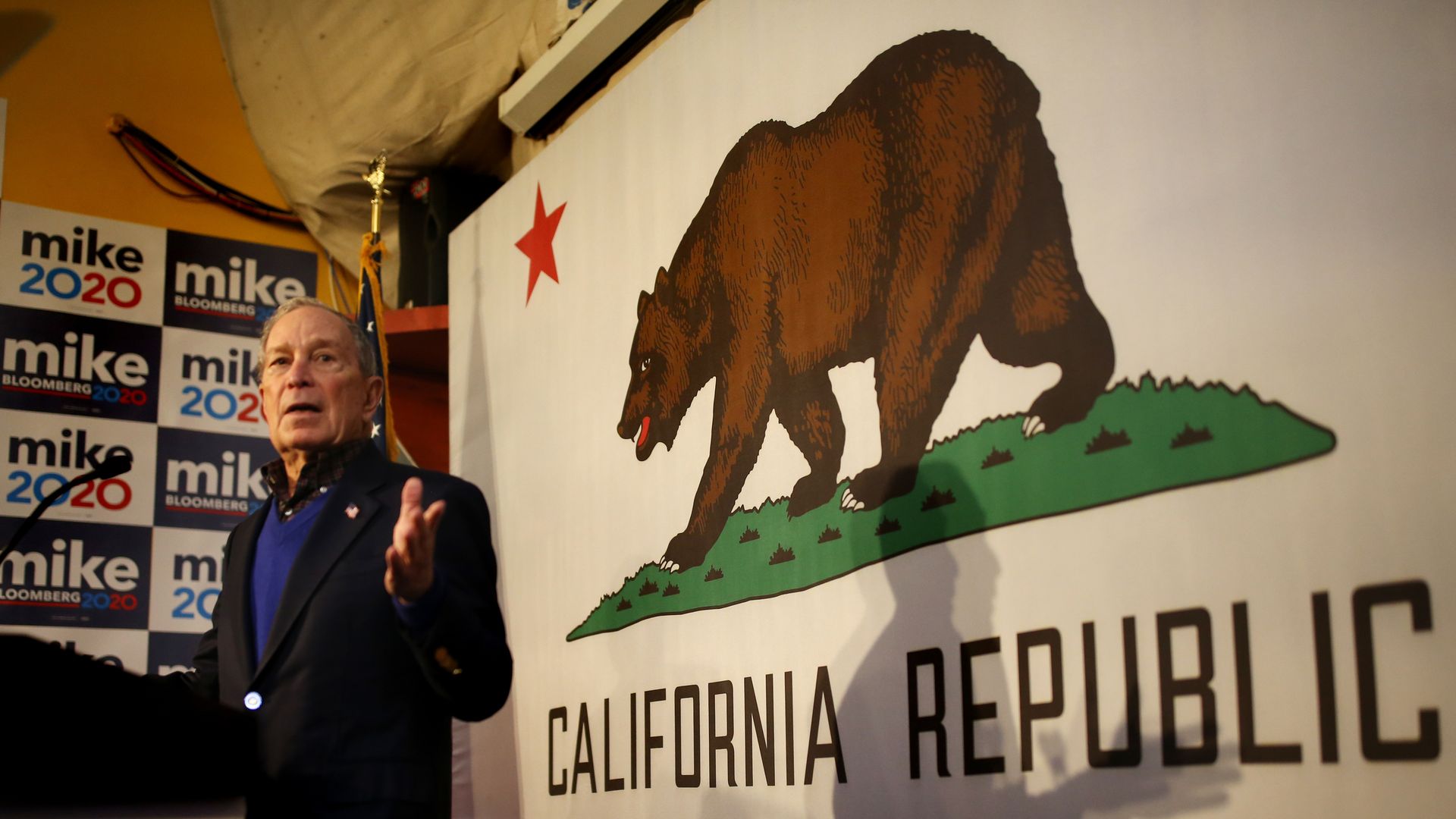 Maybe it was the eye-popping FEC data about Mike Bloomberg's Q4 spending. Or a rivalry over their Super Bowl ads. Or a change to Democrats' rules that may soon allow Bloomberg to participate in the primary debates.
In any case, President Trump raged overnight on Twitter, primarily going after the height of the 5-foot-8 billionaire who's running as a Democrat. And Bloomberg's campaign shot back, hitting Trump for his weight and hue.
Driving the news: Trump tweeted that if Bloomberg qualifies for the next Democratic debate, he'd try to "stand on boxes, or a lift." Trump also accused Bloomberg of getting the DNC "to rig the election against Crazy Bernie," and he vented more in a Sean Hannity interview previewed by Fox News.
Democrats have done away with a required fundraising threshold, which Bloomberg would not meet because he is self-funding. But the new rules require a 10% polling average that Bloomberg hasn't yet met.
The other side: Bloomberg first fired back through his campaign's national press secretary, Julie Wood: "The president is lying. He is a pathological liar who lies about everything: his fake hair, his obesity, and his spray-on tan."
Later, Bloomberg responded directly:
"I will stand on my accomplishments of what I've done to bring this country together and get things done. I've been doing it for a long time. I stand twice as tall as he does on the stage, on the stage that matters."
While skipping the first four states to run an unconventional national campaign, Bloomberg will be jetting around California while the rest of his opponents are in Iowa.
"Iowa and New Hampshire have 65 delegates," said Bloomberg's national spokesperson Galia Slayen. "California, Michigan and Pennsylvania have 726."
I'll be joining Bloomberg on Monday, for stops in Sacramento, Fresno and Compton. On Tuesday, Bloomberg plans to campaign in Michigan and Pennsylvania.
Behind the scenes: Three of President Trump's advisers told me that Trump seems to view Bloomberg as a serious problem. Trump takes Bloomberg more seriously than some of his advisers, including the Trump campaign team, sources with direct knowledge told me.
A senior administration official, who told the president that Bloomberg has no hope of winning the Democratic nomination, said Trump replied: "You're underestimating him."
"He [Trump] thinks that money goes a long way," the official told me.
Another Trump adviser said: "He [Trump] takes money seriously. He's a businessman."
Trump has been lashing out at Bloomberg's constant TV ads, despite some aides advising him to ignore the billionaire who is still polling well below Bernie Sanders and Joe Biden. Trump began his series of tweets about Bloomberg at 12:10 am today.
Kellyanne Conway, counselor to President Trump, said of Bloomberg: "His outsized wealth and outsized ego are matched by his overwrought jealousy and spitefulness towards the president. Jealousy is a dangerous motivator for people, leading them to confuse with a sugar high that money can buy with substance that voters demand to hear."
Bloomberg adviser Howard Wolfson responded to Conway's quote: "History will call to account every single person within this administration who has enabled and abetted this lawless and dangerous president."
"Mike got into this race with the singular goal of defeating Donald Trump and a strategy of contrasting his record of accomplishment with Trump's lies and broken promises," Wolfson added. "Clearly it's working."
Conway responded to Wolfson: "Howard and I have already made history together. His work for Hillary and my work against Hillary helped keep her out of the White House."
Wolfson, who worked for Clinton's losing 2008 presidential campaign but not her losing 2016 campaign, replied, again, to Conway: "And in less than a year we will make history again when Kellyanne and Mr. Trump will have to stand and watch Mike take the oath of office."
At this point, I ended my role as quote mediator.
3. Raising Bernie as Bernie rises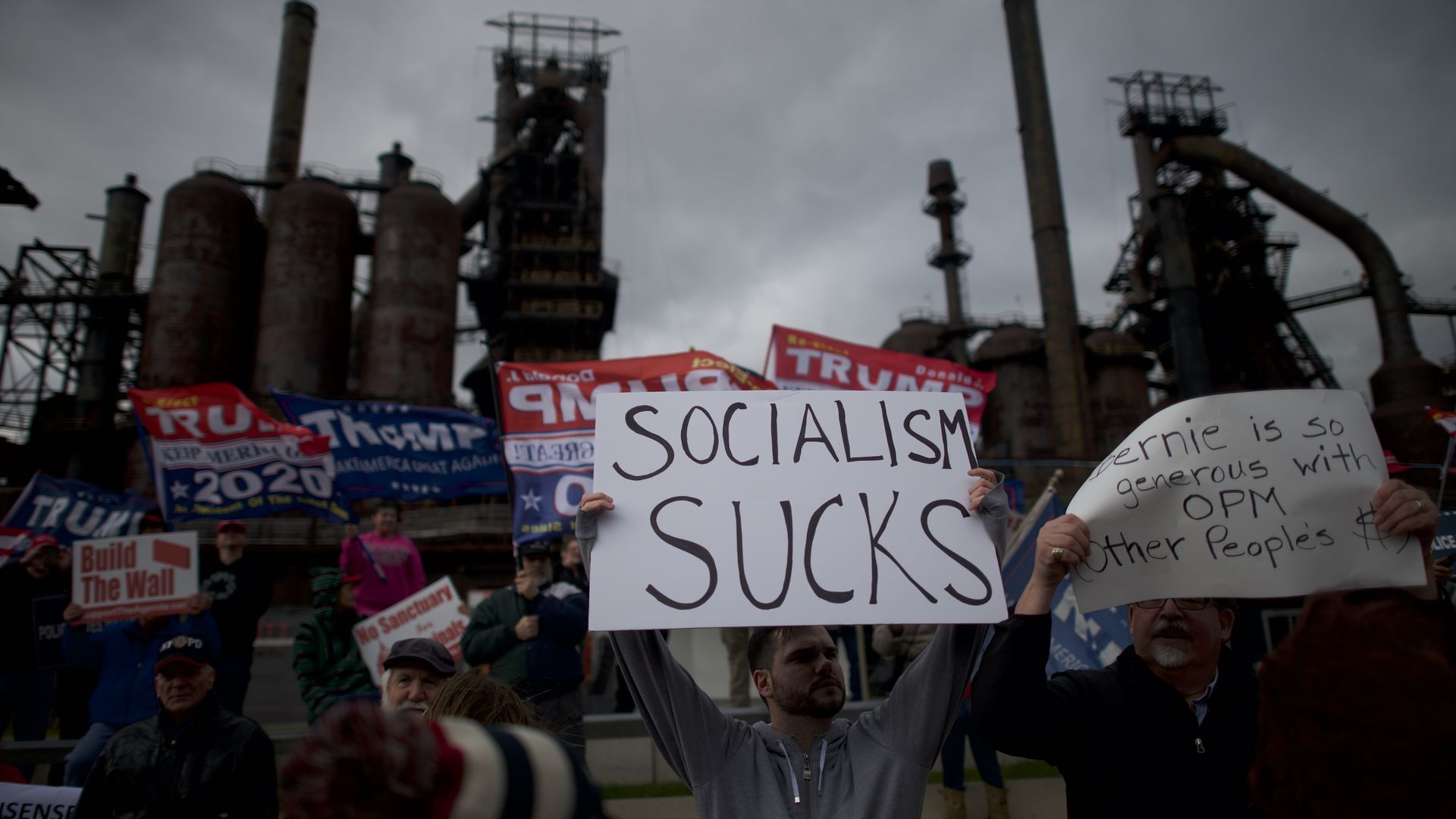 Bernie Sanders has surged to the front of the polls ahead of Monday's Iowa Caucuses. And some of Trump's political advisers say they are doing their best to help him stay there.
Behind the scenes: "We're trying to promote the rise," said a Trump adviser. "The campaign has been pumping up the national messaging behind Bernie, pushing out fundraising emails. When you attack his policies, it gets the media to talk about him."
The adviser said that highlighting Sanders, a self-described Democratic Socialist, helps Trump put the whole field of Democrats under a socialist umbrella.
But a senior White House official told me that even if they agreed it would be nice to face Sanders in the general election, they were skeptical that the campaign had the capacity to help a Democratic candidate win. "We tried it with Pocahontas and look how that went," the official said.
Another senior White House official said the campaign's efforts to elevate Sanders seemed more reactive than strategic.
Between the lines: Trump advisers, including two senior White House officials, told me that elevating Sanders is far from the main reason so many Trump surrogates are going to Iowa. They want to get free media coverage. And it's working, with the Trump team's visit dominating the front page of Iowa's Des Moines Register the week before the caucuses.
A Trump adviser told me they plan to do the same for future Democratic primary contests.
4. Trump's Iowa caucus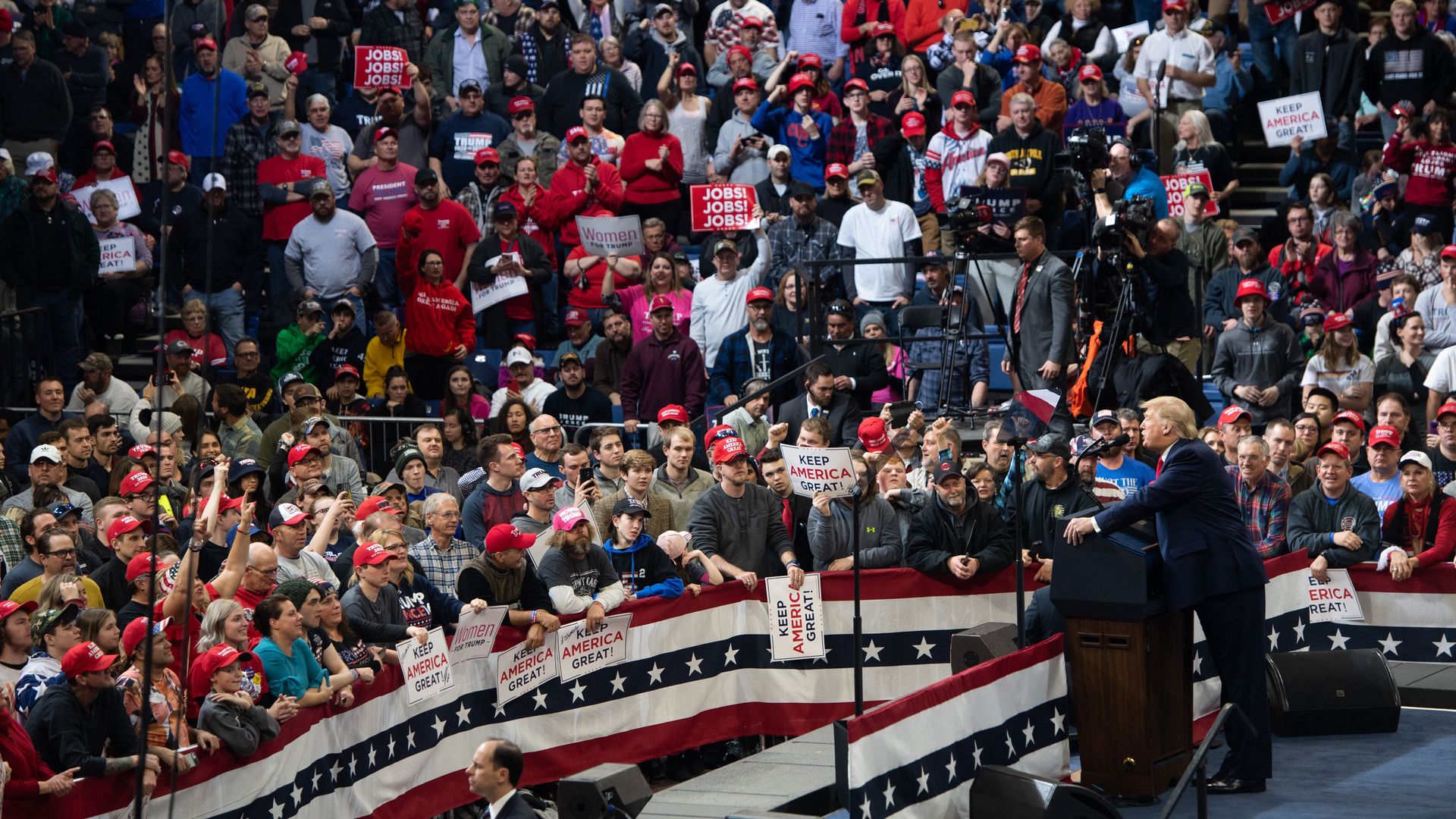 The star guest spotted at a Sheraton in Des Moines in recent days was Elizabeth Warren's golden retriever, Bailey. But in a conference room off the same hotel lobby, Trump campaign operatives have been quietly orchestrating a massive operation for tomorrow's Republican caucuses, Axios' Alayna Treene, Alexi McCammond and Margaret Talev report.
Why it matters: The Trump campaign is using Iowa as a testing ground for the rest of the campaign trail.
It's testing its field program, bandwidth of staff and volunteers on the ground, and the efficiency of its surrogates. Trump rallied in Iowa himself last week, and roughly 80 members of Congress, Cabinet secretaries and administration officials are coming tomorrow.
The campaign said it recruited 2,400 volunteers for caucus efforts alone, holding 93 training sessions and making 125,000 phone calls.
"The caucus is a test of turnout [of volunteers, and staff]," Stephanie Alexander, regional political director for the Trump campaign, tells Axios. "This is a really, really good way for us to see how far we can get and how far our reach is with the staff that we have on the ground and the volunteers that have already committed."
Surrogates: Top surrogates per the Trump campaign: Lara Trump and Donald Trump Jr.
They'll run through Trump's greatest hits throughout different parts of Iowa, particularly the passage of the USMCA and signing phase one of the U.S.-China trade deal, playing straight to the Iowa farmers.
Between the lines: Iowa has a lot of unaffiliated voters, and the Trump campaign plans to focus heavily on voter registration, including converting independent and Democratic voters supportive of POTUS to register as Republicans.
It's also the first opportunity since 2016 for Iowans to affirm their support for Trump.
It's also an important state for Republicans to take seriously, given GOP Senator Joni Ernst is up for re-election and the GOP is eyeing two House seats they lost in 2018.
5. Pic du jour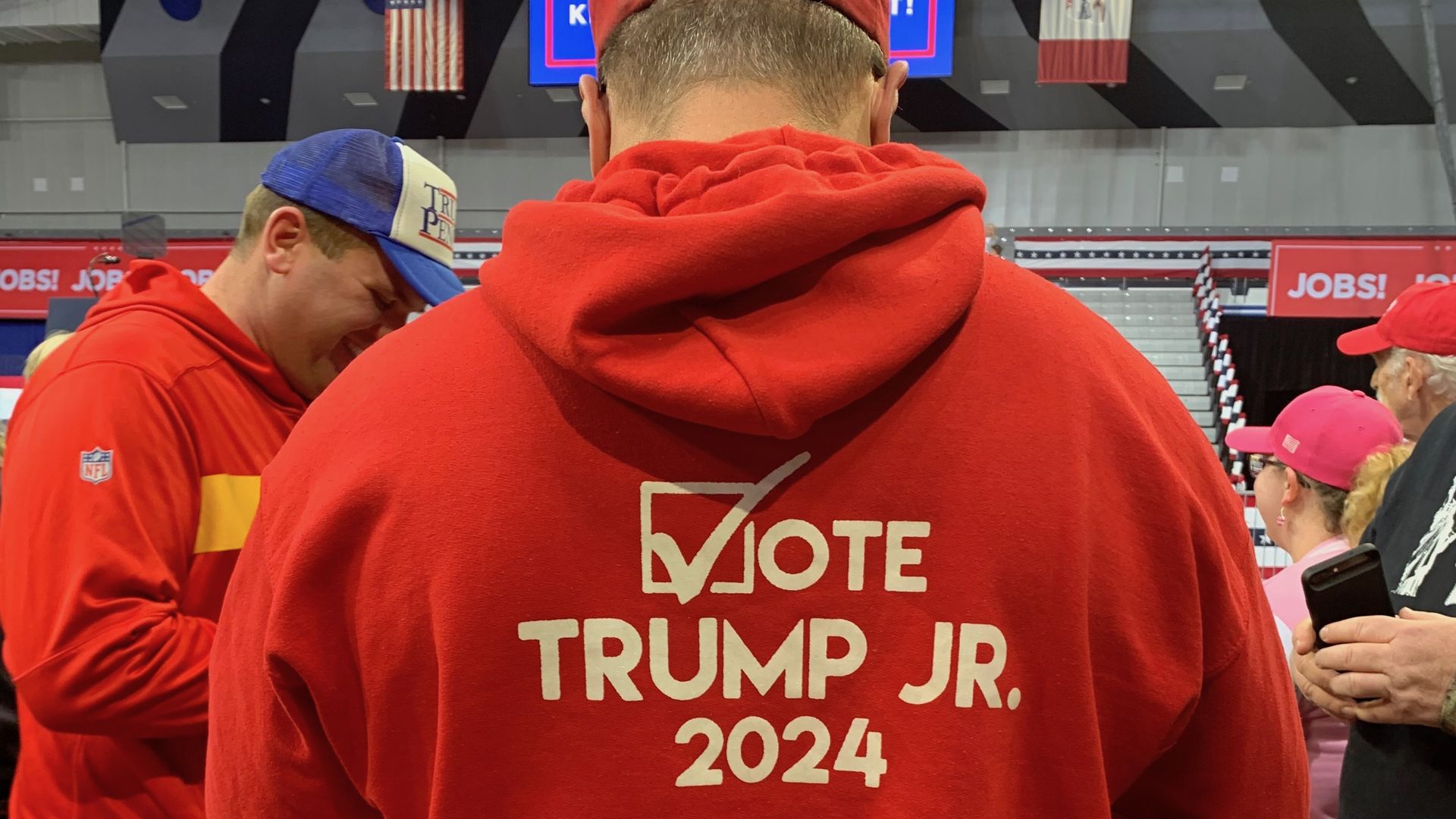 6. Sneak Peek diary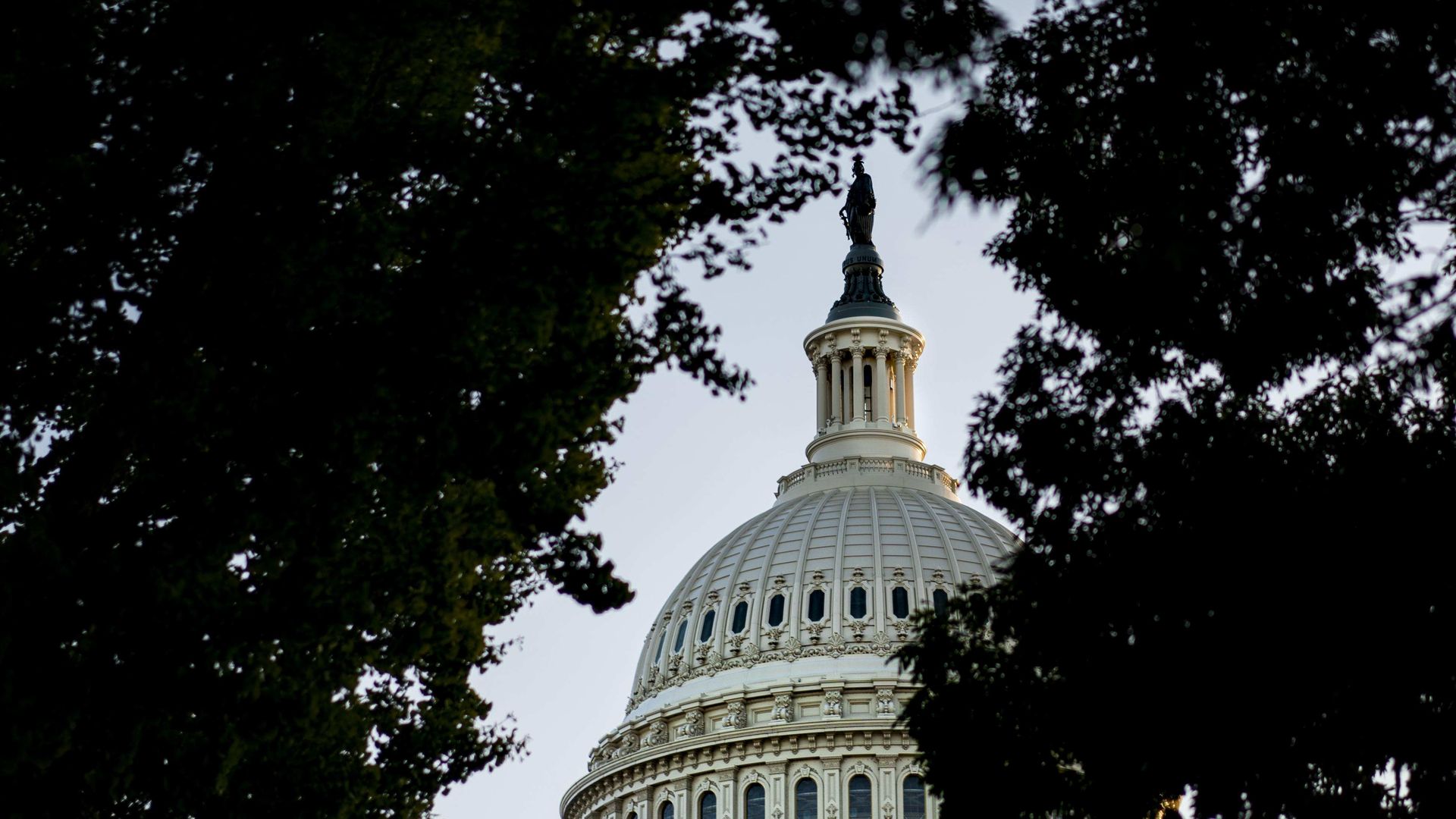 The House will recess early on Tuesday to allow for a security sweep of the House Chamber prior to President Trump's State of the Union address. The House and Senate will meet again around 8:30 pm to receive the address, Alayna reports.
On Wednesday, the Oversight Committee will hold a hearing on oversight of the FBI. The House will also vote on the USPS Fairness Act, which would repeal the requirement that the United States Postal Service prepay future retirement benefits.
On Thursday, the Oversight Committee will hold a hearing to examine the Trump administration's proposed changes to the SNAP program. The Homeland Security Committee will hold a hearing examining DHS's use of facial recognition.
The Senate impeachment trial reconvenes at 11 am on Monday for closing arguments from House managers and President Trump's defense team. Each side will have up to two hours.
Around 3 pm, the trial will adjourn until 4 pm Wednesday for a final vote on the articles of impeachment against Trump. Following the vote, the trial will conclude immediately.
Senators will also have an opportunity from Monday to Wednesday to deliver floor speeches on impeachment during legislative hours, without the presence of Chief Justice John Roberts.
President Trump's schedule, per a White House official:
Monday: Trump will have lunch with VP Mike Pence. 
Tuesday: Trump will deliver the State of the Union address at the Capitol.
Wednesday: Trump will have lunch with Defense Secretary Mark Esper.
Thursday: Trump will speak at the National Prayer Breakfast. He'll also participate in the swearing-in of new ambassadors, and he will have lunch with Secretary of State Mike Pompeo. He will also meet with the president of Kenya.
Friday: Trump will travel to Charlotte to speak at the North Carolina Opportunity Now summit. He will also speak at a fundraising dinner.