Axios Sneak Peek
January 12, 2020
Welcome to Sneak Peek, our weekly lookahead for both ends of Pennsylvania Avenue, plus our best scoops.
🔮Opening ABC's "This Week," George Stephanopoulos encapsulates what's ahead: "A constitutional struggle over war powers and impeachment all playing out in the first weeks of an election year, the stakes high, the consequences unknown, the politics perilous."
Tell a friend to sign up free for their weekly Sneak Peek!
Tonight's newsletter is 2,141 words, 8 minutes.
1 big thing ... Exclusive: Trump tells Kim Jong-un he wants to resume talks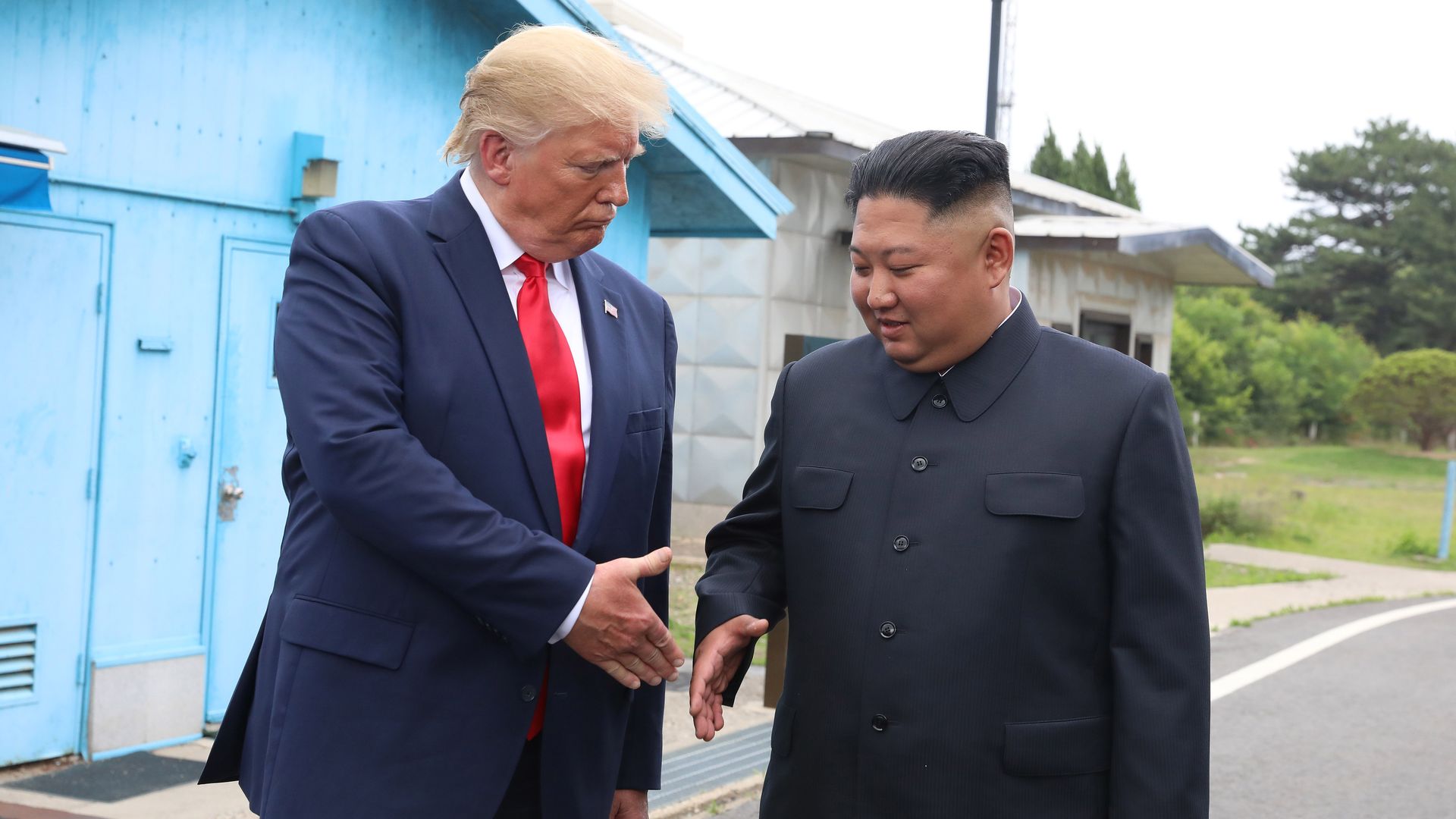 White House national security adviser Robert O'Brien tells Axios that the Trump administration has "reached out to the North Koreans" to ask them to resume diplomacy that has been all but dead since October.
O'Brien also indicated he was cautiously optimistic about the fact that Kim Jong-un hasn't yet delivered his promised "Christmas gift" — which many analysts expected would be a nuclear weapons test.
O'Brien sat down with Margaret Talev, Alayna Treene and me at the Eisenhower Executive Office Building on Friday to talk about a range of national security challenges at the start of a new year.
On the tense and dangerous situation with North Korea, O'Brien told us: "We've reached out to the North Koreans and let them know that we would like to continue the negotiations in Stockholm that were last undertaken in early October.
"We've been letting them know, through various channels, that we would like to get those [negotiations] back on track and to implement Chairman Kim's commitment" to denuclearization of the Korean Peninsula.
Between the lines: It appears President Trump is again trying to lean on what he has described as his warm personal relationship with the brutal North Korean dictator.
Trump recently sent a birthday message to Kim. But the North Koreans have already said Trump's courtship will not change their policy.
So far, Trump's diplomacy has yielded little besides giving Kim more time to expand his nuclear arsenal, according to analysts tracking North Korea's supply of nuclear warheads.
O'Brien's predecessor as national security adviser, John Bolton, recently told me the Trump administration is bluffing about stopping North Korea's nuclear ambitions — and should prepare to admit publicly that its policy failed badly.
O'Brien indicated he was hopeful about the implications of Kim's decision — so far — to refrain from firing off a nuclear test in the Christmas and new year period.
"All we know is we were told we were going to get a Christmas gift and the Christmas gift didn't come. And so I think that was an encouraging sign. But, again, that doesn't mean we won't see some sort of test in the future," O'Brien said.
The big picture: In four months in office, O'Brien has lived through fresh threats from North Korea, the killing of Iranian Gen. Qasem Soleimani and the rolling crisis with Iran, the killing of ISIS leader Abu Bakr al-Baghdadi, and Trump's controversial withdrawal of U.S. troops from the Turkish-Syrian border, abandoning America's Kurdish allies in the process.
Over that short and intense period, O'Brien has built on what was already a close personal relationship he'd developed with Trump when he led hostage negotiations at the State Department, per officials familiar with their interactions.
Go deeper: Read the full article
2. Trump may reduce troops in Afghanistan without Taliban deal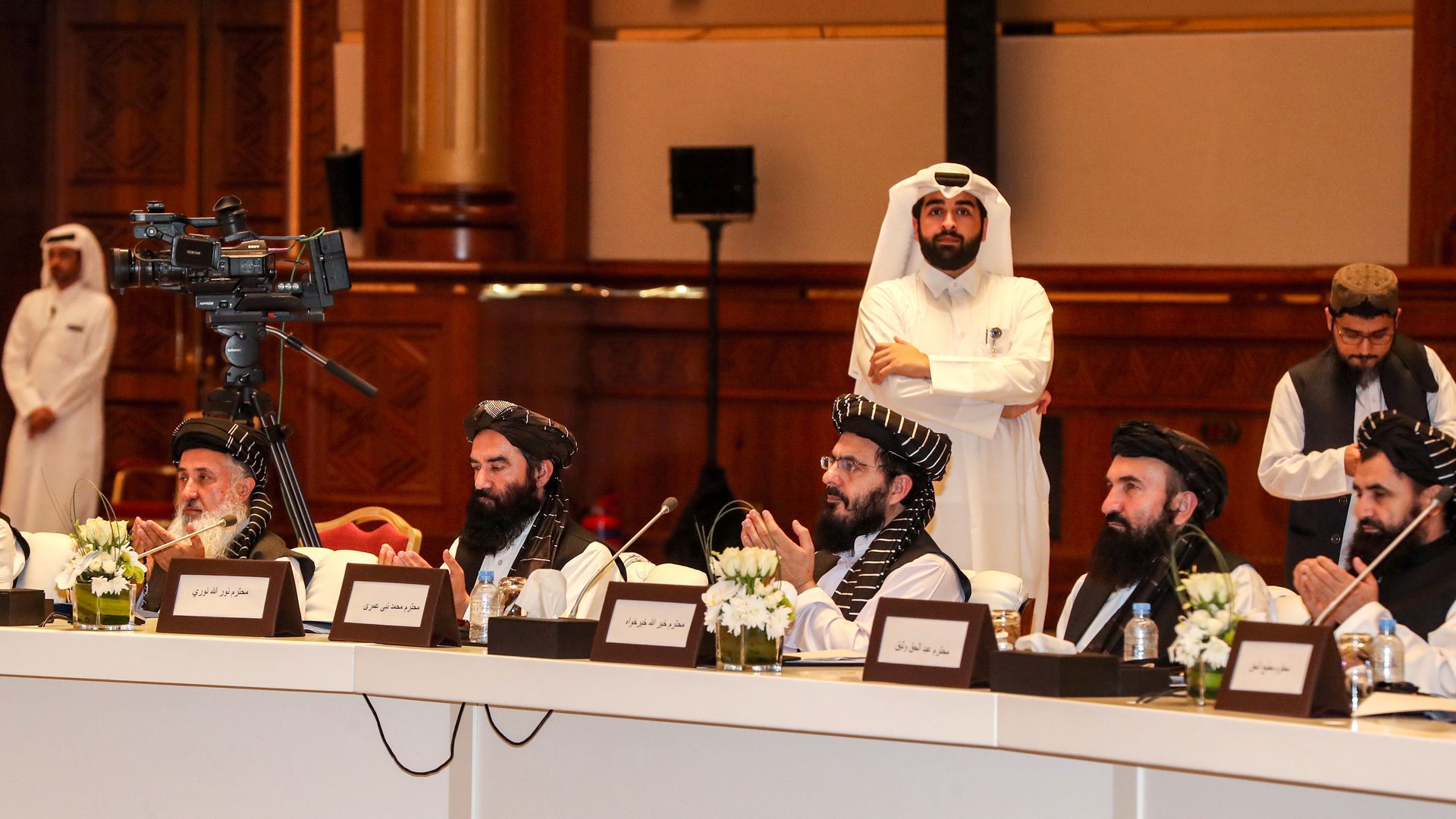 O'Brien tells Axios "it is possible" Trump will cut a deal with the Taliban this year but that even if a deal can't be struck, the president is still poised to reduce troops in Afghanistan.
"We're back in a situation where we're in talks with the Taliban," O'Brien said.
"The Afghan forces are doing better, and I think we'll be in a position at some point soon, whether it's with a deal or without a deal, to reduce our military footprint in Afghanistan."
Behind the scenes: Trump has long said he wants to pull American troops out of Afghanistan. A source close to the president told me Trump views this as one of his biggest unmet promises. The source worries Trump would order a major drawdown before the 2020 election.
I asked O'Brien whether he thought Trump would strike a deal with the Taliban before the election. "I don't judge things based on when the election's going to take place, but I think it is possible that there'll be a deal this year," O'Brien said.
"We're working on it. But it has to be a good deal."
"We were very close to doing a deal last year, and the Taliban felt that they could increase pressure on the United States by blowing up a bunch of people, including an American, right before some critical end-game talks. This president does not respond to that type of tactic."
The bottom line: "The president said there has to be a reduction in violence prior to the signing of a deal and there needs to be a reduction of violence and immediate transition to inter-Afghan talks after a deal," O'Brien added. "Ultimately it's going to be up to the Afghans to bring peace to Afghanistan."
3. Inside Trump's improbable deals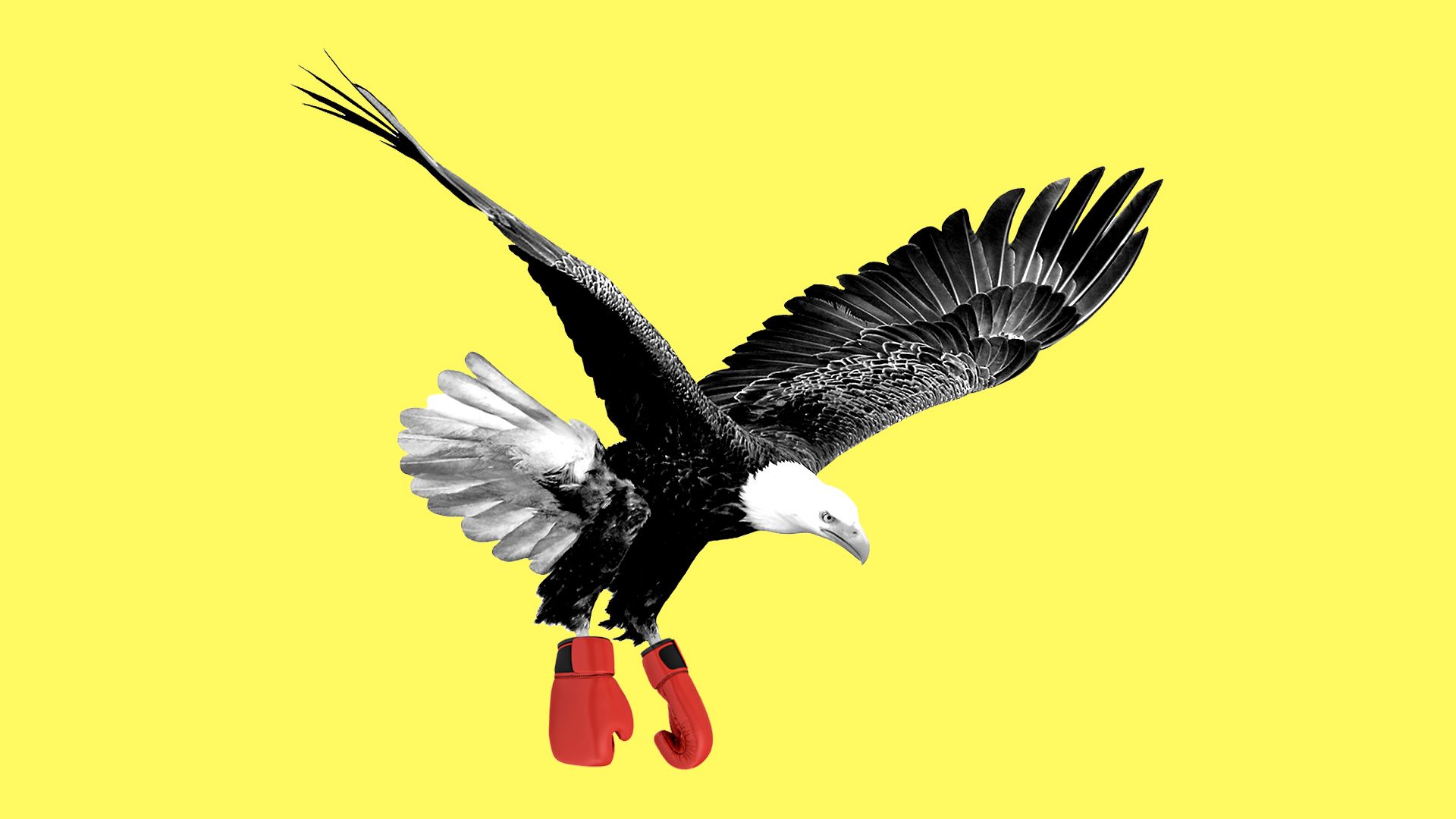 One of the hallmarks of President Trump's foreign policy has been his insistence that he can cut the deals that have eluded his predecessors: a durable peace deal between the Israelis and the Palestinians, and a deal that would not only stop Iran from getting a nuclear bomb but would also stop Iran from projecting force across the Middle East.
On the Mideast peace plan, which Israeli officials believe could be announced before the Israeli elections in March, O'Brien said the Trump administration is under "no illusions" that "this will be an easy process."
O'Brien said the administration is not depending on Israel's leadership crisis being resolved before it releases its peace plan.
"I don't think it necessarily depends on the elections. They will have had three elections in a row, we'll have to see. … The president is looking for a solution on the Israeli-Palestinian front that is durable, is long-lasting, and we're not timing anything we do based on the domestic politics, either the Palestinians or the Israelis."
The Palestinians have already rejected Trump's Mideast peace approach. Trump has slashed aid to the Palestinians and officially recognized Jerusalem as Israel's capital. Talks between the U.S. and Palestinians ended more than two years ago.
I asked O'Brien whether it affected the Trump administration's planned timing of the peace plan's release when Benny Gantz, the main political opponent to Prime Minister Benjamin Netanyahu, said releasing the plan before Israel's March 2 elections would be "a harsh interference in the electoral process in Israel," per my colleague Barak Ravid's reporting.
"No," O'Brien replied. "We're not focused on the Israeli election calendar or when the Palestinians end up having an election."
On Iran, O'Brien said Trump would never consider doing the one thing the Iranians' have demanded he do before they begin negotiations with him: remove U.S. sanctions on Iran. (This is what the French had been trying to negotiate last summer, as intermediaries between the U.S. and Iran.)
The Trump administration has made clear "in no uncertain terms that that will never happen," O'Brien added.
He said it's the "classic rogue regime, pariah regime negotiating position. If you want talks with us you give up something first, just for the privilege of having talks."
"We don't need talks," O'Brien added. "Our economy is doing fantastic. … The Iranians are the ones that need talks with us. Why would we give up anything first?"
4. What's next: Impeachment lookahead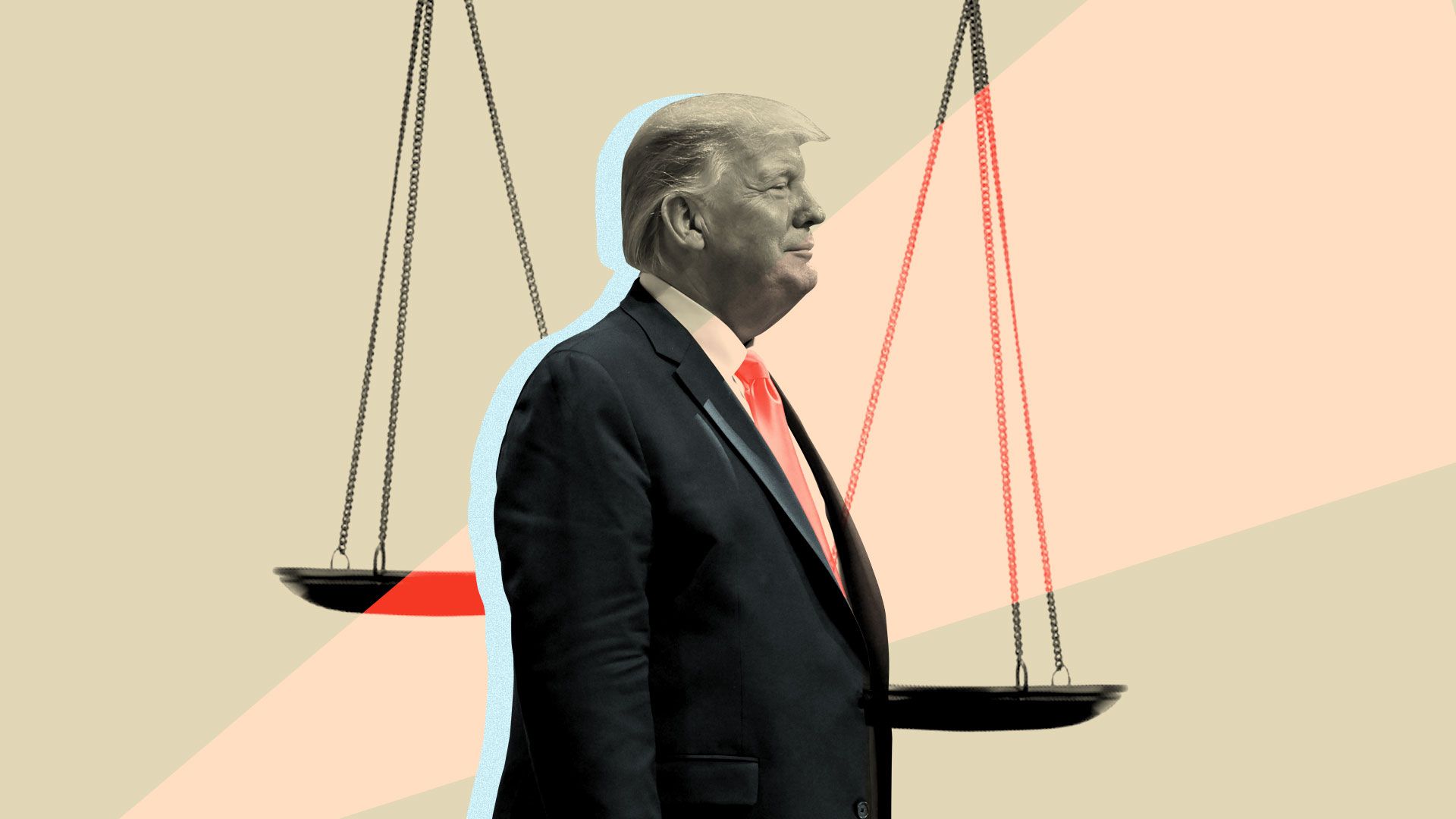 As she prepares to finally send over the articles of impeachment, House Speaker Nancy Pelosi is warning there could be a "cover-up" to protect President Trump in the Republican-led Senate — and Republicans are testing ways to use the trial as a wedge issue on Democrats.
Driving the news: Pelosi is expected to name House managers this week after consulting with her caucus at a meeting on Tuesday morning. She'll deliver the articles shortly after, though the precise timing is still unclear, Axios' Alayna Treene reports.
What's next: Once the articles are formally delivered to the Senate, the impeachment trial would begin almost immediately.
The first few days of trial are expected to be procedural — including the swearing-in of Chief Justice John Roberts, U.S. senators as jurors and additional housekeeping items.
Simultaneously, senators will debate the resolution laying out the terms for the trial, a Republican leadership aide told Alayna. A vote on the resolution is expected to take place roughly three to four days after the trial begins, the aide said.
What they're saying: Pelosi told ABC's George Stephanopoulos this morning that "if we don't" see new witnesses or documents in the Senate trial "then it's a coverup."
Pelosi defended her decision to delay the impeachment trial by several weeks in an attempt to force witnesses and document production, and she said the ball is now in Senate Majority Leader Mitch McConnell's court.
She said McConnell will be held "accountable to the American people."
Meanwhile, House Minority Leader Kevin McCarthy, appearing on Fox News' "Sunday Morning Futures," accused Pelosi of slow-walking impeachment to hurt Sen. Bernie Sanders' chances of winning the Democrats' Iowa caucuses by forcing him to be in Washington instead of campaigning.
McCarthy's assertion is aimed at splitting Democratic voters, undercutting unity and prompting a faster trial.
Pelosi is poised to end the weeks-long impeachment standoff without two big commitments she has consistently pushed for:
A Senate resolution preemptively laying out the terms for the trial.
An agreement on document and witness requests at the outset of the trial. (McConnell successfully secured the necessary Republican votes to move ahead on setting the trial rules without negotiating with Democrats.)
The bottom line: Now the trial will begin on McConnell's terms.
As of now, the resolution is expected to broadly follow the contours of former President Bill Clinton's 1999 trial.
House managers and Trump's defense team will deliver opening statements, after which senators will submit their questions to the chief justice, launching a Q&A period.
During this time, the Senate as a body will determine whether to call new witnesses, seek more documents and any other similar requests.
The leadership aide estimated that this period will last at least two weeks.
Behind the scenes: Many Senate Republicans have said they think calling witnesses is a dangerous move that would unnecessarily drag out the trial, but a key GOP senator, Susan Collins of Maine, told reporters on Friday that she has been working with "a fairly small group" of GOP senators to ensure witnesses, such as Trump's former national security adviser John Bolton, are called.
Go deeper. Read the full story
5. What's next: Democrats collide before Iowa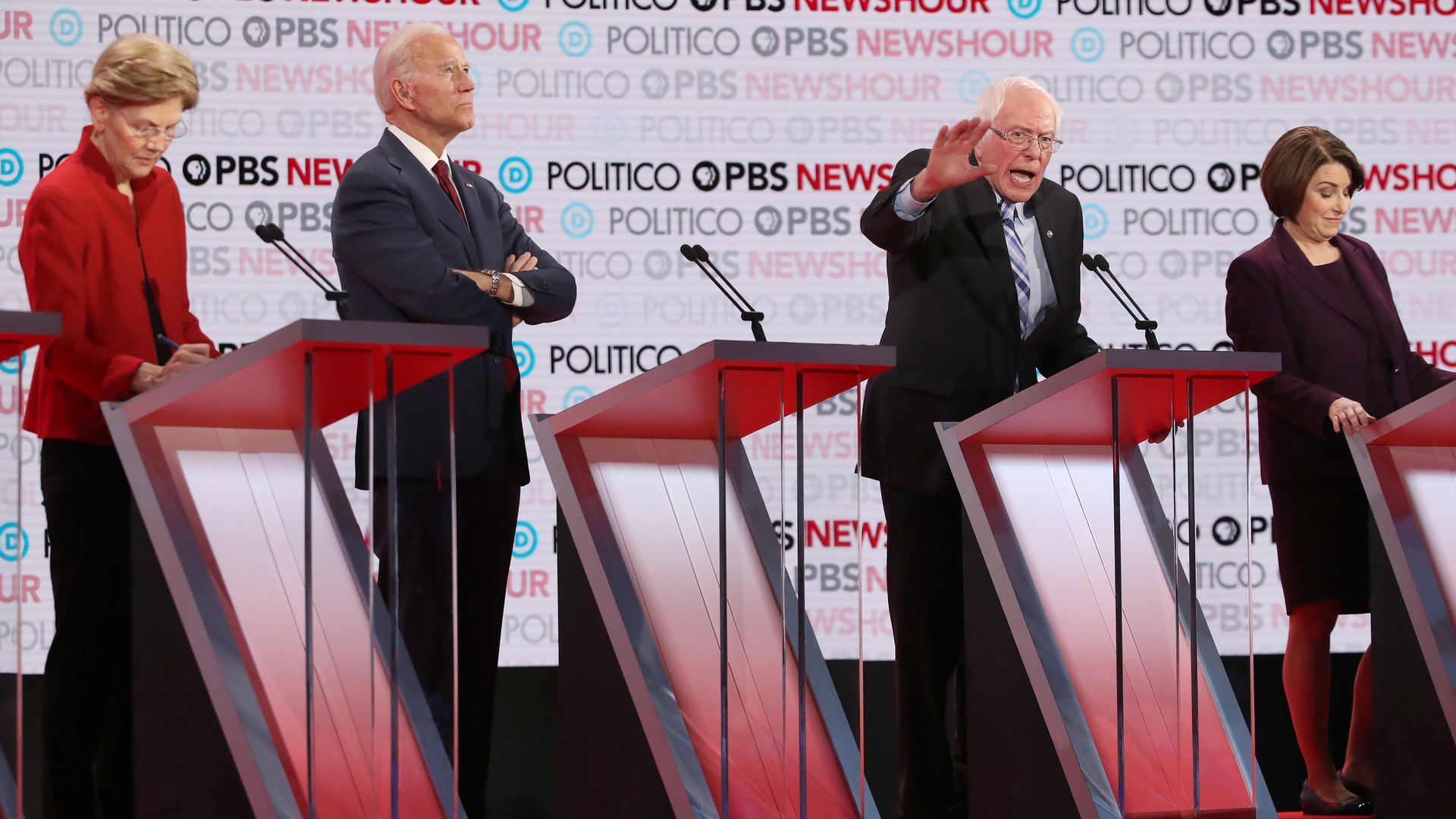 "Six Democratic presidential candidates have qualified for Tuesday's debate in Iowa, the final televised encounter before the state's Feb. 3 caucuses," per WSJ.
The final six: "The Democratic National Committee said Saturday the participants in the debate will be: former Vice President Joe Biden, former South Bend, Ind., Mayor Pete Buttigieg, Sen. Amy Klobuchar of Minnesota, Sen. Bernie Sanders of Vermont, billionaire environmentalist Tom Steyer and Massachusetts Sen. Elizabeth Warren."
Between the lines: As the Washington Post's Annie Linskey notes, "Only white candidates have qualified, ... the first time in this election cycle that no minority contender will make the stage."
"It's a dynamic that critics say threatens to undercut the party's rhetoric of inclusivity."
The big picture: The most respected Iowa pollster, Selzer & Company, has Bernie Sanders leading a tightly packed Democratic field in its latest Iowa poll. Sanders, at 20%, leads Elizabeth Warren (17%), Pete Buttigieg (16%) and Joe Biden (15%).
As for the overall race to become the Democratic nominee, Nate Silver's FiveThirtyEight forecast model has Joe Biden as its favorite to win the required number of delegates.
Second favorite is Bernie Sanders. And third favorite? "No one."
In other words, it remains quite conceivable the 2020 Democrats end up with a brokered convention.
What we're hearing: The first signs of tension between the two most progressive candidates, Bernie Sanders and Elizabeth Warren.
Until now, the two have maintained a non-aggression pact, but Warren said today she was "disappointed to hear that Bernie is sending his volunteers out to trash me."
Warren is reacting to this story from Politico's Alex Thompson and Holly Otterbein, who scooped Sanders' campaign talking points for volunteers that show "Sanders' campaign has begun stealthily attacking Warren as a candidate of the upper crust who could not expand the Democratic base in a general election."
6. Sneak Peek diary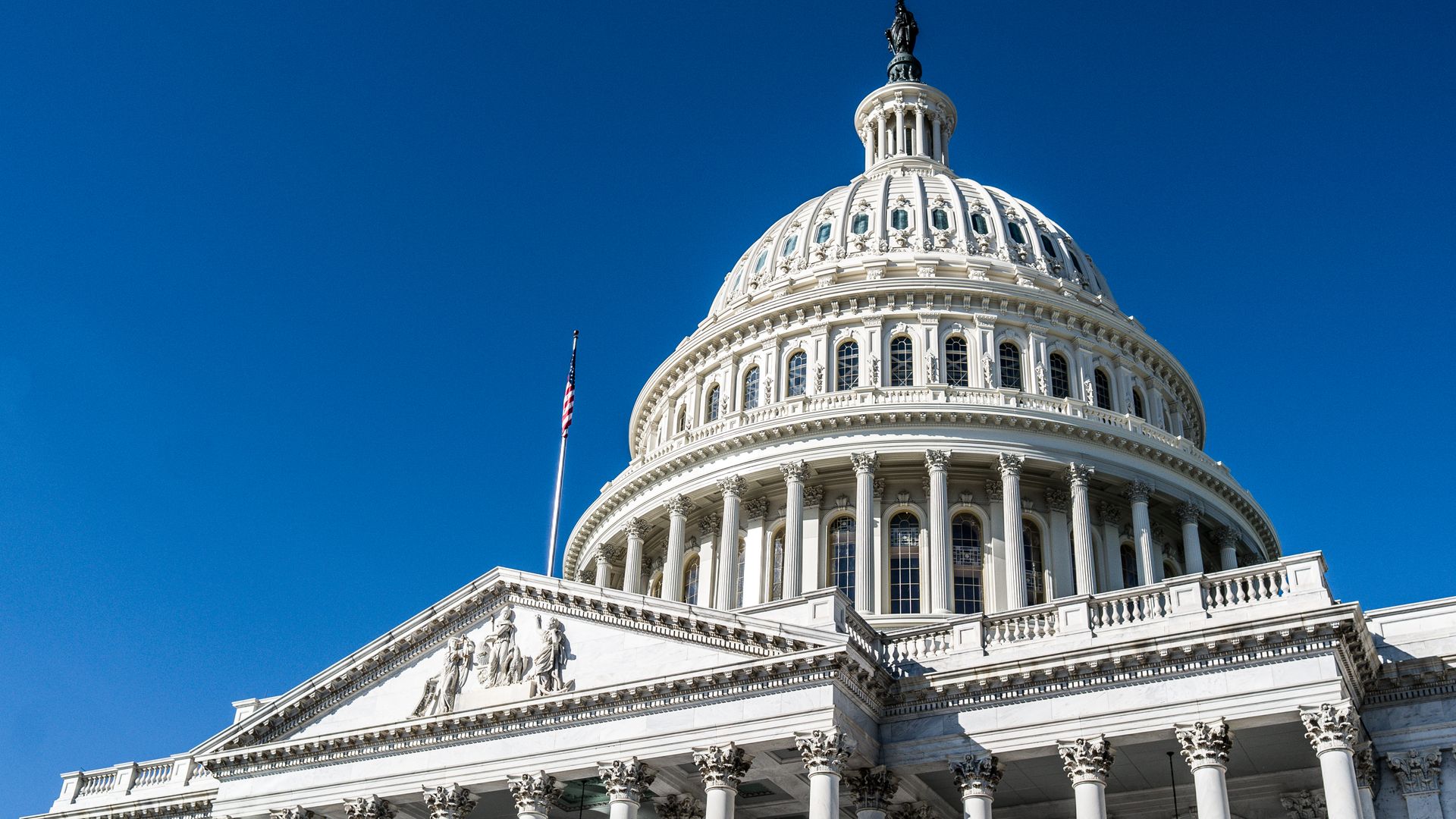 The House is expected to pass a resolution to appoint House managers and transmit articles of impeachment to the Senate (as detailed in item 4).
They will also consider the "Protecting Older Workers Against Discrimination Act," which would amend current law to declare that a complainant is not required to demonstrate that age or retaliation was the sole cause of an unlawful employment practice (therefore allowing what are commonly known as "mixed motive" claims).
The House will also vote on H.J.Res. 76, which would formally disapprove of the rule submitted by the Education Department relating to "Borrower Defense Institutional Accountability."
The Senate will vote this week to confirm Peter Gaynor as FEMA administrator. 
Worth noting: As Axios' Alayna Treene first reported, Trump tapped Gaynor for the position in September, after quietly withdrawing the nomination of Jeffrey Byard due to a "personal issue."
President Trump's schedule, per a White House official:
Monday: Trump will have lunch with Vice President Mike Pence. Trump and the first lady Melania Trump will travel to New Orleans to attend the college football national championship (LSU vs. Clemson). 
Tuesday: Trump will speak at a campaign rally in Milwaukee. 
Wednesday: Trump will participate in a signing ceremony for "Phase One" of the U.S.-China trade agreement.
Thursday: Trump will announce guidance on prayer in public schools. 
Friday: Trump will speak at a fundraising dinner in Palm Beach.
7. 1 fun thing: Bob Woodward's journey — from "a joke" to "very, very good"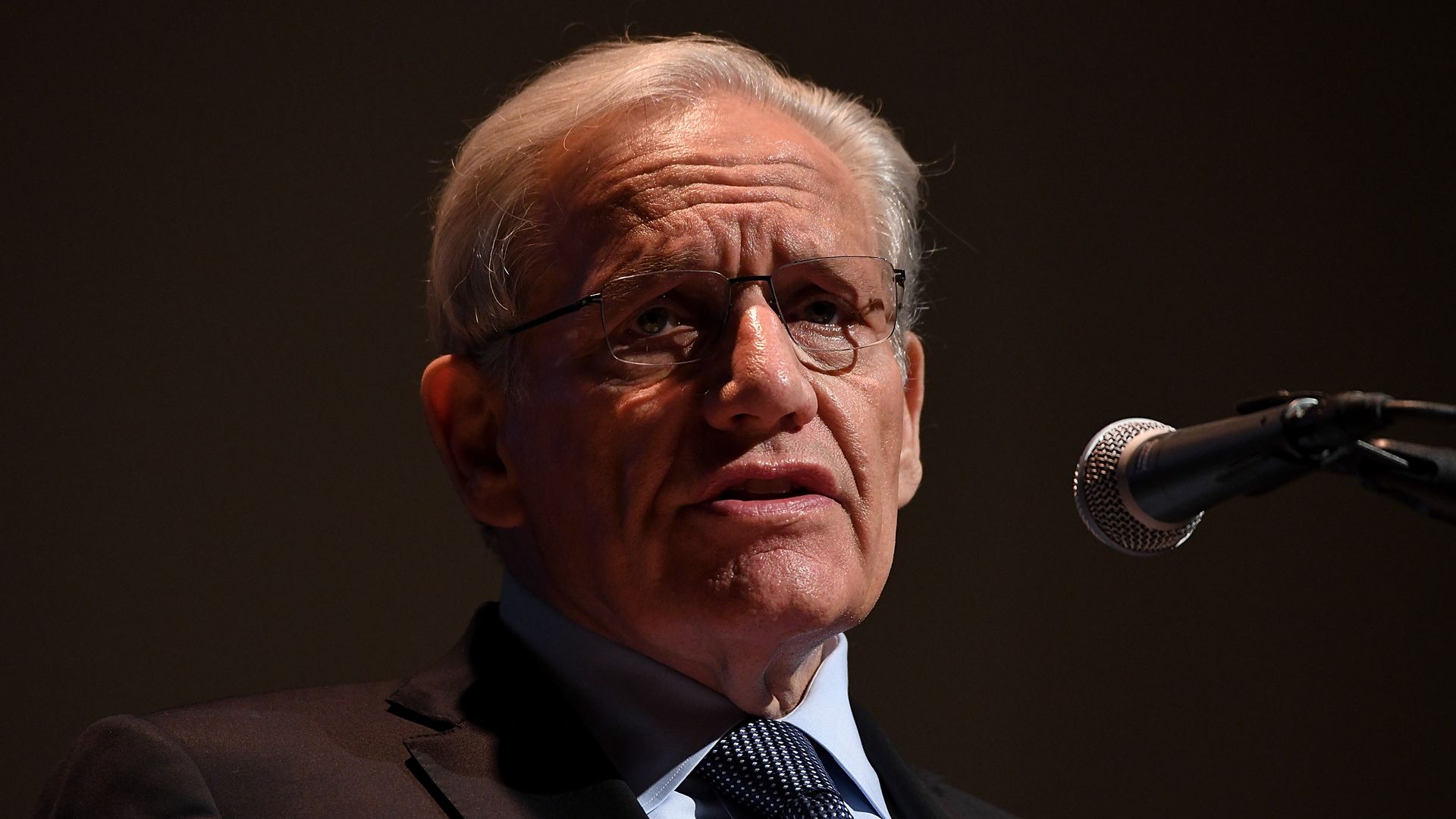 In his Friday interview with Ingraham, President Trump let slip he's been talking to Bob Woodward for an upcoming book. But it was what he said about Woodward that caught my attention.
"I was interviewed by a very, very good writer, reporter," Trump told Ingraham. "I can say Bob Woodward. He said he's doing something and this time I said 'maybe I'll sit down.'"
Flashback: Before Woodward published his 2018 book on the Trump administration, titled "Fear," Trump expressed regret that he hadn't sat down with the legendary Washington Post reporter.
Woodward declined to comment.