Axios Sneak Peek
August 23, 2020
Welcome to Sneak Peek, our weekly look ahead from both ends of Pennsylvania Avenue, plus our best scoops.
Today's newsletter is 1,845 words, a 7-minute read.
1 big thing: GOP convention is a Trumpian production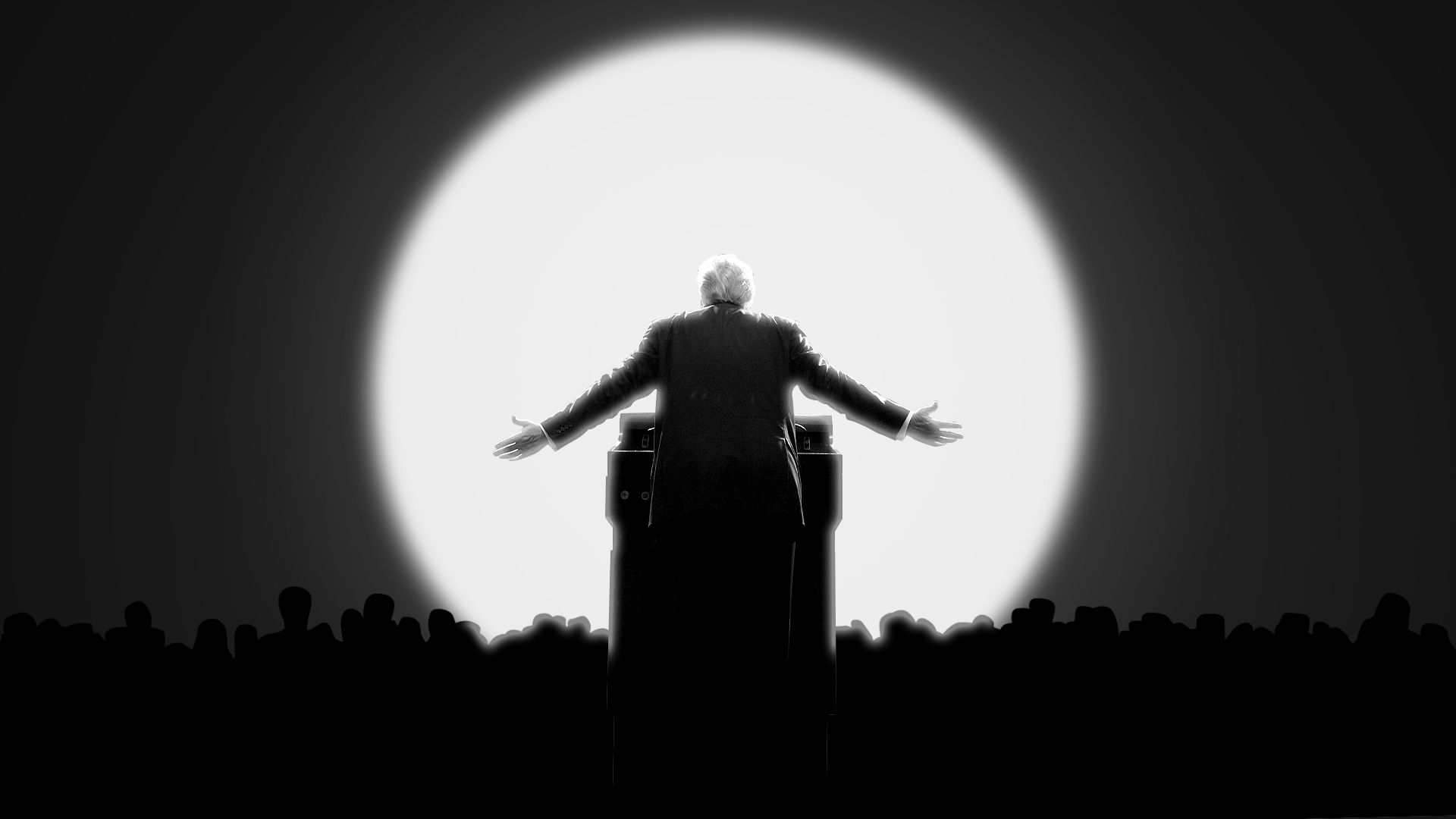 This week's Republican National Convention will be The Trump Show from start to finish, aiming for ratings-juicing stunts, attention-grabbing speeches from MAGA stars, and executive power as performance art, people familiar with the plans tell Axios.
"Think of each night like an episode," says one source. "And what would an episode be without an appearance from the star?"
Behind the scenes: President Trump made clear to aides that he wanted a grand, raucous convention — to the extent such things are achievable during a pandemic. He wanted a live audience, which he'll now get on the White House's South Lawn.
He didn't like the Zoom-call feel of the Democratic convention, and he thought many of the speeches went on too long, people close to him said.
Sources close to the convention said Team Trump is trying to leverage all of its advantages — the powers of the presidency and the setting of the White House.
Traditionally, nominees only speak on the last night of the convention. Trump, however, will appear every night.
The sources say they're making sure that the White House Counsel's Office clears all activities.
Trump will shatter tradition — and, many say, propriety — by delivering his acceptance speech from a grand stage on the South Lawn.
Nearby on Constitution Avenue, Team Trump has decked out the Andrew W. Mellon Auditorium, which will be the site of many of the speeches.
It's a Trumpian scene, I'm told: You can't walk 3 feet without running into an American flag. There's a red carpet and columns with gilded accents.
You'll hear from the McCloskeys — the St. Louis couple who brandished guns at Black Lives Matter protesters — and from Nick Sandmann, the Covington teen who has sued a host of media outlets and settled with CNN and the Washington Post. All of Trump's adult children, including Tiffany, will also speak.
Unlike the other Trump children, Tiffany is very private and hasn't made a public speech since the 2016 Republican National Convention.
The first lady will also speak from the newly renovated Rose Garden.
And Secretary of State Mike Pompeo will be addressing the RNC from "an undisclosed location" in Jerusalem, per a source familiar with his plans.
Sources are especially excited about two speakers:
Alice Marie Johnson, whose prison sentence Trump commuted.
Vernon Jones, a Democratic state representative from Georgia who endorsed Trump, withdrew from re-election, and accused his own party of bigotry against African Americans.
Between the lines: After Trump delivered his third State of the Union address in February, he told people that the moment he loved most was when, mid-speech, he awarded cancer-stricken radio host Rush Limbaugh with America's highest civilian honor, the Presidential Medal of Freedom.
In that made-for-television moment, Trump set a template for this convention: He leveraged one of his presidential powers to create a reality TV surprise.
What we're hearing: Trump's aides say they are keenly aware of the advantages the Democrats had for their convention.
Democrats started preparing earlier for a virtual convention because Joe Biden was much quicker than Trump to give up on the idea of an in-person event.
Democrats had more celebrities, more Hollywood sizzle and higher-profile crossover supporters, including former Ohio Gov. John Kasich and former Secretary of State Colin Powell.
What's next: On "Meet the Press" today, Trump campaign senior adviser Jason Miller promised "breakout stars … big surprises … a very beautiful story."
2. How Trump's convention differs from the DNC ... and one similarity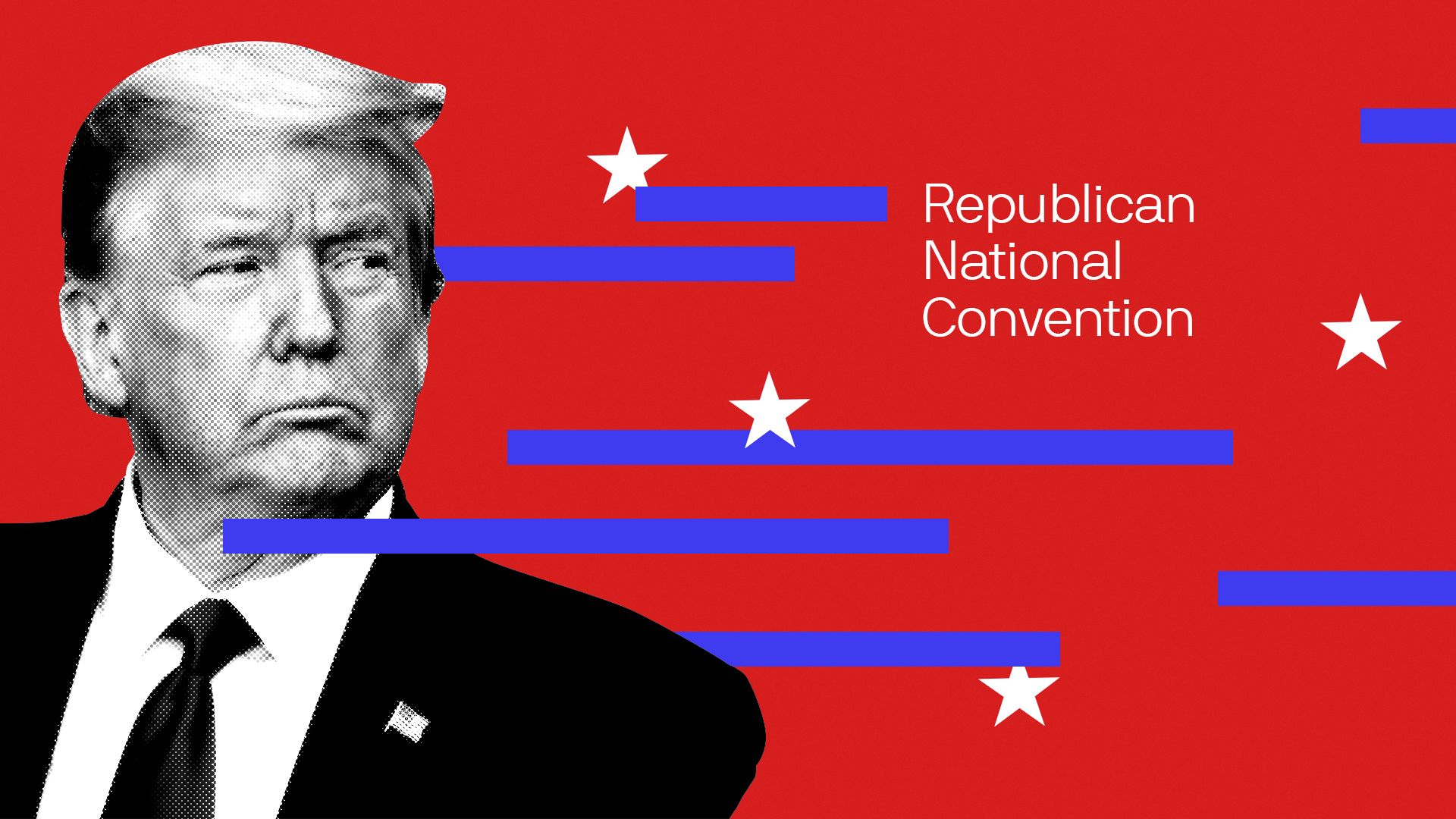 The Democratic National Convention focused on Joe Biden's character, on racial justice and on bipartisan unity.
What's new: Major themes of the Republican convention will include "law and order," the "economic comeback" and "cancel culture," said a source familiar with the planning.
"There'll be tons of pro-law enforcement messages, tons of pro-military messages, and an overall theme of red-white-and-blue, Trump-style patriotism," said another source briefed on the planning.
The bottom line: People familiar with the planning said Trump will be portrayed as the "tough" leader standing between safe streets and leftist anarchy.
Trump-supporting actor James Woods unwittingly previewed the convention with this tweet on Aug. 12: "This is our last stand, folks. And here's your last defender. If they take him down, America is gone forever. Vote for @realDonaldTrump like your life depends on it."
That may be the one parallel between the DNC and the RNC: Both sides paint November in existential terms. At the Democratic National Convention, Michelle Obama said Americans should vote for Biden "like our lives depend on it."
3. Scoop: The Trump-Navarro mind meld on the FDA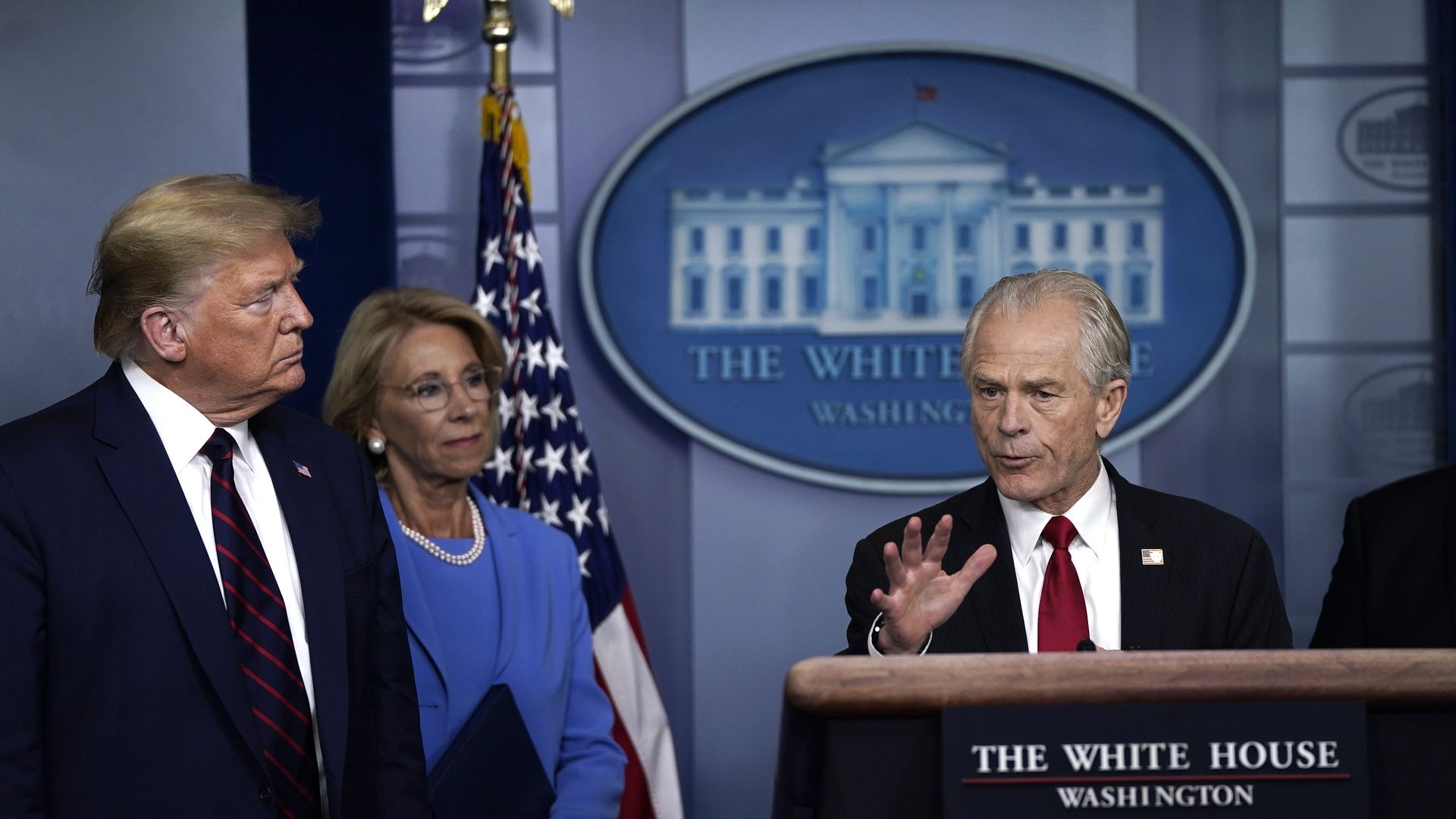 Senior health officials in the Trump administration were taken aback last Monday when the president's trade adviser, Peter Navarro, accused them of being part of the "Deep State" during a meeting that was supposed to be about COVID-19 and the Strategic National Stockpile.
Why it matters: Five days after Navarro's private comments toward the FDA, the president echoed Navarro's sentiments with a pair of Saturday morning tweets and tagged Stephen Hahn, the head of the Food and Drug Administration.
"The deep state, or whoever, over at the FDA is making it very difficult for drug companies to get people in order to test the vaccines and therapeutics," the president tweeted. "Obviously, they are hoping to delay the answer until after November 3rd. Must focus on speed, and saving lives!"
Trump then attacked the FDA for revoking its emergency use authorization "of hydroxychloroquine and chloroquine for treating COVID-19 amid growing evidence that the drugs are 'unlikely to be effective' in treating the coronavirus."
Behind the scenes: According to two sources in the Monday meeting, Navarro had aggressively confronted FDA officials, saying, "You are all Deep State and you need to get on Trump Time." (That's the expression Navarro uses to describe the speed that he says Trump demands.)
Sources familiar with the situation said Navarro has been venting at the FDA for weeks at what he perceives as its slowness to approve therapeutics to fight COVID-19 and help the U.S. "bring our medical supply chain home."
Navarro has argued that the FDA's slowness has cost lives during a pandemic.
A third senior administration official said Navarro — a fervent proponent of hydroxychloroquine — remained angry at the FDA for saying the drug didn't work against COVID-19.
Senior health officials counter that the FDA needs to follow a rigorous process to ensure that the public can trust that they are operating by the book — and by the science, free from political pressure — and that whatever therapeutics and vaccines the FDA authorizes are safe for use.
Asked about the reaction in the meeting to Navarro's comments, a source familiar said, "People just listened. A lot of the quote 'Deep State' people are shocked. But Navarro is Navarro."
Navarro declined to comment.
What's next: Late Saturday, White House press secretary Kayleigh McEnany tweeted, "News conference with President @realDonaldTrump at 6 pm tomorrow concerning a major therapeutic breakthrough on the China Virus. Secretary Azar and Dr. Hahn will be in attendance."
Trump tweeted today, "Important White House News Conference at 5:30 (sharp) today. Very good news!"
The Washington Post reports that Trump "will announce the emergency authorization of convalescent plasma for COVID-19, a treatment that already has been given to more than 70,000 patients, according to officials familiar with the decision."
4. Quote du jour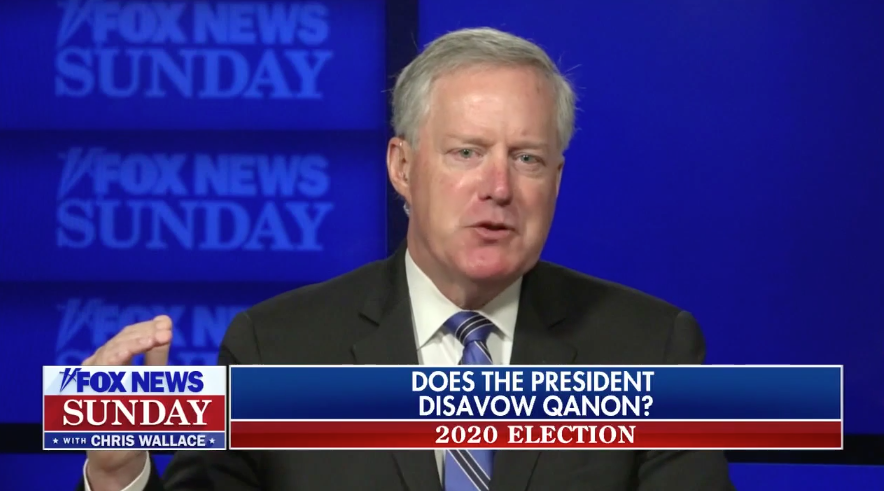 Fox News Sunday host Chris Wallace: "You can end this controversy right now. Does the president disavow, does he condemn QAnon?"
White House Chief of Staff Mark Meadows: "Well, listen, we don't even know what it is. ... It's not a central part of what the president is talking about. I don't even know anything about it. I don't even know if it's credible."
5. Sneak Peek diary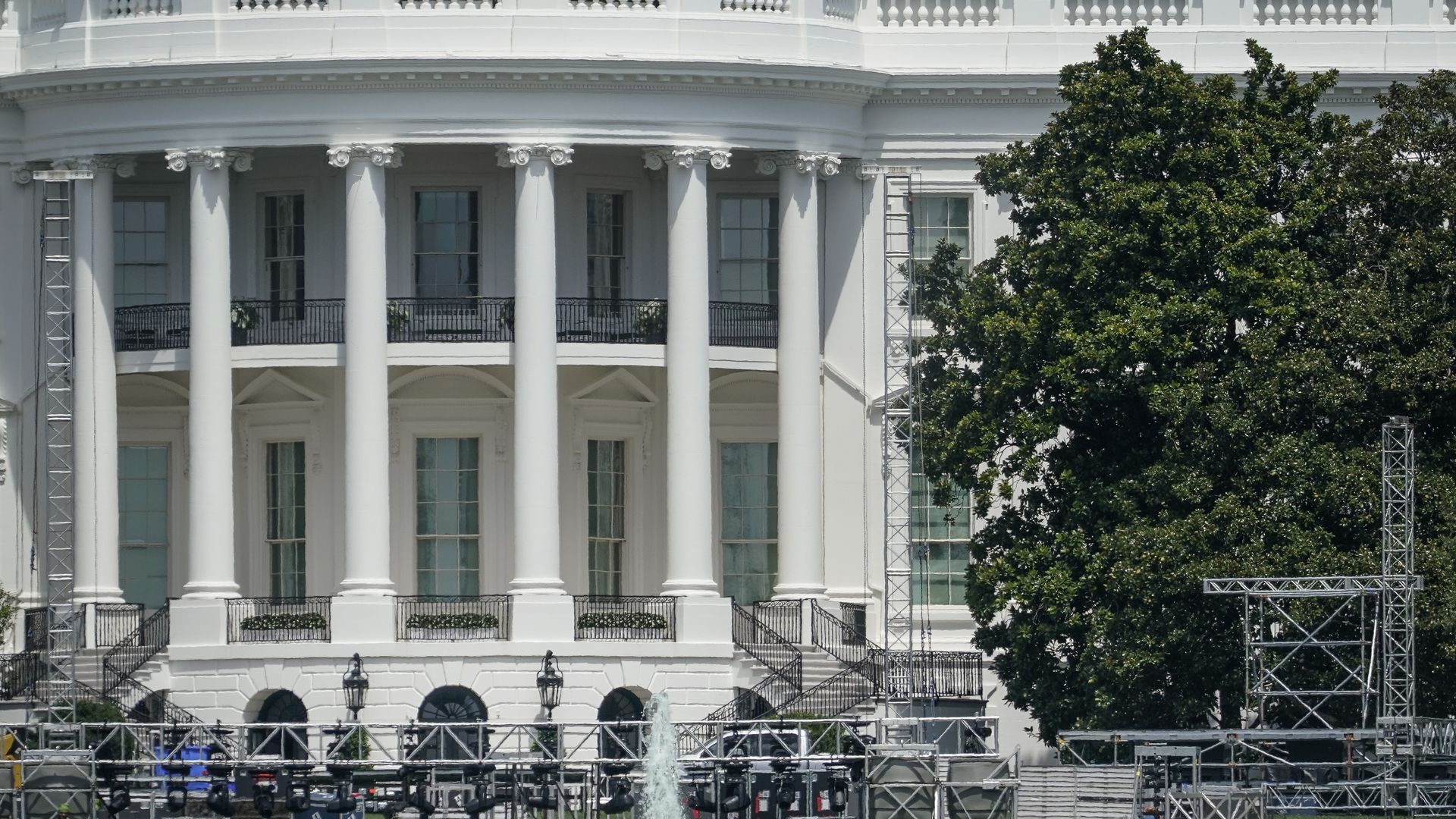 The House and Senate are on recess this week, but leaders of both parties have reserved the right to call members back to Washington for a vote on potential stimulus funding, Axios' Alayna Treene reports.
On Monday, U.S. Postmaster General Louis DeJoy will testify before the Oversight Committee about changes to the Postal Service and whether the USPS is prepared to handle the massive influx of mail-in ballots expected ahead of November elections.
President Trump's schedule, per a White House official:
Trump will hold a news conference tonight at 5:30pm ET. He is also expected to speak all four nights of the convention.
Monday: Trump will tour Flavor 1st Growers and Packers and deliver remarks on "Farmers to Families Food Box" program distribution in Mills River, North Carolina.
Wednesday: Trump will meet with medical professionals about COVID-19.
Thursday: Trump will participate in a roundtable with supporters in Washington, D.C. He will also give his acceptance speech for the Republican nomination.

Read Axios' preview of the scheduled speakers for the Republican National Convention.
Highlights
Monday, Aug. 24
Sen. Tim Scott (S.C.)
House Minority Whip Steve Scalise (La.)
Rep. Matt Gaetz (Fla.)
Rep. Jim Jordan (Ohio)
Former UN Ambassador Nikki Haley
RNC Chair Ronna McDaniel
Mark and Patricia McCloskey (St. Louis couple who waved guns at protesters)
Donald Trump Jr.
Kimberly Guilfoyle
Turning Point USA founder Charlie Kirk
Tuesday, Aug. 25
First lady Melania Trump
Secretary of State Mike Pompeo
Sen. Rand Paul (Ky.)
Nicholas Sandmann (Covington Catholic HS student who sued media outlets)
Eric Trump
Tiffany Trump
Wednesday, Aug. 26
Vice President Mike Pence
Second lady Karen Pence
Sen. Marsha Blackburn (Tenn.)
Sen. Joni Ernst (Iowa)
Rep. Dan Crenshaw (Texas)
Rep. Elise Stefanik (N.Y.)
Former acting Director of National Intelligence Richard Grenell
White House counselor Kellyanne Conway
Thursday, Aug. 27
President Trump
Housing and Urban Development Secretary Ben Carson
Senate Majority Leader Mitch McConnell (Ky.)
Sen. Tom Cotton (Ark.)
House Minority Leader Kevin McCarthy (Calif.)
Ivanka Trump
Rudy Giuliani
Franklin Graham
Alice Johnson (granted clemency by Trump)
UFC President Dana White
6. First look: Carter Page's new book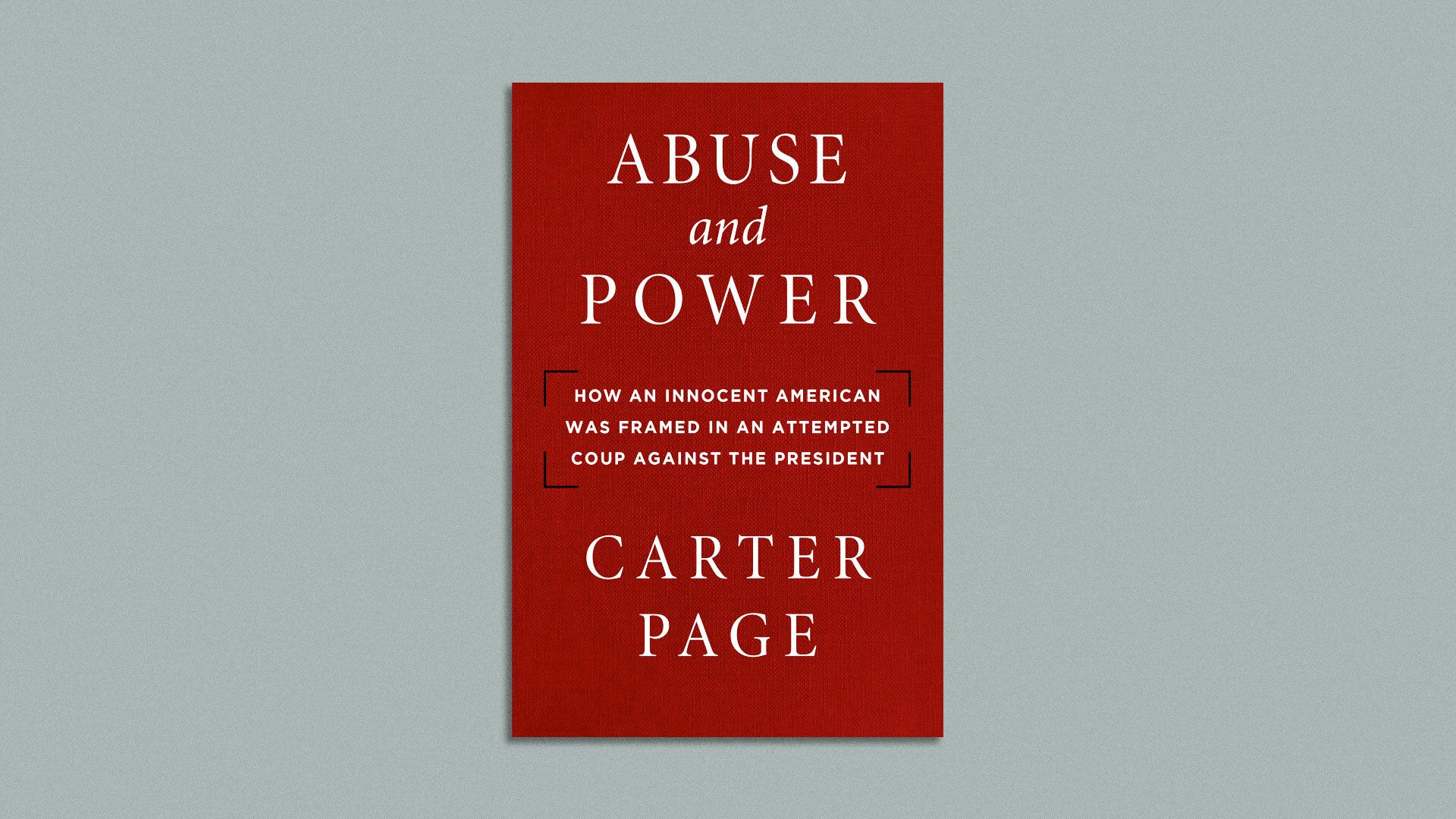 From his new book — soon to make the Fox News/opinion circuit — former Trump campaign adviser Carter Page details his 2016 trip to Russia to deliver a commencement speech at the New Economic School (NES), which later became a subject of keen interest to the FBI, Alayna reports.
"Shlomo Weber, a professor of economics in Russia and at Southern Methodist University in Dallas, invited me to speak to the graduating class of 2016 at the New Economic School in Moscow—an event independent of my work with the campaign. ...
I ran the invitation by Corey Lewandowski to make sure that the campaign didn't see any issues with it and suggested that perhaps Donald Trump might want to speak in my place. It was a well organized venue in which the candidate could display his foreign policy credentials. Presidential candidates often use foreign trips to showcase what they would look like as America's head of state abroad. ... Corey replied to my email: 'If you want to do this, it would be outside of your role with the DJT for President campaign. I am certain Mr. Trump will not be able to attend.' ...
For inviting me to give the speech, Shlomo Weber would later be interrogated by the FBI at 'Madeline's Cafe' [sic] in Dallas. The following July he joined a long list of other academics, many holding American passports, who would be interrogated about their interactions with the infamous Carter Page."
— Carter Page in his
forthcoming book
Between the lines: On Tuesday, the Senate Intelligence Committee released the final volume of its Russia report, which said Page "was likely a subject of interest to Russian officials during the 2016 election, given that he was the only member of the Trump Campaign's foreign policy advisory team publicly identified as a Russia expert."
The report stated that Page's invitation to speak at the Russian school "was extended because of the Russian sponsors' perception of his role in the Trump campaign."
Go deeper: Read the full excerpt