June 30, 2019
Jonathan Swan is away, so Mike Allen and Alayna Treene are your Sneakmasters.
Smart Brevity count: 999 words (< 3 minutes)
If this email was forwarded to you, please sign up here to get your own Sneak.
1 big thing: Inside Trump's plan to boost the evangelical vote
President Trump's campaign plans a well-funded, state-by-state drive to mobilize even more evangelical voters in 2020 than supported him last time, campaign officials tell Axios' Alayna Treene.
More than two-thirds of white evangelicals still support Trump, along with almost half of white Catholics and white mainline Protestants, according to a Pew Research Center survey.
The goal: Paint Trump as a champion of socially conservative issues and warn evangelical voters that his defeat could destroy progress he's made.
"African American outreach will be a component of that," a campaign adviser said.
Details: The campaign is hyper-focused on registering evangelicals, conservative Catholics and Mormons.
"That's why a lot of our efforts are going toward collecting data at rallies [and] collecting data over peer-to-peer texting," a campaign official said.
The Faith & Freedom Coalition, headed by Trump ally Ralph Reed, pledged this week to spend $50 million on getting out the vote and registering 1 million new evangelical voters in battleground states.
The RNC is launching a similar operation that includes prominent faith-based speakers, and church leaders who can provide guidance on who to meet.
The party also plans registration drives at churches in battleground states, including Ohio, Nevada and Florida.
Go deeper: Read the full story
2. Scoop: Leaked border apprehension numbers show drop
The U.S. Border Patrol apprehended roughly 87,000 unauthorized immigrants in June, a decline compared to the steep increase reported over the last three months, according to Homeland Security data leaked to Alayna.
Why it matters: The drop enables acting DHS Secretary Kevin McAleenan to argue that Trump's June 7 deal with Mexico is stemming the flow of migration — the kind of cover he needs to fend off recent attacks from Trump allies.
Yes, but: Several current and former DHS officials warn Axios that border crossings tend to dip in the hotter summer months and that it's nearly impossible to tell if a policy change is effective after just a few weeks.
By the numbers:
Daily average apprehensions: 2,900.
Of the total, roughly 7,000 were unaccompanied minors, 52,000 were family units and 28,000 were single adults.
Although the figures are down from the wave of apprehensions in March through May (which hit a high of 132,887), the numbers are higher than at any other time under the Trump and Obama administrations.
After Axios reached out to DHS for comment for this story, McAleenan announced that DHS is projecting a 25% drop in arrests along the border.
Go deeper: Read the full story
3. Scoop: Sarah Sanders' next moves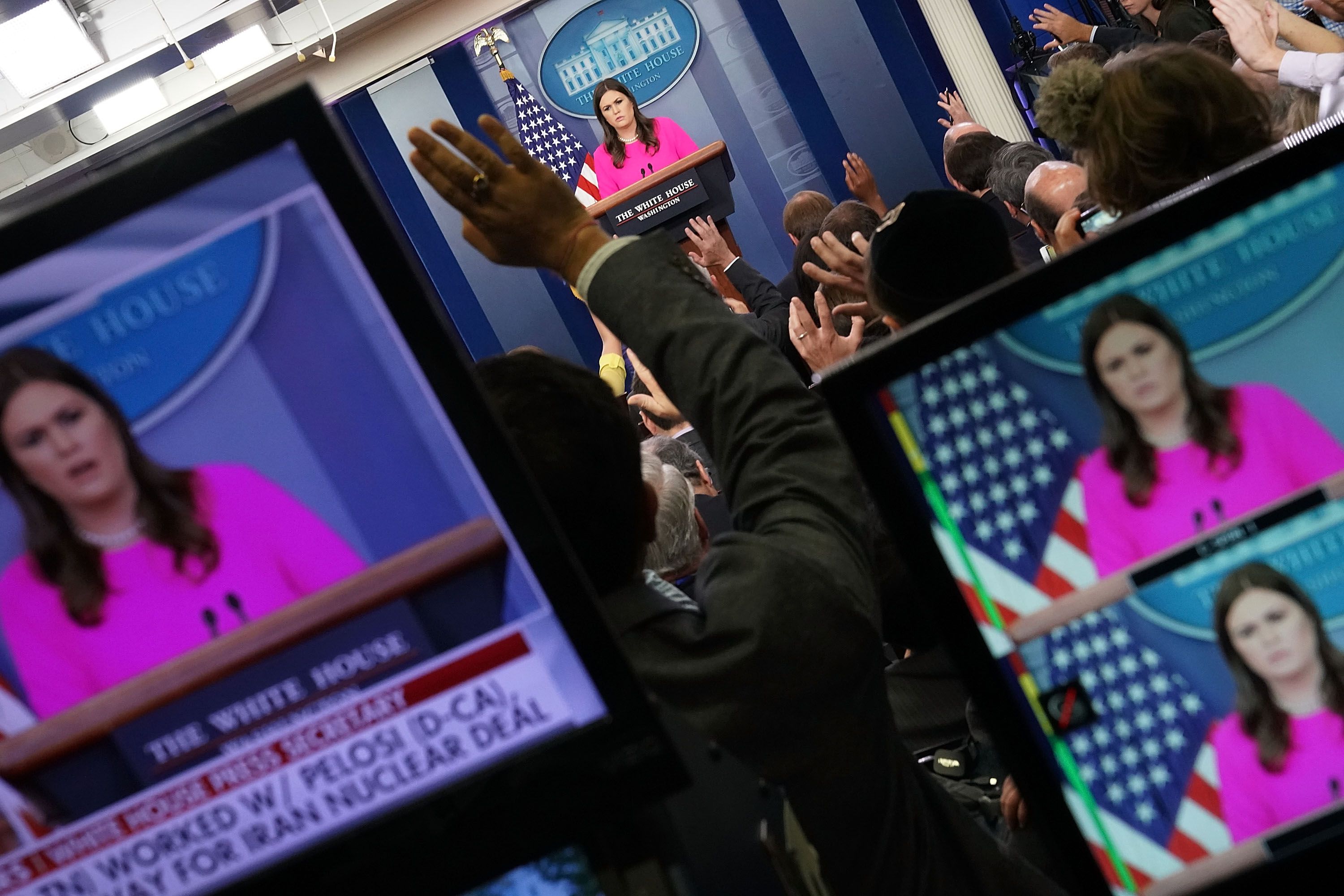 Sarah Sanders is likely to hit the speaking circuit and write a book after leaving the White House on Friday, and she'll move to Arkansas in August as the prelude to a possible 2022 run for governor, sources tell Mike.
We hear the book will be billed as an account of her life in politics and experience inside the Trump administration, which she sees as very positive.
Sanders plans to relax with her family in July, and she will help with Trump's re-election campaign.
Sanders has told friends that she's looking seriously at running for Arkansas governor.
Under the state's term limits, Gov. Asa Hutchinson (R) can't run again.
The view from Little Rock, from AP's Andrew DeMillo:
Sanders appears to be in an enviable position, with the backing of Trump, who's popular in the state, and political connections that go back to her dad Mike Huckabee's more than 10 years as governor.
Democrats relish the idea of a Sanders run, saying it would bring national money and attention to a race that may otherwise be written off.
4. Poll du jour: Harris bump
Sen. Kamala Harris got a 6-point bump in the Democratic race after last week's debate, according to a Morning Consult poll of 2,407 Democratic primary voters, taken immediately after the second debate.
Harris went from 6% last week to 12%, Axios' Marisa Fernandez writes.
By the numbers, per Morning Consult:
1. Joe Biden: 33% (-5)
2. Bernie Sanders: 19% (unchanged)
3. Kamala Harris: 12% (+6)
3. Elizabeth Warren: 12% (-1)
5. Pete Buttigieg: 6% (-1)
6. Cory Booker: 3%
7. Beto O'Rourke: 2% (-2)
7. Andrew Yang: 2%
5. Stephanie Grisham gets bruises defending press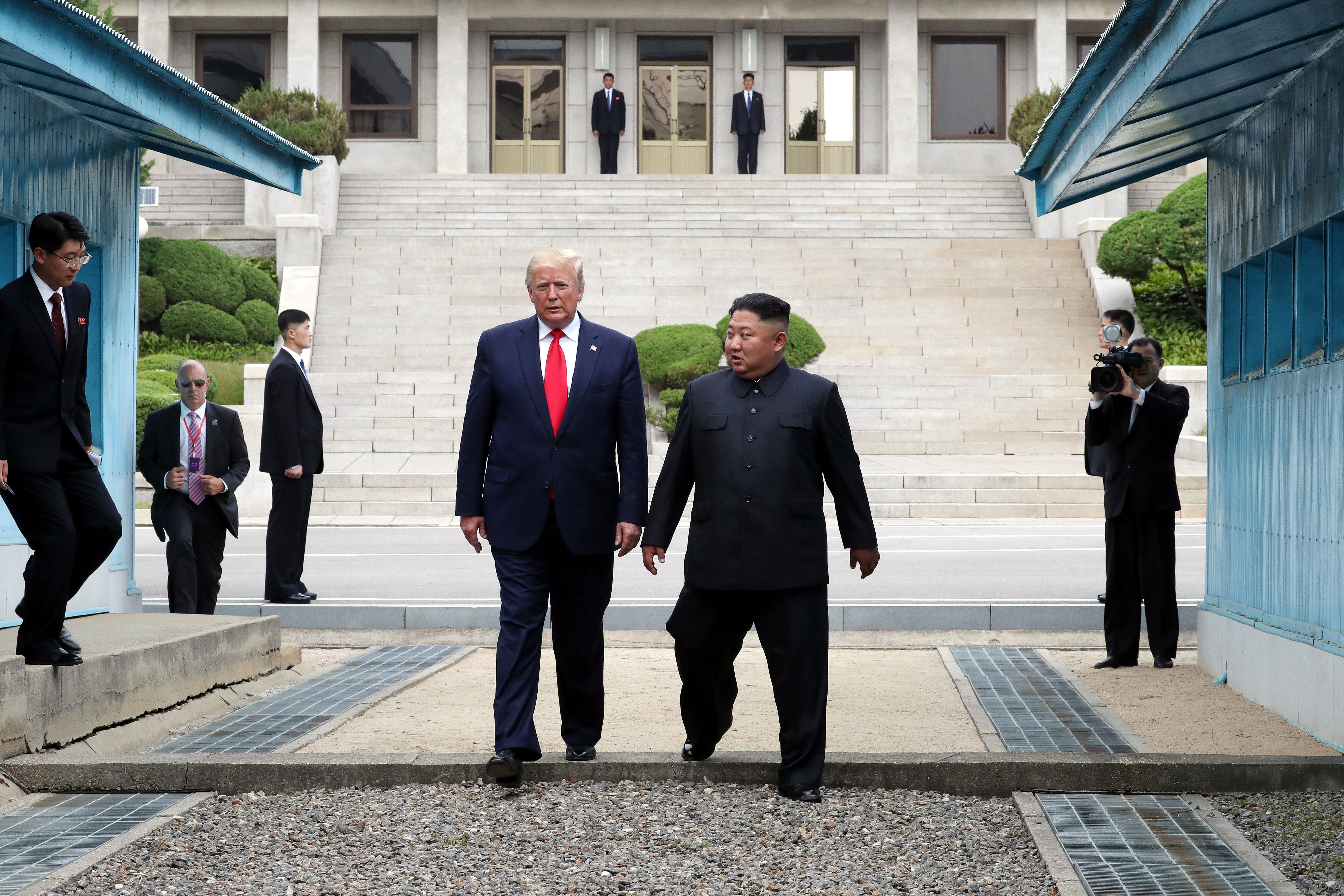 White House press secretary has always been a full-contact job, but usually not this literally.
After Trump's historic steps into North Korea today, incoming White House press secretary Stephanie Grisham ended up with bruises from confronting North Korean guards who were trying to shove and block U.S. reporters, AP's Zeke Miller and Jonathan Lemire report:
North Korean guards tried to physically prevent the U.S. press pool from entering a room at Freedom House where Trump and Kim Jong-un were meeting.
The Secret Service intervened.
At one point, Grisham side-checked a North Korean guard who was blocking reporters from the room, while other security officials frantically tried to cordon off the area with yellow rope.
6. A Schumer Sunday special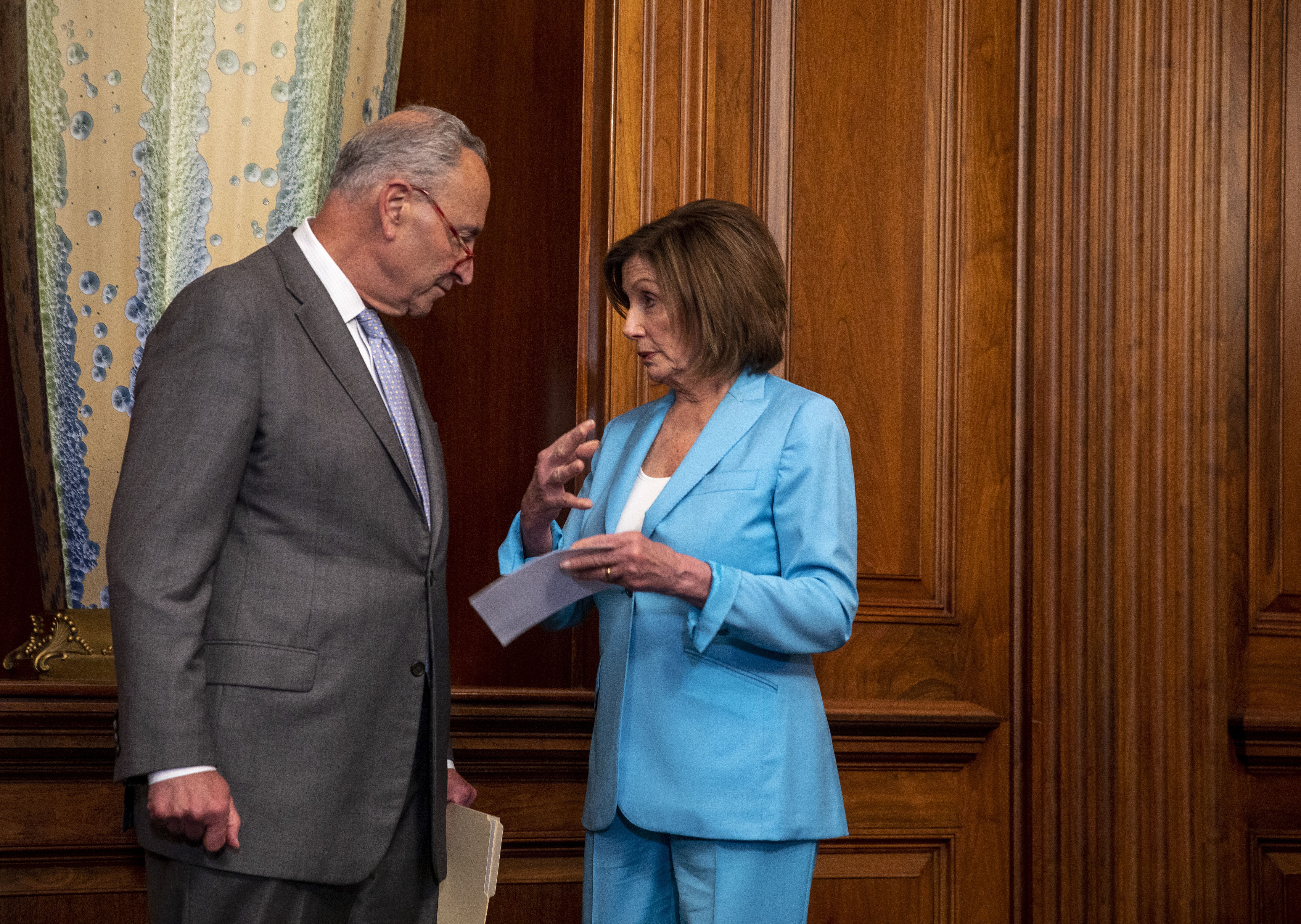 Senate Democratic leader Chuck Schumer says the U.S. government should do more to investigate the deaths of at least eight Americans in the Dominican Republic this year, AP reports.
The Bureau of Alcohol, Tobacco, Firearms and Explosives should help the FBI and local law enforcement, Schumer said.
7. Sneak Peek diary
The House and Senate are in recess.
Trump's schedule:
Monday: Trump will have lunch with Vice President Pence.
Thursday: Trump will deliver Fourth of July remarks at a Salute to America celebration at the Lincoln Memorial.
Friday: Trump will spend the weekend in Bedminster, New Jersey.
8. 🇺🇸 Happy Fourth!
Trump's splashy makeover of D.C.'s traditional Fourth of July festivities will include a secured area in front of the Lincoln Memorial for VIPs, friends and family, the WashPost reports.
The White House will distribute free tickets.
The Secret Service says the VIP section "will stretch roughly from the steps of the memorial to the midpoint of the reflecting pool," according to The Post.
"It is in front of the spot from which Trump plans to address the nation as part of his rebranding" of the celebration into a "Salute to America."
The Navy's Blue Angels will fly over, per AP:
Participants will also include the Old Guard Fife and Drum Corps, U.S. Army Band, Armed Forces Chorus, U.S. Marine Corps Silent Drill Team and others.
Interior Secretary David Bernhardt says Trump will use his speech to honor the military.