Axios Sneak Peek
October 15, 2017
Welcome to Sneak Peek, our weekly lookahead for both ends of Pennsylvania Avenue. I'd love your tips and feedback: [email protected]. And please urge your friends and colleagues to join the conversation by signing up for Sneak Peek.
1. big thing: the art of the deal-breaker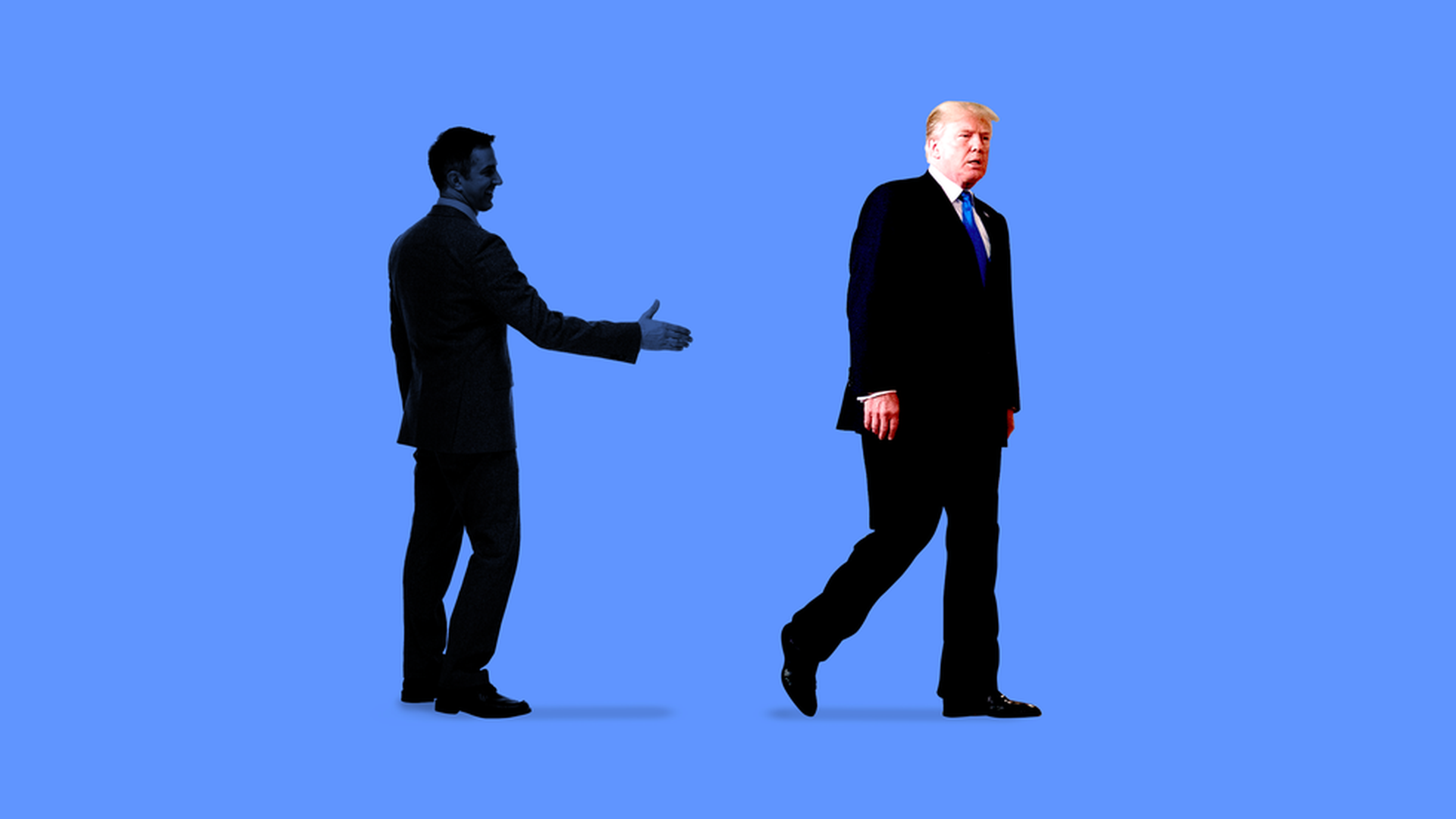 It's hard to overstate how concerned free-traders on Capitol Hill are about the current state of the Trump administration's negotiations on two consequential trade deals: the North American Free Trade Agreement (NAFTA) and the U.S.-Korean trade deal (KORUS.)
"We're all on collapse-watch," one knowledgable source told me. Capitol Hill aides who work on trade are asking "when" not "if" Trump sends a withdrawal notice for NAFTA.
Trump's top trade negotiator, Robert Lighthizer, is playing such extreme hardball with the Canadians and Mexicans in his NAFTA negotiations, that sources close to the process say there's no chance of a compromise solution unless he changes tactics.
The uncompromising message: Trump wants what he wants. In this latest NAFTA round he's demanding things the Canadians and Mexicans simply won't accept' including 50 percent American-made parts in cars crossing the border tariff-free and a "sunset" clause that would force the trade deal to be reassessed every five years. (A Lighthizer spokeswoman declined to comment when asked about this.)
Washington's pro-trade community isn't feeling any more cheerful about the Korean talks. Trump believes to his core that the deal is a scam.
Administration sources don't deny Trump and Lighthizer have been discussing the six-month withdrawal notice, and other methods of gaining leverage over their negotiating partners. But they caution us that just because Trump often discusses withdrawing from these deals — and sometimes with burning urgency in Oval Office meetings — that doesn't mean he's nanoseconds away from doing so.
Trump will likely only send the NAFTA withdrawal notice when he feels the negotiations are in their final stage. They're not there yet.
And Trump's top economic adviser Gary Cohn has told the president that withdrawing from NAFTA while he's trying to pass tax reform would be a terrible idea. It would cause a riot on Capitol Hill and alienate Republicans whose votes they desperately need.
Why this matters: Between NAFTA and KORUS you're talking more than $1 trillion in annual trade in goods and services. Withdrawal would do far more than simply roil the U.S. markets; it would profoundly alter U.S. alliances, test a crucial national security partnership in Asia, and could result in the election of a hard core leftist (and no friend to the USA) in Mexico.
Ian Bremmer, president of the Eurasia Group, told me that pulling out of TPP, and now potentially NAFTA, "is a direct strategic hit to the U.S. in the area we are most vulnerable: determining economic standards for the world going forward ... Our allies in Asia and Latin America have a choice (in a way that they don't militarily) — China.
"In both cases, our allies have expended a great deal of domestic political capital because they believed the U.S. could be relied on to follow through on our international commitments. When that turns out not to be true it causes serious long-term damage to the relationships."
The big picture: A former longtime Hill aide emailed after Trump's Iran speech with the subject line "deal breaker in chief?" ... "Despite claiming to be a great deal maker, I can't think of a single deal President Trump has concluded," he writes. Trump has exited deals (Paris and TPP); chipped away at them (Iran); and unilaterally signed a lot of EOs. "He has endorsed bills (like ACA repeal) or outlines (like tax reform) without himself negotiating details. And he suggested a Chuck & Nancy deal on DACA, but pulled back as soon as it was criticized."
"I'm looking for something he bargained," the former aide continues, "where he got less than his 100% position, to see how he could defend a less than perfect deal."
What's next? The next couple months will be crucial because Trump's patience — and Lighthizer's uncompromising asks — have struck immovable objects in Mexico, Canada, and South Korea. Something's gotta give.
2. Trump's four justices
They swear he's not joking. Sources who've spoken to the president about the Supreme Court say he tells them he thinks he'll have appointed four justices by the end of his first term.
"It's all about the numbers for him," one source said.
Asked how he comes to that jaw-dropping number, Trump mentions the obvious: he's already replaced Antonin Scalia with Neil Gorsuch, and there are rumors Anthony Kennedy will retire.
"Ok," one source told Trump, "so that's two. Who are the others?"
"Ginsburg," Trump replied. "What does she weigh? 60 pounds?"
"Who's the fourth?" the source asked.
"Sotomayor," Trump said, referring to the relatively recently-appointed Obama justice, whose name is rarely, if ever, mentioned in speculation about the next justice to be replaced. "Her health," Trump explained. "No good. Diabetes."
Sotomayor has opened up about her struggles with type-1 diabetes, but she's managed it successfully since childhood.
The White House and spokespeople for the Supreme Court didn't respond to requests for comment.
3. The Kirstjen Nielsen backstory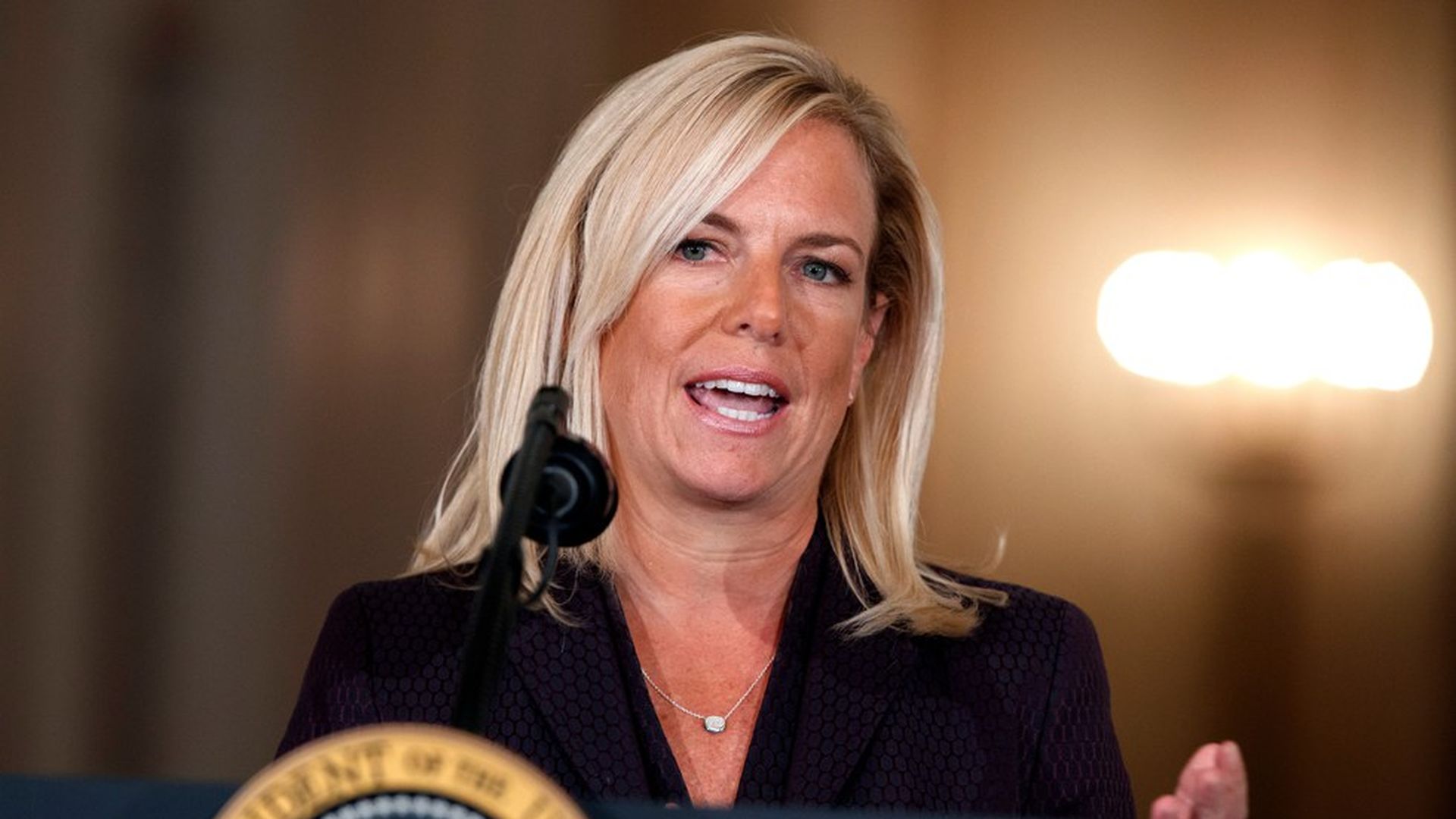 A lot of people were surprised on Wednesday when word got out that President Trump would appoint Kirstjen Nielsen as the new Secretary of the Department of Homeland Security. Those surprised included just about the entire leadership of the department, including the Acting DHS Secretary Elaine Duke.
Duke emailed senior DHS staff around noon on Wednesday and told them she wanted to do a conference call because General Kelly had just informed her that the president had picked a new DHS Secretary. There was silence on the call when she told them it was Nielsen.
Nielsen is not a beloved figure at DHS; just as she wasn't inside the White House. She has a very sharp-elbowed approach to doing business and doesn't command anywhere near the respect that her predecessor, Kelly, did, according to more than half a dozen sources who've worked with her.
Two sources familiar with the situation told me that the reaction inside DHS has been widespread shock at her appointment. There are only a few senior staff at the agency who are loyal to Nielsen. They include Elizabeth Neumann, who was Nielsen's deputy when she was chief of staff at DHS under Kelly, and Jonathan Hoffman, the assistant secretary of public affairs at the agency.
Read the backstory in the Axios stream.
4. Sneak Peek diary
President Trump's schedule:
Monday: Cabinet meeting in which they're expected to discuss tax reform, immigration, and disaster relief. Trump will have lunch with Mitch McConnell at the White House. Here's Mike Allen's latest take on the Trump/McConnell relationship.
Tuesday: Trump to speak on tax reform at the Heritage Foundation. And the Greek Prime Minister, Alexis Tsipras, visits the White House. Flashback: In 2016, Tspiras said of Trump: "Of course what this nomination marks, the ideas it represents, the appeal it reaches, and the threat to become even President – I hope we will not face this evil."
Wednesday: Senate Finance Committee members — who are crucial to passing tax reform — visit the White House to meet with Trump.
The House is on recess.
The Senate's week will be consumed by trying to pass the Budget — the essential first step to passing tax reform. Here's how the week is expected to play out:
Monday: Senate has its comeback vote to confirm Callista Gingrich to be ambassador to the Vatican.
Tuesday: Senate votes to start debate on the budget. Then has 50 hours of debate, followed by a marathon process of amendments known as "vote-a-rama."
After they deal with the budget, Senate leaders will move on to pass a $36.5 billion disaster relief package. It's the bill the House passed last week to help communities harmed by recent hurricanes and wildfires.
5. The moron monologues
Jake Tapper had a striking interview with Secretary of State Rex Tillerson this morning on CNN's "State of the Union."
The splashy moment: Tillerson, stunningly, again refused to deny that he called President Trump "a moron." The State Department spokeswoman and Defense Secretary James Mattis, have denied the incident on Tillerson's behalf, but Tillerson himself still refuses to correct the record. "I'm not gonna deal with that petty stuff," he said, when Tapper asked him whether he called Trump a moron.
The consequential moment: Despite Trump saying that Tillerson's diplomatic efforts in North Korea were a waste of time, Tillerson said: "Diplomatic efforts will continue until the first bomb drops." Why this matters: While Trump has said publicly that he won't allow North Korea to develop nukes that can hit America, that's exactly what Kim Jong-un is doing. This is leading many national security analysts to conclude that the Trump administration might not be saying it out loud but is actually heading towards a policy of containment or deterrence. (I.e.: accept that the costs of stopping North Korea from having this nuclear capability are too high; but assume that Kim Jong-un is not suicidal and therefore won't fire at America.)
A light moment: Tapper asked Tillerson whether it bothered him that his friend Sen. Bob Corker said publicly that Trump had castrated him. "I checked," Tillerson replied dryly. "I'm fully intact."
6. The shows
Sunday show highlight reel, with national security threats left and right, and a good deal of intrigue:
General H.R. McMaster, the White House National Security Adviser, spoke ominously about Iran and North Korea on Fox News Sunday. Host James Rosen, who was sitting in for Chris Wallace, asked McMaster about the military options for North Korea."All of our armed forces are getting to really a high, high degree of readiness for this mission," McMaster said, "if it's necessary."
Nikki Haley, the UN Ambassador, told Chuck Todd on NBC's "Meet the Press" that President Trump has full confidence in Tillerson and that "if there's a problem, that's really a question for Secretary Tillerson. That's not anything for the rest of us to answer."
Ohio Gov. John Kasich didn't rule out running for president in 2020. "I don't know what I'm going to do tomorrow," he told Chuck on "Meet." "You know, I will tell you this. The other day, with all the chaos going on, my wife said to me one morning, she said, 'You know, John, I wish you were president.' That's how I knew the country was in trouble."
GOP Sen. Lindsey Graham, with a cheery outlook to John Dickerson on CBS' "Face the Nation": "If we don't cut taxes and we don't eventually repeal and replace Obamacare, then we're going to lose across the board in the House in 2018. And all of my colleagues running in primaries in 2018 will probably get beat. It will be the end of Mitch McConnell as we know it."
7. 1 unchained thing: How Michael Grimm won Steve Bannon's heart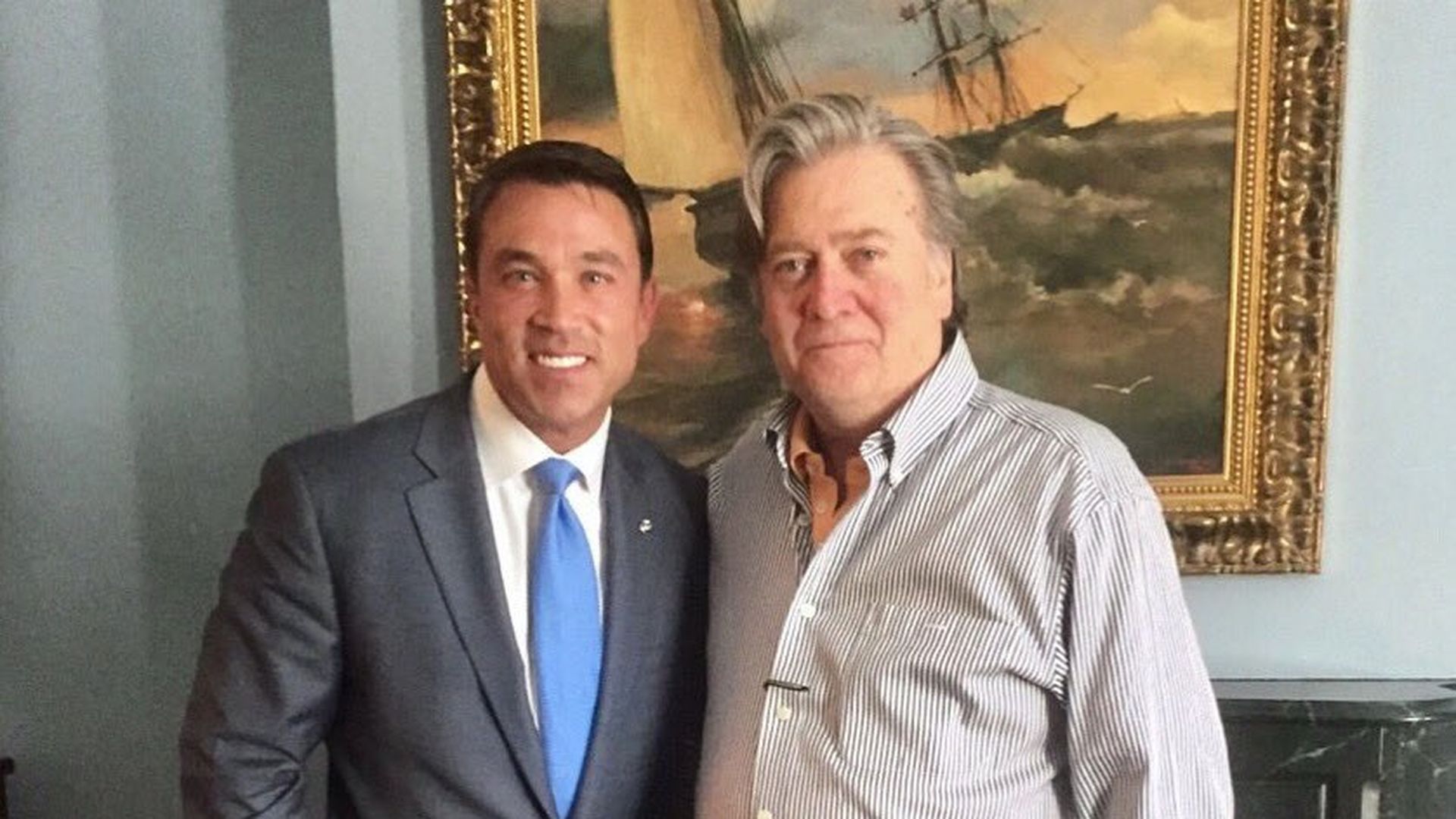 Holding court at the dining table at the Breitbart Embassy on Capitol Hill, Steve Bannon is having some colorful conversations as he searches for candidates to upset Republican leaders in the 2018 elections.
Bannon's strangest candidate interview so far: Former New York congressman Michael Grimm, who was a moderate when he served in the House and who recently spent time in prison for tax evasion. (He also famously threatened to throw a reporter "off this f-----g balcony" and when the reporter asked another question, Grimm replied: "I'll break you in half. Like a boy.")
I digress. The fact of Bannon's meeting with Grimm is well-known, given Grimm proudly tweeted a picture of the two together. But I can share the moment from the meeting in which Bannon seemed to connect with Grimm.
A source familiar with the meeting told me that when the subject of Grimm's less-than-conservative voting record came up, Grimm said, "I know there were some votes I took that were bad. I was trying to please some people but now I've got no one to answer to. If I'm elected you'll get the real deal Michael Grimm. I don't give a f---."