Axios Sneak Peek
August 29, 2021
Welcome back to Sneak. Thirteen selfless Americans arrived home, as an epic hurricane also hits the Big Easy.
⚡Situational awareness: Interior Secretary Deb Haaland got married to Skip Sayre over the weekend in Placitas, New Mexico.
Smart Brevity™ count: 1,804 words ... 7 minutes. Edited by Glen Johnson.
1 big thing: Biden faces Dem defections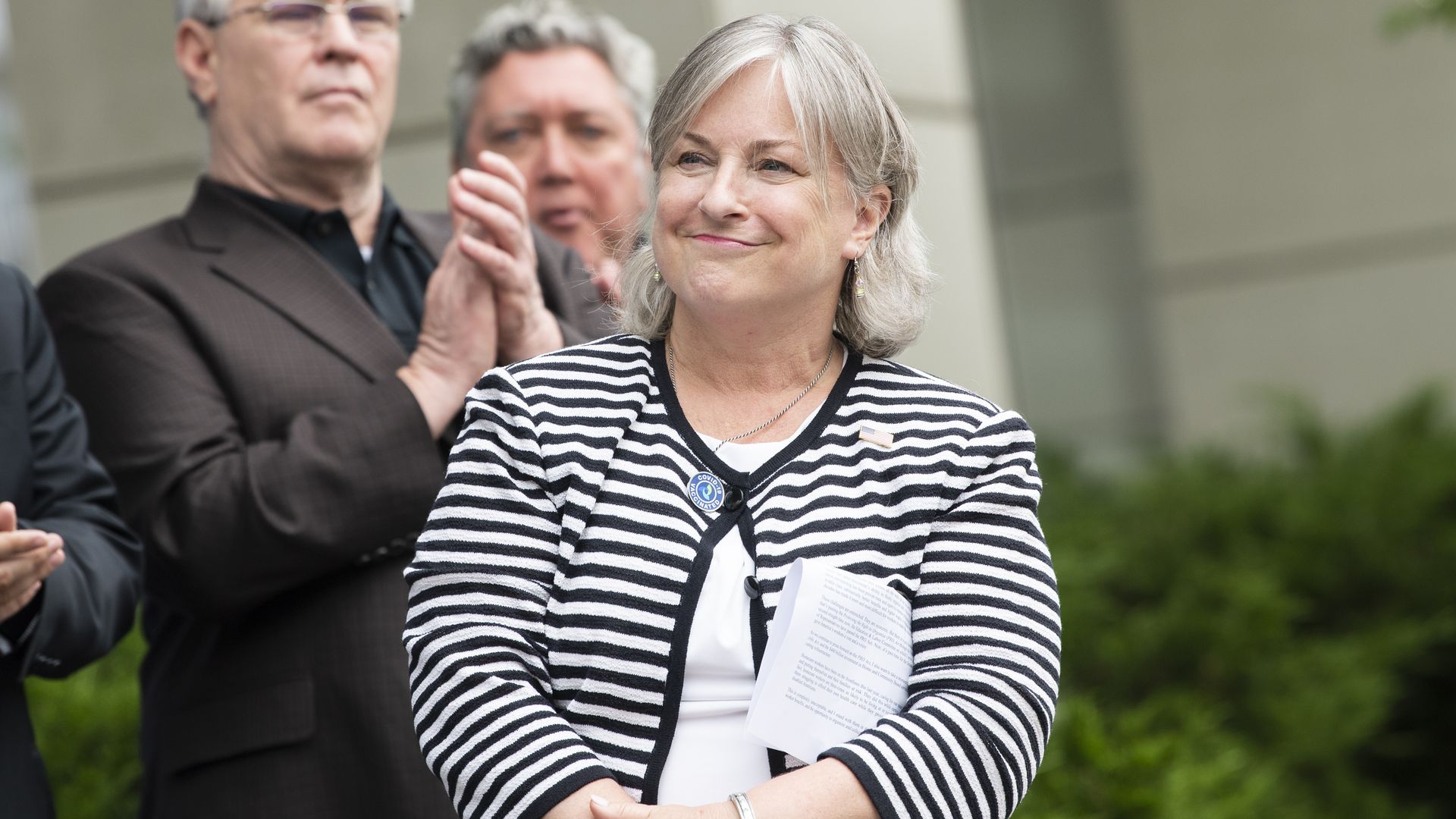 Vulnerable House and Senate Democrats are distancing themselves from President Biden over Afghanistan, with one calling the evacuation "egregiously mishandled," Axios' Sarah Mucha and Alayna Treene report.
Why it matters: Biden's poll numbers have fallen as the Delta variant spread and the Afghanistan exit proved harrowing. Now, some Democrats in swing states and districts are publicly distancing themselves.
Many moderate Democrats and their aides are huddling with campaign consultants over how to handle the setback in Afghanistan.
Several of them stressed they're not coordinating the condemnations.
Here's what we're hearing from the House:
Rep. Susan Wild (D-Pa.) said in a statement that it's "long past time" to end U.S. military presence in Afghanistan, but added: "[I]t appears that the evacuation process has been egregiously mishandled."

In a phone interview with Axios, she added she doesn't place all the blame on Biden. She said there will be a lot to uncover through future congressional oversight hearings.

Rep. Abigail Spanberger (D-Va.), a former CIA officer who focused on counterterrorism efforts in the Middle East, spearheaded a bipartisan statement from the Problem Solvers Caucus calling on the administration to reconsider Tuesday's withdrawal deadline.

Reps. Mike Levin (D-Calif.) and Andy Kim (D-N.J.) also have called on Biden to extend the deadline.
In the Senate:
Sen. Maggie Hassan (D-N.H.) distanced herself from the president as he reiterated his commitment to the withdrawal date: "We must complete this mission, regardless of any arbitrary deadlines."
A spokesman for Sen. Mark Kelly (D-Ariz.), a Navy combat veteran, told Axios: "Senator Kelly has been critical of the administration's execution of the withdrawal. ... [H]e has said in multiple press interviews since then that he sees the Aug. 31 deadline as less important than accomplishing the mission of evacuating Americans and Afghan allies."
Sen. Catherine Cortez Masto (D-Nev.) told a local station in Las Vegas this month that she "asked this administration [about its Afghanistan plan], never received anything. And so yeah, I do have questions. What happened? It's devastating what we're seeing right now and we need to have answers."
Last Thursday, she tweeted that "pushing the evacuation deadline is a necessary and important step."
Between the lines: Democratic campaign strategists insisted to Axios that they're not panicking over what this means ahead of the midterms. One strategist cited three reasons:
Republicans backed the withdrawal under President Trump.
Foreign policy tends to rank lower among voter priorities.
We're still a long way from Election Day.
2. Scoop: Former Israel ambassador joins U.S. Iran team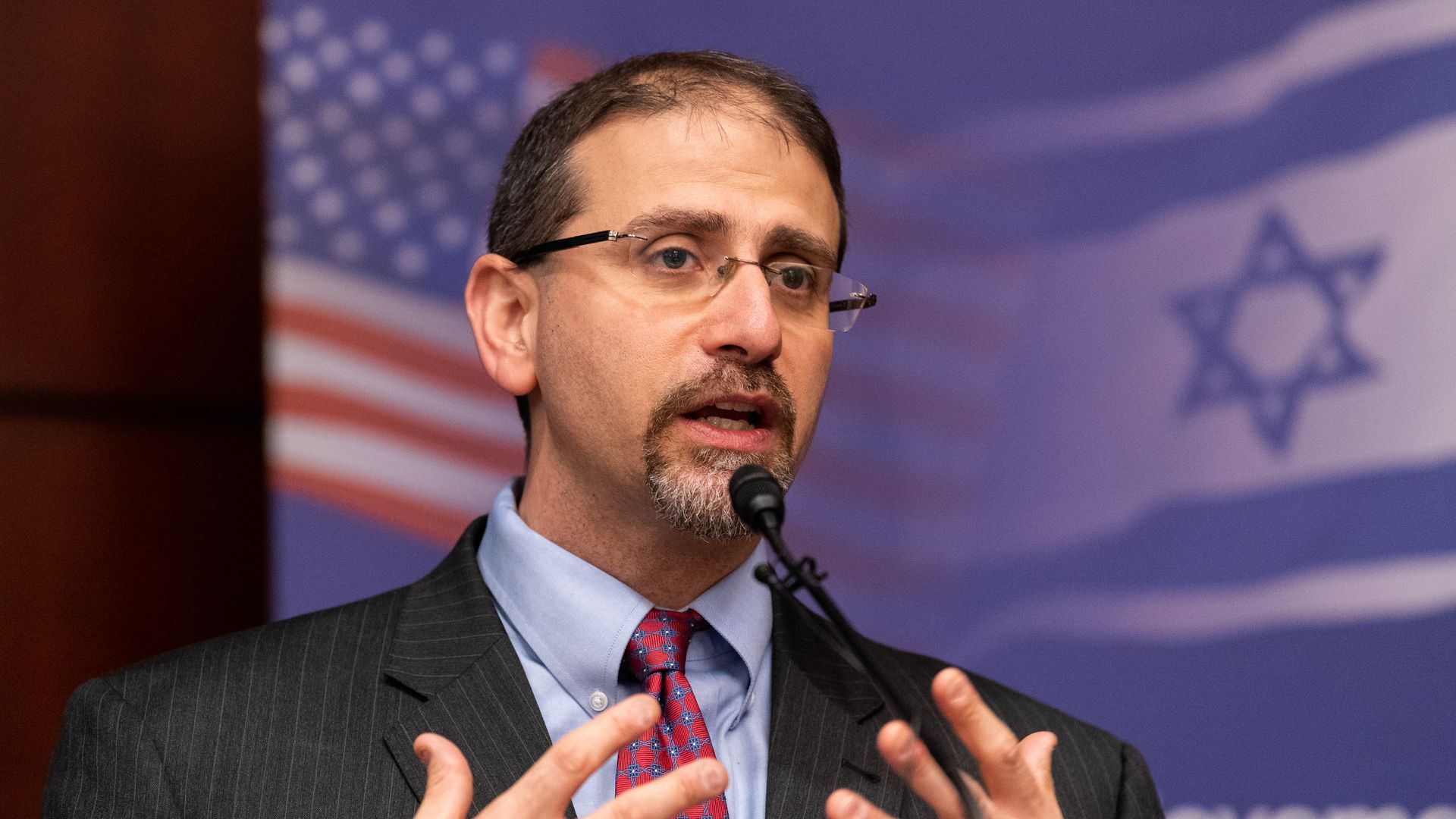 Former U.S. ambassador to Israel Dan Shapiro has joined the State Department Iran team as a senior adviser, a senior State official tells Axios' Barak Ravid.
Why it matters: Israel is pressing the Biden administration to start discussing a "Plan B" in case diplomacy with Iran fails. Shapiro, who has a personal relationship with many Israeli officials, including Prime Minister Naftali Bennett, is equipped to play a key role in any such talks. His portfolio will be the regional aspects of the Iranian issue and coordination with Israel.
State of play: Indirect talks between the U.S. and Iran about a possible mutual return to the 2015 nuclear deal were suspended after the Iranian elections in June. It's unclear if and when they'll resume.
The new Iranian president and senior members of his government signaled they'd take a tougher line than their predecessors, restarting negotiations from zero.
That led many Israel and U.S. officials to think a return to the 2015 deal canceled by President Trump is less likely at the moment.
Israel is concerned this limbo will allow Iran to make even more progress in its nuclear program. It wants to urgently put together a joint strategy with the U.S. to counter Iran.
The prime minister unveiled what he called a "death-by-a-thousand-cuts" strategy during his meeting Friday with Biden. The president said that if diplomacy with Iran fails, he's ready to consider other options.
Driving the news: Shapiro went through a security clearance process and started working last week as a "part-time senior adviser" to U.S. envoy for Iran Rob Malley, a senior State Department official told Ravid, author of Axios from Tel Aviv.
Shapiro was in Washington ahead of the Biden-Bennett meeting and advised the State Department on several issues, though he did not meet the Israeli delegation, a source familiar with the issue said.
State Department officials say Shapiro will spend half of his time in Washington and half in Israel, where he'll work out of the U.S. embassy.
One of his main missions will be to engage in discussions with the Israeli prime minister's office, foreign ministry and ministry of defense to enhance coordination and allow a more intimate dialogue about Iran.
Be smart: In recent months, Shapiro's name came up in several press reports as a possible U.S. special envoy for promoting normalization between Israel and the Arab world.
The president and Secretary of State Antony Blinken said they want to push forward normalization but haven't yet decided if they want to appoint a special envoy.
3. Revealed: Biden's ethics exceptions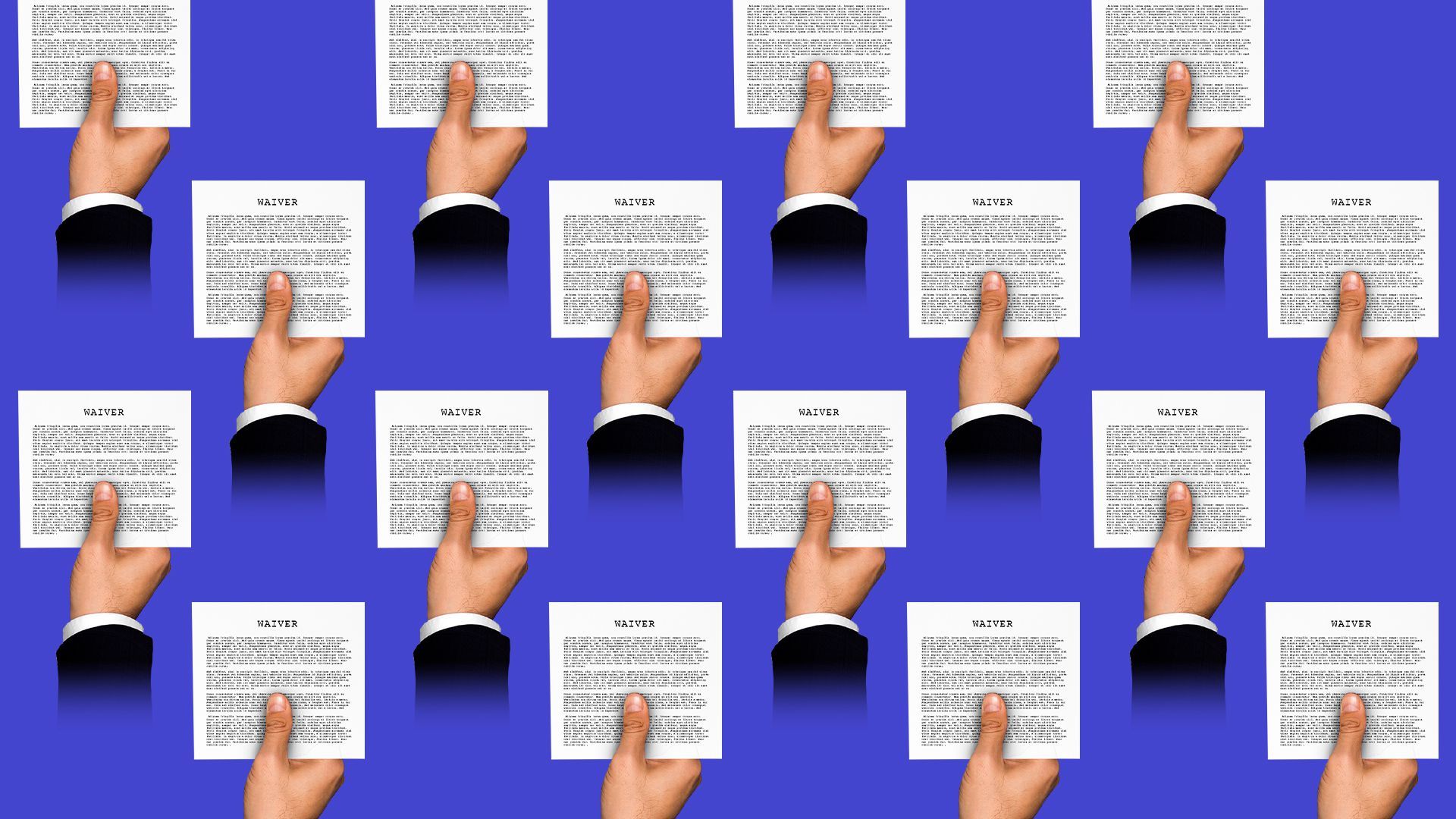 Top Biden officials have been excused from the ethics rules the president boasts about so they can do work involving large Wall Street banks, a leading defense contractor and prominent national media outlets, records show.
Driving the news: At least 16 Senate-confirmed officials have received waivers to ethics laws and regulations, according to a review of their federal ethics paperwork by Axios' Lachlan Markay.
Three were excused from portions of a widely publicized ethics pledge imposed by executive order on the day the president took office.
Thirteen got waivers to a federal regulation restricting work that could be perceived as a conflict of interest based on past professional relationships.
The details: NASA Administrator Bill Nelson was excused from rules that would have barred him from working with Lockheed Martin, for which he was a paid advisory board member.
Treasury Secretary Janet Yellen's waiver doesn't concern work with any specific company but permits her to oversee policy affecting large financial institutions — some of which paid her hefty speaking fees.
The big picture: The waivers show how some officials are balancing previous professional work with their current policy portfolios. Many cover past public sector gigs, as well.
What they're saying: "President Biden put in place the most stringent ethical standards of any administration in history," White House spokesperson Michael Gwin told Axios in an emailed statement.
"[H]e's proud to have filled the senior ranks of his team with individuals who exceed those high standards and bring a wide range of experience — particularly in the public interest — that equip them to deliver for the American people."
4. Twenty days to set 20 years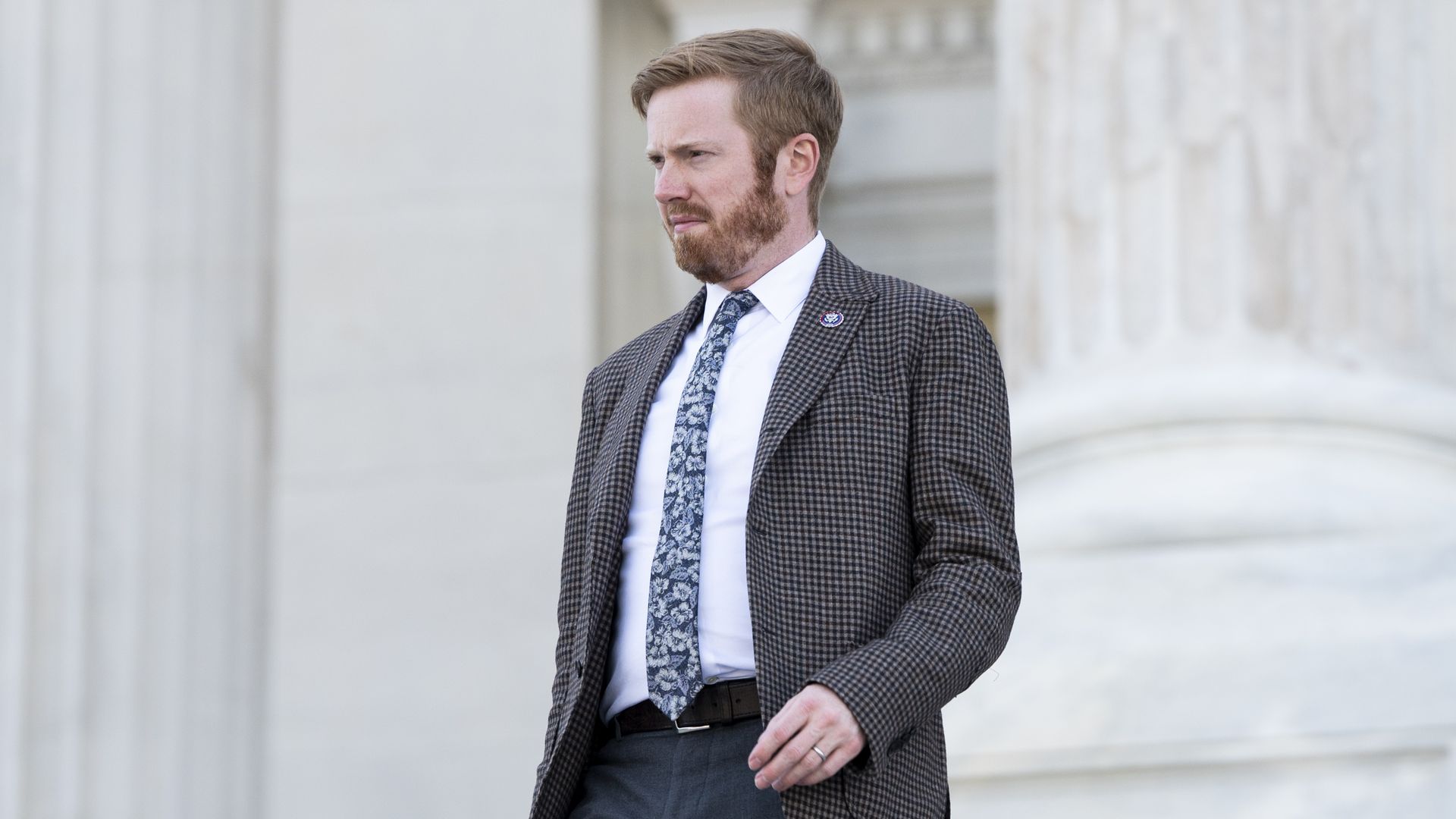 The next 20 years in Afghanistan will be dictated by what happens during the next 20 days, Rep. Peter Meijer (R-Mich.) tells Alayna.
Why it matters: The Iraq war veteran visited Kabul exactly a week before the United States' impending withdrawal. "The best-case scenario is the country becomes like Iraq today; the worst-case scenario is it becomes like Syria today. I don't think we know right now what path it's going to take."
"The worst thing we could do is to, after this withdrawal, forget about this region and not fulfill our obligation," Meijer said during an interview Friday night.
The U.S. also must remain engaged diplomatically both for developmental and security reasons.
The worst-case scenario, the freshman Republican said, would be allowing the Taliban to be riven by infighting and lose control of the country — triggering a civil war.
Between the lines: Meijer blames the State and Defense departments for much of the chaotic withdrawal.
"We've all seen those timeline estimates — back in July — that the Afghan government will last six to nine months after withdrawal," he said. "In early August, it became 30 to 90 days after Aug. 31. We didn't even make it to Aug. 15."
"It is shameful that our the men and women who are on the ground have been put in this position. And it's shameful that the administration waited so long to start these ... evacuations."
Meijer also blamed Congress for not being as involved as it should have been. He said he believes the House and Senate must reclaim war powers.
"So much of this — and this goes across administrations — comes down to how Congress has stepped back from its role and basically left this solely in the hands of the president," he said.
"It's not enough for Congress to just be sitting in the cheap seats, casting critical words here and there."
Go deeper:
5. Pics du jour: Solemn salute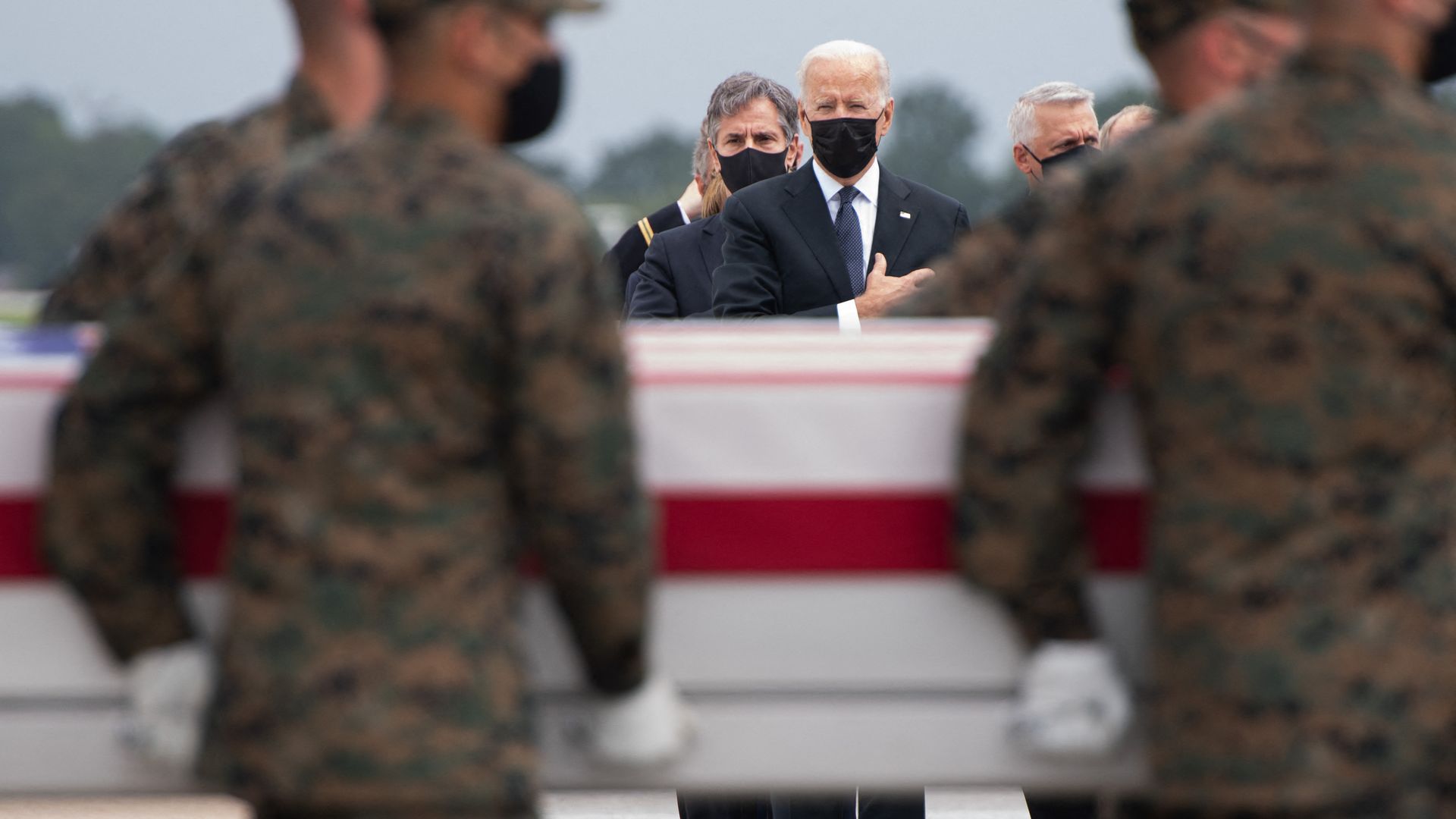 President Biden headed a delegation welcoming home the 13 service members killed last week at Kabul airport's Abbey Gate. The president and first lady Jill Biden met with the families of the victims for about two hours before the transfers ...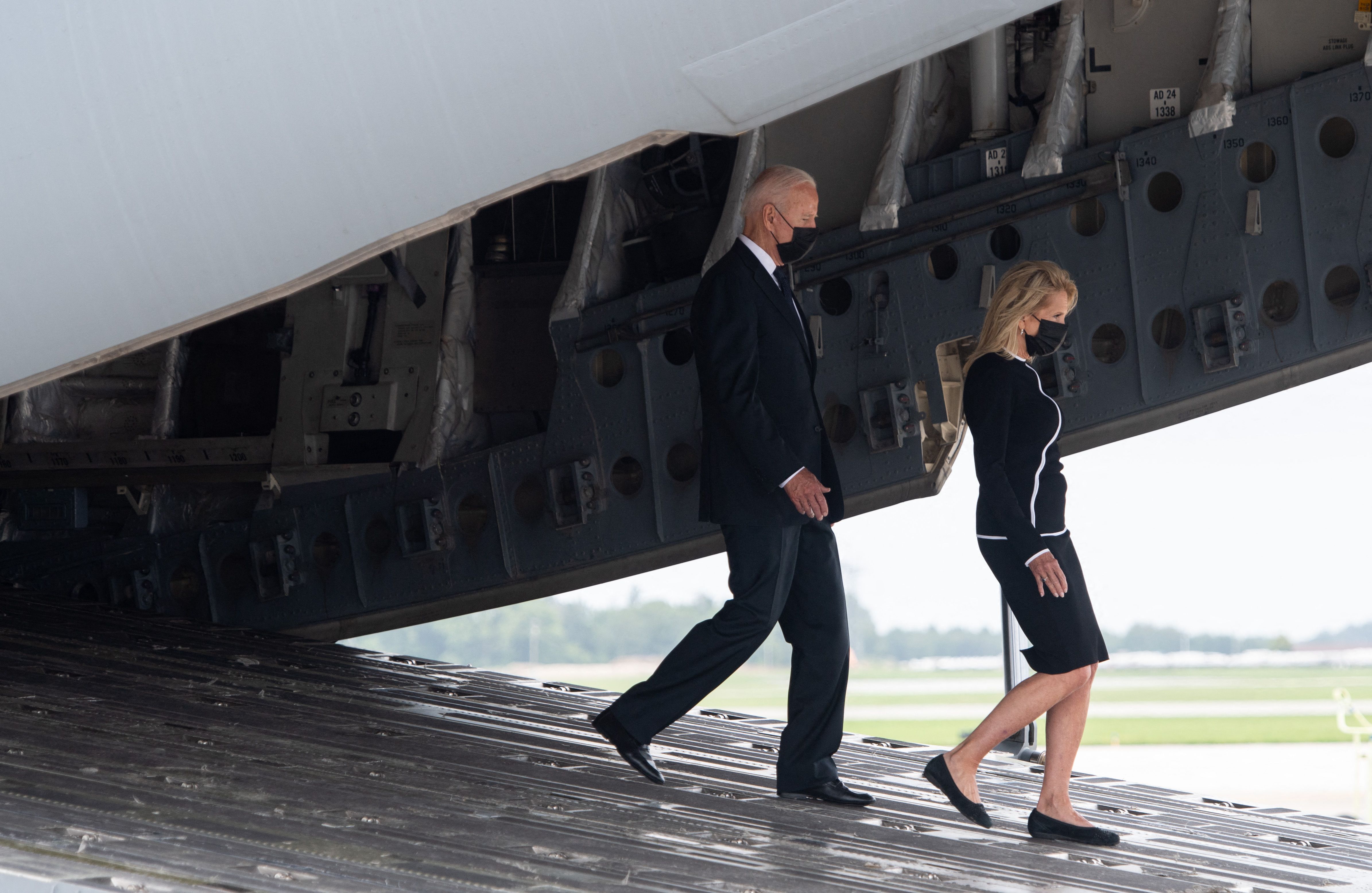 The Bidens then led a minute of prayer aboard the C-17 transport plane that completed a journey from Kabul to Kuwait to Germany and, finally, Dover Air Force Base in the president's home state of Delaware ...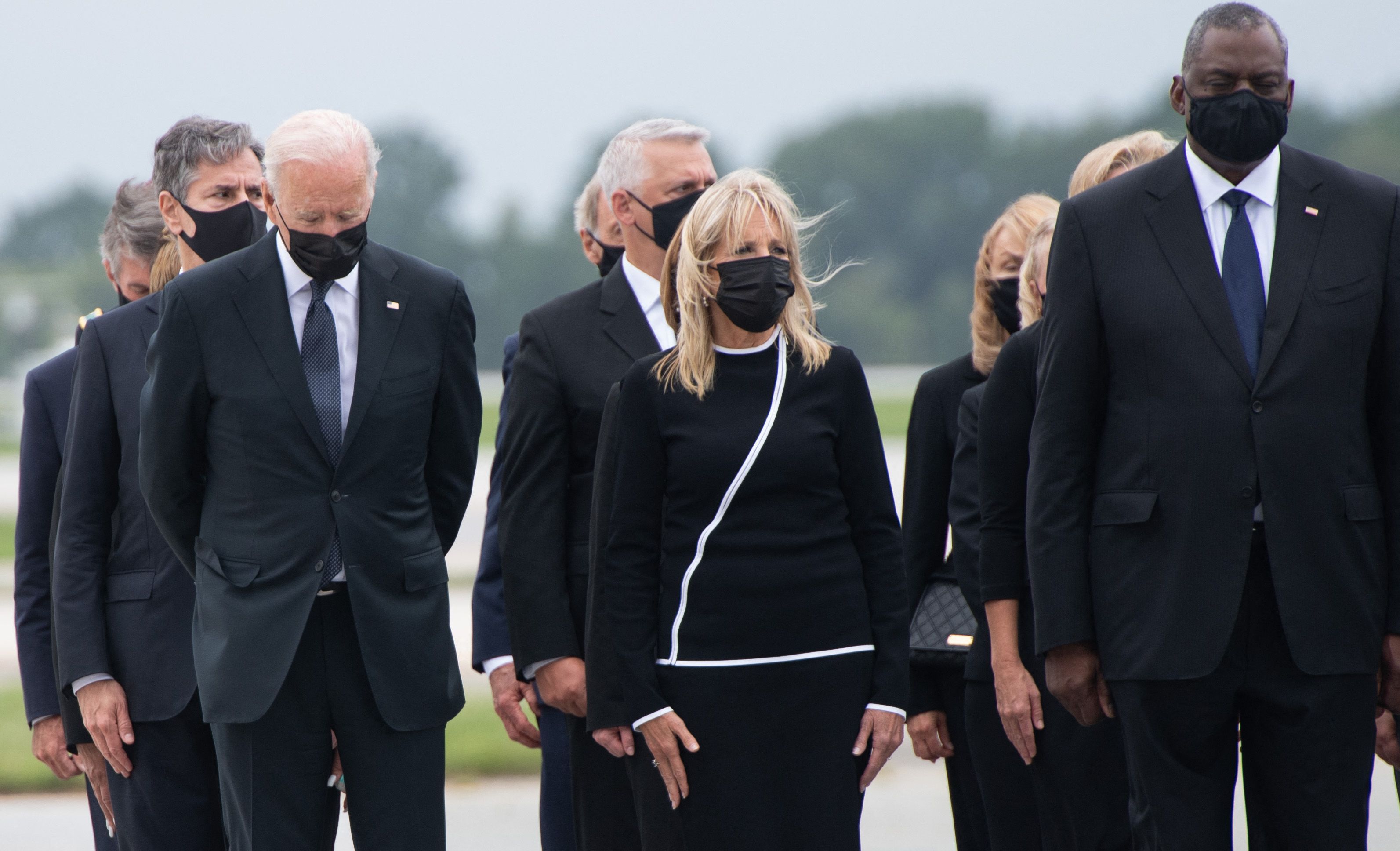 Secretary of State Antony Blinken and Defense Secretary Lloyd Austin joined the first family ...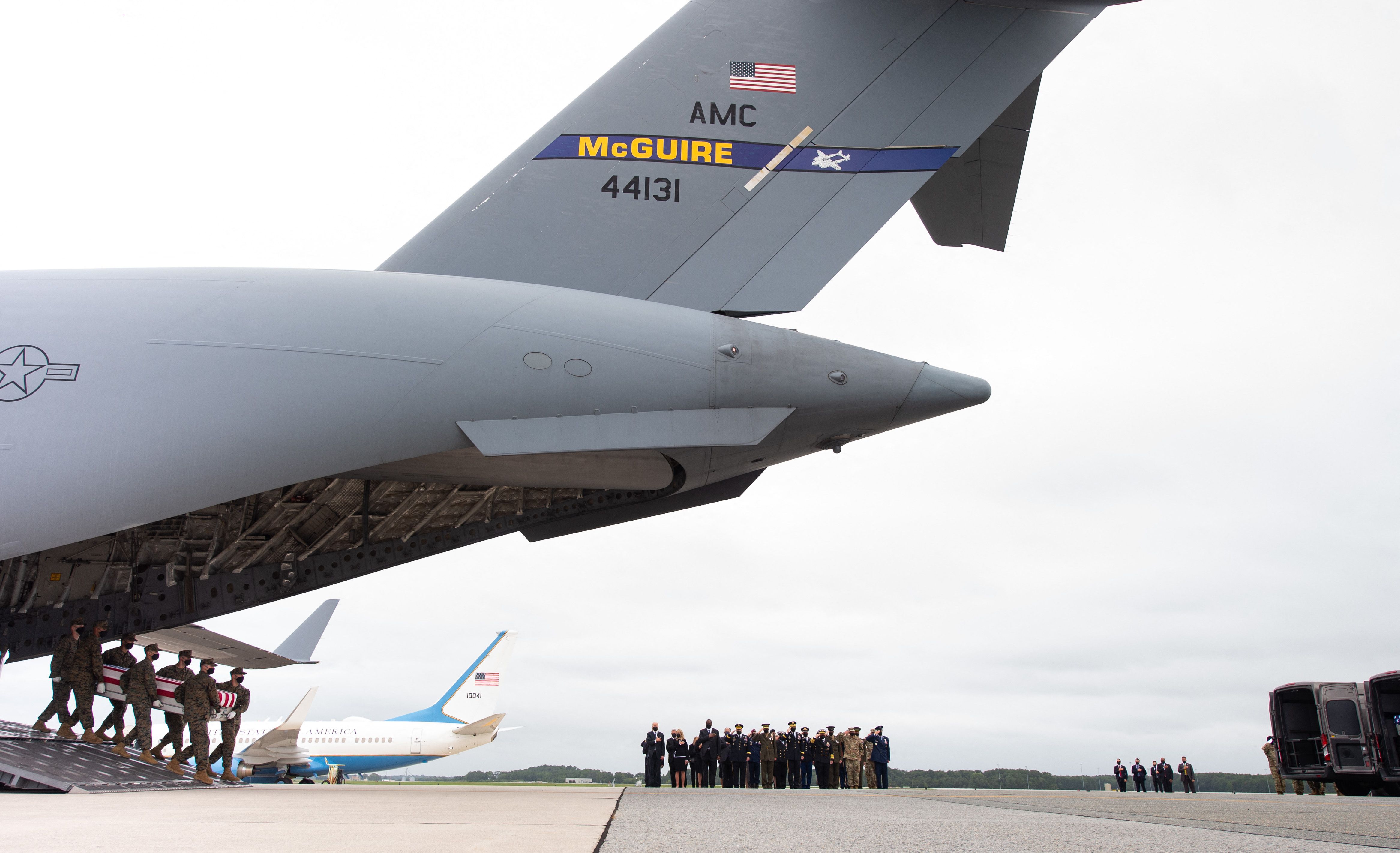 An Army team brought off the first victim, Marine teams brought off the next nine and a Navy team also brought off a member of its service. Two transfers were held after the media departed, at the request of those victims' families ...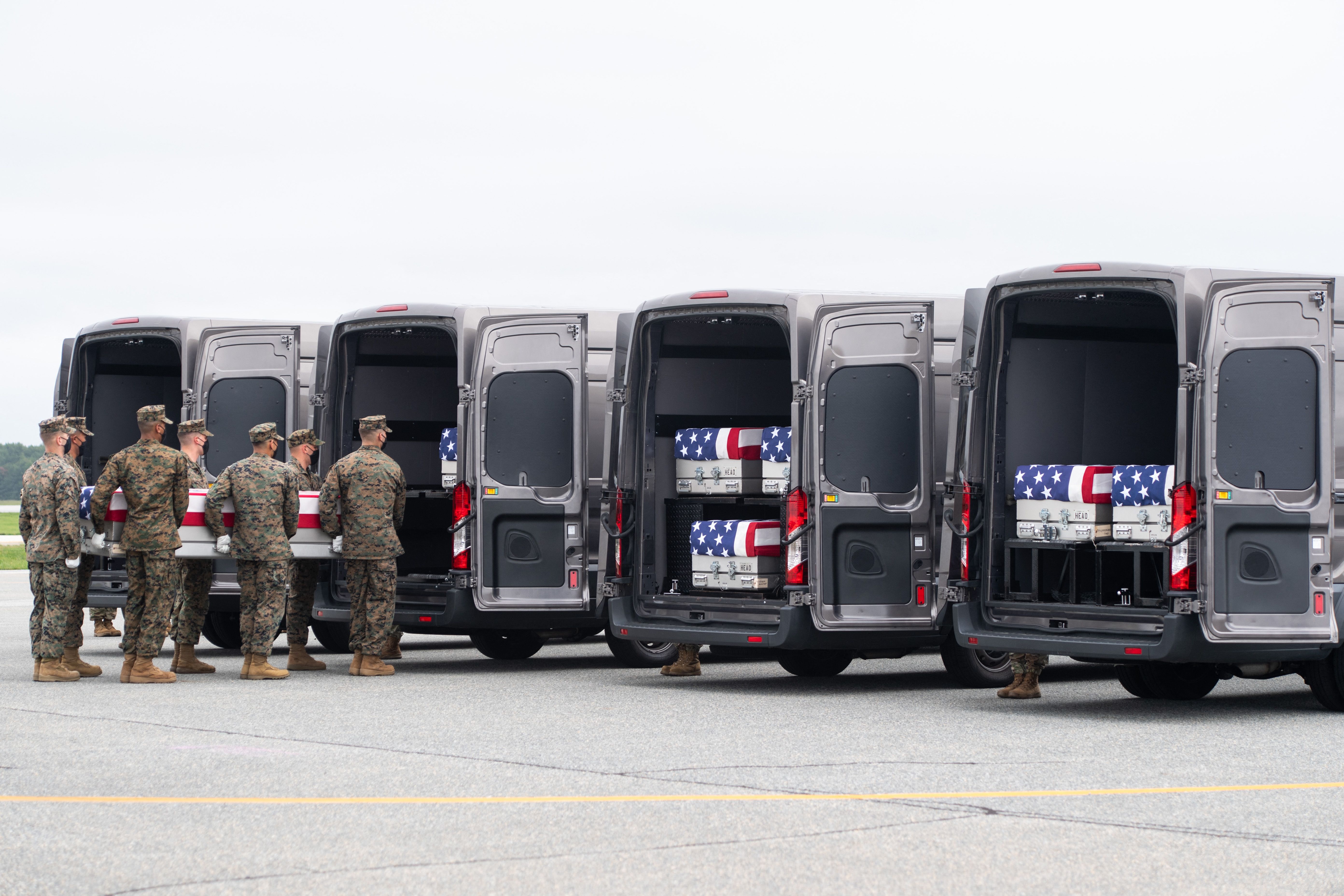 Marines placed a transfer case in one of four transfer vehicles.
During a briefing for reporters who accompanied by Bidens, base officials made the following points, according to a pool report filed by Rob Crilly of the Daily Mail:
"Officials are precise in their language. They refer to a 'dignified transfer,' which is not a 'ceremony' but is instead a 'solemn movement.' They use this language so that family members do not feel obliged to attend."
"'Fallen service members' return in a flag-draped 'transfer case,' rather than a casket or coffin."
📬 Thanks for reading. We'll be back next Sunday, with additional Sneak Peek Thought Bubbles along the way as congressional action warrants. Your family, friends and colleagues can subscribe to this or any of Axios' free newsletters by clicking here.