Axios Sneak Peek
March 12, 2017
Welcome to Sneak Peek, our weekly lookahead for both ends of Pennsylvania Avenue, plus the cream of the Sunday shows. I'd love your tips and feedback: [email protected]
Please urge your friends and colleagues to join the conversation by signing up for Sneak Peek and the other Axios newsletters. See you all week in the Axios STREAM, and next Sunday evening in Sneak Peek.
1 big thing: Trump's "ultimate deal"
Every American president fantasizes about being the Middle East peacemaker. It's the great unattainable — a sure-fire Nobel Peace Prize, and your own page in the history books.
Influential figures in the conservative pro-Israel community have concluded that President Trump and his son-in-law Jared Kushner have convinced themselves that their dealmaking talents can clinch this "ultimate deal" between Israel and the Palestinians.
Trump the dealmaker has begun inching to the left on Israel:
The Trump administration alienated some allies in conservative pro-Israel circles by allowing the State Department to hire Michael Ratney, who was a senior U.S. diplomat in Jerusalem under John Kerry. In recent days, a number of influential conservatives have reached out to White House officials, urging them to fire Ratney.
On the campaign trail, Trump promised to "move the American embassy to the eternal capital of the Jewish people, Jerusalem." As president, Trump is keeping the embassy in Tel Aviv as a bargaining chip to extract future concessions from Israeli Prime Minister Bibi Netanyahu.
Trump infuriated Palestinians by breaking with U.S. policy and saying he could potentially support a one-state solution. But during the same recent visit with Netanyahu, Trump threw a bone to the left by gently chiding the Israelis on settlement building.
On Friday, Trump spoke by phone to President Mahmoud Abbas of the Palestinian Authority. According to the White House, they "discussed a comprehensive agreement that would end the Israeli-Palestinian conflict." Trump invited Abbas to visit the White House in the near future.
So what comes next?
The hardbitten view: A conservative pro-Israel leader tells me Trump's aspirations "will run up against the reality of dealing with the Palestinians."
The most hopeful words: In a recent interview on David Axelrod's podcast, The Atlantic's editor Jeffrey Goldberg repeated a joke that Jared Kushner's principal qualification to be Trump's Middle East peacemaker was that he'd been to Jewish summer camp. But Goldberg wisely noted that the "great geniuses of American diplomacy" have all failed to achieve a deal:
"There's almost like a Jewish comic novel in this ... And then a boy named Jared Kushner emerged from Trump Tower and brought peace to the tribes of Abraham. I mean ... who knows?"
2. The highest bar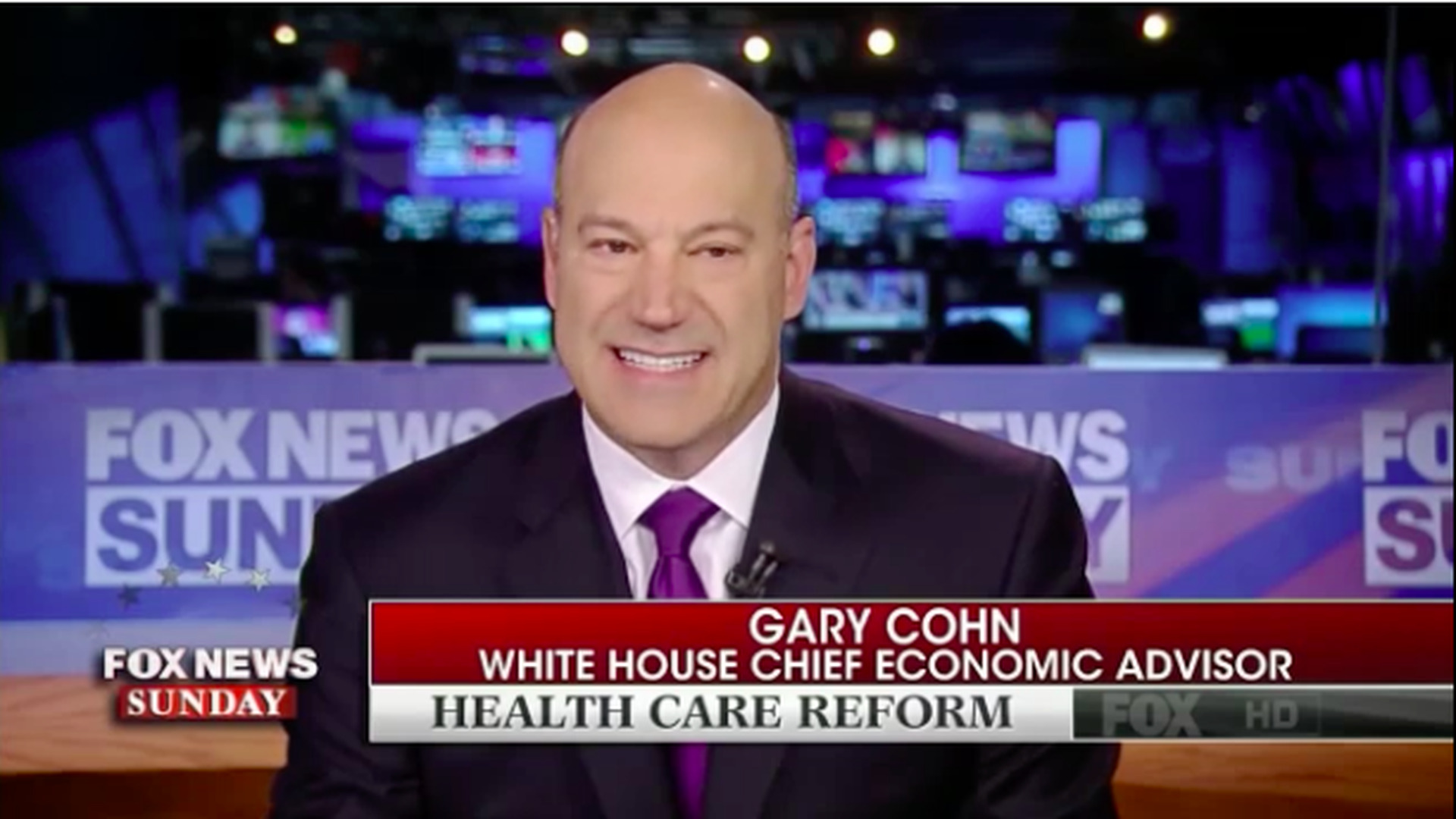 The White House and Republican Hill leaders are setting a dauntingly high bar for their plan to replace Obamacare:
Trump's top economic adviser, Gary Cohn, told Chris Wallace on "Fox News Sunday" that the administration will do "whatever it takes" to get the bill passed.
When NBC's Chuck Todd asked on "Meet the Press" what success would look like, HHS Secretary Tom Price said it means "more people covered than are covered right now, and at an average cost that is less" (which contradicts the administration's line that coverage is the wrong focus).
Price also told Chuck that "nobody will be worse off financially."
Speaker Ryan told John Dickerson on CBS's "Face the Nation" that he agrees with President Trump that the 2018 elections would be a "bloodbath" for Republicans if they fail to pass his Obamacare replacement.
Echoing into the week ... On ABC's "This Week," Arkansas Sen. Tom Cotton had this warning for Republican House members: "Do not walk the plank and vote for a bill that cannot pass the Senate and then have to face the consequences of that vote."
3. Undercutting Speaker Ryan
Inside the Oval Office last week, there was a telling exchange between conservative activist Jenny Beth Martin and the president.
During Trump's Wednesday meeting with conservative leaders over the healthcare plan, Tea Party Patriots leader Martin subtly reminded Trump that her super-PAC stood by him "through thick and thin" during the campaign, unlike a certain politician from Wisconsin.
According to two sources in the room, Martin didn't mention Paul Ryan's name. But everyone knew who she was talking about. She reminded Trump that in October — when the crude "Access Hollywood" tape leaked and Ryan disinvited Trump from a Wisconsin event — Tea Party Patriots Citizens Fund volunteers were working the phones on Trump's behalf.
Trump smiled and glanced over at his chief of staff Reince Priebus. Trump said that, yes, he had been disinvited. And he thanked Martin for standing by him. (Of course, Martin wasn't always a Trump loyalist. She gave a blisteringly anti-Trump speech at CPAC in 2016, but has since changed her tune.)
Why this matters: Some conservatives who oppose the House GOP Obamacare replacement plan believe it's strategically smart to divide the president from the speaker. They think the president is more open than Ryan to negotiating, and they believe that branding the bill as "Paul Ryan's plan" and emphasizing Ryan's disloyalty during the campaign could make Trump less attached to the specifics of the current bill.
However: So far, the White House and Ryan are publicly sticking close together even on the controversial stuff. The controversial Medicaid timeline that's in the bill "is what the president supports," White House press secretary Sean Spicer said Friday, adding: "it's not a question of negotiation."
4. Lowering sights on tax
It didn't get much media attention, but Trump's chief economic adviser Gary Cohn said something very important in a Friday interview with CNBC:
"We're going to have to be deficit neutral over a 10-year period."
Why this matters: Sources familiar with the administration's tax planning say there's nothing close to agreement on how — or if — the administration will "pay for" the cuts it has planned to corporate and individual rates. Given Trump's oft-professed love for debt, many sources had been assuming the administration would give up on revenue neutrality, instead suffering short-term deficit hikes in hopes of long-term growth.
Cohn's comments change that calculus, since they sure look like an official White House endorsement of the House's commitment to revenue neutrality.
I checked in with Stephen Moore, one of Trump's top economic advisors during the campaign. He worries that Cohn & Co. are preparing for a less ambitious rate cut.
Here's the rub: If the administration doesn't get behind new taxes to pay for the cuts — like the House Republicans' trillion-dollar border adjustment tax — then taxes won't be cut as much as Trump originally promised.
1 fun thing: celebrities struggling with Trump
The celebrity community is still having trouble adjusting to Trump's America, as was on display this week in two big ways:
First, Madonna — never one to err on the side of understatement — released a short video announcing that we have entered a "New Age of Tyranny."
Even more dramatic, if that's possible, was the escalating feud between Shia LaBeouf and members of the troll-infested Internet message board 4chan. According to Page Six, LaBeouf livestreamed a flag that read "He Will Not Divide Us," billowing in the wind over an undisclosed location. 4chan members reportedly found the flag, pulled it down, and replaced it with a "Make America Great Again" hat.
Not your daddy's culture war, but here we are.