December 16, 2019
Welcome to Sneak Peek, our weekly lookahead for both ends of Pennsylvania Avenue, plus our best scoops.
Tonight's newsletter is 2,187 words, 8 minutes.
1 big thing: Trump's yes-men
When President Trump tweeted in January that he wanted to cut off disaster aid for California's forest fires, other White House aides might have ignored his forest punditry and hoped he forgot about it — but not the leadership team at the Office of Management and Budget.
The big picture: OMB acting director Russell Vought and general counsel Mark Paoletta made it their mission to find lateral ways to accomplish Trump's goals, David Nather and I report.
Their approach provides a window into how the Trump White House really works.
It's a valuable lesson about not just the typical bureaucratic battles that happen inside any White House, but about the specific battles that take place among administration officials with different views on how to treat Trump's demands.
Case in point: It was Vought — who took over the agency from acting White House Chief of Staff Mick Mulvaney — and his team who came up with the way to help Trump build his border wall by declaring a national emergency that allowed him to use military funds.
The White House counsel's office originally objected to the idea, and the administration is now fighting off a court ruling against it. But it's the approach that won the day in the White House and allowed Trump to get what he wanted: the ability to move ahead without Congress.
The budget office is also discussing ways to channel Trump's anger about the California wildfires into a policy response — most likely by attaching conditions to disaster relief funding to encourage states to take more preventive steps against future wildfires, like conducting controlled burns to get rid of dead trees.
"The nature of the bureaucracy is that if it isn't status quo, it must be impossible," Vought said. "However, most of the time, when we actually dig into the ways to do what the president wants, we find a way to accomplish it."
Behind the scenes: Some officials treat Trump's frequent venting sessions as a storm that just needs to blow over — or in some cases, be contained. Think Gary Cohn, the president's former top economic adviser, stealing a document off Trump's desk that, if signed, would have ended the United States-Korea Free Trade Agreement.
Others, like Vought and his team, take the approach that Trump is the president and he has the right to get what he wants — if there's any legal way to get it done. And in their view, there usually is.
"We view ourselves as the president's Swiss Army knife," said Vought.
Between the lines: Throughout his nearly three years as president, aides say Trump has often complained about his White House lawyers being too "conservative" and always telling him "no" when he asks for things. In that context, the budget office has become an island of "yes." They've also netted plenty of enemies and critics from both parties and at both ends of Pennsylvania Avenue.
House Speaker Nancy Pelosi and other appropriators have publicly criticized Mulvaney and his fiscally hawkish allies at OMB as impossible to work with.
Both Democratic and Republican appropriators say they prefer to negotiate with Treasury Secretary Steven Mnuchin as the administration's representative — and that's what has happened in the recent government funding negotiations.
Go deeper: Read our full story about President Trump's budget office in the Axios stream.
2. First Look: Schumer's opening bid for the Senate impeachment trial
Tonight, Chuck Schumer makes his opening bid to Mitch McConnell in the two leaders' negotiations over the Senate impeachment trial.
The Senate Democratic leader's request — particularly his call for additional impeachment witnesses — may appeal to some moderate Republicans but is sure to meet forceful resistance from President Trump and McConnell.
The big picture: Schumer has sent a letter to McConnell in which he asks the Republican leader to call four witnesses who refused to testify before the House impeachment committees.
The witnesses all have direct knowledge of Trump administration decisions concerning the holdup of aid to Ukraine and the requests for investigations of the Bidens and of the origins of the Russia investigation.
They are: Mick Mulvaney, acting White House chief of staff; John Bolton, former national security adviser; Michael Duffey, associate director for national security, Office of Management and Budget; and Robert Blair, senior advisor to Mulvaney.
Schumer also proposes that the Senate issue subpoenas "for a limited set of documents that we believe will shed additional light on the administration's decision-making regarding the delay in security assistance funding to Ukraine and its requests for certain investigations to be announced by the government of Ukraine," per the letter obtained by Axios.
Between the lines: Schumer offers other suggestions to McConnell, such as the amount of time he believes should be allocated for arguments and counter-arguments. But it's his requests for witnesses that will be most controversial.
By tailoring the description of the kind of witnesses Democrats think should be called — those with "direct knowledge" of the administration's decisions related to delaying the military aid and seeking investigations — Schumer may be drawing a distinction between witnesses Trump has sought to shield and the sort of Democrats that Trump wanted to drag into the Senate, including the Bidens.
Schumer also appears to be trying to drive a wedge into the Republican Senate conference. The bet would be that even as McConnell defends Trump, some swing state Republicans who are no fans of the president may want to at least make it seem like they're seriously examining Trump's actions.
3. Inside the McConnell-Trump playbook
The Senate trial is poised to be short — perhaps two weeks — and to involve no new witnesses, and Trump has largely come around on this plan, according to two sources familiar with the discussions.
That would represent a significant evolution in the president's posture, after a flurry of private and public urging by McConnell and Judiciary Chair Lindsey Graham. Sources caution that nothing has been decided yet.
McConnell has said publicly that he would be surprised if there are 67 votes to convict Trump. Privately, he has signaled even greater confidence of acquittal, according to a Republican senator.
McConnell has also indicated he sees nothing but political downside in the futile exercise of calling up controversial witnesses and drawing out a messy Senate show trial.
Besides, all witnesses need 51 votes in the Senate, and it's highly unlikely that moderate Republicans will cater to Trump's desires to call up witnesses like Adam Schiff and Hunter Biden.
The backstory: Initially, POTUS "genuinely wanted a long trial with all the witnesses to push back," said a source who's discussed the matter with Trump.
"But now he thinks we're winning," the source said. "He's been talked into being a lot more comfortable with what the Senate wanted all along, which is a short trial and no witnesses."
A second source familiar with the discussions added: "As far as length of time, it really depends on how long the Senate gives the House to present. Remember, it's a presentation now. ... The [House] managers will be the witnesses."
Between the lines: Sources familiar with the internal discussions say they expect White House counsel Pat Cipollone to lead Trump's defense in the Senate, but they caution that the president hasn't made his final call on the composition of his legal team.
"This is going to be a White House counsel-led hearing because the two counts are all official acts," said a source familiar with the discussions.
"It's the flip side" of the Bill Clinton impeachment, the source added. "Clinton was private matters and therefore his personal lawyers took the lead. But I will say it's also very fluid. Who is going to be the presenting team is a work in progress. ... Things can change."
"I think this gets figured out this week," the source added.
4. Dems expect handful of defections on impeachment vote
Most Democratic members and committee staffers who have spoken to Axios expect around four to six moderate Democrats will break ranks and vote against impeaching President Trump on Wednesday, Alayna Treene reports.
According to conversations with multiple Democratic members this week, including those in vulnerable districts that voted for Trump, they don't expect a lot of Democrats to vote against the articles.
But they do agree that there will likely be more defectors than there were on the vote launching a formal impeachment inquiry.
Republicans House members, however, appear to have united entirely behind the president. Leadership sources say they expect zero Republican defections.
Behind the scenes: Most centrist Democrats have publicly avoided committing to how they'll vote — expertly dodging reporters in the halls. Instead they said they plan to make their decision over the weekend after thoroughly reviewing the final articles.
One person who hasn't been shy is Rep. Jeff Van Drew, the New Jersey Democrat who is not only voting against impeaching Trump but has also told the president he's prepared to switch parties to become a Republican, according to two White House officials briefed on their conversation.
If you're looking for clues on which other Democrats might defect, a tempting place to start is with the House Democrats who attended Trump's holiday party last week while their colleagues were drafting articles of impeachment.
5. Mexicans throw 11th hour curveball at Trump's biggest trade deal
Democrats have a "tentative plan" to vote Thursday on the trade deal President Trump negotiated with Mexico and Canada to replace NAFTA, per a senior House Democratic aide, but Mexican officials are complicating those plans.
Driving the news: "Mexico's top trade negotiator plans to return to Washington ... to express his outrage over language in the U.S. bill to implement the new North American trade agreement," Politico's Sabrina Rodriguez reports.
"Mexico was blindsided by the inclusion of language in the implementing bill that would allow the Trump administration to deploy full-time diplomats to Mexico to make sure the country is upholding labor standards, Jesús Seade, Mexico's undersecretary for North America, said Saturday."
The big picture: Mexico has already ratified these changes to the deal. The nightmare scenario for Trump and Democratic leadership is that domestic pressures force the Mexican government to take drastic action, like saying they'll block U.S. inspectors from Mexican factories. That would severely complicate a deal that was set to easily pass Congress.
Between the lines: The U.S.-Mexico-Canada Agreement (USMCA) will probably still fly through the House at the end of this week. Trump has crafted a deal that no traditional Republican would have supported in the pre-Trump era, and Nancy Pelosi is keenly aware of that. She has jettisoned the promised process to ram the deal through before the end of the year.
It's also good politics for Pelosi to sandwich a Wednesday impeachment vote in between two governing votes: a Tuesday vote to fund the government and a Thursday vote to pass the USMCA.
The bottom line: Democrats who've worked on trade deals for decades say they doubt that any other Republican president in the foreseeable future would support a deal like the USMCA. The USMCA is a deal tailor-made for organized labor and protectionist Democrats. That Republicans are willing to vote for it is a testament to the awesome power Trump wields over his party.
Pelosi reportedly told her caucus that Democrats "ate their [Republicans'] lunch" on USMCA.
But the ensuing debate over whether she did in fact eat their lunch misses the point. Trump didn't care about traditional GOP trade priorities and he made Republicans irrelevant to the negotiations.
Trump correctly identified that Republicans would step in line, no matter what he decided. And leaving aside Pat Toomey, the lonely voice of free trade in the Republican Senate, Trump read his party right.
6. Sunday best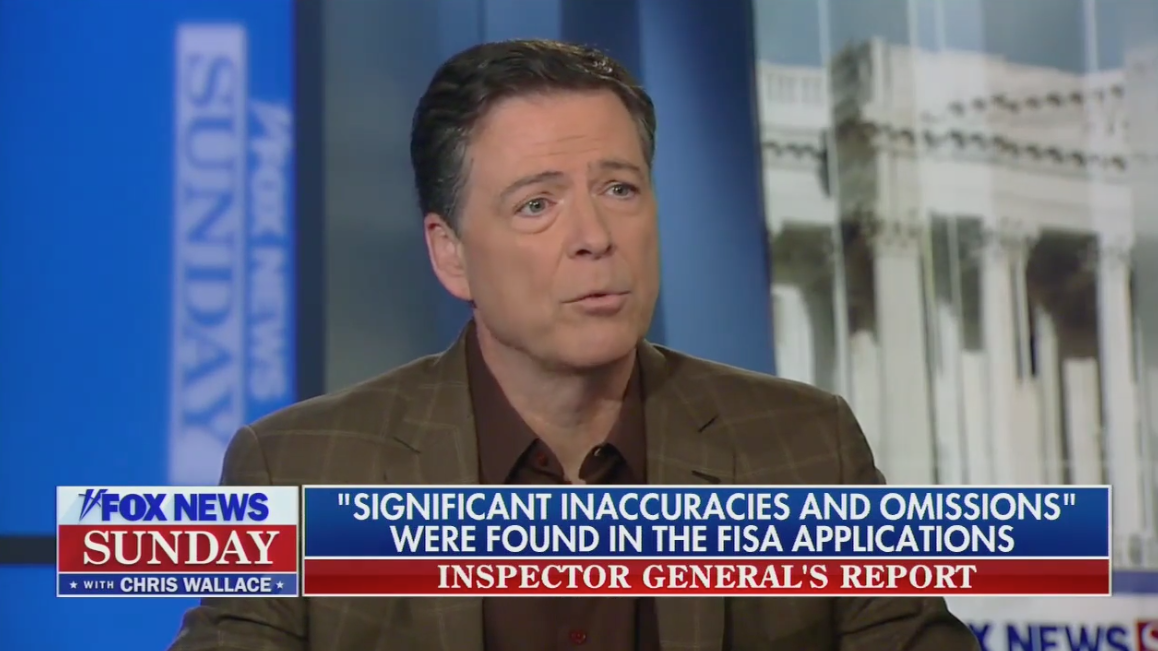 In a fair and unsparing interview with "Fox News Sunday" host Chris Wallace, former FBI director James Comey admits he "was wrong" to assure the American public that the FBI properly handled its surveillance of Trump campaign adviser Carter Page.
7. Sneak Peek diary
The House is expected to vote on appropriations bills to fund the government on Tuesday. Some members, both Democrat and Republican, are optimistic they can pass a long-term bill to fund the government rather than a short-term continuing resolution, but they are running out of time, Alayna reports.
There are only four legislative days this week before the House is scheduled to depart for December recess.
On Tuesday, the House Rules Committee will hold a hearing to mark up the articles of impeachment articles.
On Wednesday, the House is expected to vote on articles of impeachment.
On Thursday, the House is expected to vote on the USMCA trade deal.
The Senate will vote Monday on the National Defense Authorization Act, per a Republican leadership aide.
They also plan to work with Pelosi to pass appropriations bills for 2020.
The leadership aide also said to expect votes on a package of district court nominees. (Read more about McConnell's record-setting transformation of the courts in this Politico piece.)
President Trump's schedule, per a White House official:
Monday: Trump will have lunch with Vice President Mike Pence and lead a roundtable discussion on the Governors' Initiative on Regulatory Innovation.
Tuesday: The president and first lady will host the president and first lady of Guatemala at the White House.
Wednesday: Trump will have a campaign rally in Battle Creek, Michigan.
Friday: Trump will have lunch with Secretary of State Mike Pompeo.
8. 1 grave thing: The president's 19 wars
On Dec. 11, President Trump gave Congress his legally required update on the wars and counterterrorism missions the American military is engaged in throughout the world.
Over the past six months, the U.S. military has deployments in the following countries covered by the War Powers law, per the president's letter:
Afghanistan
Iraq
Syria
Yemen
Saudi Arabia
Jordan
Lebanon
Turkey
Somalia
Kenya
Djibouti
Niger
Cameroon
Chad
Nigeria
Cuba
Philippines
Egypt
Kosovo
Between the lines: We think of "wars" as hot combat, but the law requires that presidents keep Congress informed about the places where troops equipped for combat have been deployed, says Charlie Stevenson, the acting associate director of the American Foreign Policy Program at the Nitze School of Advanced International Studies.
Bear this list in mind when Trump says he's ending all the wars and bringing all the troops home from "endless wars."
Go deeper: Read the letter.