Axios Sneak Peek
May 19, 2019
Welcome to Sneak Peek, our weekly lookahead for both ends of Pennsylvania Avenue, plus our best scoops. Please encourage your friends and colleagues to sign up.
News tips: Reply to this email with tips and story ideas. Or if you have more sensitive information, email me securely at

[email protected]

to get my Signal number.
1 big thing: Exclusive — Leaked emails show Trump nominee called administration "heartless"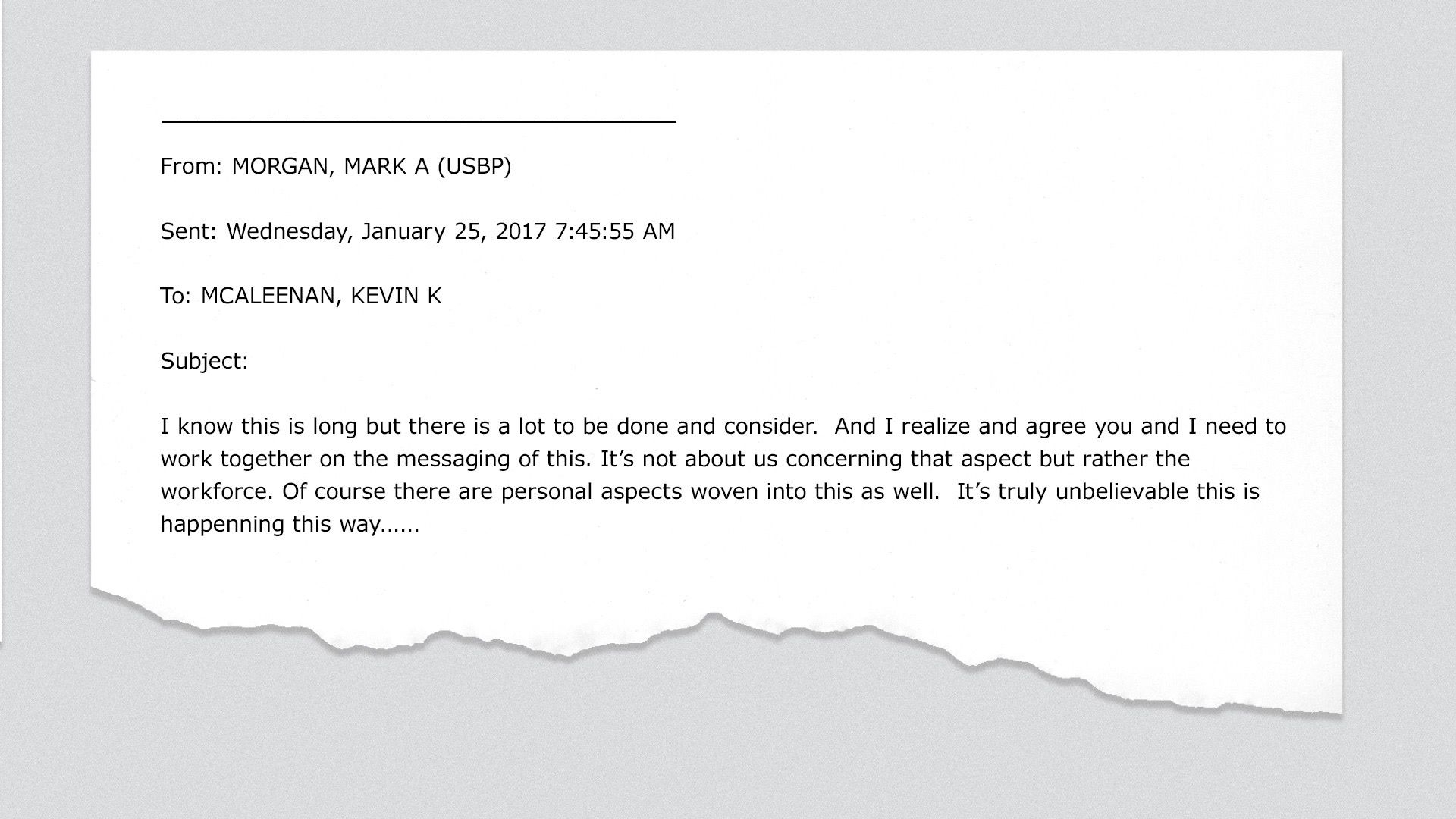 President Trump's pick to run U.S. Immigration and Customs Enforcement is going to be working with the same president and the same top official who fired him as head of the Border Patrol in 2017. And leaked internal emails obtained by Axios' Alayna Treene reveal just how angry Mark Morgan was at the Trump administration when he was fired.
"The fact they are pushing for me to leave immediately is heartless and void of any decency and compassion," Morgan wrote to Kevin McAleenan, the former acting commissioner of Customs and Border Protection who is now Trump's acting secretary of the Department of Homeland Security.
Why it matters: The emails — dated Jan. 24 and 25, 2017 — show the depth of Morgan's anger and disappointment with the Trump administration for forcing him out of the role. But they also show how extraordinary it is that Morgan has gotten back into Trump's good graces.
The trick: Morgan has gone on the president's favorite channel, Fox News, to talk up Trump's hardline immigration policies and endorse his proposed border wall.
"I am being removed in the name of politics — and politics at its worst. … I will not have them believe I willingly left under these circumstances," Morgan wrote in one of the emails to McAleenan.
In a separate email, he wrote: "This is wrong on many levels."
The reason for Morgan's removal isn't clear from the emails, and no official reason was given at the time of his resignation. But the National Border Patrol Council — a union representing 16,500 border patrol agents that endorsed Trump in 2016 — opposed him at the time because of what they described as his lack of experience.
A source familiar said Morgan's firing was Trump's doing, because the union's president, Brandon Judd, privately told Trump to get rid of him.
Oddly, Judd seems to have reversed himself and is now praising Morgan's experience — at least publicly. (Judd did not respond to requests for comment.)
Context: Morgan, a career FBI official, was selected to run the U.S. Border Patrol in the final months of the Obama administration. He was the first chief in the 93-year history of the agency who had never worked as a border patrol agent, per the New York Times.
His appointment drew backlash from the Border Patrol union, which argued that an insider should have been given the position.
Responding to the leak, Morgan told Axios: "Serving the men and women at Immigration and Customs Enforcement is a privilege. ... I look forward to rejoining the DHS workforce and working hand-in-hand with our law enforcement partners and the interagency community to enforce our nation's immigration laws and end the humanitarian and security crisis at our southern border."
The White House and the Department of Homeland Security declined to comment.
Go deeper: Read the full story on Axios.
2. White House launching 1st part of Mideast peace plan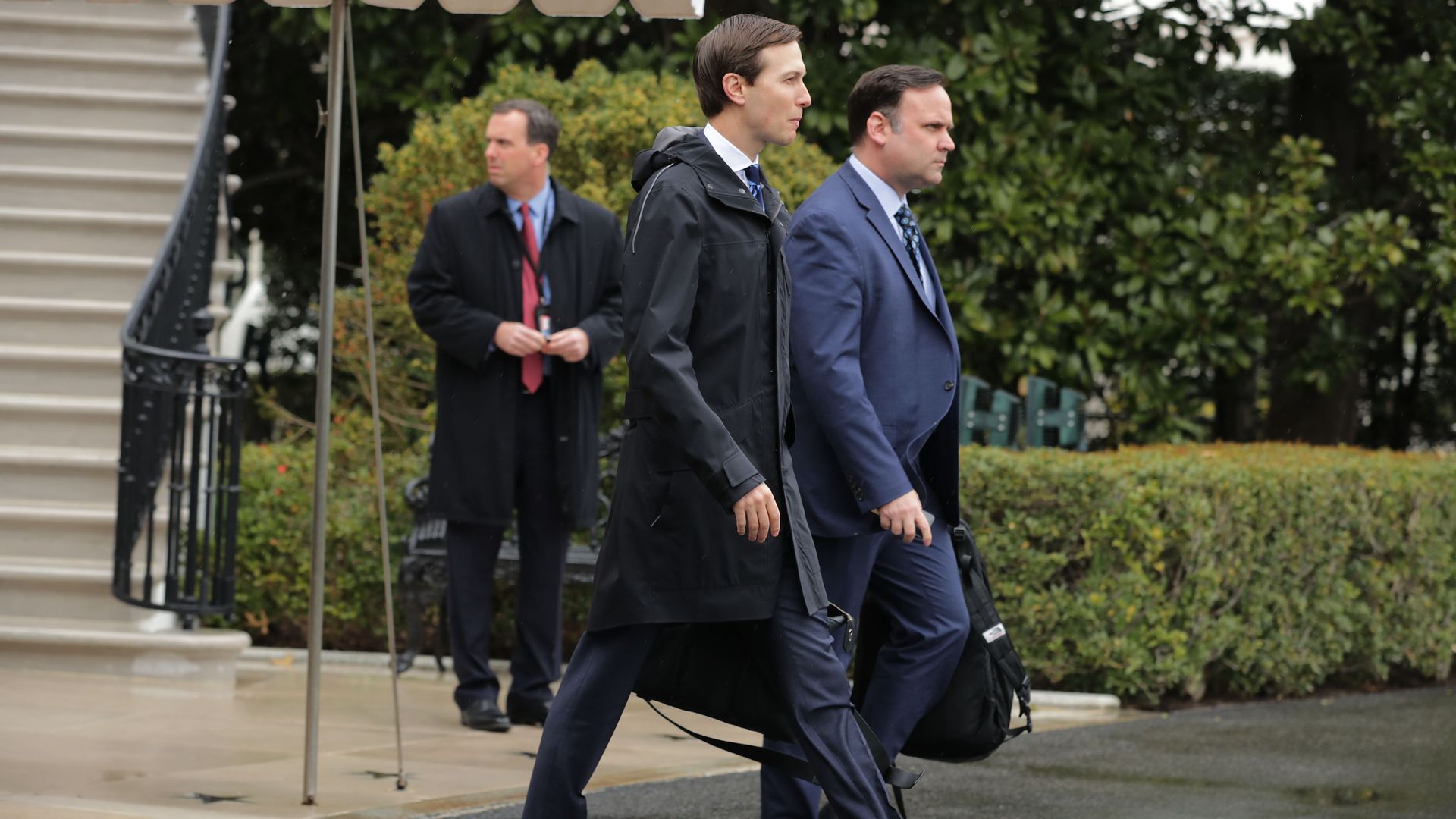 The White House is planning to launch the economic part of the Trump administration Israeli-Palestinian peace plan in mid-June and will hold a special international workshop on Bahrain on June 25–26 to discuss the implementation of the economic plan, reports Axios contributor Barak Ravid.
What's next: A senior White House official said the Trump peace team led by senior adviser Jared Kushner has decided to launch the peace plan in two phases.
Phase 1: Publish a plan to boost the Palestinian economy.
Phase 2: Publish the political plan, which will deal with core issues like borders and Jerusalem. 
CNN reported details of the Bahrain summit earlier Sunday.
Go deeper: Read Barak's full story on Axios
3. Dems' next oversight move: The power of the purse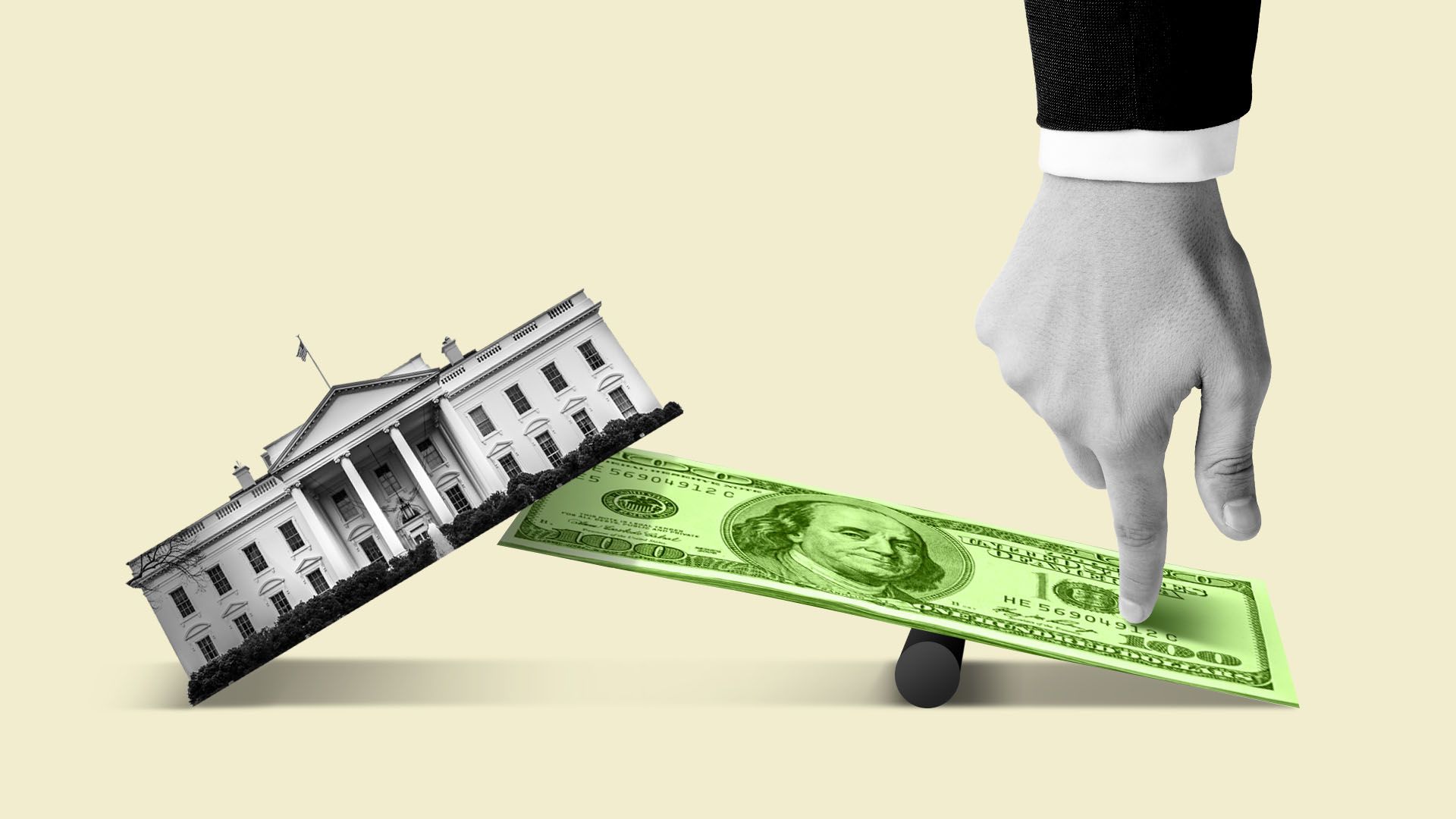 House Democrats are considering a new idea to pressure the Trump administration to comply with their subpoenas. The idea is to use the appropriations process as leverage and threaten to withhold funding until they get the documents and testimony they've requested, Axios' Alayna Treene and David Nather report.
Why it matters: It's a move that has a high risk of failure, since appropriations bills have to be approved by a Republican-held Senate and signed by the president. But given the Trump administration's determination to resist all of the Democrats' oversight efforts, and the prospect that court fights could take years, they're being forced to consider every tool they might have.
How it works: Democrats on the House Appropriations Committee are writing the bills that will fund the federal government for the next fiscal year — including the ones that will fund the Justice Department and the Treasury Department, two of the departments that have been resisting subpoenas.
A separate House committee could ask the appropriators to add a provision that would limit funds to a department that isn't complying with the subpoenas.
A member of Congress could also try to attach an amendment to one of the appropriations bills when they reach the floor in June.
So far, there's no detailed plan. Axios spoke with several members of Congress and staffers involved in the talks, and as of now they say discussions have been preliminary.
"We look at it as, 'Okay what's our recourse?' This is one of them. We also have contempt orders and fines," a senior Democratic leadership aide told Axios.
A House appropriations committee aide said the tactic would probably be useful mostly as a threat, adding that "if Dems are trying to target swift compliance, this may not be the most effective option" given how long it takes to pass appropriations bills.
The bottom line: There's probably no oversight tool that won't lead to months of delays if the Trump administration is determined to resist House Democrats.
Go deeper: How Trump is stalling Democrats
4. Inside Trump's trillion-dollar meeting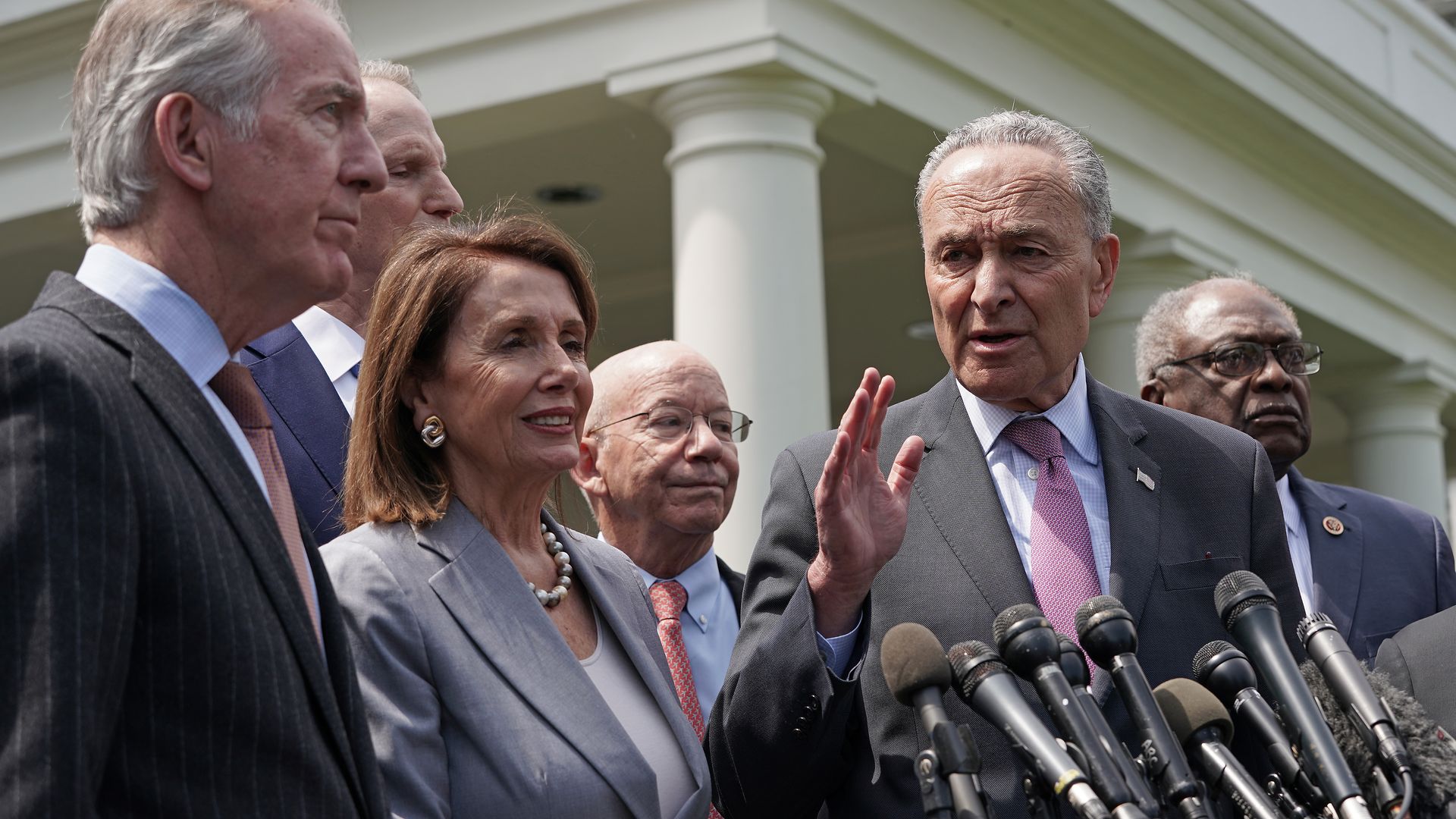 On Wednesday, Democratic leaders Nancy Pelosi and Chuck Schumer will come to the White House for Infrastructure: The Sequel. After their previous meeting late last month — in which President Trump declared he wanted to spend $2 trillion on infrastructure — the three leaders agreed they would reconvene in three weeks to discuss how to pay for this massive infrastructure package.
Senior Democratic aides told me Pelosi and Schumer will come to the meeting expecting Trump to show them his ideas for how to pay for a $2 trillion infrastructure bill.
A source close to Schumer told me: "The last meeting, Schumer told the president: 'We can't make the tax code any more regressive — needs to be more progressive.'
"Schumer's position remains he's open to hearing the president's ideas for how to pay for the proposal, so long as it's not financed on the backs of working-class families."
Driving the news: Based on what senior administration sources have told me, Pelosi and Schumer won't get the types of tax hikes on the wealthy that they want.
"President Trump will have a number of pay-fors to share, but they will not be tax increases," a senior administration official told me. (Translation: Trump will probably present Democrats with a list of spending cuts — many of which they'll probably hate.)
I asked the senior official whether Trump was willing to propose raising the gas tax to pay for infrastructure. It's an idea Trump has supported in the past, and the business community — led by the Chamber of Commerce — is pushing for an increase on the gas tax.
But the official told me that Trump was "trending away" from wanting to raise the gas tax. Trump has been worried about gas prices going up ahead of his 2020 re-election campaign, according to aides.
The bottom line: Senior Trump administration officials, including the president's fiscally conservative chief Mick Mulvaney, are deeply skeptical they can cut a massive infrastructure deal with Democrats. Their skepticism is warranted.
5. Bernie Sanders: "Beating Trump is not good enough"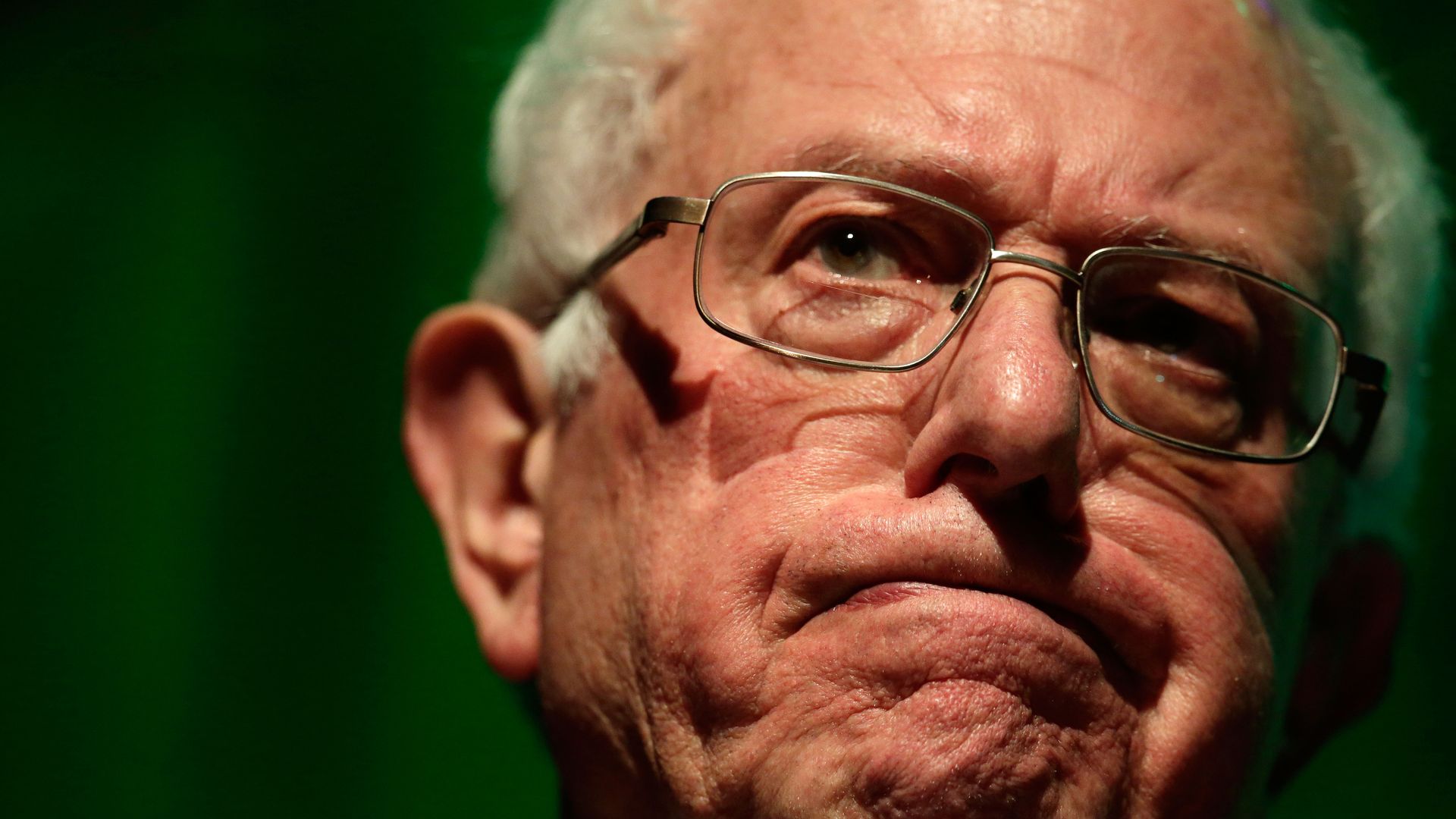 In a rebuke to his more moderate 2020 rival Joe Biden — who said the first and most important plank in his climate proposal was to "beat Trump" — Bernie Sanders said Biden's message is not good enough.
Driving the news: Sanders told Chuck Todd on "Meet the Press" that "beating Trump is not good enough. ... You've got to beat the fossil fuel industry. You have to take on all of those forces of the status quo."
"We're going to try to transform the United States of America," Sanders told Chuck.
Why it matters: Sanders' line dramatizes the divide within the 2020 Democratic field — between Biden's argument about electability and the Sanders and Elizabeth Warren pledges to fundamentally change America.
Sanders and Warren will condemn Biden, as Sanders did to Hillary Clinton in 2016, as a guardian of the status quo and an enemy of the radical progress they believe America needs in health, education, energy and wealth redistribution.
6. Sneak Peek diary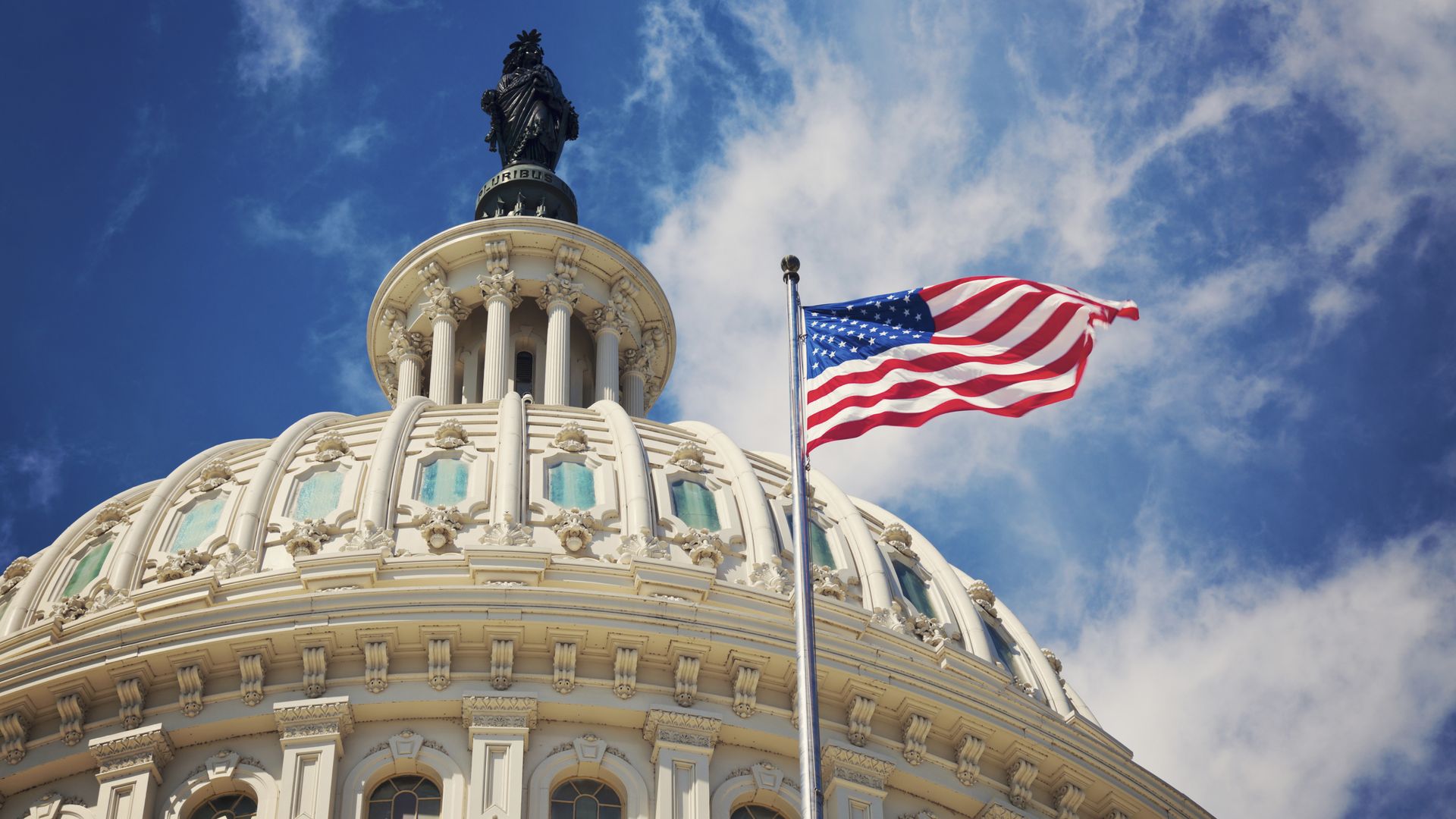 The House will vote on two major bills, per a senior Democratic aide:
The Consumers First Act — a bill sponsored by House Financial Services chair Maxine Waters, which aims to reverse the changes that Mick Mulvaney made to weaken the Consumer Financial Protection Bureau when he was acting director of CFPB.
The SECURE [Setting Every Community Up for Retirement Enhancement] Act — a bill sponsored by House Ways and Means chair Richard Neal, which aims to "amend the Internal Revenue Code of 1986 to encourage retirement savings."
The Senate will vote on a disaster relief package next week, per a Republican leadership aide. The aide said the Senate will also confirm the following nominees in this order:
Daniel Collins as a judge for the Ninth Circuit
Howard Nielson Jr. as judge for the District of Utah
Stephen Clark Sr. as judge for the Eastern District of Missouri
Carl Nichols as judge for the District of Columbia
Kenneth Bell as judge for the Western District of North Carolina
President Trump's schedule, per a White House official:
Monday: The president will have a campaign rally in Montoursville, Pennsylvania.
Tuesday: Trump will have lunch with Mike Pence and meet with the leaders of the Freely Associated States.
Wednesday: The president will meet with Democratic leaders Nancy Pelosi and Chuck Schumer to discuss infrastructure funding. Trump will also present the Public Safety Officer Medal of Valor.
Friday: Trump travels to Tokyo for a state visit.