March 31, 2019
Welcome to Sneak Peek, our weekly lookahead for both ends of Pennsylvania Avenue, plus my best scoops. Please encourage your friends and colleagues to sign up.
Secure tips: If you have a sensitive news tip or a government document and you'd like to share it with me through an encrypted channel, please email my secure account at

[email protected]

to get my Signal number.
1 big thing: Scoop — Trump "saving" Judge Barrett for Ginsburg seat
As he was deliberating last year over replacing Supreme Court Justice Anthony Kennedy, President Trump told confidants he had big plans for Judge Amy Coney Barrett.
"I'm saving her for Ginsburg," Trump said of Barrett, according to three sources familiar with the president's private comments. Trump used that exact line with a number of people, including in a private conversation with an adviser two days before announcing Brett Kavanaugh's nomination.
Barrett is a favorite among conservative activists, many of whom wanted her to take Kennedy's spot.
She's young and proudly embraces her Catholic faith.
Her past academic writings suggest an openness to overturning Roe v. Wade.
Her nomination would throw gas on the culture-war fires, which Trump relishes.
But Trump chose to wait.
Some Trump advisers worried Barrett's staunch opposition to abortion rights would lose the votes of Sens. Susan Collins (R-Maine) and Lisa Murkowski (R-Alaska). But there wasn't consensus; some advisers argued they would ultimately "do the right thing" and vote for Barrett.
Trump came to doubt that "the women" (his shorthand for Collins and Murkowski) would support Barrett, according to sources who discussed the situation with Trump at the time.
Some of Trump's aides also felt confident about picking up more Senate seats in the 2018 midterms (which they did), meaning a more conservative pick might stand a better chance later.
Yes, but: There's no guarantee Trump will get another Supreme Court pick. It's very unlikely Ginsburg will retire while he's in office. And though she's 86 and has had 3 bouts with cancer, she's on the bench now and appears healthy.
Barrett isn't a lock even if Trump does get to make another appointment, the people familiar with his thinking said.
Barrett has the inside track "in a very specific sense," said a source who's discussed Barrett with Trump. "She is the most known quantity right now amongst the women on the list. ... And she also has the inside track in the sense that she was kind of battle-tested for having gone through a confirmation already."
Between the lines: Trump changes his mind all the time, and Barrett would need to undergo a fresh round of vetting to review the rulings and public comments she's made since confirmed to the 7th Circuit Court of Appeals in 2017.
"The Supreme Court judicial selection process with the president is a very fluid one," said a source familiar with Trump's thinking on the subject. "He floats in and out of these discussions over a period of time."
Barrett's education didn't appeal to Trump, according to sources familiar with his thinking. She went to law school at Notre Dame, and Trump prefers candidates with Harvard and Yale on their resumes.
Why it matters: Trump has already pulled the court well to the right. If he gets to replace Ginsburg, especially with Barrett, he would cement a young, reliably conservative majority that could last for decades.
2. Behind the scenes: The White House's no-deal pitch
Both parties hate the automatic budget cuts known as sequestration. But in a closed-door Hill meeting last week, White House legislative affairs official Paul Teller said the president is fine with it.
"The president does not want a caps deal" to keep sequestration from kicking in, he told Hill staff last week. That's a direct quote, confirmed by two sources with direct knowledge of his comments.
Why it matters: Congressional sources found it bizarre that the White House isn't interested in making a deal to block sequestration. Instead, the White House says it can offset those cuts to the Pentagon by parking a huge amount of money in a controversial slush fund that sequestration can't touch.
Trump wants to spend a ton of money on the military and has called for a $750 billion Pentagon budget.
Lawmakers from both parties are outraged, and most think there's no chance Congress would approve of Trump parking more than $100 billion in the slush fund, as his budget proposes.
Behind the scenes: Teller made the comments in a weekly meeting with conservative groups, Republican leadership staff and other conservative Capitol Hill aides. Teller said it in the context of promoting Trump's budget, saying the president "really wants to stick to his numbers and doesn't want a caps deal because that means more domestic spending," said a source familiar with his private remarks.
People in the room didn't engage Teller on the point, and nobody encouraged him, according to a source who was there.
One source familiar with the comments said they showed a new hard-edged ideological direction for a White House that has never been known for its fiscal discipline. They pointed to the influence of chief of staff Mick Mulvaney — who, unlike his predecessor John Kelly, is a budget hawk. (When Mulvaney was in Congress, he criticized the "slush fund" the White House is now boosting and he was fine with cutting what he saw as unnecessary military spending.)
Republican lawmakers are unlikely to let the White House's hawkish position dissuade them from negotiating a spending deal with Democrats.
Context: Trump has not steeped himself in the details of his budget, and his aides wonder how many decisions he'll reverse when he finds out about them. We saw Trump backflip twice over the past week:
Trump announced Thursday that he had "overridden my people" and restored funding to the Special Olympics — throwing Education Secretary Betsy DeVos under the bus.
And in his Michigan rally on Thursday night, Trump overruled his own budget, which would have cut $270 million in funding for the Great Lakes Restoration Initiative.
"I guarantee you can find all sorts of cuts that he'll turn around and say I'm not cutting this shit," said a source who has been closely involved in the Trump administration's budget deliberations.
3. Scoop: Trump's next White House hires
President Trump is bulking up his policy shop with three new hires, according to sources with direct knowledge of the plans.
Driving the news: Joe Grogan, the head of the White House's Domestic Policy Council, is bringing on Capitol Hill veteran Eric Ueland and Justice Department alum Jennie Lichter, who specializes in legal matters involving religious freedom, as his deputies. He's also hiring Maria Bonner, a health care regulatory expert who has worked in Mike Pence's legal shop.
Ueland is an especially important hire, according to officials who've worked with and against him over his long career on Capitol Hill.
"Whenever we squared off in the Senate, he often got the better of me due to his superior knowledge of the rules and process," said James Wallner, former executive director of the Senate Steering Committee.
Between the lines: Mick Mulvaney is a much more ideological chief of staff than John Kelly was, and he is pushing the White House to be more aggressive in its domestic agenda. There's little chance of passing major legislation in this divided Congress, so the Trump administration is focused on deregulatory efforts through the executive branch.
White House officials listed health care, labor and energy/environment as the priority areas for deregulation.
These three new hires will work on deregulation, along with other issues.
4. Between the lines: Trump on health care
A major misconception on Capitol Hill right now is the notion that Mick Mulvaney is behind President Trump's decision to back a lawsuit to demolish the Affordable Care Act.
After a week of talking to sources who've discussed the matter privately with Trump, it's clear that this health care push is coming from the president himself.
These people say Trump thinks it's a great idea to try to brand the GOP as "the party of health care" by backing the controversial litigation and pushing for legislative change.
Behind the scenes: Trump has privately said he thinks the lawsuit to strike down the Affordable Care Act will probably fail in the courts, according to two sources who discussed the matter with the president last week.
Trump's view is that Democrats are going to bash him up on health care in 2020 regardless, so ignoring the issue won't work.
He says he wants to "brand" himself and the Republican Party as caring about health care and pre-existing conditions. He plans to repeat this message again and again and again.
Trump has asked Republicans to come up with a replacement plan, even though nobody thinks they've got a chance of passing anything through this divided Congress. On top of that, Republicans had 8 years to come up with an Affordable Care Act replacement and couldn't do it.
5. First look: Oldest candidates are winning the youngest vote
Sen. Bernie Sanders, who at 77 is the oldest 2020 contender, is the favorite among 18- to 29-year-old likely Democratic primary voters at 31%, according to a new poll by Harvard's Institute of Politics (IOP) given first to Axios. Former Vice President Joe Biden follows in second place at 20%, Axios' Alayna Treene reports.
The big picture: Candidates with the most experience and name recognition are receiving more support among younger voters, as Hillary Clinton did at this point in the 2016 cycle. But we're still 19 months out from the 2020 election, giving lesser-known candidates ample time to win over young people, as Sanders ultimately did in 2016.
Context: In the same Harvard IOP survey conducted in spring 2015, around the time Sanders announced his 2016 presidential bill, Clinton was in the lead at 53% and Sanders polled at just 2%. But just 6 months later, Sanders held a lead over Clinton 44% to 41%.
By the numbers: IOP's latest poll has former Rep. Beto O'Rourke in third at 10%, then Sen. Kamala Harris at 5%, Sen. Cory Booker at 3%, and Andrew Yang at 2%.
Mayor Pete Buttigieg, Julián Castro, Rep. Tulsi Gabbard, Sen. Kirsten Gillibrand, Gov. Jay Inslee and Sen. Amy Klobuchar all polled at 1%.
20% of likely young Democratic primary voters were undecided.
Background: Voter turnout is usually low among young people. However, the 2018 midterm elections saw "the highest level of youth participating in a midterm cycle in at least the last 25 years," according to Tufts University's Center for Information & Research on Civic Learning and Engagement (CIRCLE).
Young voters also tend to lean liberal. In 2018, CIRCLE reported that 67% of young people voted for a House Democratic candidate, and 32% voted for a House Republican candidate, a 35-point gap.
Why it matters: The youngest Americans — millennials and Generation Z — will make up 37% of the electorate in 2020, per Pew Research.
"This will be one of the most significant sized youth vote than we've had in many years," John Della Volpe, director of polling for IOP, told Axios.
"Young people are more tuned in and likely to vote now than they were at this time 4 years ago and 8 years ago," he added. "For any other candidate to fight their way into the top 3 tier [of the Democratic presidential field], they will have to be incredibly competitive among young voters, if not win the youth vote entirely."
Methodology: Interviews of likely Democratic presidential primary voters were conducted between March 8 and March 20. The margin of error for this portion of the sample (n=934) was +/- 4.5% with a 95% confidence interval. The full poll of all 18- to 29-year-olds includes more than 3,000 interviews and will be released later this month.
6. Sneak Peek diary
The House will "keep the focus on health care for the foreseeable future," according to a senior Democratic aide. The two main bills on the floor this week:
The Violence Against Women Act
A health care resolution "condemning Trump's legal campaign to take away health care from millions of Americans," per the aide.
The Senate will have its next procedural vote on the disaster relief package Monday night.
Democrats are arguing that the Puerto Rico portion of the funding is insufficient, and Trump's private comments that he wants to cut off funding to Puerto Rico have complicated the conversation.
Why it matters: Vulnerable people around the country depend on what Congress does this week. And if Congress can't pass a disaster relief package, can they get anything important done this year?
Republican leadership also plans to begin debate on a resolution to change the Senate rules to accelerate the confirmation of President Trump's nominees.
President Trump's schedule, per a White House official:
Monday: Trump meets with Secretary of State Mike Pompeo, has lunch with Mike Pence, and delivers remarks at the 2019 Prison Reform Summit and FIRST STEP Act Celebration.
Tuesday: Trump meets with NATO Secretary-General Jens Stoltenberg and delivers remarks at the National Republican Congressional Committee annual spring dinner.
Wednesday: Trump joins a briefing with senior military leaders and has dinner with senior military leaders.
Thursday: Trump participates in a meeting with the White House Opportunity and Revitalization Council.
Friday: Trump to travel to Calexico, California; Los Angeles; and Las Vegas.
7. 1 Fox thing: Behind the Eddie Gallagher tweet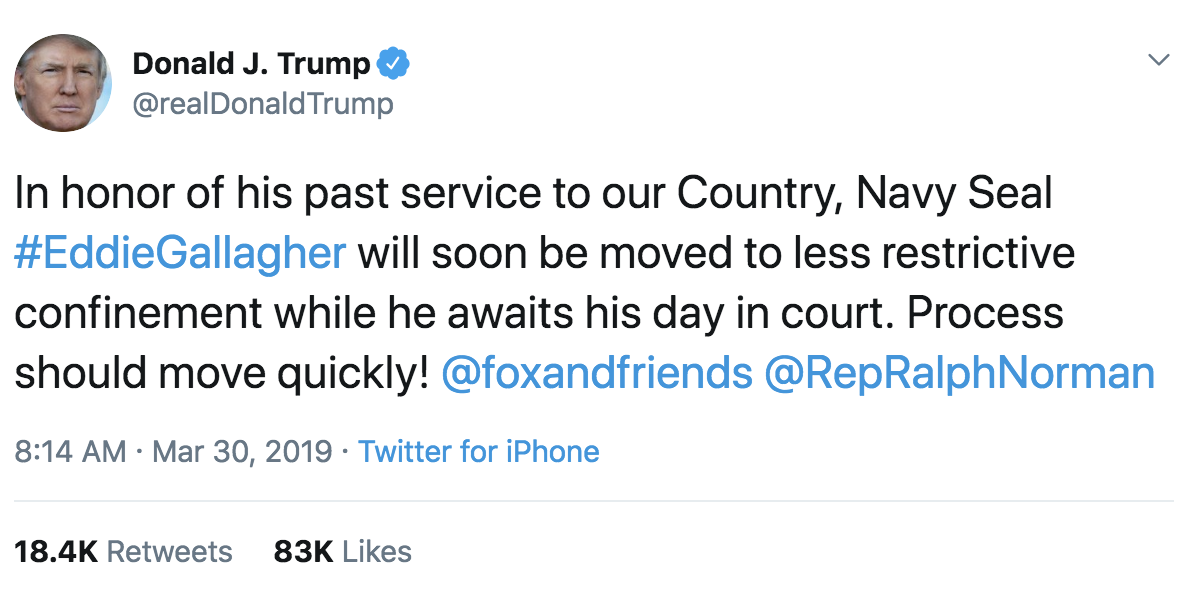 President Trump signaled on Saturday that he was intervening to help a Navy SEAL accused of crimes while serving Iraq.
"In honor of his past service to our Country, Navy Seal [sic] Eddie Gallagher will soon be moved to less restrictive confinement while he awaits his day in court. Process should move quickly!" Trump tweeted.
The president tagged the "Fox and Friends" Twitter account and South Carolina GOP Rep. Ralph Norman — both of whom have advocated for Gallagher.
Details, per Politico: "Gallagher has pleaded not guilty to a series of charges stemming from his 2017 deployment with the California-based SEAL Team 7. Apart from the accusation that he murdered a teenage ISIS fighter under his care, military prosecutors contend that he held his re-enlistment ceremony with the detainee's corpse. Gallagher is also accused of shooting two civilians in Iraq and firing inadvertently into crowds."
Behind the scenes: Trump has been following Gallagher's story closely — especially through the coverage of "Fox & Friends" hosts Pete Hegseth and Brian Kilmeade.
In addition to his public advocacy for Gallagher, Hegseth has spoken to the president privately about the case, a source familiar with their conversations told me.
When I asked him about this, Hegseth said he did not want to comment for the story.
Between the lines: "This is not the first time Trump has cited Fox News while taking an interest in a case involving a US serviceman on combat duty," the Guardian reports.
"In December, Trump cited Fox News host Pete Hegseth in a tweet that said he would 'be reviewing the case of a U.S. Military hero, Major Matt Golsteyn', a former green beret 'who is charged with murder' and could face the death penalty from our own government after he admitted to killing a terrorist bomb maker while overseas."