Welcome to Sneak Peek, our weekly lookahead for both ends of Pennsylvania Avenue. I'd love your tips and feedback: jonathan@axios.com. And please urge your friends and colleagues to join the conversation by signing up for Sneak Peek.
https://www.axios.com/newsletters/axios-sneak-peek-46ab28db-500e-4905-af9d-8c96e0d2bcac.html?chunk=0#story0
1 big thing: Rand Paul's do-or-die demands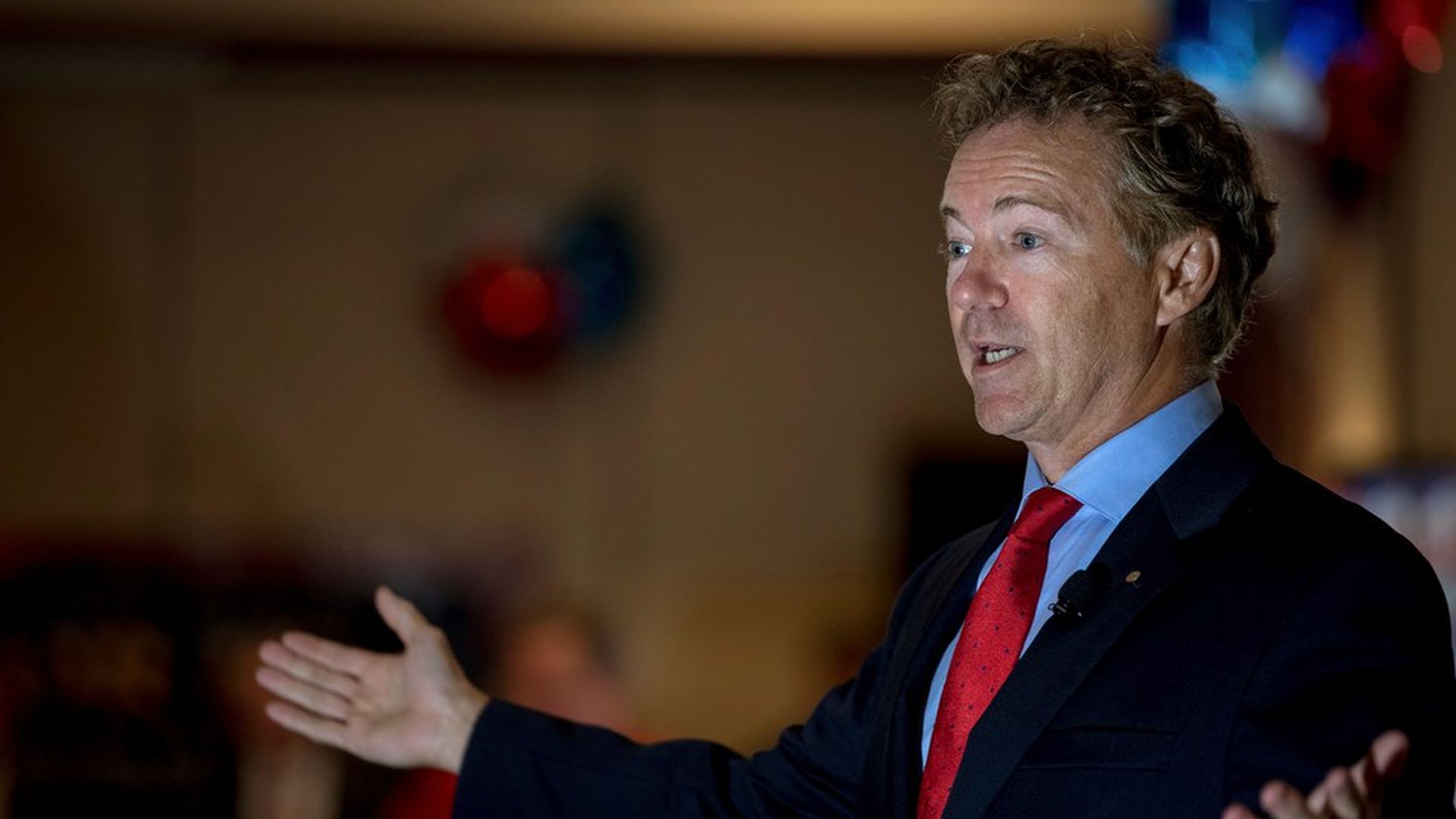 Rand Paul, who has become a do-or-die vote for the Republicans' last-ditch effort to repeal and replace the Affordable Care Act, is sending a list to the White House of what it would take to get him from no to yes.
We've obtained the list and, if the White House and Senate Majority Leader Mitch McConnell accept Paul's demands, it's hard to see how they'd stop at least half a dozen moderate Republican senators dropping their support for the Graham-Cassidy health care bill.
Why this matters: This could definitively kill Graham-Cassidy. President Trump, who has a warm personal relationship with Paul, hasn't given up winning his support for the bill, even though the Kentucky senator has relentlessly and publicly attacked the legislation. Trump continues to personally lobby Paul and administration officials believe they've got a better chance of flipping him than they do to convince the moderate Sen. Susan Collins to vote for the bill.
Here's what Paul is asking the White House to do:
Cut the Affordable Care Act spending way back. He says that "only a significant reassessment of this trillion-dollar spending regime would get my support." The problem with this demand is that if you have deep cuts in health care spending you will push away other moderate Republicans, and not just Collins and Alaska's Lisa Murkowski.
Scrap way more Affordable Care Act regulations. He says that states should "have to opt into ACA regulations," rather than having to opt out. The problem with this demand is that it only appeals to conservatives. You'd get Ted Cruz on board but still lose other moderate Republicans.
Expand association health plans, which would let small businesses and individuals band together to buy health insurance. The problem with this demand is that Republican leaders have already determined they can't do this through the budget reconciliation rules.
Bottom line: Republicans have already lost John McCain; they can only afford to lose one more senator. Nobody I've spoken to thinks Collins is gettable. Therefore Paul and Murkowski become the decisive votes. Paul's list of demands suggest he's not an absolute no, but his conditions may be impossible to meet.
https://www.axios.com/newsletters/axios-sneak-peek-46ab28db-500e-4905-af9d-8c96e0d2bcac.html?chunk=1#story1
2. Scoop: Jeff Sessions' culture war
Trump isn't the only member of his administration fighting a culture war this week; his Attorney General Jeff Sessions will make a "free speech on campus address" on Tuesday at Georgetown University law school in D.C. It's going to get testy.
A source close to Sessions tells me the AG will tell the students:
"Whereas the American university was once the center of academic freedom — a place of robust debate, a forum for the competition of ideas — it is transforming into an echo chamber of political correctness and homogenous thought, a shelter for fragile egos."
Why this matters: In this hyper-tense political climate, Sessions' speech could be explosive. The Attorney General is already a lightning rod for progressive protests. As AG, he's led some of the most controversial aspects of the president's agenda, including his toughening of sentencing for drug offenders, his crackdown on sanctuary cities, and his announcement that the Trump administration plans to end DACA, the Obama era program that temporarily shields from deportation more than 700,000 illegal immigrants who came to the U.S. as children. Tuesday's speech shows how eager he is to embrace this role.
What Sessions is thinking: A source close to the AG says Sessions has been discussing making a speech like this for several months. "If you look at what he's focused on as Attorney General, whether it's violent crime, opioids, or sanctuary cities, the common thread is the rule of law," the source said. "When it comes to something as important as the First Amendment, he's going to speak out."
https://www.axios.com/newsletters/axios-sneak-peek-46ab28db-500e-4905-af9d-8c96e0d2bcac.html?chunk=2#story2
3. The Sneak Peek forecast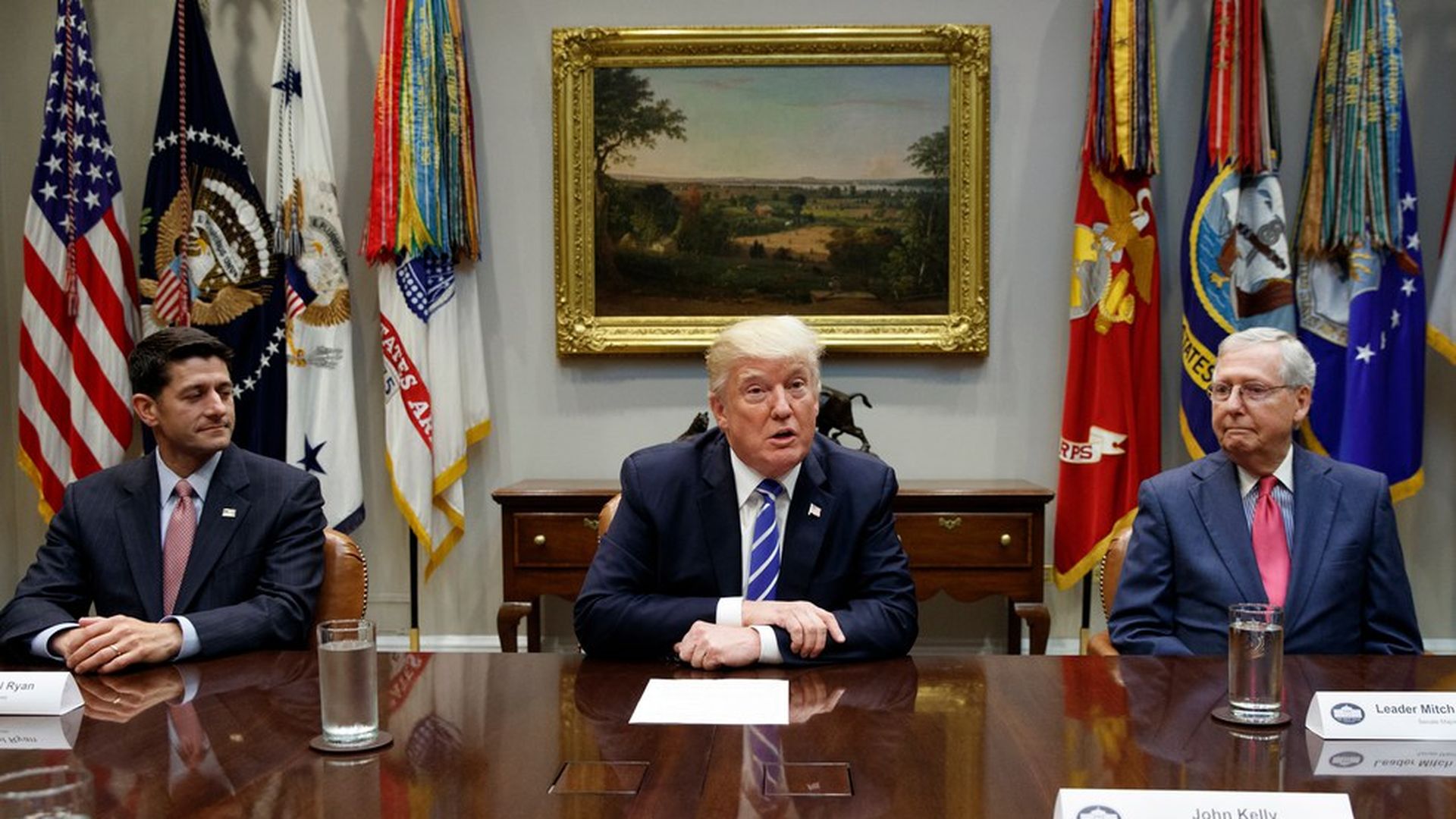 Here's how top sources in the White House and on Capitol Hill expect this week's major legislative items to play out:
1. Health care: Over the past 48 hours, I've spoken to more than half a dozen senior administration officials and Republican leadership sources about health care. Not one of them said they were optimistic about the chances of passing the GOP's last-ditch Graham-Cassidy bill to repeal and replace the Affordable Care Act.
It's telling — and not in a good way — that President Trump is pinning a good deal of his hopes on his last-ditch attempt to flip Rand Paul, who is perennially the toughest vote in the conference, from a hard no to a reluctant yes.
The political chessboard, per sources close to the process:
John McCain has already said he's voting against it, and nobody thinks there's a snowball's chance in hell of persuading him to change his mind. They can only lose one more vote.
Susan Collins signaled she's almost certainly voting against the bill. The administration plans to release new figures on Monday they say will show that Collins' state of Maine gets significantly more resources under the GOP health care bill, but nobody I've spoken to believes that argument will work on her. The way one source put it: Collins' political brand is built on being bipartisan and her incentives are to oppose any bill that's Republican-only.
Lisa Murkowski leans heavily towards no, and McCain has given her political cover to vote against the bill. (Oh, and bonus! Ted Cruz said today they don't have his vote yet. He wants the bill to tackle more regulations. Oh, and Mike Lee hasn't committed to the bill, either.)
The opposition: Progressives are well organized against the key Republican senators leading up to the health care vote, which is expected to happen as early as Wednesday. Progressive groups are running high-pressured ads, and have planned protests and rallies this week in Alaska, Ohio, West Virginia, Colorado, Florida, and Nevada.
X factor: Republican leaders are hoping that the realization sinks in among their reluctant colleagues that repeal will either happen this week or never. If Republicans don't repeal-and-replace the Affordable Care Act this week, forget it. The road ahead is clear: working with Democrats to strengthen President Obama's signature domestic achievement.
2. Tax reform: Republican leaders were frustrated when Axios and the Washington Post reported leaked details of the "Big Six" tax plan that's been hashed out for months in immense secrecy among Republican leaders and administration officials Gary Cohn and Steven Mnuchin. These leaks, which began circulating around Capitol Hill on Friday night, put GOP leaders under pressure from their members, who are anxious for the details.
Overall, however, leaders and administration officials feel far more optimistic about tax reform than they have about health care:
Tax reform is a natural issue for a lot of Republicans. When most Republican lawmakers wake up in the morning they don't think about refashioning the health care system; but most do think about cutting taxes.
They've had a pretty good run up to tax reform; they're going to have vigorous hearings, a lot of negotiation. The pay off — reduced tax rates, goosing the GDP, money in voters' pockets — is more tangible than it ever was with health care.
Senior officials on Capitol Hill and inside the administration told me this weekend that they fully expect Trump to embrace the Big Six tax plan. He won't be selling the framework as a finished product; it's the starting point of a process that will be long and have lots of give and take as it wends its way through the House and Senate.
The opposition: Following Axios' scoop about Republicans' planned cut to the top income tax rate, Democratic Senate leader Chuck Schumer said: "Democrats have strongly and firmly stood for the position that not one penny of tax cuts should go to the top 1%."
https://www.axios.com/newsletters/axios-sneak-peek-46ab28db-500e-4905-af9d-8c96e0d2bcac.html?chunk=3#story3
4. Exclusive: Alabama poll
The data analytics firm 0ptimus has been running surveys in the lead up to Tuesday's Alabama special election. Their latest poll — taken on Friday and Saturday — has anti-establishment candidate Roy Moore at 55.4 percent and the Trump/McConnell-backed candidate Luther Strange at 44.6 percent.
0ptimus partner Scott Tranter says he was struck by this statistic: "80% of those surveyed and 86% of primary voters know Trump endorsed Strange, which is up 5% since Tuesday and 15% since last week. Moore has maintained similar leads throughout this period."The RealClearPolitics average of recent polls for the Alabama Senate race has Moore ahead by 8.6 percentage points, which is within the margin of error of the 0ptimus survey.
(Methodology: Tranter says they've been running automated telephone surveys for two weeks in Alabama. This latest sample of 1,035 modeled likely voters has a margin of error of 2.9 percentage points, according to Tranter.)
https://www.axios.com/newsletters/axios-sneak-peek-46ab28db-500e-4905-af9d-8c96e0d2bcac.html?chunk=4#story4
5. The shows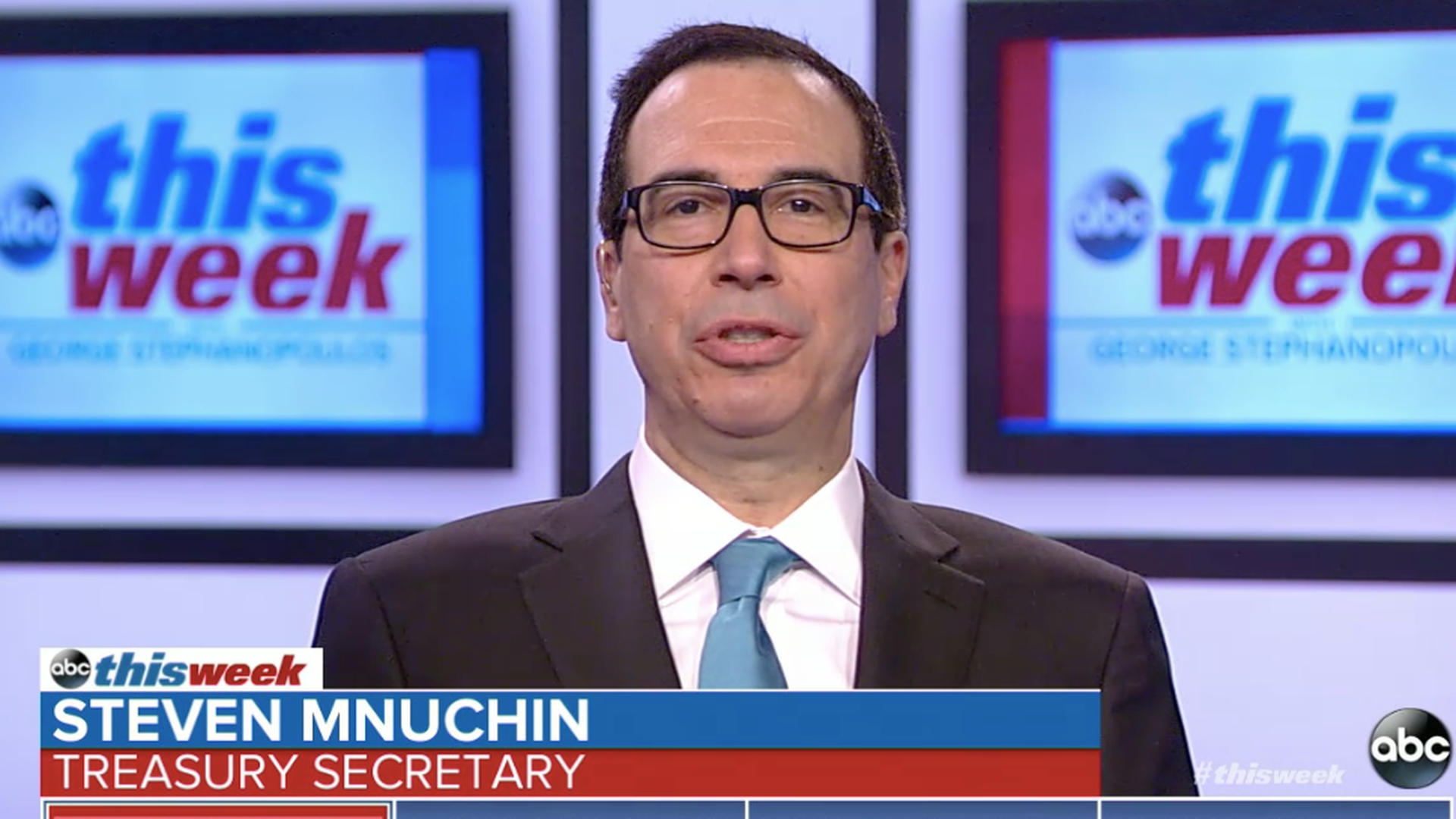 Sunday highlight reel, with Treasury Secretary Steven Mnuchin passing Trump's loyalty test with flying colors, and White House Legislative Affairs Director Marc Short making a last-ditch pitch to Republican holdouts on the health care repeal bill.
Mnuchin showed, on ABC's "This Week," why he'll always be one of Trump's favorites.
He told host Martha Raddatz that Trump was trying to "unify" the country with his attacks on the NFL protesters.
He told her he agrees with the president that NFL owners "should have a rule that players should have to stand in respect for the national anthem."
"It's not about free speech," Mnuchin added. "They can do free speech on their own time..."
When Raddatz asked Mnuchin if it was appropriate for the president to call these NFL players SOBs, he replied: "I think the president can use whatever language he wants to use."
Be smart: Could you ever imagine Gary Cohn defending Trump like Mnuchin does at every turn? Of course not. The difference between Mnuchin and Trump's other top economic official, Cohn, is that Mnuchin is a Trump loyalist and Cohn has often been a combatant. While Cohn publicly condemned — and considered resigning over — Trump's comments about the white nationalist protesters in Charlottesville; Mnuchin backed the president to the hilt.
Marc Short appeared on three shows today and on "Fox News Sunday" he laid out the argument the administration will be making to persuade Rand Paul to vote for the GOP health care bill.
Short told Fox host Chris Wallace: "When else would [Paul] get the opportunity to vote on a bill that actually provides real entitlement reform? When will we get a chance to vote on a bill that doubles the ability to contribute to health savings accounts?
"Chris, when will we get the ability to vote on a bill that gets rid of the individual mandate, the employer mandate?
Short's toughest line: "Something else that I know is important to Rand Paul and that's life. This administration stood for life, and this bill protects the sanctity of life by denying taxpayer dollars going to fund abortions. If Rand Paul is the final vote here, it's hard to see how he could go to his pro-life supporters... and say, 'I had a chance to protect life and instead, I went the other way'."
https://www.axios.com/newsletters/axios-sneak-peek-46ab28db-500e-4905-af9d-8c96e0d2bcac.html?chunk=5#story5
6. Diary notes
Tax reform: A senior GOP aide tells me the White House told Republican leadership that the president's speech on Wednesday will be formal and serious, closer in style to his announcement of his Afghanistan strategy than to the raucous rally speech he gave in Alabama on Friday.More details of the tax plan are expected to leak tonight and tomorrow morning. House Ways and Means chairman Kevin Brady meets at 6pm with Republican members of the tax-writing committee. It's the start of their two-day retreat and politically, given the leaks already, Brady can't afford to hide too many details from his members.The entire Republican House conference has a tax reform retreat on Wednesday, where they'll learn the full details of the plan hashed out by GOP leaders and the White House.
Health care: The administration is targeting a Wednesday vote. A McConnell spokesman said: "If we make any announcements we will be sure to let you know."
Conservative outreach: Trump is having dinner with conservative movement leaders on Monday night, as he seeks to consolidate their support leading into fall's legislative fights.
House floor: On Monday, House Republicans will consider the North Korean Human Rights Reauthorization Act of 2017. Per House Foreign Affairs chairman Ed Royce: "As we step up sanctions to cut off the cash that funds Kim's nuclear program, we must also break down barriers to truth in North Korea. This bill will update critical efforts to get real, accurate information into the hands of North Koreans through radio broadcasts, USB drives, mobile devices, and more."
https://www.axios.com/newsletters/axios-sneak-peek-46ab28db-500e-4905-af9d-8c96e0d2bcac.html?chunk=6#story6
1 predictable thing: Trump triples down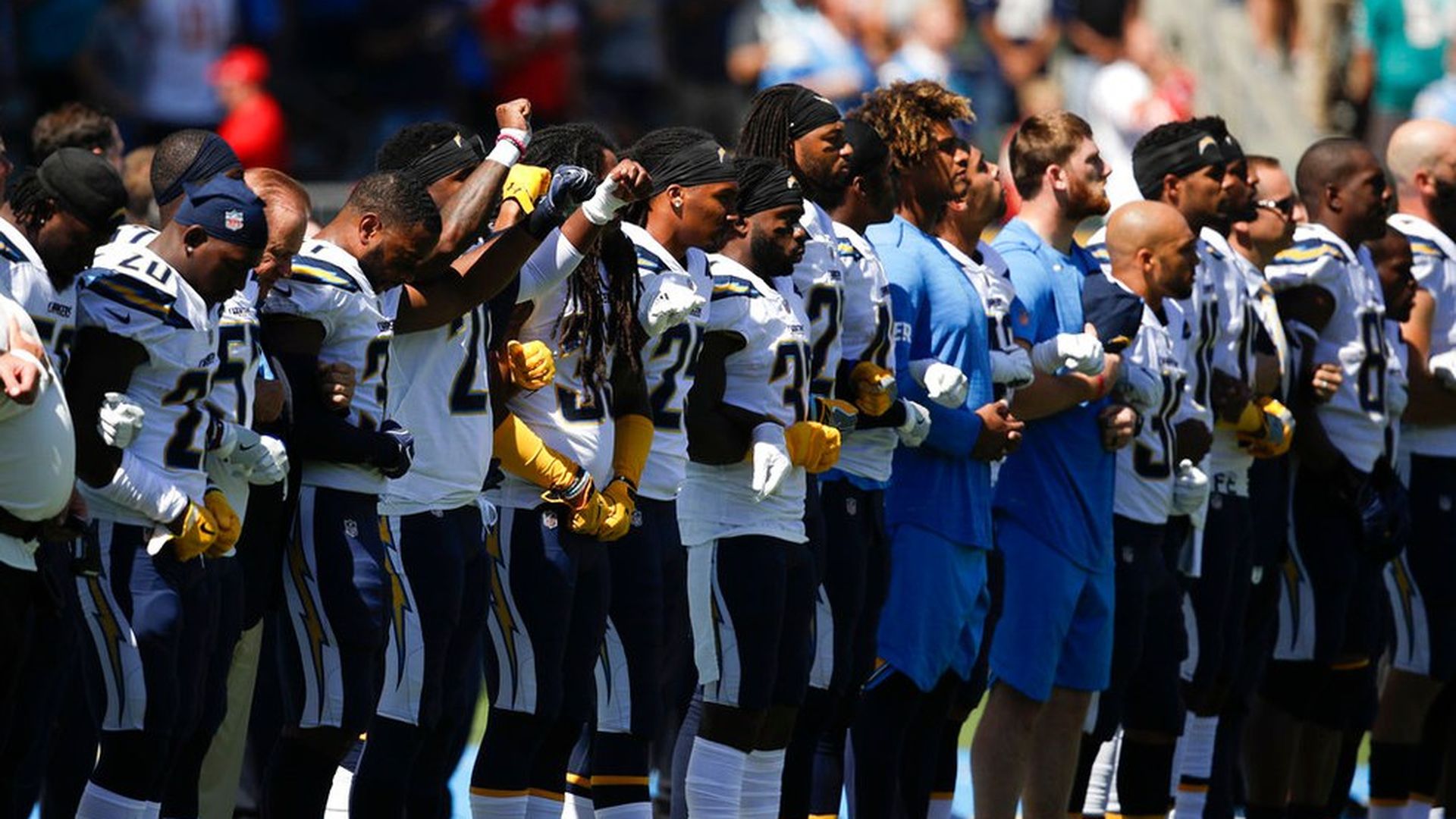 After a day of whacking NFL players on Twitter for their protests, and urging supporters to boycott the league until players stand during the national anthem, Trump kept feeding the furnace Sunday afternoon in a conversation with reporters at Morristown Municipal Airport in New Jersey:
"There was great solidarity — I watched a little bit. I was not watching the games today, believe me — I'm doing other things. But I watched a little bit, and I will say that there was tremendous solidarity for our flag and for our country."
What happened: Axios' Dave Lawler reports on a day of protests, writing, "the NFL is showing collective resistance today to President Trump's comments about players who protest during the anthem."
What's next: Expect Trump to milk this for all it's worth. He's never more comfortable than when he's revving up a cultural war and in this case he's compounding some of the deepest cultural, political and racial divisions in the country. Right on cue: A well-funded outside group supporting Trump is up with a new digital ad, "amplifying his attack on professional athletes who kneel during the national anthem as a form of protest," per Buzzfeed.