Axios Sneak Peek
February 25, 2018
Welcome to Sneak Peek, our weekly lookahead for both ends of Pennsylvania Avenue, plus my best scoops. I'd love your tips and feedback: [email protected]. And please urge your friends and colleagues to join the conversation by signing up for Sneak Peek.
1 big thing: Trump privately talks up executing big drug dealers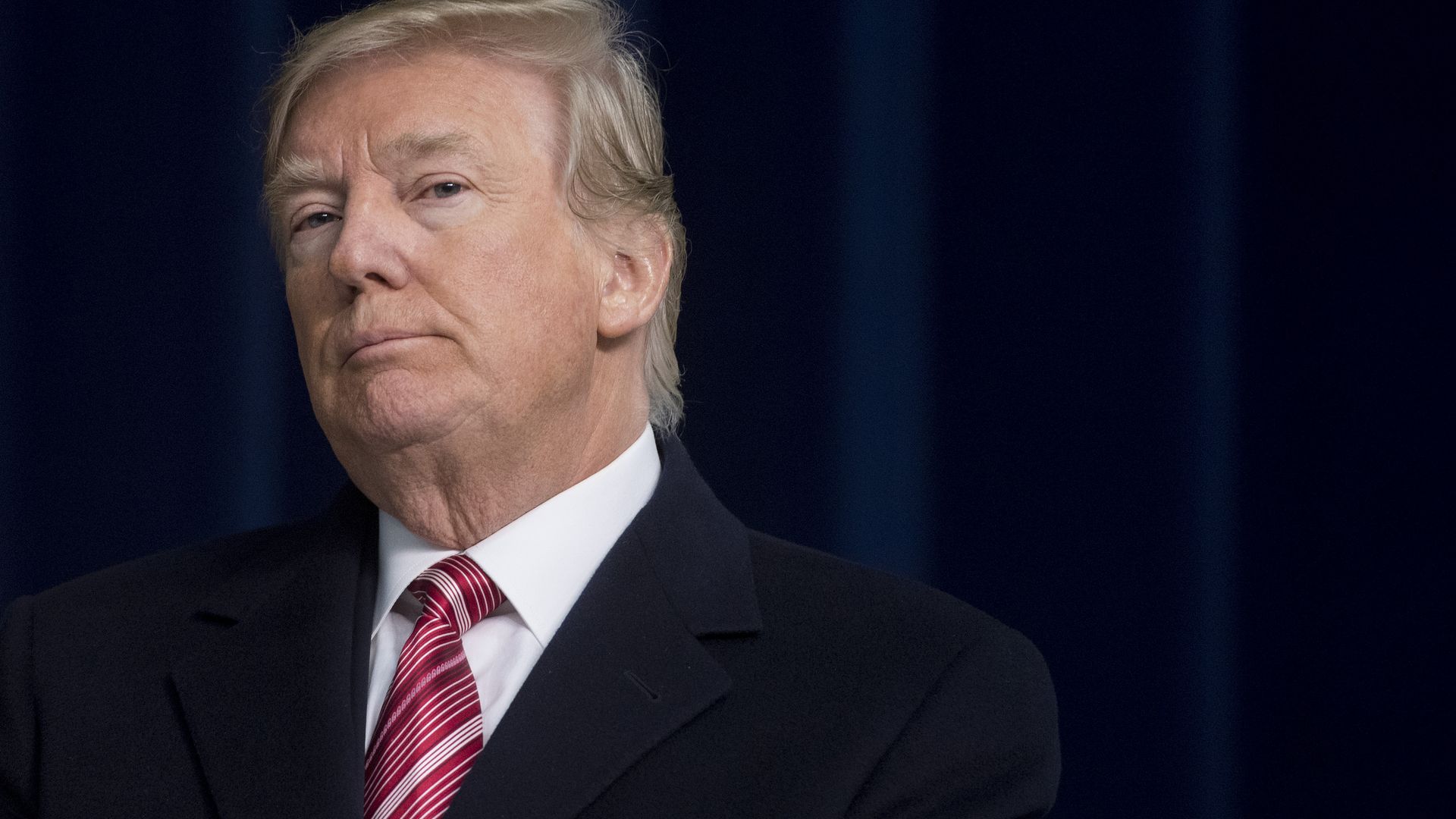 In Singapore, the death penalty is mandatory for drug trafficking offenses. And President Trump loves it. He's been telling friends for months that the country's policy to execute drug traffickers is the reason its drug consumption rates are so low.
"He says that a lot," said a source who's spoken to Trump at length about the subject. "He says, 'When I ask the prime minister of Singapore do they have a drug problem [the prime minister replies,] 'No. Death penalty'."
"​He often jokes about killing drug dealers... He'll say, 'You know the Chinese and Filipinos don't have a drug problem. They just kill them.'"
— A senior administration official to Axios
But the president doesn't just joke about it. According to five sources who've spoken with Trump about the subject, he often leaps into a passionate speech about how drug dealers are as bad as serial killers and should all get the death penalty.
Trump tells confidants a softer approach to drug reform — the kind where you show sympathy to the offenders and give them more lenient sentences — will never work.
He tells friends and associates the government has got to teach children that they'll die if they take drugs and they've got to make drug dealers fear for their lives.
Trump has said he would love to have a law to execute all drug dealers here in America, though he's privately admitted it would probably be impossible to get a law this harsh passed under the American system.
Kellyanne Conway, who leads the White House's anti-drug efforts, argues the president's position is more nuanced, saying the president is talking about high-volume dealers who are killing thousands of people. The point he's making, she says, is that some states execute criminals for killing one person but a dealer who brings a tiny quantity of fentanyl into a community can cause mass death in just one weekend, often with impunity.
The substance: Trump may back legislation requiring a five-year mandatory minimum sentence for traffickers who deal as little as two grams of fentanyl. Currently, you have to deal forty grams to trigger the mandatory five-year sentence. (The DEA estimates that as little as two milligrams is enough to kill people.)
Fentanyl is a synthetic opioid, and much of it is manufactured in Chinese labs. It can be lethal in extremely small doses. Of the 64,000 people who died of drug overdoses in 2016, more than 20,000 overdosed on synthetic opioids like fentanyl, according to the National Institute for Drug Abuse.
Between the lines: Conway told me this kind of policy would have widespread support. "There is an appetite among many law enforcement, health professionals and grieving families that we must toughen up our criminal and sentencing statutes to match the new reality of drugs like fentanyl, which are so lethal in such small doses," she said.
"The president makes a distinction between those that are languishing in prison for low-level drug offenses and the kingpins hauling thousands of lethal doses of fentanyl into communities, that are responsible for many casualties in a single weekend."
What's next: Trump wants to get tough on drug traffickers and pharmaceutical companies. Stay tuned for policy announcements in the not-too-distant future.
Trump and some of his advisers are discussing whether they might adopt other aspects of Singapore's "zero tolerance" drug policies, like bringing more anti-drug education into schools.
Both Conway and the First Lady Melania Trump, who has taken a strong interest in the administration's anti-drug policies, support getting better drug education and prevention into schools.
2. Trump pushes personal pilot to run FAA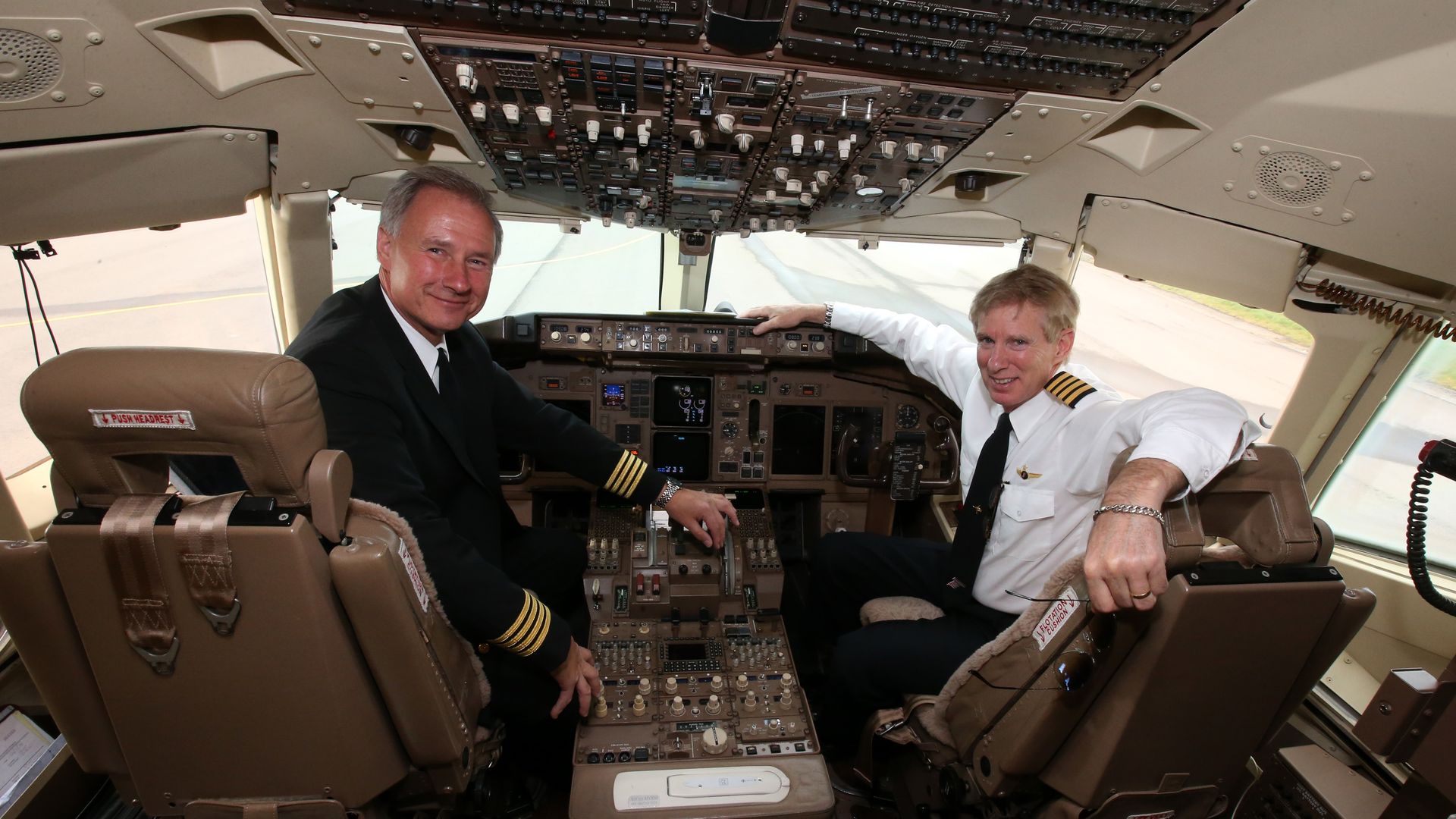 The president's personal pilot is on the administration's short list to head the Federal Aviation Administration. Trump has told a host of administration officials and associates that he wants John Dunkin — his longtime personal pilot, who flew him around the country on Trump Force One during the campaign — to helm the agency, which has a budget in the billions and which oversees all civil aviation in the United States.
What I'm hearing: One industry insider equated this to the Seinfeld episode when Cosmo Kramer used his golf caddy as a jury consultant. A senior administration official told me that comparison is completely unfair. The source confirmed Trump recommended Dunkin and that he's sat for an interview for the post. That source said he was impressive.
"He's on the list because he's the president's pilot, but if he gets the job it won't be because he's the president's pilot," the source said.
In response to my questions for this story, another administration source stressed that while no decision has been made, Dunkin has the appropriate experience to get the job.
"John Dunkin isn't just a pilot," the administration official told me. "He's managed airline and corporate flight departments, certified airlines from start-up under FAA regulations, and oversaw the Trump presidential campaign's air fleet, which included managing all aviation transportation for travel to 203 cities in 43 states over the course of 21 months."
Other candidates for the position, per my sources, include Rep. Sam Graves, a Missouri Republican; and current acting FAA Administrator Dan Elwell, who has impressed many in the administration and the industry.
Dunkin has told people that when he used to fly Trump around on his private Boeing 757, they'd often find themselves stuck on the tarmac with delays. He'd tell Trump that none of this would happen if a pilot ran the FAA.
3. Inside the White House trade fights
Bloomberg scooped on Friday that Trump wants the Commerce Department to seek the harshest maximum tariffs on global steel imports: 24 percent.  
I'm told that's accurate, but with one small tweak: Sources tell me the president has told confidants he actually wants a *25* percent global tariff on steel because it's a round number and sounds better.
The big picture: Also, an official with knowledge of the trade discussions told me the White House is preparing to impose tariffs on a "shit ton" — meaning, potentially hundreds — of Chinese products. They'll avoid going through the World Trade Organization — which Trump doesn't trust — and instead use Section 301 of the Trade Act of 1974 to unilaterally retaliate against China for stealing Americans' intellectual property.
Timing: Two sources told me Trump has been impatient and wanted these 301 tariffs done yesterday, but the team still hasn't settled on which Chinese products to attack. The team hasn't presented its recommendations to Trump.
The free traders — think Steven Mnuchin, Gary Cohn, Kevin Hassett, and Everett Eissenstat — only want tariffs on Chinese products that many other countries also produce (including uranium, consumer electronics and LED light bulbs.) They're trying to blunt any impact on American consumers.
However, a former top government trade official told me: "This is how trade wars start. There is zero chance China does not retaliate against us in painful ways..."
What's next: The much bigger fight inside the Trump administration concerns whether they'll put massive tariffs on steel and aluminum imports, as Wilbur Ross' Commerce Department "found that the quantities and circumstances of steel and aluminum imports 'threaten to impair the national security'." That was part of what's called a Section 232 investigation.
Sources with knowledge of the discussions tell me James Mattis, Gary Cohn, Rex Tillerson, and Kevin Hassett all think Wilbur Ross did a terrible job on Commerce's 232 investigation and strongly disagree with his recommendations. (This is the continuation of an ideological battle that's played out throughout the Trump administration between the free-traders and the protectionists.)
One official told me Ross' report doesn't properly account for the negative impact of these tariffs on downstream jobs — for example, auto suppliers and other U.S. businesses that import steel and aluminum to make their products.
Mattis' Defense Department pushed back

officially

against Ross' recommendations: "DoD continues to be concerned about negative impact on our key allies regarding the recommended options within the reports."
The same report conceded that "imports of foreign steel and aluminum based on unfair trading practices impair the national security." But the phrase "unfair trading practices" — and Mattis' subsequent singling out of China — is a clear indication that the Defense Department doesn't support broad tariffs.
The pushback: When I shared these harsh criticisms with the White House and agencies, only Rex Tillerson's team would go on the record to deny our reporting:
From Tillerson's team, a State Department official said: "Secretary Tillerson has not expressed this sentiment and wouldn't speak negatively about another cabinet member."
From the White House, Raj Shah said: "We are not responding to rumors and will not get ahead of the President. The process is ongoing, the President is reviewing the report and nothing is confirmed until he's made a decision... The President's team at the White House is leading a process that will ensure the President has all the information necessary for him to make a decision in the best interests of the American people."
From the Pentagon, spokesman Adrian Rankine-Galloway emailed: "The Department of Defense provides its best military advice to the President. Ultimately, it is the President who decides how his policies will be implemented."
Finally, a Commerce Department official pushed backed against the assertion that Ross didn't properly analyze the impact on the overall economy.
"DOC modeling has not shown any substantial impact on the overall economy as a result of the proposed steel tariffs," the official said. "This is consistent with the finding of the International Trade Commission that the Section 201 (in 2002) had negligible effects on the overall economy...While these were different products than those covered in the 232, they are all steel, and the ITC is an empirical source."
4. Supreme Court watch
Axios' Sam Baker previews three blockbuster Supreme Court cases this week:
1. A potentially crippling blow for public-sector unions: For years, the court has been inching closer and closer to ruling that public-sector unions can't collect fees from non-members.
It's widely expected to finish the job in a case called Janus v. AFSCME. Oral arguments are Monday.
The court will likely roll back one of the few remaining strongholds of union power — and with it, the political clout of an important part of the Democratic base.
2. Email privacy vs. law enforcement: If an American email provider stores your emails on a server that's located in another country, does it have to hand those emails over in response to a warrant from U.S. law enforcement? That's the question in US v. Microsoft, which the court will hear Tuesday.
The Justice Department argues that if these warrants don't cover overseas servers, the court will be carving out an awfully easy route to get away with crimes like drug trafficking and child pornography.
Microsoft, on the other hand, says allowing those warrants would open the door for foreign governments to unilaterally access data stored in the U.S.
3. Free speech at the polls: A Tea Party voter wore a Tea Party t-shirt to his polling place on Election Day. But Minnesota, where he lives, bans political apparel at polling places, so he was asked to cover up the Tea Party messages while voting. Is that a violation of his right to free speech, or a permissible restriction on electioneering?
Under Chief Justice John Roberts, people who allege an infringement of their First Amendment rights usually win.
Bottom line: The court also has cases on the docket this term about gerrymandering, the privacy of cell-phone location data, whether a Christian baker can refuse to serve a same-sex couple, and President Trump's travel ban. And then there's the consistent speculation about whether Justice Anthony Kennedy will retire.
5. Sneak Peek diary
Congress has a light schedule this week:
The late Rev. Billy Graham will lie in honor in the Rotunda on Wednesday and Thursday. The House will only vote Monday and Tuesday; the Senate stays all week.
The House will vote on an anti-sex trafficking bill that Rob Portman has been pushing in the Senate. A senior GOP aid told me the tech sector doesn't like it because it holds websites accountable for sex trafficking solicitations on their domain. 
The House Energy and Commerce Committee kicks off its opioid hearings. Leadership expects to make this a voting priority by late spring.
The Senate will confirm five judges and will finally confirm Russell Vought to be Mick Mulvaney's deputy at the Office of Management and Budget. I'm told there'll likely be no action on gun control in the Senate this week (the bill most likely to pass is John Cornyn's legislation to strengthen the national instant background check system.)
President Trump's schedule this week, per a White House official:
Monday: The President meets with governors; has lunch with Mike Pence, Agriculture Secretary Sonny Perdue, and EPA Administrator Scott Pruitt; and meets with House Ways and Means Committee Chairman Kevin Brady.
Tuesday: The President meets with Republican members of the House and Senate; presents the "Boy Scouts of America report to the nation;" and announces the "Historically Black Colleges and Universities Special Initiative Leadership."
Thursday: The White House hosts an opioids summit.
Friday: The President attends the funeral of the Rev. Billy Graham.