Axios Sneak Peek
October 13, 2019
Welcome to Sneak Peek, our weekly lookahead for both ends of Pennsylvania Avenue, plus our best scoops.
Please encourage your friends and colleagues to sign up for free.
Smart Brevity count: 2,272 words (~8 minutes).
1 big thing: Trump's bluff kicked off invasion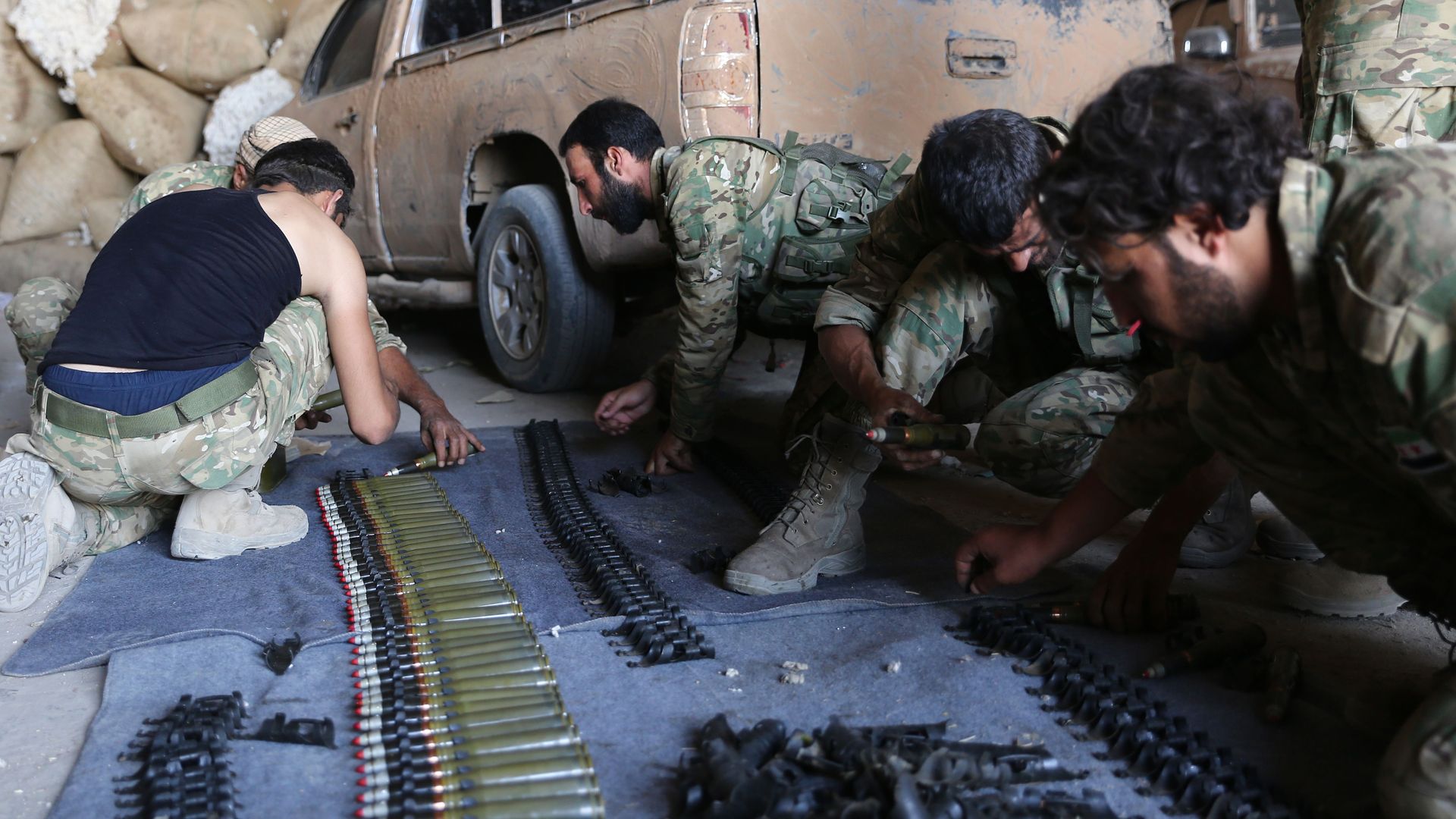 President Trump had been calling Turkish President Recep Tayyip Erdoğan's bluff for more than 2 years, and some senior administration officials thought Erdoğan would never actually go through with his long-threatened Syria invasion, according to 6 sources with direct knowledge of the situation.
"I think everyone thought Erdoğan was bluffing," a source close to Trump told me today.
The big picture: Trump would tell Erdoğan that if he wanted to invade Syria he would have to own whatever mess ensued, according to these sources. Erdoğan would have to take care of ISIS and manage international condemnation, trouble from Capitol Hill, and the quagmire with the Kurds. And when Trump put it in such stark terms to Erdoğan, the Turkish leader would demur. Until last Sunday, that is, when he told Trump he was moving ahead with the invasion of northern Syria.
This time, Erdoğan called Trump's bluff, having waited for international forces to wipe out the ISIS caliphate.
Erdoğan's decision — which the White House cleared the way for in its Sunday night announcement, alienating and blindsiding key allies including Republican lawmakers and the Christian right — has plunged the Middle East and Trump's political standing in Washington into crisis.
Sources in Turkey have indicated that while Erdoğan was talking big, he thought Trump would restrain him, a U.S. official familiar with the details told Axios' Margaret Talev.
For example, Erdoğan did not expect — or want — a 30-km-deep (18-mile) buffer; that was assumed to be a negotiation aimed at getting something smaller.
Now Erdoğan may be in over his head and facing global condemnation and sanctions, but he got so far extended politically inside Turkey that he has had little choice but to go forward, the official said. 
Behind the scenes: In phone calls and in-person meetings dating back to 2017, Trump has been effectively calling Erdoğan's bluff, according to sources who have been in the room with the two leaders and had access to their phone calls.
On one 2017 phone call, Erdoğan was complaining to Trump about the Kurdish threat on his border and told Trump he wanted to move in to take care of the Kurdish threat, per a source with direct knowledge of the call.
The source paraphrased their recollection of what Trump said on the call: "It was pretty blustery. Trump was like, 'I don't want to be there in the first place, but you know our guys are there. They don't take s--t. We're there. Maybe I don't want to be there, but if you do a border crossing and come into conflict with our guys, they are way better equipped and you don't want to do that.'" Trump's message, the source said, was "don't mess with the U.S. military."
But after conveying that threat, Trump signaled he wasn't going to keep his troops in Syria for long and was not going to be hanging around to protect the Kurds against the Turks, the source added. Trump said something to the effect of, "But you know I don't want to be there. We're there to defeat ISIS. My people tell me we are winning. ... So hang tight. But you don't want to get into a conflict with my guys," the source recalled.
Another former senior administration official, who was with Erdoğan and Trump when Erdoğan visited the White House in 2017, said Trump called the Turkish leader's bluff then, too.
"Trump basically said, 'Look, if you want it you own it, but don't come looking to me for help. You can take it, it's yours,'" the former official recalled of that 2017 conversation about Turkish intent to cross the border into Syria.
2. White House tries to steady after hell week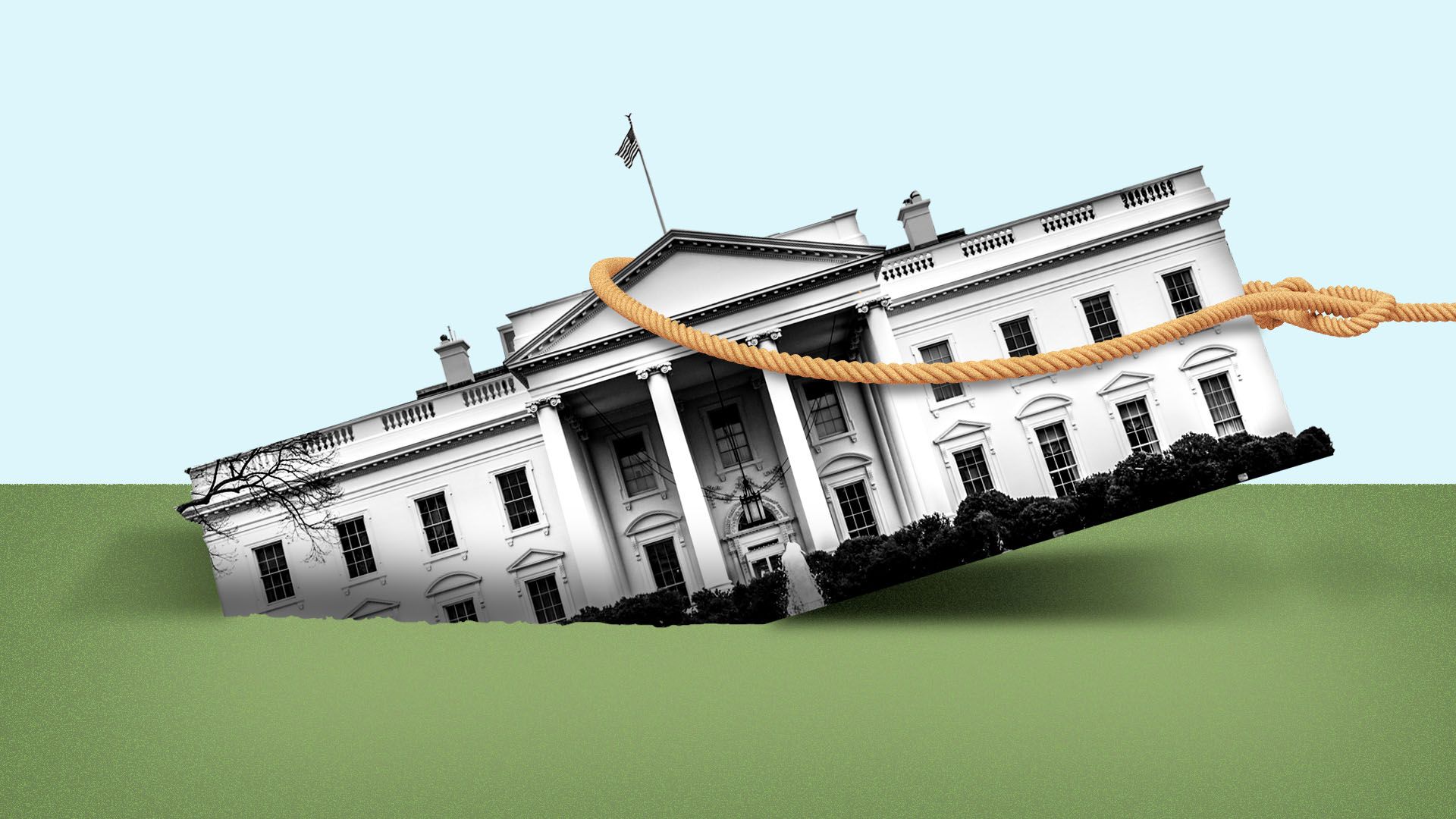 The White House is trying to dig itself out of a self-inflicted crisis on Capitol Hill after a hellish week. President Trump has signaled 3 moves that, while modest in substance, throw scraps of reassurance to anxious Republicans:
A tactical truce with China that pauses the trade war, calms the markets, forestalls planned tariff hikes, and clears the way for Chinese purchases of U.S. agricultural products.
A tweet that he is likely to support sanctions against Turkey for its invasion of northern Syria, which has led to the slaughter of America's Kurdish allies and the escape of ISIS prisoners.
A deployment of an additional 1,800 U.S. troops to Saudi Arabia to discourage Iranian aggression.
Behind the scenes: Republican Sen. Lindsey Graham and senior diplomat Jim Jeffrey have been working behind the scenes with Trump to encourage him to put pressure on Erdoğan, per sources with direct knowledge.
And Trump is coming to the view that he probably has no choice but to support Congress' impending Turkey sanctions, per these sources. An overwhelming majority of Congress — likely enough to override a presidential veto — appears poised to move on these sanctions.
Erdoğan has few friends these days on Capitol Hill. Lawmakers from both parties have been waiting for an opportunity to punish him for his deal with Russia to buy the S-400 missile system. Trump made these sanctions a near certainty from the moment he blindsided allies by announcing the withdrawal of U.S. troops from northern Syria — thus abandoning the Kurds.
The White House guaranteed this turmoil on the Hill by blindsiding crucial partners, including the Israelis, key Republican senators and the Christian right.
Secretary of State Mike Pompeo pushed hard for the additional troop deployment to Saudi to deter Iran. He did so over the objections of other national security officials, according to a senior administration official.
The big picture: Republican senators are increasingly spooked after being blindsided by weighty presidential decisions, a shift in public opinion toward impeachment, the absence of direction from the White House on impeachment, the fear of what other unknown scandals are still out there, and the daily controversies that all seem to involve the president's personal lawyer Rudy Giuliani.
3. The highly classified system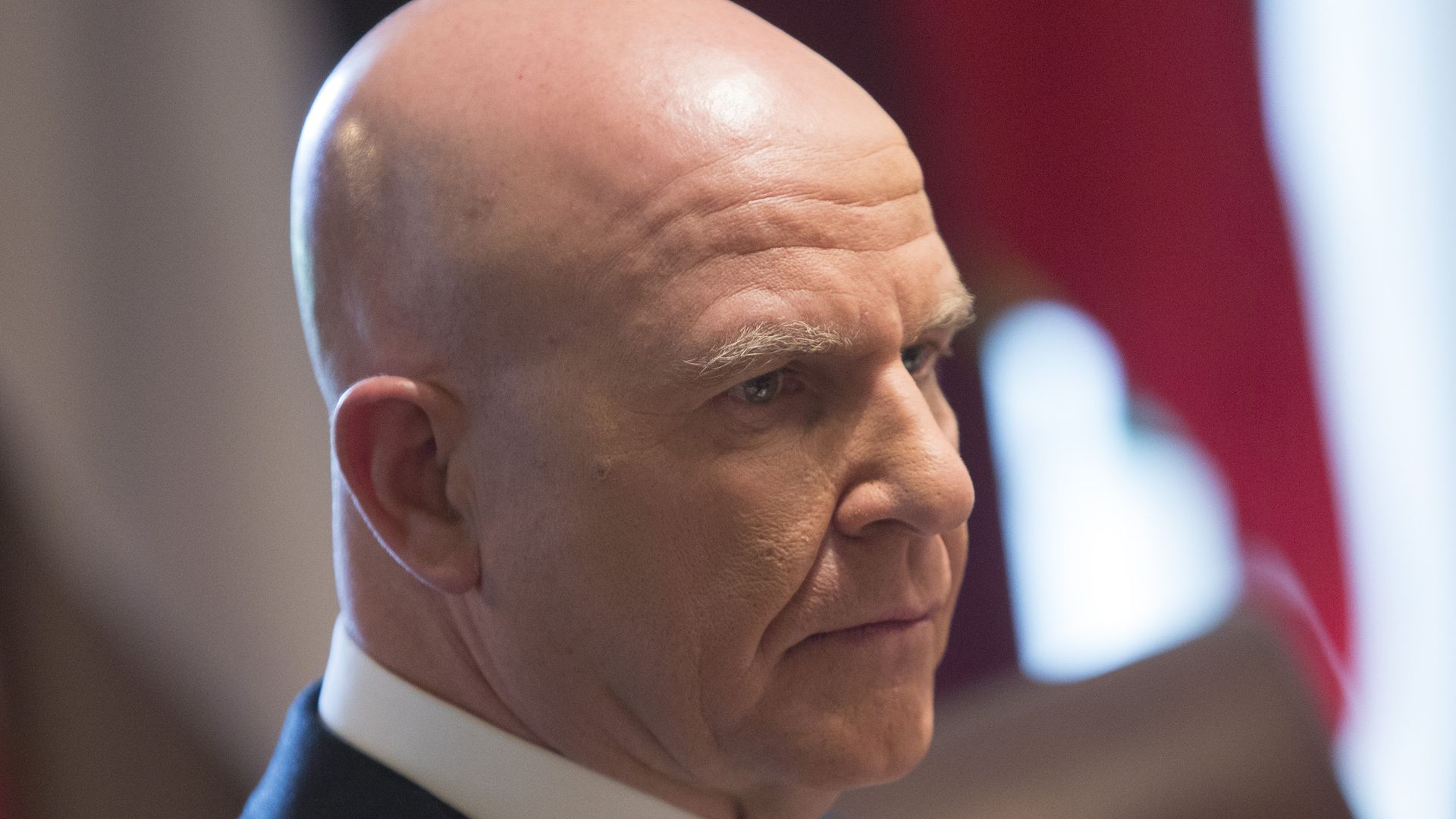 Three former administration officials tell Margaret Talev that former national security adviser H.R. McMaster did not authorize and was not aware of the "locking down" of transcripts of conversations between President Trump and foreign leaders that were politically damaging but didn't pose national security risks.
Why it matters: Congressional investigators want to learn how, when and at whose direction transcripts were moved out of the typical computer system and into a classified system meant for highly sensitive security matters.
That process was described in the whistleblower's complaint about the July 25 call between President Trump and Ukraine's President Zelensky.
Details: Early reports suggested the practice might date to McMaster's tenure (February 2017–April 2018).
After calls between Trump and leaders of Mexico and Australia were leaked in 2017, the National Security Council did tighten a once-larger circle of staff and interagency officials who got access to foreign leader call transcripts by default, two of the former officials said. But that's not the same as whisking transcripts away to a classified system.
It's also true that another document — memorializing a conversation in 2017 in which Trump disclosed classified information to the Russians about ISIS and intelligence from another country — was later deemed highly sensitive and the details restricted.

One person familiar with the matter said that move wasn't about trying to protect Trump politically — the concern was protecting intelligence and a U.S. ally. Because the information was classified at one of the higher levels, it necessitated the move to the special system.
The bottom line: If McMaster was not involved in the practice, it raises questions about whether it began under his successor John Bolton or was happening for a longer duration at the direction of officials working around the national security adviser.
4. Trumpworld would still rather run against Warren than Biden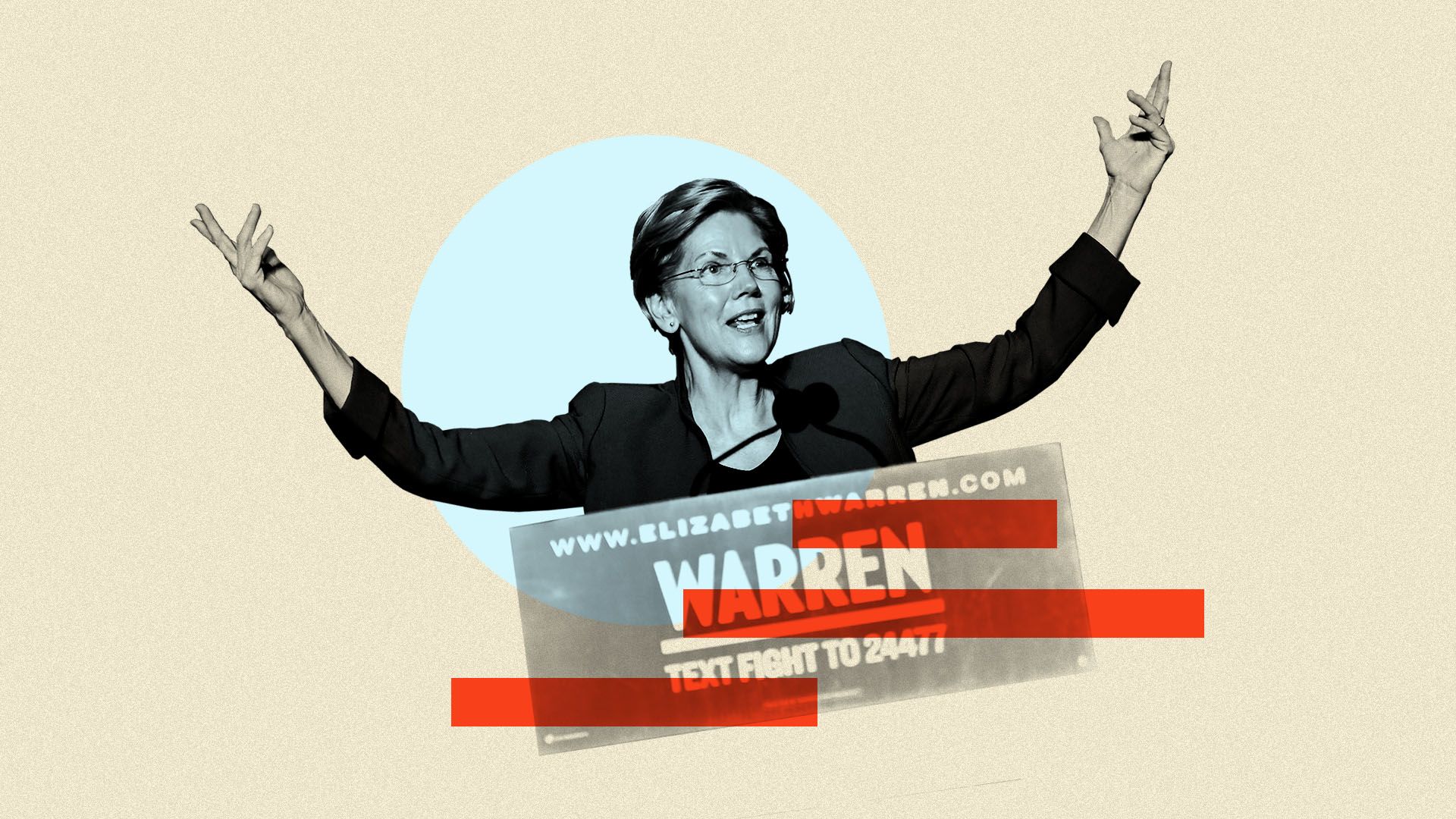 President Trump's allies still fear a general election matchup against a banged-up Joe Biden more than a run against an invigorated Elizabeth Warren, people close to the president tell Axios' Alayna Treene and Alexi McCammond.
Driving the news: Warren has surpassed Biden in some primary polls, seemingly helped by the early coverage of Trump's efforts to get Ukraine to investigate conspiracy theories involving Biden and his son Hunter. And a Fox News poll now shows Biden and Warren each would lead Trump, 50% to 40%.
Warren's success with small donors, enthusiastic crowds and an instinct for viral moments are giving her an edge in the still-crowded primary contest.
Some Democrats also believe her anti-corruption platform, shorter record in politics and relative lack of family baggage could make her more difficult than Biden for Trump to drag through the mud.
Why it matters: Several advisers in Trumpworld told Alayna that Warren is arguably a better candidate in terms of being quick on her feet and prepared on a debate stage. But those advisers say her liberal stances on some issues and her "likeability" problem with segments of general election voters make her weaker against Trump than even a Biden hindered by gaffes, generational dissonances and a son with personal drama and a lobbying record.
"He still feels safe," a Trump campaign adviser said of how U.S. voters perceive Biden. The former vice president is not saying "crazy, radical" things and "people think Biden will bring some semblance of normalcy."
The president's supporters also insist that Warren would put more states in play than most anyone: "She makes winning Wisconsin a sh*tload easier, and Michigan — are you kidding me?!" a former White House official said.
To date, the attack strategy Trump's team has tested most successfully with voters who backed him in 2016 is painting Dem candidates as socialists, and it's a lot easier to stick a socialism tag on Warren than on Biden.
Meanwhile, Trump campaign adviser Brad Parscale has long thought Warren may be the eventual nominee — and privately relishes the notion of running against her.
But, but, but: Analysts and some Democratic strategists say Trump's team may be underestimating Warren's potency.
"It's easy to say Warren is a weaker general election candidate than Biden — but that may not be true," said Kyle Kondik, managing editor of political website Sabato's Crystal Ball. "It may be that Warren better excites Democrats and/or has a populist economic message that is better suited for the moment."
5. House Democrats' impeachment roadmap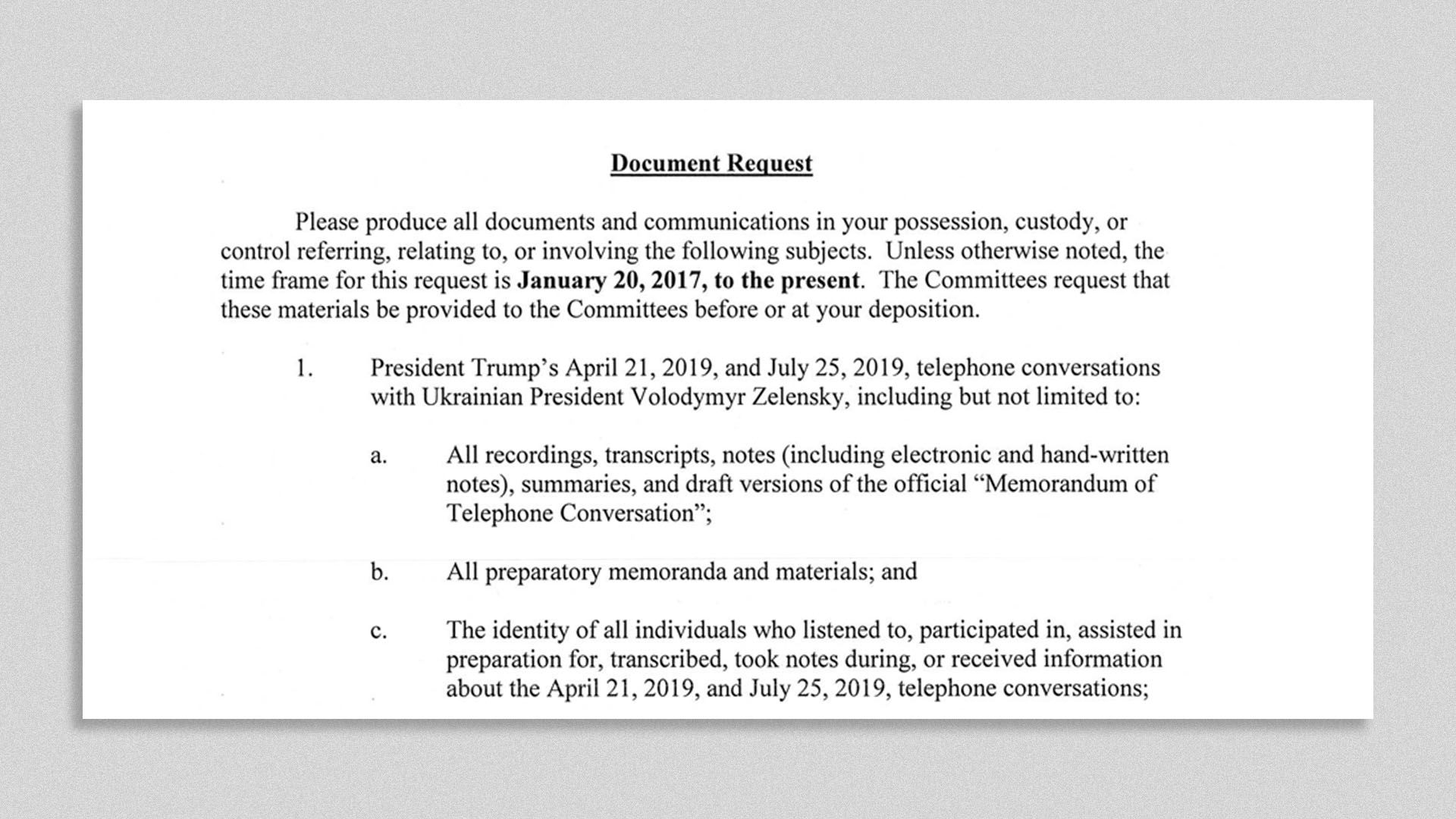 Ahead of this week's subpoenas and depositions, new documents obtained by Alayna show how Democrats are taking the impeachment inquiry in two tightly focused directions: Ukraine and obstruction of justice.
Why it matters: There are new temptations for Democrats to broaden the scope of their inquiry after developments last week including President Trump's gift to Turkey, new questions about coordination with the Chinese over Hunter Biden, and the dramatic airport arrests of two of Rudy Giuliani's associates with Eastern European backgrounds and their indictments on campaign finance violations.
But for now, House Speaker Nancy Pelosi appears to be sticking with her instincts to keep the probe tight and as simple as possible for Americans to understand.
Driving the news: If the document request for Trump's former Russia adviser Fiona Hill, reviewed by Axios, is a road map for what Dems plan to ask Trump administration officials this week — and committee sources tell Alayna that it is — then the inquiry remains focused on Ukraine and has not yet branched out into other countries.
Go deeper: Read the full story for key areas of interest to the committees
6. Sneak Peek diary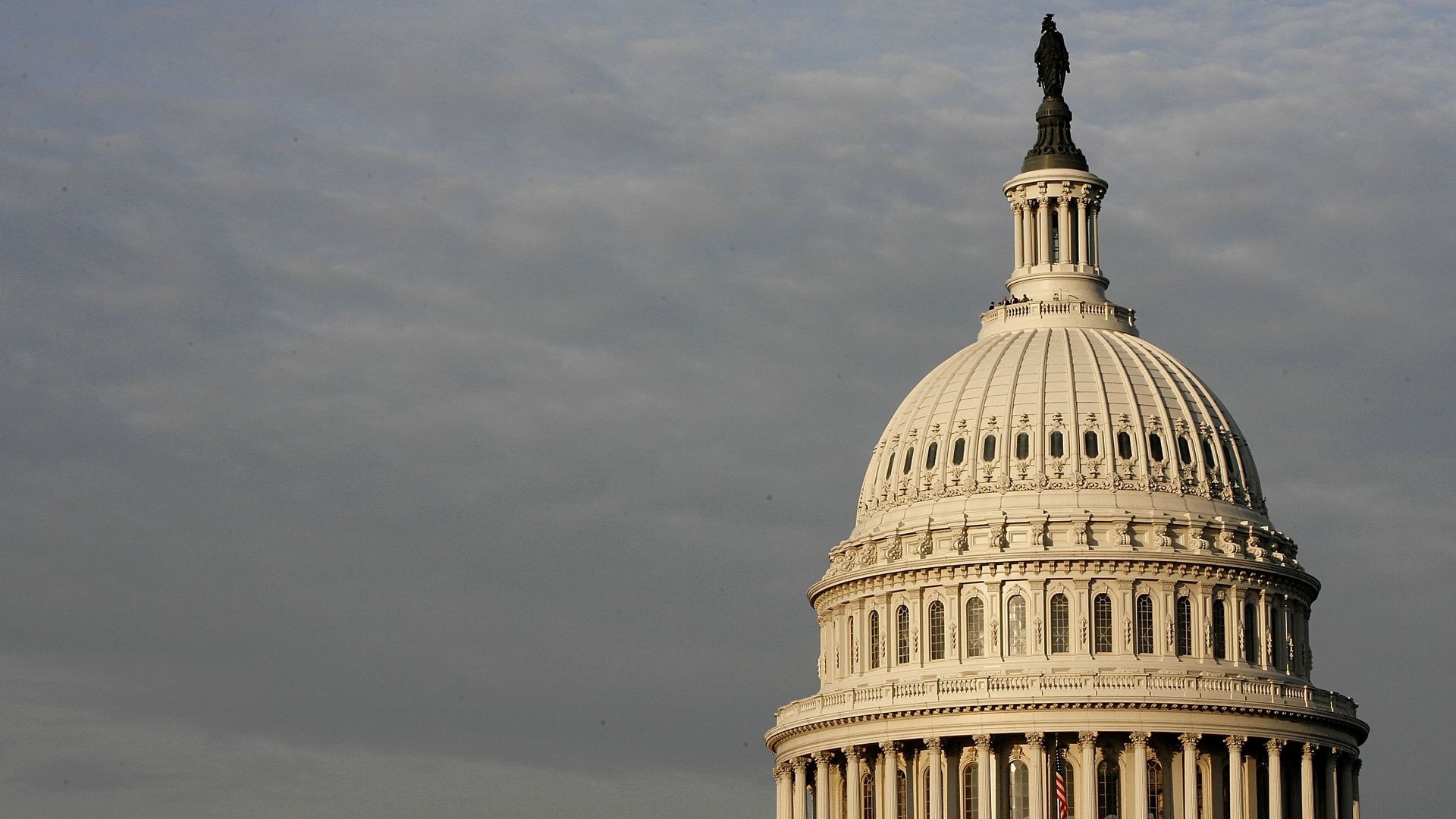 The fourth Democratic presidential debate, hosted by CNN and the New York Times, will take place on Tuesday in Westerville, Ohio. Twelve candidates will debate each other on one stage.
The House may consider a resolution opposing Trump's actions in Syria this week, a Dem leadership aide tells Alayna.
House Foreign Affairs Committee Chairman Eliot Engel (D-N.Y.) and ranking member Michael McCaul (R-Texas) will introduce legislation to sanction Turkish officials involved in the invasion of Syria and banks involved in the defense sector. The leadership aide said the timeline of the bill's floor consideration is still unclear.
The Hong Kong Human Rights and Democracy Act — bipartisan legislation that is one of Pelosi's top priorities — will be debated on the floor this week under suspension, the aide said.
On Wednesday, Congressman Raul Ruiz (D-Calif.) will hold a gun violence prevention roundtable with physicians and public health experts. Pelosi is slated to attend.
The following Trump administration officials are scheduled to appear before the House Intelligence, Oversight and Foreign Affairs committees as part of their impeachment inquiry:
Monday: Trump's former Russia adviser Fiona Hill.
Tuesday: Deputy Assistant Secretary of State George Kent.
Thursday: U.S. Ambassador to the European Union Gordon Sondland and Counselor of the State Department Ulrich Brechbuhl.
The Senate will confirm the following nominees, per a Republican leadership aide:
Barbara McConnell Barrett as Secretary of the Air Force.
Frank Volk as a judge for the Southern District of West Virginia.
Charles Eskridge III as a judge for the Southern District of Texas.
David Novak as a judge for the Eastern District of Virginia.
Rachel Kovner as a judge for the Eastern District of New York.
President Trump's schedule, per a White House official:
Monday: Trump has no scheduled events.
Tuesday: Trump will have lunch with Pence. He will also participate in a photo opportunity with 2019 Stanley Cup Champions, the St. Louis Blues. Trump will also meet with Secretary of Defense Mark Esper.
Wednesday: Trump will participate in bilateral meetings with Italian President Sergio Mattarella. The two will also hold a joint press conference. Trump will also have lunch with Secretary of State Mike Pompeo. Later he will deliver remarks at an Italian-American Reception.
Thursday: Trump will participate in a roundtable with supporters and deliver remarks at a joint fundraising committee luncheon in Fort Worth, Texas. He will also participate in the ribbon-cutting and deliver remarks at the Louis Vuitton – Rochambeau Workshop in Texas' Johnson County. Later, he will deliver remarks at a Keep America Great Rally in Dallas.