Axios Science
August 30, 2018
Thanks for subscribing to Axios Science. Please consider inviting your friends and colleagues to sign up. I appreciate any tips or feedback — simply reply to this email or send me a message at [email protected].
1 big thing: STDs and antibiotic resistance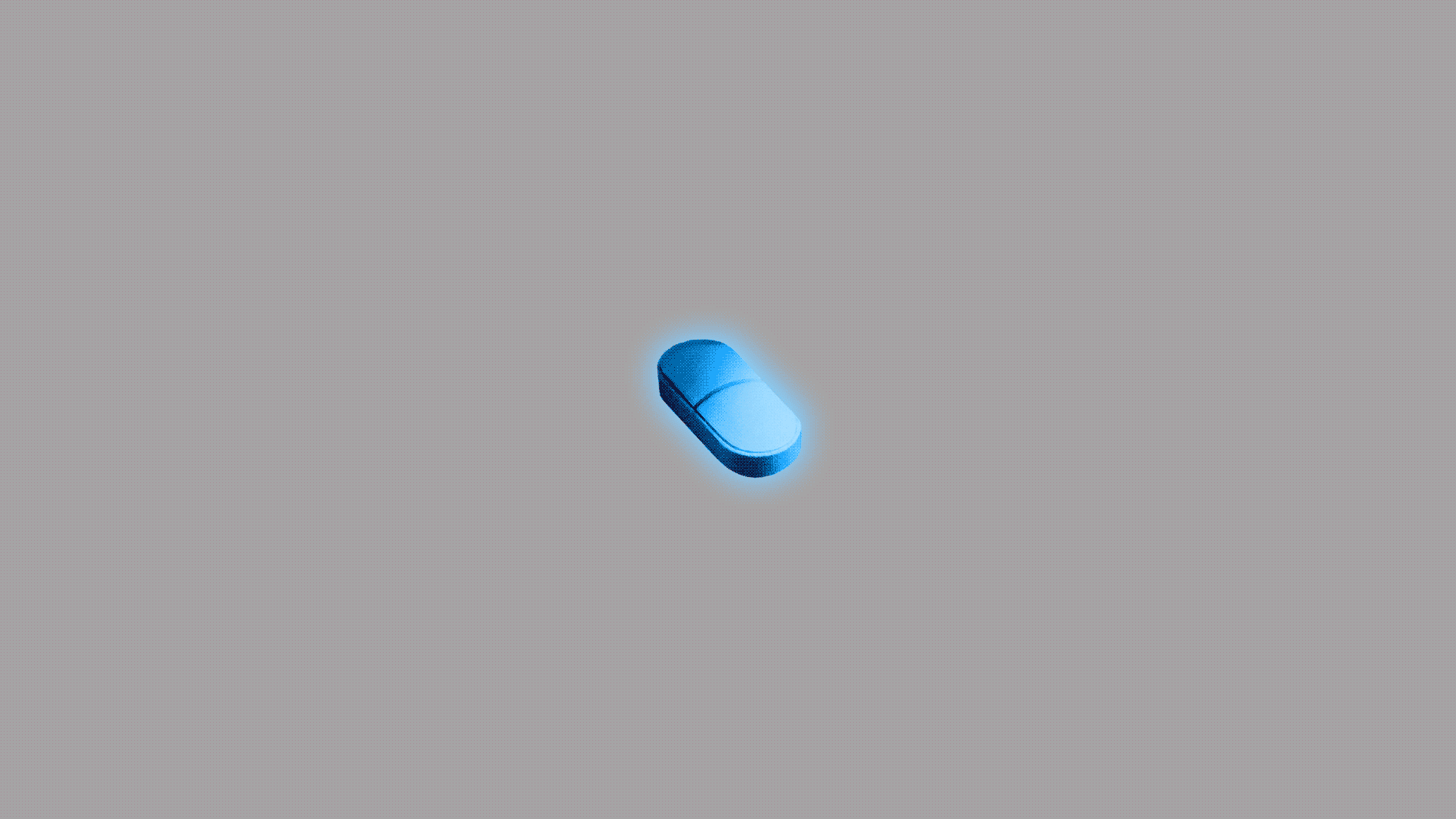 Better screening and increased drug research into new antibiotics and antiviral medications are greatly needed to head off what some health experts say could be a future in which there will be no effective medications to fight common infections like gonorrhea, syphilis, E.coli and staph, Eileen Drage O'Reilly writes.
Why it matters: Antimicrobial resistance is currently projected to be the number one killer by 2050 — "outpacing even cancer" — according to Amy Mathers, assistant professor at the University of Virginia School of Medicine.
The specter of increasingly drug-resistant diseases made news this week when CDC officials announced America reached a record high of new cases of sexually transmitted diseases. They also warned of increasing signs that one of the most common STDs, gonorrhea, is becoming more resistant to front-line antibiotics.
The threat: This disease has proven to be a "smart bug," developing resistance to multiple antibodies in the past, Elizabeth Torrone, who leads surveillance and special studies for CDC's Division of STD Prevention, tells Axios.
Currently, there's one last antibiotic (ceftriaxone) that remains effective against the disease.
It's often prescribed as a dual therapy, with a single shot of ceftriaxone plus an oral dose of a second antibiotic (azithromycin), in an attempt to preserve the cefrtiaxone's effectiveness, Torrone says.
CDC officials warned they recently found an uptick in the portion of lab samples showing resistance to azithromycin — from 1% in 2013 to 4% in 2017.
Despite being a small percentage, this is a concern because genes from the resistant strains could crossover with gonorrhea genes and reduce its susceptibility to ceftriaxone, Torrone says.
Be smart: On the STD front, better and more frequent testing is needed to prevent the spread of the diseases in the first place, says Ursula Hessenflow, co-founder of myLAB Box, which offers home DNA testing for HPV, chlamydia, gonorrhea, syphilis, herpes and others. Hessenflow tells Axios:
"A big problem in the U.S. is people are simply avoiding STD testing in the first place. Failure to stem these infections includes lack of sex education, the cost, shame and inconvenience of regular testing in a lab, clinic or doctor's office, and the fact that [STD] still carries great taboo."
What's needed is both better diagnostic testing and the development of new antibiotics, Mathers says. She says next-generation sequencing is where testing should head, so that physicians know which specific antibiotic is best to prescribe.
The big picture: Gonorrhea is far from the only disease with growing resistance — others include syphilis, E.coli (particularly in urinary tract infections), methicillin-resistant Staphylococcus aureus (MRSA), tuberculosis and malaria, Mathers and Torrone say.
Go deeper: Read Eileen's full story here.
2. Climate change threatens food security
Global climate change is projected to cause increased pest-related crop losses that could compromise food security for millions, a new study finds.
Why it matters: By focusing on pests, the new research looks at an under-explored aspect of the relationship between climate change and the global food supply. It adds to the findings of previous studies that examined the nutritional content of food as well as changing crop yields.
The details: The new study, published in the journal Science on Thursday, found that as the climate warms, insects' metabolism will speed up, causing them to eat more. In turn, their populations will likely expand.
How they did it: The researchers developed a model based on relationships between temperature and insect physiology and metabolism. They also used current crop yields and their pest-related losses for three staple crops (rice, maize, and wheat), and then added projected monthly and annual surface temperature anomalies from a variety of climate models.
What they found: In total, they found that global yield losses of the three crops will increase by between 10 and 25% per degree of global mean surface warming.
Together, rice, maize and wheat account for 42% of the direct calories consumed worldwide, the study states.
The biggest impacts will be felt in the world's maize and wheat breadbaskets located in temperate regions, including the U.S., France, China and Russia, says Curtis A. Deutsch, the lead author of the study and a researcher at the University of Washington.
Deutsch says the people who will suffer the most are those already at risk of food insecurity.
"Insect pests currently consume the equivalent of 1 out of every 12 loaves of bread (before it ever gets made)," he said. "By the end of this century, if climate change continues unabated, insects will be eating more than 2 loaves of every 12 that could have been made."
The context: A paper published earlier this week in Nature Climate Change found that elevated levels of carbon dioxide may result in a decline in human nutrition by the middle of this century, based on observations of crops grown in high-carbon dioxide conditions.
What they're saying: Chris Field, the director of Stanford Woods Institute who wasn't involved in the new research, told Axios:
"The value of this study is its clear demonstration that, based on underlying physiology, there are reasons to expect extra challenges with insects, especially in the temperate breadbasket regions."
Go deeper: Read the full story here.
3. DRC's battle with Ebola and polio
Government officials in the Democratic Republic of the Congo (DRC) announced this week they will start the school year on time on Sept. 3, as the deadly Ebola outbreak seems to have lessened in intensity (see chart above) but worries linger especially as 3 community deaths were reported today.
What's new: The concern is particularly over the 3 people who apparently died outside of quarantined treatment centers, since the Ebola virus remains highly infectious after death. Plus, in the midst of handling Ebola, health officials continue to deal with an outbreak of a rarer type of polio, and have begun a vaccination campaign in areas not affected by Ebola, per Jessica Ilunga, spokesperson for DRC's Ministry of Health.
Ebola update: While the number of new cases of Ebola has lessened, Llunga says they remain "vigilant." She says they've had the first wave of the outbreak, but often there can be a second one.
"Vaccination is the only effective method to quickly break the transmission chain. That's why our teams have been working around the clock to identify contacts and contacts of contacts, and vaccinate them as quickly as possible. Over the next few days, many contacts will come out of the 21-day surveillance period and we'll know to what extend we managed to break the transmission chain."
"The decision to start school on time is partly due to the belief they may be in greater danger of contracting the disease by playing unsupervised in the community, Llunga says. She adds:
"There is a greater risk of having kids contaminated at home or on the streets than at school where measures will be put in place to protect them against the virus. And if one child develop the disease, we will be able to identify him quickly and to give him the appropriate treatment. Furthermore, it will be also easier to identify contacts and vaccinate them."
The school year plan: The government will teach the children how to conduct good hygiene practices, such as washing their hands with chlorinated water that will be provided at the schools. Directors and school teachers will receive training on Ebola, including prevention methods and measures to deal with suspicious signs of infection.
Besides training, UNICEF says it will distribute 500 laser thermometers (2/school) to monitor the health situation of children, install 1,500 hand-washing units (6/school) and distribute megaphones and prevention posters in every school.
Read more of Eileen's story here.
4. Axios stories worthy of your time
HPV vaccination progress: In our Expert Voices section, professor Ronald DePinho writes that HPV vaccination rates are promising, but off track to meet a 2020 goal.
Hurricane Maria response: A day after the death toll from Hurricane Maria was raised to 2,975, President Trump defended his administration's storm response.
Possible opioid replacement: A new drug, currently awaiting human trials, has shown promise in animal studies for providing pain relief without most of opioids' addictive side effects, Eileen reports.
Subnational climate action: Cities, regional governments and companies acting on climate change are making a difference, but not enough to fully make up for the lack of national ambitions, Ben Geman writes.
California clean energy bill: Former Energy Secretary Ernest Moniz praised California's new 100% clean energy bill, Amy Harder reports.
5. What we're reading elsewhere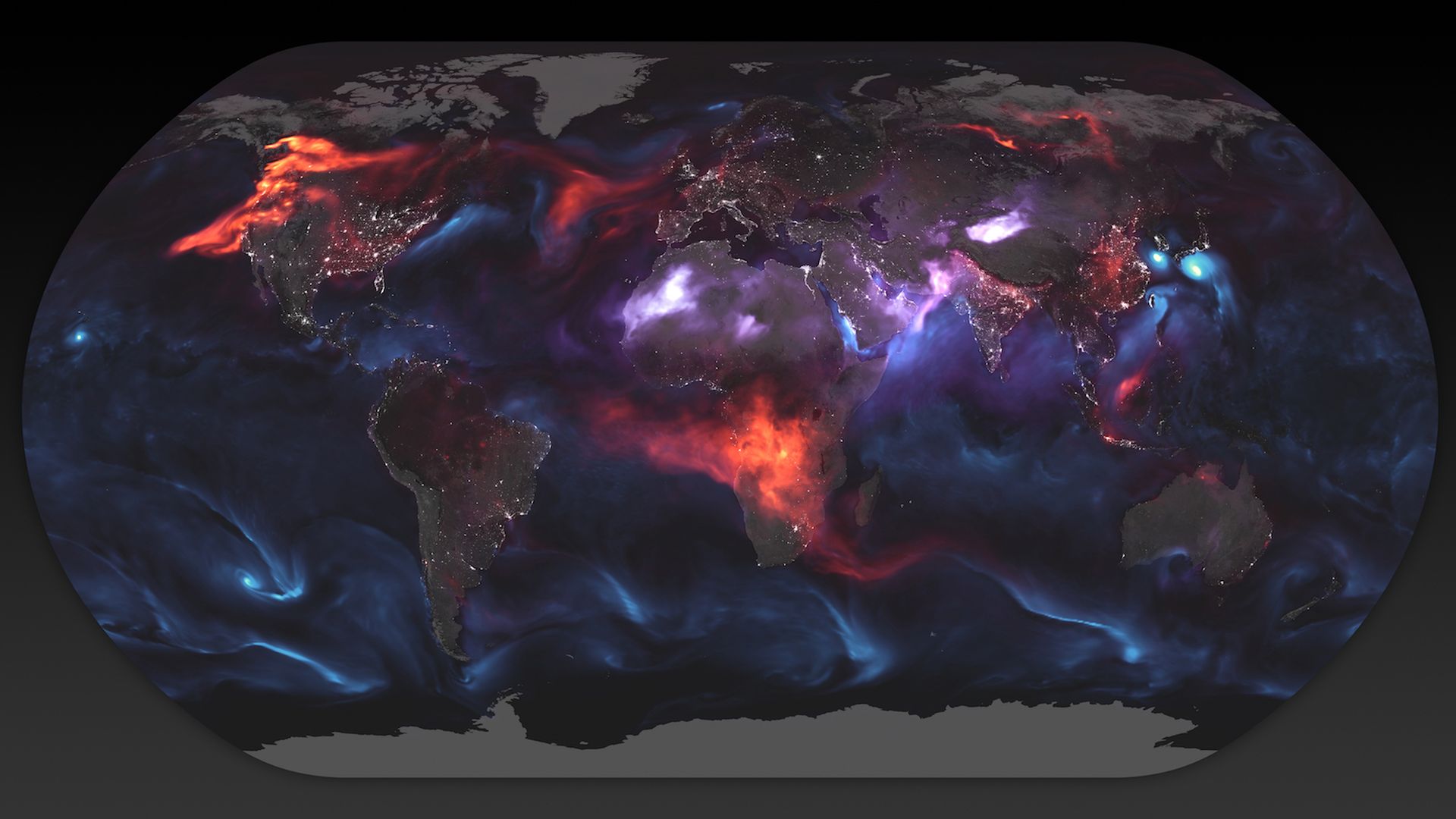 A world of smoke and dust: A dazzling new NASA visualization shows all the particles in the atmosphere from sources ranging from desert sands to fierce wildfires. Mary Beth Griggs details the forces at work for PopSci.
A beach read: Over at Hakai Magazine, Brendan Borell writes about the California city of Santa Monica's efforts to redefine what a clean, urban beach looks like.
Pinpointing aftershocks: A machine-learning study found an improved way of predicting earthquake aftershocks, potentially leading to better warnings of future quakes, Alexandra Witze writes for Nature News.
6. Something wondrous
Auroras on Earth are breathtaking, occurring at both poles as streams of magnetically charged particles from the sun interact with the planet's magnetic field.
It turns out that such a phenomena is not unique to our home planet. In fact, Jupiter, Saturn, Uranus and Neptune all boast auroras of some sort.
However, unlike on Earth, where you can fly to Iceland to observe the Northern Lights during the winter, or journey far to the south for a look at Aurora Australis, the auroras on other planets can only be viewed from space.
This is the case with Saturn, since its hydrogen-dominated atmosphere causes auroras to be viewed in ultraviolet wavelengths rather than visible light. The image above is a composite of many different images from the NASA/ESA Hubble Space Telescope, showing the planet's aurora that occurs at its north pole region.
A new study, published in the journal Geophysical Research Letters, details Hubble's observations, which were combined with those from the Cassini spacecraft. Cassini explored Saturn's auroral regions and rings, before plunging into the planet itself on September 15, 2017.
According to a press release, the Hubble data, gathered on 24 occasions over 7 months during the northern solstice, provided new information on Saturn's magnetosphere. The importance of the northern solstice for this study is that this is when the northern auroral region was both visible from Earth and illuminated by the sun.
The research shows that the auroras on Saturn vary with the solar wind as well as the planet's rotation rate.
The planet's northern aurora varies with time, peaking at dawn and just before midnight, the study found.
The midnight peak, scientists concluded, is related to the way the solar wind interacts with the planet's magnetosphere at the northern solstice.
The Hubble observations could give scientists new insights into the data that Cassini sent back, the study notes.