Axios Pro Rata
January 13, 2021
🎧 Axios Re:Cap digs into the fall of Parler, including how its data was scraped and why law enforcement might have wanted it to remain active. Listen via Apple, Spotify or Axios.
Top of the Morning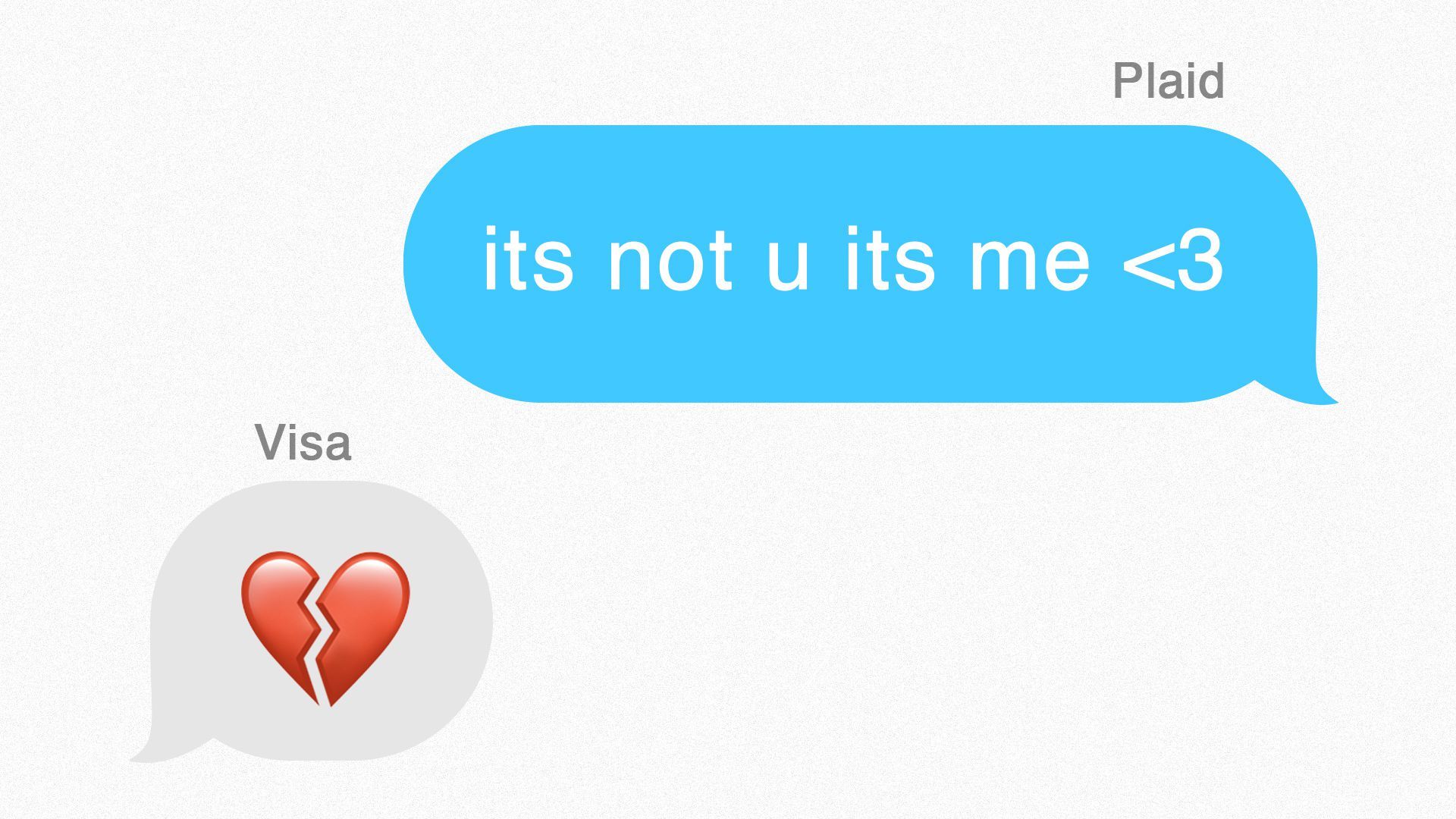 Visa will no longer be buying fintech upstart Plaid, as the companies yesterday announced the "mutual termination" of the $5.3 billion agreement that was signed one year ago and opposed by U.S. antitrust regulators.
Why it matters: This is more about the rising value of fintech companies than it is about the U.S. Justice Department. It also turns Plaid into a very appealing target for growth equity investors, IPO bankers and SPAC sponsors.
Backstory: DOJ sued to block the deal in November, claiming it would eliminate Plaid's future ability to compete in the online debit market, thus giving Visa a monopoly. Visa said it would vigorously defend itself, in part because Plaid has no online debit products nor any in the pipeline.
Visa also sought an expedited process to begin in the spring, whereas DOJ sought a December trial. The two sides met just before the holidays, but I'm told that DOJ would only agree to split the difference.
What officially happened next: Visa and Plaid mutually agreed to scrap the deal, with no termination fees to be paid.
What really happened next: Plaid got cold feet, per multiple sources familiar with the situation. Not because of any malfeasance by Visa, but because it knew it was now worth way more than $5.3 billion. And the DOJ suit, and corresponding closing delays, gave it an escape hatch.
Between the lines: Just look at today's fintech deal news — Affirm goes public at $49 per share, after selling stock at around $20 per share last September. Blend raises at $3.3 billion, doubling its valuation in just five months. Rapyd raised at $2.5 billion, versus $1.2 billion in Dec. 2019. MX raised at a $1.9 billion valuation, quadrupling where it was in mid-2019.
"It was a stale price," says a source close to the deal, adding that Visa not paying a termination fee is evidence of who walked away from the table first. Another source adds that Plaid had "buyer's remorse."
Plaid couldn't even benefit from the mild increase in Visa's stock price, as almost all the deal was to be paid in cash.
Company CEO Zach Perret declined to discuss the tick-tock with me, as did a Visa spokesman, but says he and Plaid's board "met a couple of weeks ago and made the decision to part ways."
He added that Visa remains an investor and that the two companies may still partner together in the future.
When I asked if the company would now get into the online debit business, Perret gave a noncommittal laugh.
What comes next: It's not yet clear. Plaid is said to have a decent cash position, but also has lots of vested employees who were banking on liquidity. So don't be surprised to see some sort of secondary offering, or maybe even a SPAC (as it's a faster route than IPO, which Plaid wouldn't have been gearing up for).
The BFD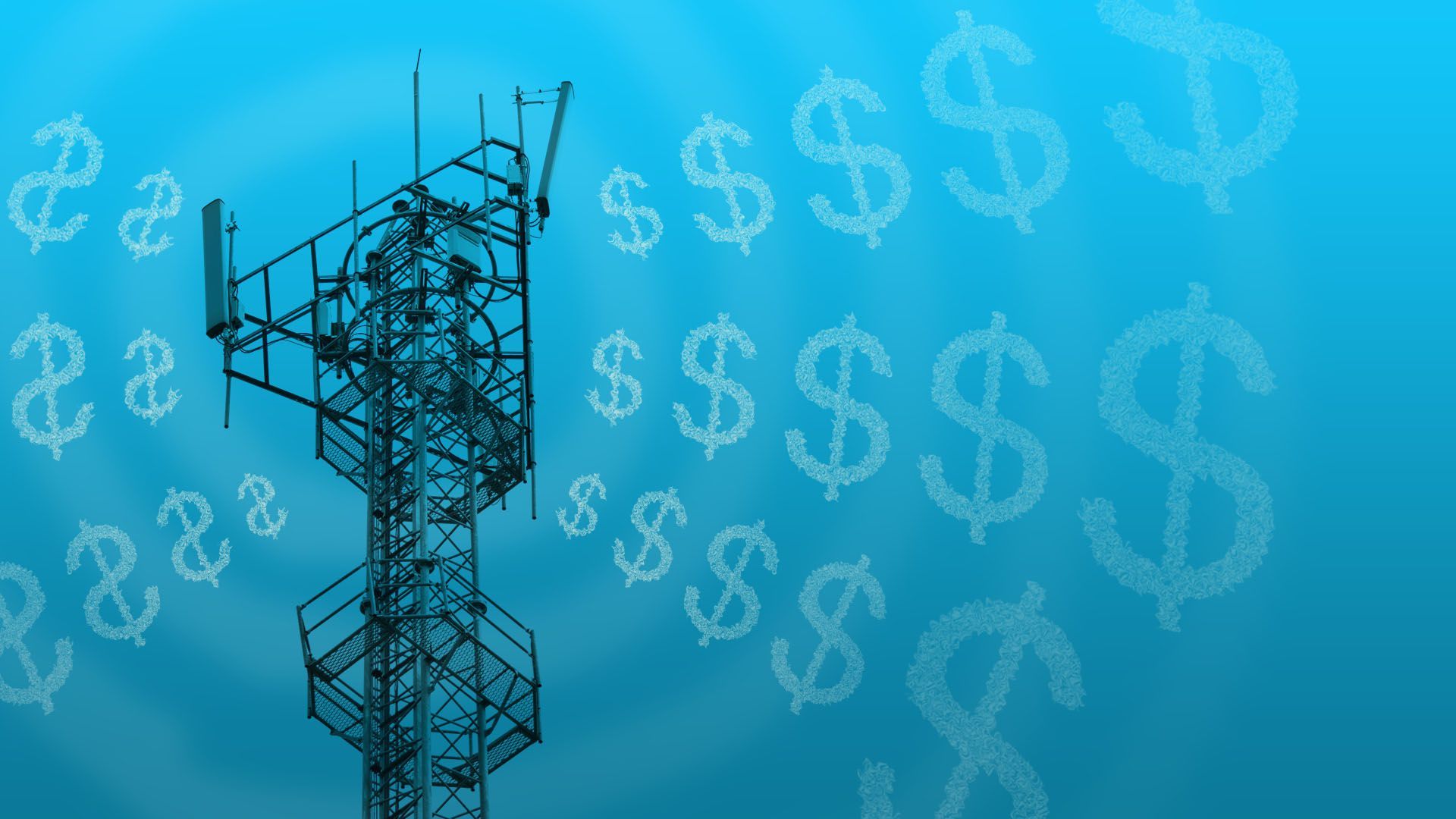 American Towers (NYSE: AMT) agreed to buy the European and Latin American mobile phone towers businesses of Telefónica (BME: TEF) for $9.41 billion in cash. http://axios.link/IlfA
Why it's the BFD: This marks the first major foray by a U.S. tower operator into Europe, where Cellnex reigns supreme, and will help Telefónica eat into its €37 billion leverage load.
Details: The deal is for over 30,000 masts that from Telefónica's Telxius unit, which is partially owned by KKR.
The bottom line: "Long-term income streams tied to inflation have turned towers into prized investment targets in a world of low returns. These networks are set to expand to accommodate next-generation 5G internet and eventually link up billions of smart devices." — Inti Landauro & Isla Binnie, Reuters
Venture Capital Deals
• Blend, a San Francisco-based digital lender, raised $300 million in Series G funding co-led by Coatue and Tiger Global at a $3.3 billion valuation. www.blend.com
• MX, a Lehi, Utah-based provider of digital transformation SaaS for banks, raised $300 million in Series C funding. TPG Growth ($150m) led, and was joined by CapitalG, Geodesic Capital, Greycroft, Canapi Ventures, Digital Garage, Point72 Ventures, Pelion Venture Partners and Regions Financial Corp. www.mx.com
• Rapyd, a London-based fintech-as-a-service platform, raised $300 million in Series D funding at a $2.5 billion valuation. Coatue led, and was joined by Spark Capital, Avid Ventures, FJ Labs, Latitude and insiders General Catalyst, Oak FT, Tiger Global, Target Global, Durable Capital, Tal Capital and Entrée Capital. http://axios.link/PVmK
• Webflow, a San Francisco-based no-code website development platform, raised $140 million in Series B funding co-led by insiders Accel and Silversmith Capital Partners. http://axios.link/EdxK
🚑 IO Biotech, a Denmark-based immuno-oncology company, raised €127 million in Series B funding. HBM Healthcare led, and was joined by Vivo Capital, Kurma Partners, Avoro Capital, RA Capital Management, Samsara Biocapital, Idinvest Partners, PFM Health Sciences, Soleus Capital, Eir Ventures, Serrado Capital and insiders Novo Seeds, Lundbeckfonden and Sunstone Life Science Ventures. http://axios.link/witL
🚑 Impulse Dynamics, a Marlton,. N.J.-based developer of cardiac contractility modulation technology, raised $60 million in new Series D funding from CR-CCT Industry Pilot Fund, Redmile Group and Perceptive Advisors. http://axios.link/ptts
• You & Mr Jones, a New York-based brand-tech group, raised $60 million in new Series B funding from Merian Chrysalis at a $1.36 billion post-money valuation. http://axios.link/vqTZ
• Descript, a San Francisco-based provider of audio and video transcription and editing software, raised $30 million in Series B funding. Spark Capital led, and was joined by Andreessen Horowitz and Redpoint Ventures. http://axios.link/Kkxb
• Brace, a Los Angeles-based digital mortgage servicing platform, raised $15.7 million in Series B funding. Canvas Ventures led, and was joined by insiders Point72 Ventures and Crosslink Capital. http://axios.link/Juo6
• Air Protein, a Berkeley, Calif.-based alt meat startup, raised $32 million in Series A funding from ADM Ventures, GV, Barclays and Unreasonable Collective. http://axios.link/g2EQ
• Neat Capital, a Boulder, Colo.-based home financing platform, raised $22.5 million in Series B funding. Left Lane Ventures led, and was joined by return backer American Family Ventures. http://axios.link/sz0x
• Arca, a Los Angeles-based digital asset management startup, raised $10 million in Series A funding led by RRE Ventures. www.ar.ca
• Slim.ai, a Boxborough, Mass.-based container dev-ops platform, raised $6.6 million in seed funding from Boldstart Ventures, Decibel Partners, FXP Ventures and TechAviv Founder Partners. http://axios.link/P5TP
• VComply, a Palo Alto-based governance and risk compliance startup, raised $6 million in Series A funding from Accel and Counterpart Ventures. http://axios.link/mJZO
Private Equity Deals
• Altamont Capital Partners acquired Livermore, Calif.-based protective packaging manufacturer Specialized Packaging Group.
• Blackhawk Network, a Pleasanton, Calif.-based portfolio company of Silver Lake, bought National Gift Card, a Crystal Lake, Ill.-based provider of mobile payment and gift card fulfillment services for loyalty programs, from Longshore Capital Partners and Lasalle Capital. www.blackhawknetwork.com
🚑 Capital Constellation acquired a passive minority stake in health care-focused private equity firm Avista Capital Partners. http://axios.link/jPm4
• Critical Process Systems, a Boise, Idaho-based portfolio company of Wynnchurch Capital, acquired Nuance Systems, a Portland, Ore.-based provider of purity gas and chemical delivery systems. www.cpsgrop.com
• HGGC and Wealth Partners Capital Group acquired a minority stake in Alpharetta, Ga.-based wealth manager Merit Financial Group. http://axios.link/PB9V
• Lipari Foods, a Warren, Mich.-based portfolio company of H.I.G. Capital, acquired the assets of Tut's International, a Dearborn, Mich.-based importer and distributor of Middle Eastern and Eastern European foods. http://axios.link/Qhg5
• Pluralsight (Nasdaq: PS), which recently agreed to be acquired by Vista Equity Partners, acquired Next Tech, a San Diego-based provider of cloud computing environments. www.pluralsight.com
🚑 SFW Capital Partners acquired Caron, a Marietta, Ohio-based lab equipment provider. www.caronproducts.com
• Sixth Street agreed to buy a 51% stake in Legends, the sports hospitality services company co-founded by the NY Yankees and Dallas Cowboys, at a $1.35 billion valuation. http://axios.link/sYqb
⛽ TPG Rise Fund acquired a majority stake in Element Markets, a Houston-based sustainability and natural gas offsets trading advisor. http://axios.link/EWHV
• Weber, the backyard grill-maker owned by BDT Capital Partners, acquired June, a San Francisco-based smart oven that had raised over $90 million from firms like Weber, Foundry Group, Eclipse Ventures, Amazon Alexa Fund, Slow Ventures and Growth Technology Partners and CSC Upshot. http://axios.link/A7bX
Public Offerings
• Affirm, a San Francisco-based provider of personal installment loans for online purchases, raised $1.2 billion in its IPO. The company priced at $49 per share (well above upwardly revised range), for a fully diluted market value of $14.8 billion, and will list on the Nasdaq (AFRM). It had raised around $1.6 billion from such firms as Khosla Ventures, Founders Fund, Lightspeed Venture Partners, Spark Capital, Thrive Capital, Fidelity, Wellington Management, GIC, Durable Capital Partners, Baillie Gifford, GGV Capital, Battery Ventures, Andreessen Horowitz and Ribbit Capital.
Listen up: Axios Re:Cap today will speak with Affirm founder and CEO Max Levchin. Subscribe.
• Knowlton, a Canadian formulator of products for the beauty industry, is prepping an IPO that could value the company north of $5 billion, per Reuters. Knowlton is owned by Cornell Capital. http://axios.link/9nqg
• Motorsport Games, a Miami, Fla.-based developer of racing games, raised $60 million in its IPO. The company priced at $20 per share (high end of upwardly revised range), for an initial market cap of $340 million. It will list on the Nasdaq (MSGM). http://axios.link/mseO
• Yuntongxun, a Beijing-based cloud communications software provider, hired Citi and Goldman Sachs for an IPO that could raise up to $500 million in Hong Kong or the U.S., per Bloomberg. Backers include Sequoia Capital China, Mirae Asset, Prospect Avenue Capital and China V Fund. http://axios.link/ni1U
SPAC Stuff
🚑 Talkspace, a New York-based digital therapy app, agreed to go public via a reverse merger with Hudson Executive Investment Corp. (Nasdaq: HEC), a SPAC led by ex-JPM exec Doug Braunstein. The deal values Talkspace at $1.4 billion, including a $300 million PIPE. Talkspace had raised over $100 million from firms mike Revolution, Top Tier Capital Partners, Runway Venture Partners, Spark Capital, Compound, Qumra Capital, Hanaco VC and Norwest Venture Partners. http://axios.link/vS03
• BlueRiver Acquisition, TMT and entertainment-focused SPAC, filed for a $250 million IPO. http://axios.link/yY7Q
• Mason Industrial Technology, an industrials-focused SPAC formed by Mason Capital, filed for a $400 million IPO. http://axios.link/aZRk
• Noble Rock Acquisition, software and tech-enabled services-focused SPAC, filed for a $200 million IPO. http://axios.link/CWP3
• Northern Genesis Acquisition II, a sustainability-focused SPAC, raised $360 million in an upsized IPO. The first Northern Genesis SPAC bought electric truck and bus maker The Lion Electric. http://axios.link/oJ3L
Liquidity Events
• Byju, an Indian online learning platform valued by VCs at around $12 billion, agreed to buy Indian brick-and-mortar test prep provider Aakash Educational Services from backers like The Blackstone Group for $1 billion, per Bloomberg. http://axios.link/cgxA
• Golden Gate Capital is seeking a buyer for Mavis Express Tire Services, a Millwood, N.Y.-based discount tire retailer that could fetch up to $6 billion, per Bloomberg. http://axios.link/LRmV
More M&A
• Hipgnosis Songs Fund (LSE: SONG) acquired the 145-song catalog of pop star Shakira, one week after striking a similar deal for Neil Young's songbook. http://axios.link/TQyE
• Omni Hotels & Resorts is in talks to sell five hotels, including in Dallas and Austin, to London & Regional Properties for around $150 million, per Bloomberg. http://axios.link/0LhR
• TIG Advisors acquired a minority revenue share interest in Arkkan Capital, a Hong Kong-based alt asset manager with around $1 billion in AUM. www.tigfunds.com
Fundraising
• Charterhouse Capital Partners is targeting €2.5 billion for its eleventh flagship fund, which would be less than the €3 billion it raised in 2016, per PE International. http://axios.link/LGzQ
• Gilot Capital Partners, an Israeli VC firm, raised $170 million for an "early growth" fund. http://axios.link/q1cs
• Lafayette Square Holding has launched as a social impact investment firm by Damien Dwin, co-founder of Brightwood Capital Advisors, with $100 million of backing from Morgan Stanley. http://axios.link/zyZm
• O2 Investment Partners, a Michigan-based private equity firm focused on the lower middle markets, raised $270 million for its third fund. www.o2investment.com
• TA Associates is premarketing its thirteenth flagship fund with an $11 billion target, per the WSJ. It also promoted Ajit Nedungadi to CEO, succeeding Brian Conway (who will remain chairman). http://axios.link/rieX
🚑 Transformation Capital, a growth equity firm focused on digital health, raised $500 million for its second fund.
• Veritas Capital is raising $1.25 billion for a new midmarket fund, per the WSJ. http://axios.link/v2UU
It's Personnel
• Latifa Tefridj-Gaillard joined Colony Capital as managing director and head of Europe capital formation for its digital infrastructure investment arm (Digital Colony). She previously was a managing director with Goldman Sachs. www.digitalcolony.com
• Thoma Bravo promoted A.J. Rohde to senior partner. www.thomabravo.com
• Portfolio Advisors promoted Justin Lux to managing director of PE secondaries and Tim Henn to SVP of the same group. http://axios.link/bI92
Final Numbers: Calmed nerves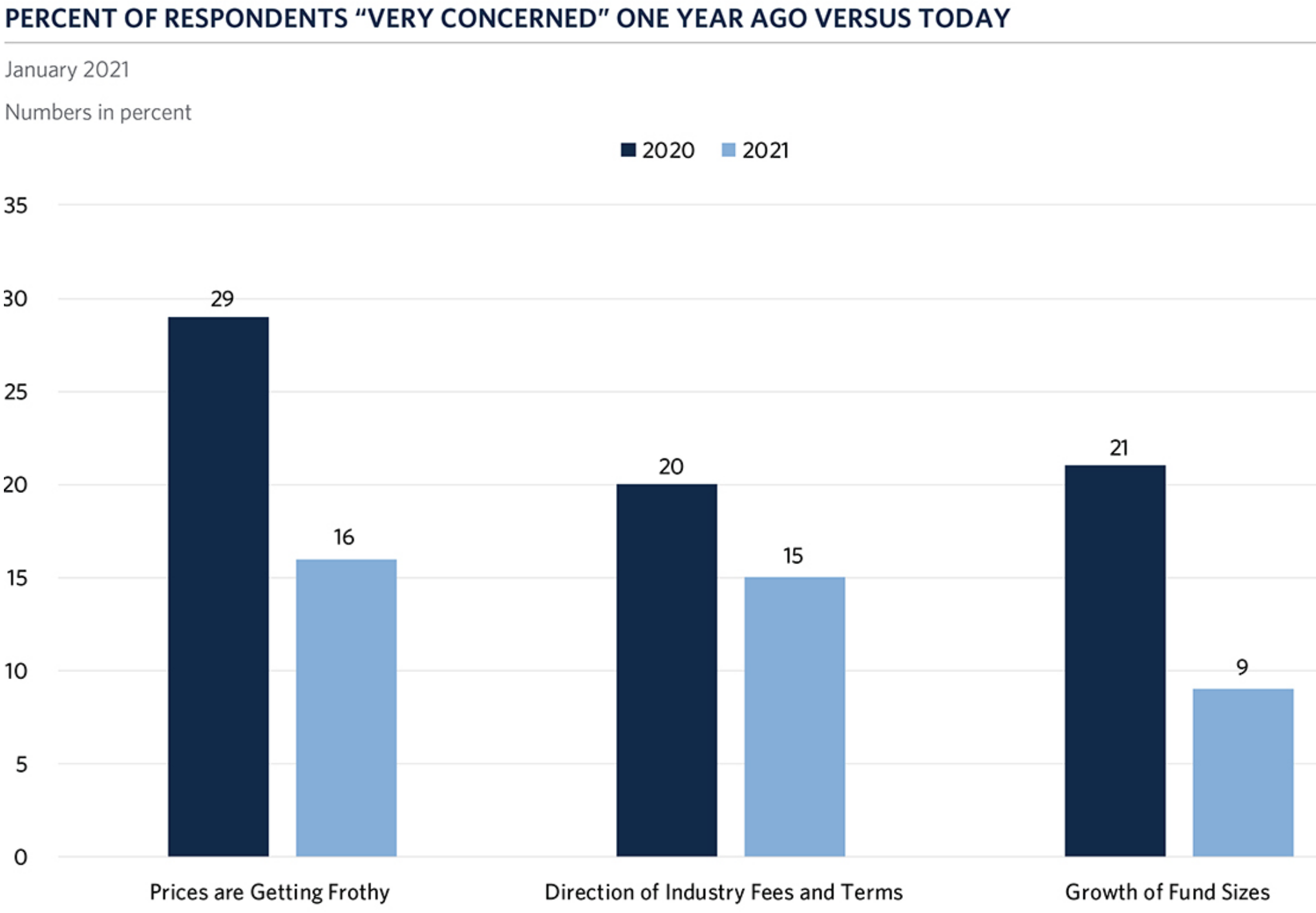 ✔️ Thanks for reading Axios Pro Rata! Please ask your friends, colleagues and antitrust regulators to sign up.