Axios Pro Rata
February 01, 2023
Top of the Morning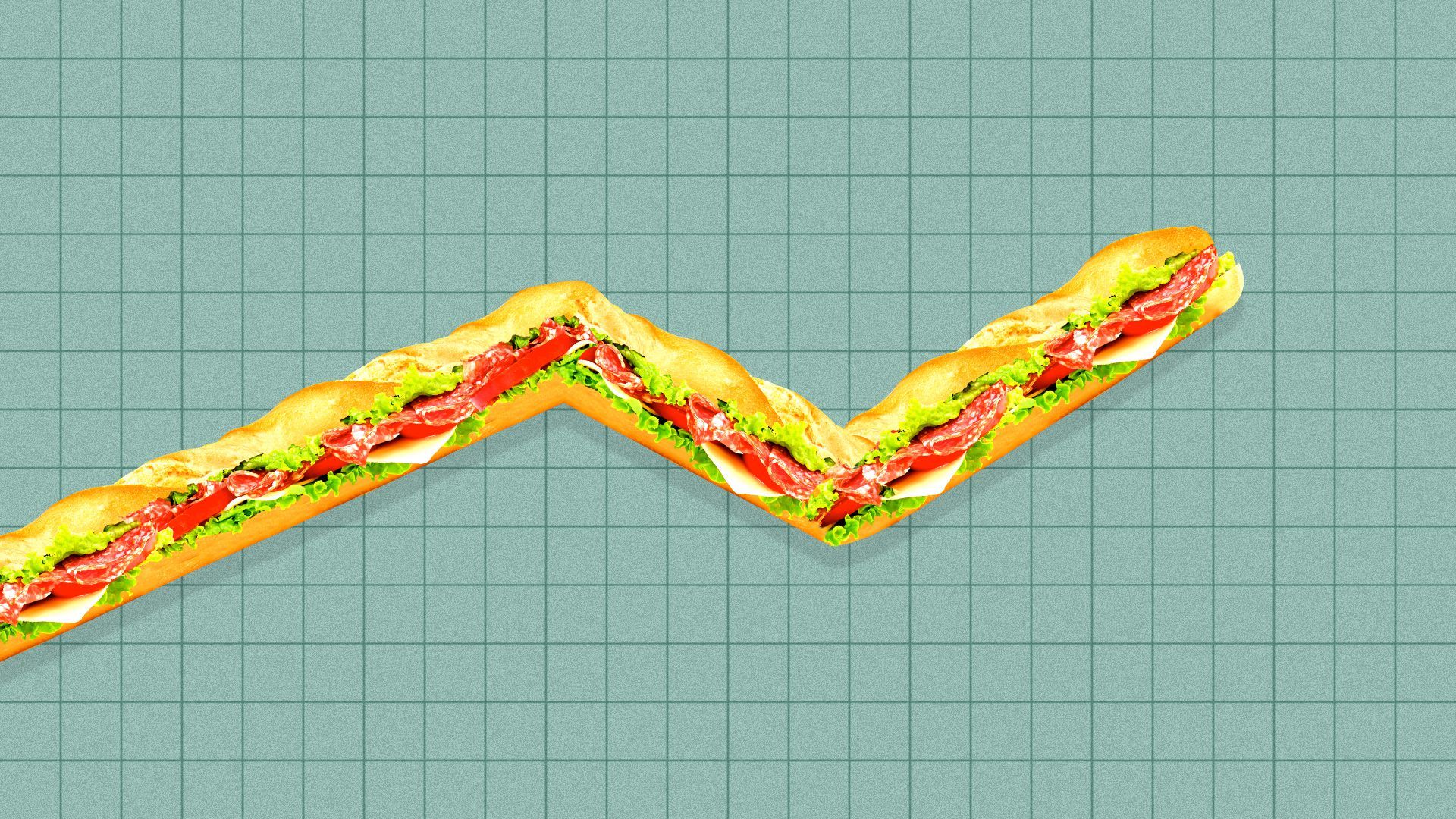 It's not too often that a deceased entrepreneur confirms M&A speculation, but that's kind of what happened yesterday with sandwich chain Subway.
Driving the news: The Peter and Carmen Lucia Buck Foundation, formed in 1999 by the late Subway co-founder Peter Buck and his wife, announced that Buck's will included instructions to give his 50% stake in the company to the foundation.
Buck died in 2021 at the age of 90, while his wife died in 2003. Both of Buck's adult sons work at the foundation.
Between the lines: This likely means that Subway is nearing the finish line on a sale process that the WSJ recently scooped.
Sure, it's philanthropy in the vein of what we saw last year with Patagonia.
It also lets the Buck estate dodge a massive tax bill were Subway to be sold. WSJ put the price tag at around $10 billion, with the Bucks in line for half of that.
Were the estate to hold the shares and then donate the post-sale proceeds, it would pay taxes on that estimated $5 billion. This way, neither it nor the foundation pay anything.
Zoom in: Peter Buck died more than a year ago. But it appears that the donation is just being made now. A foundation spokesperson declined a request for clarification on the timing, calling it a "family matter."
The foundation did, however, say in its press release that the donation will help it "greatly expand its philanthropic endeavors and impact many more lives." Kinda hard to do with static stock certificates...
In context: Barre Seid in 2021 donated most of the equity in his electrical device manufacturing company to a conservative political advocacy nonprofit, just ahead of selling it for $1.65 billion to Eaton.
The bottom line: Subway hasn't announced a deal yet, but expect that it will be soon.
The BFD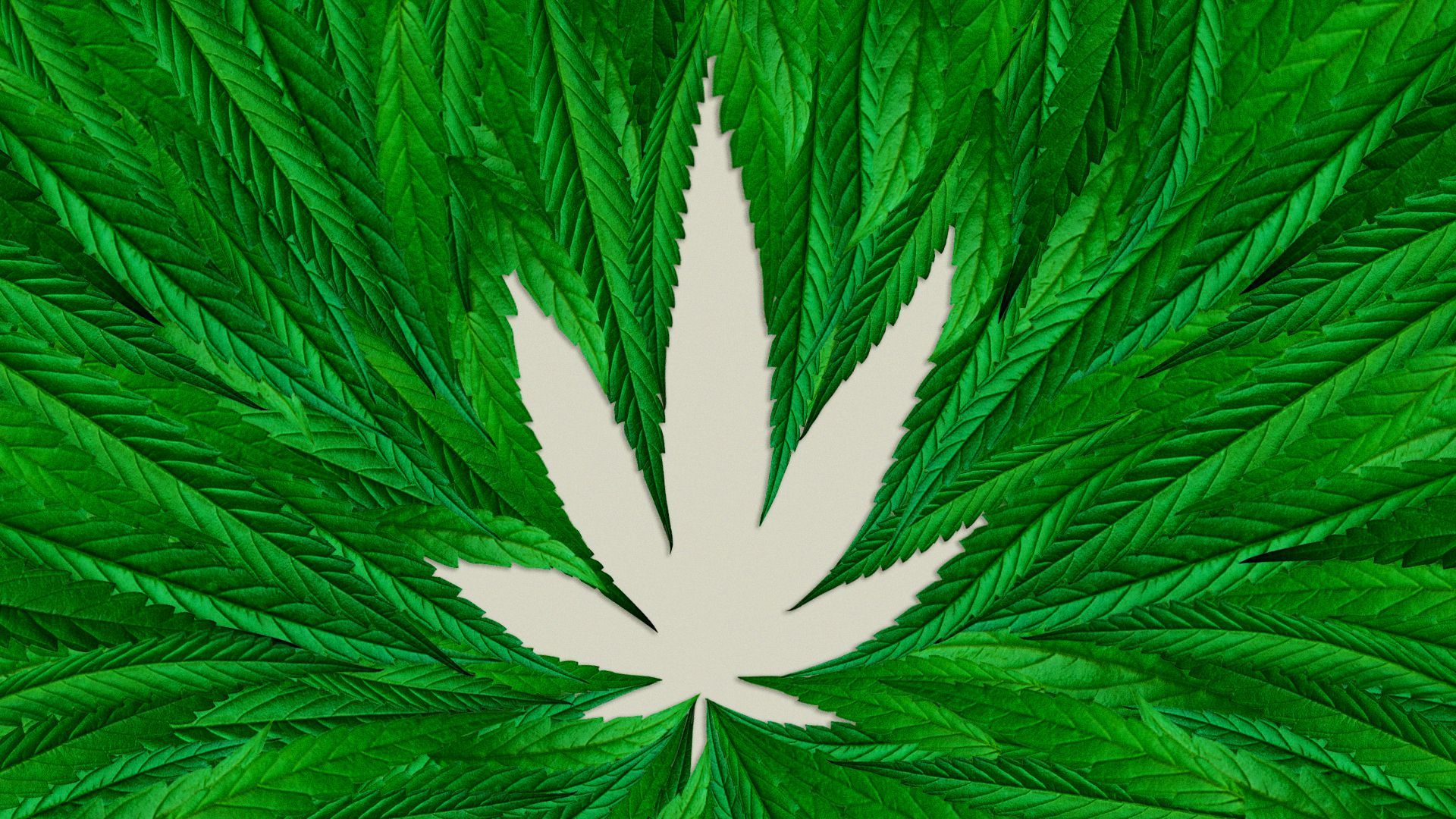 LeafLink, a New York-based wholesale cannabis platform, raised $100 million in Series D funding co-led by CPMG, L2 Ventures and Nosara Capital.
Why it's the BFD: The deal's structure reflects growing challenges in the cannabis market, in part due to raw material price increases. It's a convertible note capped at a $500 million valuation, down from an $800 million valuation in 2021.
LeafLink also restructured its C-suite. Co-founder and CEO Ryan G. Smith gets kicked upstairs to executive chairman, and is succeeded by former WeWork co-CEO Artie Minson (who joined last year as president). Fellow co-founder and CTO Zach Silverman becomes a senior advisor, with the role going to Karan Gupta (ex-Shift Technology).
The bottom line: Cannabis companies were heartened last October by President Biden's marijuana pardons and request for a review of whether marijuana should remain classified as a Schedule 1 substance under federal law. But there's been no word on that review's progress, of even if it's begun, and voters in three states rejected marijuana legalization ballot questions in November.
Venture Capital Deals
⚡Our Next Energy, a Novi, Mich.-based battery developer, raised $300m in Series B funding at a $1.2b post-money valuation. Fifth Wall and Franklin Templeton co-led, and were joined by Temasek, Riverstone Holdings, Coatue, AI Capital Partners, Sente Ventures and insiders Breakthrough Energy Ventures, Assembly Ventures, BMW i Ventures and Volta Energy Technologies. https://axios.link/3YgRWg2
• Enko, a Mystic, Conn.-based drop health startup, raised $80m from Eight Roads Ventures, Nufarm, Endeavor8 and Akroyd LLC. www.enko.ag
• Moov, a Cedar Falls, Iowa-based embedded payments processing startup, raised $45m in Series B funding. Commerce Ventures led, and was joined by Andreessen Horowitz, Bain Capital Ventures, Visa, and Sorenson Ventures. www.moov.io
🚀 The Exploration Company, a French upstart rival to SpaceX, raised €40m in Series A funding. EQT Ventures and Red River West co-led, and were joined by Promus Ventures, Cherry Ventures, Vsquared, Omnes Capital, July Fund, Partech, Possible Ventures, Habert Dassault Finance, Schlumberger and Sista Fund. Go deeper on the state of the space biz.
• Hnry, a New Zealand-based accounting fintech, raised A$35m in Series B funding. AirTree Ventures led, and was joined by insider Left Lane Capital. https://axios.link/3WVp77x
• Lulalend, a South African digital lender focused on underserved SMEs, raised $35m in Series B funding. Lightrock led, and was joined by DEG, Triodos Investment Management, Women's World Banking and insiders IFC and Quona Capital. www.lulalend.co.za
• Craft, an SF-based enterprise data platform focused on supply chains, raised $32m in Series B funding, per Axios Pro. BAM Elevate led, and was joined by Greycroft, Uncork Capital, High Alpha and ServiceNow Ventures. https://axios.link/3Dwsdbw
🌎 Risilience, a British climate analytics startup, raised $26m in Series B funding. Quantum Innovation Fund led, and was joined by insiders IQ Capital and National Grid Partners. https://axios.link/3DsfINN
⚡ NT-Tao, an Israel-based modular nuclear fusion startup, raised $22m in Series A funding co-led by Delek US and NextGear Ventures, per Axios Pro. https://axios.link/3WVbFRf
• Sunstone Credit, a Baltimore-based solar financing startup for businesses, raised $20m in Series A funding. Greenbacker Capital Management led, and was joined by Earthshot Ventures and insiders Grotech Ventures, Cross River Digital Ventures and Forbright Bank. https://axios.link/3JoknnY
• Select Star, an SF-based data catalog and management tool, raised $15m in Series A funding. Lightspeed Venture Partners led, and was joined by Bowery Capital, Sozo Ventures and Pebblebed. https://axios.link/3kV47Rg
🚑 Aluna, an SF-based ashma monitoring startup, raised $15.3m in Series B funding led by insider Matrix Partners, per Axios Pro. https://axios.link/3XSC2IB
• Greyter Water Systems, a developer of a residential grey water reuse system, raised a $10m in Series B funding co-led by Ferguson Ventures and Lenx. www.greyter.com
• Nexus, an Austin, Texas-based creator monetization platform for live service video games, raised $10m. Griffin Gaming Partners led, and was joined by Sony Innovation Fund, Valhalla Ventures and insiders Pace Capital and S3 Ventures. www.nexus.gg
⚡ Orbital Sidekick, an SF-based provider of hyperspectral imaging solutions for the oil and gas pipeline monitoring, raised $10m. Energy Innovation Capital led, and was joined by Williams, ONEOK, University of Minnesota's endowment, 11.2 Capital, Syndicate 708 and In-Q-Tel. https://axios.link/3JtA8K7
• Archimedes, a DeFi lending and borrowing marketplace, raised $7.3m. Hack VC led, and was joined by Uncorrelated Venture, Psalion, Truffle Ventures, Cogitent Ventures, Haven VC and Palsar. www.archimedesdefi.com
• Fibery, a Cypress-based work management platform for startups, raised $5.2m in Series A funding. Tal Ventures led, and was joined by Altair Capital. www.fibery.io
• Cleary, an SF-based intranet startup, raised $4.5m in seed funding. Moonshots Capital led, and was joined by Liberty City Ventures, Crosslink Capital, Seachange Fund and Quiet Capital. https://axios.link/3kZncBy
🚑 Starling Medical, a Houston-based maker of urine testing devices, raised $3.4m in seed funding led by Rebel Fund. https://axios.link/3Jm8FKy
• Diferente, a Brazilian online grocer, raised $3m. Caravela Capital led, and was joined by Collaborative Fund, South Ventures and Valor Siren Ventures. https://axios.link/3Roruyz
• TrueBiz, a KYC startup for fintechs, raised $2.4m in seed funding. Flourish Ventures led, and was joined by Homebrew, YC and The Fintech Fund. https://axios.link/3wHQGqv
Private Equity Deals
⚡ ABB E-mobility, an EV charging solutions unit of Switzerland's ABB Group (NYSE: ABB), raised around $355m from General Atlantic, GIC, Generation Investment Management and Porsche. The investors received a combined 12% stake in the business. www.abb.com
• Addtronics, a New Castle, Del.-based portfolio company of Kaho Partners, acquired Missouri Tooling & Automation, a Lebanon, Mo.-based custom robotic automation systems provider. www.addtronics.com
• Apollo Global Management and Elliott Management invested a combined $900m into Western Digital (Nasdaq: WDC), per a convertible preferred stock deal at a 9% premium to yesterday's $43.95 per share closing price. This comes amidst reports that the memory chipmaker has restarted merger talks with Kioxia, the Japanese flash memory chipmaker owned by Bain Capital. https://axios.link/3l1dzCF
• Auto Plus, a Kennesaw, Ga.-based aftermarkets auto parts distributor bought in 2015 by Icahn Enterprises for $340m, filed for Chapter 11 bankruptcy protection. www.autoplusap.com
⚡ Greybull Capital is bidding for Britishvolt, a bankrupt British battery maker, per the FT. https://axios.link/3wPbuwd
• Highlander Partners acquired Black Sage, a Boise, Idaho-based developer of counter unmanned aircraft systems, from Acorn Growth Companies. www.blacksagetech.com
⚡ IFM Investors agreed to buy a majority stake in GreenGasUSA, a Charleston, S.C.-based renewable natural gas developer, owner and operator. https://axios.link/3HO7Hph
• KKR acquired a majority stake in Groundworks, a Virginia Beach, Va.-based foundation repair and water management services company, from Cortec Group (which retains an equity stake). www.groundworkscompanies.com
🚑 MBK Partners is paying over $300m to buy Unimat Retirement Community, a Japanese elder care service provider, per Reuters. https://axios.link/3Dw5DPX
• MiddleGround Capital acquired Megatech, a Canadian developer of computerized numerical control machining solutions. www.megatechaq.com
• North Road Co., a production studio rollup formed by Peter Chernin and backed by Providence Equity Partners, raised $150m from Qatar Investment Authority. https://axios.link/3jglHyF
• Osceola Capital formed Flotilla Partners for water treatment and testing services in Florida and the Southeastern U.S., via three acquisitions: Aquaflow, Filter Pure Systems and Land O' Lakes Water Treatment. www.flotillapartners.com
• Trivest Partners invested in Perricone Juices, a Newport Beach, Calif.-based craft juice maker. www.perriconefarms.com
• Stonepeak completed its $2.4b purchase of the safety business of Intrado, a portfolio company of Apollo Global Management, including public emergency telecom services. www.intrado.com
Public Offerings
⚡ Atlas Energy Solutions, an Austin, Texas-based provider of frac and sand for the oil and gas industry, filed for an IPO that Renaissance Capital estimates could raise $200m. It plans to list on the NYSE (AESI). https://axios.link/3Y90Vj4
• Hellenic Republic Asset Development Fund, a Greek state-owned fund, picked Bank of American and Morgan Stanley to lead an IPO for a 30% stake in Athens International Airport, per Bloomberg. https://axios.link/3jgt0q5
SPAC Stuff
• Pono Capital (Nasdaq: PONO) shareholders approved a proposed merger with AERWINS, a Japanese developer of tech that "enables air mobility such as a luxury hoverbike and drone-based solution services. https://axios.link/3RmurQ6
• SoftBank has liquidated its first SPAC. It continues to have two others, one of which merged with warehouse robotics company Symbotic, and the other of which continues to seek a target. https://axios.link/3XVCk1C
Liquidity Events
• Cvent (Nasdaq: CVT), a Tysons, Va.-based events software provider majority owned by Vista Equity Partners, is exploring a sale that could fetch upwards of $4b, per the WSJ. https://axios.link/3kZFzpX
More M&A
• Ariana Grande will pay $15m to buy back her r.e.m. beauty brand from Forma Brands, the private equity-backed Morphe owner that recently filed for bankruptcy. https://axios.link/3kWgUCW
🎬 AMC Theatres (NYSE: AMC) sold its stake in Saudi Cinema Co. to Saudi Arabia's Public Investment Fund for $30m. https://axios.link/3WOQnoo
• Bid Corp., a listed South African foodservice company, is seeking a buyer for its Angliss wholesaling business in Asia, per Bloomberg. https://axios.link/3WTH3j1
Fundraising
• All Seas Capital, a London-based PE firm co-founded by KKR vets Marc Ciancimino and Cristobal Cuart, secured $400m for its debut fund (including co-investment commitments). www.allseascapital.com
• Defy.vc, an early-stage VC firm in Silicon Valley, raised $300m for its third fund. www.defy.vc
🚑 Patient Square Capital, a health-focused private equity firm formed by Jim Momtazee (ex-KKR), raised $3.9b for its debut fund.
It's Personnel
• Alan Cline joined Hg Capital as head of North America. He previously was with Vista Equity Partners. www.hgcapital.com
• Satish Rai is stepping down as chief investment officer with OMERS, effective April 1. He'll be succeeded by Ralph Berg, current EVP and global head of capital markets. www.omers.com
• Telmo Valido joined One Rock Capital Partners to co-lead a new London office (alongside partner Kurt Beyer, who's relocating from New York). He previously was with Hudson Advisors. One Rock also hired Lukas Zeitlberger (ex-Metric Capital) as a London-based principal. www.onerockcapital.com
• Antares Capital promoted Mary Rose to the newly formed role of head of responsible investment strategy. www.antares.com
Final Map
Thanks for reading Axios Pro Rata, and to copy editors Mickey Meece and Bryan McBournie! Please ask your friends, colleagues and twice-retired QBs to sign up.