Axios Pro Rata
April 24, 2023
💰 Situational awareness: First Republic Bank reports quarterly earnings after today's market close, for the first time since the collapse of Silicon Valley Bank. Pay attention to deposit levels and potential losses, as the regional banking sector continues to struggle.
Also on the earnings calendar this week are Big Tech giants Alphabet, Amazon, Meta and Microsoft.
Top of the Morning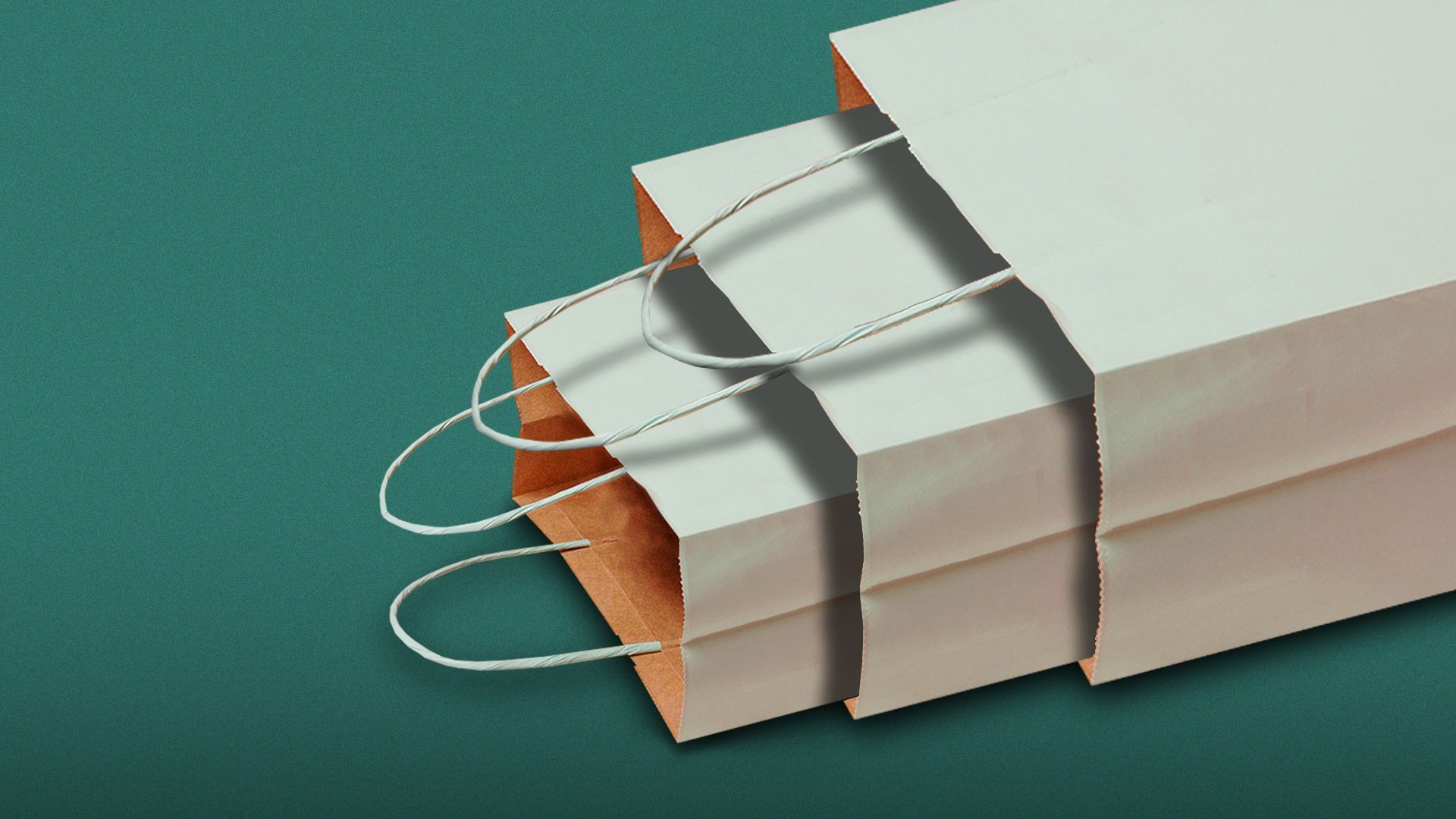 The retail industry represented a paltry 2.2% of global M&A market share in Q1 2023, but is set to make many more headlines this quarter.
Driving the news: Walmart continues to unwind Marc Lore's DTC buying spree, selling two more companies in just the past week.
Eloquii, a plus-sized fashion brand purchased in 2018 for $100 million, was sold to FullBeauty Brands for an undisclosed amount.
Bonobos, a menswear brand acquired in 2017 for $310 million, was sold to WHP Global and Express for $75 million.
This follows recent Walmart divestitures of Art.com (to Trends International) and Moosejaw (to Dick's Sporting Goods), plus the shuttering of Jet.com and sales of Modcloth and Bare Necessities.
Elsewhere: Salt Lake City-based convenience store chain Maverik on Friday agreed to buy Iowa-based rival Kum & Go. No financial terms were disclosed, but earlier reports suggested that Kum & Go's founding family was seeking $2 billion.
Subway keeps inching toward a $10 billion sale, with Sky News reporting that three private equity firms are working on a joint offer.(Would that be a club sandwich deal? Sorry ... really, I am.)
Bed Bath & Beyond yesterday filed for Chapter 11 bankruptcy protection, and said it will liquidate unless it can find a last-minute buyer. It becomes the second big-box retailer in the bankruptcy bin, following last week's David's Bridal news.
Authentic Brands this morning agreed to buy the IP of listed fashion brand Vince, in exchange for $76.5 million in cash and a 25% stake in the newly formed subsidiary.
The bottom line: Yes, lots of the deals — and potential deals — are coming from a position of weakness. But that's when bargain hunters prefer to shop.
The BFD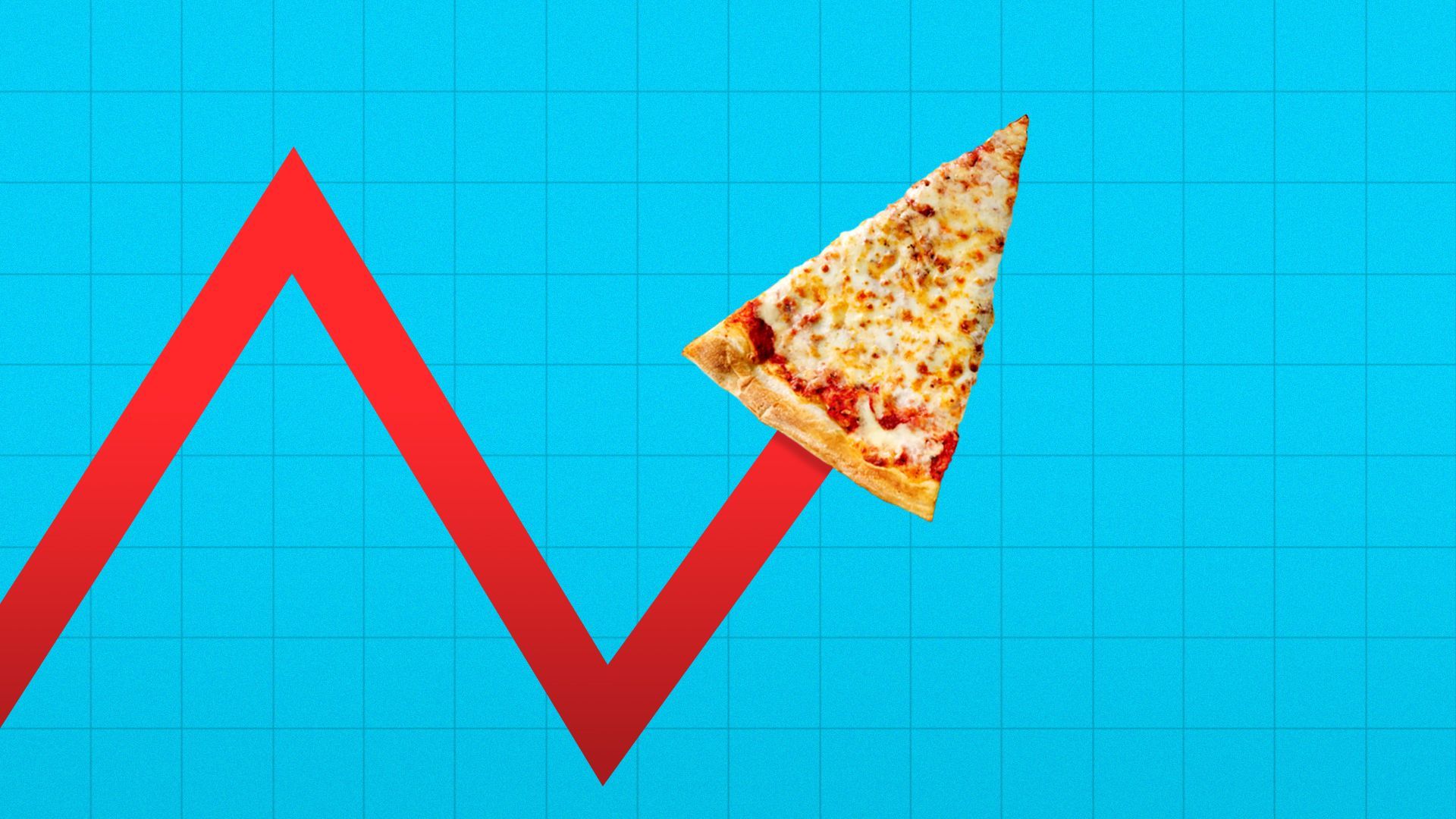 Nestlé (SWX: NESN) formed a joint venture with private equity firm PAI Partners to house its European frozen pizza business, which generates nearly $350 million in annual sales.
Why it's the BFD: This is junk food déjà vu, as Nestlé and PAI did a similar deal for U.S. ice cream in 2019.
Details: The transaction is expected to close in the second half of 2023, pending regulatory approval, and would include European distribution of brands like Wagner, Buitoni and Garden Gourmet.
The bottom line: The deal lets Nestlé push a low-growth business off its balance sheet, while also acceding to some shareholder demands that its product portfolio become healthier.
Venture Capital Deals
⚡ Span, an SF-based home electrification startup, raised $96m in Series B funding. Wellington Management led, and was joined by Qualcomm Ventures and insiders Congruent Ventures, Capricorn Investment Group, Munich Re Ventures, Fifth Wall, A/O PropTech, Qualcomm Ventures and Amazon's Alexa Fund. https://axios.link/43YPxdl
• Super (fka Snapcommerce), an SF-based commerce savings app, raised $60m in equity funding (plus a $25m credit facility) led by Inovia Capital. https://axios.link/3H9JIzV
• Woodoo, a Paris-based maker of composite materials, raised $31m in equity and debt funding. Lowercarbon Capital led, and was joined by One Creation and Purple. https://axios.link/3LzXsH7
• Community, an SMS engagement platform co-founded by Ashton Kutcher and Guy Oseary, raised $25m from Morgan Stanley's Next Level Fund, HubSpot, Pier 70 Ventures, Verizon Ventures, GSW Ventures, Backstage Capital, Wocstar Fund and insider Salesforce Ventures. https://axios.link/3HwuwNN
• Riverlane, a British quantum engineering startup, raised £15m in Series B funding. Molten Ventures led, and was joined by Altair, Cambridge Innovation Capital and Amadeus Capital Partners. www.riverlane.com
• Cosmose AI, a retail customer data analytics platform, raised an undisclosed amount of strategic funding from the Near Foundation at a $500m valuation. https://axios.link/3LoMFPB
• Aerodyne, a Malaysian drone services company, hired Citigroup to help it raise between $150m and $200m in Series C funding, per Bloomberg. https://axios.link/41Nvywi
Private Equity Deals
⚡ Braya Renewable Fuels, a Canadian renewable fuels developer, raised US$300m from Energy Capital Partners. www.brayafuels.com
⚡ Quantum Energy Partners will invest £300m to redevelop the Scottish port of Ardersier into a wind power site. https://axios.link/3AlkkUe
• Red Arts Capital acquired Partners Warehouse, an Elwood, Ill.-based provider of warehousing and rail transloading services. www.partnerswarehouse.com
• Silver Lake offered to buy German enterprise software provider Software AG (Frankfurt: SOW) for around €2.2b (53% premium to Thursday's closing price). https://axios.link/3H7Mype
• TowerBrook Capital Partners acquired a majority stake in TXO, a British provider of telecom network hardware and asset management services, and a majority stake in Envevo, a British provider of EV design and installation engineering services. www.towerbrook.com
• TPG withdrew its spurned A$1.8b takeover offer for Australian funeral home operator InvoCare (ASX: IVC). https://axios.link/40xJtp9
Public Offerings
No companies are scheduled to price IPOs on U.S. exchanges this week.
• China's securities regulator said it will delist two companies, Essence Information Technology Co. and Amethystum Storage Technology Co., due to alleged IPO fraud. It also is investigating underwriters tied to the companies' offerings. https://axios.link/3AqIwoi
🚑 Johnson & Johnson (NYSE: JNJ) this week will launch the IPO roadshow for its consumer health products business, which is being spun out under the name Kenvue, per the WSJ.
Liquidity Events
• Descartes Systems Group (Nasdaq:DSGX) paid US$6.2m in cash to acquire the assets of Localz, an Australian customer experience platform for last-mile delivery, that had raised VC funding from Triple Point Investment Management, Notion and Kreos Capital. https://axios.link/3n0JKDC
More M&A
• Alorica, an Irvine, Calif.-based outsourced call center operator, signed a $1.025b refinancing agreement with led by Cerberus Business Finance. https://axios.link/3n5hcsp
🚑 Alphatec (Nasdaq: ATEC) acquired the surgical robotic navigation assets of Boulder, Colo.-based Fusion Robotics for $55m. https://axios.link/3AmSVkF
🏈 Steve Apostolopoulos, a Canadian billionaire, claims he's still in the running to buy the NFL's Washington Commanders from Dan Snyder, who has a deal in principle with Josh Harris.
🚑 Boston Scientific (NYSE: BSX) is exploring a takeover offer for Shockwave Medical (Nasdaq: SWAV), a Santa Clara, Calif.-based cardio device maker with a $10.5b market cap, per Bloomberg. https://axios.link/3AjsGM9
• EverCommerce (Nasdaq: EVCM), a Denver-based management software provider with a $2.5b market cap, hired Centerview Partners to explore a sale, per Reuters. https://axios.link/3H7H2CW
• Institutional Shareholder Services recommended that HSBC (LSE: HSBA) investors should vote against a proposal brought by shareholder Ping An to consider strategic options, including an Asian business spinoff. https://axios.link/3N8Mk50
• PacWest Bancorp (Nasdaq: PACW) is seeking to sell its lender finance arm, per Bloomberg. https://axios.link/3oyGxeO
• ZKB, a Swiss lender, has held talks about acquiring Zurich-based asset manager GAM Holding (SWX: GAMH), per the FT. https://axios.link/3otr13I
Fundraising
• Bread & Butter Ventures, an Edina, Minn.-based VC firm, is raising $60m for its fourth fund, per an SEC filing.
• Corsair Capital held a $340m first close on its sixth flagship buyout fund, which is targeting $1.25b, per an SEC filing. https://axios.link/3Lp53bj
It's Personnel
• Michael Cella joined Oppenheimer & Co. as head of U.S. consumer investment banking. He previously was with Cowen. www.oppenheimer.com
• Smridhi Gulati joined Cadwalader, Wickersham & Taft as a London-based partner in the law firms leveraged finance and private credit practice. She previously was with Dechert. https://axios.link/3LpJK9u
• Shujaat Nadeem joined J.C. Flowers & Co. as a senior advisor. He's former deputy CEO of Samba Financial Group in Saudi Arabia. www.jcfco.com
• Lyle Schwartz joined Evercore as a senior managing director and head of its EMEA equity capital markets business. He previously was with Goldman Sachs. www.evercore.com
Final Numbers
Thanks for reading Axios Pro Rata, and to copy editors Mickey Meece and Bryan McBournie! Please ask your friends, colleagues and shelf-stockers to sign up.