Axios Pro Rata
March 27, 2019
Hey D.C. readers: You're invited to join Axios tomorrow morning for a conversation about the policies and innovations defining the next era of transportation. RSVP here.
Top of the Morning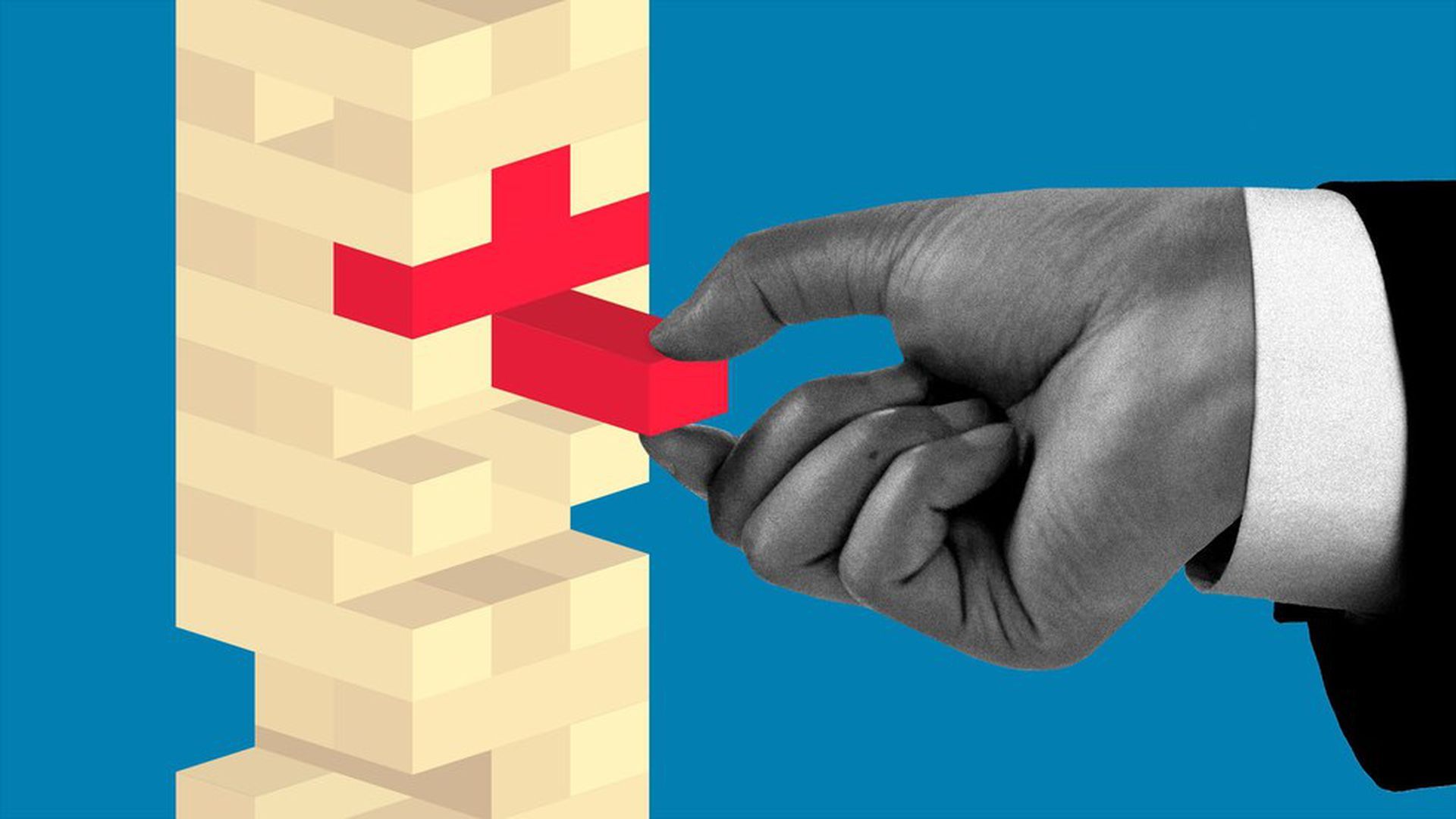 Yesterday was a roller-coaster for WellCare, a Tampa-based managed healthcare plan operator that operates heavily in the Medicaid space.
First came news that President Trump wants the courts to strike down the entire ACA, rather than just its protections for people with pre-existing conditions. It's considered a legal long-shot, and a bit of political malpractice, but WellCare shares tumbled more than 5% at sessions lows (closing down just under 4%). Not because WellCare is too involved with ACA, per se, but because the lawsuit seeks to effectively nix Medicaid expansion.
Then came a Bloomberg story that larger rival Centene Corp. was in talks to buy WellCare, sending those same shares skyrocketing in the aftermarket. The official deal was announced this morning, valuing WellCare at $17.3 billion in cash and stock (including the assumption of around $2 billion in debt).
The $305.39 per share price represents a 26.5% premium to yesterday's open and a 32% premium to yesterday's close.
The bottom line: Centene is a massive player in ACA marketplaces, meaning that both company rely heavily on government-sponsored plans. They can talk all they want about corporate synergies, but their future success will be decided less in boardrooms than in courtrooms.
• Checking in: Levi Strauss shares closed their fourth day of trading at $22.08 per share. That's well above their $17 IPO price, but a tiny bit below the first trades at $22.22.
• New firm alert: Axios has learned that Renata Quintini is stepping down as a partner with Lux Capital, in order to launch a new VC firm with Roseanne Wincek, who had been a principal with Institutional Venture Partners.
They have a third partner, also an experienced women venture capitalist, but I haven't yet confirmed her identity.
Quintini will remain a venture partner and entrepreneur-in-residence at Lux, which she joined in early 2017 after having been with Felicis Ventures. She'll also maintain her current Lux board seats.

Wincek will remain an advisor to IVP, where she's worked on such deals as Compass, Glossier and TransferWise.
🎧Pro Rata Podcast: Our new episode digs into the extortion charges against Michael Avenatti, and what it means for both Nike and the NCAA. Listen here.
The BFD
Bain Capital Double Impact has acquired a majority stake in Rural Sourcing, an Atlanta-based provider of onshore outsourced IT services, from Clarkston Merchant Partners.
Why it's the BFD: Because it reflects the growth of domestic IT onshoring, after decades in the opposite direction, as overseas wages rise and U.S. businesses seek more nimble services within their own time zones.
Bottom line: "In Mobile, Alabama I met a fellow who had been a state police officer in Indiana who'd moved back home and was introduced to coding at a community college class, which was taught by someone who'd also moved back to join Rural Sourcing from a well-known tech company on the West Coast. The company sees a lot of that, and these cities have much lower costs of living than a Silicon Valley or Boston, which has let it be competitive with offshore pricing." — Deval Patrick, co-managing partner of Bain Capital Double Impact, speaking to Axios
Venture Capital Deals
🚑 Shuidichou, a Chinese healthcare crowdfunding platform, raised around $74 million in Series B funding led by Tencent. http://axios.link/vGIU
• MineralTree, a Cambridge, Mass.-based provider of accounts payable and payment automation software, raised $50 million. Great Hill Partners led, and was joined by return backers .406 Ventures and Eight Roads Ventures. www.mineraltree.com
🚑 Saama Technologies, a Campbell, Calif.-based provider of clinical data analytics software, raised $40 million from Perceptive Advisors. http://axios.link/HdR9
• Applicaster, a New York-based SaaS platform for producing and delivering direct-to-consumer media apps, raised $20 million. Viola Growth led, and was joined by from 83 North, Pitango, Saban Ventures and Planven Investments. http://axios.link/n9Iz
• Ellevest, a digital investment platform for women, raised $28 million of a round that could total $33 million, per an SEC filing. It previously raised $44 million from firms like Rethink Impact. http://axios.link/lPU4
🌳 TerViva, an Oakland-based cultivator of pongamia trees for reviving agricultural land, raised $20 million in a first close of its Series D round. Backers include Evans Properties, The Jeremy and Hannelore Grantham Environmental Trust, Elemental Excelerator, the Yield Lab, Astia Angels and Allotrope Ventures. http://axios.link/cmft
• 3D Hubs, an Amsterdam-based automated manufacturing platform, raised $18 million in Series C funding. Endeit Capital led, and was joined by Hearst Ventures, EQT Ventures and Balderton Capital. http://axios.link/xiwW
• Qupital, a Hong Kong-based trade financing platform for SMEs, raised $15 million in Series E funding. CreditEase FinTech Investment Fund led, and was joined by seed backers Alibaba HK Entrepreneurs Fund and MindWorks Venture. http://axios.link/LAgW
• SentiLink, a San Francisco-based synthetic identity fraud prevention startup, raised $14 million in Series A funding. Andreesen Horowitz led, and was joined by Nyca Partners, Goldcrest, Felicis Ventures and Caffeinated Capital. http://axios.link/3GVV
• Rewire, an Israeli mobile money transfer startup, raised $12 million in Series A funding. Viola Fintech led, and was joined by Opera Tech Ventures, Standard Bank of South Africa and individual angels. www.rewire.to
• Boundless Immigration, a Seattle-based platform that helps immigrants navigate the green card and citizenship processes, raised $7.8 million in Series A funding. Foundry Group led, and was joined by Trilogy Equity Partners, Pioneer Square Labs, Two Sigma Ventures and Founders' Co-op. http://axios.link/gQbj
• MotoRefi, an Arlington, Va.-based auto refinance startup, raised $4.7 million in seed funding. Accomplice led, and was joined by QED Investors and Motley Fool Ventures. www.motorefi.com
• Linear Labs, a Granbury, Texas-based smart electric motor startup, raised $4.5 million in seed funding co-led by Science Inc. and Kindred Ventures. http://axios.link/3LlD
• Revvo (fka IntelliTire), a San Francisco-based maker of smart sensors for vehicle tires, raised $4 million in Series A funding. Norwest Venture Partners led, and was joined by Vulcan Capital and AngelList. http://axios.link/9Owe
• MaintainX, a workflow management platform for deskless employees, raised $3.8 million in seed funding co-led by August Capital and Amity Ventures. http://axios.link/rt4n
• Preteckt, a Memphis-based machine learning platform for automotive prognostics, raised $2 million in seed funding from Comet Labs and Las Olas VC. http://axios.link/LktC
🚑 OncoLens, an Atlanta-based provider of collaboration software for cancer care programs, raised $1.35 million in seed funding from BIP Capital and Atlanta Technology Angels. www.oncolens.com
• Mobvoi, a Chinese developer of human-machine interaction technologies, is in talks to raise $100 million at a valuation north of $1 billion, with plans to then list on a new Shanghai exchange, per Bloomberg. It to date has raised over $250 million from backers like GV and Volkswagen. http://axios.link/egTO
Private Equity Deals
• Abcom Computer Rental, an Itasca, N.Y.-based portfolio company of Dublin Clark & Co., acquired SmartSource, a Hauppauge, N.Y.-based provider of computer and AV equipment rentals for businesses and events. www.abcomrents.com
🌮 Bessemer Investment Partners acquired the assets of KorMex Foods, operator of 73 Taco Bell locations in the Houston area. www.masrestaurantgroup.com
• The Blackstone Group agreed to buy Servpro, a Gallatin, Tenn.-based franchisor of cleaning and emergency restoration service providers. No financial terms were disclosed, but an earlier WSJ report put the price-tag north of $1 billion (including debt). http://axios.link/Lhh0
• Olympus Partners has repurchased Tank Holding Corp., a St. Bonifacius, Minn.-based maker of rotationally-molded polyethylene tanks and containers, from Leonard Green Partners. www.tankholding.com
• The Stephens Group acquired Sound Seal, an Agawam, Mass.-based manufacturer of acoustical noise control solutions. www.soundseal.com
• Tata Group, GIC and SSG Capital Management agreed to invest $1.2 billion for a 45% stake in GMR Airports, operator of Delhi International Airport. http://axios.link/sQId
• Thomas H. Lee Partners acquired Fortna, a Reading, Penn.-based provider of supply chain services. www.fortna.com
🎬 TPG Capital agreed to buy Entertainment Partners, a Burbank, Calif.-based provider of production workforce management and automated production software to the entertainment industry. www.ep.com
Public Offerings
• Casper, the direct-to-consumer mattress maker, is in talks to hire IPO bankers, per Reuters. http://axios.link/IVMB
🚑 Genfit, a French biotech focused on liver disease, raised $135 million in its IPO. The company priced 6.65 million shares at $20.32 per share, compared to plans to offer 5 million shares at $26.32, and will trade on the Nasdaq (GNFT). www.genfit.com
🚑 Silk Road Medical, a Sunnyvale, Calif.-based developer of surgical solutions for stroke patients, set IPO terms to 4.7 million shares at $15-$17 per share. It would have a fully-diluted market value of $513 million, were it to price in the middle, and plans to trade on the Nasdaq (SILK) with J.P. Morgan as lead underwriter. Shareholders include Warburg Pincus (56% pre-IPO stake), The Vertical Group (18.9%), Norwest Venture Partners (11%) and Janus Capital Management (11%). www.silkroadmed.com
• Tradeweb Markets, a New York-based electronic trading platform backed by The Blackstone Group and Thomson Reuters, set its IPO terms to 27.3 million shares at $24-$26. It would have an initial market cap of $5.6 billion, were it to price in the middle, and plans to trade on the Nasdaq (TW), and reports $101 million of net income on $658 million in revenue for 2018. www.tradeweb.com
More M&A
• Merck KGaA of Germany has gone hostile in its efforts to buy Versum Materials (NYSE: VSM), a Tempe, Ariz.-based maker of specialty materials for the semiconductor and display industries, for $5.9 billion in cash. http://axios.link/JXON
⛽ Nebras Power of Qatar is considering the sale of its 35.5% stake in Indonesian power producer PT Paiton Energy, which could fetch over $1 billion, per Bloomberg. http://axios.link/vqHt
• Singapore Exchange invested $25 million for a 20% position in London-based foreign exchange trading platform BidFX Systems, with an option to later acquire a majority stake. http://axios.link/TAGZ
• Unilever has offered to buy French premium skincare and cosmetics brand Garancia. http://axios.link/r7YE
Fundraising
• 500 Startups raised $33 million for its MENA-focused venture capital fund. http://axios.link/gXvw
• Advent International has set a $20 billion hard cap for its ninth flagship fundraise, which could fetch significantly more than the $13 billion it raised in 2016 for Fund VIII, per PE International. http://axios.link/qwu4
• Asterion Industrial Partners of Spain held a €519 million first close on its debut pan-European infrastructure private equity fund (total target of €850m). It's led by former members of the KKR infrastructure team, including incoming partner Guido Mitrani. www.asterionindustrial.com
• GED Capital, a Spanish lower mid-market private equity firm held a €100 million first close on its sixth fund (total target of €175 million). www.gedcapital.com
• Merida Capital Partners is raising upwards of $200 million for its third fund, per an SEC filing. www.meridacap.com
• Nautic Partners raised $1.5 billion for its ninth fund. The Providence, R.I.-based mid-market buyout firm focuses on the healthcare, industrial products, and outsourced services sectors. www.nautic.com
It's Personnel
• Canaan Partners promoted Joydeep Bhattacharyya to general partner. www.canaan.com
• Investcorp said that John Fraser will step down as head of U.S. credit management, to be succeeded by Jim Feeley. www.investcorp.com
• Vlad Sejnoha joined Glasswing Ventures as a venture partner. He's the former CTO of Nuance Communications and chief scientist for Kurzweil AI. www.glasswing.vc
Final Numbers