Top of the Morning
The Treasury Department yesterday came out with its long-promised analysis of the GOP tax plan, but it was only one-page long and admitted that the plan wouldn't pay for itself (despite months of promises to the contrary by Sec. Mnuchin). More here.
Sen. Pat Toomey (R-PA) told CNBC this morning that the carried interest loophole should be maintained. Per Toomey, with a straight face: "I think that sweat equity deserves capital gains treatment." When asked what's different between carried interest and most other sorts of long-term commissions, he claimed "asset appreciation."
Toomey also said he was "an outlier" on carried interest, but apparently not so much of an outlier that his point of view won't be reflected in the final tax bill.
• Razor burn rate: Harry's, the razor subscription rival to Dollar Shave Club, has raised nearly $64 million in new equity funding, per an SEC filing. Word is that the round remains open, and that at least part of the proceeds will be used for an investment in a complementary company. No comment from Harry's, natch.
• Crystal ball: EY has a 2018 M&A outlook report out this morning, and predicts an upswing in large corporate carve-out transactions (at least in terms of size, if not in volume). In short, the confluence of increased activist investor agitation and a surplus of private equity dry powder.
Debt data: S&P LCD shows that Q3 middle-market debt multiples climbed to 5.6x EBITDA, compared to 5.2x at the end of 2016. The broader market figure is 6x. (h/t Carlyle Group)
• Must-see TV: Steve Jurvetson will be interviewed, fireside-style, tomorrow afternoon at a CB Insights conference in San Francisco. There's a live-stream, and hopefully he'll explain the circumstances behind his recent, and sudden, departure from the venture capital firm that still bears his name.
• Kickoff: On Location Experiences, a ticket and hospitality company that primarily focuses on the Super Bowl, has acquired PrimeSport from The Carlyle Group. A few notes, after chatting with someone familiar with the deal:
The combined company would have annual revenue of around $550 million, with OLE representing around 60%. EBITDA margins are between 10-15%.
OLE, which was carved out of the NFL by private equity firms a few years back, already has sold around 65% of its Super Bowl inventory (despite the Minneapolis location). That's significant, given that it actually holds over 20% of total Super Bowl tickets. The upshot is that regular season ratings woes don't seem to affect interest in premium experiences at the big game (particularly among corporate customers).
PrimeSport doesn't have an NFL contract, but does have long-term deals with both the PGA and the NCAA.
• Sad news: San Francisco Mayor Ed Lee has died from a heart attack, at the age of 65. From a biz perspective, his legacy likely will be luring tech players (startups, established companies, VCs, etc.) from the peninsula into the city. From a social perspective, it may be the high housing costs associated with that geographic shift. Deepest condolences to his friends and family.
The BFD
Unibail-Rodamco of France has agreed to acquire Westfield Corp. (ASX: WFD), an Australia-based shopping mall company with several large North American assets, for US$15.8 billion.
Why it's the BFD: Because this comes just one day after GGP rejected a $14.8 billion takeover offer from Brookfield Property Partners, and could double as revised pricing guidance for that transaction. Let alone whatever someone might bid for Macerich, which is under pressure from activist Dan Loeb. Plus, if malls are dying, no one bothered to tell the M&A market.
Bottom line: "If I am an anchor store such as Sears and Macy's that do business in a Westfield-owned mall, this deal is petrifying. Department stores don't fit in this new mall as a community world, and an eager property owner may try to push them out via higher rents in order to redevelop the space for 2040." — Brian Sozzi, TheStreet
Venture Capital Deals
• Mafengwo, a Chinese online travel platform, has raised $133 million in Series D funding from General Atlantic, Ocean Link, Temasek, Yuantai Investment Hopu and return backers Capital Today, Qiming Venture Partners and Hillhouse Capital. http://axios.link/6Ks9
• NextDoor, a neighborhood-focused social network, has raised $75 million in new VC funding at a valuation of around $1.5 billion, according to The Information. They company previously raised over $200 million in VC funding, from firms like Benchmark, Greylock, Kleiner Perkins and Insight Venture Partners. http://axios.link/8Tpl
🚑 Hookipa Biotech, an Austria-based developer of cytomegalovirus vaccine and cancer candidates, has raised $60 million in Series C funding from backers like Gilead Sciences, Boehringer Ingelheim and Takeda. http://axios.link/oM4A
• Aspiration, a Los Angeles-based provider of "sustainable banking and investment products," has raised $47 million in Series B funding. Social Impact Finance led, and was joined by Allen & Co., Omidyar Network, Alpha Edison, AGO Partners, Reyl & Cie, Capricorn Investments and individuals like Doc Rivers, Deborah Hopkins and Orlando Bloom. www.aspiration.com
• Onlyyou, a Chinese enterprise service platform, has raised $45 million in Series A funding from AVIC Trust, Sunner Capital, Xiamen Changrong Investment Management and Pan-China (Xiamen) Consulting. http://axios.link/eXGw
• Zhenkunhang, a Shanghai-based industrial products distribution platform, has raised $33 million in new Series B funding. Genesis Capital led, and was joined by Eastern Bell Venture Capital and Matrix Partners China. http://axios.link/eXGw
• Xiaoe Weidian, a Chinese checkout-free convenience store operator, has raised around $30 million in Series B funding from Zijue Capital, Haikong Capital, the Hainan province government and Zhongguancun Science Park. http://axios.link/rrxA
• Ouster, a San Francisco-based LiDAR sensor startup, has raised $27 million in Series A funding. Cox Enterprises led, and was joined by Fontinalis Partners, Amity Ventures, Constellation Technology Ventures, Tao Capital Partners and Carthona Capital. http://axios.link/ahfS
• Simility, a Palo Alto, Calif.-based provider of cyber-fraud prevention solutions, has raised $17.5 million in new VC funding. Accel led, and was joined by PayPal and return backers The Valley Fund and Trinity Ventures. http://axios.link/SBeZ
• NexWafe, a German silicon wafer manufacturer, has raised €8 million in new VC funding. Saudi Aramco Energy Ventures led, and was joined by Green Gateway Fund 2 and return backer Lynwood (Schweiz) AG. http://axios.link/2SLI
• SevenRooms, a New York-based provider of reservation and guest management software for restaurants, hotels and nightclubs, has raised $8 million in new VC funding led by Comcast Ventures. www.sevenrooms.com
• Dosh, an Austin, Texas-based provider of cash-back solutions for consumers, has raised $4.9 million in new seed funding. Goodwater Capital led, and was joined by Extol Capital and Next Coast Ventures. http://axios.link/NoXs
• Descript, a text-based audio editing app created by Groupon co-founder and former CEO Andrew Mason, has raised $5 million in VC funding from Andreessen Horowitz. http://axios.link/9Kf8
• Fuzzy Pet Health, an in-home pet healthcare startup, has raised $4.5 million in seed funding from Eniac Ventures and Crosscut Ventures. http://axios.link/I2NF
• Fastlane, a Dallas-based online car buying site, has raised $1.5 million in seed funding led by Eagle Venture Fund. http://axios.link/E8Zu
• Discngine, a Paris-based provider of research informatics software for the life sciences market, has raised €1.1 million in Series A funding from Extens Développement e-Santé. www.discngine.com
Private Equity Deals
⛽ Actis has expressed interest in acquiring Turkish power distribution company Akcez, which currently is owned by CEZ AS and Akkok Holding, according to Bloomberg. http://axios.link/2P9f
• The Blackstone Group has acquired a 10% stake in Logicor, a European warehouse property business that Blackstone sold to China Investment Corp. earlier this year for €12.25 billion. http://axios.link/Eq6d
• Blue Equity has acquired a majority stake in Napoli Management Group, a Beverly Hills-based broadcast news talent agency. www.tvtalent.com
• G.E.T. Enterprises, a Houston-based portfolio company of Olympus Partners, has acquired Winco, a Lodi, N.J.-based manufacturer of kitchenware and tableware. www.wincous.com
⛽ GP Investments is raising at least $300 million to purchase a control stake in a Brazilian power distribution company. http://axios.link/Z16C
• J.W. Childs has acquired the parent company of Outward Hound, a Centennial, Colo.-based maker of interactive pet toys, from The Riverside Company. www.outwardhound.com
• Onex Corp. has agreed to acquire SMG Holding, a West Conshohocken, Penn.-based venue management company whose clients include Chicago's Soldier Field. Sellers include Northlane Capital. http://axios.link/b5Z9
• Safe Fleet, a Belton, Mo.-based portfolio company of The Sterling Group, has acquired MobileView, provider of mobile surveillance and video management solutions to transit bus and rail vehicles, from a unit of United Technologies Corp. (NYSE: UTX). www.mobileviewvideo.com
• Warburg Pincus has agreed to acquire up to a 20% equity stake in the direct-to-home paid TV service of India's Bharti Airtel for around $350 million. www.warburgpincus.com
Liquidity Events
• Ardian has agreed to sell its infrastructure private equity portfolio to Dutch pension fund manager APG. http://axios.link/8Swo
• Blue Wolf Capital Partners has sold American Builders Supply, a Sanford, Fla.-based door and millwork distributor, to Kodiak Building Partners . www.americanbuildsupply.com
• Graycliff Partners has sold Talon Innovations Corp., a Sauk Lake, Minn.-based provider of high-precision machining to the semiconductor market, to a unit of Ichor Holdings (Nasdaq: ICHR). www.taloneng.com
• Iron Mountain (NYSE: IRM) has agreed to acquire the U.S. data center assets of IO Data Centers for $1.3 billion. IO backers include Sterling Partners. http://axios.link/aPOL
More M&A
• Atos (Paris: ATO) has offered to acquire Dutch cybersecurity company Gemalto (Amsterdam: ATO) for €4.3 billion. http://axios.link/VlDc
• Audi said that it has canceled the sale process for Italian motorcycle brand Ducati. http://axios.link/3Hfi
• Comcast (Nasdaq: CMCS) said that it has dropped out of the auction process for the entertainment assets of 21st Century Fox (Nasdaq: FOXA), leaving Walt Disney Co. (NYSE: DIS) as the remaining bidder. http://axios.link/DmgY
• Zurich Insurance (Swiss: ZURN) has agreed to acquire the OnePath Life business of Australia's ANZ (ASX: ANZ) for A$2.85 billion. http://axios.link/Dvrk
Fundraising
• Navitas Capital, a Beverly Hills-based venture firm focused on real estate tech startups, has raised $60 million for its latest fund. http://axios.link/3u05
It's Personnel
• Eric Anderson, a former product manager for Google Cloud, has joined Scale Venture Partners as a principal. www.scalevp.com
• Angelo Gordon has is promoting deputy CIO Josh Baumgarten and real estate group head Adam Schwartz to co-chief investment officers. http://axios.link/yGAX
• Rashida La Lande, a former M&A and private equity attorney with Gibson, Dunn & Crutcher, is joining Kraft Heinz as global general counsel and corporate secretary.
⛽ Jubran Whalan has joined Constant Energy Capital as a managing director. He previously was a managing director of global structured products at BP. www.constantenergycap.com
Final Numbers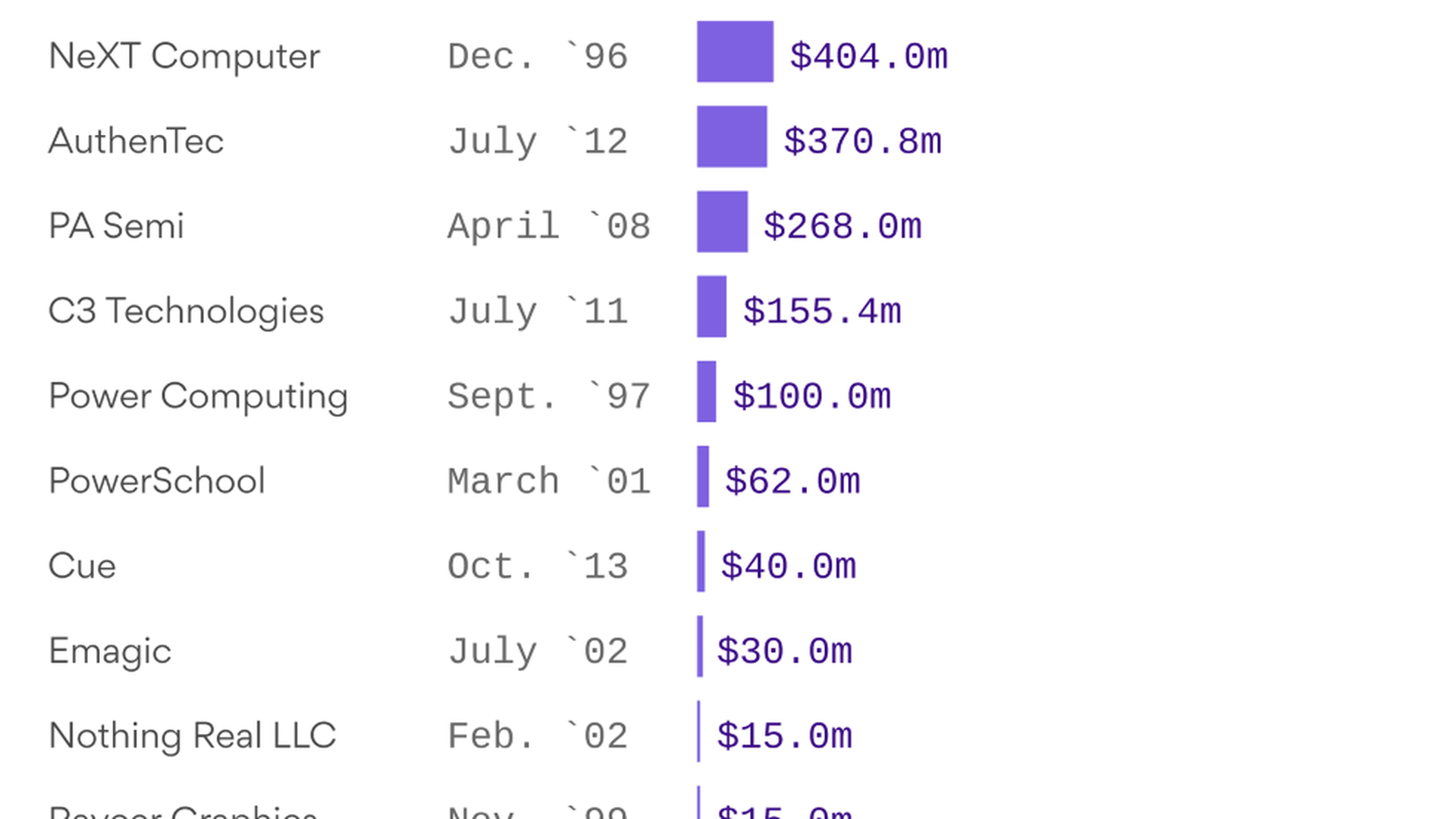 More: Apple yesterday confirmed its purchase of music identification app Shazam, but didn't disclose a deal value. In fact, Thomson Reuters reports that only 15 of Apple's 68 acquisitions have disclosed values.
Shazam is Apple's fifth acquisition of 2017.
Despite the lack of official price-tag, several media reports peg the deal value at around $400 million (which is well below the last private round for Shazam, which had entered unicorn territory).
Apple went public 37 years ago yesterday, and Massachusetts regulators wouldn't let individual investors buy, deeming the stock "too risky."
Thanks for reading. Be sure to send feedback and tips to dan@axios.com.