Axios Pro Rata
July 01, 2020
🎧 "Axios Re:Cap" focuses on the controversies and changes at chat app Discord, including a conversation with its CEO on the day that it announced $100 million in new funding at a $3.5 billion valuation.
Top of the Morning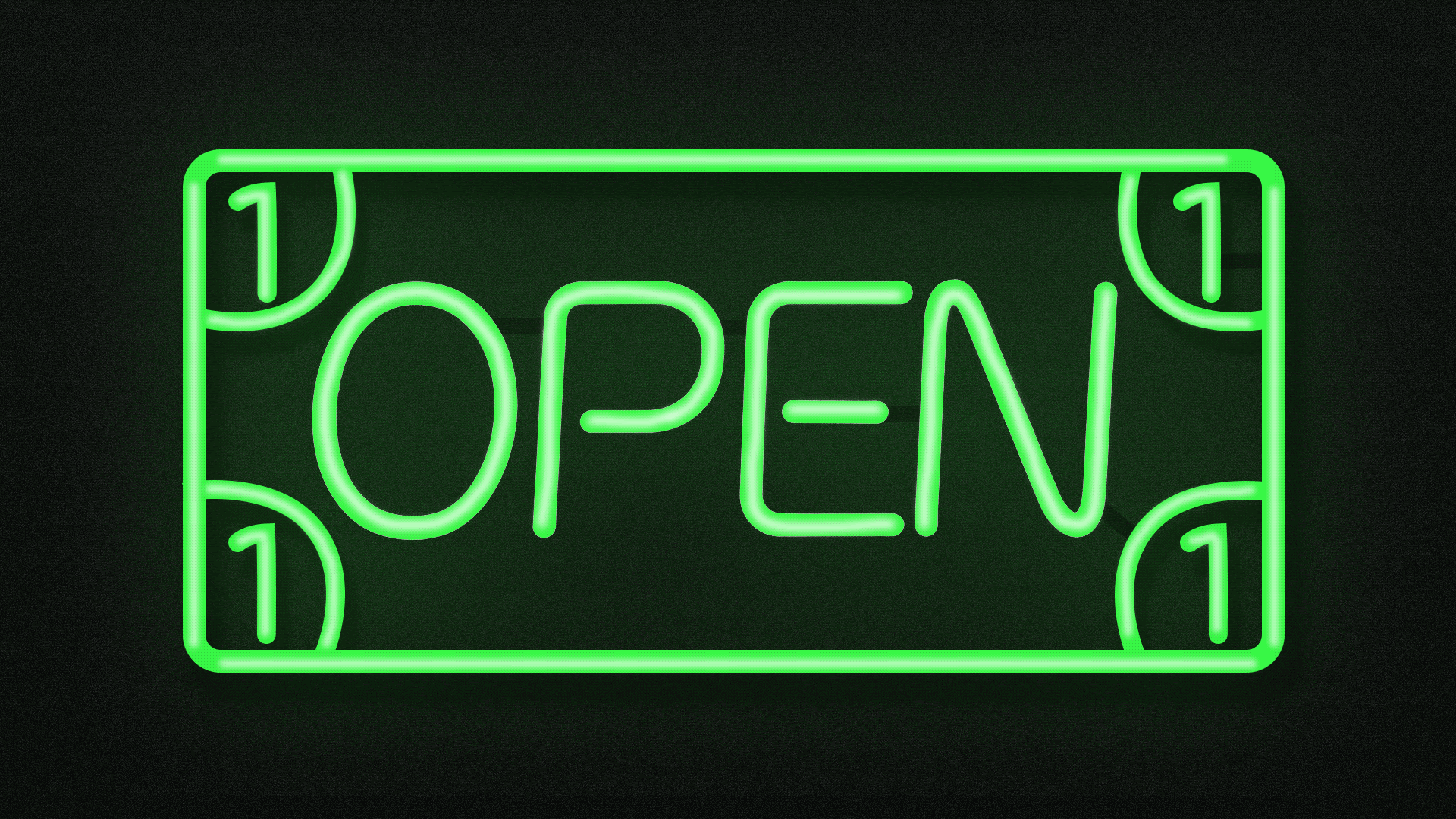 The PPP is dead. Long live the PPP.
Driving the news: The Senate last night voted to extend the application period for Paycheck Protection Program loans through August 8, just hours before it was set to expire.
Why it matters: There's still over $130 billion in PPP funds available, which could help small businesses pay overhead and keep employees on payroll. It also could help independent contractors like Uber drivers.
Why it doesn't matter: The application period can't be extended until the House passes the Senate bill and President Trump signs it into law. But, more importantly, it's unclear that there's much demand for this money.
My understanding is that Treasury and the SBA originally calculated that there could be up to $600 billion in total demand for PPP funds, based on their payroll calculations of U.S. small businesses. So far it's approved around $520 billion in loans, not including around $38 billion that was returned or otherwise canceled, which is a pretty heady percentage.
Remember, some small businesses ⁠— like grocers ⁠— experienced a surge in business from the pandemic, so never applied.
Some applicants got shut out in the PPP's early days due to bank prioritization, and have since gone out of business. Plus, some major lenders like Wells Fargo stopped taking applications months ago, despite the available funds.
What's actually needed: A serious discussion about PPP 3, particularly as major states pause or scale back their economic reopening plans.
This would be a new program available to small businesses that already received initial PPP loans but still face severe economic hardships.
It also could be a more efficient, fairer, and more transparent process — given what's been learned over the past three months (including loan recipient data, which is expected to be released by EOD tomorrow).
The bottom line: PPP was designed as a bridge to the summer, but the other side is a much cooler season. Last night's Senate action only added a few feet of new asphalt, with miles still needed.
Go deeper: Axios' Alayna Treene and Dion Rabouin dig into the status of the next stimulus package. Plus, Axios is hosting a virtual event today at 12:30pm ET on the state of American small business (register here).
The BFD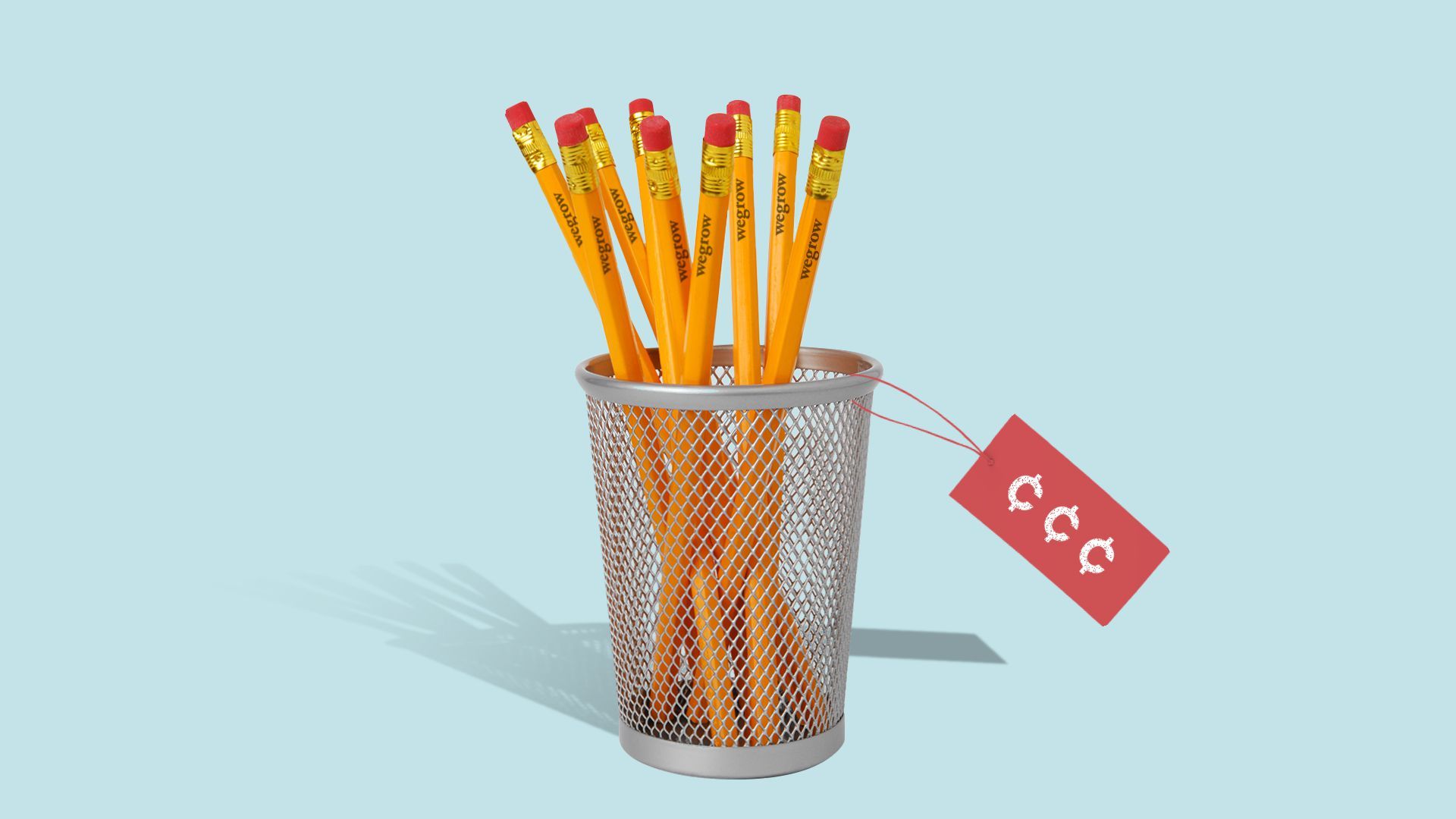 WeWork sold certain assets of its WeGrow school to Rebekah Neumann, who founded WeGrow while serving as WeWork's chief brand officer.
Why it's the BFD: It's surprising that an amenable arrangement was reached between WeWork and the Neumanns, given the lingering animosity on both sides. Plus the fact that Rebekah's husband, former WeWork CEO Adam Neumann, recently sued WeWork's controlling investor.
WeWork had a K-4 school? Yup, it sure did. I even visited once and was pretty impressed (as I should have been, given the $42k tuition). WeWork announced that WeGrow would shutter at the end of the current school year, which just ended. Also worth noting is that WeWork just sold Flatiron School, a coding academy, to Carrick Capital Partners.
Details: Neumann purchased the school's curriculum and some of its furniture, but not the WeGrow brand name. Word is that the sale price was well below $1 million.
The bottom line: "Neumann is planning to relaunch the school as Students of Life For Life, or SOLFL, pronounced 'soulful.' She is partnering with former WeGrow teacher Alexandra Duvall to further develop the initiative, which would include a combination of remote and physical learning, Gold says, with an aim to eventually expand the curriculum nationally, and then globally." — David Jeans, Forbes
Venture Capital Deals
🚑 Freeline, a British gene therapy startup, raised $80 million in Series C funding from Novo Holdings, Eventide Asset Management, and Wellington Management. http://axios.link/gQ1V
🚑 Goldfinch Bio, a Cambridge, Mass.-based precision medicine company focused on kidney disease, raised $100 million in Series B funding. Eventide Asset Management led, and was joined by Wellington Management, Ally Bridge Fund, BlackRock, Casdin Capital, and Irving Investors, and return backers Gilead, Yonjin Capital, and Schroeder Adveq. http://axios.link/07J3
• Fauna, a San Francisco-based adaptive database platform, raised $27 million in new Series A funding. Madrona Venture Group led, and was joined by Addition, GV, CRV, and Quest Ventures. http://axios.link/3bgy
• The Mom Project, a Chicago-based online talent marketplace for women, raised $25 million in Series B funding. 7CG led, and was joined by Citi Ventures, Synchrony Financial, SVB, High Alpha, and return backers Initialized Capital, Grotech Ventures, OCA, Aspect Ventures, Wintrust Financial, Irish Angels, and Engage VC. http://axios.link/FCMz
• Scalefast, a Los Angeles-based digital commerce platform, raised $22 million in Series B funding from Xplorer Capital, Stereo Capital, FJLabs, Benhamou Global Ventures, Crédit Mutuel Equity, and Adara Ventures. http://axios.link/mXS9
• Hunters, an autonomous threat-hunting solution, raised $15 million in Series A funding from M12, USVP, YL Ventures, Blumberg Capital, and Okta. www.hunters.ai
• 4D ShoeTech, a Chinese footwear design-as-a-service startup, raised $14 million in Series A+ funding. CMC Capital led, and was joined by Sequoia Capital China and return backer Linear Ventures. http://axios.link/LrZV
• Elementary Robotics, a Los Angeles-based provider of industrial inspection automation solutions, raised $12.7 million in Series A funding. Threshold Ventures led, and was joined by return backers Fika Ventures, Fathom Capital, Ubiquity Ventures, and Toyota AI Ventures. http://axios.link/BzN9
• Hi Marley, a Boston-based messaging platform for insurers, raised $8 million in Series A-1 funding. True Ventures and Underscore VC co-led, and were joined by Bain Capital Ventures and Greenspring Associates. http://axios.link/U1is
• Skipr, a Brussels-based B2B mobility-as-a-service platform, raised €7 million. Belfius led, and was joined by return backer Lab Box. http://axios.link/wMUg
• Outstanding Foods, a Los Angeles-based vegan "bacon" brand, raised $5 million led by SternAegis Ventures. www.outstandingfoods.com
• RIOS, a Palo Alto-based maker of industrial robotics, raised $5 million co-led by Valley Capital Partners and Morpheus Ventures. http://axios.link/HUDN
• Worky, a Mexico City-based HR software and payroll platform for Mexican SMEs, raised $3 million in seed funding led by QED Investors. www.worky.mx
• Pattern89, an Indianapolis-based digital ad performance startup, raised $2 million from Break Trail Ventures, Elevate Ventures, F&M Investments, High Alpha Capital, and Vitalize. http://axios.link/9kZ2
• Riders Share, an Austin, Texas-based P2P motorcycle sharing platform, raised $2 million in Series A funding led by LiveOak Venture Partners. www.riders-share.com
Private Equity Deals
• The Carlyle Group agreed to buy a 25% stake in the data center unit of Indian telco Bharti Airtel for $235 million. http://axios.link/HJIH
• Honoris United Universities, a pan-African education group backed by Actis, acquired Nigeria's Nile University. http://axios.link/RVrJ
Public Offerings
• Dun & Bradstreet, a Short Hills, N.J.-based business analytics firm owned by CC Capital Partners and other private equity firms, raised $1.7 billion in its IPO. The company raised 78.3 million shares at $22, versus plans to sell 65.8 million shares at $19–$21. It will list on the NYSE (DNB), and used Goldman Sachs and BofA as lead underwriters. http://axios.link/WkcO
• Jamf, a Minneapolis-based Apple device management company owned by Vista Equity, filed for a $100 million IPO. http://axios.link/lBkW
• Lemonade, a digital insurer for homeowners and renters, increased its IPO price range from $23-$26 to $26-$28. It now would have an initial market cap of $1.48 billion, were it to price in the middle — although that's still lower than its last private market valuation. Overall, Lemonade raised around $480 million from firms like SoftBank (27.3% pre-IPO stake), Sequoia Capital Israel (10.3%), Aleph (10.3%), General Catalyst (7.3%), XL Innovate (5.2%), and Thrive Capital. http://axios.link/81MD
Liquidity Events
🚑 Lindsay Goldberg is seeking a buyer for Refresh Mental Health, a Jacksonville, Fla.-based outpatient mental health services company that could fetch at least $800 million, per PE Hub. http://axios.link/Zq57
More M&A
• Aleatica of Mexico agreed to buy a 56% stake in Italian toll road operator Brebemi from Intesa Sanpaolo (Milan: ISP) at a €2 billion enterprise value. http://axios.link/zY1s
• Hussain Sajwani, chairman of Dubai-listed Damac Properties, is considering an offer to take the $1.1 billion company private, per Reuters. http://axios.link/Oz50
Fundraising
• Accomplice, a Boston-based early-stage VC firm, raised $215 million for its third flagship fund and $110 million for a fund that will invest in select rounds for an opportunities pool. www.accomplice.co
• Addition, a multi-stage VC firm led by Lee Fixel (ex-Tiger Global), raised $1.3 billion for its debut fund. http://axios.link/rfYX
🚑 Amed Ventures, a VC firm focused on med-tech startups, raised $22 million for its debut fund, per an SEC filing.
• Cendana Capital raised $218 million for its fourth flagship VC fund-of-funds. It also will manage $60 million for the University of Texas endowment. http://axios.link/SKYW
It's Personnel
• Sophia Bendz stepped down as marketing director for Atomico, in order to join Berlin-based Cherry Ventures. http://axios.link/JqvX
• Century Park Capital Partners promoted Tony Trevino to principal and Adam Zacuto to VP. www.centuryparkcapital.com
• Christian Iwasko and Erik Dahl left law firm Sidley Austin, where they were top private equity attorneys. http://axios.link/uTxe
• Michael Salgat joined Wynnchurch Capital as a managing director focused on operations and portfolio management. He previously was an operating partner at New State Capital Partners. www.wynnchurch.com
Final Numbers: Global M&A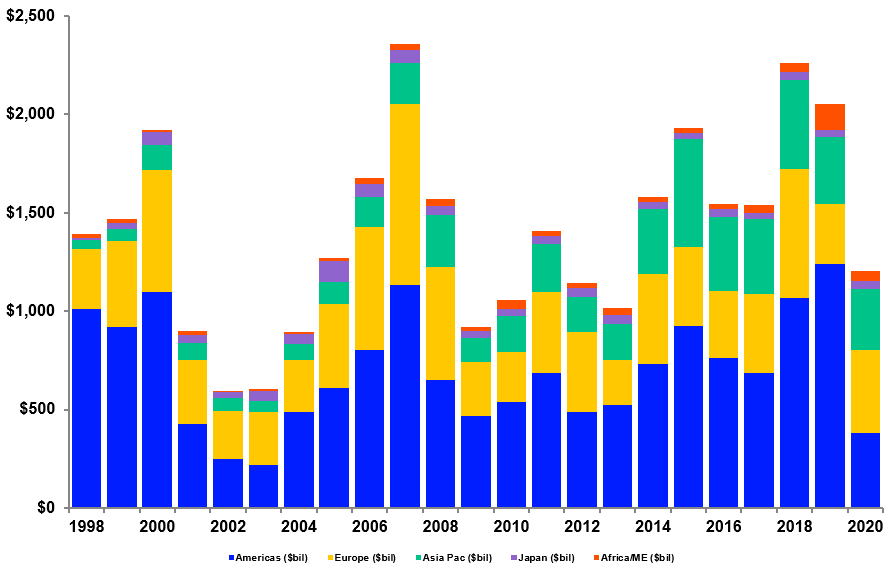 More data from Refinitiv:
Global M&A value for the first half of the year is down 41% from 2019, while the number of deals is down 16%. In the U.S., value is down 68.8% but deal volume is up 10.6%.
Global deal value fell 25% between Q1 2020 and Q2 2020, while U.S. deal value fell 57%.
There were over 3,100 global private equity deals valued at around $200 billion in the first half of 2020, representing a deal number decline of 7.9% and a deal value drop of 23.6% over the same period in 2019.
🙏 Thanks for reading Axios Pro Rata! Please ask your friends, colleagues, and soulful students to sign up.