Axios Pro Rata
October 30, 2018
Greetings from 30,000 feet, as I'm on my way to Los Angeles to interview Jamie Dimon, Jeffrey Katzenberg and Meg Whitman for an Axios Smarter Faster Revolution event at UCLA. Join us.
Top of the Morning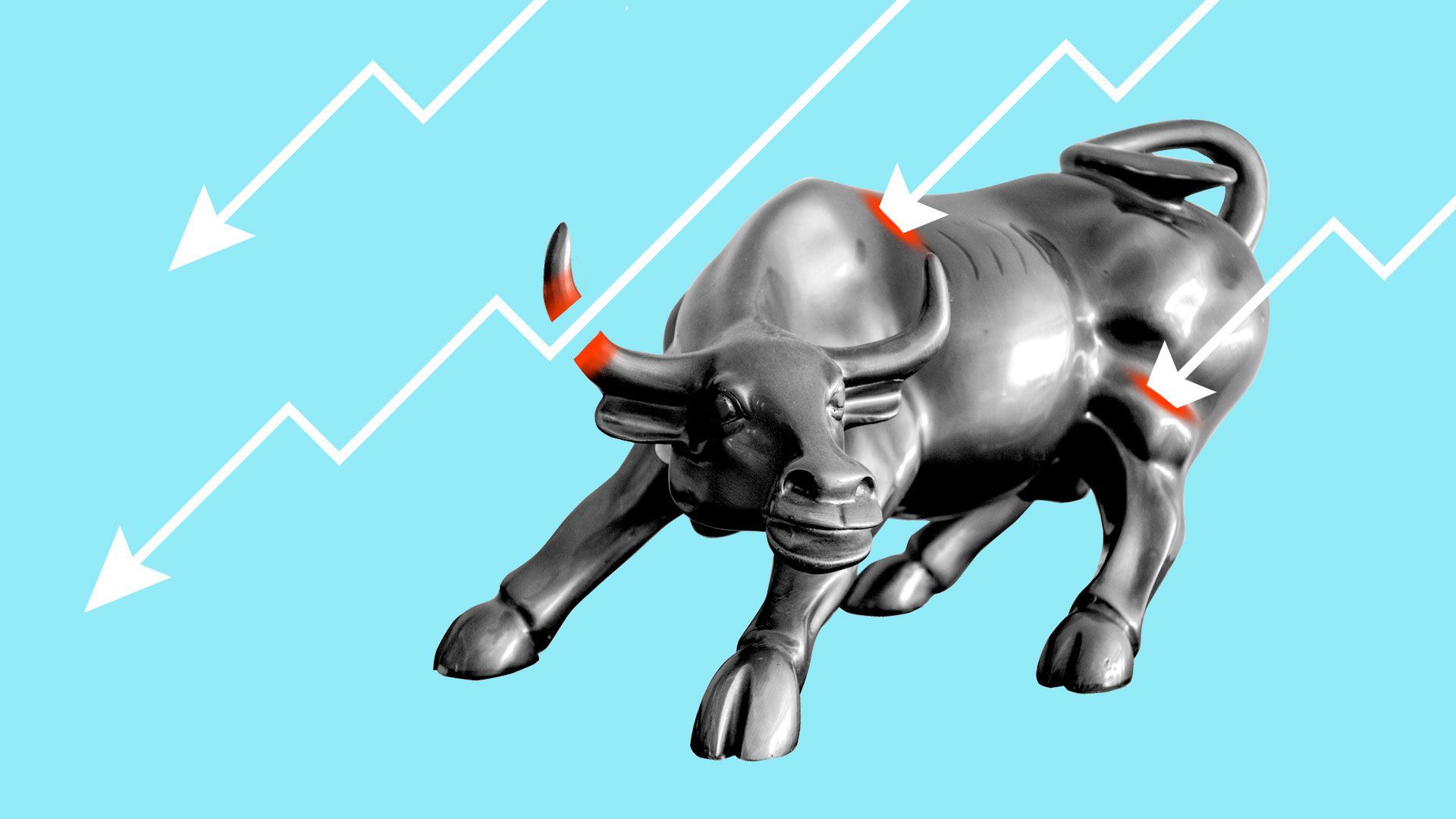 President Trump this morning blamed both the Fed and the midterms for the recent stock volatility that has now put the Dow and S&P 500 in the red for 2018.
No mention of what actually seems to have freaked out the markets yesterday, which was a report that Trump might soon impose tariffs on all Chinese imports.
No mention of how stocks also took a giant dive this past spring, long before the midterms.
No mention of how stocks were doing fine when most political pundits were predicting a blue wave, whereas they've sunk since those predictions were tempered post-Kavanaugh. (I'm not making a causation case here, simply arguing against one.)
No mention of how the Fed didn't take anyone by surprise with its mild rate hikes.
No mention of slowing global growth, or investor fears that the tax cut "sugar high" will wear off in 2019.
Bottom line: There is a very good reason why presidents rarely take too much credit for a bull market. And we may be about to see that cautionary tale play out in real time.
• Up and down: It's been just over three months since KKR switched from a publicly-traded partnership to a C-corp, and the results have been mixed.
On the one hand, KKR has successfully expanded its investor base, as the move allowed equity index and exchange-traded funds to take positions.
On the other hands, KKR shares have fallen nearly 16%.
• Recommended reading: Global tax proposals take aim at U.S. tech
💰 Update: Earlier this month we confirmed a Recode report that cryptocurrency exchange Coinbase was raising new money led by Tiger Global at an $8 billion valuation, and added that the company earlier had a term sheet from Vy Capital with a $12 billion valuation, which was pulled after crypto asset prices deteriorated.
Coinbase today announced $300 million in Series E funding at the $8 billion mark (post-money). Tiger Global led, and was joined by YC Continuity, Wellington Management, Andreessen Horowitz and Polychain.
Recode and Axios both had heard the total raise would be closer to $500 million, inclusive of a secondary tranche, and a source this morning tells me the secondary of around $200 million is still on, but not yet closed.
💍 On the docket: The New York AG's office yesterday filed fraud and illegal lending charges against Harris Jewelry, a retailer owned by private equity firm Consumer Growth Partners (which seems to utilize a fundless sponsor model). From the accompanying release:
"It is alleged that Harris Jewelry targets and then entices local service members into the stores with 'Operation Teddy Bear'— a purported charitable program in which Harris Jewelry sells teddy bears in military uniforms with promises of charitable donations. In fact, the complaint alleges that this is nothing more than a marketing ploy to dupe service members into high-priced, illegal in-house financing contracts for vastly overpriced jewelry."
🎧 Pro Rata Podcast: We focus on what happens now with investments from Saudi Arabia, and I'm joined by Axios' Felix Salmon. Listen here.
The BFD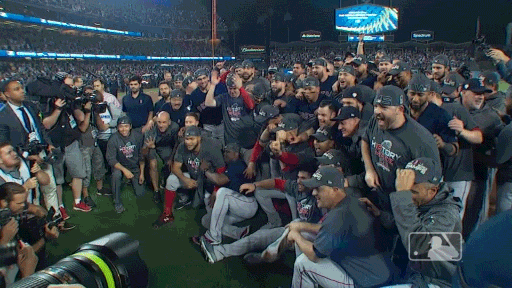 The Athletic, a San Francisco-based digital sports media startup, raised $40 million in Series C funding at around a $200 million valuation, per my Axios colleague Sara Fischer.
Why it's the BFD: Because that's an awful lot of venture capital for a paid sub model, particularly given that overcapitalization is a known millstone for online media upstarts.
Investors: Founders Fund and Bedrock Capital co-led, and were joined by Comcast Ventures, Evolution Media Capital, Courtside Ventures, The Chernin Group, YC, Advancit, Luminari, Amasia and BDMI.
Bottom line: "Digital upstarts are battling to upend decades of dominant sports coverage from ESPN, local papers and radio." — Sara Fischer, Axios
Venture Capital Deals
🚑 98point6, a Seattle-based telehealth startup that uses text messages, raised $50 million in Series C funding led by Goldman Sachs. http://axios.link/bGHT
• Quid, a San Francisco-based platform for analyzing large volumes of text, raised $37.5 million. REV Ventures led, and was joined by Julian Robertson, Henry Kravis, Lixil Group, Artis Ventures, Salesforce Ventures and Founders Fund. http://axios.link/Ci9N
• Ethos, a San Francisco-based "ethical" life insurance startup, raised $35 million in Series B equity and debt funding. Accel led, was joined by GV, Sequoia Capital, Roc Nation's Arrive and Silicon Valley Bank. www.getethos.com
• StarkWare, an Israeli developer of blockchain apps for zero-knowledge proof technology, raised $30 million in Series A funding. Paradigm led, and was joined by Intel Capital, Sequoia Capital, Atomico, Coinbase and DCVC. http://axios.link/q9e5
• Concord, a San Francisco-based contract management platform, raised $25 million in Series B funding. Tenaya Capital led, and was joined by return backers Alven and CRV. www.concordnow.com
• Omni.us, a German insure-tech startup, raised $22.5 million in Series A funding. Target Global led, and was joined by MMC Ventures, Talis Capital, Unbound and Anthemis. www.omnius.com
• Clear Labs, a Menlo Park-based sequencing platform for food safety raised $21 million in Series B2 funding. Menlo Ventures led, and was joined by Wing VC, Dentsu Ventures, Felicis Ventures, and Khosla Ventures. www.clearlabs.com
• Sentieo, a San Francisco-based financial research platform, raised $19 million in Series A funding led by Centana Growth Partners. www.sentieo.com
• Geltor, a San Leandro, Calif.-based producer of animal-free collagen proteins, raised $18.2 million in Series A funding. Cultivian Sandbox Ventures led, and was joined by GELITA and ADM Ventures. http://axios.link/gywu
• LoopMe, a British mobile brand advertising company, raised $17 million in new funding led by BGF. http://axios.link/3Aoo
• Unu, a German maker of electric scooters, raised $12 million. Ponooc led, and was joined by Capnamic Ventures, Iris Capital, Michael Baum and NRW Bank. http://axios.link/sCHF
• WAYV, a B2B cannabis logistics and compliance platform, raised $5 million in seed funding led by Craft Ventures. http://axios.link/HshI
• Grofers, an India-based online grocer, is in talks to raise between $100 million and $150 million led by existing backer SoftBank Vision Fund, per Bloomberg. http://axios.link/Pu6R
Private Equity Deals
• Brookfield Asset Management is in talks to buy the car batteries business of Johnson Controls (NYSE: JCI) for between $13 billion and $14 billion, per Reuters. http://axios.link/0BAr
• CVC Capital Partners and GRO Capital agreed to acquire a majority stake in Omada, a Copenhagen-based provider of identity governance and administration software. www.omada.dk
• Great Hill Partners has merged portfolio companies Vanco Payment Solutions and Connexeo, into a single payment processor called Vanco. www.vancopayments.com
• Lennar (NYSE: LEN) agreed to sell part of its Rialto real estate lending unit to Stone Point Capital for $340 million. http://axios.link/Hsb0
🚑 Sheridan Capital Partners invested in Empower PT, a Phoenix-based physical therapy practice management company.
Public Offerings
• Tiger Brokers, a China-based online brokerage, is prepping a $200 million IPO for the beginning of 2019, per Bloomberg. It has raised around $140 million in VC funding, most recently at around a $1 billion valuation, from backers like Jim Rogers, Prospect Avenue Capital, K2VC, Orient Hontai Capital, Oceanpine Healthcare Fund and ZhenFund. http://axios.link/6ijW
Liquidity Events
• Keppel Infrastructure Trust of Singapore said it is the preferred bidder for Australian chemicals company Ixom, which is being sold by Blackstone Group for around A$1 billion. http://axios.link/m2P5
• Laboratoires Expanscience of France acquired Babo Botanicals, a Scarsdale, N.Y.-based maker of all-natural skin and hair-care products. Sellers include JMK Consumer Growth Partners. www.babobotanicals.com
🍜 Restaurant Group (LSE: RTN) acquired noodle restaurant chain Wagamama for £559 million (including debt) from private equity firms Duke Street and Hutton Collins. http://axios.link/dv3K
More M&A
• Atlassian (Nasdaq: TEAM) agreed to sell Jitsi, an open-source chat and videoconferencing tool it bought in 2015, to 8x8 (NYSE: EGHT). http://axios.link/tAB5
🚑 Carbon Health, a San Francisco-based platform for ongoing care management and virtual appointments, has merged with Direct Urgent Care, a network of Northern California urgent care centers. Carbon Health raised $6.5 million from firms like Builders VC. www.carbonhealth.com
• NXHM of Belgium agreed to buy European digital currency exchange operator Bitstamp. http://axios.link/lecB
🚑 Takeda Pharma (Tokyo: 4502) is considering a sale of its European OTC business, with J.P. Morgan managing the process, per Bloomberg. http://axios.link/b4IU
• Traub Capital acquired Ocala, Fla.-based cake decorations business Signature Brands from Swiss consumer goods company The Hero Group. www.signaturebrands.com
Fundraising
🚑 ArchiMed, a French healthcare private equity firm, raised over €400 for an €800 million-targeted "mid-market buy-and-build" fund. It also added Antoine Faguer (ex-Denis Industries) as a partner, Sofia Ysewyn (ex- Labatec Pharma) as a principal and Brian Sheridan (ex-LivaNova) as an operating partner. www.archimed-group.eu
• Hellman & Friedman raised $16 billion for its ninth buyout fund, per an SEC filing.
• Hillhouse Capital of China has partnered with San Francisco-based VMG Partners on a $100 million fund focused on consumer brands. http://axios.link/dj4E
It's Personnel
• David Richter, former head of business development and corporate development at Uber, joined e-scooter startup Lime as its interim CFO and first-ever chief business officer. http://axios.link/yLaG
Final Numbers