February 16, 2021
🎧 The U.S. government spent $44 million on vaccination appointment software that almost no states are still using. "Axios Re:Cap" digs into what went wrong. Listen via Apple, Spotify or Axios.
📺 ICYMI: NYSE president Stacey Cunningham tells me the "stock markets are not a casino," on the latest episode of "Axios on HBO." Watch via on-demand or HBO Max.
Top of the Morning
Sixth Street Partners CEO Alan Waxman is known for his sharp elbows, befitting someone who created a leader in special situations lending. Now he's jabbing one right in the gut of Dyal Capital Partners, which has owned a passive minority stake in Sixth Street since 2017.
Driving the news: Sixth Street has sued Dyal in Delaware Chancery Court, seeking to block Dyal's proposed merger with direct lender Owl Rock Capital, and the pair's subsequent agreement to go public via a SPAC at a $12.5 billion market cap.
The complaint won't be publicly released until tomorrow, once redactions are completed, but details have emerged from sources and via a letter that Sixth Street sent yesterday to its limited partners.
Plaintiff: Sixth Street is a multi-strategy investment firm that last year spun out of TPG, and which now has over $50 billion in assets under management. It claims that its contract with Dyal includes a clause whereby Dyal agrees not to ever directly compete with Sixth Street, and that merging with Owl Rock would materially violate that agreement.
Sixth Street also claims to have consent rights over a transference of its ownership stake, which it believes the merger and SPAC deal would constitute. As such, it either wants the deal blocked or some sort of carve-out.
Defense: Dyal, a Neuberger Berman subsidiary that primarily invests in alternative fund managers, is expected to respond that Sixth Street is misinterpreting the contractual language.
On the consent side, that would include a claim that Sixth Street only can block a transfer of ownership of the Dyal fund in which its stake is held, not of Dyal itself.
The head of a different firm in which Dyal has a stake tells me that there is indeed anti-competitive language in his firm's contract, but adds that it's "very fuzzy."
Behind the scenes: Multiple sources say that the two sides engaged in brief negotiations before the lawsuit was filed.
Sixth Street, which claims it first heard of the merger via a Wall Street Journal story, asked to buy back its stake at cost.
Dyal said no, saying to do so would violate its fiduciary duty to its own limited partners.
It stands to reason that Sixth Street's value has increased significantly since 2017, although Dyal is said to be carrying it at cost (plus distributions).
Added layer of complexity: The SPAC buying Dyal/Owl Rock is sponsored by HPS Investment Partners, in which Dyal owns a stake.
Moreover, Dyal invested in the PIPE for a prior HPS-sponsored SPAC deal (Desktop Metal). No wonder Dealbreaker referred to the Owl Rock tie-up as "the most incestuous SPAC deal yet."
Coming attractions: Don't be surprised if Dyal is hit with one or more additional lawsuits from its "partner" firms, possibly within the next week, and for all of us to get more clarity on the contract language tomorrow.
The BFD
Centessa, a Cambridge, Mass.-based pharma platform formed via the merger of 10 startups backed by British biotech VC firm Medicxi, raised $250 million in Series A funding led by General Atlantic.
Why it's the BFD: The pedigree of Centessa's management team, including CEO Saurabh Saha (ex-EVP of R&D and head of translational medicine for Bristol-Myers Squibb) and chief scientific officer Moncef Slaoui (ex-chief scientific officer to Operational Warp Speed).
Other investors include Vida Ventures, Janus Henderson, Boxer Capital, Cormorant Asset Management, T. Rowe Price, Venrock, Wellington Management, BVF Partners, EcoR1 Capital, Franklin Templeton, Logos Capital, Samsara BioCapital and LifeSci Venture Partners.
The hub-and-spoke portfolio includes four clinical-stage candidates, two of which are late-stage, plus more than 10 other programs.
The bottom line: "Centessa aims to build the infrastructure of a larger drugmaker around each of its component companies, which will be run as largely autonomous subsidiaries. The unorthodox arrangement reflects the vision of Medicxi, which has advocated for a leaner, 'asset-centric' approach to developing drugs. The companies Medicxi helps fund are built around just one or two medicines, or a specific disease pathway, rather than broad pipelines of experimental compounds spanning multiple areas of research." — Ned Pagliarulo, BioPharma Dive
Venture Capital Deals
• Eavor, a Calgary-based geothermal energy startup, raised US$40 million from an investor group that includes the venture arms of Chevron and BP, Temasek, BDC Capital, Vickers Venture Partners and the Eversource pension fund. http://axios.link/G9kc
🥩 Redefine Meat, an Israeli 3D-printed alt meat startup, raised $29 million in Series A funding. Happiness Capital and Hanaco Ventures co-led, and were joined by CPT Capital, Losa Group, Sake Bosch, and K3 Ventures. http://axios.link/SVPG
• Zomentum, a San Francisco-based sales platform for IT channel partners, raised $13 million in Series A funding. Greenoaks Capital led, and was joined by Elevation Capital, Accel and Eight Roads Ventures. http://axios.link/XhJK
• Titan, a New York-based "operating system for active investment management," raised $12.5 million in Series A funding. General Catalyst led, and was joined by Sound Ventures, Scribble VC, BoxGroup, YC and South Park Commons. www.titanvest.com
• Synthetix, an Australian decentralized trading platform, raised US$12 million from Coinbase Ventures, Paradigm and IOSG. http://axios.link/0xRR
Private Equity Deals
• Apax Partners, BC Partners, Ontario Teachers' Pension Plan and Stonepeak Infrastructure Partners were shortlisted for a majority stake in Logoplaste, a Portuguese plastic packaging maker being sold by The Carlyle Group for around €1.4 billion, per Reuters. http://axios.link/r4li
• Corcentric, a Cherry Hill, N.J.-based portfolio company of Bregal Sagemount, paid $100 million to buy Vendorin, a Hattiesburg, Miss.-based B2B payments network. www.corcentric.com
• JLL Partners acquired Breakwater Solutions, an Austin, Texas-based information governance and risk mitigation platform. www.breakwatersolutions.com
• Marlin Equity Partners acquired a majority stake in Lengow, a French provider of e-commerce optimization SaaS that previously raised around $16 million from Alven Capital Partners, Bpifrance, Serena Capital and Sofiouest. http://axios.link/GYlk
• TA Associates agreed to buy a majority stake in IGEL, a provider of edge OS for cloud workspaces, from C. Melchers GmbH & Co. (which retains a minority position). www.igel.com
⚡ Thoma Bravo is merging two portfolio companies: Quorum Software, a Houston-based provider of digital transformation solutions for the energy market, and Aucerna, a Canadian provider of planning, execution and reserves software for the energy industry. The combined company also agreed to buy the oil and gas software unit of Finland's TietoEVRY. www.quorumsoftware.com
Public Offerings
• Coupang, a South Korean e-commerce giant, filed for a $1 billion IPO. It plans to list on the NYSE (CPNG) and reports a $475 million net loss on $12 billion in revenue for 2020. Shareholders include SoftBank Vision Fund, Greenoaks Capital, Maverick Ventures and Sequoia Capital. http://axios.link/aqPw
• Montana Aerospace, an Austrian-Swiss aircraft parts maker, is prepping an IPO that could value the company at around $1.8 billion, per Reuters. http://axios.link/SSIN
SPAC Stuff
• Li-Cycle, a Canadian recycler of lithium-ion batteries, agreed to go public at a $1.67 billion valuation, via reverse merger with Peridot Acquisition Corp (NYSE: PDAC), a SPAC formed by Carnelian Energy Capital. Li-Cycle backers include Moore Strategic Ventures and CC Industries. http://axios.link/FF8i
🚑 Owlet Baby Care, a Lehi, Utah-based maker of baby health wearables, agreed to go public at a $1.07 billion valuation via reverse merger with Sandbridge Acquisition Corp (NYSE: SBG), a SPAC sponsored by Sandbridge Capital. Owlet had raised $57 million in VC funding, plus secured a PPP loan, from firms like Trilogy Equity Partners, Pelion Venture Partners, Runway Venture Partners, K50 Ventures, RTP Global, Eclipse Ventures, Broadway Angels and Enfield Ventures. http://axios.link/I1uS
• AMCI Acquisition Corp II, a decarbonization SPAC, filed for a $175 million IPO. http://axios.link/PDUd
• Archimedes Tech Spac Partners, a tech SPAC chaired by Eric Ball (Impact VC), filed for a $100 million IPO. http://axios.link/FSpc
• Artemis Strategic Investment, an experiential entertainment SPAC led by Holly Gagnon (Seneca Gaming) and Philip Kaplan (GameWorks), filed for a $150 million IPO. http://axios.link/SVUN
• Aurora Acquisition Corp., an EMEA tech and media SPAC formed by Novator Partners, filed for a $200 million SPAC. http://axios.link/z4hu
• Colonnade Acquisition Corp. II, a SPAC led by real estate execs Joseph Sambuco and Remy Trafelet, filed for a $250 million IPO. The original Colonnade SPAC bought Ouster. http://axios.link/f66V
• Corazon Capital V838 Monoceros, a consumer tech and media SPAC formed by Corazon Capital, filed for a $200 million IPO. http://axios.link/b7nC
⚡ Decarbonization Plus Acquisition III, a decarbonization SPAC formed by Riverstone Holdings, filed for a $350 million IPO. http://axios.link/g1Xo
• DHB Capital, a financial and business services SPAC, filed for a $250 million IPO. http://axios.link/bAJn
• Graf Acquisition Corp II, a SPAC led by James Graf, filed for a $225 million IPO. http://axios.link/W10r
• Independence Holdings, a tech and fintech SPAC led by Steve McLaughlin (CEO of FT Partners) and Gene Yoon (founder of Sagemount), filed for a $400 million IPO. http://axios.link/ti3Y
• Khosla Ventures filed IPO paperwork for three SPACs, seeking to raise a total of $1.2 billion. http://axios.link/pkoN
• Levere Holdings, an EMEA SPAC led by Martín Varsavsky, filed for a $250 million IPO. http://axios.link/2nST
• Oaktree Acquisition III, a SPAC formed by Oaktree Capital, filed for a $325 million IPO. http://axios.link/5GjC
🚑 Orion Acquisition, a health care SPAC formed by ex-WellCare execs, filed for a $300 million IPO. http://axios.link/Y1F8
• Reinvent Technology Partners Y, the third tech SPAC formed by Reid Hoffman and Mark Pincus, filed for an $850 million IPO. http://axios.link/PGsX
• TB SA Acquisition Corp, a SPAC targeting an African company that promotes ESG principles, filed for a $250 million IPO. http://axios.link/8EZg
• Virgin Group Acquisition II, a SPAC formed by Virgin Group, filed for a $330 million IPO. http://axios.link/6Q4L
Liquidity Events
• American Securities agreed to sell Emerald Kalama Chemical, a Vancouver, Wash.-based maker of aroma ingredients for household cleaning products, to Germany's Lanxess for $1.08 billion. http://axios.link/8gdt
• Cable One (NYSE: CABO) agreed to buy the 85% stake it doesn't already hold in South Carolina-based regional telco Hargray Communications for $2.2 billion. Sellers include The Pritzker Organization, Redwood Capital Investments, WaveDivision Capital and Stephens Capital Partners. http://axios.link/kk8w
• H.I.G. Capital agreed to sell Reston, Va.-based defense consultant Whitney, Bradley & Brown to British outsourcer Serco (LSE: SRP) for $295 million. http://axios.link/oktm
• Palo Alto Networks (NYSE: PANW) reportedly agreed to buy Bridgecrew, an Israeli dev-ops security platform, for around $200 million. Bridgecrew had raised $18 million from firms like Battery Ventures and NFX. http://axios.link/xsSJ
More M&A
• Rexnord (NYSE: RXN) is merging its process and motion control unit via a tax-free spinoff with Regal Beloit (NYSE: RBC) at a $3.69 billion valuation. http://axios.link/oeUV
🚑 Siemens Healthineers, a medical tech affiliate of Siemens, is set to receive EU approval for its $16.4 billion takeover of Palo Alto-based cancer therapy company Varian Medical Systems (NYSE: VAR), per Reuters. http://axios.link/uVMh
Fundraising
• 01 Advisors, the VC firm led by Twitter alums Dick Costolo and Adam Bain, raised $325 million for its second fund. http://axios.link/JSzf
• Apollo Global Management raised $2.34 billion for its fourth dislocated credit fund. www.apollo.com
• Hamilton Lane raised $3.9 billion for its fifth private equity secondaries fund. www.hamiltonlane.com
• Ironspring Ventures, an Austin, Texas-based VC firm focused on industrial tech, raised $61 million for its debut fund. It's led by Holt Ventures co-founders Adam Bridgman and Peter Holt, plus Ty Findley (ex-GE Ventures, Pritzker Group). http://axios.link/AzD2
• Revent, a European early stage "impact" VC firm, is raising €50 million for its debut fund, per TechCrunch. http://axios.link/EJil
• Uncovered Fund, an Africa-focused early stage VC firm led by Takuma Terakubo (ex-CEO of Leapfrog Ventures), raised $15 million for its debut fund. http://axios.link/POhs
• Wind Point Partners, a Chicago-based PE firm, raised $1.5 billion for its ninth fund. www.windpointpartners.com
Final Numbers: SPAC underwriters 2020-2021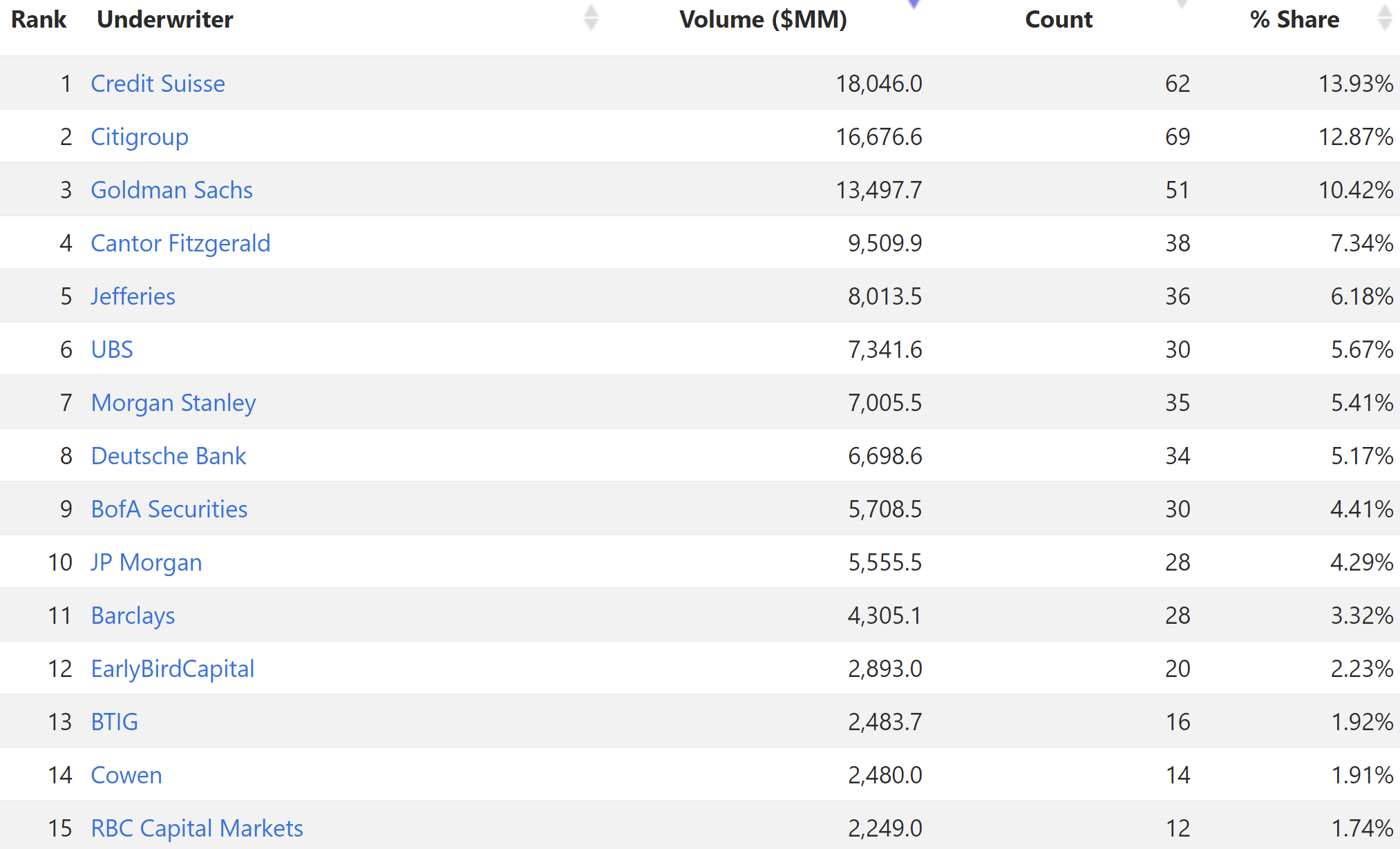 ✔️ Thanks for reading Axios Pro Rata! Please ask your friends, colleagues and SPAC lawyers to sign up.