Axios Pro Rata
August 07, 2021
Hello! 😃 Hope King here.
I'm filling in for Kia, who has been taking over Pro Rata all week for Dan. She's also been super integral to this edition you're about to devour, so shoutout to Kia!
Now strap in. I'm taking you on an adventure in trash (reduction).
Today's Smart Brevity™ count is 1,034 words, a 4-minute read.
1 big thing: Scaling the low-waste economy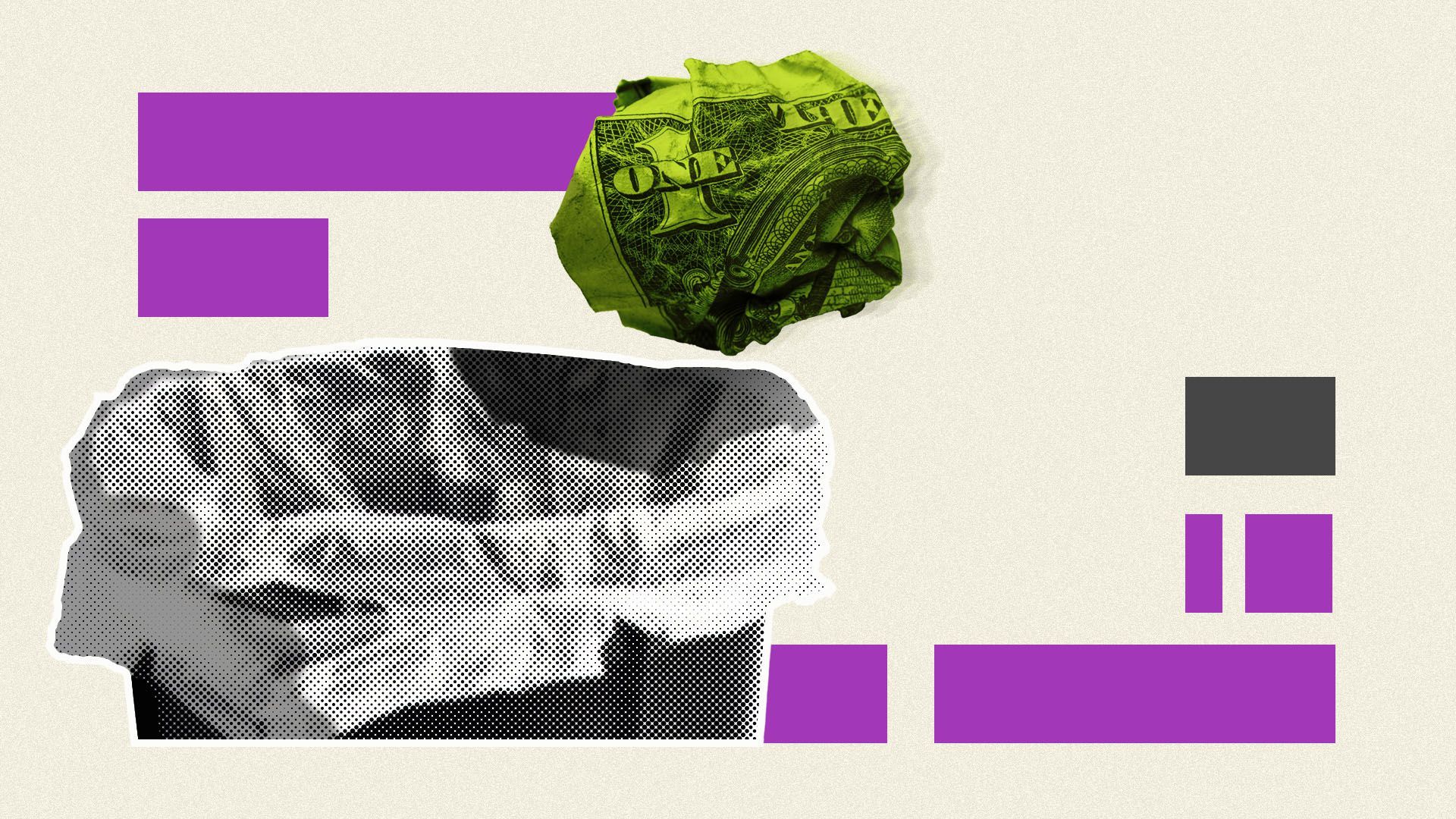 Startups aimed at reducing household waste have previously lacked the kind of mass consumer backing and potential for scale that investors like to see. But that's changing now.
Why it matters: Consumers produce waste — plastics, packaging and food — at nearly every moment of the day, from the bag that holds new bed sheets to the sugar packets with a dinner espresso.
Most plastics, produced from fossil fuels, aren't recycled and don't decompose. Organic waste in landfills releases methane, a potent greenhouse gas that warms the atmosphere more than 80 times as much as carbon dioxide.
The big picture: The pandemic has led to more household trash, but also more consumer awareness of their contributions to the world's trash problem.
Startups like Zero Grocery and Blueland, which provide food and home goods in returnable or reusable containers, have benefited.
Zero Grocery's 2020 revenue (from the start of February to the end of December) grew 3,400%, according to founder and CEO Zuleyka Strasner.
Blueland sales increased 800% last year, Business Insider reported.
Yes, but: Plastics and waste solutions need scale to attract investors and achieve real environmental impact, Chuck Templeton, managing director at S2G Ventures, tells Axios.
"You look at packaging companies — they've been successful over time because they've been able to get to scale with [plastics]," he said.
The other "part of it is going to be legislation," like cities banning plastic bags, and "pure economic pressure from consumers," says Ramy Adeeb, founder and general partner at 1984 Ventures, which led Zero's pre-seed round.
That public pressure is here. The current "cultural zeitgeist doesn't want plastic," Ecovative CEO and co-founder Eben Bayer tells Axios.
Ecovative, fresh off of $70 million in funding, has been profitable in manufacturing products made from mycelium, the root structure of mushrooms. It licenses its technology to, or partners with, companies that want sustainable whole-cut proteins, home compostable packaging and even leather-like materials. 
Ecovative's open model means it can distribute its manufacturing platform widely, achieving the kind of scale that would make it the "equivalent of a Dow [or] DuPont of mycelium," Bayer says.
Businesses that shift their operations are benefiting too, as Too Good To Go's model is starting to show.
With $31 million in new funding, 42.6 million users and more than 100,000 partner stores globally, the startup enables businesses to sell food to consumers that would otherwise be thrown away at the end of a day. 
"U.S. adoption has been the fastest," Lucie Basch, Too Good To Go co-founder and chief expansion officer, tells Axios. And the number of VCs that have reached out to the company in the past couple of years has been "quite impressive," she adds.
Venture capitalists will remain interested if they can see a path to building a large public company around "waste plays," Farther Farms co-founder and CEO Mike Annunziata tells Axios. 
The Rochester, New York-based startup, which has raised over $10 million in private capital, develops technologies to maintain the shelf life of food, like a bag of fast-food french fries for 90 days without freezing. It's now trying to apply those technologies to more products.
What to watch: "What may start as solving a waste problem can be a way to start something even bigger," he adds, pointing to shelf-life preserver company Hazel Technologies and "ugly produce" shippers Imperfect Foods and Misfits Market as examples.
2. Supply and demand gap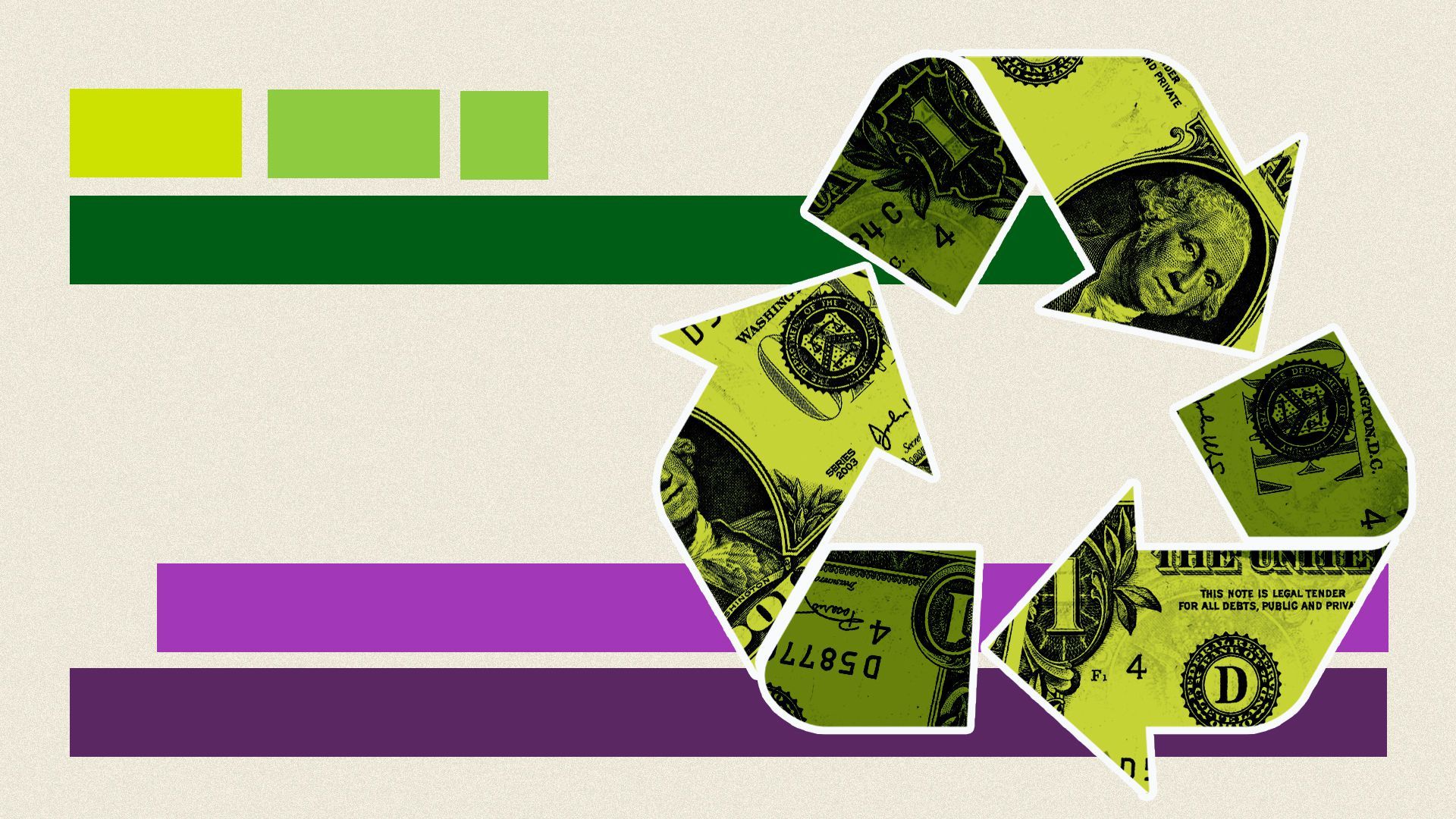 Consumers are still confused by recycling procedures, but they say that they want to make better purchasing decisions.
84% of U.S. shoppers say they're concerned about plastic and packaging waste, according to a Consumer Brands/Ipsos survey (conducted in early July with 1,530 people) shared exclusively with Axios.
47% in the same survey said they would opt for recyclable products as their first choice over compostable, given the choice between the two, while 20% said they would opt first for compostable products.
Yes, but: Even if everyone wanted to do better, there aren't enough of the options they want. Nor are the options exactly what people think they are.
Only 65% of plastic packaging, by weight, has been reported by companies to be reusable, recyclable or compostable, according to the Ellen MacArthur Foundation's Global Commitment 2020 study.
Making up that figure, for packaged goods and retail companies, 64% is recyclable, 1.9% reusable and 0.02% compostable (with some both reusable and recyclable).
And when it comes to compostable items, the term often means that the packaging needs to be collected and composted in an industrial composting facility, not in backyards.
3. The bigger, perfectly round picture 🌎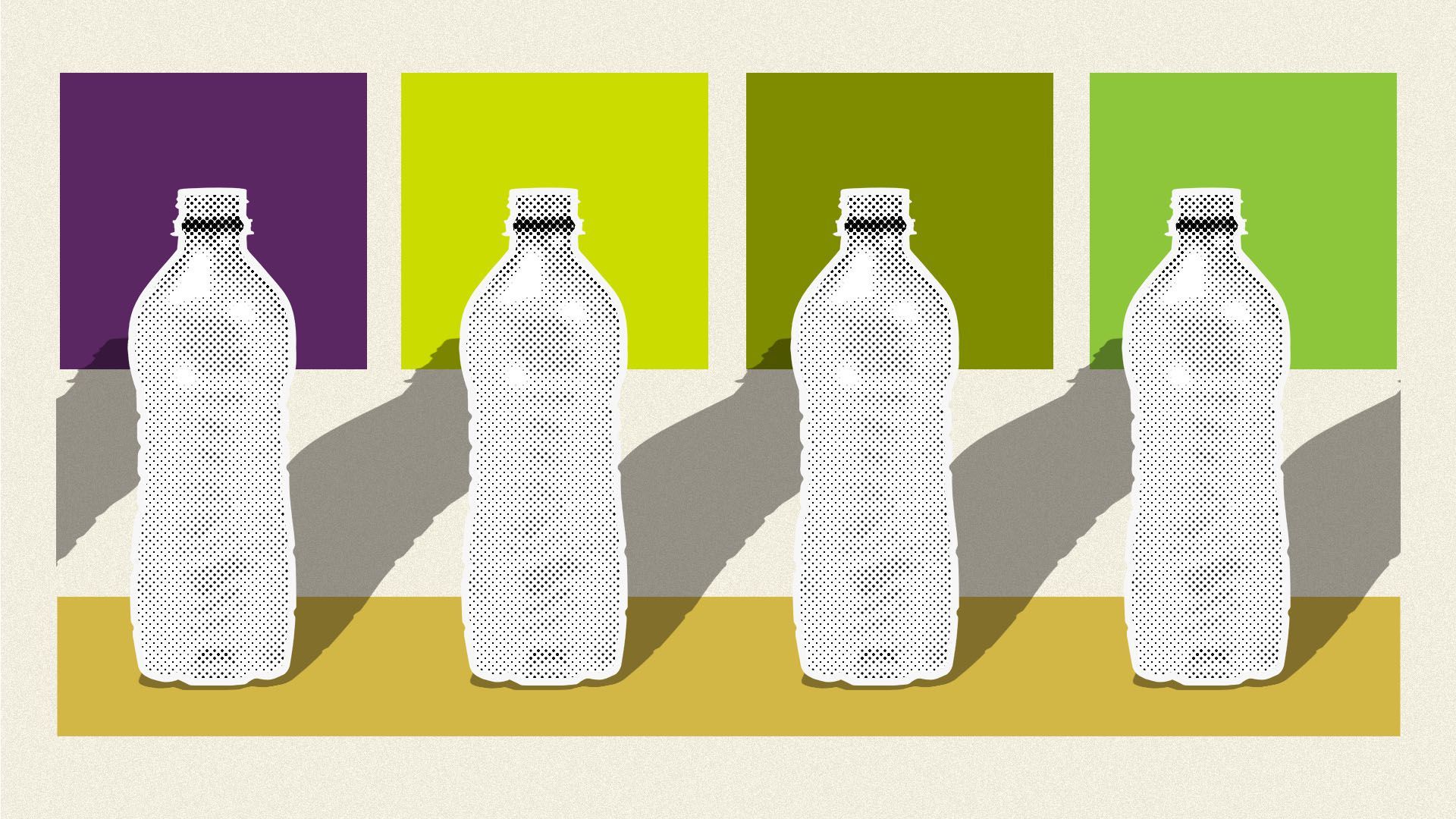 Waste reduction is one part of the real holy grail — the larger "circular economy" now taking shape.
Boiled down, the concept refers to systemic shifts in production, consumption and resource regeneration.
According to Keefe Harrison, CEO of The Recycling Partnership, producers should consider whether something truly needs to be made, and if so, communicate to consumers whether it's meant to be reused or not. Investors, ideally, should be backing companies and approaches that connect to existing, larger infrastructures.
What to watch: Investors are growing intolerant of environmentally unfriendly businesses and corporate "greenwashing" and "greenwishing."
Private equity firms now are steering clear of and trying to offload plastic packaging companies.
Shareholder support for environmental proposals is growing — from 25.1% in 2019 to 31.2% in 2020, according to Glass Lewis' 2020 Proxy Season Review — as is inclusion of environmental and social metrics in incentive plans.
📚 Due Diligence
🧩 Trivia
Which generation is more committed to recycling boxes than other generations?
A. Gen Z
B. Millennials
C. Gen X
D. Baby Boomers
(Answer at the bottom.)
🧮 Final Numbers
👋 Thanks for reading. This was fun! I'm glad I got the chance to work on a story I've obsessed over for years. Kia will see you on Monday for Pro Rata's weekday programming. Please ask your friends, colleagues and zero-waste neighbors to sign up.
Trivia answer: D. Baby Boomers at 71% compared to Millennials (60%), Gen Z (59%) and Gen X (58%), according to a DS Smith survey.