April 12, 2019
Top of the Morning
Uber yesterday filed its highly-anticipated IPO registration. You can find it here, and also check out our breakdown of the key numbers.
No need to belabor this for yet another day, so just three things:
Uber was profitable in 2018. That's not a typo, although it is a one-off idiosyncrasy caused by divestitures of ride-hail businesses in both Southeast Asia (to Grab) and Russia (to a joint venture with Yandex).
The losses are huge but shrinking. Operating income loss down from $4 billion to $3 billion in 2018, while adjusted EBITDA loss down from $2.6 billion to $1.8 billion.
Revenue growth is slowing, from 106% between 2016 and 2017 to 42% between 2017 to 2018 (finishing up at $11.27 billion). Most of that slowdown is in ride-hail, reflecting greater competition, mature market saturation, increased rider discounts and the aforementioned divestitures. Revenue growth for Uber Eats also slowed, but that was because the big ramp occurred in 2017. It shows GAAP revenue of $103 million (2016), $587 million (2017) and $1.46 billion (2018).
⚖️ Today in Abraaj: Arif Naqvi, founder of defunct private equity firm Abraaj Group, yesterday was charged by the SEC with defrauding healthcare fund investors — including the Bill & Melinda Gates Foundation — of more than $230 million.
Why it matters: Abraaj had been one of private equity's most active and influential investors in emerging markets like the Middle East. Prior to its 2018 downfall, it featured $13.6 billion in capital under management and a portfolio of more than 200 companies.
Naqvi was arrested at an airport in London, with the U.S. expected to request extradition.
In an interview prior to his arrest, Naqvi told UAE media outlet The National: "Generally speaking, people don't have a bad word to say about me who know me."
Also charged was former Abraaj managing partner Mustafa Abdel-Wadood, who was arrested in a New York City hotel room.
• From Russia with locks: A Russian court today yesterday released private equity investor Mike Calvey from jail after a 2-month stay, instead ordering him to serve house arrest until his trial on fraud charges. Some of Calvey's colleagues from Baring Vostok Capital Partners remain behind bars, with the firm continuing to insist that the dispute is civil, not criminal.
• Deal or no deal: Billionaire investor Ron Burkle is publicly denying a NY Times report that he's in talks to buy The National Enquirer, whose parent company (American Media) is furiously seeking a buyer.
The basic story-line is that American Media owner Chatham Asset Management, led by Anthony Melchiorre, has become horrified by the tabloid's "journalism" techniques, and would prefer the company focus on other properties like Us Weekly.
Unclear exactly what pushed Melchiorre to the fire sale brink, given that very little that's come out over the past year wasn't already known or suspected. Again, it's not like he owned The Economist.
One possible buyer, per the NY Post, could be the son of National Enquirer founder Generoso Pope Jr., whose estate sold the tabloid in 1988 for $413 million.
🎧 GOP vs. Social Media: Ted Cruz is on the Pro Rata Podcast, talking about his allegations of political bias against companies like Facebook and Twitter. Oh, and of course I also ask about that Texas Tech selfie. Listen here.
The BFD
Chevron (NYSE: CVX) has agreed to buy Anadarko Petroleum (NYSE: APC) for approximately $33 billion in cash and stock (75/25 split). The deal values Anadarko at $50 billion, including assumed debt, and represents a 39% premium over yesterday's closing price.
Why it's the BFD: This would be the 11th-largest energy sector merger of all time, per Refinitiv, resulting in a company with higher cash-flow than U.S. sector leader Exxon Mobil. It could even help Chevron top Exxon-Mobil in terms of oil production.
Intrigue: CNBC reports that Occidental Petroleum (NYSE: OXY), which really ought to reconsider its ticker symbol, bid $70 per share for Anadarko and included more cash than did Chevron. Apparently there were some unspecified "structural" concerns about Occidental's bid.
Bottom line: "Chevron now joins the ranks of the ultra-majors, and the big three becomes the big four. The acquisition makes the majors' peer group much more polarized." — Roy Martin, senior research analyst with Wood Mackenzie
Venture Capital Deals
🚑 AskBio, a Durham, N.C.-based AAV gene therapy company raised $225 million from TPG Capital and Vida Ventures. It also secured another $10 million from company founders and board members. http://axios.link/pURw
• Cityblock, a spinout of Alphabet's Sidewalk Labs that provides tech-enabled healthcare to low-income neighborhoods, raised $65 million in Series B funding. Redpoint Ventures led, and was joined by 8VC, Echo Health Ventures, StartUp Health and return backers Sidewalk Labs, Thrive Capital, Maverick Ventures, Town Hall Ventures and EmblemHealth. http://axios.link/GlUE
🚑 HistoSonics, an Ann Arbor, Mich.-based histotripsy platform for treating cancer, raised $54 million in Series C funding. Varian Medical Systems (NYSE: VAR) led, and was joined by Johnson & Johnson, Lumira Ventures, Venture Investors and the State of Wisconsin Investment Board. http://axios.link/Yc7x
• KeyMe, a New York-based developer of key duplication kiosks, raised $50 million from BlackRock. http://axios.link/P57i
• Mavenlink, an Irvine, Calif.-based provider of enterprise project management collaboration software, raised $48 million in Series E funding co-led by return backers Carrick Capital Partners and Goldman Sachs Growth Equity. http://axios.link/2M5A
• LumApps, a Paris-based social intranet for companies, raised $24 million in Series B funding led by return backer Idinvest. http://axios.link/Kee5
• Flexa, a New York-based blockchain payment solution for retailers, raised $14.1 million from Pantera Capital, 1kx, Nima Capital and Access Ventures. http://axios.link/sxaV
NH TherAuix, a French developer of nanomedicines for cancer radiotherapy, raised €13 million. Bpifrance led, and was joined by Supernova Invest and return backers Omnes and Arbevel. http://axios.link/AyiQ
• Rasa, an open-source platform for designing AI chatbots, raised $13 million in Series A funding led by Accel. The Berlin-founded company is moving its headquarters to San Francisco. http://axios.link/U6H6
• HiMama, a Toronto-based provider of child care software, raised C$7.25 million in Series A funding led by Round 13 Capital. http://axios.link/w4ZN
• Moi (aka TwitCasting), a Japanese live-streaming platform, raised $6 million in Series A funding from KDDI Open Innovation Fund, SBI AI & Blockchain Fund and GB-VI Growth Fund. http://axios.link/Dau6
🚑 Fauna Bio, a Berkeley, Calif.-based biotech that leverages "the science of hibernation," raised $4.1 million in seed funding. True Ventures led, and was joined by Longevity Fund, Pacific 8 Ventures, Boom Capital and Beagle Ventures. http://axios.link/aahA
• Talentuno, a Hungary-based HR recruitment platform, raised €4 million in Series A funding co-led by Hiventures and Bonitás Venture Capital. www.talentuno.com
• Showdigs, a Seattle-based rental apartment showings platform, raised $3 million in seed funding led by Trilogy Equity Partners. http://axios.link/ayet
Private Equity Deals
• Court Square Capital Partners bought Data Blue, an Atlanta-based provider of customized infrastructure, cloud architecture and virtualized solutions, from Platinum Equity and The Gores Group. www.data-blue.com
🚑 H.I.G. Capital invested in Medusind Solutions, a Miami, Fla.-based provider of revenue cycle management software for the healthcare market. www.medusind.com
• Lone Star Funds is the frontrunner to buy the German building materials unit of France's Saint-Gobain (Paris: SGO) for upwards of €400 million, per Reuters. http://axios.link/Hly4
• Ridgemont Equity Partners bought Munch's Supply, a New Lenox, Ill.-based wholesale HVAC distributor, from Rotunda Capital Partners. www.munchsupply.com
⛽ Starwood Energy Group Global agreed to buy two power plants, one in Delaware and one in Wisconsin, from Calpine Corp. www.calpine.com
Public Offerings
⛽ ACS, a listed Spanish construction firm, is talking to banks about a possible IPO for its renewable energy unit, per Reuters. http://axios.link/McjE
🚑 Axcella Health, a Cambridge, Mass.-based developer of therapies and dietary products for amino acid dysregulation, filed for an $86 million IPO. It plans to list on the Nasdaq (AXLA) with Goldman Sachs as lead underwriter. The pre-revenue company raised around $116 million in VC funding from firms like Flagship Pioneering (42.5% pre-IPO stake), Fidelity (13.1%), Nestle Health Sciences (10.4%) and Gurnet Point Capital (6.7%).
• J Crew Group said it is considering an IPO for its Madewell jeans brand. http://axios.link/8yHl
• Jumia, a pan-African e-commerce platform, raised $196 million in its IPO. The company priced 13.5 million shares at $14.50 (middle of range), for a fully-diluted market value of $1.15 billion. It will trade on the NYSE (JMIA) and used Morgan Stanley as lead underwriter. Major shareholders include Rocket Internet, with a 20.6% pre-IPO stake. http://axios.link/lI5c
Liquidity Events
• Walmart (NYSE: WMT) bought Polymorph Labs, a San Francisco-based ad-tech company that had raised around $11 million from Foundry Group, Rakuten, InterWest Partners and Onset Ventures. http://axios.link/RenV
• PayU, a Dutch online payments company owned by Naspers, acquired Wibmo, a Cupertino, Calif.-based provider of digital payment security solutions, for $70 million. Wibmo had raised around $74 million in VC funding, most recently in 2011, from firms like Accel, Footprint Ventures and Intel Capital. http://axios.link/QSQX
🚑 Performance Health, a Warrenville, Ill.-based portfolio company of Madison Dearborn Partners is exploring a sale of pain relief gel brand Biofreeze that could fetch over $1 billion, per Bloomberg. http://axios.link/NlKW
More M&A
• Campbell Soup (NYSE: CPB) is nearing a $500 million sale of its Bolthouse Foods unit to Butterfly Equity and former Bolthouse CEO Jeff Dunn, per the WSJ. http://axios.link/Jhpd
• Danone (Paris: BN) agreed to sell Earthbound Farms, an organic produce company with 2018 sales of around $400 million, to Salinas, Calif.-based Taylor Farms. http://axios.link/EPx7
🚑 Procter & Gamble (NYSE: PG) agreed to sell its Fluocaril and Parogencyl toothpaste brands, which mostly are sold in France and Spain, to Unilever. http://axios.link/y5xK
• Santander (BME: SAN) offered €2.6 billion to take full control of its Mexico business, after floating a 25% stake back in 2012. http://axios.link/vx0m
Fundraising
• Firebrand Ventures of Kansas City is raising $40 million for its second fund, per an SEC filing. www.firebrandvc.com
• HQ Equita, a German private equity firm, raised €308 million for its fifth fund. http://axios.link/yN92
It's Personnel
• Jeb Hensarling, a former U.S. Congressman (R-TX) who chaired the House Financial Services Committee, has joined UBS as executive vice chairman for the Americas. www.ubs.com
• David Marchick, who last fall stepped down as The Carlyle Group's global head of external affairs, is rejoining Covington & Burling as senior of counsel in the law firm's Washington, D.C. office. www.cov.com
Final Numbers: Energy & Power M&A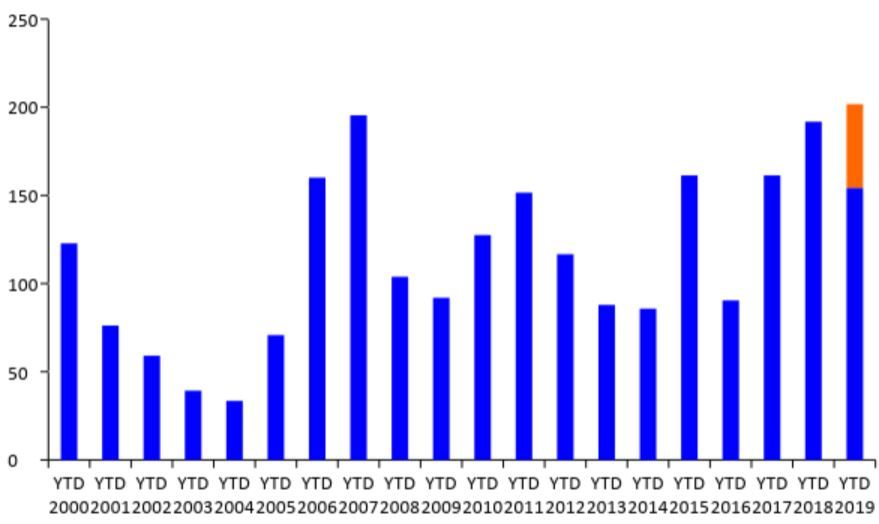 Thanks for reading. Have a great weekend!