November 24, 2020
🎧 Axios Re:Cap speaks to biotech VC Bob Nelsen about Resilience, which just raised $800 million to revolutionize U.S. drug manufacturing. Plus, some thoughts from our resident Roblox expert. Listen via Apple, Spotify or Axios.
This afternoon's episode will talk turkey with the CEO of Butterball.
Top of the Morning
Help is on the way, but significant challenges remain.
That was the top takeaway from my "Axios on HBO" interview with Tal Zaks, chief medical officer of Moderna, in which we discussed everything from science to politics to public policy.
Details: We taped the episode Friday outside of Boston, just days after Moderna released top-line efficacy data for its COVID-19 vaccine and likely just a couple weeks before the company applies for emergency use authorization from the FDA.
What I quickly realized was the difference between interviewing a doctor like Zaks and a typical CEO is that the former isn't as prone to boilerplate filibustering.
Below are some highlights (both aired and unaired)...
Why should people trust Moderna, which has never before commercialized a product? "We should look at every new drug that comes no matter who makes it, which is what do we know about the benefits and what do we know about the risk and is it worth the trade? ... My mom is 80 years old. I can't wait for her to get the vaccine."
Optionality: At the outset, Zaks believes people will receive whatever vaccine is locally available. In the longer-term, he believes that consumers and health care providers will be able to make their own choices.
Keeping cold: Vaccines from both Moderna and Pfizer are based on mRNA technology, yet Moderna's has much less stringent storage requirements. Zaks chalks that up to a different manufacturing process.
Did Bill Gates have any involvement in vaccine development, beyond Moderna receiving money from his family foundation? "No."
Does the Trump administration deserve credit? He replied by lauding NIH, FDA and Tony Fauci.
Third wave: The recent pandemic surge had a perverse impact on the clinical trials, in that it sped up Moderna's ability to get the threshold number of positive cases (and beyond).
Kids: Moderna hopes to begin pediatric trials soon, with hopes of having adolescents vaccinated by the beginning of the next school year.
Big caveat: Zaks warned that the current trial data is specific to preventing symptoms, not to transmissibility. In other words, a vaccinated teacher could, in theory, still pass on the virus to unvaccinated students.
Distribution: Moderna will not determine initial vaccine recipients (that'll be the government), but Zaks believes frontline health care workers should get it first.
Dosing: He says he hopes the single-dose vaccine from J&J is as effective as the double-dose vaccines, since would be more effective to distribute, but he is skeptical.
Rich vs. poor: "I think there's a certain reality here that the countries that... have the foresight and the ability to invest ahead of the curve, are going to be able to care for their populations first."
Big lesson: "I care about translating science into medicine. What I've learned over the last six months is actually for people to benefit from the medicine that we make, we need to translate medicine into politics."
The BFD
L Catterton agreed to sell hot sauce maker Cholula to McCormick & Co. (NYSE: MKC) for $800 million.
Why it's the BFD: Almost everything goes better with hot sauce. This apparently includes private equity, as L Catterton will flip the wooden-top bottle brand to the maker of Frank's RedHot just two years after acquiring it from Mexican tequila maker Jose Cuervo.
Details: A source puts the equity ROI at 4.4x, and says there was a bank-led auction process that included two other bidders that each came within 5% of McCormick.
SNL Bonus: Cholula wrecks a ketchup marriage
The bottom line: "U.S. retail sales of hot sauces have jumped more than 40% since 2015, according to Euromonitor, as consumers look for low-calorie seasonings and millennials flock to spicy flavors. The rising demand for hot
sauces, which also include Sriracha and Tabasco, has in part been fueled
by growing immigrant populations, increasing familiarity with global
cuisines and thrill-seeking food shows." — Cara Lombardo, WSJ
Venture Capital Deals
• Manbang, a Chinese truck-hail company, raised $1.7 billion from SoftBank, Sequoia Capital China, Permira, Fidelity, GGV Capital, Hillhouse Capital, Lightspeed China Partners, Tencent and YF Capital. http://axios.link/zkJ0
🚑 Waterdrop, a Chinese health care crowdfunding platform, raised $150 million from existing backer Tencent, per Bloomberg. http://axios.link/kM4u
• Current, a New York-based challenger bank, raised $131 million in Series C funding led by Tiger Global Management led, and was joined by Sapphire Ventures, Avenir and return backers Foundation Capital, Wellington Management and QED Investors. www.current.com
🚑 Well Health, a Santa Barbara, Calif.-based patient communications startup, raised $45 million in Series C funding. Lead Edge Capital led, and was joined by Martin Ventures and return backers Jackson Square Ventures, Health Velocity Capital, Summation Health Ventures, Structure Capital and Freestyle Capital. www.wellapp.com
• Cashfree, an Indian business payments platform, raised $35.3 million in Series B funding. Apis Partners led, and was joined by return backers Smilegate Investments and YC. http://axios.link/poOK
• Duolingo, a Pittsburgh-based language learning platform, raised $35 million at a $2.4 billion valuation from Durable Capital Partners. http://axios.link/JLtD
• Boulevard, a Los Angeles-based business management platform for salons and spas, raised $27 million in Series B funding. Index Ventures and Toba Capital co-led, and were joined by VMG Partners, Bonfire Ventures, Ludlow Ventures and BoxGroup. http://axios.link/aSbd
• Gatik, a developer of autonomous box trucks for short-haul logistics, raised $25 million in Series A funding. Wittington Ventures and Innovation Endeavors co-led, and were joined by FM Capital, Intact Ventures and return backers Dynamo Ventures, Fontinalis Partners, and AngelPad. http://axios.link/llNQ
• Logz.io, a Boston and Tel Aviv-based observability platform for dev ops, raised $23 million led by Pitango Growth. www.logz.io
🚑 WithMe Health, a San Mateo, Calif.-based medication guidance startup, raised $20 million in Series B funding. OMERS Ventures led, and was joined by Section 32, Shulman Ventures, MTS Ventures and return backer Oak HC/FT. www.withmehealth.com
• HMBradley, a Santa Monica, Calif.-based digital banking platform focused on savers, raised $18.25 million in Series A funding. Acrew Capital led, and was joined by Finix and Deserve. www.hmbradley.com
• GrAI Matter Labs, a Paris-based ultra-low latency computing startup, raised $14 million led by iBionext. http://axios.link/0Vbi
• Superpeer, a San Francisco-based video mentoring platform, raised $8 million from Acrew Capital, Audacious Ventures, Homebrew, Moxxie Ventures, Brianne Kimmel, Scott Belsky and OnDeck. http://axios.link/24lr
• Altana AI, a New York-based federated data platform for global commerce, raised $7 million in seed funding. Amadeus Capital Partners led, and was joined by Schematic Ventures, AlleyCorp and Working Capital. www.altana.ai
• Lunewave, a Tucson, Ariz.-based developer of radar tech for autonomous vehicles, raised $7 million from Proeza Ventures, Blue 9 Capital, Tsingyuan Ventures and Intact Ventures. http://axios.link/9Hmi
• Hasty, a Berlin-based provider of annotation tools for vision AI, raised $3.7 million in seed funding. Shasta Ventures led, and was joined by Coparion and iRobot Ventures. www.hasty.ai
• Hellosaurus, a New York-based interactive learning platform for kids, raised $3.5 million in seed funding. General Catalyst led, and was joined by GSV Ventures, Shrug Capital and Next 10 Ventures. www.hellosaurus.com
• Konnecto, an Israel-based consumer intelligence startup, raised $3.5 million in seed funding led by TPY Capital. http://axios.link/fyFa
• Cure Hydration, a hydration brand made with plant-based ingredients, raised $2.6 million in seed funding. Lerer Hippeau led, and was joined by M3 Ventures, Litani Ventures and individuals like Philip Krim and Andy Roddick. http://axios.link/oRHM
• Phood Solutions, a New York-based food waste prevention startup, raised $2 million in seed funding co-led by New Stack Ventures and Story Ventures. http://axios.link/GWfz
Private Equity Deals
• 1WorldSync, a Chicago-based portfolio company of Battery Ventures, acquired CNET Content Solutions, a San Francisco-based content-as-a-service provider, from Red Ventures. www.cnetcontentsolutions.com
⚡ First Reserve agreed to buy Goldfield (AMEX: GV), a Melbourne, Fla.-based provider of electrical transmission and distribution maintenance services for utility and industrial customers, for $171.5 million ($7 per share).
www.goldfieldcorp.com
• MeUndies, a Los Angeles-based sleepwear brand, raised $40 million from Provenance. http://axios.link/kygf
Public Offerings
• ACV Auctions, a Buffalo, N.Y.-based wholesale auto auction site, is working on confidential IPO papers for what's expected to be a 2021 float, Axios has learned from multiple sources. The company has raised $350 million in VC funding, most recently led by Durable Capital Partners at a $1.7 billion valuation, and just added Bill Zerella (ex-Fitbit) as CFO.
• Mytheresa, a German e-commerce company focused on high-end women's clothing, filed confidentially for a U.S. IPO. http://axios.link/4V3f
• Ozon, a Russian e-commerce platform, raised $990 million in its IPO. The company priced at $30 per share (above $22.50-$27.50 range), will list on the Nasdaq (OZON) and used Morgan Stanley and Goldman Sachs as lead underwriters. The company reports a $13 million net loss on $67 million in revenue for the first nine months of 2020, while backers include Baring Vostok Private Equity (45.1% pre-IPO stake), Index Ventures (6%) and Princeville Global (5.6%). http://axios.link/FuRs
SPAC Stuff
• 10X Capital Venture Acquisition, a tech-focused SPAC sponsored by 10X Capital, raised $175 million in its downsized IPO. http://axios.link/wQ7x
⚡ Breeze Holdings Acquisition, an oil and gas-focused SPAC, raised $100 million in its IPO. http://axios.link/Inrk
• Genesis Park Acquisition, an aviation-focused SPAC led by David Siegel (Apollo advisor, airline exec) and Paul Hobby (private equity firm Genesis Park), raised $150 million in its downsized IPO. http://axios.link/OOxx
⚡ Spring Valley Acquisition, a SPAC sponsored by Pearl Energy Investment Management, raised $2o0 million in its IPO. http://axios.link/MIQw
• Tiga Acquisition, a Singapore-based SPAC formed by Tiga Investments, raised $240 million in its upsized IPO. http://axios.link/oOYT
Liquidity Events
• BlackRock (NYSE: BLK) agreed to buy Aperio, a provider of tax-optimized index equity SMAs, from Golden Gate Capital for $1.05 billion in cash. http://axios.link/9xTT
• ShawKwei & Partners hired Morgan Stanley to find a buyer for Beyonics Technology, a Singapore-based maker of precision electronic components that could fetch between $300 million and $400 million, per Bloomberg. http://axios.link/r8Nc
More M&A
• Countrywide (LSE: CWD), a British real estate agency with a £75 million market cap, rejected a takeover offer from Alchemy Partners. http://axios.link/vIX8
• Kahoot, a listed Norwegian gamified e-learning company, paid $50 million to buy Drops, a gamified language learning startup. Kahoot recently raised $215 million from SoftBank. http://axios.link/Jglp
• Phoenix Group (LSE: PHNX), a European life insurance consolidator, is considering a sale of its non-U.K. business for around €650 million, per Bloomberg. http://axios.link/yxMf
Fundraising
• CBPE Capital, a British private equity firm, raised £561 million for its tenth fund. http://axios.link/b5B3
• Charlesbank Capital Partners is targeting $3.25 billion ($3.75b hard cap) for its tenth flagship buyout fund. http://axios.link/FmDa
• Day One Ventures, led by Masha Drokova, raised over $70 million for its second fund. www.dayoneventures.co
• H.I.G. Capital raised €1.1 billion for its third European buyout fund. www.higcapital.com
• TELUS, a Canadian telecom company, is raising up to $100 million for a new impact investment fund. www.telus.com
It's Personnel
• Janet Yellen is expected to be nominated by President-elect Biden as U.S. Treasury secretary. Go deeper.
• George Gregory joined SK Capital Partners as a senior director. He previously was CEO of HMT, a provider of products and services for the above-ground storage tank market. www.skcapitalpartners.com
• Amit Jain will leave The Blackstone Group at the end of 2021, per Bloomberg. He's a Mumbai-based partner who was a key member of Blackstone's first Asia-focused buyout fund, but will not participate on a successor fund. http://axios.link/Ufm7
Final Numbers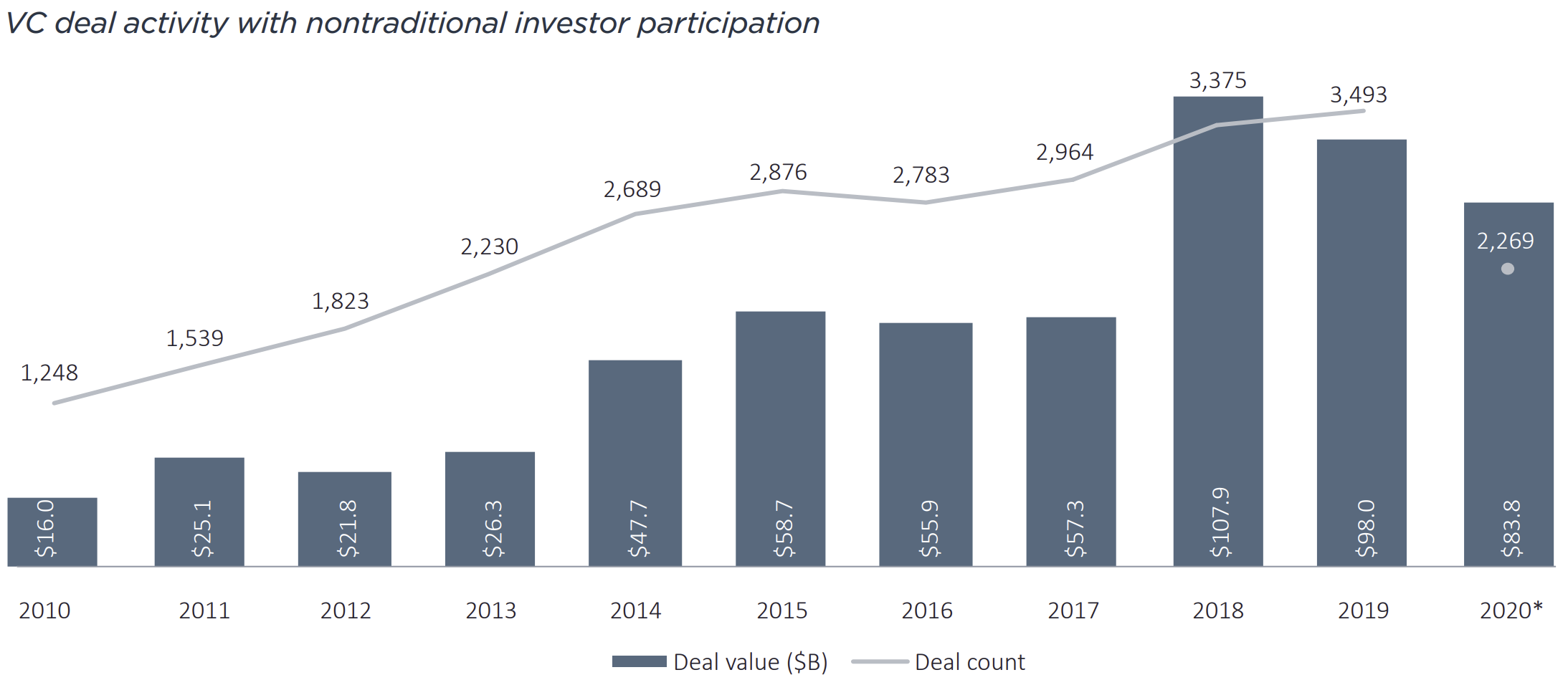 More from PitchBook:
"Roughly 96% of the mega-deals that have been financed this year have received participation from [non-traditional] institutions... As companies continue to stay private longer, public market investors such as hedge funds and mutual funds have moved into private financings to capture growth now occurring before an IPO, thus limiting post-IPO growth potential. Our IPO index shows just this, as larger IPOs drag down overall performance of the index. What's more, nontraditional investors have led or solely financed 616 late-stage deals in 2020, already near the highest total of any year we have tracked, showing that private investment is now a strategy more ingrained in nontraditional investment theses."
✔️ Thanks for reading Axios Pro Rata! Please ask your friends, colleagues, and Cousin Eddie to sign up.