Axios Pro Rata
May 13, 2020
🖥️ You're invited: Axios tomorrow at 12:30pm ET hosts a virtual live event on the future of workplace safety, including conversations with CLEAR CEO Caryn Seidman-Becker and RXR Realty CEO Scott Rechler. Register here.
🎧 Pro Rata Podcast digs into how the pandemic is reducing the amount of data available to meteorologists, just as hurricane season approaches. Listen via Axios or via Apple.
Top of the Morning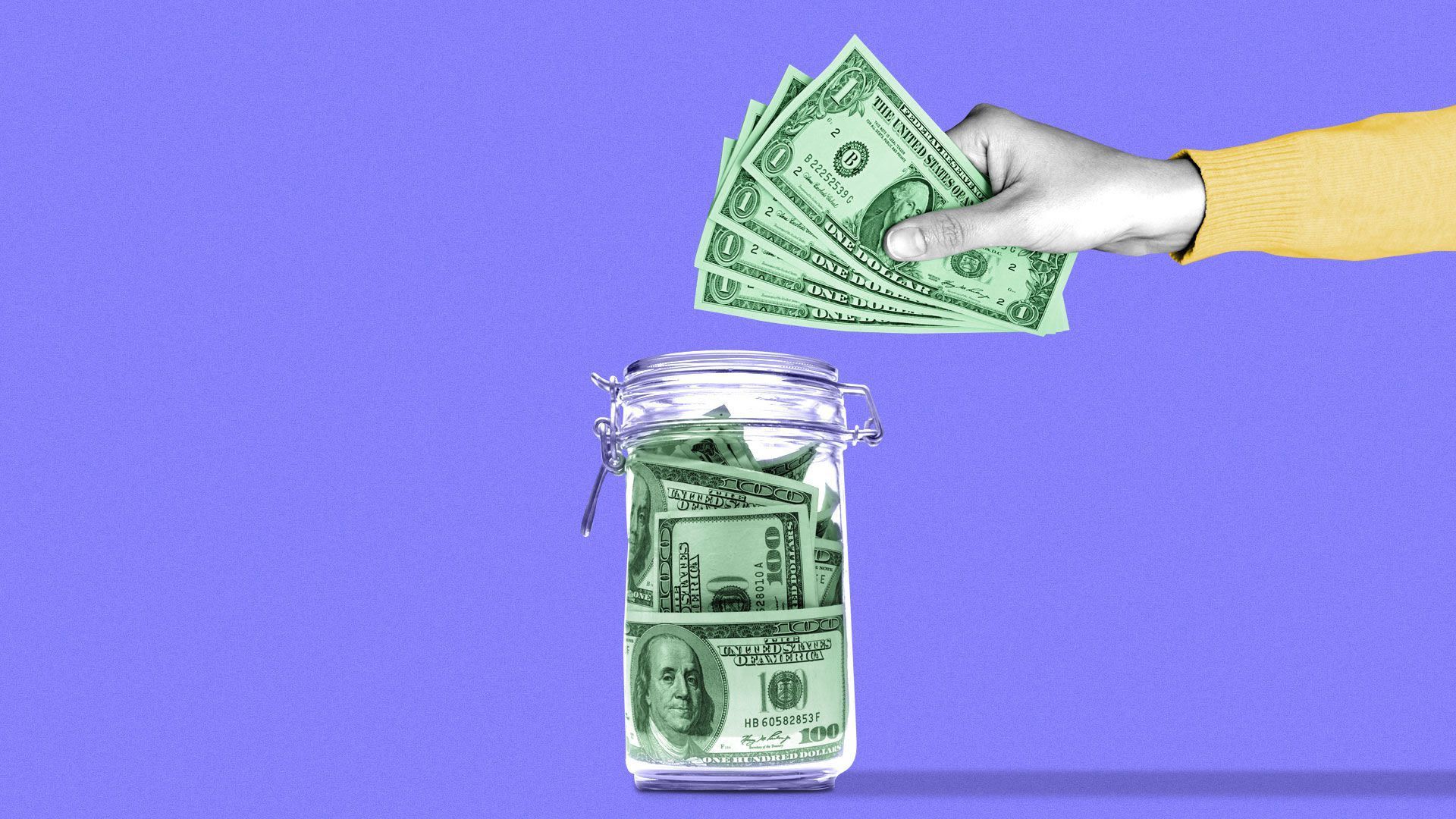 Two months ago today, we wrote in this space that U.S. venture capitalists claimed to still be open for business, even if they were now working from home.
Fast forward: Investment activity remains vibrant, but off approximately 25% from pre-pandemic levels, according to data provided to Axios by PitchBook.
March data was unreliable, given that many contemporaneous announcements were for deals that had been signed at a time when frequent flier miles still mattered.
The typical February 2020 week saw 211 U.S. venture deals raising $2.6 billion, putting the average deal size at $12.3 million.
The typical April 2020 week saw 157 U.S. venture deals raising $1.97 billion, putting average deal size at $12.5 million.
The first week of May had 150 deals that raised $2.01 billion.
Both the February and April numbers this year were much lower than their 2019 counterparts. On the one hand, that could suggest that part of the April 2020 slowdown is just part of an ex-pandemic slide. On the other, it's worth noting that last year's April numbers were much larger than last year's February numbers, which makes the April 2020 decrease even more dramatic.
The key 2020 takeaway is consistency in April and May. The weekly disparity for four of the five weeks is just 30 companies and $210 million. Or, put another way, U.S. venture capital appears to have found its new normal.
The BFD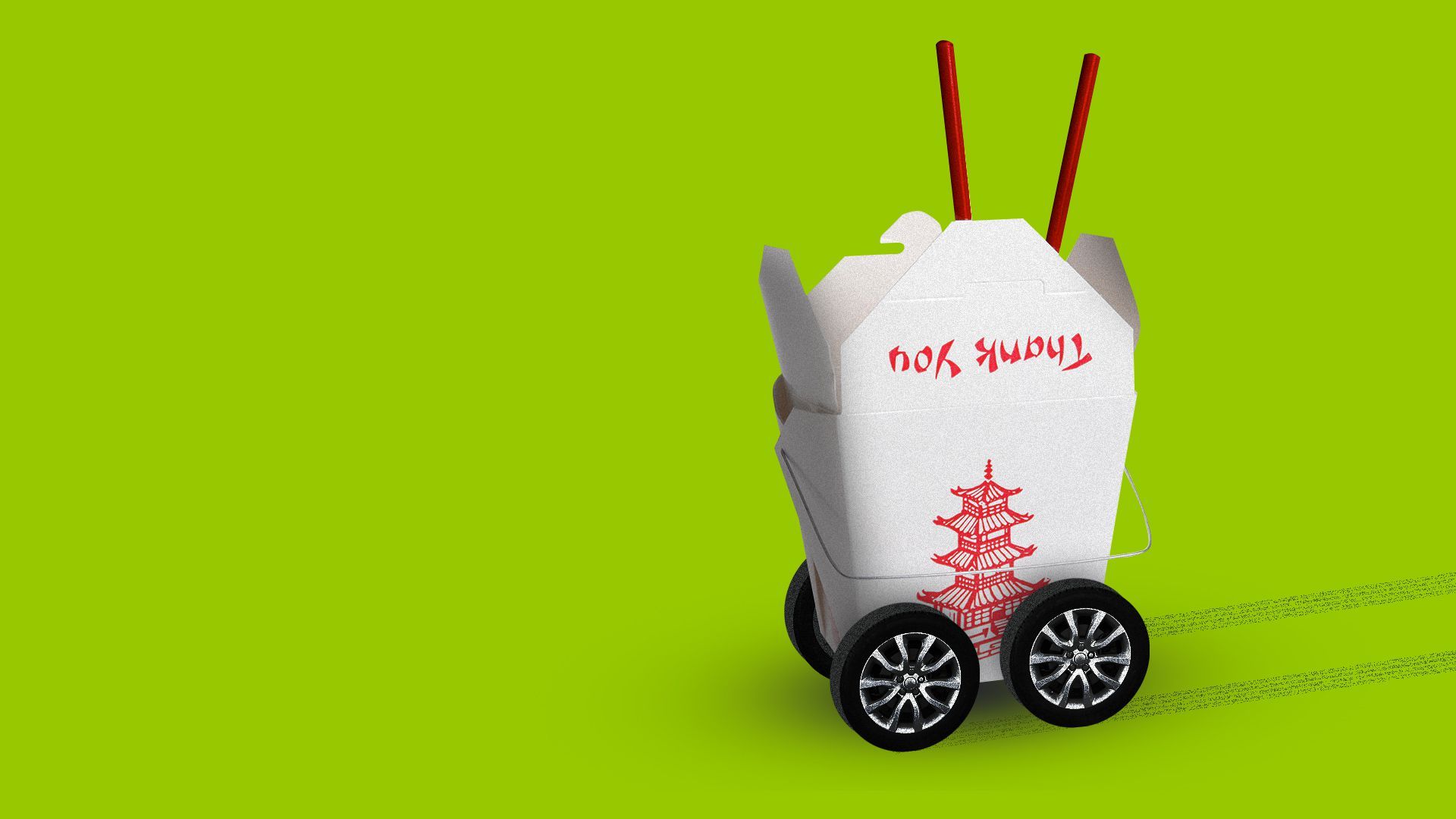 Uber (NYSE: UBER) is in talks to buy restaurant meal delivery company Grubhub (NYSE: GRUB) in a deal that could be valued at nearly $6 billion.
Why it's the BFD: Consolidation has been widely anticipated in the restaurant meal delivery space, with all major players hemorrhaging money in a race for market share.
Details: The two sides reportedly have been haggling over price since before the pandemic, with multiple reports saying one all-stock proposal was 2.15 Uber shares for each Grubhub share. That would represent around a 35% premium from Grubhub backers, based on Monday's closing stock prices.
The bottom line: If this gets done, expect antitrust scrutiny.
Pro Rata for Kids
Today's project is for your kids to make a bug out of fruits and/or vegetables. Either follow an existing recipe – like this one for apple butterflies or this one for a banana caterpillars – or create their own.
Please send me photos of what they create.
Yesterday's project was to create a facemask, and 11 year-old Anthony makes his second Pro Rata appearance: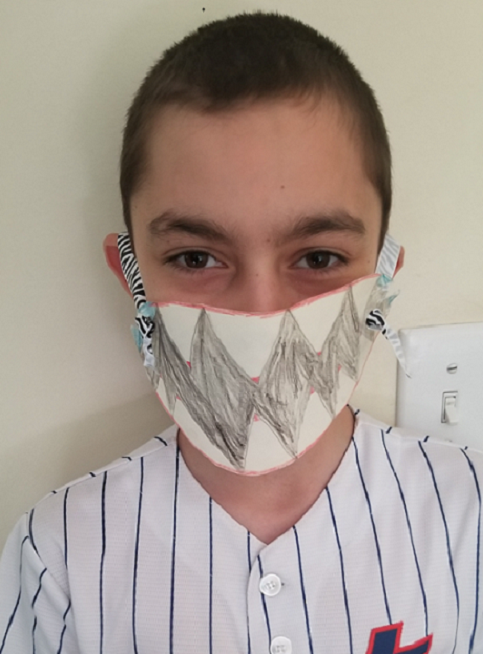 Venture Capital Deals
• Waymo, the self-driving car unit of Alphabet, raised $750 million in new funding (bringing round total to $3 billion). New investors include T. Rowe Price, Perry Creek Capital, and Fidelity. http://axios.link/tVIM
🚑 Kriya Therapeutics, a gene therapy startup with offices in Palo Alto and Durham, N.C., raised $80.5 million in Series A funding from QVT, Dexcel Pharma, Foresite Capital, Bluebird Ventures, Narya Capital, Amplo, Paul Manning, and Asia Alpha. http://axios.link/MuhO
• Expel, a Herndon, Va.-based managed security platform, raised $50 million in Series D funding. CapitalG led, and was joined by Battery Ventures, Greycroft, Index Ventures, Paladin Capital Group, and Scale Venture Partners. http://axios.link/b6JQ
🍕 Slice, a New York-based ordering and marketing tech platform for local pizzerias, raised $43 million in Series C funding. KKR led, and was joined by return backer GGV Capital. http://axios.link/rpfa
• Semperis, a New York-based provider of enterprise "cyber resilience" solutions, raised $40 million in Series B funding led by Insight Partners. www.semperis.com
• Morning Consult, a New York-based data intelligence firm, raised $31 million in Series A funding at a $306 million post-money valuation, co-led by Lupa Systems and Advance Venture Partners. www.morningconsult.com
• FortressIQ, a San Francisco-based startup focused on imitation learning for process automation, raised $30 million in Series B funding. M12 and Tiger Global co-led, and were joined by return backers Boldstart Ventures, Comcast Ventures, Eniac Ventures, and Lightspeed Venture Partners. http://axios.link/TDdB
🚑 Pillar Biosciences, a Natick, Mass.-based cancer diagnostics company, raised $29.7 million in Series C funding led by ORI Healthcare Fund. www.pillar-biosciences.com
🚑 Modulus Discovery, a Tokyo-based computational platform for drug discovery, raised $25.5 million in Series B funding from SBI Investments, Mizuho Capital, JAFCO, Keio Innovation Initiative, SMBC Venture Capital, Dai-ichi Life Insurance, UTokyo Innovation Platform, Mobile Internet Capital, Medifuture, Essential Pharma, and return backer Fast Track Initiative. www.modulusdiscovery.com
• MemVerge, a Milpitas, Calif.-based developer of memory machine software, raised $19 million. Intel Capital led, and was joined by Cisco Investments, NetApp and SK hynix, and existing investors Gaorong Capital, Glory Ventures, Jerusalem Venture Partners, LDV Partners, Lightspeed Venture Partners and Northern Light VC. http://axios.link/FLn2
• VanMoof, a Dutch e-bike startup, raised €12.5 million from Balderton Capital. http://axios.link/pOGL
• Sleeper, a San Francisco-based social gaming platform for sports and esports, raised $20 million in Series B funding led by Andreessen Horowitz. http://axios.link/qCsa
• IRP Systems, an Israeli provider of electric powertrain products, raised $17 million in Series B funding. Fosun RZ Capital led, and was joined by JAL and return backers Entrée Capital, Tal Capital, Union Tech Ventures, Cendana Capital, and Allied Group. http://axios.link/C0So
🚑 Travecta Therapeutics, a Singapore-based developer of products designed to cross the blood-brain barrier, raised $15 million in Series A funding led by a fund co-managed by SPRIM and Tikehau Capital. http://axios.link/nUp4
• Mos, a financial aid accessibility platform for students, raised $13 million in Series A funding. Sequoia Capital led, and was joined by Steph Curry, Eric Yuan, Emerson Collective, and Lux Capital. www.mos.com
• Span, a San Francisco-based maker of smart fuse boxes, raised $10.1 million. ArcTern Ventures led, and was joined by Capricorn Investment Group, Incite Ventures, Wireframe Ventures, Congruent Ventures, Ulu Ventures, Energy Foundry, Hardware Club, 1/0 Capital, and Wells Fargo. http://axios.link/UDkE
🚑 Stellar Health, a New York-based startup that helps healthcare providers meet value-based goals, raised $10 million in Series A funding. Point72 Ventures led, and was joined by Primary Venture Partners. http://axios.link/hqvA
• Intello Labs, an Indian provider of agricultural industry decision-making software, raised $5.9 million in Series A funding. Saama Capital led, and was joined by return backers Omnivore and Nexus Venture Partners. http://axios.link/vhQ4
• GrowFlow, a Los Angeles-based provider of compliance, inventory management and other software to the cannabis market, raised $8.4 million in Series B funding led by TVC Capital. www.growflow.com
• Resilia, a New Orleans-based provider of finance and grant-making management and reporting software for nonprofits, raised $8 million from Callais Capital and Mucker Capital. http://axios.link/HDMA
• Ziva Dynamics, a Canadian provider of character simulation software to Hollywood studios, raised C$7 million in seed funding from Grishin Robotics, Toyota AI Ventures and Millennium Technology Value Partners. http://axios.link/8TLN
• Blockdaemon, a blockchain nodes-as-a-service platform, raised $5.5 million from Hashkey, CoinShares, Blockchain.com, Kenetic, SPiCE VC and Fenbushi Capital, and return backers Comcast Ventures, Lerer Hippeau, Boldstart, and Heavybit. www.blockdaemon.com
• Intricately, a San Francisco-based provider of spend and product usage data for cloud sales and marketing teams, raised $4 million in Series A funding. Counterpart Ventures led, and was joined by return backers Bloomberg Beta, Singtel Innov8, and Susa Ventures. www.intricately.com
• Primer, a provider of "full-stack infrastructure" for homeschooling, raised $3.7 million in seed funding. Founders Fund led, and was joined by Naval Ravikant, Cyan Banister and Village Global. http://axios.link/MMQN
• Malbek, a Somerset, N.J.-based provider of contract lifecycle management software, raised $3 million led by Osage Venture Partners. http://axios.link/p63E
• Emteria, a German maker of an industrial version of Android, raised €1.5 million from High-Tech Gründerfonds and Runa Capital. http://axios.link/ZNZr
Private Equity Deals
• Francisco Partners agreed to invest up to $225 million in Eventbrite (NYSE: EB), whose market cap has fallen south of $700 million. http://axios.link/wcUJ
• KKR agreed to acquire a 55% stake in Colonial First State, an Australian superannuation and investment business, from Commonwealth Bank of Australia (ASX: CBA) for A$1.7 billion. http://axios.link/6MYg
🚑 Parthenon Capital invested in RxSense, a Cumming, Ga.-based provider of pharmacy benefit management solutions. www.rxsense.com
🚑 The Rohatyn Group invested in Optimapharm, a Croatia-based contract research organization for clinical trials. www.optimapharm.hr
• SCP Private Equity acquired British menswear retailer TM Lewin from Bain Capital. http://axios.link/yOc7
• Thompson Street Capital Partners acquired Pkware, a Milwaukee-based provider of data security software, from Novacap. www.pkware.com
Public Offerings
• Dada Nexus, a Chinese on-demand retail and delivery platform, filed for a $100 million IPO (likely a placeholder amount). It plans to trade on the Nasdaq (DADA) with Goldman Sachs Asia as lead underwriter, and reports a $236 million net loss on $438 million in revenue for 2019. Shareholders include Sequoia Capital China (11.4% pre-IPO stake) and DST (9.4%). http://axios.link/bfx5
🚑 Lantern Pharma, a Dallas-based developer of drugs for multidrug treatment resistance cancers, set IPO terms to 1.6 million shares at $15-$17. It would have a fully-diluted market value of $108 million, were it to price in the middle, and plans to trade on the Nasdaq (LTRN) with ThinkEquity and Dougherty & Co. as underwriters. The company has raised around $7 million in VC funding from firms like BIOS Partners and GPG Ventures. http://axios.link/Cpzm
Liquidity Events
• Atlassian (Nasdaq: TEAM) acquired Halp, a Boulder, Colo.-based inter-office communication tool that last year raised a $2 million seed round led by Matchstick Ventures. http://axios.link/NPMn
• Banca Farmafactoring (Milan: BFF) agreed to buy Italian depository bank DEPObank from private equity firms Advent International, Bain Capital, and Clessidra (which will retain a combined 7.6% stake). http://axios.link/Qnsd
• CyberArk (Nasdaq: CYBR) acquired Idaptive, a Santa Clara, Calif.-based provider of identity as-a-service solutions, from Thoma Bravo for $70 million in cash. www.cyberark.com
• Novelis is being asked by U.S. antitrust regulators to divest the North American aluminum auto body sheet unit of Aleris, as a condition to approving its $2.6 billion takeover. Aleris is a Cleveland-based maker of rolled aluminum products whose backers include Oaktree Capital Management, Apollo Management and Sankaty Advisors. http://axios.link/wm4E
More M&A
• Covea, a French insurer, walked away from a $9 billion deal to buy reinsurer PartnerRe from Exor (Milan: EXOR), sparking speculation that it might turn its takeover attentions to French reinsurer Scor (Paris: SCOR). http://axios.link/MFa4
🚑 Elliott Management publicly called for Alexion Pharma (Nasdaq: ALXN) to sell itself, just one week after Alexion agreed to buy thrombosis drug developer Portola Pharma (Nasdaq: PTLA) for $1.41 billion. http://axios.link/zHjS
• Planbox, a Canadian provider of enterprise innovation software, acquired rival IdeaConnection. www.planbox.com
Fundraising
• BDT Capital, the private equity firm led by former Goldman Sachs dealmaker Byron Trott, raised $9.1 billion for its third fund. http://axios.link/mqFg
• Lightspring Capital, a lower middle-market private equity firm with offices in Minneapolis and Chicago, has secured $31 million for its $100 million-targeted debut fund, per an SEC filing. www.lightspringcapitalpartners.com
• Thayer Ventures, a San Francisco-based VC firm focused on travel and transportation, raised $80 million for its third fund. http://axios.link/E7VL
It's Personnel
• Fabiana Cid Andrade joined Brazil-focused growth equity firm Oria Capital as a partner, per her LinkedIn page. She previously led IR and North American business development for Aqua Capital. www.oriacapital.com.br
Final Numbers
🙏 Thanks for reading Axios Pro Rata! Please ask your friends, colleagues, and delivery drivers to sign up.