August 26, 2019
Top of the Morning
Investors are taking President Trump seriously, but not literally, on his threat to force U.S. firms out of China.
Trump on Friday tweeted: "Our great American companies are hereby ordered to immediately start looking for an alternative to China, including bringing your companies HOME and making your products in the USA."
After being mocked for endorsing the sort of central control that would make Bernie Sanders blush, Trump doubled-down by saying he can give such orders based on the Emergency Economic Powers Act of 1977.
On Sunday, Larry Kudlow acknowledged on CNN that Trump put the cart before the horse, since Trump must declare a national emergency before giving any such "orders."

Also worth emphasizing that any such emergency invocation would almost certainly be challenged in court, as the EEPA has never before been used as a trade negotiation tool. Congress also could intervene, at least in theory.

Trump this morning sounded a more optimistic note, saying that China last night called U.S. trade reps to return to the negotiating table, although China is disputing Trump's version of events.
I spoke to multiple investors over the weekend, including some whose firms invest cross-border with China, and not one believes Trump will actually force them to cut ties. Not only because such a move would be unprecedented, but the short-term economic pain could be too much for the President's reelection campaign to handle — even if the EEPA were only to apply to future deals with existing ones grandfathered in.
But they also acknowledge that their short-term calculus on China has changed, due to actions by both sides.
U.S. investors used to talk about how they had to be willing to lose money in China in order to make money in the future.
A similar sentiment is creeping back up now (i.e., the storm will intensify before the calm, but the long-term forecast is clear).
One private equity pro said: "Best case scenario is that both sides declare victory and go home."
Also...
• LP Land: Dean Takahashi is stepping down as senior director of investments at Yale University's endowment, where he was viewed as a possible successor to David Swensen. He plans to remain at Yale in a non-investment role that relates to fighting climate change, although specifics have not yet been disclosed.
• Hong Kong's IPO market is showing some signs of life, after more than a month of protest-prompted slumber.
Bloomberg reports that Shanghai Henlius, an unprofitable biotech being spun out of Fosun Group, has begin speaking with investors. There's also talk that Burger King's China franchisee, TAB Food Investments, is considering a Hong Kong float after abandoning U.S. listing plans.
Hong Kong has a record IPO summer in 2018, but period proceeds are down more than 86% in 2019. The biggest hit came from Alibaba Group, which indefinitely postponed a listing that was expected to raise upwards of $15 billion.
• On Friday we discussed weakening demand for leveraged loans, with five pulled offerings so far in August. Now we've got new data from Refinitiv showing that the slowdown is both severe and global.
Worldwide leveraged loan issuance is down 43% year-to-date.
U.S. and China issuance fell even more, each off 45%.
The biggest country drop is the UK, down 59%.
The BFD
Amgen (Nasdaq: AMGN) has agreed to pay $13.2 billion in cash to acquire psoriasis drug Otezla from Celgene (Nasdaq: CELG).
Why it's the BFD: This should help smooth the antitrust path for Celgene's $74 billion takeover by Bristol-Myers, although that it also will deny the combined company of a growing and highly-lucrative medicine.
Bottom line: Adding Otezla makes strategic sense for Amgen, but there are sure to be questions over whether it overpaid for what was essentially a forced divestiture. Credit Suisse, for example, had estimated a $9.3 billion sale price.
Venture Capital Deals
• ThoughtSpot, a Sunnyvale, Calif.-based business intelligence analytics software, filed a stock authorization to sell upwards of $248 million shares at a $1 billion valuation, per Prime Unicorn Index. It previously raised around $300 million from firms like General Catalyst, Khosla Ventures, Lightspeed Venture Partners, and Sapphire Ventures. http://axios.link/u2Jg
• Boll & Branch, a Summit, N.J.-based bedding designer and retailer, raised $100 million from L Catterton. www.bollandbranch.com
• BharatPe, an Indian startup that helps merchants accept digital payments, raised $50 million in Series B funding. Ribbit Capital and Steadview Capital co-led, and were joined by return backers Sequoia Capital, Beenext Capital, and Insight Partners. http://axios.link/0AiS
⛽ Form Energy, a Somerville, Mass.-based developer of long-duration energy storage solutions, raised $40 million in Series B funding. Eni Next led, and was joined by Capricorn Investment Group and return backers Breakthrough Energy Ventures, Prelude Ventures, The Engine, and Macquarie Capital. http://axios.link/lltJ
🚑 MDClone, an Israel-based self-service healthcare data startup, raised $26 million in Series b funding. aMoon led, and was joined by return backers OrbiMed and Lightspeed Venture Partners. http://axios.link/mNoR
• FreshToHome, an Indian e-commerce platform for fresh produce and meats, raised $20 million in Series B funding led by Iron Pillar. http://axios.link/y2Gj
• Bitwala, a German crypto banking startup, raised €13 million in Series A funding. Sony Financial Ventures and NKB Group co-led, and were joined by Earlybird and coparion. http://axios.link/588A
Private Equity Deals
• Alloy Die Casting, a Buena Park, Calif.-based provider of manufacturing and supply-chain for metal components, raised an undisclosed amount of funding from PWP Growth Equity. www.alloydie.com
⛽ Apollo Global Management and First Reserve are among the suitors for the power and energy business being sold by Charlotte-based SPX Flow (NYSE: FLOW), per Bloomberg. A deal could be worth around $700 million. http://axios.link/fnbz
• Barcodes, a Chicago-based portfolio company of Odyssey Investment Partners, acquired Plasco ID, an online lead generation business for the identification and access control industry, from BV Investment Partners. www.plascoid.com
• Baltic Classifieds Group, a portfolio company of Apax Partners, agreed to buy Estonian auto classifieds business Auto24 from BaltCap.
• Lovell Minnick Partners bought InsideRE, a Salt Lake City-based provider of real estate cloud software, from NexPhase Capital. www.insiderealestate.com
🌹 Nexus Capital Management completed its $95 million purchase of the North America and Latin America businesses of flower delivery company FTD, which filed for bankruptcy protection in June. http://axios.link/QOVF
• RRJ Capital is in "advanced talks" to lead a $4 billion investment in Irvine, Calif.-based Ingram Micro for around a 50% stake, via the purchase of a bond in Ingram parent HNA which can then convert, per Bloomberg. http://axios.link/C4ft
Public Offerings
• Datadog, a New York-based provider of cloud app monitoring solutions, filed for a $100 million IPO. It plans to trade on the Nasdaq (DDOG) with Morgan Stanley as lead underwriter, and reports a $13 million net loss on $153 million in revenue for the first half of 2019. The company raised nearly $150 million in VC funding, from such firms as Index Ventures (20.1% pre-IPO stake), OpenView Venture Partners (16%), Iconiq (11.3%), and RTP Ventures (8.2%). http://axios.link/4Ig0
🚑 Exagen, a Vista, Calif.-based maker of diagnostic blood tests for lupus and rheumatoid arthritis, revived its IPO plans by filing for a $58 million offering. It plans to trade on the Nasdaq (XGN) with Cowen and Cantor Fitzgerald as lead underwriters, and reports a $5.5 million net loss on $20 million in revenue for the first half of 2019. Shareholders include Sun Mountain Capital Partners (31.5% pre-IPO stake), Tullis-Dickerson (25.4%), and HIG Capital (16.1%). http://axios.link/23ay
More M&A
• Allianz agreed to buy the general insurance assets of Brazil's SulAmerica for around $738 million, thus making it the country's second-largest auto insurer. http://axios.link/ShBC
• Avenue Capital Group agreed to buy Castlehaven Finance, an Irish development and bridging finance lender, from Pollen Street Capital. http://axios.link/5V2J
• Econet Wireless of Zimbabwe is seeking a buyer for its media unit, which it recently announced plans to shutter due to a foreign currency shortage in the country. http://axios.link/xW3y
• Itausa Investimentos offered to buy Petrobras's bottled gas distributor for around $850 million, per Bloomberg. http://axios.link/zc5T
Fundraising
• INCE Capital, a new Chinese VC firm led by ex-Qiming Ventures managing partner JP Gan, held a $165 million first close for its debut fund, per an SEC filing. It's expected to focus on early-stage deals for consumer-related tech companies. http://axios.link/pUiY
• Storch of Germany is raising €200 million for its fourth private equity fund-of-funds. www.fvs-fonds.com
Final Numbers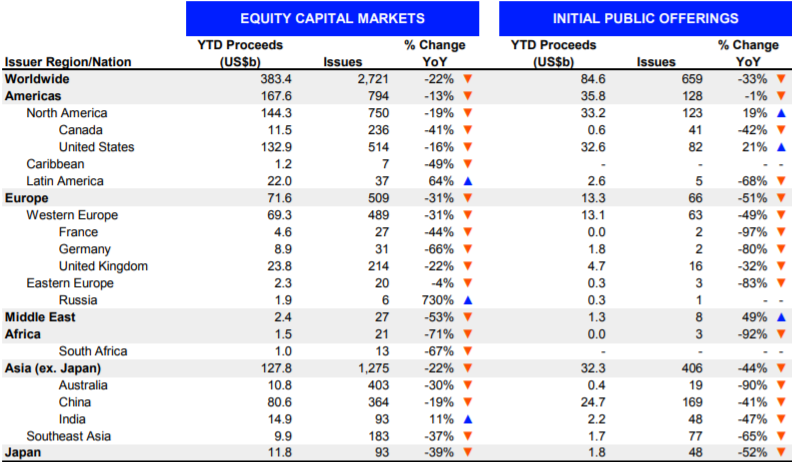 🙌 Thanks for reading Axios Pro Rata. Please ask your friends, colleagues, and data dogs to sign up here.