Axios Pro Rata
June 17, 2021
🎧 Axios Re:Cap focuses on America's affordable housing crisis, and what could be done to help fix it. Take a listen.
This afternoon's episode talks with Rep. David Cicilline (D-R.I.), chair of the House subcommittee on antitrust, about new bills targeting Amazon, Apple, Facebook and Google. Subscribe.
🎮 Play on: Join Axios Gaming reporters Stephen Totilo and Megan Farokhmanesh today at 3pm ET on r/games for an AMA!
Top of the Morning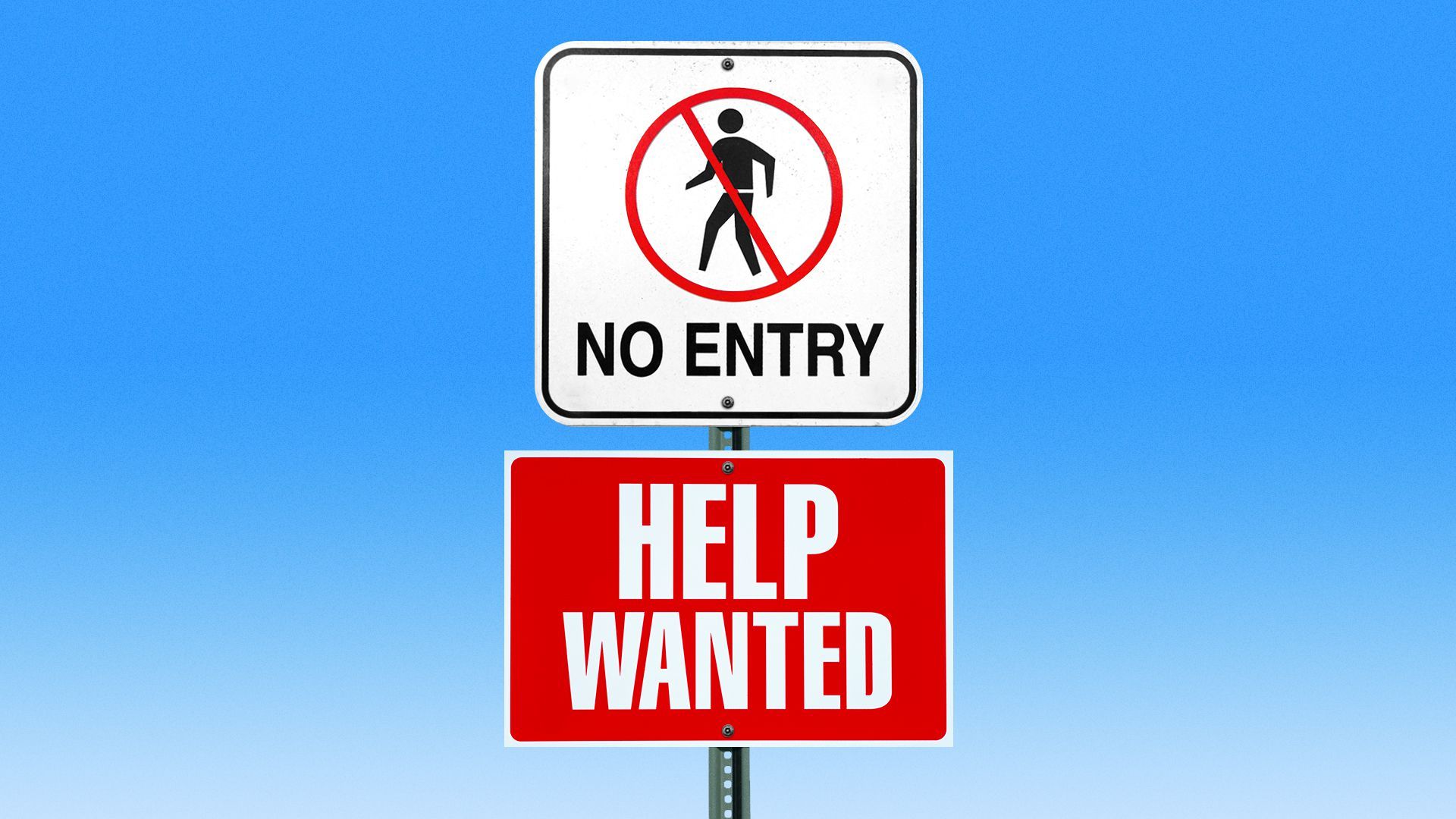 America's labor shortage crisis has been exacerbated by immigration restrictions that have reduced the number of both skilled and unskilled workers, Axios' Hope King and I report.
Between the lines: Most of the labor scarcity blame has been aimed at expanded unemployment benefits, hard-to-find child care and low wages. But there is a fourth leg to the stool.
By the numbers: Immigrant and non-immigrant visas issued during the year ending October 2020 were down by nearly 5 million, or 54%, from 2019.
572,587 fewer people received temporary or permanent worker visas (H, L, O, P, Q, J, and E) in 2020, a 44% drop from 1.3 million in 2019.
The most significant drop-offs were for J and Q visas, for work- and study-based programs like au pairs, camp counselors and cultural exchange. Those were down 68% and 63%, respectively.
H-visas for specialty work, temporary agricultural and non-agricultural work fell by the smallest percentage (24%).
For context: The U.S. had a 6% job opening rate in April, with the highest rates of 11.6% rate in arts, entertainment and recreation, 10.1% in leisure and hospitality, and a 9.9% rate in accommodation and food services — which combined works out to over 3.1 million unfilled jobs.
Timeline: Almost all of this decrease can be tied to Trump administration decisions to close legal immigration avenues in the pandemic's early months, while also tightening rules and enforcement of undocumented immigration.
Freezes were put on green card applications in April 2020, and most temporary work visas were halted that June.
President Biden reversed the green card decision and recently let the worker visa ban lapse.
But it will take time for the immigrant worker pool to be refilled, particularly as potential immigrants from certain countries remain blocked due to COVID-related health concerns. Moreover, many U.S. embassies and consulates continue to face massive backlogs of visa applications, often without enough resources to resume regular operations.
What they're saying: E.J. Dean, the third-generation owner of New England carnival operator Fiesta Shows, says that he's had to limit the number of rides offered this season because he's been unable to secure his typical supply of temporary workers from overseas (particularly from South Africa).
"I'm trying to get people locally, but I've never seen things so tight," Dean explains. "It's not even about the pay. People set up interviews and then they don't show up for them."
Jon Baselice, VP of immigration policy at the U.S. Chamber of Commerce, adds: "COVID-related travel restrictions continue to prevent many employers from meeting their workforce needs and they are causing significant business disruptions for many companies, especially smaller seasonal businesses across the country that are dealing with acute workforce shortfalls."
The bottom line: The U.S. economy cannot fully recover from the pandemic if employers can't find enough employees.
The BFD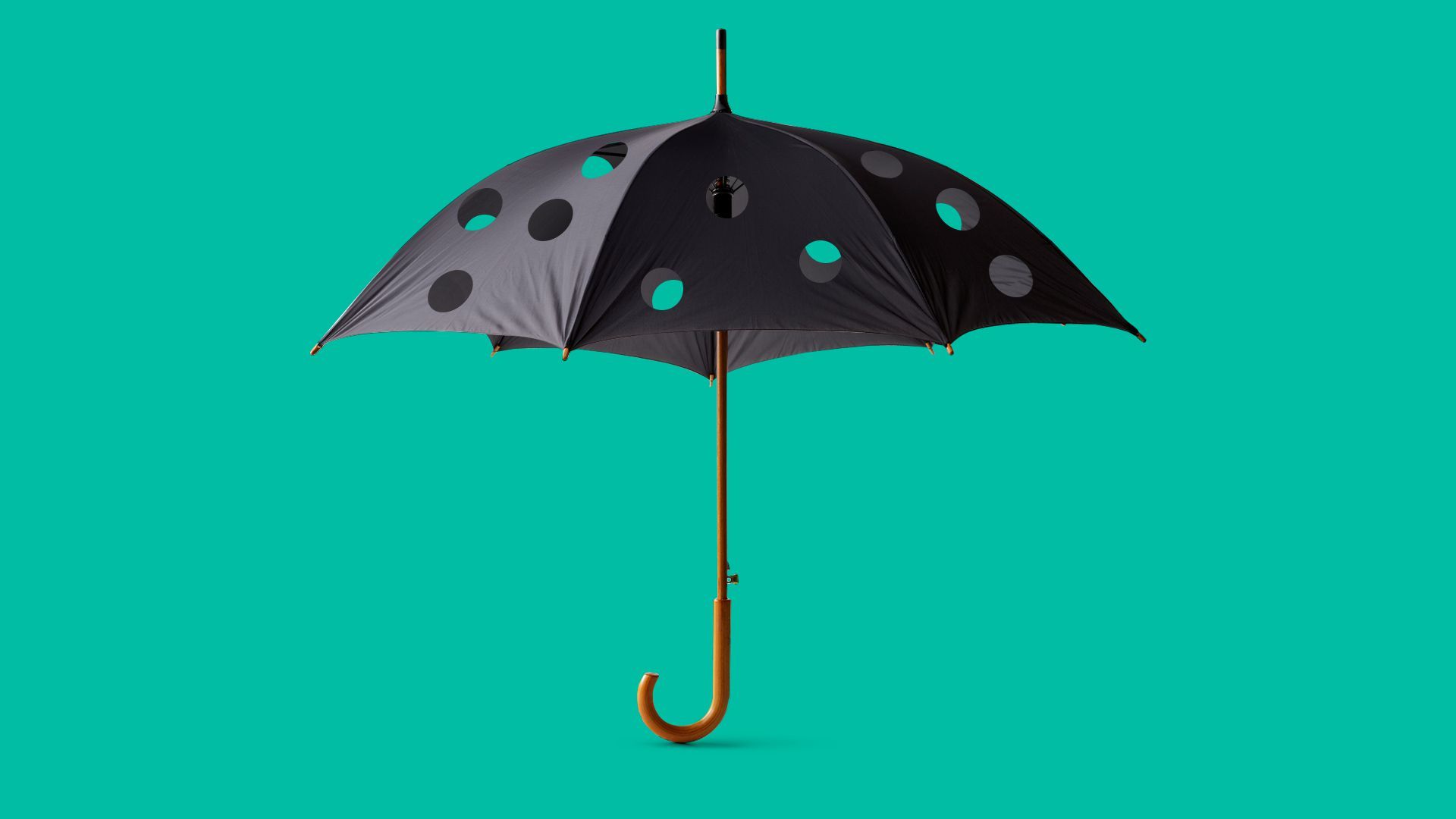 The U.S. Justice Department sued to block Aon's (NYSE: AON) takeover of rival insurance broker Willis Towers Watson (Nasdaq: WLTW).
Why it's the BFD: This is the Biden administration's first major antitrust action, and could prevent a merger of two of the world's three largest insurance brokerages by revenue.
Background: The two companies agreed to merge in March 2020 in an all-stock deal. It was worth around $30 billion at the time, but would be worth $34 billion today. Both Aon and Willis Towers have made divestitures since the original announcement, but apparently they were viewed as insufficient by U.S. regulators. EU regulators are set to rule in early August.
Bottom line: "The complaint cites an unnamed Aon executive who told colleagues, 'We have more leverage than we think we do and will have even more when (the) Willis deal is closed. ... We operate in an oligopoly which not everyone understands.'" — Reuters
Venture Capital Deals
• Andruil, an Irvine, Calif.-based defense-tech startup, raised $450 million in Series D funding at a $4.6 billion post-money valuation. Elad Gil led, and was joined by insiders Andreessen Horowitz, 8VC, Founders Fund, General Catalyst, Lux Capital, Valor Equity Partners and D1 Capital Partners. www.anduril.com
• Guideline, a San Mateo, Calif.-based provider of 401(k) plans for SMBs, raised $200 million at a $1.15 billion valuation. General Atlantic led, and was joined by Generation Investment Management, Greyhound Capital, Felicis Ventures and Propel Ventures. www.guideline.com
• KeepTruckin, a San Francisco-based provider of fleet management software, raised $190 million at a $2.3 billion valuation. G2 Venture Partners led, and was joined by BlackRock, GV, Index Ventures, Greenoaks Capital and Scale Venture Partners. http://axios.link/pvlG
🚑 Apollo Therapeutics, a British pharma startup, raised $145 million. Patient Square Capital led for a control stake, and was joined by Rock Springs Capital, Reimagined Ventures and UCL Technology Fund. http://axios.link/BJN0
• Claroty, a New York-based industrial cybersecurity company, raised $140 million. Bessemer Venture Partners and Standard Industries co-led, and were joined by LG Corp. and Temasek. http://axios.link/s8NT
• Vianai Systems, a Palo Alto-based AI startup founded by ex-Infosys CEO Vishal Sikka, raised $140 million led by SoftBank Vision Fund 2. http://axios.link/YlCX
• Nylas, a developer of APIs to integrate productivity tools, raised $120 million in Series C funding. Tiger Global led, and was joined by Owl Rock Capital, the Collison brothers and insiders backers Citi Ventures, Slack Fund, 8VC and Round13 Capital. http://axios.link/h2Cz
• Tractable, a London-based image recognition startup focused on the auto insurance market, raised $60 million in Series D funding at a $1 billion valuation co-led by Insight Partners and Georgian Partners. http://axios.link/xqob
• Sanity Group, a German developer of cannabis products, raised $44.2 million in Series A funding. Redalpine led, and was joined by Navy Capital, SOJE Capital and GMPVC. http://axios.link/a3On
• Fiddler AI, a Palo Alto-based model performance management platform, raised $32 million in Series B funding. Insight Partners led, and as joined by insiders Lightspeed Venture Partners, Lux Capital, Haystack Ventures, Bloomberg Beta, Lockheed Martin and The Alexa Fund. www.fiddler.ai
• Akur8, a Paris-based automated insure-tech platform, raised $30 million in Series B funding led by an undisclosed investor. http://axios.link/9Fuh
• Habyt, a German co-living startup, raised €20 million in Series B funding from HV Capital (formerly Holtzbrink Ventures), Vorwerk Ventures, P101 and Picus Capital. It also merged with rival Homefully. http://axios.link/dC9s
• Transform, a San Francisco-based centralized metrics platform for companies, raised $20 million in Series A funding co-led by Index Ventures and Redpoint Ventures. www.transformdata.io
• Honey Insurance, an Australian home insurance startup, raised A$15.5 million in seed funding from RACQ, PEXA, Metricon, ABN Group, Mirvac, AGL, SFG and Apex Capital. http://axios.link/c7jd
• Brella, a Finnish connected events platform, raised $10 million in Series A funding led by Connected Capital. http://axios.link/Thno
• Handii, an Australian property claims management platform, raised US$3 million in seed funding led by Brick & Mortar Ventures. http://axios.link/ATj9
Private Equity Deals
• Clearlake Capital Group agreed to buy Confluence, a Pittsburgh-based financial services data management platform, from TA Associates. www.confluence.com
⚡ EnCap Investments and Quantum Energy Partners are among those bidding to buy EP Energy, a Houston-based oil and gas producer which came out of bankruptcy last year, per Reuters. http://axios.link/mARw
• EQT agreed to buy a majority stake in British delivery and shipping business Parcel2Go from Mayfair Equity Partners. http://axios.link/ijws
• GHK Capital Partners acquired Sparks, Nev.-based ITS Logistics from McNally Capital. www.its4logistics.com
• Hellman & Friedman sweetened its takeover offer for home décor retailer At Home Group (NYSE: HOME) to $37 per share from $36 per share, following opposition from top shareholder CAS Investment Partners. http://axios.link/UWlq
• HSBC (NYSE: HSBC) agreed to sell its French retail unit to Cerberus Capital Management, per Bloomberg. http://axios.link/iEVN
Public Offerings
• Angel Oak Mortgage, a mortgage REIT focused on non-qualified loans, raised $137 million in its IPO, pricing at $17 per share (below $20-$21 range). http://axios.link/E3VI
• Confluent, a Mountain View, Calif.-based data event streaming platform, set IPO terms to 23 million shares at $29–$33. It would have a $10 billion fully diluted value, were it to price in the middle, plans to list on the Nasdaq (CFLT) and reports a $230 million net loss on $237 million in revenue for 2020. Confluent raised $456 million in VC funding ($4.5b last valuation) from Benchmark (15.3% pre-IPO stake), Index Ventures (13%), Sequoia Capital (9.3%), Coatue, Altimeter Capital and Franklin Templeton. http://axios.link/wZVM
🚑 Convey Health, a Ft. Lauderdale, Fla.-based provider of Medicare-focused software and services, raised $187 million in its IPO. It priced at the low end of its $14–$16 range, for an $858 million market cap, and will list on the NYSE (CVY). Convey is owned by TPG and reports a $1 million net loss on $83 million in revenue for Q1 2021. http://axios.link/Boi6
• FWD, a Hong Kong-based insurer backed by Richard Li's Pacific Century Group, filed confidentially for a U.S. IPO that could raise around $2 billion at a $13 billion valuation, per Bloomberg. http://axios.link/TVDy
🚑 Lyell Immunopharma, a South SF-based developer of T cell therapies for solid tumors, raised $425 million in its IPO. The preclinical company priced in the middle of its $16–$18 range, for a $4.7 billion fully diluted value. It will list on the Nasdaq (LYEL) and raised over $850 million from firms like Arch Venture Partners (16.7% pre-IPO stake), Glaxo (13.9%), Gemini Investments (7%), Foresite Capital (6.1%) and Celgene (5%). http://axios.link/0hxS
🚑 Verve Therapeutics, a Cambridge, Mass.-based gene-editing startup focused on heart disease, raised $267 million in its IPO. It priced at $19 (above range) for a $954 million fully diluted value, and will list on the Nasdaq (VERV). It had raised over $200 million from firms like GV (34.6% pre-IPO stake), Biomatics (8.3%), Arch Venture Partners (8%), Wellington Management (8%) and Casdin Capital (6.2%). http://axios.link/o71L
• WalkMe, an Israeli digital adoption platform for enterprises, raised $287 million in its IPO. It priced at $31 per share ($29–$32 range), for a $2.56 billion market cap, with shares closing at $28.81 on its first day of trading (Nasdaq: WKME). The company had raised over $250 million from firms like Insight Partners (31.9% pre-IPO stake), Greenspring Associates (14.1%), Scale Venture Partners (12.9%), Gemini Israel (10.5%) and Mangrove Capital Partners (8.6%). http://axios.link/H7e5
SPAC Stuff
• Fat Projects Acquisition, a Southeast Asia tech SPAC, filed for a $100 million IPO. http://axios.link/db55
🚑 NorthView Acquisition, a small-cap healthcare SPAC, filed for a $180 million IPO. http://axios.link/cKGM
• PONO Capital, a tech SPAC led by Junify CEO Dustin Shindo, filed for a $100 million IPO. http://axios.link/4Wn6
⚡ Zimmer Energy Transition Acquisition, a SPAC formed by Zimmer Partners, raised $300 million in a downsized IPO. http://axios.link/2zdS
Liquidity Events
🚑 EQT agreed to sell Aldevron, a Fargo, N.D.-based developer of plasmid DNA, mRNA and recombinant proteins, to Danaher (NYSE: DHR) for $9.6 billion. www.aldevron.com
• JPMorgan Chase (NYSE: JPM) bought British digital wealth manager Nutmeg, which had over £3.5 billion in AUM. Nutmeg raised over $160 million from firms like Pentech Ventures, Goldman Sachs, Convoy Global, Draper Associates and Balderton Capital. http://axios.link/yhIr
• KKR is seeking a buyer for the suspension systems unit of Marelli Corp., which generates around €900 million in annual revenue, per Bloomberg. http://axios.link/NzKa
Fundraising
🚑 Amplitude Venture Capital of Canada raised C$200 million for a new precision medicine VC fund. http://axios.link/ruOL
• Bertram Capital raised $940 million for its fourth lower midmarket PE fund. www.bcap.com
• Lead Edge Capital, a tech-focused growth equity firm, raised $150 million for its first public equities fund. www.leadedgecapital.com
It's Personnel
• Adriane Brown, managing partner of Flying Fish Partners, joined the board of KKR as an independent director. www.kkr.com
• Joey Maloney joined Nexa Equity as a principal. He previously was with Luminate Capital. http://axios.link/0sa7
Final Numbers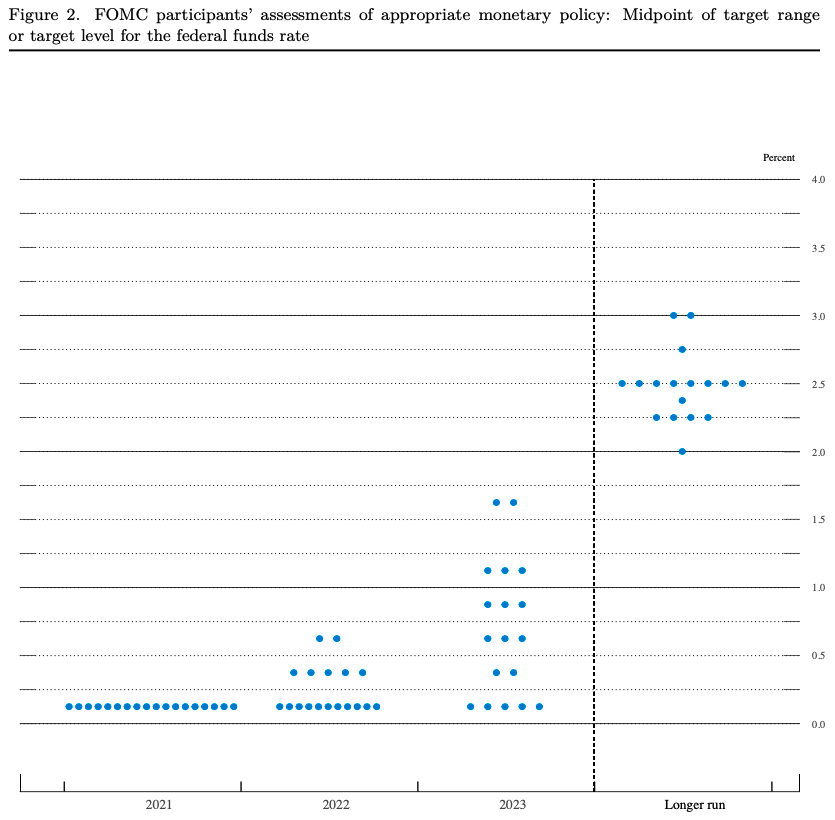 🙏 Thanks for reading Axios Pro Rata! Please ask your friends, colleagues and antitrust regulators to sign up.