Axios Pro Rata
July 16, 2019
Top of the Morning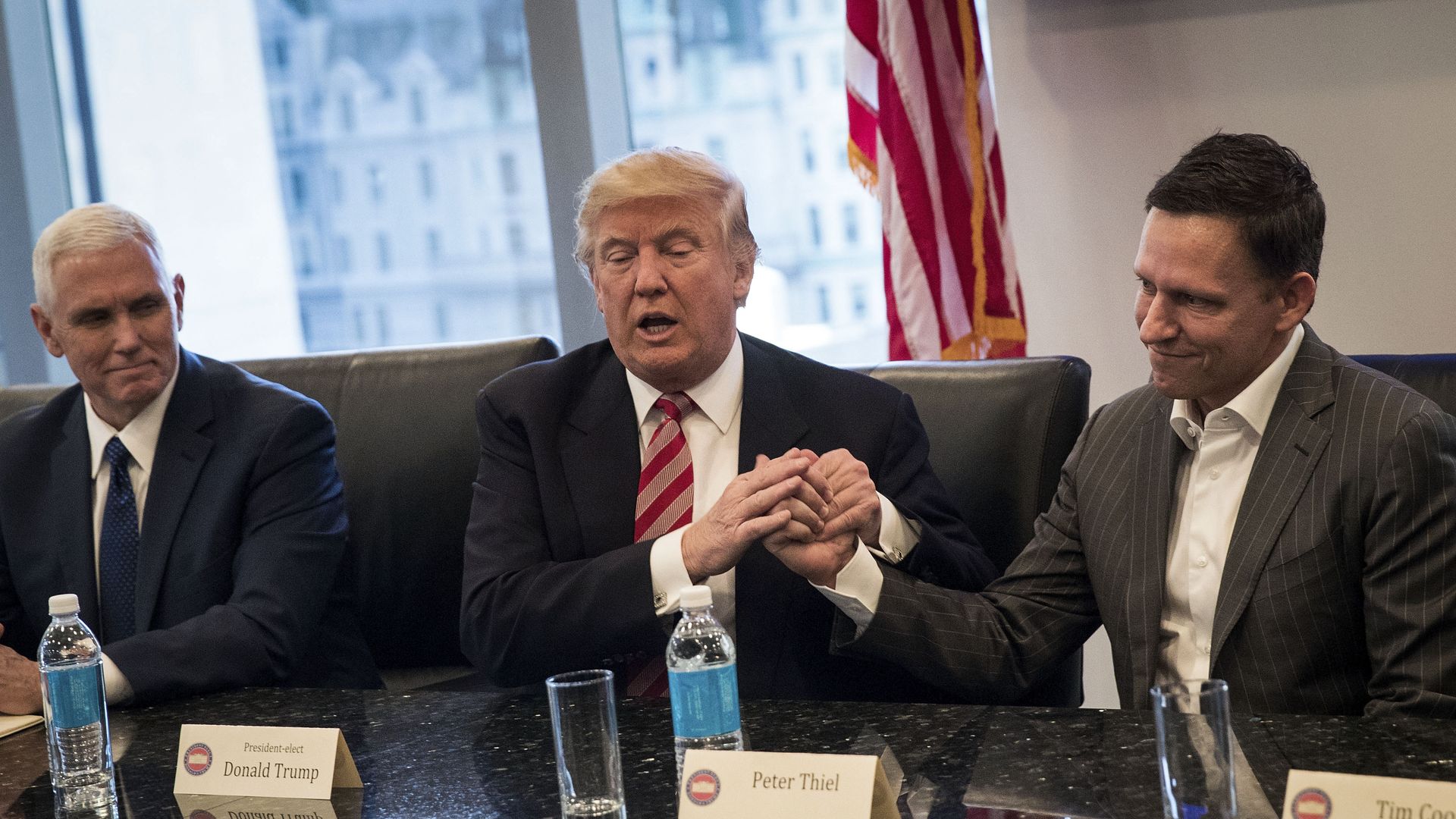 Hi Peter. Just have a few questions that should be asked of you:
Number one, have you shorted Google stock or is Palantir currently competing with Google for a major U.S. government contract.
Number two, you've said on the record that you're 'not a vampire.' Are you able to provide independent verification of this claim? Because, were you a vampire, it could pose a national security risk given your ties with senior U.S. officials.
Number three, is it because you're actually a vampire that you deny being a vampire? And would that not be seemingly treasonous, in that the generally-accepted societal punishment is death (albeit by wooden stake, in this case)?
What you missed: Billionaire venture capitalist Peter Thiel doubled down on his 'Google has maybe been infiltrated by the Chinese government' claim last night, in an appearance on Tucker Carlson's Fox News program. Part of the conversation was replayed this morning on Fox & Friends, which was then picked up by President Trump who tweeted that his administration will investigate.
When (lightly) pressed by Carlson for evidence, Thiel demurred by saying he was just "asking questions."
I don't mean to minimize the very real possibility of Chinese espionage attempts at U.S. tech companies, and Google's AI efforts certainly make it Silicon Valley's juiciest target. Moreover, an argument that Google was unpatriotic for not renewing its massive U.S. Department of Defense contract (Project Maven) while continuing to do business with tech transfer-heavy China is a legitimate source of debate. (see Lonsdale, Joe for more on this).
But you don't suggest that someone deserves to die without at least a single receipt. Because that's the sort of thing that only a blood-sucking monster would do.
Pro Rata Podcast digs deeper into Thiel's comments on Google, and the broader Trumpist attacks on big tech. I'm joined by David McCabe, who was in the room Sunday night for Thiel's speech. Listen here.
Also...
• New firm alert: Growth equity investor Lee Fixel appears to be launching a new firm called Addition, according to a brief email sent this morning to friends and associates. No specifics were disclosed.
Fixel earlier this summer stepped down as managing partner of Tiger Global, where he helped lead investments in such companies as Facebook, Flipkart, LinkedIn and Spotify. At the time, he didn't disclose his future plans.
🛴 Sidewalk wars: E-scooter company Bird is targeting $250 million for its Series D funding, per multiple sources.
Word of a new round first came last week from The Information, which also included some financials that were (partially) disputed by Bird's CEO.
But the reported funding history was a bit off. Namely because Bird never raised the full $300 million in Series C-1 funding it began seeking late last year. Instead, per sources familiar, Bird closed on around $158 million ($117m in Q4 2018 and another $41m in Q1).
A company spokesperson declined to comment on any fundraising beyond the original Series C raise last summer.
• Today in Abraaj: Actis, a private equity firm focused on emerging markets, said it has assumed control of two funds originally raised and managed by the collapsed Abraaj Group. The move includes 14 active portfolio companies of Abraaj's fourth flagship fund and its third Africa-focused fund.
This follows TPG taking over Abraaj's healthcare fund (whose alleged misuse was at the center of the firm's downfall) and Colony Capital taking over the Latin America-focused fund. The only big asset left is a credit fund.
The BFD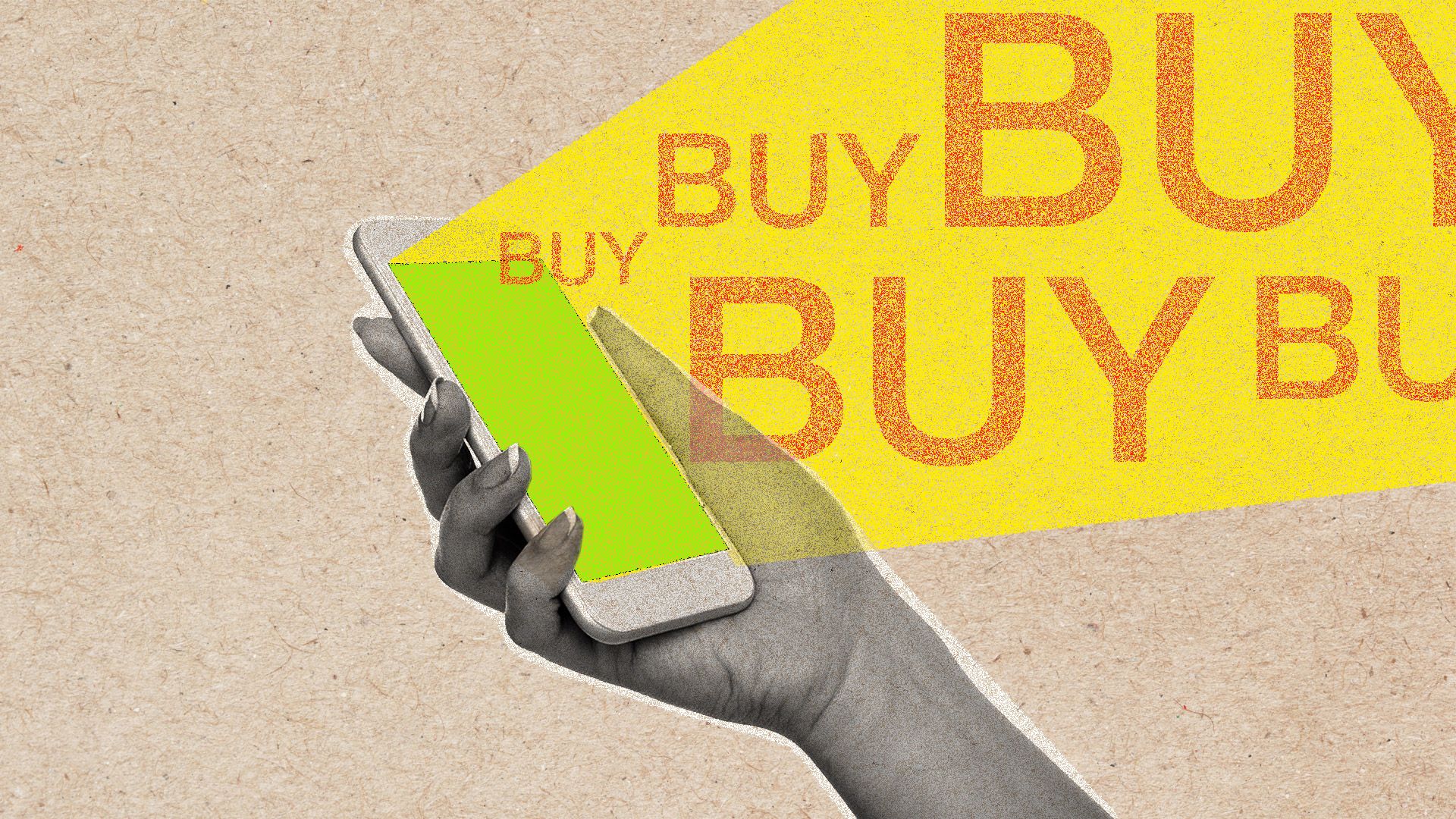 The Blackstone Group agreed to acquire San Francisco-based mobile video advertising company Vungle for a reported $750 million.
Why it's the BFD: The deal includes a settlement of the wrongful termination lawsuit filed against Vungle by its founder and former CEO Zain Jaffer, who was canned after his 2017 arrest on charges that included sexual assault of his own child. Zaffer, who remained Vungle's largest shareholder, was later entirely exonerated ⁠— charges were dismissed at the DA's request — and had sought compensation and a return to his CEO position. No terms of the settlement were disclosed, but a source says it cashes out 100% of Jaffer's equity and does not include ongoing involvement with the company.
ROI: Vungle, founded in 2011, had raised around $25 million in VC funding from firms like Crossslink Capital, Thomvest Partners, GV, and Uncork Capital.
Bottom line: Vungle says it works with publishers of more than 60,000 mobile apps, including Rovio, Zynga, Pandora, Microsoft, and Scopely.
Venture Capital Deals
🚑 Recursion Pharmaceuticals, a Salt Lake City-based automated drug discovery platform, raised $121 million in Series C funding. Baillie Gifford led, and was joined by Intermountain Ventures, Regents of the University of Minnesota and Texas Tech University System. http://axios.link/rQzo
🚑 AM-Pharma, a Dutch biopharma startup focused on acute kidney injury, raised €116 million. LSP and Andera Partners co-led, and were joined by Forbion and return backers Ysios Capital, Kurma Partners, ID Invest Partners, BB Pureos Bioventures and Gilde Healthcare. http://axios.link/cgKW
• Moglix, an Indian B2B e-commerce company focused on industrial tools, raised $60 million in Series D funding. Tiger Global, Sequoia India and Composite Capital were joined by return backers Accel, Jungle Ventures, IFC, Venture Highway and Ratan Tata. http://axios.link/P7Or
• Patreon, a San Francisco-based monetization platform for content creators, raised $60 million in Series D funding. Glade Brook Capital led, and was joined by return backers Index Ventures, CRV, Thrive Capital, Initialized Capital and DFJ Growth. http://axios.link/MPbI
• Curve, a London-based "over-the-top banking platform," raised $55 million in Series B funding. Gauss Ventures led, and was joined by Creditease, Outward VC and return backers Santander InnoVentures, Breega, Seedcamp and Speedinvest. http://axios.link/gQMg
• Notable, a San Francisco-based cancer drug development startup, raised $40 million in Series B funding co-led by B Capital Group and LifeForce Capital. www.notablelabs.com
• Flybits, a Toronto-based consumer recommendation engine for the financial sector, raised $35 million in Series c funding. Point72 Ventures led, and was joined by Mastercard, Citi Ventures, Reinventure, Portag3 Ventures, TD Bank and Information Venture Partners. http://axios.link/yuVW
🚑 Neocis, a Miami-based healthcare robotics startup focused on dental implantation surgery, raised $30 million. Mithril Capital Management led, and was joined by Norwest Venture Partners. http://axios.link/1hi8
• Raisin, a German digital marketplace for savings and investment products, raised €25 million from Goldman Sachs, PayPal, Index Ventures, Ribbit Capital and Thrive Capital. http://axios.link/kRx1
🚑 Trefoil Therapeutics, a San Diego-based drug startup whose first candidate focuses on corneal endothelial dystrophy, raised $28 million in Series A funding. Bios Partners led, and was joined by Access Biotechnology, Hatteras Venture Partners, Aju IB Investment, Correlation Ventures, ExSight Ventures and InFocus Capital Partners. www.trefoiltherapeutics.com
• Finix, a San Francisco-based payments infrastructure startup, raised $17.5 million in Series A funding. Bain Capital Ventures led, and was joined by Insight Partners, Aspect Ventures, Visa, Homebrew, Precursor Ventures and Act One Ventures. www.finixpayments.com
• DefenseStorm, an Alpharetta, Ga.-based cybersecurity management platform for local banks and credit unions, raised $15 million in Series A funding led by Georgian Partners. http://axios.link/nkaW
• SAM Labs, a Cambridge, Mass.-based provider of STEAM teaching kits for non-technical elementary and middle school teachers, raised $8.9 million in Series A-2 funding from firms like Partners in Equity and Inventures Investment Partners. http://axios.link/30Wz
• AppyParking, a London-based app for locating open parking spots, raised £7.6 million in Series A funding. West Hill Capital led, and was joined by Hyundai Motor Co., Sumitomo and return backers Aviva Ventures and Breed Reply. http://axios.link/1kAe
• Bulletin, a New York-based provider of brick-and-mortar sales enablement software for brands, raised $7 million in Series A funding. Foundation Capital led, and was joined by Kleiner Perkins, Trail Mix Ventures and Afore Capital. http://axios.link/iCNR
🚑 POPS Diabetes Care, a Minneapolis-based diabetes care management company startup, raised $6 million in Series A funding led by 30Ventures. www.popsdiabetes.com
Private Equity Deals
• The Blackstone Group agreed to buy the European plumbing and heating distribution business of Ireland's CRH (ISE: CRG) for €1.64 billion. http://axios.link/pUdu
• EagleTree Capital acquired a majority stake in Invincible Boat Co., an Opa Locka, Fla.-based maker of saltwater fishing boats. http://axios.link/JVgA
⛽ Fulcrum Energy Capital Funds formed Pachira Oil & Gas via the purchase of over 10,000 net acres of leasehold in the Eagle Ford shale in South Texas. www.fulcrumef.com
• Mercer Advisors, a Santa Barbara, Calif.-based portfolio company of Genstar Capital, acquired Newport Beach, Calif.-based wealth manager Physicians Financial Advisors. www.merceradvisors.com
🚑 Novacap agreed to buy a majority stake in Spectrum Health Care, a provider of home health care services in Ontario, Canada. www.spectrumhealthcare.com
Public Offerings
• ProSight Global, a Morristown, N.J.-based specialty insurer owned by Goldman Sachs and TPG Capital, set IPO terms to 8.8 million shares at $16-$18. It would have an initial market cap of $720 million, were it to price in the middle, and plans to trade on the NYSE (PROS) with Goldman Sachs as lead underwriter.
Liquidity Events
🚑 Boehringer Ingelheim of Germany acquired Amal Therapeutics, a Swiss cancer vaccines developer, for €325 million. AT had raised $37 million from firms like Boehringer Ingelheim, BioMedPartners, Helsinn Investment Fund, Schroder Adveq, High-Tech Gründerfonds and VI Partners. http://axios.link/Qia7
More M&A
• Charles Schwab (NYSE: SCHW) is in talks to buy the brokerage and wealth management business of USAA for around $2 billion, per the WSJ. http://axios.link/u3Dw
👗 LVMH acquired a minority stake in the UK fashion house founded by Stella McCartney. http://axios.link/MsDq
• Oyo, an India-based budget hotel operator that's raised around $1 billion in VC funding, paid a reported $30 million to acquire co-working space operator Innov8. http://axios.link/dlLn
• Prologis (NYSE: PLD) agreed to buy Industrial Property Trust, a portfolio of U.S. industrial properties, from Black Creek Group for around $4 billion. http://axios.link/xgFM
Fundraising
• IQ Capital, a UK-based venture firm, raised $175 million for its third flagship fund and $125 million for its first "growth opportunities" fund. www.iqcapital.vc
• WILsquare Capital, a St. Louis-based lower middle-market private equity firm, raised $190 million for its second fund.
It's Personnel
• Michael Behringer joined Ridgemont Equity Partners as an executive-in-residence, per his LinkedIn page. He's the CEO of Kettle Hill Partners, and previously was an executive-in-residence with Warburg Pincus. www.ridgemontep.com
• Bessemer Venture Partners promoted Andrew Hedlin to principal and Mike Droesch to vice president. www.bvp.com
• Michael Chen, former head of China consumer investments for Warburg Pincus, joined Centurium Capital as a managing director. Centurium was founded in 2016 by former Warburg Pincus partner David Li. http://axios.link/ggQN
• David Curtiss left Kirkland & Ellis to join law firm Proskauer as a partner focused on capital markets. www.proskauer.com
• Sean Daugherty stepped down as a managing director and member of the consumer retail group at Lazard Middle Market, per his LinkedIn page.
• John Flannery, former chairman and CEO of General Electric, joined Charlesbank Capital Partners as an advisory director. www.charlesbank.com
• Elizabeth Qian joined TA Associates as a Boston-based VP focused on North American tech investments. She previously worked in finance and strategy for Amazon Web Services. www.ta.com
• Ofa Stead joined Sterling Partners as an operating partner on the firm's education fund. She previously led HR for Sterling portfolio company Amerigo Education. www.sterlingpartners.com
🚑 Pappas Capital, a life sciences VC firm, promoted Kyle Rasbach to managing partner and Matthew Boyer to CFO. www.pappas-capital.com
• Värde Partners said that chief investment officer Ilfryn Carstairs also will assume the role of co-CEO at year-end. He'll share the role with current CEO George Hicks, who plans to transition to an executive chair role in 2022. www.varde.com
• Wells Fargo promoted Marc Winniford to assistant treasurer and head of corp dev, putting him in charge of M&A. http://axios.link/P0fh
• John Wehrli left Jones Day to join law firm Wilson Sonsini Goodrich & Rosati as a San Diego-based partner focused on tech transactions. www.wsgr.com
Final Numbers
🙏 Thanks for reading Axios Pro Rata. Please ask your friends, colleagues and Bitcoin bugs to sign up here.