Axios Pro Rata
January 29, 2019
Top of the Morning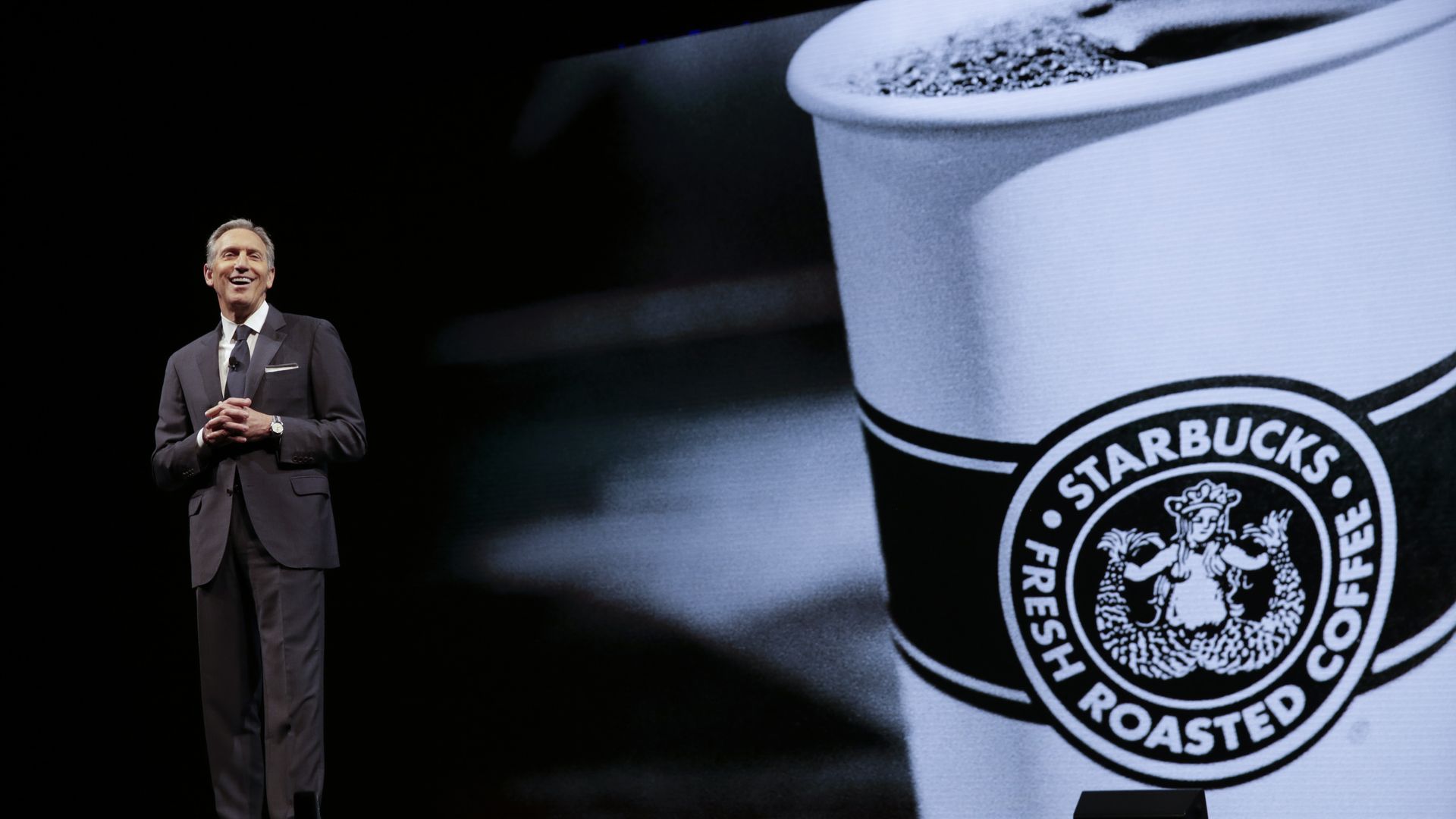 I have a piece up this morning about how Howard Schultz's presidential campaign is about to cause migraines for Starbucks, much like Mitt Romney's 2012 race became cumbersome for Bain Capital. Read it here.
I remember having lunch with a Bain Capital executive in 2012, who told me: "I love Mitt and think he'd make a better president than Obama. But, for our sakes here at Bain, I really wish he wasn't running."
Bain Capital had already been scrutinized during Romney's prior political runs, so it mostly knew its trouble-spots and had already readied its defenses. Starbucks has no such experience, and shouldn't assume that any serious skeletons would have necessarily been uncovered during its 27 years as a publicly-traded company.
In other words, Starbucks will need to do opposition research on itself.
It also has the added pressure of being a consumer company, with possible boycotts based on things said by Schultz, who still holds around $2.3 billion worth of Starbucks stock.
There are untold numbers of mom-and-pop coffee shops that were put out of business by Starbucks. Don't be surprised if some of those ex-

proprietors

become regular faces on cable news and in TV ads.
Go deeper: Mike Allen and I discuss Schultz's presidential ambitions on the Pro Rata podcast. Listen here.
• No deal: California utility giant PG&E filed for Chapter 11 bankruptcy protection this morning, despite a Bloomberg report that Elliott Management and Apollo Global Management had sent financing proposals to help PG&E stave off that step.
BlueMountain Capital, which holds just under a 1% stake in PG&E, said it was "deeply disappointed" that the company eschewed such entreaties and went forward with its "reckless and irresponsible plan to file for bankruptcy."
• No deal, part 2: Last week we noted how Snap, now valued at just around $8 billion, reportedly turned down a $30 billion takeover approach from Google shortly before its early 2017 IPO. But I've since spoken with a top-level source who says no formal offer was ever made.
"There was a camp [at Google] that wanted to do it, but Larry [Page] never really seemed into it. For something that big, Larry would have needed to be fully on board and dealing with Evan [Spiegel] directly.
• On the docket: Kainos Capital co-founder Sarah Bradley is suing her two co-founders for allegedly defrauding her of a 25% ownership stake in the Dallas-based private equity firm, which manages around $1.3 billion.
The big claim: Bradley claims that she lost the stake when Kainos changed its structure from a limited partnership to an LLC, which she says she was told was just for tax purposes. She also says that her carried interest was significantly reduced without notice or consent.
The other claims: Bradley also claims there was a "frat house culture" at Kainos, including one of her co-founders telling her to "love it, learn it or leave it" when she complained about binge drinking.
Kainos calls Bradley's complain without merit.
The BFD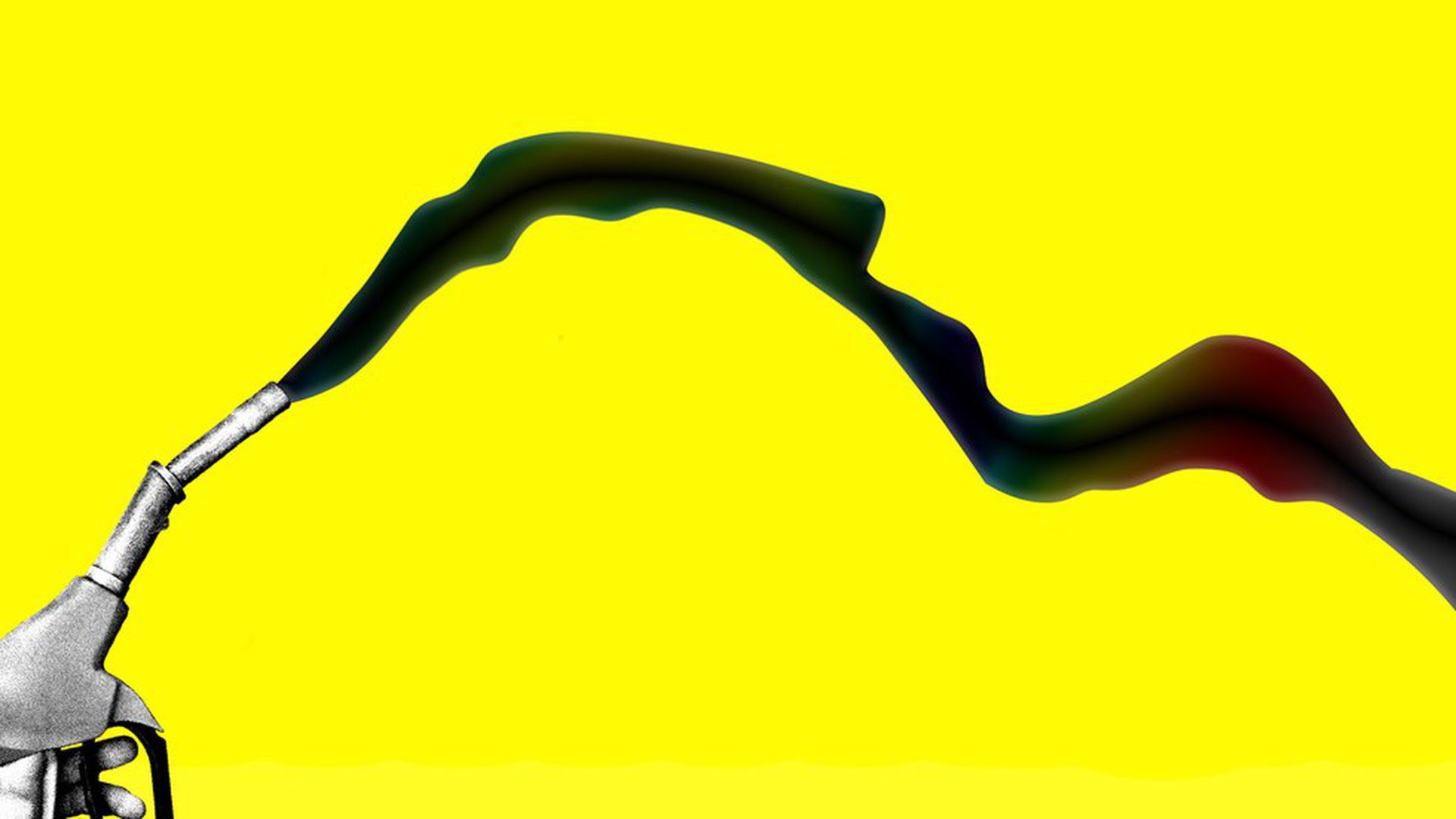 RigUp, an Austin, Texas-based on-demand staffing platform for the oil and gas industry, raised $60 million at a $300 million post-money valuation, Axios has learned. Founders Fund led, and was joined by fellow return backers Bedrock Capital and Quantum Energy Partners.
Why it's the BFD: Because RigUp could lower the transaction costs for acquiring new contractors in the oil and gas exploration, drilling and operations space — work that's traditionally been done via analog staffing firms. Particularly at a time when many such employers are feeling a cash squeeze.
Bottom line: "There are only three areas software hasn't really touched: Government, religion and oil and gas." — Xuan Yong, CEO of RigUp, who says his company enabled over $600 million in transactions last year (up from $150 million in 2017).
Venture Capital Deals
• Collibra, a Belgium-based provider of enterprise data governance and catalog software, raised $100 million in Series E funding at a post-money valuation north of $1 billion. CapitalG led, and was joined by return backers ICONIQ Capital, Index Ventures, Dawn Capital and Battery Ventures. www.collibra.com
• Sandbox VR, a Hong Kong-based entertainment VR startup, raised $68 million in Series A funding. Andreessen Horowitz led, and was joined by Floodgate, Stanford University, TriplePoint Capital, CRCM and Alibaba. http://axios.link/M0ru
• Petal, a New York-based credit card startup, raised $30 million in Series B funding led by return backer Valar Ventures. Other investors include Greyhound Capital, Third Prime Capital, Rosecliff Ventures, Story Ventures, RiverPark Ventures and Afore Capital. www.petalcard.com
• Featurespace, a London-based provider of behavioral analytics software for fraud detection and risk management, raised £25 million co-led by Insight Venture Partners and MissionOG. http://axios.link/4Qan
• Billie, a New York-based women's shave and body products brand, raised $25 million in Series A funding. Goldman Sachs led, and was joined by return backers Silverton Partners, Female Founders Fund and Lakehouse Ventures. www.mybillie.com
• Knotch, a New York-based digital content intelligence platform, raised $20 million in Series B funding led by NEA. www.knotch.com
🚑 Medigate, a New York-based medical device security and asset management platform, raised $15 million in Series A funding. USVP led, and was joined by YL Ventures and Blumberg Capital. www.medigate.io
• District M, a Montreal-based digital ad exchange, raised C$12 million from Investissement Québec and Fonds de solidarité FTQ. http://axios.link/kEvz
• Kuali, a Lehi, Utah-based provider of SaaS for higher ed, raised $12 million in Series A-1 funding from Mercato Partners and Owl Ventures. http://axios.link/1s17
• Allvision, a Pittsburgh-based geospatial analytics startup, raised $3.2 million in seed funding led by Lavrock Ventures. www.allvision.io
Private Equity Deals
• Arlington Capital Partners acquired Intellectual Technology, a Carlsbad, Calif.-based provider of motor vehicle agency software. Existing backer Vicente Capital Partners retains a stake. www.iti4dmv.com
• Bridgepoint agreed to buy water tech firm Miya from Arison Investments for $260 million. http://axios.link/IZXT
• Hg Capital agreed to buy Transporeon, a German industrial logistics platform, from TPG Capital. www.transporeon-group.com
• Levine Leichtman Capital Partners acquired SK AeroSafety, a provider of safety and maintenance services for passenger equipment on airplanes, from Apax Partners portfolio company SK FireSafety. http://axios.link/yJNB
ProPharma Group, an Overland Park, Kansas-based portfolio company of Linden Capital Partners, acquired The Weinberg Group, a Washington, D.C.-based provider of regulatory and compliance services to the life sciences market. www.propharmagroup.com
Public Offerings
🚑 Alector, a South San Francisco-based immuno-neurology company, set IPO terms to 9.25 million shares at $18-$22. It would have an initial market cap of around $1.37 billion, were it to price in the middle. The company plans to trade on the Nasdaq (ALEC) with Morgan Stanley as lead underwriter, and has raised over $200 million from firms like Polaris Venture Partners (21.7% pre-IPO stake) and OrbiMed (21.4%).
🚑 Harpoon Therapeutics, a South San Francisco-based immunotherapy company, set IPO terms to 5.4 million shares at $13-$15. It would have an initial market cap of around $335 million, were it to price in the middle. The company plans to trade on the Nasdaq (HARP) with Citigroup and SVB Leerink as lead underwriters. It's raised $130 million in VC funding from firms like MPM Capital 23.2% pre-IPO stake), UBS (20.1%), New Leaf Ventures (13.8%), Arix Bioscience (13.7%), OrbiMed (11.6%), Cormorant, Ridgeback Capital, Taiho Ventures and Lilly Asia Ventures. www.harpoontx.com
Liquidity Events
🚑 Medtronic (NYSE: MDT) agreed to buy EPIX Therapeutics, a Santa Clara, Calif.-based maker of ablation catheters that has raised nearly $60 million from firms like NEA, Questa Capital and Ajax Health. http://axios.link/OtO6
More M&A
• Abu Dhabi Commercial Bank, Union National Bank and Al Hilal Bank have agreed to merge, creating the UAE's third largest bank. http://axios.link/gzkN
• Saudi Arabia's Public Investment Fund recently hedged nearly its entire 4.9% stake in Tesla Motors (Nasdaq: TSLA), per the FT. http://axios.link/owaV
🚑 Thermo Fisher Scientific (NYSE: TMO) agreed to sell its anatomical pathology equipment business to Japan's PHC Holdings Corp. for $1.14 billion in cash. http://axios.link/aKPv
• Unilever acquired The Laundress, a New York-based maker of high-end detergent and cleaning products. http://axios.link/8EC1
Fundraising
• ClearVue Partners, a private equity firm focused on China's consumer sector, is raising $600 million for its third fund, per an SEC filing. www.cvpcap.com
• Elm Park Capital of Dallas raised $300 million for its third private debt fund focused on the lower middle markets. http://axios.link/M4CJ
• Leawood Venture Capital, based in Kansas, is raising $75 million for its second fund, per an SEC filing. www.leawoodvc.com
• Sapphire Ventures raised $115 million for a new fund focused on startups at the intersection of sports, media and entertainment. http://axios.link/Erpy
• Thoma Bravo raised $12.6 billion for its eight flagship buyout fund. http://axios.link/stgu
It's Personnel
• Gregor Klenk joined the Frankfurt office of law firm Goodwin as a private equity-focused partner. He previously was with Latham & Watkins. www.goodwinlaw.com
• Bob Lockwood joined investment bank Lincoln International as a managing director and head of Internet and digital media coverage. He previously was with Raymond James & Associates. www.lincolninternational.com
• Northern Trust named Kimberly Evans as head of private capital fund administration in North America. www.northerntrust.com
Final Numbers