Axios Pro Rata
November 02, 2021
Top of the Morning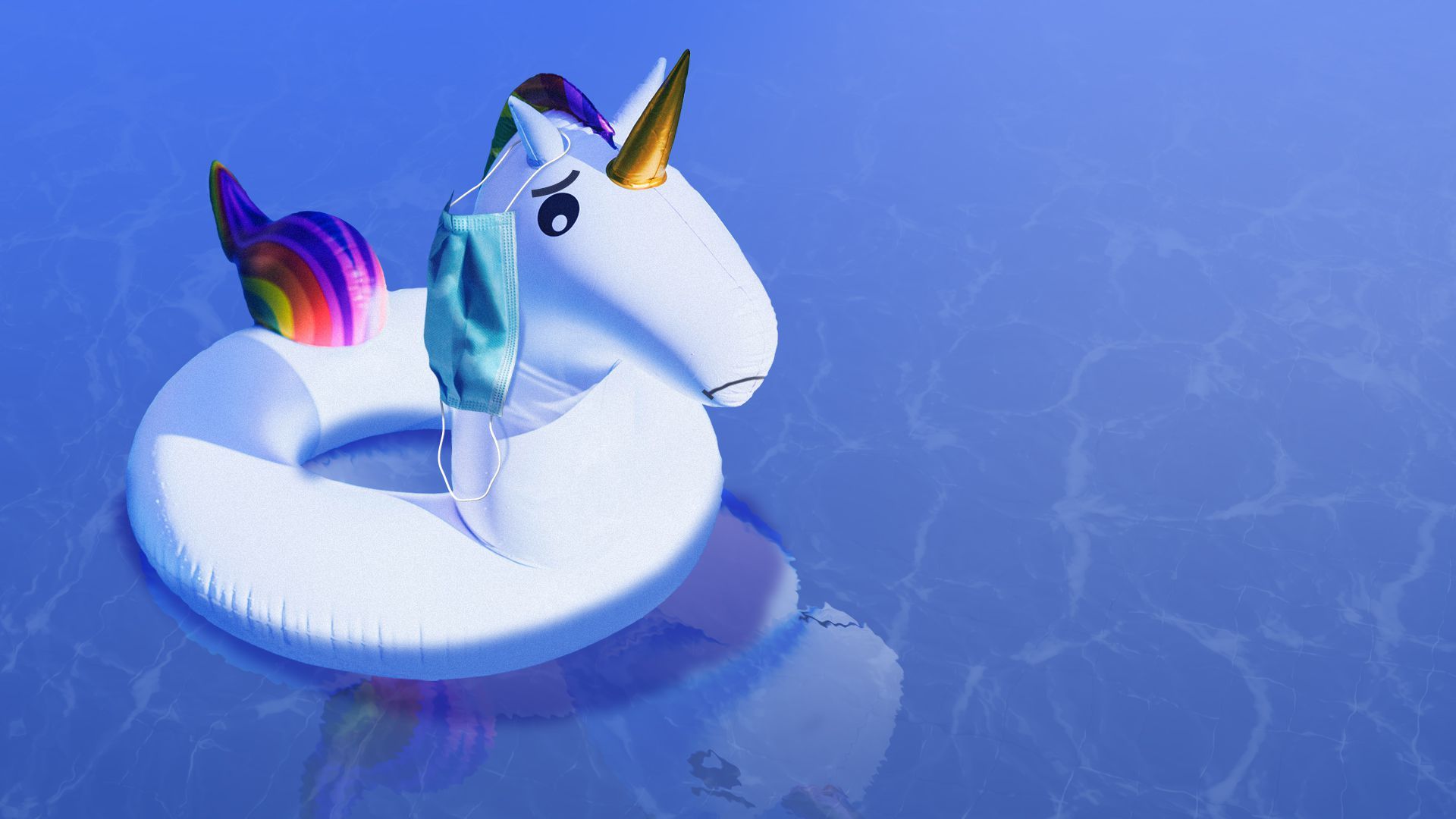 There are now over 850 unicorn companies, according to research firm CB Insights. Some will become dragons. Some will go public or be acquired for massive sums. But some will be resigned to remembering these as the glory days.
Driving the news: MBM Capital has launched as a buyout firm focused exclusively on faded unicorns whose venture capitalists have thrown in the towel.
MBM's principals are Lauren Bonner (ex-Point72) and Arun Mittal (StoneCastle). The firm is raising up to $100 million for its debut fund, with soft circles from endowments and a first close slated by year-end. Its sector focus will be in fintech, HR tech, data and e-commerce.
"There's a massive funding gap no one else is organized specifically to pursue," Mittal tells Axios.
He acknowledges that money is easy right now, but believes there's a bit of "buy the rumor, sell the news" for unicorns.
"It's easier to raise giant amount of money if you haven't actually done anything ... A company that's seven to nine years old, and has seen its growth plateau or reverse, doesn't get the benefit of the doubt."
Behind the scenes: For VC backers, the MBM sales pitch is pretty simple: Get dead weight off your books so you can focus on the wins. For management, it's about second chances.
"Their stock is worthless and they know it," Mittal argues. "This is for those who really believe in what they're doing, and want to keep trying with some new capital and operational support."
The bottom line: Not all that glitters remains gold.
The BFD
Axios, an artisan media company, raised new funding from Cox Enterprises Inc. at a $430 million valuation.
Why it's the BFD: This means Axios will remain independent for some time to come, after takeover talks broke down over the summer with KKR-backed German publisher Axel Springer. Plus, imagine all the synergy possibilities between Pro Rata and Cox-owned Kelley Blue Book.
Details: Axios isn't disclosing how much was raised, except that the deal was a combo of primary and secondary funding, with Cox buying out an early investor and assuming its board seat.
The bottom line: "D.C.-based media companies that have enjoyed a robust, post-pandemic advocacy and corporate social responsibility ad market are seeing valuations rise." — Sara Fischer, Axios Media Trends
Venture Capital Deals
• Nuro, a Mountain View, Calif.-based autonomous delivery startup, raised $600 million in Series D funding at an $8.6 billion valuation. Tiger Global led, and was joined by Baillie Gifford, Fidelity, Gaorong Capital, Kroger, SoftBank, T. Rowe Price, Woven Capital and Google. http://axios.link/esMN
• Mynt, a Philippines-based, raised $300 million at a valuation north of $2 billion. Warburg Pincus led, and was joined by Insight Partners, Bow Wave Capital, Itai Tsiddon, Amplo Ventures, Globe and Ayala. http://axios.link/oDV1
• Everlaw, an Oakland-based investigation and litigation platform, raised $202 million in Series D funding at a valuation north of $2 billion. TPG Growth led, and was joined by H.I.G. Growth Partners and insiders CapitalG, Menlo Ventures, Andreessen Horowitz and K9 Ventures. www.everlaw.com
• Chipper Cash, an Africa-focused cross-border payments startup, raised $150 million in new Series C funding at a $2 billion valuation. FTX led, and was joined by insiders SVB Capital, Deciens Capital, Ribbit Capital, Bezos Expeditions, One Way Ventures and Tribe Capital. http://axios.link/dKU7
• Autobrains, an Israeli AI for assisted and autonomous driving, raised $101 million in Series C funding. Temasek led, and was joined by Knorr-Bremse, BMW and Continental AG. www.autobrains.ai
• Moka, a Chinese HR management software startup, raised $100 million in Series C funding. Tiger Global led, and was joined by Blue Lake Capital and GL Ventures. http://axios.link/h8Zt
• Prepaid Technologies, a Birmingham, Ala.-based provider of prepaid digital payment solutions, raised $96 million. Edison Partners and StepStone Group co-led, and were joined by Stifel and Top Tier Capital Partners. www.in-prepaid.com
• The Sandbox, a Hong Kong-based NFT gaming platform owned by Anomica Brands, raised $93 million led by SoftBank. http://axios.link/yxn5
• 42dot, a South Korean autonomous transport-as-a-service startup, raised $88.5 million in Series A funding from Shinhan Financial Group, Lotte Rental, Lotte Ventures, STIC Ventures, We Ventures and DA Value Investment. http://axios.link/kxjs
🚑 Cambridge Epigenetix, a British genome sequencing company, raised $88 million in Series D funding. Temasek led, and was joined by Third Point and insiders GV, New Science Ventures, Ahren Innovation Capital and Sequoia Capital. www.cegx.co.uk
🚑 Infusion for Health, a Thousand Oaks, Calif.-based network of ambulatory infusion centers, raised $50 million. Oak HC/FT led, and was joined by insider Cimarron Healthcare Capital. www.infusionforhealth.com
🚑 LightForce Orthodontics, a Boston-based provider of 3D-printed braces, raised $50 million in Series C funding from insiders Matrix Partners, Tyche Partners and AM Ventures. http://axios.link/ifa7
🌎 Loam Bio, an Australian carbon removal startup, raised A$40 million in Series A funding. Time Ventures led, and was joined by Main Sequence, Horizons Ventures, CEFC, Acre Venture Partners, Grok Ventures, Lowercarbon Capital and Thistledown Capital. http://axios.link/596O
• Sofar Ocean Technologies, an SF-based maker of instruments for ocean data collection, raised $39 million in Series B funding from Union Square Ventures and Foundry Group. http://axios.link/7nCm
🚑 PierianDx, a Creve Coeur, Mo.-based clinical genomics software startup, raised $30 million. OrbiMed led, and was joined by insiders Health Catalyst Capital, Research Triangle Institute, Inova Health Systems, ATW Partners and SJF Ventures. www.pieriandx.com
🚑 Optina Diagnostics, a Canadian developer of a retina-based Alzheimer's test, raised C$24.8 million in Series A funding. DigitalDx Ventures led, and was joined by Boehringer Ingelheim, Desjardins Capital, Hike Ventures, Advisors Fund, MEDTEQ+ and Biomed Propulsion. http://axios.link/Us7U
• Magnify, a Bend, Ore.-based post-sales orchestration startup, raised $6 million in seed funding from Madrona Venture Group and Decibel Partners. www.magnify.io
• Opibus, a Kenyan EV conversion startup, raised $5 million in equity funding led by At One Ventures. http://axios.link/f29N
Private Equity Deals
• Ardian invested in Strategie Media Conseil, a French digital classifieds platform for high-end real estate. www.maisonsetappartements.fr
🚑 Arsenal Capital Partners bought Guidemark Health, a Parsippany, N.J.-based healthcare marketing communications, training, and medical education agency, from High Road Capital Partners. www.guidemarkhealth.com
• Baring Private Equity Asia agreed to buy Tricor Group, a Hong Kong-based business advisory, from Permira for $2.76 billion (including debt). http://axios.link/PzHw
• Duke's Root Control, an Elgin, Ill.-based portfolio company of Altamont Capital Partners, acquired Hydrostructures, a Cayce, S.C.-based regional sewer service provider. www.dukes.com
• Len The Plumber, a Baltimore-based portfolio company of Thompson Street Capital Partners, acquired Service Today, a Fredericksburg, Md.-based residential HVAC company. www.lentheplumber.com
• O2 Investment Partners invested in Capital Construction, a Burnsville, Minn.-based residential roof replacement company. www.capitalmn.com
⚡ OMERS Infrastructure agreed to buy Navisun, a Wilmington, Del.-based distributed generation solar power producer, from Ares Management. www.navisunllc.com
• Outdoor Living Supply, a Rochester, Minn.-based portfolio company of Trilantic North America, acquired Landscapers Depot, a Canadian landscaping supplies retailer. www.outdoorlivingsupply.net
• Recovery Point Systems, a Germantown, Md.-based portfolio company of Abry Partners, acquired Geminare, a Toronto-based provider of business continuity and disaster recovery services. www.geminare.com
• TPG Growth invested in Keter Environmental Services, a Stamford, Conn.-based recycling and waste management company. www.keteres.com
• USALCO, a Baltimore-based water treatment chemical producer owned by H.I.G. Capital, merged with British rival G20 Technologies, a portfolio company of Arsenal Capital Partners. www.usalco.com
Public Offerings
• Delhivery, an Indian logistics company, plans to raise nearly $1 billion in an IPO at a valuation north of $5.5 billion. It's raised over $1 billion from backers like SoftBank, The Carlyle Group, CPPIB, Addition and Fosun. http://axios.link/3xM6
• Edible Garden, a Belvidere, N.J.-based grower of organic herbs and lettuces, filed for a $93 million IPO. It plans to list on the Nasdaq (EDBL). http://axios.link/00Eq
• Rivian, an Irvine, Calif.-based electric truck-maker, set IPO terms to 135 million shares at $57-$62. It would have a $57 billion fully diluted value, were it to price in the middle, plans to list on the Nasdaq (RIVN), and reports nearly a $1 billion net loss for the first half of 2021. Rivian has raised around $11 billion from firms like Amazon, T. Rowe Price, Oryx Global, Ford Motor Co. and Manheim Investments. http://axios.link/kF6g
SPAC Stuff
☕ Black Rifle Coffee Co., a Salt Lake City-based coffee chain backed by Sterling Partners PE, agreed to go public at an implied $1.7 billion valuation via SilverBox Engaged Merger Corp I (Nasdaq: SBEA). http://axios.link/ywCF
• Arisz Acquisition, a healthcare SPAC formed by MSQ Ventures, filed for a $60 million IPO. http://axios.link/fMtZ
🚑 Jupiter Wellness Acquisition, a health SPAC, filed for a $100 million IPO. http://axios.link/KOmq
• Novo Tellus Capital Partners, a Singapore-based PE firm, filed for a S$200 million SPAC IPO, per Bloomberg. http://axios.link/5E9P
• Pomelo Acquisition, a SPAC led by Kiyohiro Kawayanagi (Bit World Japan Investment), filed for a $75 million IPO. http://axios.link/FgZq
• Seaport Global Acquisition II, a distressed business SPAC formed by Seaport Global, filed for a $125 million IPO. http://axios.link/oR2E
Liquidity Events
• Coinbase (Nasdaq: COIN) agreed to buy Agara, a Walnut, Calif.-based customer support platform that had raised $12 million from firms like UTEC, RTP Ventures and Blume Ventures. http://axios.link/QKTv
• Fiverr (NYSE: FVRR), bought Stoke Talent, an Israeli freelance talent management platform, for $95 million. Stoke raised around $20 million from backers like Battery Ventures, Edenred Capital Partners, Kii Capital, TLV Capital and Pipeline Capital Partners. http://axios.link/wNii
• Generac (NYSE: GNRC) agreed to buy Ecobee, a Toronto-based smart thermostat maker, for up to $770 million (including earnouts). Ecobee has raised around $160 million from firms like Energy Impact Partners, Caisse de dépôt et placement du Québec, AGL Energy and BDC. http://axios.link/sMnU
• Eureka Equity Partners sold McCue, a Danvers, Mass.-based provider of safety and asset protection solutions, to a U.S. subsidiary of Bunzl (LSE: BUNZ). www.mccue.com
More M&A
🚑 AlayaCare, a Montreal-based provider of home and community care SaaS, acquired Delta Health Technologies, an Altoona, Pa.-based provider of home health solutions. AlayaCare backers include General Investment Management, Klass Capital, Inovia Capital, CDPQ and Investissement Québec. www.alayacare.com
• DuPont (NYSE: DD) agreed to buy Rogers Corp. (NYSE: ROG), a Chandler, Ariz.-based engineering materials maker, for $5.2 billion in cash, or $277 per share (33% premium to yesterday's close). http://axios.link/9IT2
• Huawei Technologies is in advanced talks to sell its x86 server business to an investor group that includes at least one state-backed buyer, following U.S. blacklisting, per Bloomberg. http://axios.link/yUaE
• Klarna, a Swedish online payment platform and Europe's most valuable unicorn, agreed to buy price comparison engine Pricerunner from Swedish investment firm Creads for $124 million. http://axios.link/d3jS
• Lazard (NYSE: LAZ) is in advanced talks to buy credit-focused hedge fund Brigade Capital Management, per Bloomberg. http://axios.link/Aqff
• Netwealth Group (ASX: NWL), an Australian wealth manager, offered to buy asset management firm Praemium (ASX: PPS) for A$785 million. http://axios.link/C323
🚑 Sensyne Health (LSE: SENS), a British clinical AI company, launched a sale process after being approached about a buyout by its CEO. http://axios.link/LmAr
• SoftBank is considering a sale of Fortress Investment Group, an asset manager it bought four years ago for more than $3 billion, per Bloomberg. http://axios.link/LHvo
Fundraising
• 137 Ventures raised $350 million for its fifth fund focused on buying private company stock from employees and other early shareholders. http://axios.link/RJBC
• Bold Capital Partners, a Santa Monica, Calif.-based VC firm, is raising $250 million for its third fund, per an SEC filing.
• EQT raised €15.7 billion for its fifth infrastructure fund. www.eqtpartners.com
• Industry Ventures raised $575 million for its sixth hybrid fund-of-funds and direct investment vehicle. www.industryventures.com
• Leeds Equity, a private equity firm focused on education, information and data management, raised over $1.4 billion for its seventh fund. www.leedsequity.com
It's Personnel
• Rohit Giri joined Splunk as director of corp dev and Splunk Ventures. He previously was with BigCommerce.
• Dale Ledbetter joined Baillie Gifford as a director of private companies. He previously was a director of IR and fundraising at BC Partners.
• Trilantic North America promoted Ted Rosenwasser to partner. www.trilanticnorthamerica.com
Final Numbers
🙏 Thanks for reading Axios Pro Rata! Please ask your friends, colleagues and Virginia voters to sign up.