Axios Pro Rata
June 03, 2019
Top of the Morning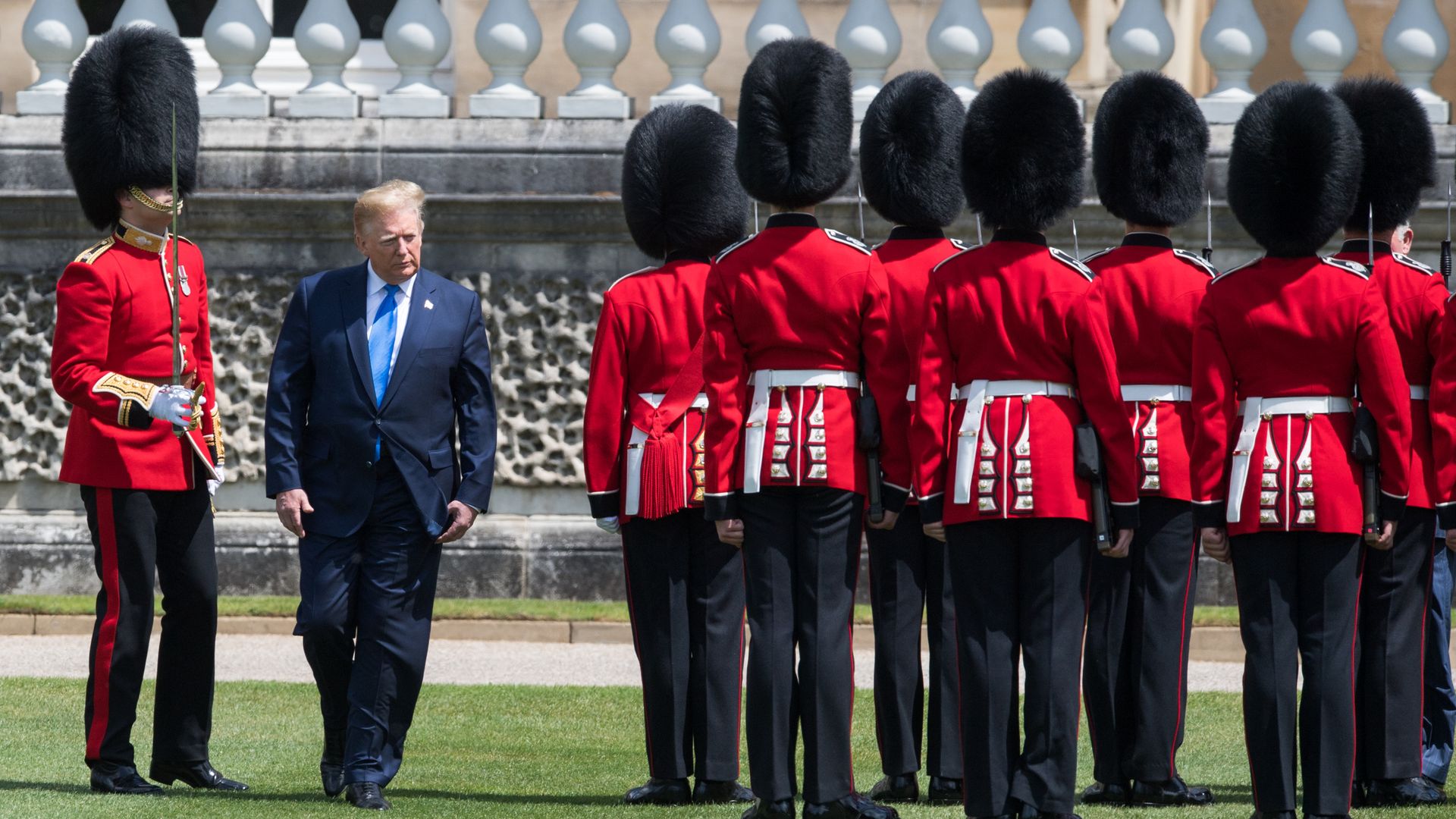 President Trump greeted the London sky this morning by railing against CNN owner AT&T, essentially urging a consumer boycott:
I believe that if people stoped using or subscribing to @ATT, they would be forced to make big changes at @CNN.
It may be the new normal, but I'm still jarred by an American President encouraging damage to a private business that employs hundreds of thousands of Americans. Let alone doing so from foreign soil.
It's also a reminder of why AT&T was so certain that political considerations were part of the Department of Justice's (unsuccessful) efforts to block its mega-merger with Time Warner, even though a judge did not allow those arguments to be made in court.
• Speaking of Trump: Huawei has agreed to sell a 51% stake in its undersea cable division to China's Hengtong Optic-Electric, per a Shanghai regulatory filing. We don't yet know if there's a direct cause/effect between this deal and White House pressure on the Chinese tech giant, but it clearly seems to reflect that Huawei is scaling back some of its global infrastructure ambitions.
• Record-breaker: Ardian is paying $5 billion for a portfolio of 92 limited partnership stakes in private equity funds from Japan's Norinchukin Bank, in what the WSJ calls the largest PE secondaries deal of all time.
• Unicorn hunters: The Wall Street Journal reports that SoftBank is getting the cold shoulder from several prospective investors for its second, $100 billion Visi0n Fund. Most notable is Saudi Arabia's Public Investment Fund, which pumped $45 billion into the first Vision Fund.
SoftBank bluntly denied the WSJ report: "While we don't comment on fundraising specifics, much of the Journal's reporting on investor sentiment is misleading and even inaccurate."
It is still early in the SBV II fundraising process, so I wouldn't take anything to the bank yet on either side.
But it would be remarkable if the Saudis bailed on SoftBank, and not just because SoftBank made a better investment than the Saudis did on Uber. Rather, it's because SoftBank took pains not to publicly distance itself from the Saudis in the wake of Jamal Khashoggi's killing.

Yes, Masa Son opted against speaking at the Future Investment Initiative conference, but a Vision Fund partner did speak and Son traveled to Riyadh that week to meet privately with MBS. Vision Fund partners also have artfully dodged Saudi-related questions when asked in other venues.
It's like standing by a girlfriend credibly accused of murder, only to have her dump you a year later because she's annoyed by the way you chew your food.
🎧 Pro Rata Podcast today will include a conversation with Axios' Jonathan Swan, fresh off his "Axios on HBO" interview with Jared Kushner. Subscribe for free.
The BFD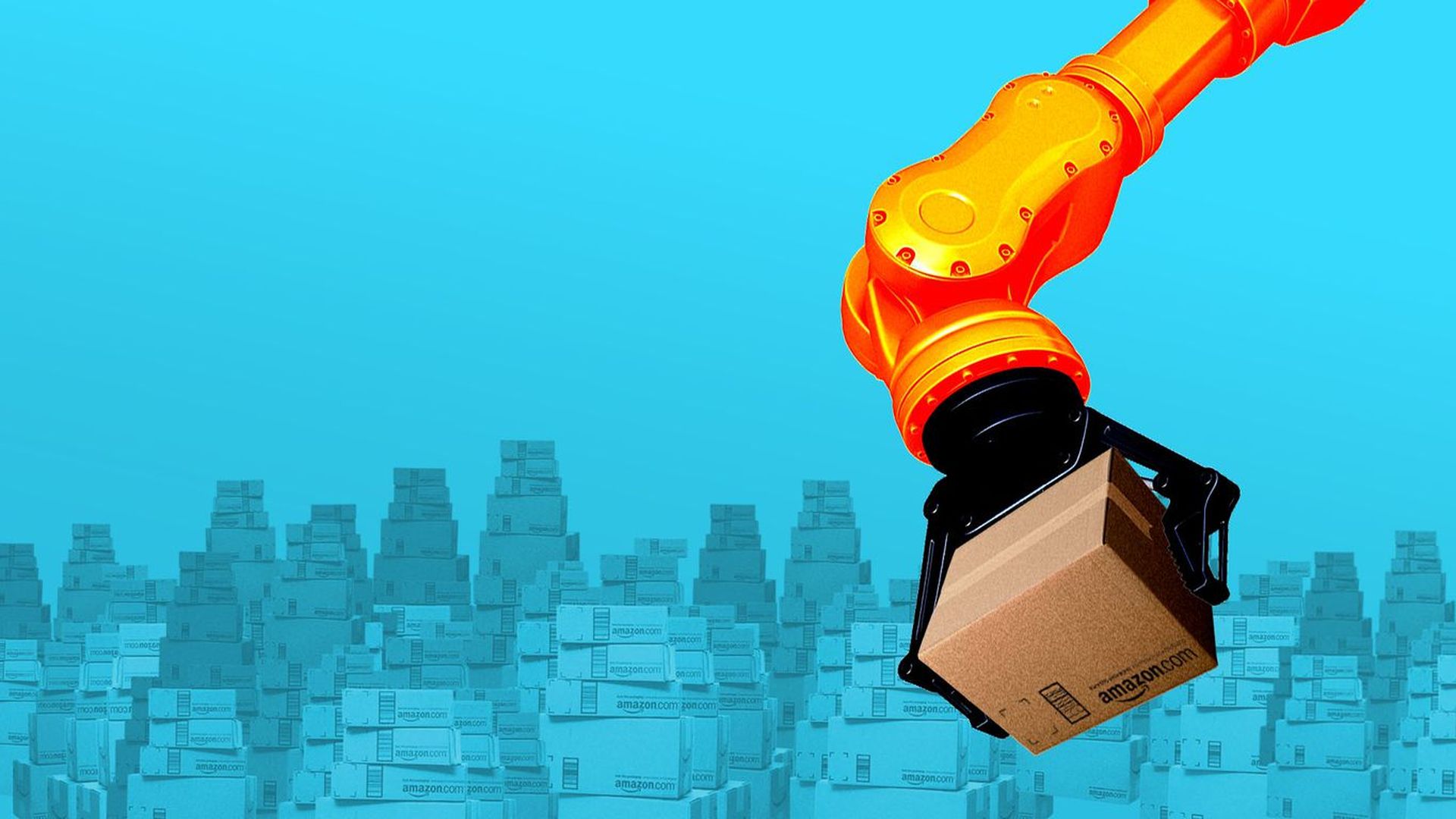 The Blackstone Group agreed to pay $18.7 billion to buy a portfolio of U.S. industrial warehouses, totaling 179 million square feet, from Singapore's GLP (which had been prepping an IPO of the business).
Why it's the BFD: It's the largest such purchase in history and makes Blackstone an even more dominant player in U.S. real estate It's also the private equity industry's latest "back to the future" deal, as Blackstone previously owned around half of the properties, selling them to GLP in 2015.
Caveat: There have been reports this is private equity's largest real estate deal ever, not just its largest logistics property deal, although that claim depends on how you characterize Blackstone's $39 billion purchase of Equity Office in 2007.
Bottom line: "The rise of Amazon — GLP's biggest tenant — and other e-commerce companies has spurred demand for industrial warehouses. Valuations of publicly-traded warehouse owners have surged in some cases by 30% this year. Particularly prized are properties near big cities, which help solve the 'last-mile' puzzle posed by a move toward next-day delivery." — Wall Street Journal
Venture Capital Deals
• WorldRemit, a London-based money transfer company, raised $175 million in Series D funding at a post-money valuation north of $900 million from TCV, Accel and Leapfrog. http://axios.link/16wg
• Morse Micro, an Australian developer of ultra-low power chips, raised $17 million. Ray Stata led, and was joined by Blackbird Ventures, Main Sequence Ventures, Right Click Capital, Uniseed and the Clean Energy Innovation Fund. www.morsemicro.com
• Kodit.io, a Finnish home-selling platform, raised €12 million from FJ Labs, Speedinvest, All Iron Ventures and Norwegian Adevinta. http://axios.link/LMRd
• Office App, an Amsterdam-based tenant and employee experience platform, raised €4.3 million in Series A funding led by Join Capital. http://axios.link/Vvzd
• Owlin, an Amsterdam-based news analytics platform for financial institutions, raised $3.5 million in Series A funding led by Velocity Capital. http://axios.link/3x9Z
Private Equity Deals
🚑 Advent International, BC Partners and CVC Capital Partners are among those considering bids for Bayer's (DB: BAYN) animal medicines unit, which could fetch upwards of €8 billion, per the FT. http://axios.link/Lv8v
• Capital Senior Living (NYSE: CSU), a Dallas-based operator of senior housing communities, has rebuffed multiple takeover offers from TPG, according to Bloomberg. http://axios.link/iovr
• General Atlantic acquired a majority stake in Czech online travel agency Kiwi.com at a reported deal value of around $126 million. http://axios.link/ksZ
🚑 Goldman Sachs Merchant Banking acquired Capital Vision Services, the parent company of optometry practice network MyEyeDr, for $2.7 billion from Altas Partners and Caisse de dépôt et placement du Québec. http://axios.link/krOe
⛽ Gravity Oilfield Services, a portfolio company of Clearlake Capital Group, acquired certain water disposal assets of Pyote Water Systems, which focuses on the Midland and Delaware Basins. www.gvty.com
• Homewood Holdings, an Altadena, Calif.-based portfolio company of Building Industry Partners, acquired The Door Mill, a Phoenix-area distributor of residential interior and exterior doors. www.homewoodholdingsllc.com
• Welsh, Carson, Anderson & Stow agreed to buy Green Street Advisors, a Newport Beach, Calif.-based provider of data and research to the commercial real estate industry, from Golden Gate Capital. www.greenstreetadvisors.com
• Wynnchurch Capital acquired two closed-die forging facilities of Allegheny Technologies (NYSE:ATI).
Public Offerings
• Three companies plan to price U.S. IPOs this week: Online fashion retailer Revolve Group, Chinese online tutor GSX Techedu and blank-check acquisition company GigCapital2. http://axios.link/ayMw
• Aluflexpack, a Swiss-Croatian packaging company, says it plans to raise between €130-€150 million when it floats later this year in Switzerland. http://axios.link/axEM
🐶 Chewy, the online pet supplies retailer being spun out of BC Partners portfolio company PetSmart, set IPO terms to 41.6 million shares at $17-$19. It plans to trade on the NYSE (CHWY) with Morgan Stanley as lead underwriter, and would have an initial market cap of $7.17 billion, were it to price in the middle. http://axios.link/eQxZ
• Global Fashion Group, an online fashion retailer backed by Rocket Internet, is planning to raise around €300 million in a Frankfurt IPO, per Reuters. http://axios.link/SnMz
🚑 Karuna Therapeutics, a Boston-based developer of therapies for schizophrenia and other CNS disorders, filed for a $75 million IPO. It plans to trade on the Nasdaq (KRTX) with Goldman Sachs as lead underwriter, and raised $122 million VC funding from such firms as PureTech Health (43.5% pre-IPO stake), Arch Venture Partners (18.6%), The Wellcome Trust (7.5%), Sofinnova Ventures (6.1%), Fidelity and Alexandria Venture Investments. http://axios.link/vT38
• The RealReal, a San Francisco-based luxury consignment platform, filed for a $100 million IPO. It plans to trade on the Nasdaq (REAL) with Credit Suisse as lead underwriter, and reports a $76 million net loss on $207 million in revenue for 2018. The company raised over $330 million, most recently at a post-money valuation just over $1 billion, from firms like Great Hill Partners (14.7% pre-IPO stake), Canaan Partners (13%), PWP Growth Equity (11%), InterWest Partners (9.9%), Greycroft (9%), E.ventures (8.1%) and Greenspring Associates (7.4%). http://axios.link/IFWj
Liquidity Events
• KKR is seeking a buyer for Goodpack, a Singapore-based intermediate bulk containers provider that could be worth more than $2 billion, per Bloomberg. http://axios.link/SXtq
• Trilantic North America hired Harris Williams & Co. to find a buyer for Home Franchise Concepts, an Irvine, Calif.-based home services provider (Budget Blinds, Tailored Living, etc.), per the WSJ. http://axios.link/2OYk
More M&A
• BASF (DB: BAS) has launched an auction for its construction chemicals unit, which could fetch around €2.7 billion, per Bloomberg. Among possible suitors are The Carlyle Group and building materials company Standard Industries. http://axios.link/cuq2
• Hospitality Properties Trust (Nasdaq: HPT) is in talks to pay $2.4 billion for a rental real estate portfolio of Spirit MTA REIT (NYSE: SMTA), a major landlord of bankrupt retailer Shopko, per Reuters. http://axios.link/1fVR
• Infineon (XTRA: IFX) of Germany agreed to buy Cypress Semiconductor (Nasdaq: CY) for around $10.1 billion (including debt), or $23.85 per share. http://axios.link/X0dE
• London Stock Exchange Group (LSE: LSE) acquired Beyond Ratings, a French financial data provider. http://axios.link/ZzmZ
• Mondelez (Nasdaq: MDLZ) is considering a sale process for its Philadelphia cream cheese brand, per The Sunday Telegraph. http://axios.link/sw5S
⛽ ReNew Power, India's largest renewable energy company, is considering asset sales after withdrawing IPO plans, per Bloomberg. Backers include Goldman Sachs. http://axios.link/RZc9
Fundraising
• J-Star is raising around $386 million for its fourth Japanese buyout fund, per PE International. http://axios.link/EviP
• MMC Ventures launched a £52 million seed fund focused on London-based tech startups. http://axios.link/yJt0
It's Personnel
• Ken Collins joined Waud Capital Partners as a principal focused on healthcare services. He previously was a principal with Roark Capital Group. www.waudcapital.com
• Li Sun and Apoorva Pandhi joined venture firm Foundation Capital as partners. Sun previously was with Bessemer Venture Partners, while Pandhi is a serial entrepreneur (Quid, Funnel Labs) who once worked at Lightspeed Venture Partners. http://axios.link/ATXG
Final Numbers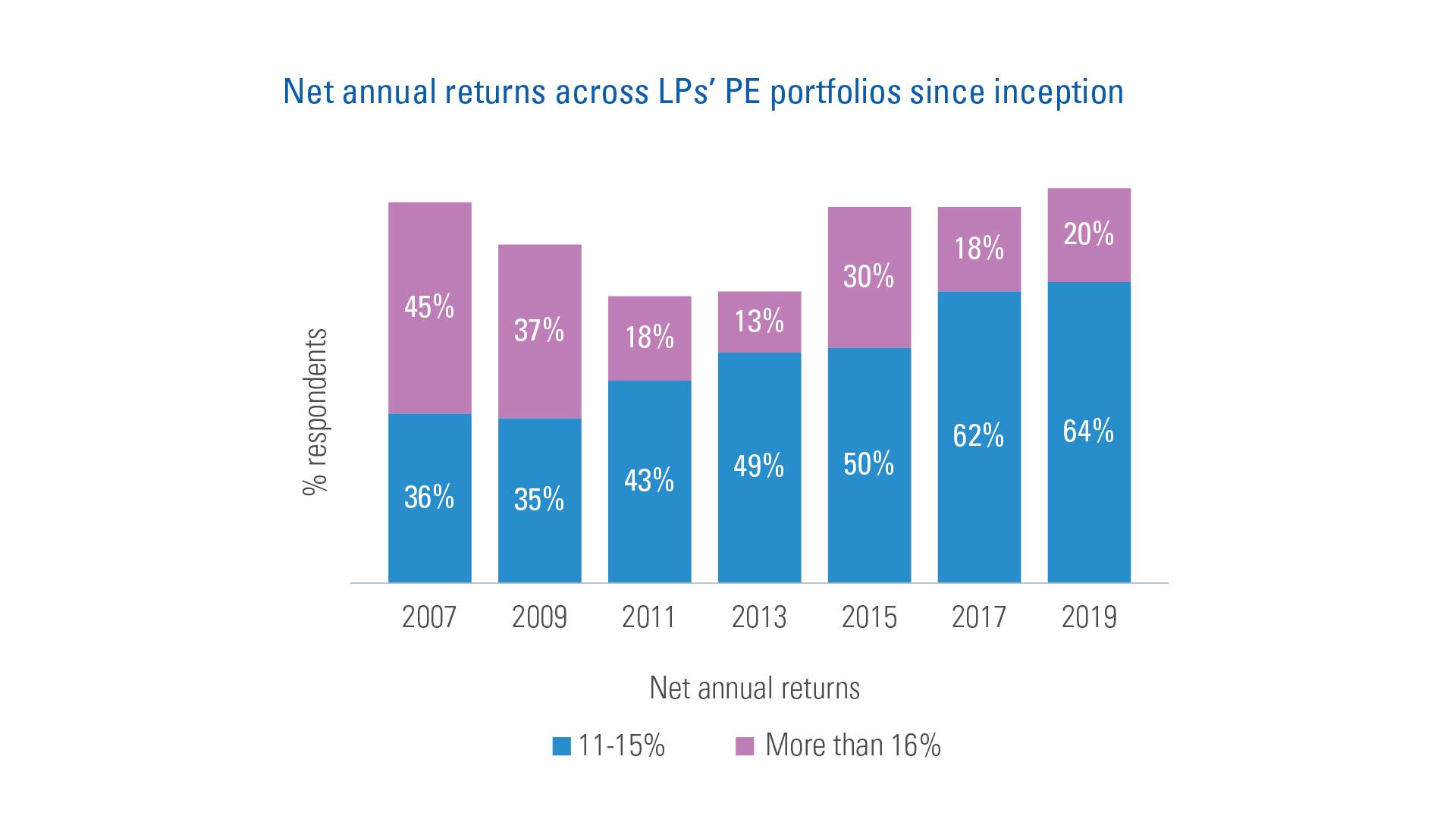 More from Coller:
"The proportion of LPs reporting net annual returns of 16% or higher since the inception of their private equity portfolios has reduced significantly since the global financial crisis — from around 45% of LPs in 2007 to around 20% of LPs since 2016... However, the proportions of LPs reporting net private equity returns of 11% or higher over the lives of their portfolios has ranged from 80 % to 87% since 2015."
Thanks for reading Axios Pro Rata. Please ask your friends, colleagues and dog-walkers to subscribe by going here.