Axios Pro Rata
February 03, 2023
Top of the Morning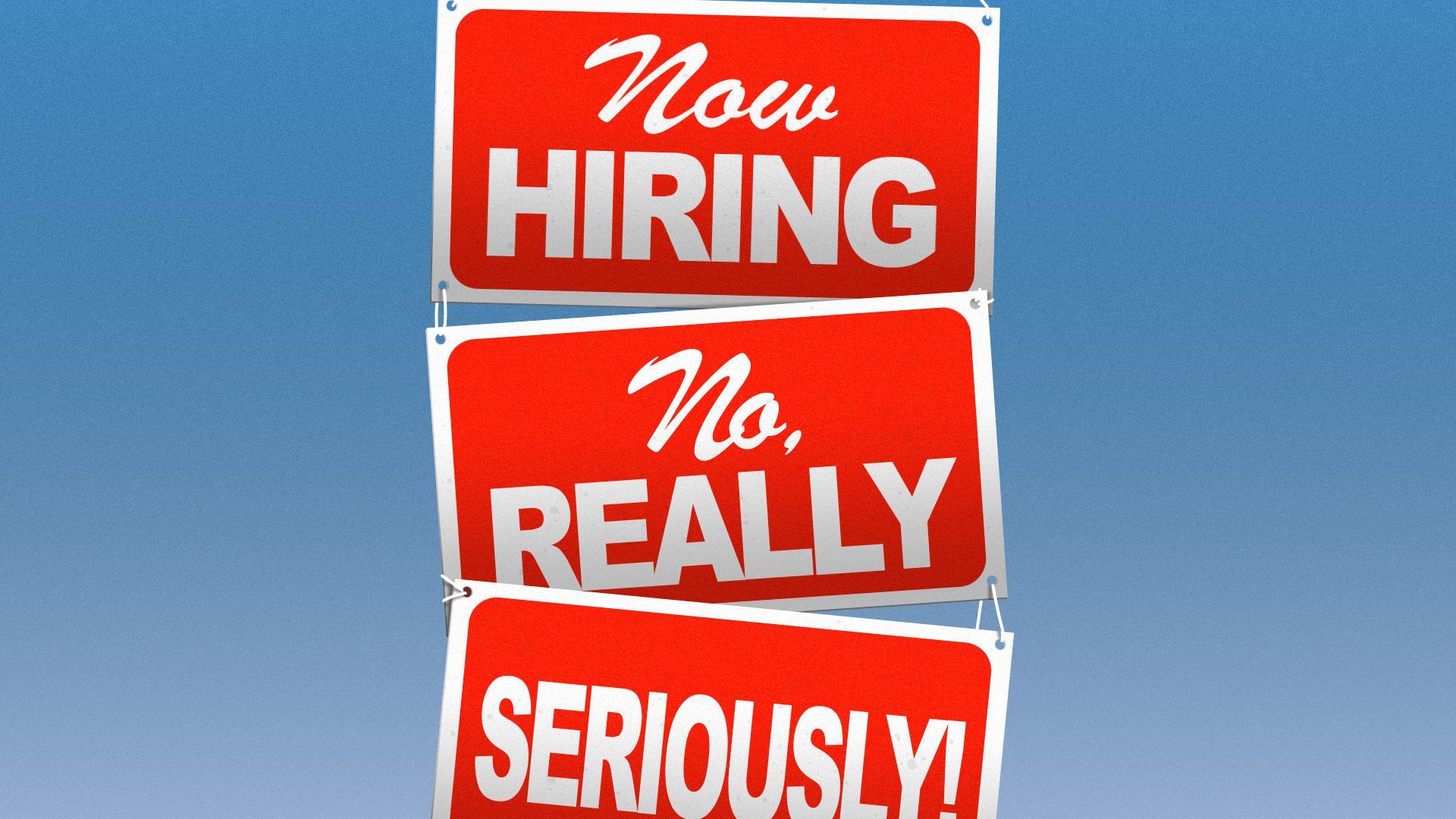 My plan for this morning was to write about renewable energy investment. And then then monthly jobs report came out.
Plans, meet wastebin. Say hi to the FOMC doves for me.
Driving the news: The U.S. economy added 517,000 jobs in January, more than doubling economist expectations.
The unemployment rate fell to 3.4%, the lowest level since May 1969.
For context, the top songs of that month were "Aquarius/Let the Sunshine In" from the musical Hair, and "Get Back" by the Beatles.
Why it matters: This may change a lot of what we thought we knew about a looming economic recession, and also about the future of interest rates.
On that second point, average hourly earnings rose 0.3% in January, or 4.4% year-over-year.
It's possible that remains too hot for Jerome Powell's collar, so pay extra attention to his appearance next Tuesday at the Economic Club of Washington, D.C.
Zoom out: This is yet another reminder that the tech industry, beset by large layoffs, remains a tiny part of the U.S. economy.
Market reax: Stock futures took a dive on the report, which also included upward revisions to 2022 data, while there was a sudden spike on 2-year note yields.
The bottom line: The only economic certainty is uncertainty. It's always true, but this morning is a striking reminder.
The BFD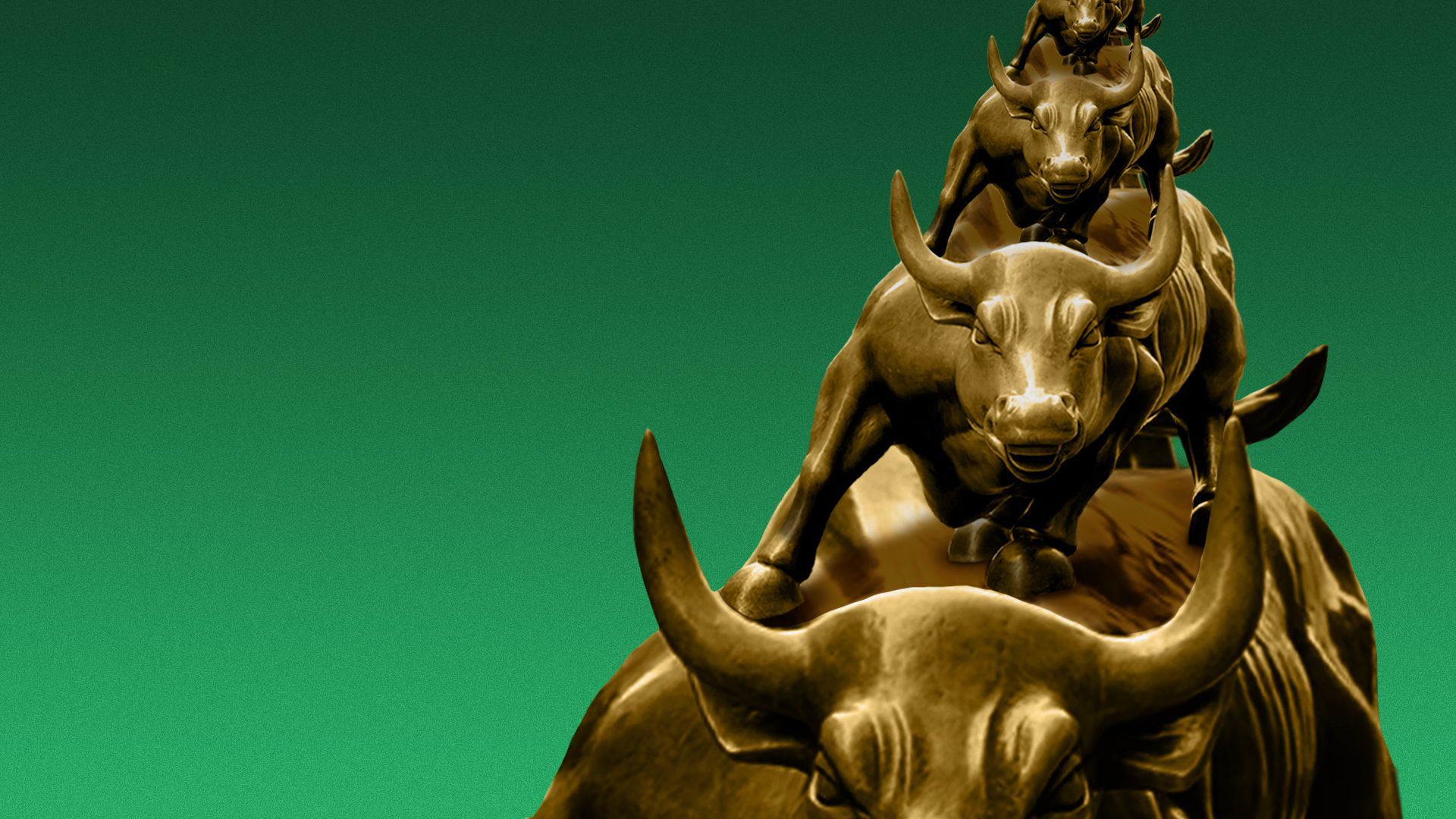 Blackstone has agreed to buy American International Group's collateralized loan obligations business, including $3.6 billion of assets, as first reported by Creditflux.
Why it's the BFD: This would make Blackstone the world's largest CLO manager, ahead of Carlyle Group (which last year bulked up via its purchase of CBAM from Eldridge Industries).
Both AIG and Blackstone declined comment.
The bottom line: "Running contrary to a dip in overall transactions, CLO firms set a record for mergers and acquisitions in 2022, according to Citigroup Inc. On the flip side, some money managers struggled to find buyers for new issues in the second half of last year amid market volatility." — Lisa Lee, Bloomberg
Venture Capital Deals
• JOKR, a Luxembourg-based instant grocery delivery startup, raised $50m in Series C funding at a $1.3b valuation, per TechCrunch. G Squared led, and was joined by fellow insiders GGV Capital, Tiger Global Management and HV Capital. https://axios.link/3RtpaX2
• Onehouse, a Menlo Park, Calif.-based managed data lakehouse company, raised $25m in Series A funding from Addition and Greylock. www.onehouse.ai
• Triple Whale, a Columbus, Ohio-based data platform for e-commerce brands, raised $25m in Series B funding from NFX, Elephant and Shopify. https://axios.link/3X7U2xO
• Ziflow, a British feedback platform for enterprise creative assets, raised $20m in Series A funding co-led by The Riverside Co. and Companyon Ventures. www.ziflow.com
• Beek, a Mexico City-based audiobook subscription startup, raised $13m in Series A funding. Lightspeed Venture Partners led, and was joined by insiders Greylock and Accel. https://axios.link/3jsqrBi
• Samooha, a cross-cloud data collaboration platform, raised $12.5m in Series A funding. Altimeter led, and was joined by Snowflake Ventures. https://axios.link/40tAKWc
• BlockJoy, a Boston-based provider of white label blockchain nodes as a service, raised $12m in Series A funding, per TechCrunch. Backers include Gradient Ventures, Draper Dragon, Dragon Roark, Active Capital, Borderless HNT and Renegade Ventures. https://axios.link/3XXPcEd
🚑 Doctify, a London-based health care review platform, raised $10m. Beringea led, and was joined by Keen Venture Partners, Amadeus Capital Partners and Guinness Ventures. www.doctify.com
• Kewazo, a Munich-based construction robotics startup, raised $10m from Unorthodox Ventures. www.kewazo.com
• Site 20/20, a Canadian provider of smart-flagging tech for construction, raised $10m from Deep Field Asset Management. www.site2020.com
• ToolJet, an SF-based low-code app builder, raised $4.6m in seed funding. Nexus Venture Partners led, and was joined by January Capital and Ratio Ventures. https://axios.link/3Hu3dTh
• Toggle, a New York-based rebar robotics startup, raised $3m in Series A expansion funding from Tokyu Construction. https://axios.link/3l5IzkV
⚡ SunFi, a Nigerian solar energy financing and management startup, raised $2.3m in seed funding co-led by Factor[e] and SCM Capital Asset Management. https://axios.link/3la3sez
Private Equity Deals
• Clayton, Dubilier & Rice offered to buy Focus Financial Partners (Nasdaq: FOCS), a New York-based aggregator of wealth management firms, for $4.1b. https://axios.link/3JFOJ5s
• Edgewater Capital Partners bought Neograf, a Lakewood, Ohio-based provider of natural graphite products, from Aterian Investment Partners. www.neograf.com
• Leeds Equity Partners acquired TalentNeuron, a provider of human capital data and insights subscription solutions, from Gartner (NYSE: IT). www.talentneuron.com
• Rockwood Equity Partners invested in NG Cos., a Longmont, Colo.-based provider of underground damage prevention solutions to markets like utilities and telecom.
⚡ Veritas Capital completed its $3.1b acquisition of energy and materials consultant Wood Mackenzie from Verisk (Nasdaq: VRSK). www.woodmac.com
Public Offerings
• Hesai Group, a Chinese maker of lidar products, set IPO terms to 9m shares at $17-$19. It would have a $2.4b fully diluted market value, were it to price in the middle, and plans to list on the Nasdaq (HSAI). The company reports a $23m net loss on $112m in revenue for the first nine months of 2022, and has raised over $500m in VC funding from firms like Lightspeed Venture Partners, Baidu, Qiming Venture Partners and Xiaomi. https://axios.link/3jm1uYk
🚑 Mineralys Therapeutics, a Radnor, Pa.-based developer of hypertension treatments, set IPO terms to 10m shares at $14-$16. It would have a $574m fully diluted value, were it to price in the middle, and plans to list on the Nasdaq (MLYS). Investors include Catalus Pacific (32.9% pre-IPO stake), Samsara BioCapital (13.2%), HBM Healthcare Investments (10.7%), Adams street Partners (8.3%), Andara Partners (7.1%), RA Capital (7.1%), SR One, Rock Springs Capital, Ysios Capital, Boulder Ventures and Sectoral Asset Management. https://axios.link/3YihqJF
Liquidity Events
• Croda International (LSE: CRDA) agreed to buy South Korean organic materials producer Solus Biotech for around $286m from SkyLake Equity Partners. https://axios.link/3Hv51eD
• Navis Capital Partners is seeking a buyer for its control stake in ISA TanTec, a Macau-based maker of sustainable leathers and materials for footwear companies like Clarks, Dr. Martens and Timberland. Bloomberg reports a deal could value ISA at between $300m and $400m. https://axios.link/3jucjaI
More M&A
• Ryan Cohen, the Chewy.com founder turned meme stock activist, has taken a stake in luxury retailer Nordstrom (JWN), as first reported by the WSJ and confirmed by Axios.
Nordstrom said in a statmeent: "While Mr. Cohen hasn't sought any discussions with us in several years, we are open to hearing his views, as we do with all Nordstrom shareholders."
• Essent Group (NYSE: ESNT) agreed to buy title insurance underwriters Agents National and Boston National from a subsidiary of Finance of America Cos. (NYSE: FOA) for $100m. www.essentgroup.com
🚑 Magenta Therapeutics (Nasdaq: MGTA), a Cambridge, Mass.-based stem tell transportation company whose market cap has deteriorated to $34m, halted development of its program and is seeking a buyer. www.magentatx.com
• Santander (Madrid: SAN) said it's not interested in buying Orange Bank (Paris: ORAN), the mobile unit of Orange (Paris: ORA). https://axios.link/3Y0IMV6
🚑 Zur Rose (SWX: ROSE), an online pharmacy, agreed to sell its Swiss business to Migros subsidiary Medbase for around $394m. https://axios.link/3l8qXVC
It's Personnel
• Brian Deese, the top economic adviser to President Biden, will leave his role at the White House. No details yet on timing or Deese's successor.
In other unknowns, no word on if outgoing White House Chief of Staff Ron Klain will return to his prior job at venture capital firm Revolution.
Klain, in a note to Axios, said, "No plans yet beyond sleep!"
• Bridgewater Associates named Karen Karniol-Tambour as co-chief investment officer, sharing the role with Greg Jensen and Bob Prince. She's been with the investment firm since 2006. https://axios.link/3DD39PS
• Carlyle is speaking to former Goldman Sachs exec Harvey Schwartz about becoming its next CEO, as first reported by Semafor. https://axios.link/40s673r
• Heather Gorham joined Seattle-based VC firm Flying Fish Partners as a principal. She previously was with JPMorgan. www.flyingfish.vc
• Tanai Kamat joined Secocha Ventures as a principal. He previously was in biz dev and partnerships with Wish. https://axios.link/3WZ1ueq
Final Numbers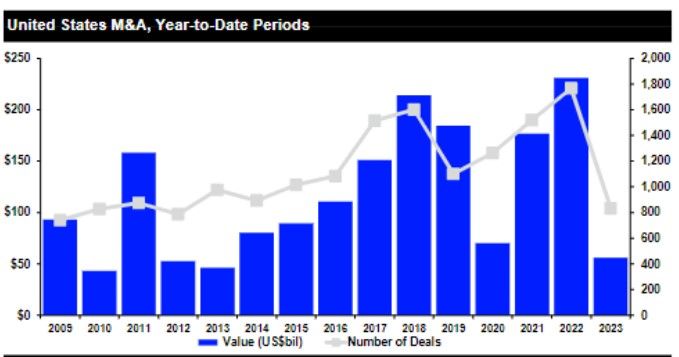 U.S. M&A volume is down 76% from a year ago, including a 71% decline for private equity-backed deals, per Refinitiv.
The global drop is 68%, with the YTD total just shy of $122 billion.
Thanks for reading Axios Pro Rata, and to copy editors Mickey Meece and Bryan McBournie! Please ask your friends, colleagues and CLO managers to sign up.