Monday greetings from the home office. Before getting to it, I wanted to let you know that Axios tomorrow will launch a newsletter on media trends, written by Sara Fischer – who came to us after serving in both editorial and operational roles at places like The Washington Post and CNN. Please sign up here: http://link.axios.com/join/mediatrends-signup.
https://www.axios.com/newsletters/axios-pro-rata-09888fd9-241c-45a3-85e0-793e7db90b42.html?chunk=0#story0
Bros Behaving Badly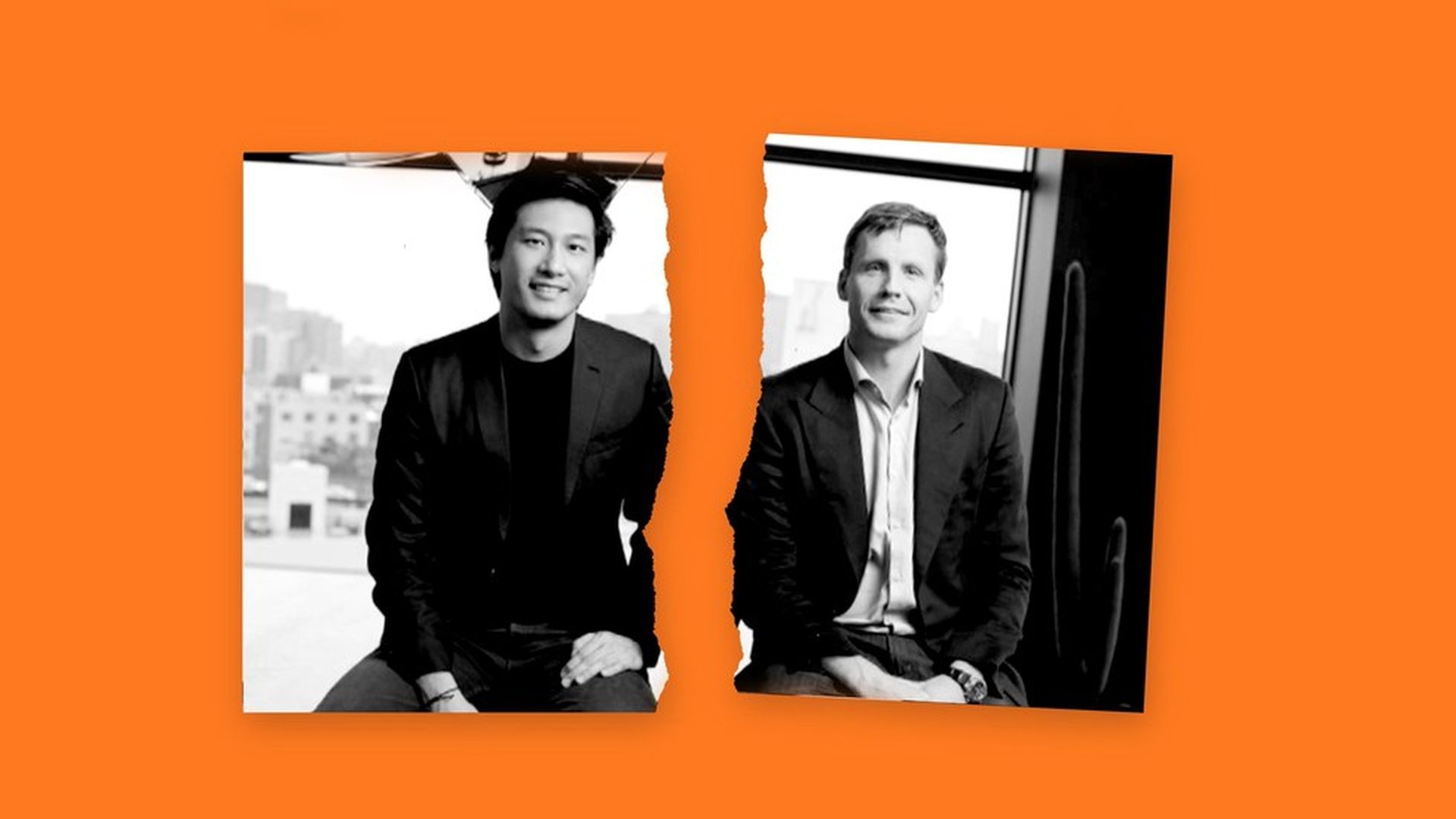 On Friday we discussed allegations that venture capitalist Justin Caldbeck had sexually harassed female founders. A lot has happened since then.
What we reported over the weekend:
What we're reporting new this morning:
Havenly and Dia & Co., two Binary Capital portfolio companies led by female founders, have requested that Binary Capital terminate their board relationships, effective immediately.
Caldbeck was a "key man" on both Binary funds, and limited partners have not yet made a final determination as to if they want to trigger this out, execute a no-fault termination clause or allow Jonathan Teo to carry on as sole managing partner. Conversations are expected to continue today.
Teo wrote in his LP letter that he "trusted my partner and it is clear that I shouldn't have." LPs should dig in on this, because there is no doubt that Teo at least knew there was talk of sexual harassment allegations surrounding Caldbeck. This comes from three places: (1) Sources who have spoken to Teo, including at a wedding this past weekend; (2) a text message from last fall that Axios has obtained; and (3) The fact that Caldbeck sent a note to all portfolio companies in May, telling them that The Information was working on a story "alleging untrue things about my personal conduct." Did Teo simply fail in due diligence, or did he not really care to conduct any?
https://www.axios.com/newsletters/axios-pro-rata-09888fd9-241c-45a3-85e0-793e7db90b42.html?chunk=1#story1
The BFD
Takata, the Japanese auto parts maker whose defective air-bags (and related cover-up) led to more than a dozen deaths and 70 million recalls, has filed for bankruptcy protection. It plans to sell its operational assets for around $1.6 billion to Michigan-based Key Safety Systems, which is owned by China's Ningbo Joyson Electronic. Not included are Takata's nitrate airbag inflator operations, which will eventually be wound down.
Why it's the BFD: This is believed to be the largest-ever bankruptcy of a Japanese manufacturer, and is the result of around 16 months of negotiations. Along the way there had been takeover interest that involved both KKR and Bain Capital, but Key Safety was the final suitor standing.
What to watch: How bankruptcy courts in both the U.S. and Japan deal with creditors and remaining liability claims, particularly from automakers like Honda and Toyota that have been shouldering recall costs.
Bottom line: "Global transport authorities have ordered about 100 million inflators to be recalled, as the ammonium nitrate compound used to inflate has been found to become volatile with age and prolonged exposure to heat, causing the devices to explode. Industry sources have said that recall costs could climb to about $10 billion." – Reuters
https://www.axios.com/newsletters/axios-pro-rata-09888fd9-241c-45a3-85e0-793e7db90b42.html?chunk=2#story2
Snapshot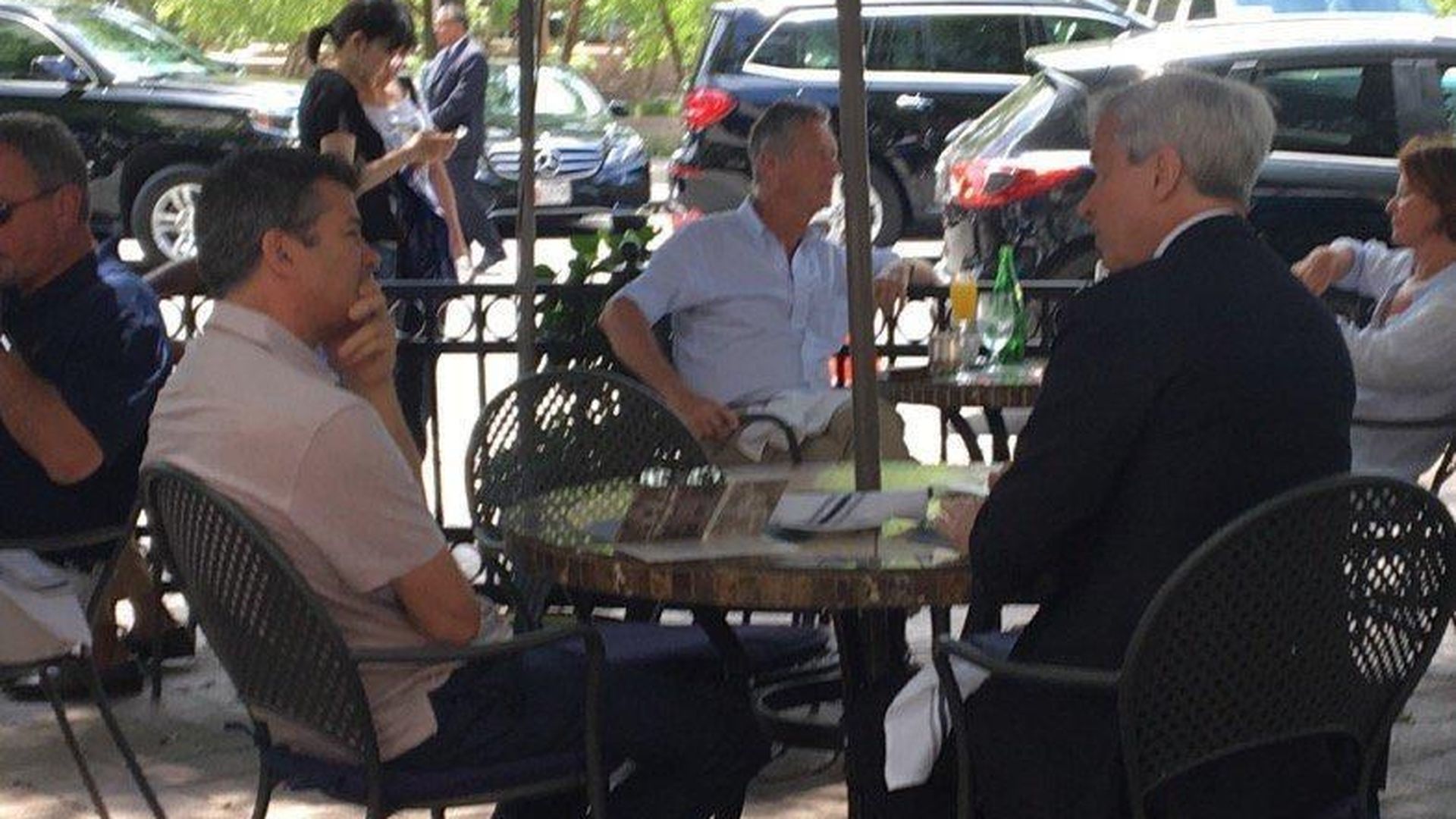 Ex-Uber CEO Travis Kalanick and J.P. Morgan CEO Jamie Dimon spotted lunching yesterday in D.C.
https://www.axios.com/newsletters/axios-pro-rata-09888fd9-241c-45a3-85e0-793e7db90b42.html?chunk=3#story3
Venture Capital Deals
https://www.axios.com/newsletters/axios-pro-rata-09888fd9-241c-45a3-85e0-793e7db90b42.html?chunk=4#story4
Private Equity Deals
https://www.axios.com/newsletters/axios-pro-rata-09888fd9-241c-45a3-85e0-793e7db90b42.html?chunk=5#story5
Public Offerings
https://www.axios.com/newsletters/axios-pro-rata-09888fd9-241c-45a3-85e0-793e7db90b42.html?chunk=6#story6
Liquidity Events
https://www.axios.com/newsletters/axios-pro-rata-09888fd9-241c-45a3-85e0-793e7db90b42.html?chunk=7#story7
Bad Deals
https://www.axios.com/newsletters/axios-pro-rata-09888fd9-241c-45a3-85e0-793e7db90b42.html?chunk=8#story8
Fundraising
• Arizona State University has picked BlackRock to manage its $600 million endowment, succeeding Perella Weinberg Partners. https://bloom.bg/2rZLwHo
• Australis Partners has raised $379 million for its debut private equity fund, which will make control investments in Mexico, Colombia, Peru and Chile. http://bit.ly/2td2KBg
https://www.axios.com/newsletters/axios-pro-rata-09888fd9-241c-45a3-85e0-793e7db90b42.html?chunk=9#story9
It's Personnel
https://www.axios.com/newsletters/axios-pro-rata-09888fd9-241c-45a3-85e0-793e7db90b42.html?chunk=10#story10
Final Numbers