Axios PM
October 23, 2018
Situational awareness: President Trump is calling Saudi Arabia's handling of the Jamal Khashoggi murder "the worst cover-up ever."
"They had a very bad original concept. It was carried out poorly, and the cover-up was one of the worst in the history of cover-ups. Very simple. Bad deal, should have never been thought of."
1 big thing: #MeToo's power shift
Of the 201 men to lose major jobs as a result of #MeToo, 43% of their replacements have been women, the NYTimes reports in a stunning data visual.
The big picture: This is just the beginning, but is a very real example of power shifting away from men who misuse it, with such examples potentially scaring companies away from risky future hires.
"We've never seen something like this before... Women have always been seen as risky, because they might do something like have a baby. But men are now being seen as more risky hires," Joan Williams, a law professor who studies gender at the University of California, Hastings, told the NYT.
Between the lines: Among the 53 examples of women replacing powerful men:
Lockhart Steele, Vox Media, replaced by Melissa Bell
Roy Price, Amazon Studios, replaced by Jennifer Salke
Mark Halperin, Showtime, replaced by Alex Wagner
Al Franken, U.S. senator, replaced by Tina Smith
Charlie Rose, PBS and CBS, replaced by Christiane Amanpour
Wayne Pacelle, Humane Society, replaced by Kitty Block
Go deeper:
Bonus: Pic du jour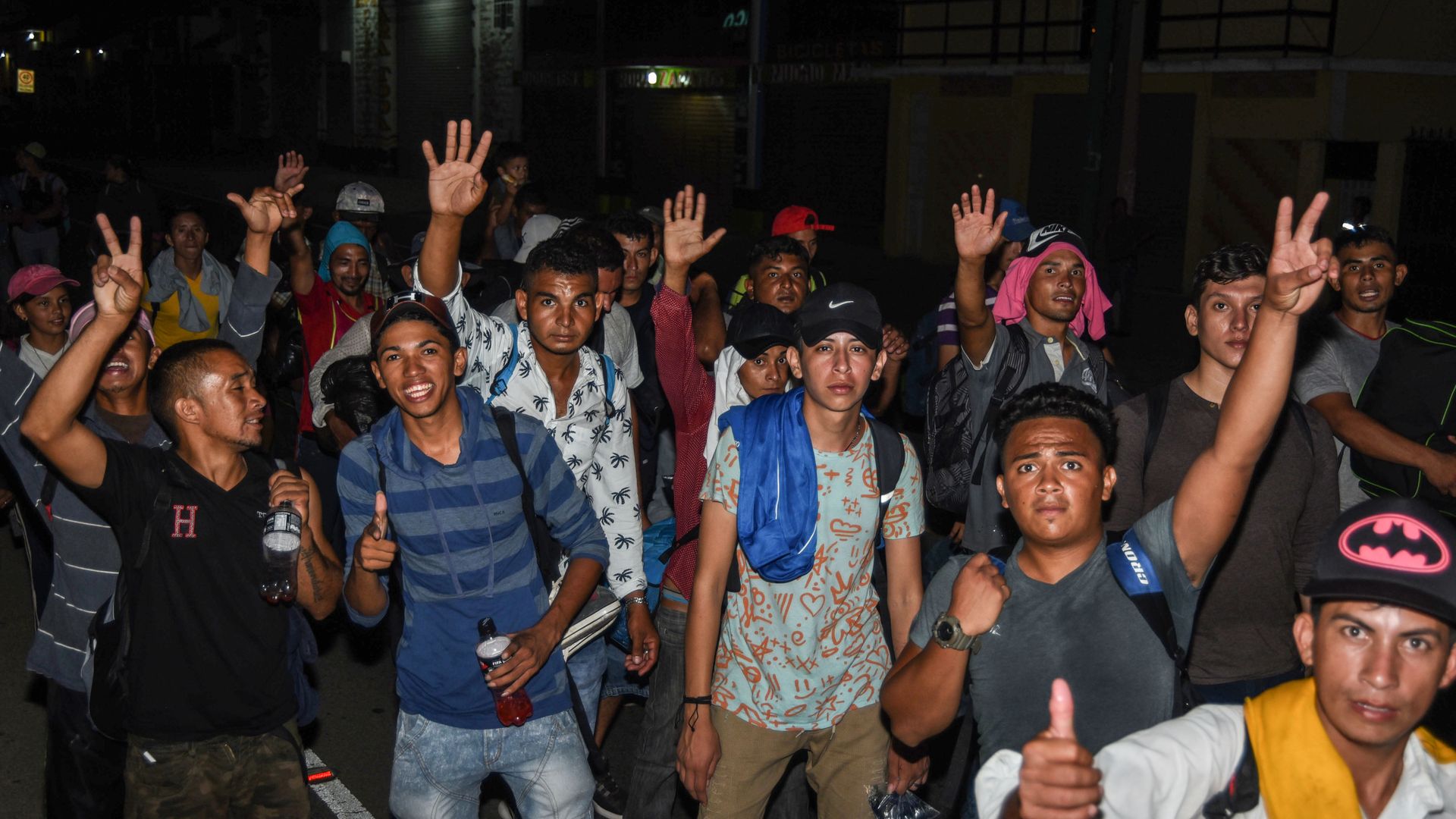 Honduran migrants taking part in a new caravan to the U.S. arrive in Guatemala.
3. 1 gambling thing
Unikrn, an Esports betting company, has acquired its wagering license via the Isle of Man, making it the first regulated operator in the betting market for Esports, the Associated Press reports.
Why it matters: Playing video games was once seen as trivial, but now billions of dollars are circulating a market based on people betting money on their favorite video game players, Axios' Michael Sykes notes.
The backdrop: Previously, Esports betting was only legal in the United Kingdom and Australia, but Unikrn products are already being rolled out to 20 different countries.
What we're watching: Researchers at Narus Advisors and Eilers and Krejcik Gaming estimated a whopping $3 billion circulated the market in 2017. That number is expected to grow to $13 billion by 2020 as Esports continue to gain popularity. Now those transactions will be fully legal in markets around the globe.